Just spotted a couple interesting articles over at VR-Zone where they've just posted pictures and some details of the upcoming Gigabyte Z77 linup.
The first board pictured is the G1.Sniper 3, which is the newest update to the G1.Sniper series of motherboards. As you can see below, the board keeps its traditional color scheme, but the board no longer includes guns and ammo. It seems like the change was brought about due to a lot of criticism from users, but I personally didn't think it looked too bad. Anyone actually like the guns and ammo theme?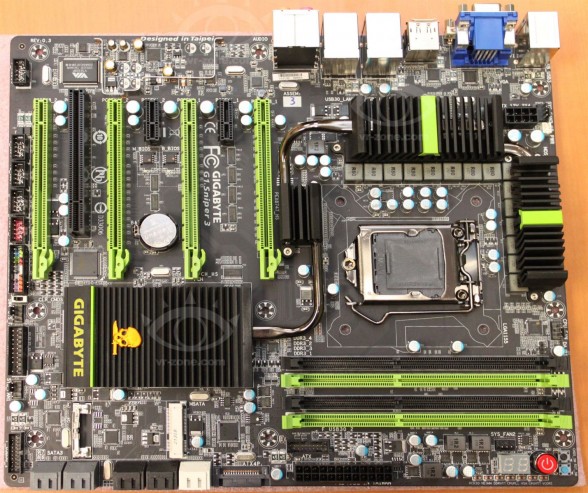 Next up we get a look at the Gigabyte G1.Sniper M3, which is the mATX edition of the G1.Sniper 3. Seems like it's something a lot of customers were requesting (and something I was interested in seeing personally too!). Taking a quick look at the board, it obviously still retains the green and black color scheme from the G1.Sniper 3, and it doesn't use any gun themed heatsinks either. However, there will be fewer features on this board. Right off the bat you can see the heatsinks on this board is much smaller and the VRM area looks smaller as well. On the top left area of the board, Gigabyte has included the SoundCore 3D audio processor, but there's no Killer NIC anywhere in sight. Do those things even improve ping/FPS at all, anyway?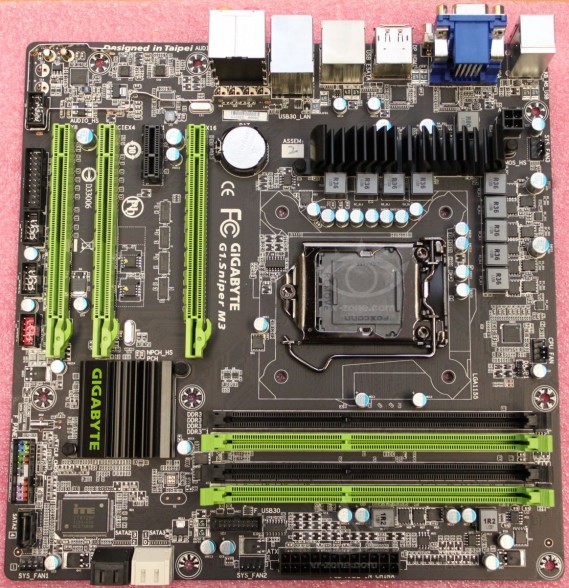 Next board up is the GA-Z77X-UD5H and, as you can tell from the name, it's going to be Gigabyte's mid-range Z77 board. Taking a quick look at the board, it seems like the VRM area is quite large, so this thing should be able to do some pretty good overclocking. The board's design is nice too with the black PCB and all, but what have they done with the heatsinks?! The heatsinks are quite massive and do look quite capable, but I'm not sure I'm a fan of the baby blue on black color scheme… at all.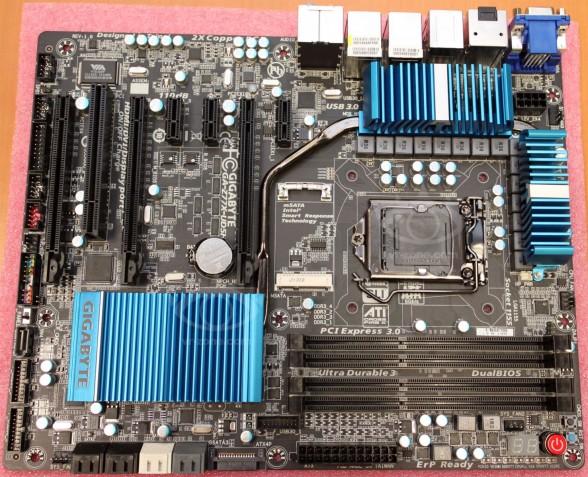 Finally, the last board pictured is the GA-Z77X-UD3H, which obviously by its naming scheme is going to be the Z77 budget board. It's probably going to be what most people buy and I think it looks fairly typical for a budget board. It looks like the UD3H will stick to the UD5H's color scheme, rocking baby blue on black. Additionally, it's also got a lot less heatsink and less VRM when compared to the UD5H as well.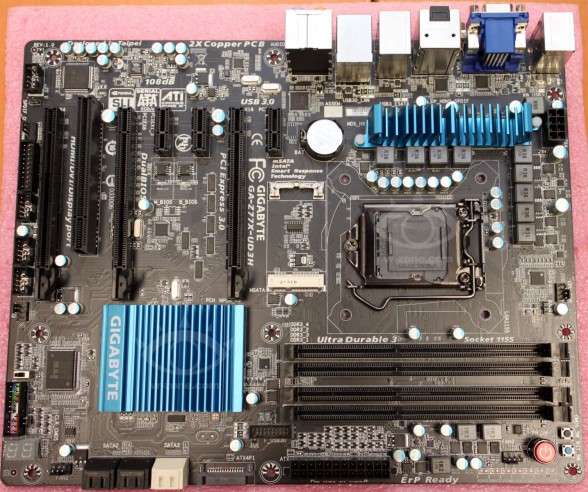 Obviously, I'm not going to spoil it all for you guys, so if you're still interested in these boards be sure to hop over to VR-Zone for more. They've got some more details along with more pictures as well.
Source and Image Credit: VR-Zone – G1.Sniper 3 / G1.Sniper M3 / GA-Z77X-UD3H / GA-Z77X-UD5H