With the new AMD Radeon HD7870 and HD7850 on the horizon, some leaky leakies were bound to occur and it looks like it finally has! Thanks to PCINLIFE, we're now getting a good idea of what the perfomrance of the new Pircairn XT and Pitcairn Pro is capable of.
First, a couple slides with some specifications on the new cards were revealed. We've got the AMD Radeon HD7870 GHz Edition on the left, which as its name implies, will ship at 1GHz and on the right, we have the AMD Radeon HD7850. It looks very similar to what was previously revealed a couple days ago, but this one reveals some pictures on what the reference design might look like. Seems plausible.

Next up, we've got the 3D Mark 11 scores from the HD7870 vs HD7850 vs GTX 570 vs GTX 560 Ti. It looks like the HD 7850 will perform somewhere in the neighborhood of the GTX 570 with the HD7870 performing slightly better.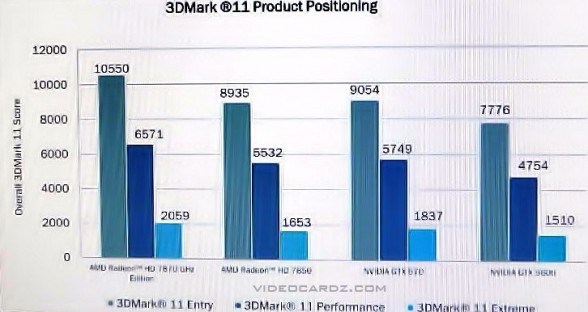 Next up we've got the HD7870 Benchmarks against the Nvidia GTX 570. From the looks of it, the HD7870 generally performs around 25%-60% better depending on the game of course. As usual, powered by Nvidia games seem to favor the GTX 570, but overall the HD7870 is dominating pretty hard.
Moving right along, we've got benchmarks of the HD7850 vs the GTX 570. From the looks of it, it's still dominating the GTX 570 by around 10%-40%. Depending on pricing, this one could be a very good card.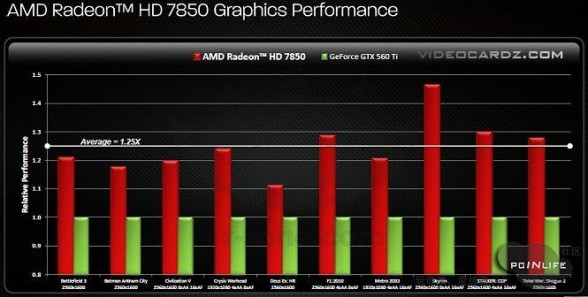 Next up is the Battlefield 3 benchmarks, and it looks quite similar to what we've seen before. The HD7870 is leading the pack by a margin with the HD7850 following along.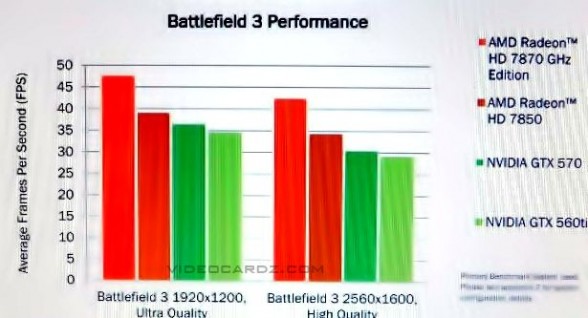 Finally, we've also go Skyrim performance, and once again it tells the same story. The Radeon HD7850 seems to have a pretty nice jump in performance when compared to the Battlefield 3 benchmark where it was neck to neck almost with the GTX 570. Very interesting…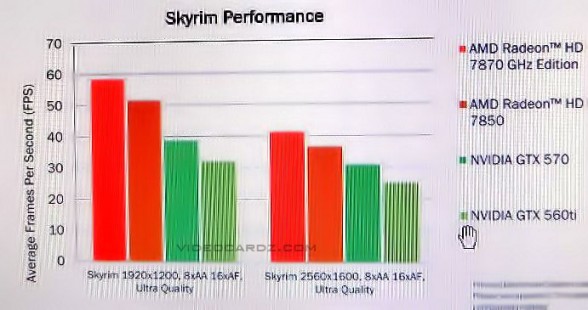 Finally of course, remember these are just leaked benchmarks, rumors if you will, so as usual I'd suggest you all to take it with a grain of salt. That being said, I'm really digging the HD7800 series so far and depending on pricing, it looks like a pretty sweet card. Anyone holding out for these? What do you think?
Source: VideoCardz / PCINLIFE