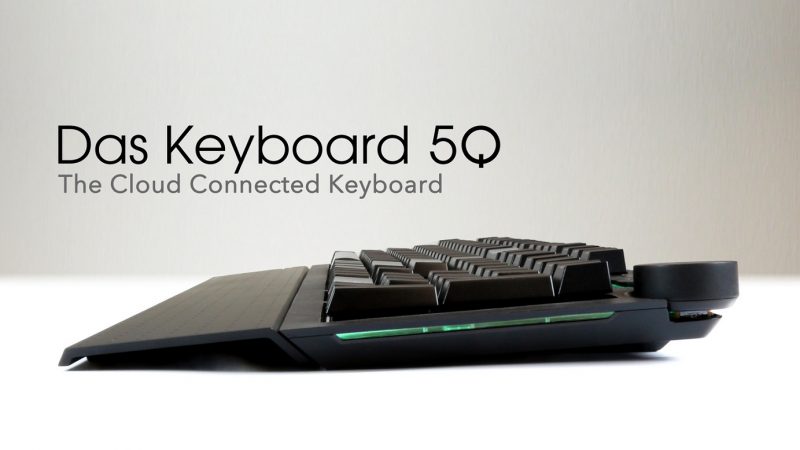 These days everything is "cloud" connected. Your speaker is cloud connected, your watch is cloud connected, your lightbulbs are cloud connected, and even your garage door is cloud connected, so why not also own a keyboard that's cloud connected?
That's what Das Keyboard is expected to show off at this upcoming CES 2017 with their latest Das Keyboard 5Q which will allow users to stream information directly to the keyboard and be notified of things like emails, stock quotes, sports updates, and more right from the lighting on the keyboard. Have no idea how that would work? Here's a little demonstration from Das Keyboard.
According to Das Keyboard, the keyboard will feature support for IFTTT, Zapier, and other services via its public API so users can customize the 5Q to do whatever they so desire.
While the main feature of the Das Keyboard 5Q is its cloud connectivity, the new Das Keyboard 5Q also packs some interesting technologies such as its new RGB backlit Gamma-Zulu mechanical switches which are a jointly developed switch between Das Keyboard and Omron which features a 1.5mm actuation point and can withstand 100 million actuations. The keyboard also features RTO (Real-Time One) analog technology to detect key presses in 0.4ms which then registers with the PC in 1ms, which is 45x faster than your typical keyboard. Further, the Das Keyboard Q also features an oversized Q button in its upper right hand corner that's a volume knob that also doubles up as a button which activates the Das Keyboard Q software.
We'll be at CES 2017 in a couple days, so we'll be sure to report back with a hands on with the Das Keyboard 5Q. Those interested in learning more about the keyboard can check out the Das Keyboard website here.