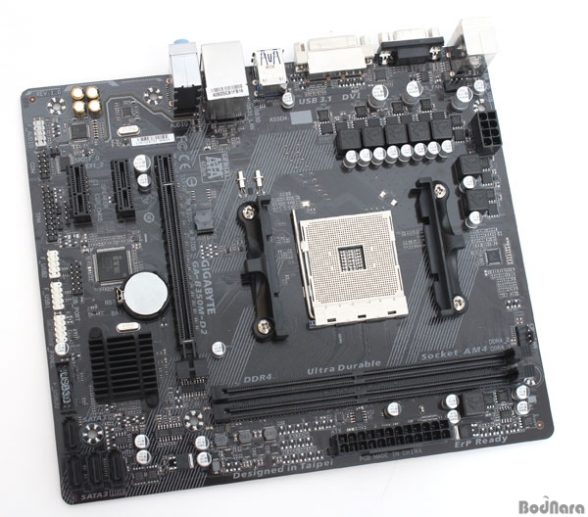 A slew of images from two upcoming Gigabyte AMD AM4 platform motherboards were recently leaked by Korean website BodNara. These upcoming motherboards will support AMD's AM4 socket platform which will be the primary platform for AMD's upcoming Summit Ridge (Zen), Bristol Ridge, Raven Ridge and many future AMD CPUs/APUs.
Like previous AMD platforms, the new AM4 platform will support several different chipsets which are geared towards different market segments. The AMD A320 chipset will be geared towards the entry level while the B350 chipset will be geared towards the mid-range and the X370 chipset will be aimed at the high end. The new chipsets bring a lot of updates to AMD's previous chipsets including native PCIe 3.0, M.2 support, USB 3.0 and more.
Today we'll be looking at two motherboards, the Gigabyte GA-B350M-D2 and the other is a slightly higher end, but unnamed AMD AM4 based mATX motherboard.
The first motherboard we're looking at is the Gigabyte GA-B350M-D2. It features the AM4 socket and the B350 chipset. Onboard is just two DDR4 memory DIMMs, but it's a mATX sized board so it's not uncommon. As for expansion there's a single PCIe 3.0 x16 slot and 2x PCIe 2.0 x1 slots. Additional expansion options include 4x SATA 3 6Gbps ports, 2x USB 3.0 headers and 1x USB 2.0 header. Around the rear I/O panel is 2x USB 2.0 ports, 3x USB 3.0 ports, 1x USB 3.1 Type A, 1x VGA port, 1x DVI port, Gigabit Ethernet, and some audio ports.
Interestingly enough, the audio portion of the PCB is separated here and it looks like Gigabyte is using some sort of Realtek audio chip combined with some higher quality audio capacitors for enhanced onboard audio – something you don't typically see on a lower end board.
The second board is an unnamed Gigabyte AM4 motherboard that's also using the B350 chipset. This one has a few more features such as 4x DDR4 DIMM slots, 2x PCIe 3.0 x16 slots 1x PCIe 2.0 x1 slot, PCIe Gen 3 x4 M.2 slot, 6x SATA 3 6Gb/s ports and more. The rear I/O is also more fully featured with an additional HDMI port and additional USB ports as well. Just like the other board, this one also features an enhanced Realtek onboard audio solution.
Here's also a look at the BIOS which looks pretty much the same as what Gigabyte has these days. There's also a socket comparison between the AM4 socket and what looks like a FM2+ socket. Notice the difference in pin holes. The AM4 socket has significantly more pins.
Currently a number of OEMs are already shipping systems with Bristol Ridge CPUs and AM4 based motherboards however, this is the first time we're seeing pictures of upcoming retail motherboards. Currently it's unknown when these new boards will launch however, at this point if it's not by next month, it'll most likely be somewhere closer to CES in January.
Also keep note that these are definitely either engineering samples or early review units so things may change between now and later. We'll definitely keep you posted.