Warning
: Undefined array key "width" in
/var/www/vhosts/custompcreview.com/public_html/wp-includes/media.php
on line
1381
Warning
: Undefined array key "width" in
/var/www/vhosts/custompcreview.com/public_html/wp-includes/media.php
on line
1386
Warning
: Undefined array key "height" in
/var/www/vhosts/custompcreview.com/public_html/wp-includes/media.php
on line
1386
Warning
: Undefined array key "width" in
/var/www/vhosts/custompcreview.com/public_html/wp-includes/media.php
on line
1381
Warning
: Undefined array key "width" in
/var/www/vhosts/custompcreview.com/public_html/wp-includes/media.php
on line
1386
Warning
: Undefined array key "height" in
/var/www/vhosts/custompcreview.com/public_html/wp-includes/media.php
on line
1386
[section label=1. Introduction]
Turbocharged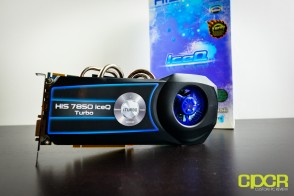 If you're a budget conscious gamer these days, then you probably already know that you no longer need to empty your wallet to obtain decent gaming performance and high end features out of a graphics card. Mid-range cards such as the AMD's 28nm Radeon HD 7800 series offer excellent performance to dollar ratio and even saves you money on your electricity bills too.
Today we'll be reviewing one such mid range graphics card from our friends over at HIS, the HIS Radeon HD 7850 IceQ Turbo 2GB. Looking at the specs, the card is definitely promising. As its name suggests, it comes with a new revision of HIS's custom IceQ cooler. We've had a couple run-ins with HIS' IceQ cooling solutions in the past and we've generally come out very impressed with its cooling performance every time. Also featured with this card is a custom HIS designed PCB, which has a number of additional features such as additional PWM power phases, an additional 6 pin power input, the use of thicker copper layers, and the use of Dr. Mos mosfets. Finally to make the card just that much sweeter, HIS is also selling the card with a respectable 140MHz core/100MHz overclock straight out of the factory bringing the card to 1000MHz core/1200MHz memory right out of the box.
Understandably then, we're heading into this review with high hopes, so let's see if this card can live up to our expectations!
Specifications
| | AMD Radeon HD 7850 Reference | HIS HD 7850 IceQ Turbo |
| --- | --- | --- |
| Fabrication | 28nm | 28nm |
| Core Clock | 860MHz | 1000MHz |
| Stream Processors | 1024 | 1024 |
| Texture Units | 64 | 64 |
| ROPs | 32 | 32 |
| Buffer Size | 2GB GDDR5 | 2GB GDDR5 |
| Memory Interface | 256-bit | 256-bit |
| Memory Frequency | 1125MHz (4.5 GHz Effective) | 1200MHz (4.8 GHz Effective) |
[section label=2. A Closer Look]
A Closer Look at the HIS Radeon HD 7850 IceQ Turbo 2GB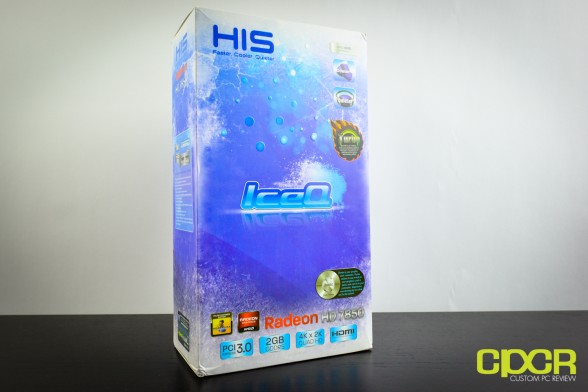 Here's a look at the packaging for the Radeon HD7850 IceQ Turbo 2GB. It's quite plain and very similar to pretty much every other HIS package we've seen in the past.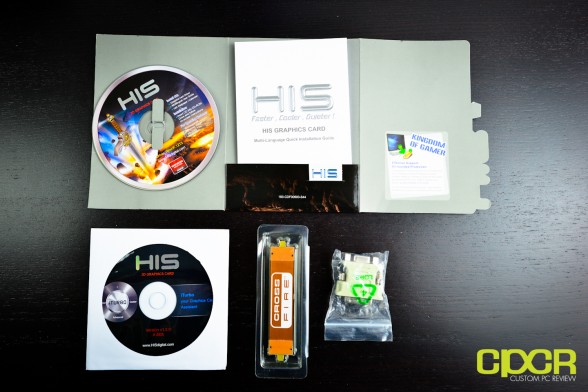 Bundled in the package is a driver disk, some documentation, HIS Power UP label, iTurbo overclocking utility disk, a CrossFire Bridge, and a DVI to VGA adapter.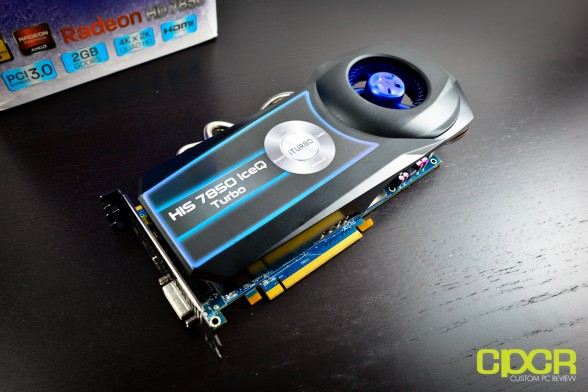 Taking the card out of the box, it's pretty instantly obvious that HIS went all out on this card despite the fact that it's only a mid-range product. The first thing we notice here is that the IceQ Turbo cooler is massive. Coming in at about 11.69 inches, the IceQ Turbo cooler far exceeds the length of the PCB. The single turbine fan on the end of the cooler draws air from deep inside the case and blows it out the back, which is good news for people looking to build a CrossFire setup as it's able to draw cool air from inside the case rather than hot air coming out the back of another graphics card.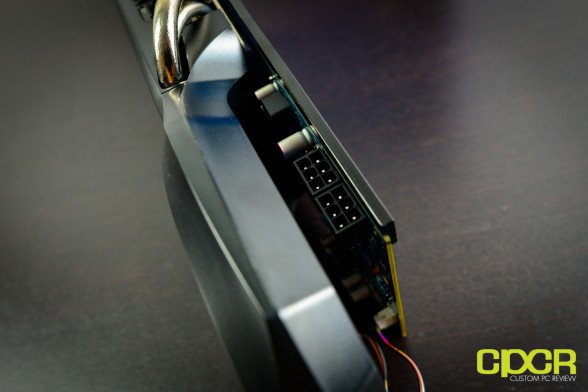 With the HD 7850 IceQ Turbo, we get a couple features HIS calls "iPower". First, the PCB is custom designed, which means HIS is able to deviate from the reference AMD HD 7850 board design by adding a number of different features to improve power delivery to the GPU.
As we can see above, the HIS 7850 IceQ Turbo requires two 6-pin power connectors rather than one, which is typically offered through the reference design. Of course that's not the only change under the hood. In addition to this, HIS increased the number of PWM phases to 8 from 7, they've increased the thickness of the copper layer to 2 Oz rather than a 1 Oz, and they've also replaced the standard mosfets with more powerful Dr. Mos mosfets. This helps allow for additional and more stable power delivery to allow for better overclocks.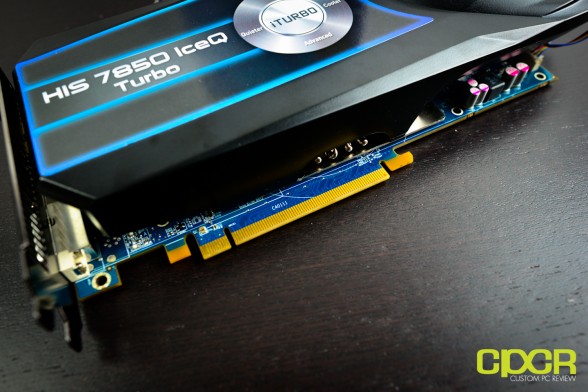 The card uses the PCI-E 3.0 interface, just like all other cards in the Southern Islands line up.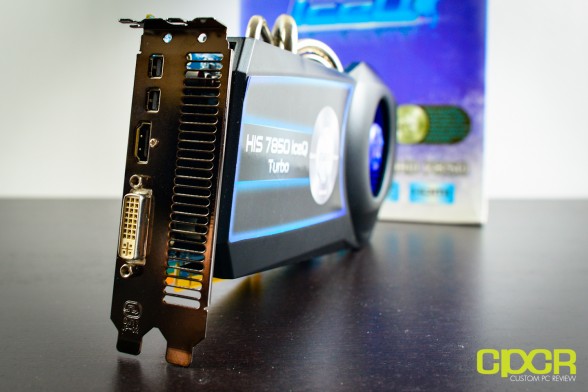 Unsurprisingly, the HD7850 IceQ Turbo will eat up two expansions slots. The back panel includes a DVI port, a HDMI port, and two Mini-Display 1.2 Ports.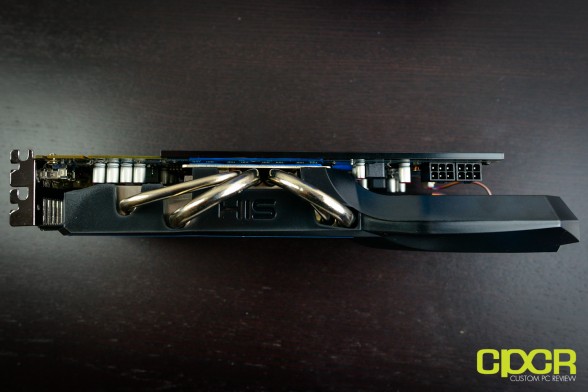 We love a good cooling solution as much as polar bears love seals, so we were absolutely delighted to see four heat pipes (2x6mm and 2x8mm) on the IceQ Turbo Cooler. To make sure the GPU gets enough love from each of the heatpies, HIS also used an extra-large 11.5 x 94 mm heatbase to maximize heat distribution.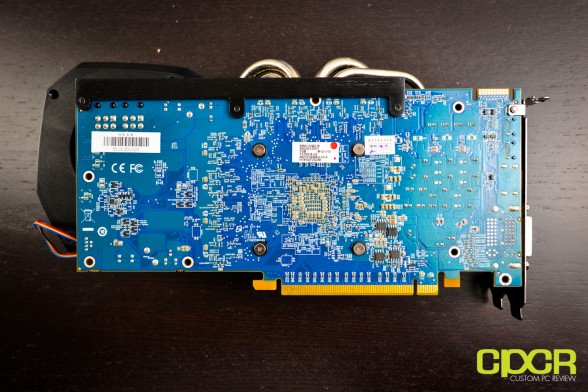 We are not fond of blue PCBs (or anything other than black), but we'll forgive HIS since blue matches the theme of the card. Compared to the reference PCB of the 7850, the one on the IceQ is slightly lengthened. This leaves more space between components and makes the layout appear more organised. Due to the sheer size of the cooling solution, HIS has also thoughtfully included a graphics card brace to prevent the PCB from bending.
[section label=3. Testing Setup]
HIS Radeon HD 7850 IceQ Turbo 2GB Performance
Testing Setup
Ivy Bridge Test Bench
As Ivy Bridge systems become more mainstream these days, we've updated our older Sandy Bridge graphics testing system to our new Ivy Bridge test system with the specifications below. All graphics cards reviewed today have been retested on the new setup and scores from older graphics card reviews may no longer be used in direct comparison.
Special thanks to Gigabyte, Kingston, OCZ Technology and HSPC for sponsoring our test bench!
Initial Boot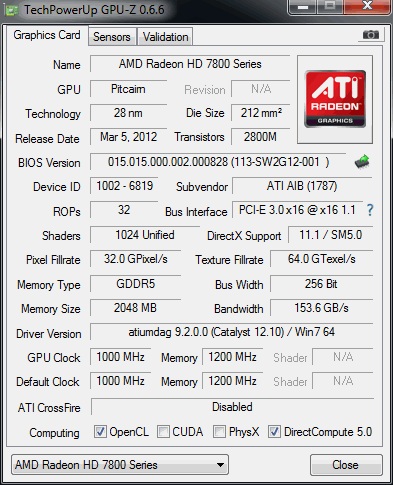 [section label=4. 3D Mark 11]
HIS Radeon HD 7850 IceQ Turbo 2GB Performance
3D Mark 11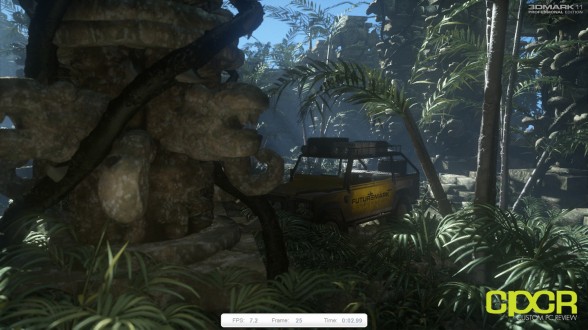 3D Mark 11 is an extremely popular benchmark designed by Futuremark for the sole purpose of stress testing a system's graphics performance. Trusted by hardware enthusiasts and gamers world wide, 3D Mark 11 uses the latest features of DX11 to stress test graphics performance with consistent loads which simulate in game performance.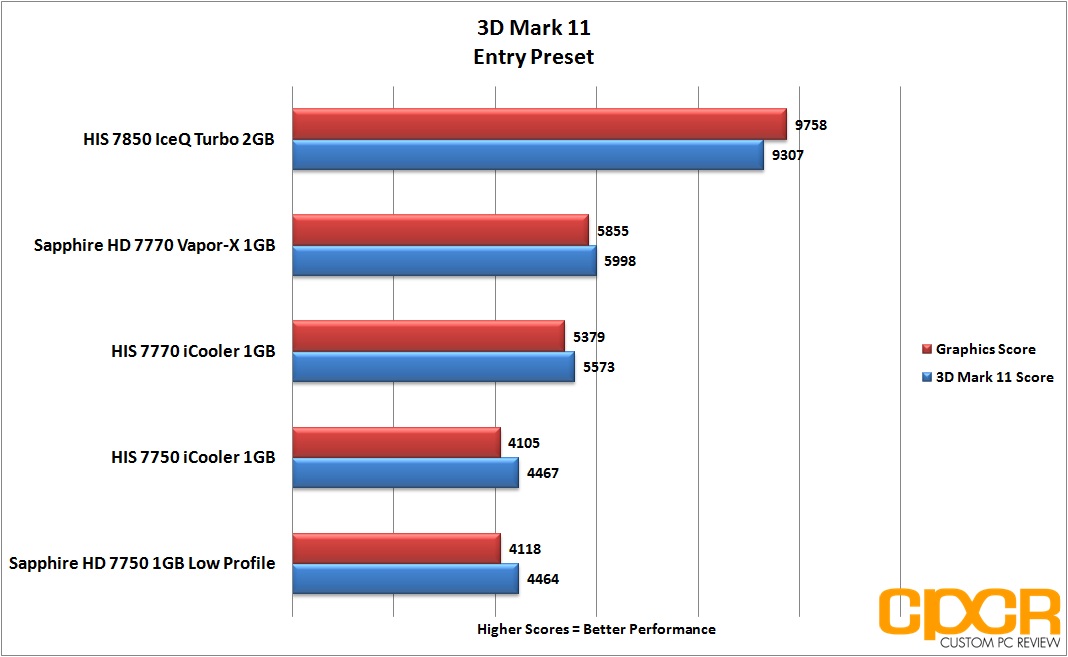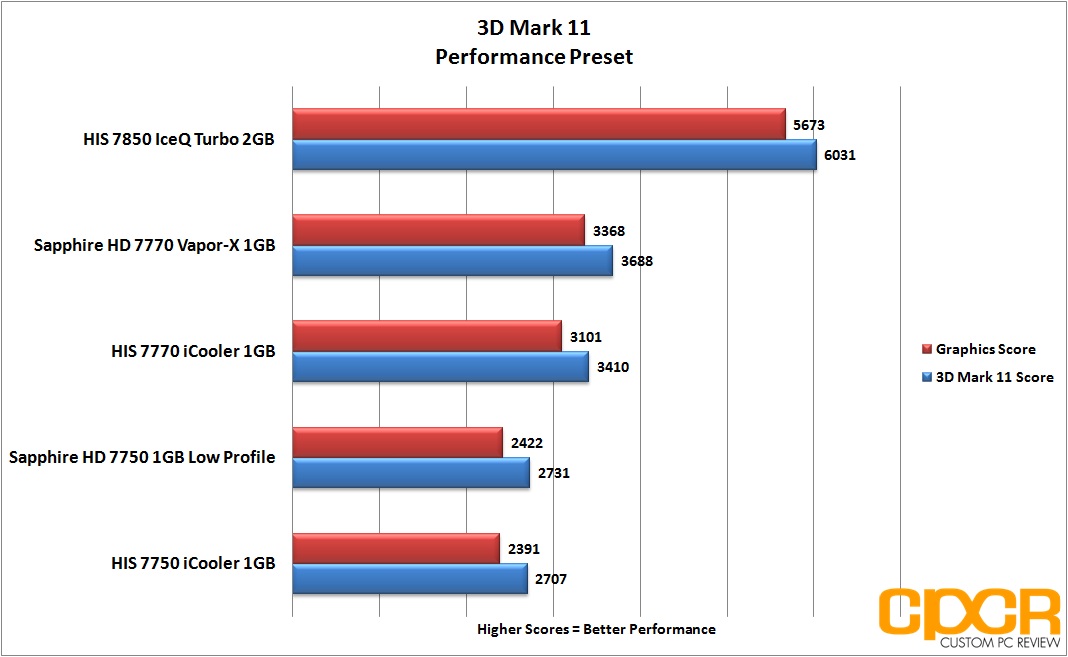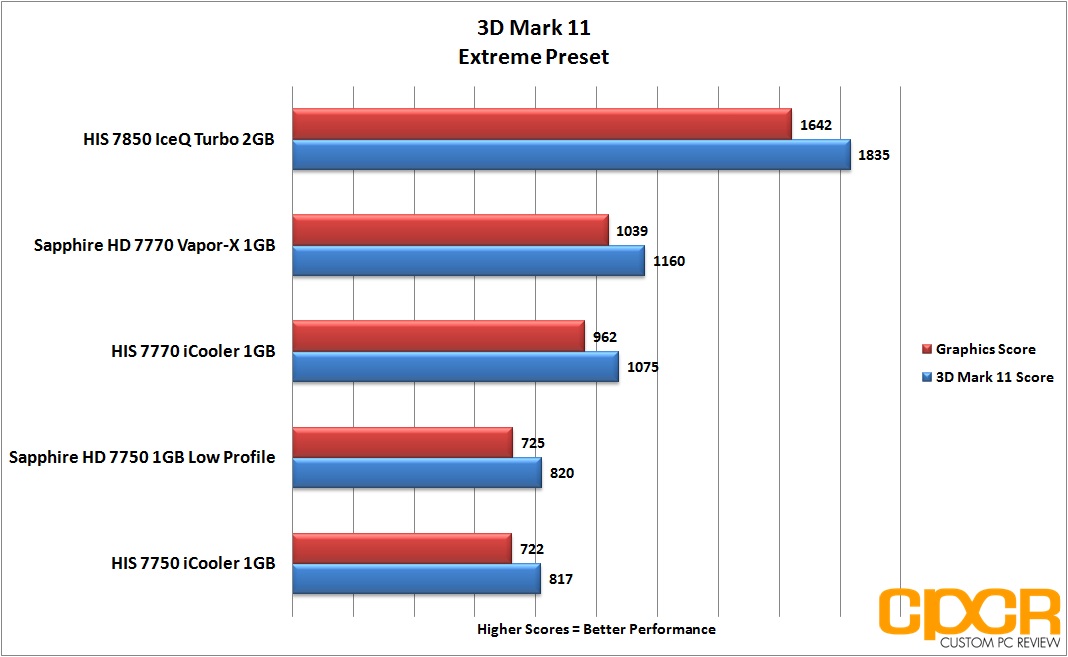 [section label=5. Unigine Heaven]
HIS Radeon HD 7850 IceQ Turbo 2GB Performance
Unigine Heaven v3.0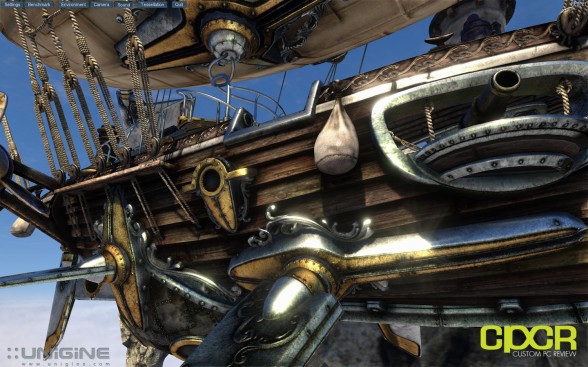 Unigine Heaven is another DX11 benchmark that stresses the graphical processing capabilities of the GPU using the advanced UNIGINE engine.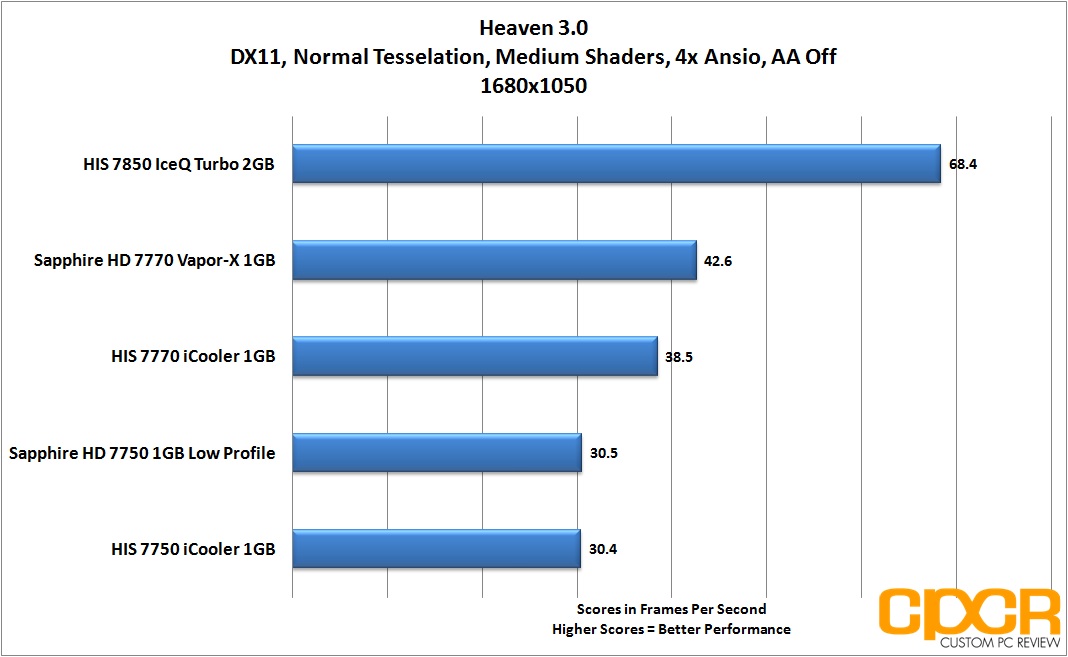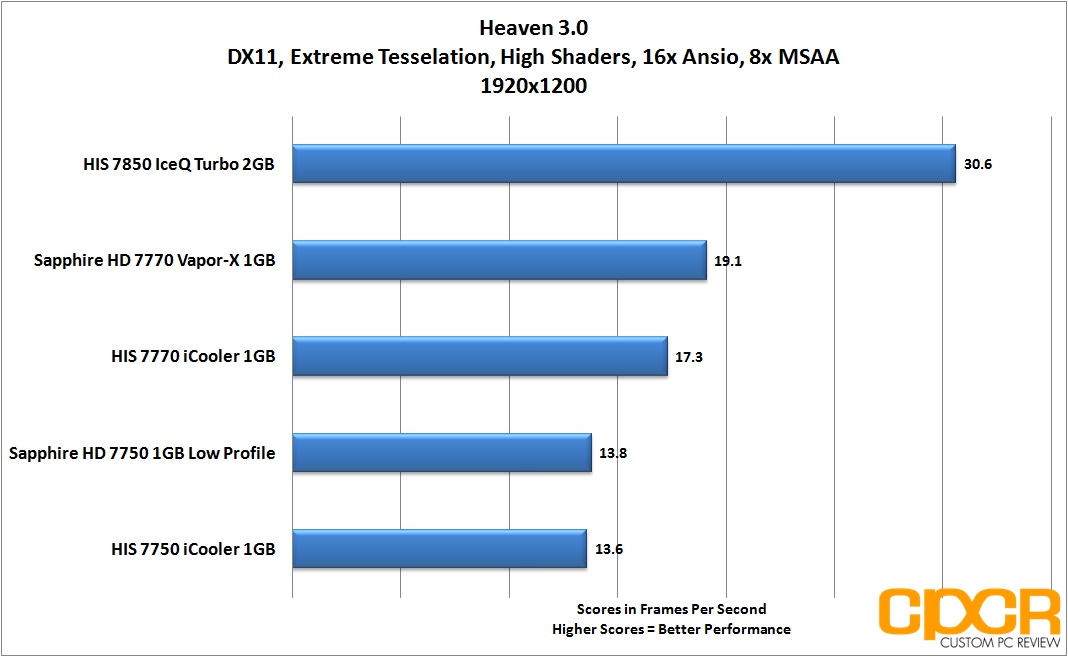 [section label=6. Lost Planet 2]
HIS Radeon HD 7850 IceQ Turbo 2GB Performance
Lost Planet 2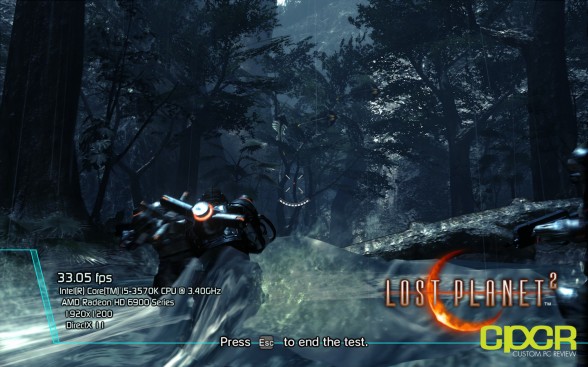 Despite being released by Capcom in 2010, this third person shooter is still a staple in many gaming benchmark suites. Featuring a vast world, detailed environments, and stunning effects, Lost Planet 2 can still be more than a handful for even many of today's gaming graphics cards.
For our benchmarking today, we'll be using the "Test A" preset in the Lost Planet 2 benchmarking utility.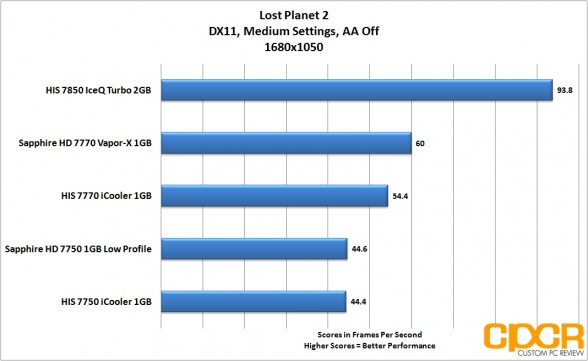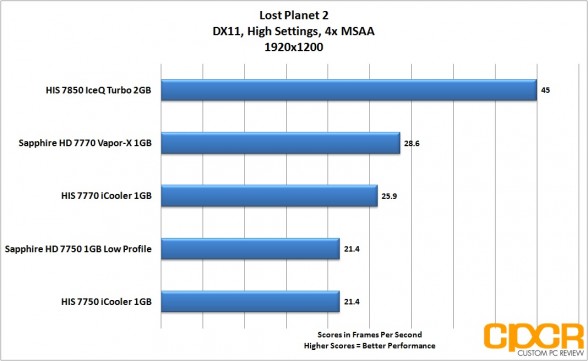 [section label=7. Shogun 2: Total War]
HIS Radeon HD 7850 IceQ Turbo 2GB Performance
Shogun 2: Total War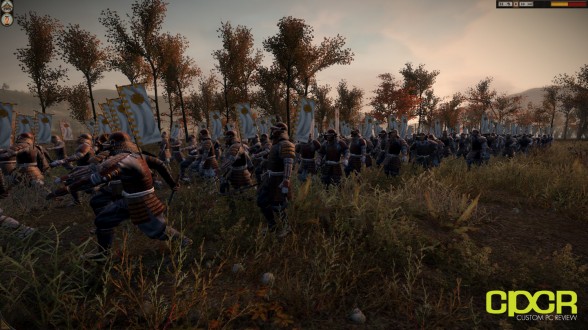 Shogun 2: Total War is the most recent installment of the long running Total War series. Capable of using DX11's features, it's the perfect benchmark to test for the gaming performance. For our testing today, we'll be using the Shogun 2: Total War benchmark utility.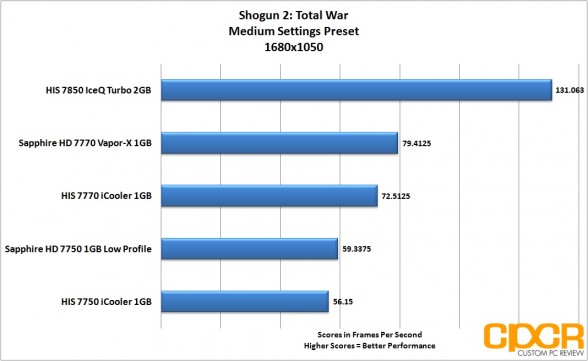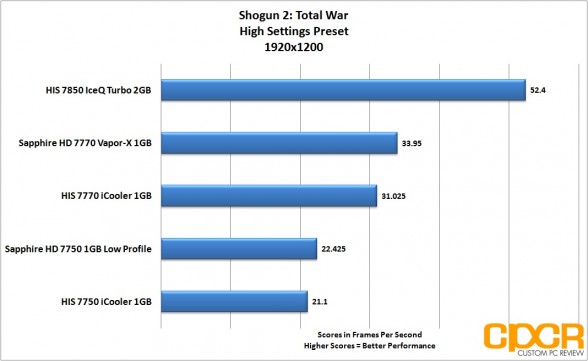 [section label=8. Crysis 2]
HIS Radeon HD 7850 IceQ Turbo 2GB Performance
Crysis 2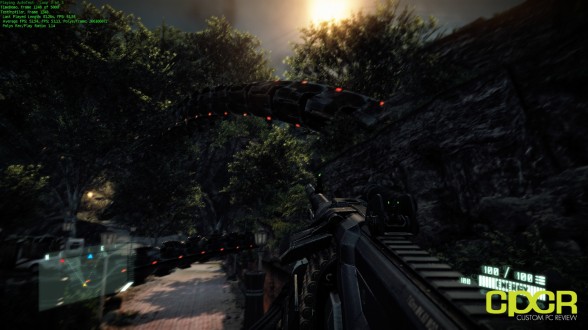 As the successor to Crysis, which was hailed as the most graphically intensive game of all time when it was released in late 2007, Crysis 2 is less graphically demanding than its predecessor, but still one of the most graphically challenging games of all time.  You simply can't take a step in Crysis 2 without stepping into some intense tessellation. Combined with rich lighting, insane physics, and oodles of post processing, Crysis 2 requires a ton of graphics muscle to run.
Today, we'll be benchmarking Crysis 2 in the map "Central Park" with the Adrenaline Crysis 2 Benchmark Tool.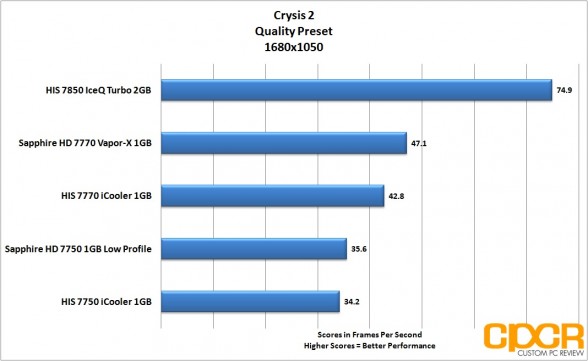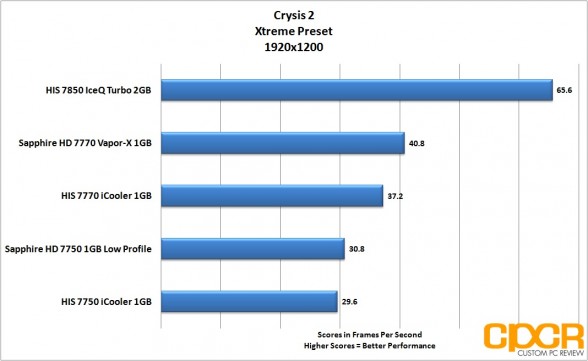 [section label=9. Metro 2033]
HIS Radeon HD 7850 IceQ Turbo 2GB Performance
Metro 2033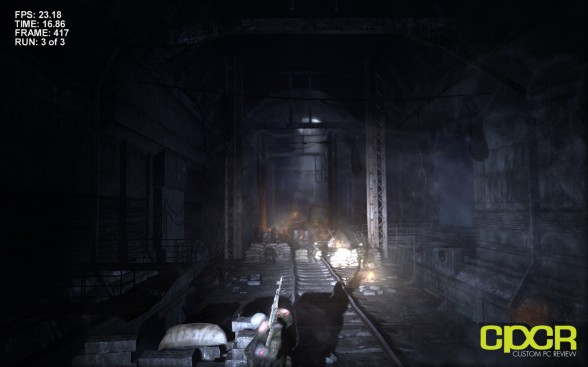 Similar to Crysis 2, Metro 2033 is extremely tessellation intensive and fills the ranks as one of the most graphically intense games of all time.
Today, we'll be benchmarking Metro 2033's Frontline map using the Metro 2033's included Benchmark Utility.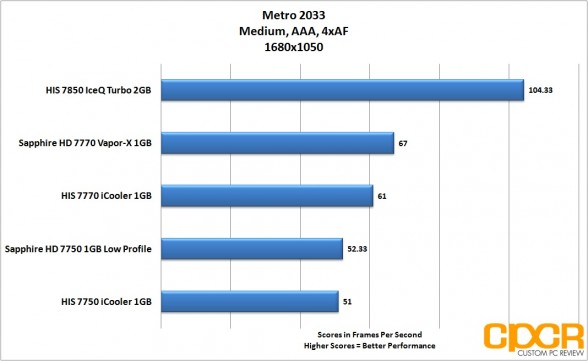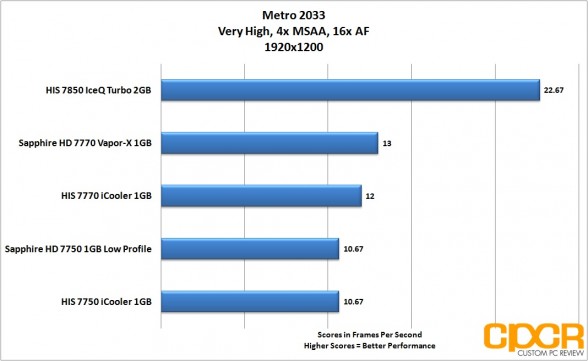 [section label=10. Diablo 3]
HIS Radeon HD 7850 IceQ Turbo 2GB Performance
Diablo 3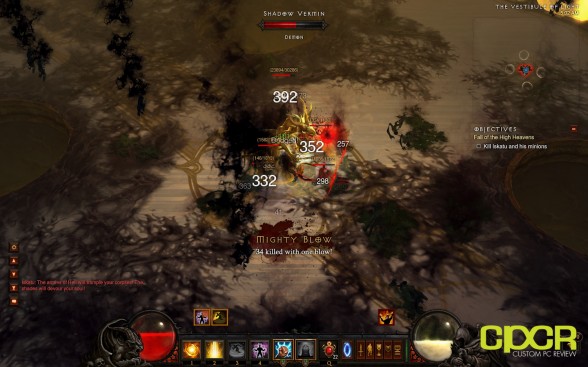 After being released over a decade after its predecessor, Diablo 2, Diablo 3 launched as the fastest selling PC game of all time selling 3.5 million copies within the first 24 hours of its release, instantly crushing Blizzard's servers at launch time. While Diablo 3 isn't the most graphically intense game out there, it's still an excellent benchmark due to its widespread popularity.
For our benchmarking today, we'll be using FRAPS to record a 60 second benchmark while in game. Our benchmark is run in Act 4 Part 1 where we'll be taking out the mini-Boss Istaku and his countless minions.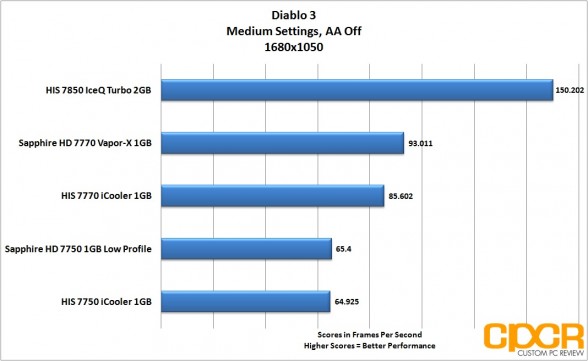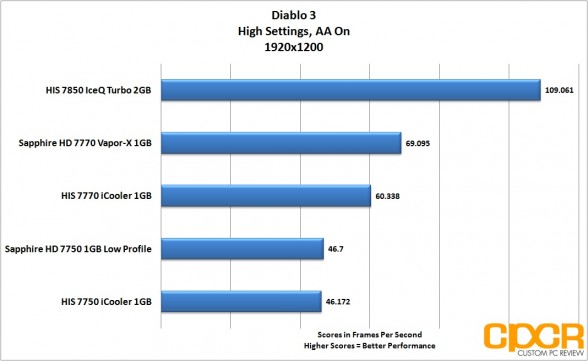 [section label=11. Battlefield 3]
HIS Radeon HD 7850 IceQ Turbo 2GB Performance
Battlefield 3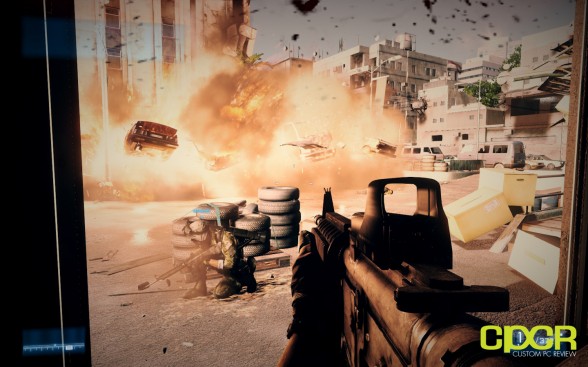 Possibly one of the most highly anticipated FPS games of 2012, Battlefield 3 is currently one of the most graphically intensive games developed on the incredibly well crafted Frostbite 2 engine. With its detailed models, amazing physics, excellent use of shaders, and stunning effects, it easily makes it into our list of the best looking games ever created.
Our benchmark will be run in the map Operation SwordBreaker during the first fight scene. We'll be using FRAPS to record a 60 second clip, which includes making this van up here explode.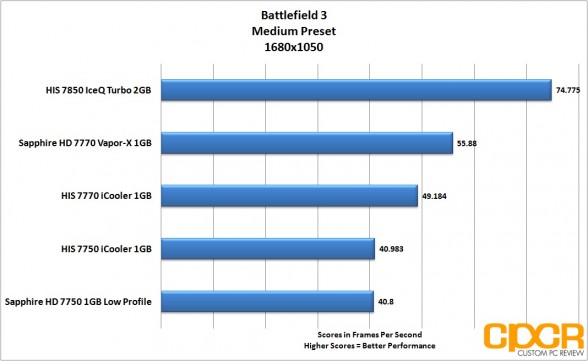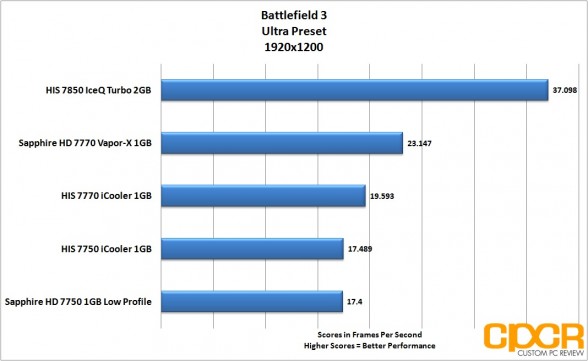 [section label=12. Power Consumption and Temperatures]
HIS Radeon HD 7850 IceQ Turbo 2GB Performance
Power Consumption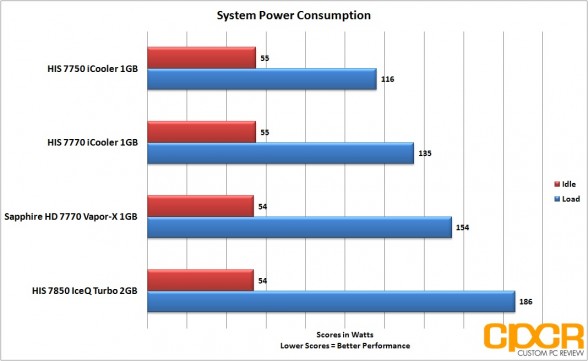 Temperature Testing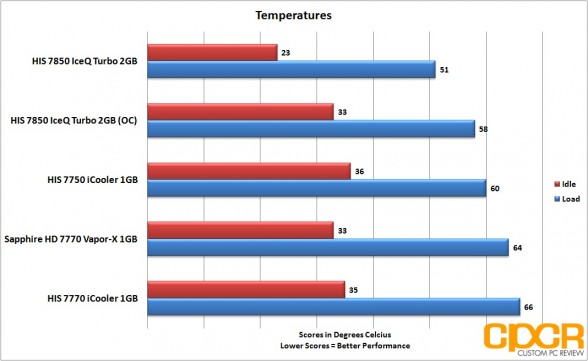 [section label=13. Overclocking]
HIS Radeon HD 7850 IceQ Turbo 2GB Overclocking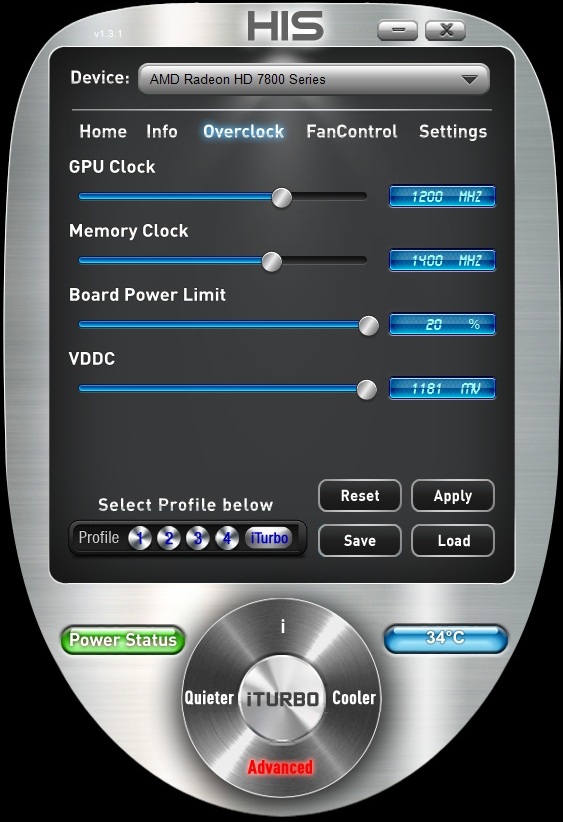 The included HIS iTurbo overclocking utility makes overclocking easy with its simple interface. Simply set the voltage, set the clock speeds, and hit apply. Easy, easy.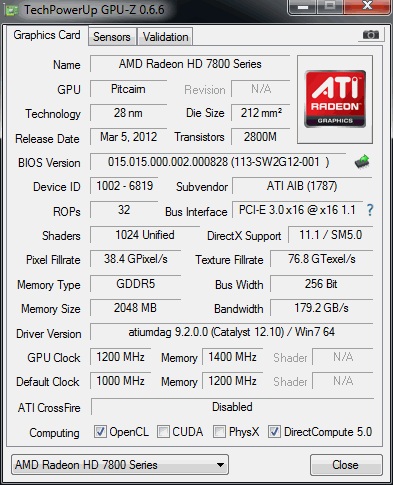 Using HIS iTurbo, the HIS Radeon HD7870 IceQ Turbo overclocked like a champ. We were able to get the core clock up to an astounding 1200MHz and the memory clock up to 1200MHz stable.
3D Mark 11 Performance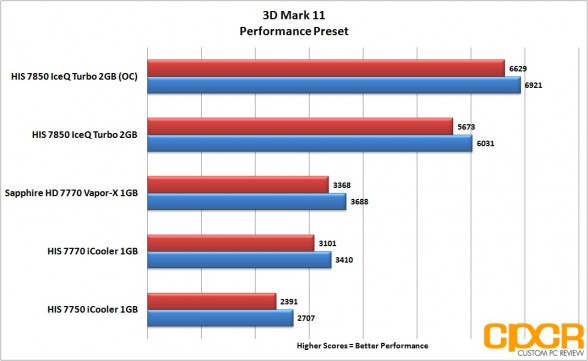 With the core clock pushed to 1200MHz, we saw a whopping 16% performance increase in 3D mark 11. Remember that the HD 7850 IceQ Turbo comes out of the box overclocked to 1000MHz, so expect the HIS Radeon HD 7850 IceQ Turbo to receive around a 20%+ improvement over the reference HD 7850 when overclocked.
Power Consumption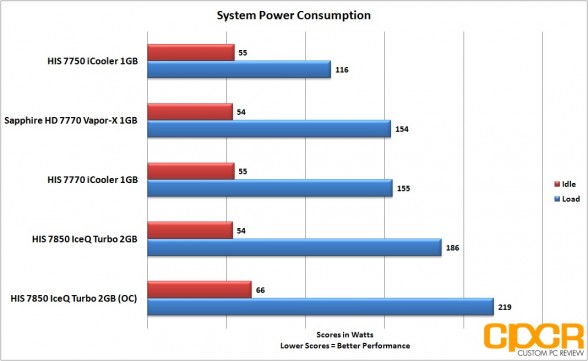 Since we pushed the card to its extremes, power consumption had risen considerably. The overclocked 7850 IceQ Turbo drew 33W more power under load and 12W more when idle. That said, 28nm solutions from both AMD and Nvidia are extremely power efficient, especially when compared to what we've seen from the last generation graphics cards.
Temperatures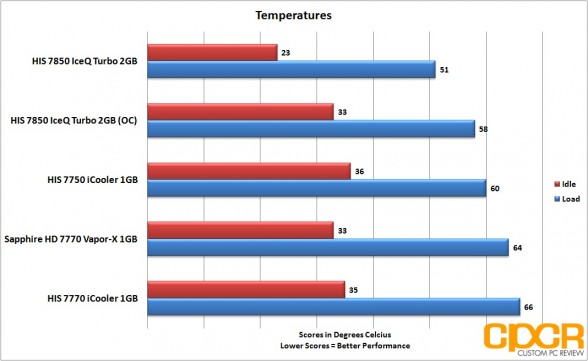 With the card overclocked to 1200MHz and the voltage upped to 1.18V, it's unsuprising to see that the load temperature went up, but only by 7°C. That said, what's more surprising is that the idle temperature increased by 10°C. Taking a closer look at this, when overclocked the idle voltage on the 7850 IceQ Turbo increases significantly, which is the reason for the higher idle temperatures.
[section label=14. Conclusion]
HIS Radeon HD 7850 IceQ Turbo 2GB Conclusions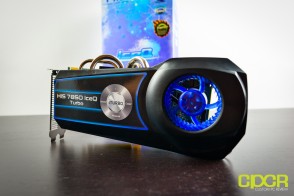 HIS attempted to squeeze out every last drop of potential from the HD7850, and it's quite apparent their efforts have paid off. In terms of performance, the benchmarks are quite revealing. The 7850 IceQ Turbo was able to churn out playable frame rates in nearly all the titles we've tested at the highest settings at 1920×1200.
Power draw was fantastic as well. Despite requiring dual 6-pin power connectors, the 7850 IceQ Turbo didn't draw that much power. At maximum load, the whole system used only 186 W. At idle, the Zero Core technology helped kick that number down to just 53W. Both of these tests act as testimonies to the amazingly power efficient Pitcairn Pro GPUs.
Just because the GPU sips power doesn't mean HIS skimped on cooling. In fact, the new IceQ cooler comes attached is nothing short of a beast. Its quad heatpipes and large vortex fan helped the GPU sit at a chilly 23°C on idle, and just 53°C under maximum load. Noise wasn't an issue at all either as the fan managed to keep itself to a low hum even under full load overclocked. While idle, the 7850 IceQ Turbo was whisper quiet, which is generally what we've seen from the IceQ turbine coolers of the past.
What truly caught my attention with the HIS Radeon HD7850 IceQ Turbo is its ability to overclock. I was able to push this card to an astounding 1200MHz Core /1400MHz memory and the card was stable enough to run through the 3D Mark 11 benchmark multiple times without crashing or artifacting. Remember, the 7850 IceQ Turbo comes out of the factory with both a considerable core and memory overclock, so this is definitely quite a feat. Much of the overclocking success is definitely due to the IceQ cooler keeping the CPU nice and cool, but the enhanced power delivery definitely played a major role in this as well.
What's most impressive is that despite the near 40% core overclock over reference, temperatures on the 7850 IceQ Turbo were more than acceptable, sitting at a chilly 58°C under full load. In comparison, it ran cooler than lower end custom cooled HD 7770's and HD 7750's I've tested in the past, which is a phenomenal feat.
Pricing on the HIS Radeon HD 7850 IceQ Turbo 2GB is currently $219.99 on Newegg, which places it squarely in the mid-range in terms of price. Those thinking about doing some serious overclocking or those thinking about going with a CrossFire setup will definitely find that the Radeon HD 7850 IceQ Turbo 2GB is among one of the best cards on the market in terms of price to performance. That said, HIS does offer their custom cooled, more reference clocked HIS Radeon HD 7850 IceQ X 2GB at only $189.99, which should deliver slightly lower performance to the 7850 IceQ Turbo, but does come in at $30 less. Those not looking for the highest overclocking capacity or those not thinking of putting the graphics cards in CrossFire may find that it'd be a better deal to save the additional $30 and go with the HIS Radeon HD 7850 IceQ X 2GB instead.
Overall though, you can't really go wrong with the HIS Radeon HD 7850 IceQ Turbo 2GB. Highly recommended!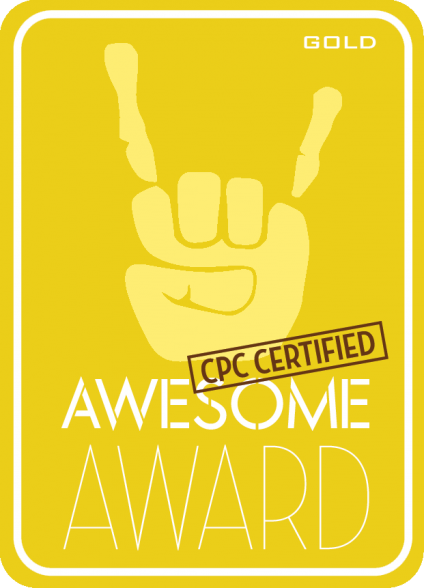 Sample provided by: HIS
Available at: Newegg