Things We Thought We Didn't Need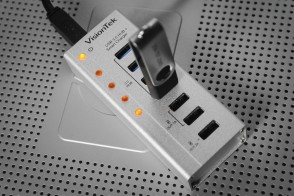 As a hardware reviewer, there comes a time when the "wow, I didn't know I needed this" epiphany hits. Generally we stick with reviewing certain types of hardware that we review often and we tend to forget about some of the smaller, essential products until they are presented right before us.
Case in point. VisionTek's new Charge & Sync USB 3.0 Seven Port Hub.
My Cicero four-port USB 2.0 hub lasted well over a decade and back when I bought it, the USB 2.0/1.1 conversion was a brand-new concept. When Windows 7 overtook XP, I thought my now driverless hub would need to be retired, but instead, it has far outlived its useful lifespan.
As primarily a desktop user, I didn't think USB ports in general would be much of a factor in this day in age. Most desktop motherboards started incorporating a plethora of USB ports, which nowadays seems certainly more than the average person can occupy. That is until I started shopping around for a new Ultrabook. I quickly found out that USB hubs shine in the mobile devices market, specifically with smartphones, and ultrathin, ultralight notebooks which generally come with one or two USB 3.0 ports at best. As we'll see though, the VisionTek Charge & Sync USB 3.0 Seven Port Hub goes well beyond conventional uses of connection, expansion, and speed and makes the case for slightly more than a traditional USB hub.
Packaging and Specifications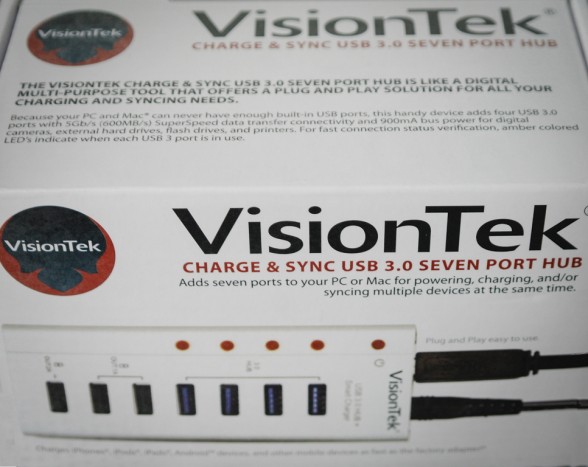 VisionTek traditionally keeps their packaging fairly minimalistic. The key points and features of their products are clearly outlined in the front, with the juicer specs in the back.
Inside the Charge & Sync hub is nestled in a thick piece of styrofoam which separates the other components that complement it. Aside from the hub, the packaging comes with a power adapter, user manual, and the usual USB-B data cable. The 39" cable is a tad on the short side, so your extension surface area won't go too far.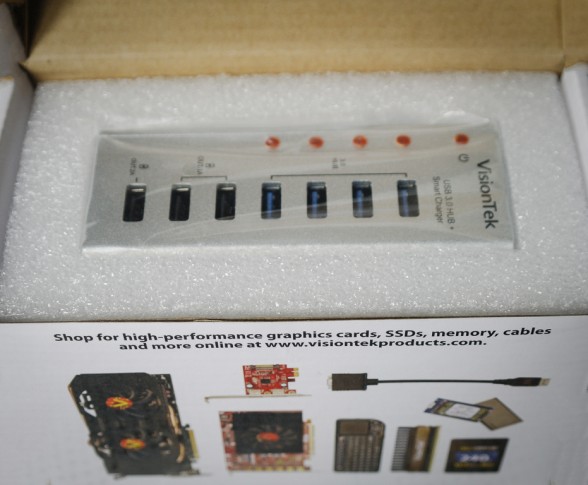 Considering the overall price is ~$50-$55, there has to be something different about VisionTek's hub. Even though USB 3.0 hubs aren't as dirt cheap as 2.0, a standard four-port falls in the $25-30 range. The extra ~$25 comes from the additional three charging ports (2 x 1.0A + 1 x 2.0A) that are indicative of the VIA Labs VL812 USB 3.0 chipset.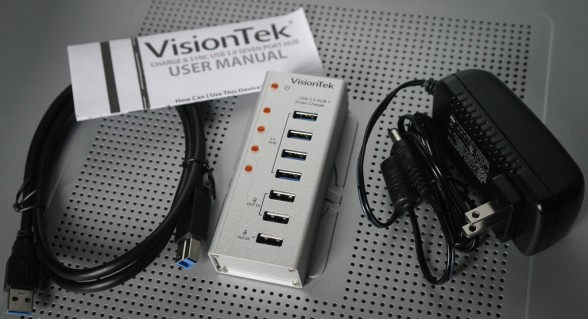 It seems like the vast majority of USB 3.0 hubs are using this chipset, so let's take a quick look at it. The chip uses UL certified auto-switching from the external power supply (AC) and downsamples the 12V/3A DC output to 5V using the 5V DC-DC switching regulator. Aside from the combined 4A of the charging ports, the four USB 3.0 ports get up to 900mA per port. Note that this is the case regardless of which type of power input you use (USB-B cable or AC adapter).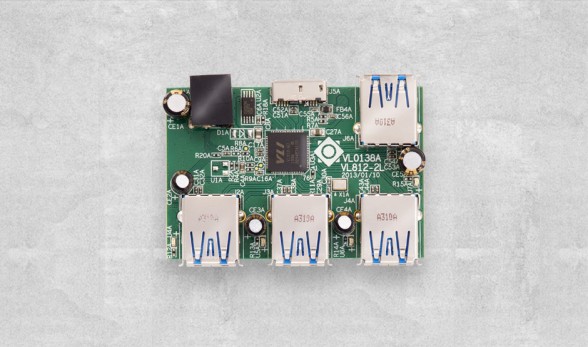 The USB 3.0 ports are geared for 5Gb/s 'Super-speed' throughput, and the entire slew of ports feature rapid charging, low power consumption, and low power states such as sleep-mode charging. This is fantastic for mobile devices like ultrabooks which have built-in USB 3.0 idle compatibility, allowing connected devices to charge while the devices is in sleep/hibernation and in some cases off (but still connected to a power source). With the advanced state of devices nowadays, each port can technically be used for charging.
A Closer Look
Having adequately dissected the components of the Charge & Sync it's time to step back and assess the whole unit. Right off the bat you will notice the aesthetics. As per VisionTek, the hub has a solid chrome/brushed-aluminum finish. This style fits Macbooks and Ultrabooks specifically due to their color schemes, but this design itself isn't any different than the plethora of other USB 3.0 hubs out there. Most are either chrome, black, or white, with VisionTek's offering coming in chrome only. This isn't a bad thing; a hub isn't meant to be flashy. It's meant to be functional.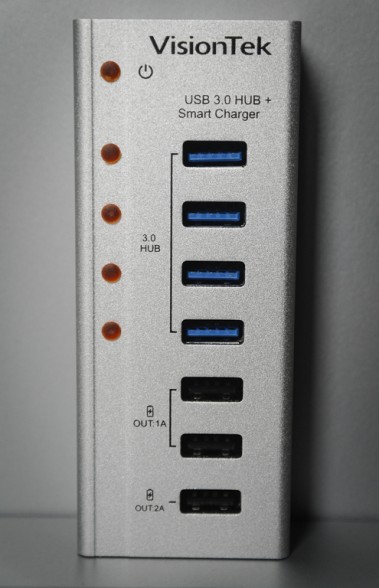 Visiontek's Charge & Sync USB 3.0 Seven Port Hub looks blocky and solidly built – like a small metal bar. With dimensions of 0.90″ x 4.30″ x 1.80″ and 0.29 pounds, the hub is relatively lightweight and portable. Due to its metal finish, it is also smooth and cool to the touch – perfect for constant, full port usage. It seems like a minimal point but in reality goes a long way when the hub is jam packed with devices. I was pleasantly surprised at how well the temperature was managed as it never got uncomfortably warm.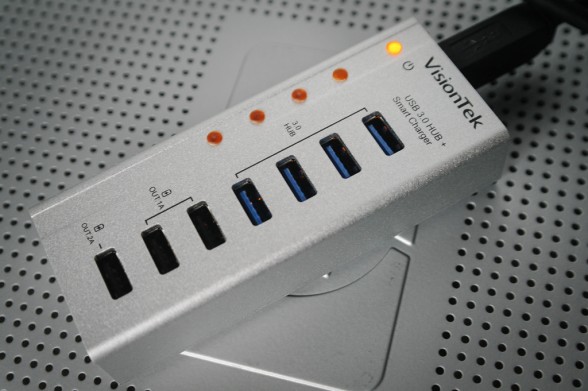 The four USB 3.0 ports each come with their own dedicated amber LED when a device is plugged-in. Aside from looks they give the practical addition of identifying any potential issues with connected devices. Two features I personally would have loved are blinking lights for when USB devices are in use, as well as an on/off switch for the hub (if not each respective port).
Testing & Performance
Visiontek's Charge & Sync USB 3.0 Seven Port Hub's specs indicate that it's a four-port USB 3.0, with three charging ports. With a 39" cable it's perfect for extending your current desktop USB 3.0 offering, while continuing support software-side for Windows XP is beneficial for those who haven't made the jump.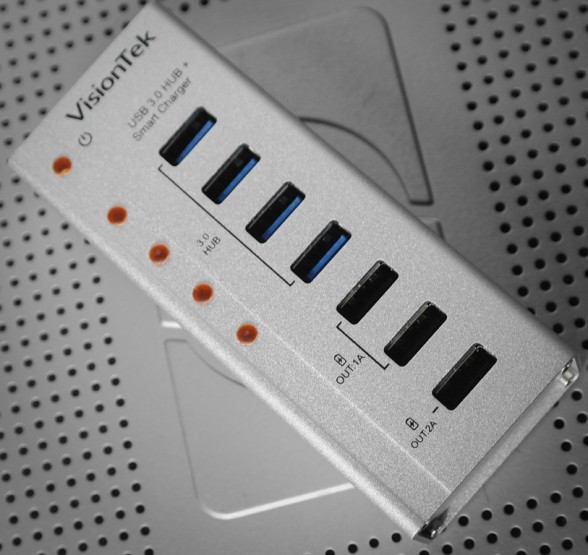 As I said prior however, the real advantage lies with mobile devices – Macbooks, Ultrabooks, and even smartphones with USB OTG. My Ultrabook for example only comes with one USB 3.0 port and I find myself regulating devices between it and the only other USB port which is 2.0. While the Charge & Sync (and any other hub for that example) won't increase the portability, it certainly extends the functionality to the point where I don't have to worry about removing devices and swapping them between ports.
For testing I decided to conduct an apples-to-apples comparison with the Anker seven-port USB 3.0 hub that has the identical VIA VL812-B2 running on the updated 9801 firmware (the older firmware had issues with connected devices losing throughput performance). Comparing them to the stock Sony VAIO T14 Intel USB 3.0 eXtensible Host Controller, we see very little variation in performance using the USB 3.0 Patriot SuperSonic Magnum 256GB flash drive:
The higher the number, the better; we see trivial difference between the three devices. All hovered around 276MB/s read and 174Mb/s write.
For charging speed and efficiency the 2.0A port of the VisionTek Charge & Sync will go head-to-head with the 2.5A port of the Patriot FUEL+ 7800mAh battery pack, as well as the slightly-superior 2.1A Anker charging port. 2.5A is one of the more higher ratings, and while the FUEL+ benefits from the faster charging rate, it also only has one other charging port that is rated at 1.0A:
To make it fair, each device was plugged in both via AC adapter and USB-B. Each device also had only the Note II plugged-in, which was charged from 0-100 while turned off. The lower the values, the better – and with all calculated at 20% inefficiency, the results are as expected. The extra 0.1A (100mAh) luxury of the Anker port is relatively inconsequential overall, but still worth noting; with that said, the extra 0.5A of the FUEL+ really flex their muscles here, cruising to a substantial 30-minute differential versus its competitors.
One of the overlooked aspects of both the VisionTek and Anker hubs is the fact that they are excellent charging stations. While not portable in terms of having a built-in battery, they are brilliant when it comes to charging multiple devices. Theoretically you can charge seven devices at a time assuming you are providing the hubs with enough juice, and if you know the mAh's of your respective device batteries, it simply becomes a game of assigning the right ports for each device for efficient charging.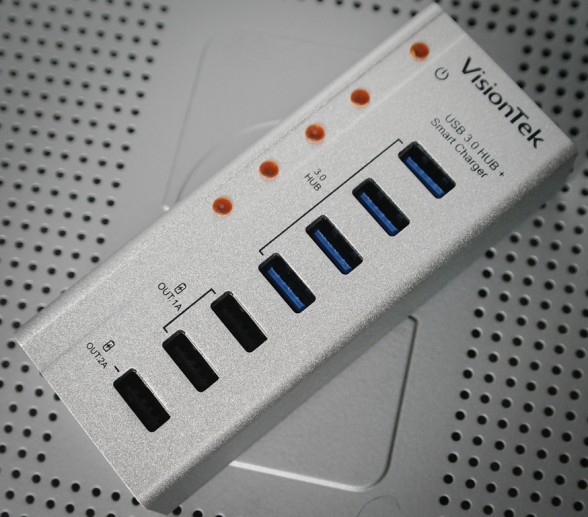 The main gripe that I have, then, is the fact that the two hubs are nearly identical. VisionTek has not really done much in terms of separating themselves from the pack, aside from offering a great 18-month warranty. It's a pedantic point to make because a hub is a hub is a hub; there isn't much of a distinction to be made for a device that is meant to extend functionality at its core. Adding the extra charging ports is nice, but I feel like the lack of pizzazz – something as simple as a flashy design – would have gone a long way in helping VisionTek's offering stand out from a sea of similar – if not essentially identical USB 3.0 hubs. Something like a built-in battery for example would have made it significantly more versatile.
Conclusions
With everything said and done, I still wholeheartedly recommend VisonTek's Charge & Sync Seven Port USB 3.0 Hub based on its functionality. It can be used to extend existing USB 3.0 solutions, connect and charge a plethora of devices, and perform with the expected throughput of 5Gb/s. It also acts as great charging station as well despite the hub part being its primary purpose.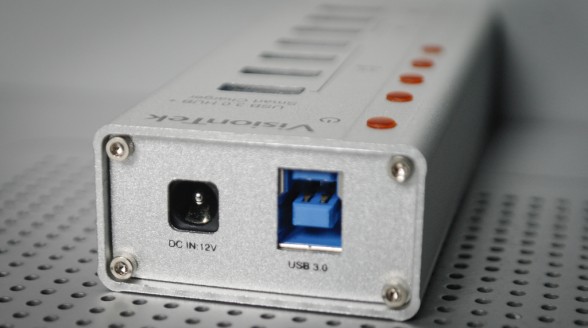 While it literally and figuratively possesses solid build quality backed by an 18-month warranty, there are a few negatives. The aesthetics are a bit bland and come in only the one sole chrome color scheme. The amber LEDs are also not consistent throughout for when diagnosing a malfunctioning device becomes an issue. A power switch is also missing, hence you will have to unplug the power or USB-B cable if you need to turn it off.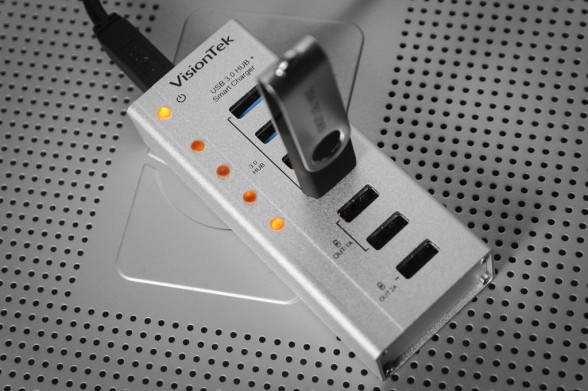 At ~$50-$55 price-point depending on where you shop, I believe it'd be a much more competitive offering at the $45 mark. However, I have been using VisionTek's hub non-stop since the day I received it, so a $45-$50 investment here would've been well worth it for me in the long run. I haven't turned it off and use it literally every few hours to charge my devices. It's certainly much more useful than buying a travel USB charger, and considering the state of USB hubs and refined technology behind it, it's a device that you can have confidence in buying once and using forever. I believe the same with my Cicero hub and it didn't let me down and I expect VisionTek's to last even longer. So far, it has lived up to its name.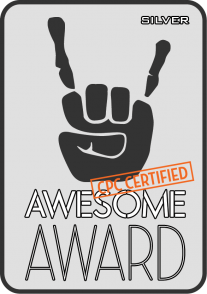 Sample provided by: Visiontek
Available at: Amazon