Warning
: Undefined array key "width" in
/var/www/vhosts/custompcreview.com/public_html/wp-includes/media.php
on line
1381
Warning
: Undefined array key "width" in
/var/www/vhosts/custompcreview.com/public_html/wp-includes/media.php
on line
1386
Warning
: Undefined array key "height" in
/var/www/vhosts/custompcreview.com/public_html/wp-includes/media.php
on line
1386
Warning
: Undefined array key "width" in
/var/www/vhosts/custompcreview.com/public_html/wp-includes/media.php
on line
1381
Warning
: Undefined array key "width" in
/var/www/vhosts/custompcreview.com/public_html/wp-includes/media.php
on line
1386
Warning
: Undefined array key "height" in
/var/www/vhosts/custompcreview.com/public_html/wp-includes/media.php
on line
1386
[section label=1. Introduction]
Wait, there's actually a hard drive in here?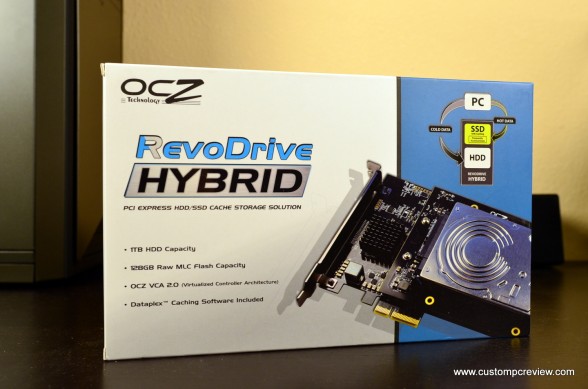 Over the last few months, we've reviewed a couple of pretty cool OCZ RevoDrive products such as the RevoDrive 3 and the RevoDrive 3 x2 – both of which are extremely fast SSD solutions aimed at the enthusiasts and workstation class users. As explained in previous reviews, these drives utilize the larger bandwidth PCIe is capable of providing in addition to multiple SandForce controllers as well as OCZ's VCA 2.0 in order to achieve some ridiculously fast speeds typically only seen in multiple SSD RAID 0 configurations from SATA based SSDs. For more information about VCA 2.0 and other RevoDrives, check our our review of the RevoDrive 3 and RevoDrive 3 X2.
Today, we'll be reviewing the OCZ RevoDrive Hybrid 1TB, which is similar to the other RevoDrives we've reviewed before in the sense that it will be using the PCIe interface, and will be leveraging OCZ's VCA 2.0 along with their SuperScale Storage Accelerator, but instead of outfitting the expansion PCB with more SandForce controllers and NAND flash modules, OCZ has dropped in a 1TB 2.5″ mechanical hard drive. By utilizing Nvelo's Dataplex software, OCZ's RevoDrive Hybrid is capable of using the ultrafast SSD onboard as a cache for the slower hard drive in order to bridge the gap between price, performance, and capacity in a single solution.
RevoDrive Hybrid 1TB Specifications
Available in 1TB Capacity
100GB Dedicated Cache
PCI-Express Gen. 2 x4 Interface
Full height form factor
OCZ SuperScale Storage Controller
Virtualized Controller Architecture 2.0
Included Caching Software Key
ECC, Encryption
SMART monitoring
167.64 (L) x 98.42 (W) x 22.15mm (H)
Weight: 289g
Operating Temp: 5°C ~ 50°C
Storage Temp: 0°C ~ 60°C
Power Consumption: 8.1W idle, 10W active
MTBF: 600,000 hours
3-Year Warranty
Compatible with Windows 7 32-bit and 64-bit
Max Performance
Read: Up to 910 MB/s
Write: Up to 810 MB/s
Max Random Write 4KB: 120,000 IOPS
Average Write: 65,000 IOPS
[section label=2. A Closer Look]
A Closer Look at the RevoDrive Hybrid 1TB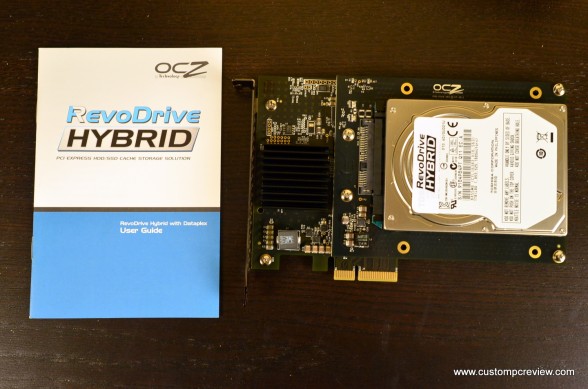 OCZ didn't include many accessories in the box at all with our sample. Inside, there was only a single piece of documentation along with the actual RevoDrive Hybrid itself. All software such as the Nvelo Dataplex caching software must be downloaded from OCZ's website.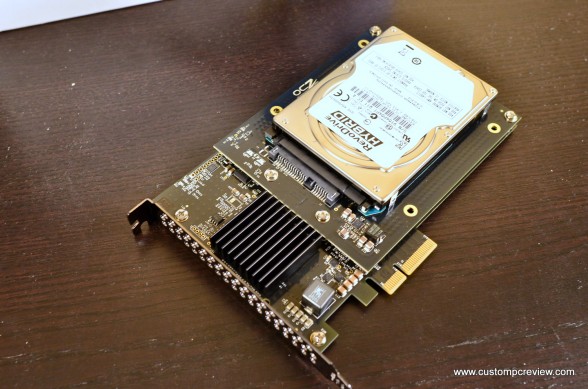 The drive reminds me of pretty much every other RevoDrive out there; however, you can see that the expansion PCB affixed to the top of the standard RevoDrive 3 PCB is a 2.5″ 5400RPM Toshiba 1TB hard drive. As usual, the RevoDrive does require you to have access to a 4x PCIe slot, so plan accordingly.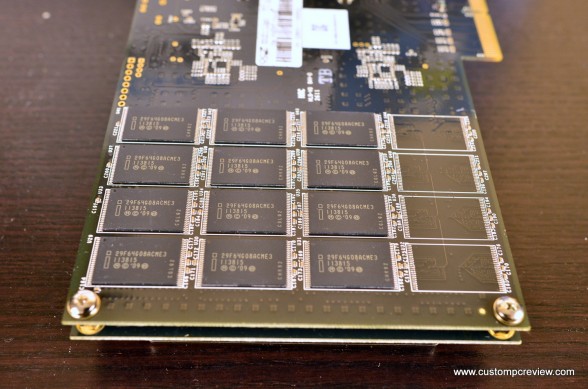 While I didn't break apart the RevoDrive hybrid, it's pretty obvious that the main PCB is the same as the RevoDrive 3. This means for the SSD portion of the drive, we'll be getting 8x 16GB IMFT 25nm asynchronous MLC NAND controlled by 2x SandForce SF-2281 controllers. According to the users manual, the SSD portion is overprovisioned to 28%, so you'll end up with about 93GB of space after formatting. It doesn't really matter though since you won't be able to access the cache once it's active anyway.
[section label=3. Software]
Dataplex Software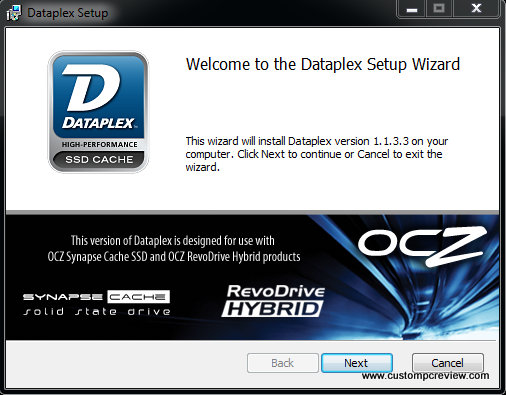 As mentioned earlier, the bridge between the RevoDrive Hybrid's SSD and the hard drive is the Nvelo Dataplex software. This is OCZ's default caching solution for both the RevoDrive Hybrid as well as the Synapse cache SSD. Once you fire up the software, installation is pretty simple. Just fire up the software, enter a product key (found on the back of the RevoDrive Hybrid PCB), and specify the boot and cache drive. Once installed, the Nvelo Dataplex software just works in the background with no additional user input needed.
One thing I have to mention is that caching only works on the boot drive, so for those looking to use the RevoDrive Hybrid on a secondary drive, you'll be out of luck. This also means that I'll be running most of the performance benchmarks with the RevoDrive Hybrid as the boot drive, so please keep that in mind.
[section label=4. ATTO Disk Bench / Crystal Disk Mark]
Sandy Bridge Test Bench
CPU: Intel Core i5 2500K
Motherboard: Asrock Z68 Fatal1ty Professional Gen 3
Graphics: Intel HD3000 Graphics
Memory: Gskill Sniper 1866MHz DDR3 1.5v
Storage: Patriot Pyro SE 120gb
Power Supply: Corsair HX650
Case: HSPC High Speed Tech Station
Special thanks to HSPC for providing us with the High Speed Tech Station (Large) for our test bench.
RevoDrive Hybrid 1TB Performance
ATTO Disk Benchmark
ATTO Disk Benchmark is one of the industry's most popular benchmarks for testing SSD read/write speeds. This benchmarks allows read and write testing using predefined block sizes and gives us a good idea of read/write speeds with different sized files.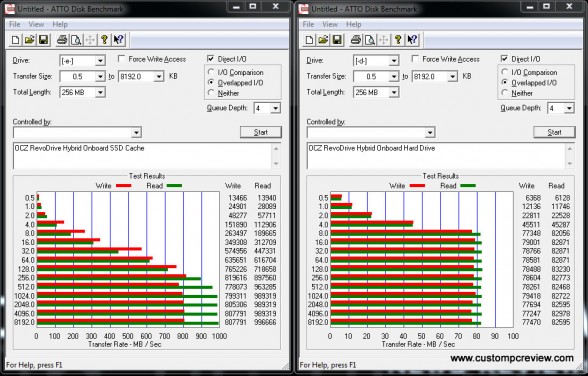 Prior to running ATTO Disk Benchmark with the Nvelo Dataplex caching up and running, I ran ATTO Disk Benchmark to see what kind of performance can be produced by the SSD and the hard drive individually.  As you may have guessed, the ATTO benchmark result on the left is the SSD cache and the ATTO benchmark result on the right is the included hard drive. As seen from the benchmarks above, the SSD cache is able to hit a maximum of about 1,000MB/s sequential reads and a tad over 800MB/s sequential writes while the hard drive is only able to hit a paltry maximum of 83MB/s sequential reads and 77.47 MB/s sequential writes.
From this point on, all benchmarks will include the Nvelo Dataplex caching software enabled.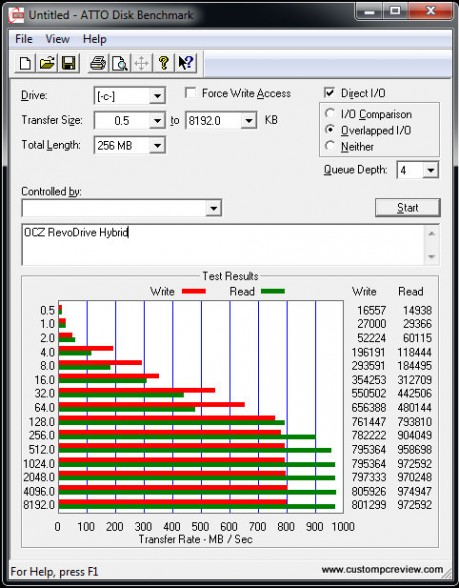 With a cloned image of our usual test bench on the RevoDrive Hybrid and the Nvelo Dataplex caching active, we fired up ATTO Disk Benchmark to get a quick picture of what kind of performance to expect from the RevoDrive Hybrid. Taking a look at the benchmark above, it seems like the caching works very well with maximum sequential reads of up to 973MB/s and maximum sequential writes at 801MB/s. If you were skeptical about SSD caching, this should clear it up for you.
Crystal Disk Mark 3.0.1 x64
Crystal Disk Mark is another popular benchmark which allows us to measure both sequential read/write speeds as well as random read/write speeds. With this benchmark, tests will be run using both random fill (incompressible data which simulates music, video, pictures, etc.) and 0 fill (compressible data).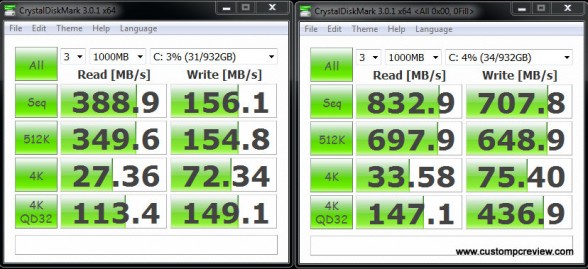 Moving onto Crystal Disk Mark, we're seeing SSD-like performance as well. Looking at both sequential and 4K read/writes, it's difficult to even tell there's a traditional hard drive back there.
[section label=5. AS SSD / PC Mark 7]
RevoDrive Hybrid 1TB Performance
AS SSD Benchmark
AS SSD is a very commonly used benchmark used to measure SSD performance in a number of categories. Here, tests are run using incompressible data, which most simulate real world usage. It also outputs a final score at the conclusion of the test based off the read and write performance of the drive.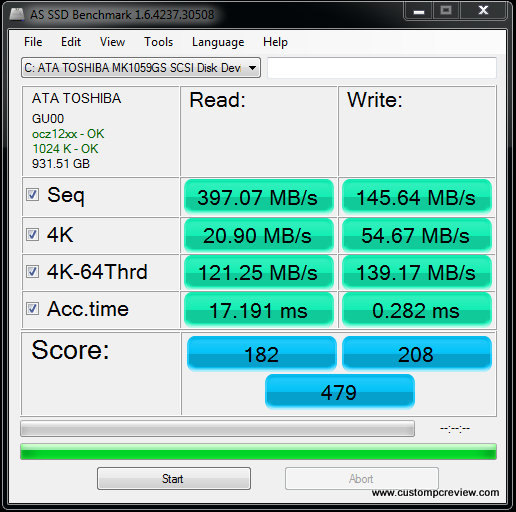 As usual, AS SSD looks quite similar to the random data set benchmark in Crystal Disk Mark. The only interesting number here is the access time for reads. 17ms is a lot higher than what we're used to seeing from an SSD, but AS SSD does use random data, so it's quite difficult for caching to kick in.
PC Mark 7
The PC Mark 7 storage test tests the SSD under many different real world tests such as gaming, video editing, etc. This is most representative of the SSD's performance under real world situations.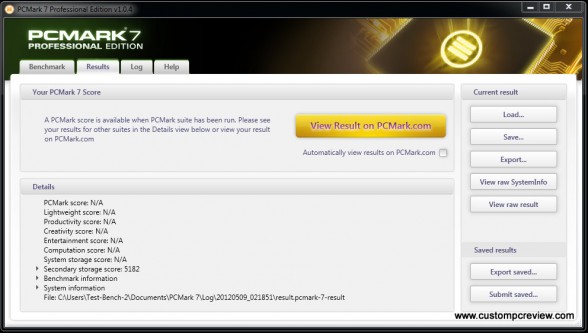 | | |
| --- | --- |
| SSD | PC Mark 7 Score |
| OCZ RevoDrive 3 X2 PCIe 240GB | 5326 |
| Kingston HyperX 3K 240GB | 5304 |
| SanDisk Extreme 240GB | 5273 |
| Samsung 830 128GB | 5234 |
| Crucial m4 128GB | 5214 |
| OCZ RevoDrive Hybrid 1TB | 5182 |
| OCZ Vertex 3 120GB | 5078 |
| Patriot Pyro SE 120GB | 5042 |
| OCZ RevoDrive 3 PCIe 120GB | 4954 |
| Kingston V+200 120GB | 4711 |
| OCZ Agility 3 120GB | 4701 |
| Corsair Force 3 180GB | 4615 |
| Seagate Momentus XT 750GB | 3247 |
| WD Scorpio Black 250GB | 1727 |
Moving onto PC Mark 7, the RevoDrive Hybrid's performance is quite astounding. The drive was able to score higher than a large number of SSDs we've tested previously and it seems like the SSD caching is able to kick in even on the first run.
[section label=6. Conclusion]
RevoDrive Hybrid 1TB Conclusions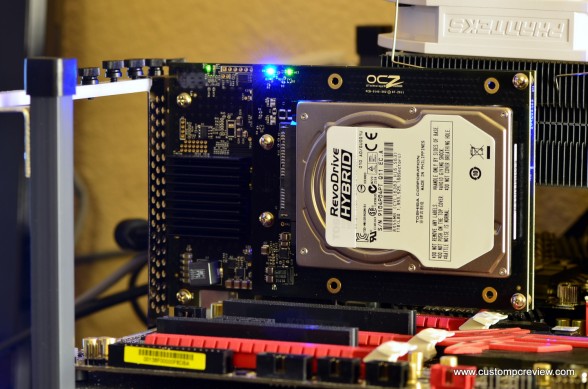 To be honest, I was never too impressed with SSD caching solutions prior to this review. For those who follow this site, I've previously worked with the Seagate Momentus XT 750GB which had a small 8GB SLC NAND cache, but ultimately it wasn't able to achieve anywhere near the full perfomrance of a fully fledged SSD. Yes, it was a lot faster than any traditional hard drive on the market, but if there were a choice between the Momentus XT and a SSD, I'd have to choose the SSD. The Momentus XT was just too far behind in terms of performance in comparison to a fully fledged SSD. Ultimately there was a very noticeable difference in terms of day-to-day use between having a real SSD and the Momentus XT.
That said, I'm going to have to flip a complete 180 regarding my views on SSD caching after seeing OCZ's offering.The RevoDrive Hybrid has officially blown my mind and is an absolutely fantastic implementation of SSD caching that I wasn't expecting – at all. It's fast, relatively inexpensive (explained later), and works without having to repeatedly run an application until the cache kicks in. I'm currently using it in my main system for day to day use and I'm having a lot of trouble telling the performance difference between the RevoDrive Hybrid my old Corsair Force 3 180GB SSD.  I think that's whats going to set the RevoDrive Hybrid from everything else. Of course, I will qualify that statement as OCZ as well as many other companies such as Crucial, Corsair, etc. have developed purpose-built SSD caching drives, which I haven't personally tested yet, so hopefully that will be in the pipeline in the coming weeks.
As far as problems go, I personally haven't experienced any. I will say that setting the whole thing up will be a lot more difficult than setting up your average SATA based SSD though. Like other RevoDrives on the market you will have to have a driver disk in order for the Windows installer to recognize the drive and for some reason OCZ either chose not to include a disk with the RevoDrive Hybrid or just forgot to put one in my box.  Either way the driver disk is critical so be sure to download it from OCZ's website or check in your box before you throw it away. One thing I'd really like to see OCZ do with the RevoDrive Hybrid is to take Dataplex and implement it through some sort of firmware (or I guess VCA 2.0?) similar to how it's done on the Seagate Momentus XT. I'd also like to see the drive work out the box with caching enabled instead of having to hop over and download additional software. Now, I'm not certain how this would be done from an engineering standpoint, but it should also allow caching to work irregardless if the drive is used as a boot drive or a storage drive as well. Unable to use this drive as a storage drive puts restriction on the user and makes the drive less suited as an upgrade. Also as mentioned earlier, caching will not work if the RevoDrive Hybrid is set to be used as a storage drive. Those interested in having a large SSD cached solution for installing games, applications, etc. will be disappointed.
An additional thing to note is that I don't normally swap out my main rig's drive too often, but after seeing some of the not-so-good Amazon reviews on the RevoDrive Hybrid, I decided that it would be wise to have the drive as a main drive for a while to see if I get any of the errors described in some of the reviews. So far, I've had no issues described there so it might just be users who have had trouble posting reviews (5 total reviews, positive or negative), but I've only replaced my drive for a little over a week, so I can't say for certain what's going to happen in a month or two. I'll be sure to post an update if anything goes wrong.
Pricing on the RevoDrive Hybrid is somewhat competitive, but only because it's pretty much on a class of its own. On Amazon, the OCZ RevoDrive Hybrid can be found for $425.99, which is significantly less expensive than any 480GB/512GB SSD on the market, but you do get twice the storage capacity. If you absolutely need a whole 1TB of fast storage, then I'd say the RevoDrive Hybrid is an excellent choice despite its price. That said, it is possible to grab a 1TB Seagate Barracuda 7200RPM hard drive and a 128GB Synapse SSD cache for only $267.48, which will be a whole lot cheaper than a single RevoDrive Hybrid despite the RevoDrive's insanely fast cache capable of near 1GB/s transfer speeds. With a SATA based SSD cache and SATA based hard drive, you're still getting the Nvelo Dataplex software and you're still getting a large SSD cache, but ultimately this isn't something I've tested previously so I'm not going to go ahead and blindly recommend this over the RevoDrive Hybrid.
Bottom Line
Overall I was quite impressed with the OCZ RevoDrive Hybrid. It's an excellent SSD caching + storage solution capable of running shoulder to shoulder with SSDs while providing a massive chunk of storage. At the price of $425.99, it won't be for everyone, but it sure as hell beats paying for a 512GB SSD.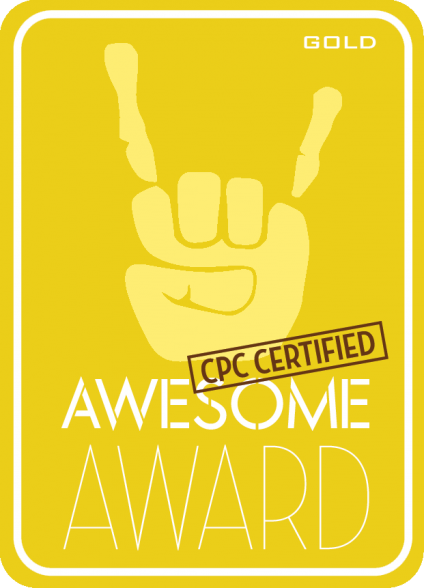 Special thanks to OCZ Technology for making this review possible.
The OCZ RevoDrive Hybrid 1TB is currently available at Amazon.