Warning
: Undefined array key "width" in
/var/www/vhosts/custompcreview.com/public_html/wp-includes/media.php
on line
1381
Warning
: Undefined array key "width" in
/var/www/vhosts/custompcreview.com/public_html/wp-includes/media.php
on line
1386
Warning
: Undefined array key "height" in
/var/www/vhosts/custompcreview.com/public_html/wp-includes/media.php
on line
1386
Warning
: Undefined array key "width" in
/var/www/vhosts/custompcreview.com/public_html/wp-includes/media.php
on line
1381
Warning
: Undefined array key "width" in
/var/www/vhosts/custompcreview.com/public_html/wp-includes/media.php
on line
1386
Warning
: Undefined array key "height" in
/var/www/vhosts/custompcreview.com/public_html/wp-includes/media.php
on line
1386
Warning
: Undefined array key "width" in
/var/www/vhosts/custompcreview.com/public_html/wp-includes/media.php
on line
1381
Warning
: Undefined array key "width" in
/var/www/vhosts/custompcreview.com/public_html/wp-includes/media.php
on line
1386
Warning
: Undefined array key "height" in
/var/www/vhosts/custompcreview.com/public_html/wp-includes/media.php
on line
1386
Meet NZXT's First Card Reader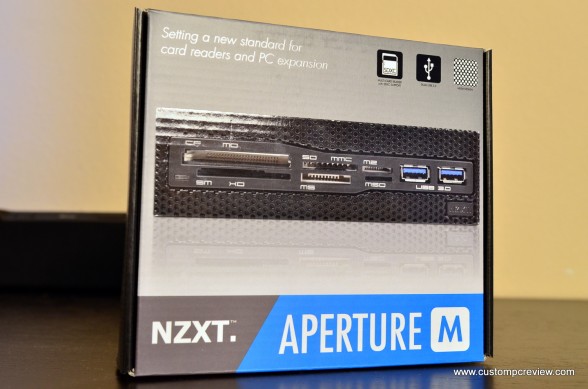 Being a product reviewer, one thing I need to spend a lot of time doing is taking pictures. Once pictures are taken of course, they somehow need to end up on my computer. For most of us, this means constantly connecting the camera via USB to your computer. Unfortunately, for those who constantly take pictures, transfer them, and need to take more pictures, this is a huge hassle. The other way to do this is to have a memory card reader, which will allow you to simply pop out a memory card and have it read by a pre-attached memory card reader. For those familiar with memory card readers, you'll probably be most familiar with the external type. These are typically small devices that connect via USB. Easy to use, easy to install, but for the most part it's just another little piece of clutter sitting on your desk. The other type of memory card reader is the internal type.
Today, we'll be taking a look at the NZXT Aperture M. The Aperture M is an internal type card reader, which will allow you to mount it on one of your spare 5.25″ drive bays thus reducing desk clutter. The device comes with two parts – the memory card reader with support for up to ten different memory card formats and a USB 3.0 hub. Is it worth your consideration? Let's find out!
Specifications
| | |
| --- | --- |
| Installation | 5.25″ ODD |
| Color | Black |
| Surface Finish | Matte Mesh |
| Materials | Steel / Plastic |
| Connection | USB 2.0 / 3.0 Header |
| Supports | CF, MD, SM, XD, SDHC, SDXC, MMC, MS, M2, Micro SD |
| Additional Features | 2x USB 3.0 |
| LED | White |
A Closer Look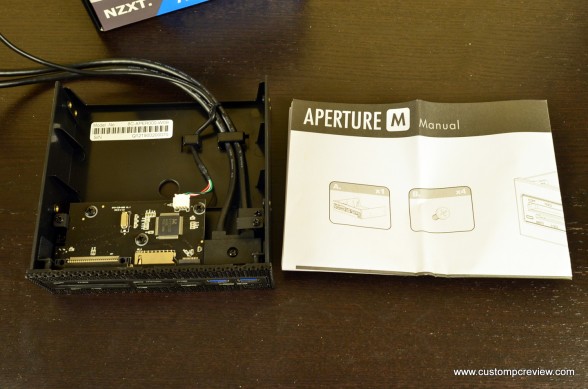 Included in the box, the only thing you get is the Aperture M unit itself, an instruction manual, and some mounting screws (not pictured). Installation then is literally as simple as connecting a couple USB headers.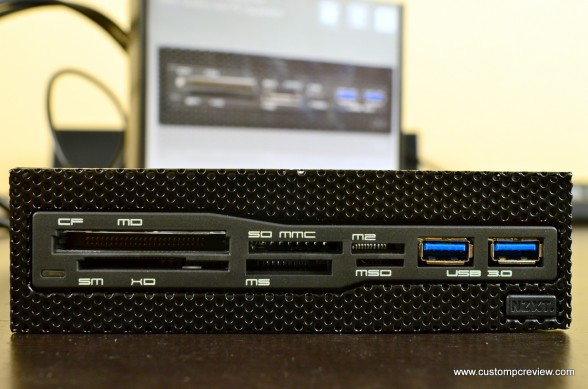 Taking a look at the front of the unit, the Aperture M fits in any 5.25″ bay and supports no less than ten memory card formats. (CF, MD, SM, XD, SDHC, SDXC, MMC, MS, M2, Micro SD) Additionally, there are two USB 3.0 ports as well which can be extremely useful for those with cases that don't support USB 3.0.
The sides of the unit are full length so if your case supports tool-less mounting of 5.25″ drives, this will work a lot better than units that have half length sides.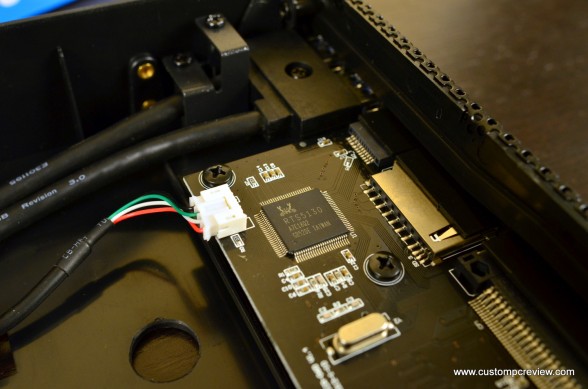 Behind the memory card reader is the Realtek RTS 5130 USB 2.0 Controller. It's quite unfortunate that the Aperture M uses a USB 2.0 controller rather than a USB 3.0 controller, so the memory card reads/writes will be limited to USB 2.0. (Theoretical max 480Mb/s or ~60MB/s)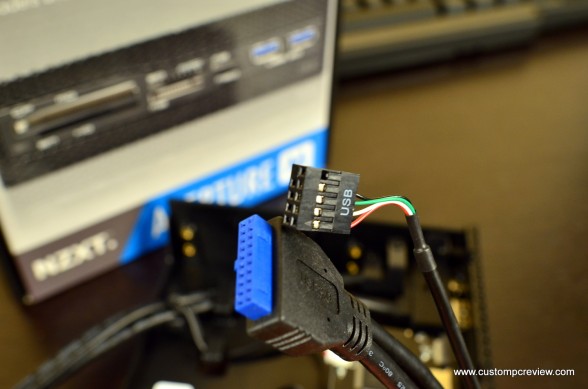 Connectors include a USB 3.0 connector and a USB 2.0 connector. The USB 3.0 connector powers the USB 3.0 hub only while the USB 2.0 connector powers the memory card reader only.
Installation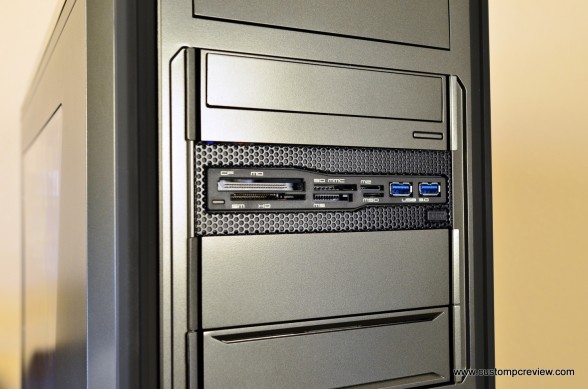 For testing, the Aperture M was installed into the NZXT Switch 810 Hybrid Tower Case. The black mesh matches very well with the case and installation took no more than 5 minutes tops. The process to mount the drive is quite similar to installing any optical drive. Once the physical unit is installed, simply connect the USB 3.0 header to the USB 3.0 header on the motherboard and the USB 2.0 header to the USB 2.0 header on the motherboard.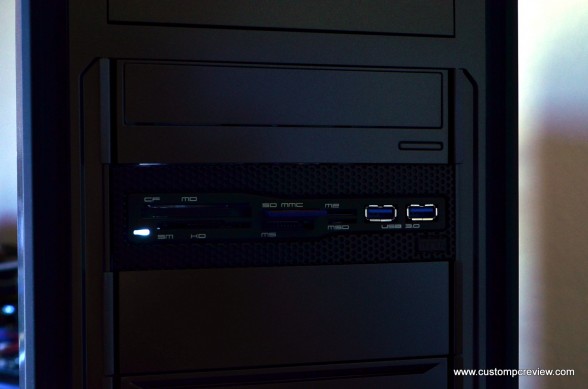 The Aperture M also includes a classy looking white LED when in operation to let you know when something's going on.
Performance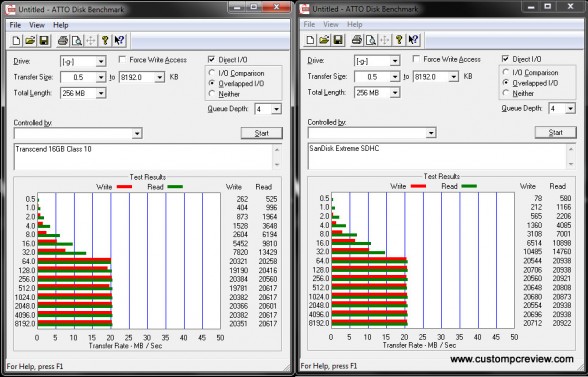 For performance testing, I unfortunately didn't have all ten memory card formats to test. However, since I use SD cards almost exclusively, I ran ATTO Disk Benchmark on a couple SD cards I had lying around. The first card was a 16GB Transcend Class 10 SD card, which is  a budget Class 10 card. Performance here wasn't bad for a budget Class 10 card, yielding around 20MB/s reads and 20MB/s writes. The second card tested was a 16GB SanDisk Extreme SDHC Memory Card which features a maximum throughput of 45MB/s read/write speeds. This is because the SanDisk Extreme SDHC Card supports the UHS-I standard. Unfortunately, it's apparent that the Aperture M doesn't support UHS-I, so maximum throughput seen here is only about 20MB/s reads and 20MB/s writes.
Conclusion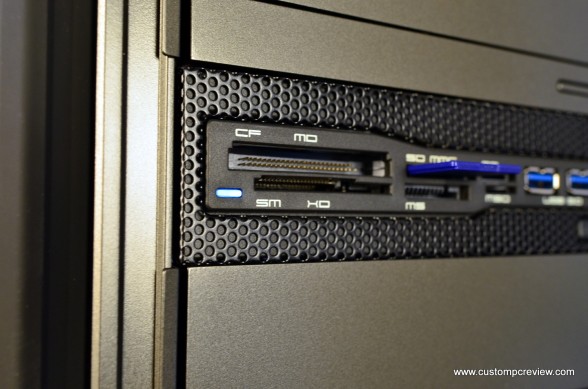 With a device this simple, there really isn't that much to say here. The card reader worked as advertised and installation was dead simple. Everything was plug and play, so drivers were unnecessary. I was disappointed that the Aperture M uses a USB 2.0 card reader instead of a USB 3.0 card reader and at least for SD cards it doesn't support UHS-I. This means you'll be limited to the maximum throughput of around 20MB/s for SD cards. This probably won't be much of a problem for a lot of users, but it might not be so good for those who specifically purchase high speed memory cards for the performance.
As far as looks go, the NZXT Aperture M is definitely one of the better looking "internal" card readers out there. The black mesh finish looks great, but you'll probably want either a black or grey case to go with the reader. It would be nice to see more color options in the future, but I wouldn't be surprised if NZXT already has something in the pipeline. They're pretty good about giving us more color options if their other products are any indicator at all.
A USB 3.0 hub is included, so it'll definitely be useful for those who've purchased a case that's lacking in that department. For those who have USB 3.0 on their cases, I found that it was a bit difficult to find boards out there with two or more USB 3.0 headers. It would've definitely been nice to see NZXT include a USB 3.0 to USB 2.0 adapter just in case. Budget to mid-range motherboards these days only come with a single USB 3.0 header so requiring a USB 3.0 header for both the case's front panel USB 3.0 and the Aperture M may be a bit difficult.
The Aperture M is expected to be priced at around $34.99 and is being released on 5/29, so it's a bit pricey for an internal card reader. That said, most card readers on the market don't look nearly as good as this one and doesn't come with a USB 3.0 hub so if you're considering the Aperture M, definitely take that into consideration. Unfortunately, I wasn't able to find the Aperture M yet at the usual retailers, but it should show up soon.
Bottom Line
If you're looking for a stylish internal card reader with a USB 3.0 hub, the NZXT Aperture M is definitely worth your consideration.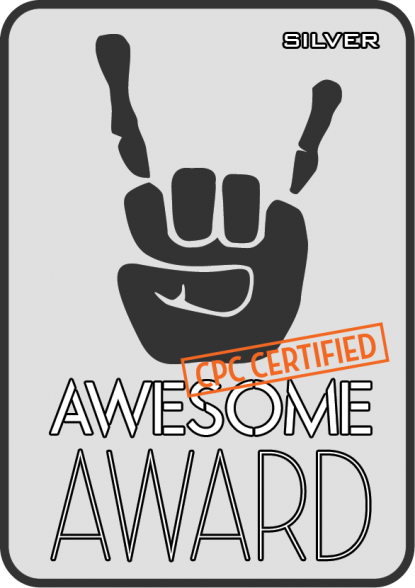 Special thanks to NZXT for making this review possible.