[section label=1. Introduction]
True 5.1 Surround Sound at a Budget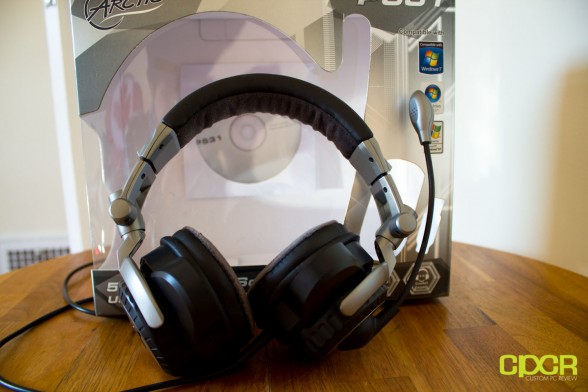 A couple weeks ago, I received the opportunity to review the ARCTIC Sound P301 Professional Headset and while it wasn't the best headset I've had the opportunity of testing, it was definitely among the best in its price class. Since then, I've been hard at work here testing another ARCTIC Sound product, the ARCTIC Sound P531 True 5.1 Surround Sound Headset.
Advertised as "the most professional computer headset and literally elevates gamers to a new dimension of sounds", the P531 is targeted at the enthusiast gaming market while still maintaining a reasonably competitive price point. With 4 drivers in each earcup, the P531 is unique in that it's capable of bringing true 5.1 surround sound audio in a market where most headsets that claim 5.1 or 7.1 audio instead offer simulated 5.1 or 7.1 over 2.0 only. Other features include thick breathable cloth ear pads, a foldable design, and an integrated vibration unit in the earcups that vibrate when the battle heats up in games and movies to help create additional immersion.
Can the P531 truly bring the amazing level of 5.1 surround sound ARCTIC claims? Lets find out!
Specifications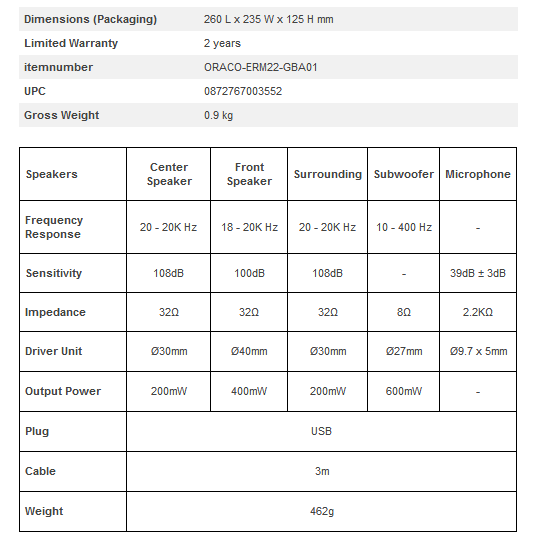 Quickly looking at the specifications, what's interesting here is that the P531 has drivers that are typically smaller than most stereo headsets, including its little brother the P301 headset. This is due to the fact that it has multiple drivers in each earcup, and including three large drivers and a subwoofer is practically impossible given the space available.
With all those drivers, one additional concern of course is the weight. At 462g the P531 is twice as heavy as the Razer Charcharias (225g), which will make it more difficult to wear for long periods of time. Finally, it's also worth noting that ARCTIC has decided to include a 2 year warranty on the P531 instead of the one year that many other manufactures tend to include.
[section label=2. A Closer Look]
A Closer Look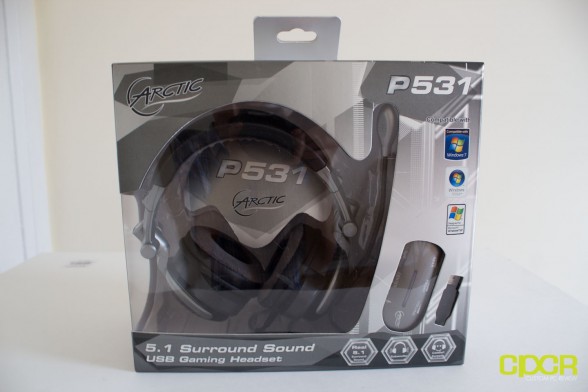 Although this is ARCTIC's premium grade headset, the box isn't too sturdy. Of course, as long as the headset arrives without damage, we don't really care either. From the see through plastic we can see the headset, the in line dongle, and the USB connector.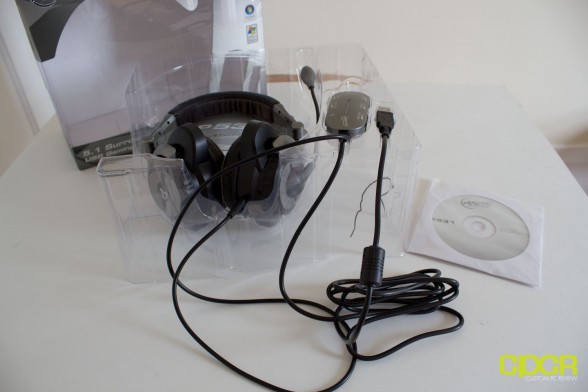 The inside of the box contains the headset itself, and a little package containing a warranty information booklet and the driver disk.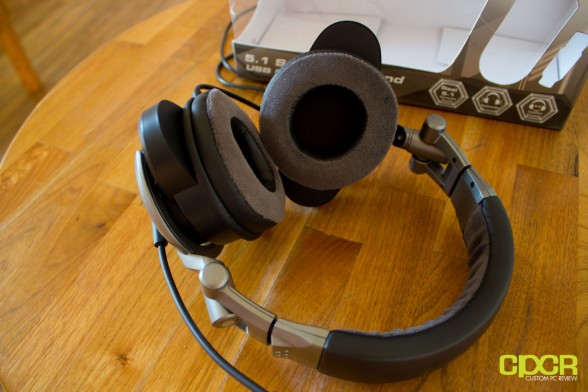 The ear pads are made out of cloth. Although the earpads are quite thick, they are much smaller than I expected. Since this is a true 5.1 surround sound headset, this means that there's actually 3 drivers and a subwoofer in each earcup.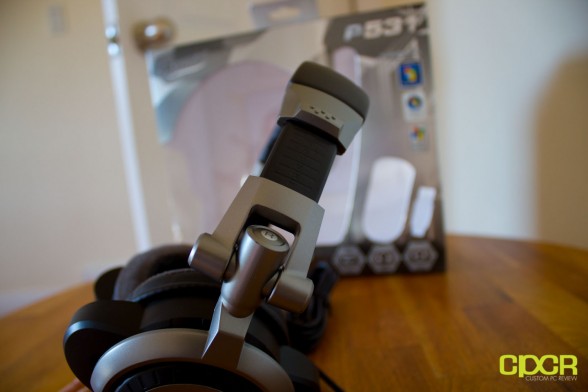 The headset is constructed entirely out of plastic and features no metallic components anywhere. The entire headset is finished in a matte finish, so you won't need to worry about fingerprints smudging your headset. Additionally, the hinge of the headset is plastic but feels durable. The headphones can extend up to 3.5cm to accommodate all head sizes.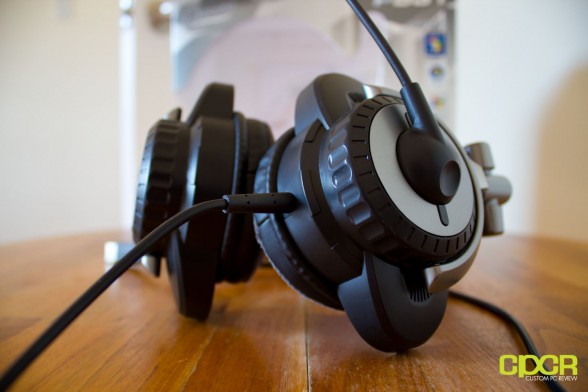 The microphone arm attached to the left ear cup is long and extremely flexible. The mic can be swiveled 135º and be stored away when not in use.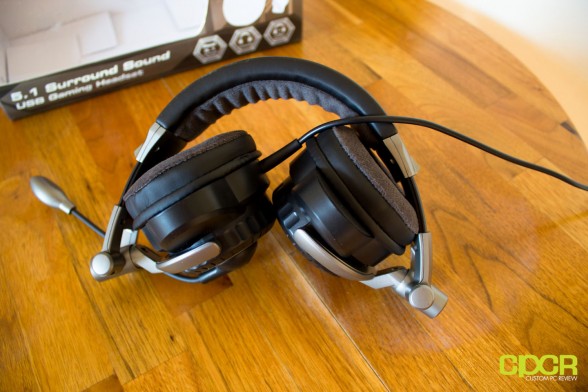 The headset also features a fold-able design. The ear cups are capable of being folded in for easy transport. Here, we can see probably why the microphone arm is so flexible. When folded, the microphone protrudes out on the side. Also, the microphone needs to be swiveled down a little to allow the ear cups to fold into place.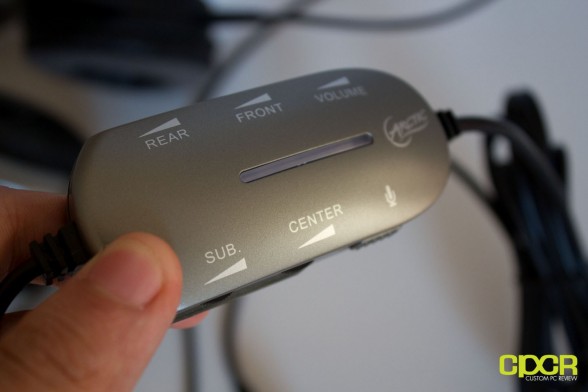 The inline volume control allows fine adjustment of the rear, front, center and subwoofer levels as well as a mic switch and a master volume control. The dongle is quite large and has a LED in the center that lights up during operation. There's no clip or anything of the sort to attach it to your shirt to prevent it from swinging.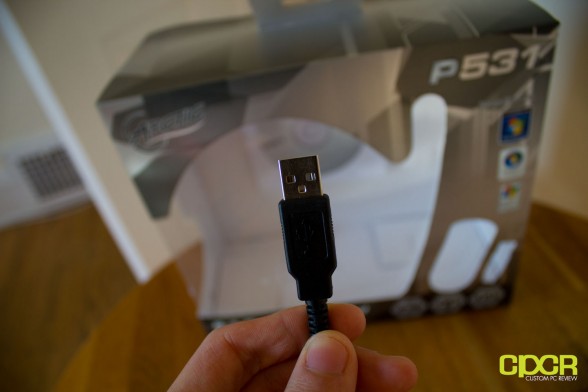 The headset uses its own internal sound card so it's no surprise to see that it comes with a USB connector. Unlike other premium headsets we've reviewed, it's not gold plated, but I doubt this will affect the performance of the headset in any way.
[section label=3. Performance]
Performance
Test 1: Music
ARCTIC recommends that the input channels be set to 2 and the output channels set to 6 for music. What this does is force an upconversion of the music's 2 channel input to a 6 channel output, which, as expected, isn't exactly optimal. I found that the mids ended up overpowering everything else and the overall sound was distorted. To ease the problem, I muted the rear and center speakers to recreate 2 channel output while still keeping the subwoofer functional. Although this made the mids less overwhelming, this made the highs quite weak. That said, the bass response was definitely there with the powerful subwoofer giving the lows an extra boost in oomph.
Test 2: Movies
With the input channel set to 6 instead of ARCTIC's recommendation of 4, I actually found movies were very enjoyable with the P531. Dialogue in the conversation abundant Valkyre was acceptably clear and the integrated subwoofer packed the explosions in Mission Impossible 3 with excellent bass. However, compared to some stereo headsets I've used, I felt that the P531 was a bit lacking in audio sharpness.
One unique feature I touched upon earlier is that the ear cups actually has the ability to vibrate similar to what we've seen in some game console controllers. This means that large explosions, vehicles rumbling, etc. would cause the headset to vibrate which definitely increased the immersion factor in films.
Test 3: Games
Gaming with the P531 was overall decent as well. The real 5.1 surround sound definitely allowed me to track enemies a lot better than on my stereo headset, but it's definitely not going to make up for lack of skill. In Battlefield 3 with surround sound enabled, I was able to pretty accurately pinpoint the location of gunfire, footsteps and vehicles. As with the movie test, the ear cups vibrated when large explosions were set off near me, which definitely helped create quite a unique and riveting experience. Bass was deep and satisfying, although again I found that it lacked a bit of sharpness. Again though, I felt that the highs were quite weak when compared to the mids. This is especially evident when a grenade goes off next to you and your character's ear starts to ring.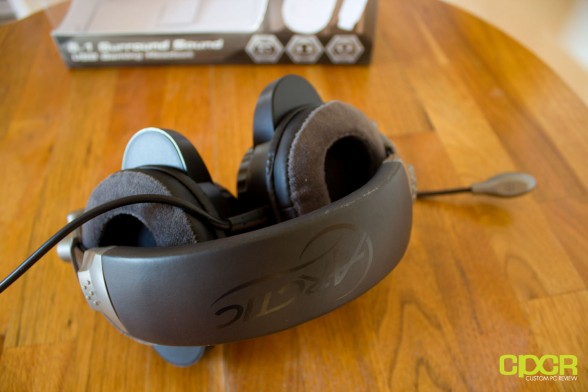 Microphone
The microphone on the P531 served its purpose perfectly and that is to be a good communication tool. It did not produce any noise or distortions in Skype and TeamSpeak. It did not cancel out noise very well however, as keyboard sounds and ambient noise were clearly heard during testing by my assistants.
Comfort
Although the ear cups of the ARCTIC Sound P531 is advertised as being circumural, or around the ear headphones, depending on the size of your ears, it's more like supra-aural, or over the ear headphones. Personally, the earpads were too small to fold my ears into, so the earcups just sat on my ear instead of around it.
For short term use (~1-2 hours), the P531 was quite comfortable. To my surprise, the weight of the headset didn't bother me much. Although the P531 tipped the scales at 465g, the weight was very evenly distributed across the whole headset and felt very balanced sitting on my head. Its weight really only became apparent during moments when I tilted my head to the side. Additionally, the ear pads also created a nice seal on my ears leaving no gaps for sound to escape or noise to intrude.
Long term wear however, presented me with some problems. Since I wear glasses, the ear cups made my ears very sore after a while as it pressed the rim of my glasses, which was sitting between my ear and my head, very tightly against my head. Additionally, the headrest padding up top was too thin for my liking, which gave the top of my head some additional pain to go with the pain on my ears.
The inline dongle was another thing I didn't really like. Its massive size wasn't very easy to deal with, especially when it began swinging all over the place since there's no clip at the back to attach it to your shirt. Also, if you are planning to game in the dark with this headset, make sure you store the dongle away from your face or put a strip of tape over the LED because the LED flashes during gaming. Not a huge deal, but enough for me to notice.
[section label=4. Conclusion]
Conclusion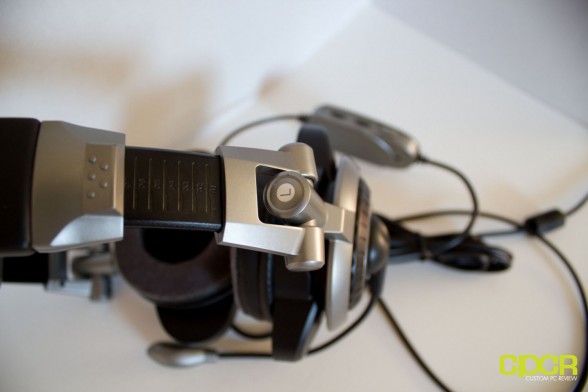 Starting with performance, music was overall quite mediocre on the P531. Again, this wasn't too surprising as music is recorded in stereo and simply doesn't work too well with any true 5.1 surround sound headsets on the market at the moment. Personally I found the weakest here was the highs, so people who really enjoy classical music or rock may not find this headset to be the best choice. That said, people who don't mind slightly lower audio quality and enjoy listening to music with ample amounts of bass, this headset does produce an acceptably enjoyable experience – just remember to set the output source to 2 channel instead of the recommended 6 channel. Typically, this is a problem with most true 5.1 surround sound headsets as music is recorded in stereo and cannot fully utilize true 5.1 surround sound capabilities.
In terms of movies and music, the P531 definitely fared a whole lot better. Especially with movies and games that support full 5.1 channel surround sound, the headset was fantastic in terms of positional audio despite sharpness being a bit lacking throughout the mid and higher ranges. Bass was overall quite good and with the vibration units, I found this headset to be a worthy movie and gaming companion. Now, I wouldn't recommend just going out and buying the headset just for the vibration units, but it's definitely a unique experience – a good unique that is.
Although the headset sounded pretty good (at least where it counts), I do think ARCTIC's engineering department should give the design and the comfort of this product a second look. After all, no matter how amazing a headset sounds, if you're in severe pain, you probably won't have it on. Despite it being advertised as such, the ear cups on the headphones were way too small to actually fit around the ear, so it ended up sitting on my ears as on the ear headphones. After about an hour of use, my ears became exceedingly sore since my ears are pressed against the rim of my glasses very tightly. The thin padding on the headrest didn't help the situation either, as it made the top of my head as painful as my ears. Those who don't wear glasses and those who don't usually have trouble with on the ear headphones might not have these issues, but personally it didn't work out too well for me. Additionally, I found that the large-sized in line control dongle with multiple volume controls was a bit bulky, and without a clip at the back to secure it, it swung everywhere which was really annoying as well.
Price-wise, the ARCTIC Sound P531 is actually really competitive, coming in at around $49.99 on Amazon. Competitors include the Cooler Master CM Storm Sirus, Tritton PC510HDa, and the Turtle Beach Ear Force Z6A. The one thing they have in common? They're all priced at over $80 with the Turtle Beach Ear Force Z6A coming in at the least expensive between the three at $82.72.
Bottom Line
If you already have an excellent pair of stereo headphones or speakers for music and you absolutely need to experience your movies and games in true 5.1 surround sound in the most inexpensive way possible, this headset is for you. However, if you're like me and you wear glasses, have large ears, or generally have difficulties finding a comfortable headset, then you might want to cross off this headset from your upgrade list.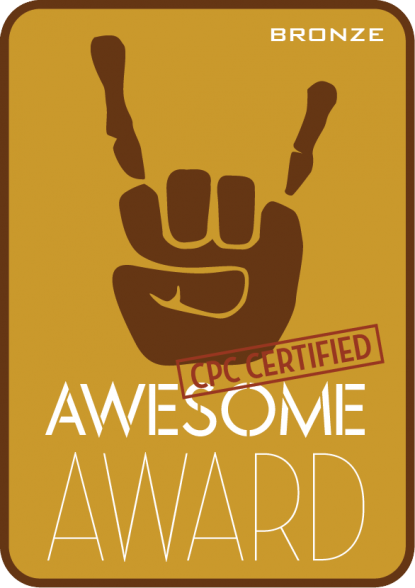 Special thanks to ARCTIC for making this review possible.
The ARCTIC Sound P531 5.1 Surround Sound Gaming Headset is currently available on Amazon.