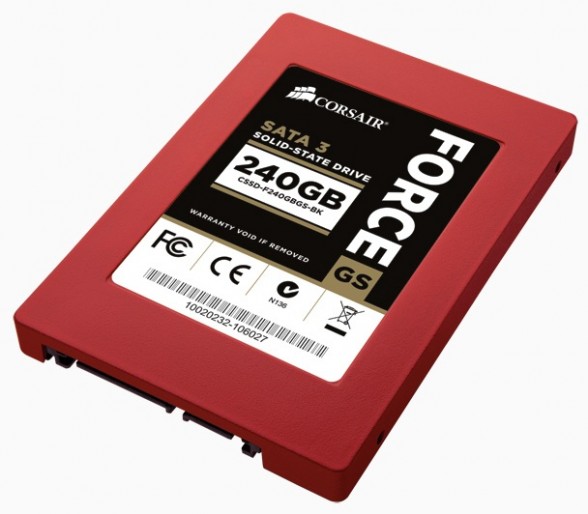 Press Release
Corsair Force Series GS SSDs with Toggle NAND Boosts Performance of SandForce Lineup
Corsair®, a worldwide designer and supplier of high-performance components to the PC hardware market, today announced the Force Series™ GS solid-state drives (SSDs). The new SSDs, which offer the fastest overall performance in Corsair's SandForce®-based lineup, will initially ship in capacities of 180GB and higher. As with other Force Series drives, the Force Series GS SSDs are based on the SandForce SF-2200 SSD Processor, but add toggle NAND flash memory to boost random write speeds up to an amazing 90,000 IOPs.i
The Force Series GS SSDs feature SATA 6Gb/s connectivity for compatibility and performance, TRIM support to maintain performance over time, and lower power operation for longer battery life. Their 2.5″ form factor, combined with an included 3.5″ adapter, allow easy installation into notebooks or into desktop PCs.
The solid-state design of Corsair SSDs enable them to deliver faster data read and write speeds which can reduce software load and PC startup times. And because SSDs have no moving mechanical parts, they help laptops run cooler, run longer on batteries, and resist data loss from bumps.
Availability:
The Force Series GS SSDs are immediately available in capacities of 180GB, 240GB, 360GB, and 480GB. Prices (in USD) in the United States start at $189.99 for 180GB, $239.99 for 240GB, $349.99 for 340GB and $489.99 for 480GB capacities.
Source: Corsair