Warning
: Undefined array key "width" in
/var/www/vhosts/custompcreview.com/public_html/wp-includes/media.php
on line
1381
Warning
: Undefined array key "width" in
/var/www/vhosts/custompcreview.com/public_html/wp-includes/media.php
on line
1386
Warning
: Undefined array key "height" in
/var/www/vhosts/custompcreview.com/public_html/wp-includes/media.php
on line
1386
Warning
: Undefined array key "width" in
/var/www/vhosts/custompcreview.com/public_html/wp-includes/media.php
on line
1381
Warning
: Undefined array key "width" in
/var/www/vhosts/custompcreview.com/public_html/wp-includes/media.php
on line
1386
Warning
: Undefined array key "height" in
/var/www/vhosts/custompcreview.com/public_html/wp-includes/media.php
on line
1386
[section label=1. Introduction]
Quadruple the SandForce, Quadruple the Fun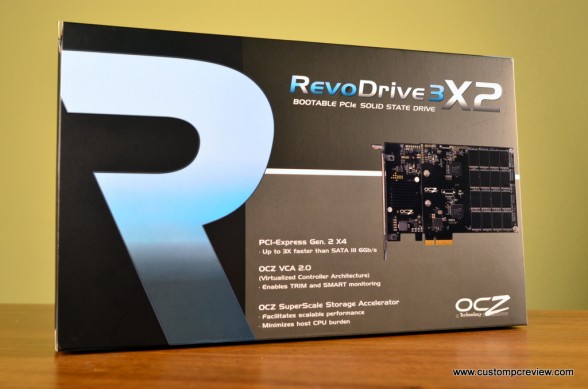 It was only a couple weeks ago since I was given the opportunity to put the OCZ RevoDrive 3 120GB PCIe SSD through its paces and for those who checked out the review, you'll know that it was the fastest drive I've tested to date. With up to 1+ GB/s transfer speeds, it was practically double the speed of everything else I've used thus far.
Of course, with myself being not only a PC enthusiast, but also a product reviewer I can never truly be impressed. Seeing 1GB/s is nice, but I wanna go faster – you can say it's in my blood. That's why today we'll be reviewing the OCZ RevoDrive 3 X2 240GB PCIe SSD. While the underlying technologies between the RevoDrive 3 and the RevoDrive 3 X2 are identical, the RevoDrive 3 X2 has a couple additions, which will allow it to reach an advertised read speed of up to 1.5 GB/s. Yes people, your eyes have not deceived you. That is in fact 500MB/s FASTER than the RevoDrive 3. Impressed? I certainly am.
The technologies powering the RevoDrive 3 X2 (VCA 2.0, OCZ Superscale Storage Accelerator, etc.) are identical to the RevoDrive 3, so those interested should take a look at the RevoDrive 3 review first. Since the technology behind both drives are the same, you might be wondering why the RevoDrive 3 X2 is able to put up such high numbers. Well, what's different is that the RevoDrive 3 X2 actually has 4x SandForce SF-2281 controllers powering the drive instead of the RevoDrive's *measly* 2. What does this mean? Well, if doubling the amount of SF-2281 controllers onboard and balancing the NAND between the two controllers helped the RevoDrive 3 reach 1GB/s, then by doubling that should in theory provide a much  provide even more of a performance benefit as well.
Specifications
Available in 240GB, 480GB and 960GB capacities
PCI-Express Gen. 2 x4 interface
MLC NAND flash
Full height form factor
OCZ SuperScale Storage Controller
Bootable as a direct-attach device
128-bit & 256-bit AES-compliant data encryption
SMART monitoring
167.64 (L) x 98.42 (W) x 15.25mm (H)
Weight: 114g
Operating Temp: 0°C ~ 70°C
Ambient Temp: 0°C ~ 55°C
Storage Temp: -45°C ~ 85°C
Power Consumption: 7.5W idle, 8.3W active
MTBF: 1,000,000 hours
Current OS Supported: Windows 7 32/64
240GB Max Performance
Read: Up to 1500 MB/s
Write: Up to 1225 MB/s
Max Random Write 4KB (Aligned): 200,000 IOPS
[section label=2. A Closer Look]
A Closer Look at the RevoDrive 3 X2 240GB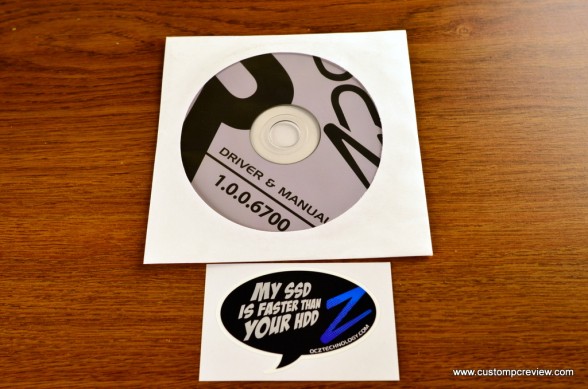 Included is just the driver disk along with the standard OCZ "MY SSD IS FASTER THAN YOUR HDD" sticker. The driver disk is needed in order to install the drivers for the SSD to work, so make sure not to throw it away too fast. If you're using the RevoDrive 3 X2 as a secondary drive, you can download the drivers from OCZ's website.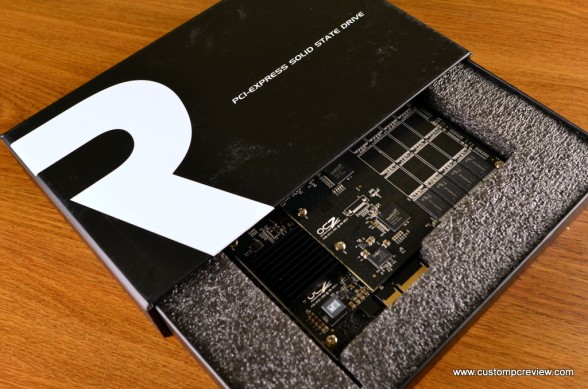 Included in the box is actually a second box that slides open to reveal the RevoDrive 3 X2. Classy! Guess when you pay the premium for a product like this, the box can't just be a cheap piece of cardboard.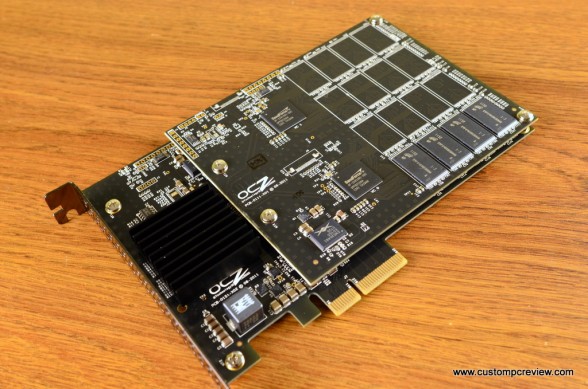 Here's a first look at the SSD itself. With the exception of the second layer here, you can't really tell that it's the RevoDrive 3 X2.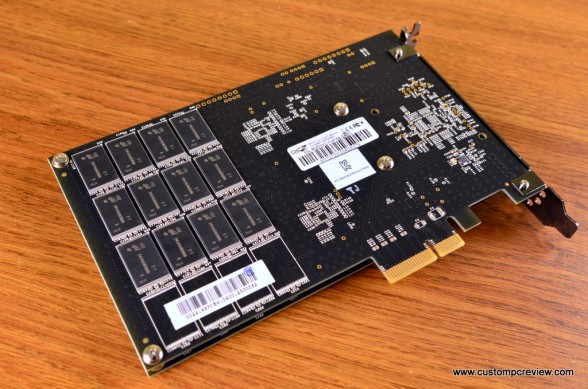 Moving around the back of the card, again it looks really similar to the RevoDrive 3. Similarly, this drive will require a PCIe x4 slot, so make sure one is available in your PC prior to purchasing.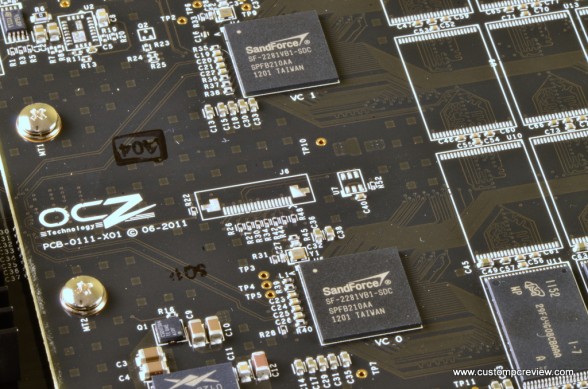 While only two are pictured here, the RevoDrive 3 X2 has 4 SandForce SF-2281 controllers onboard, which work in concert through OCZ's proprietary VCA 2.0 technology. More information on this is available with our RevoDrive 3 review.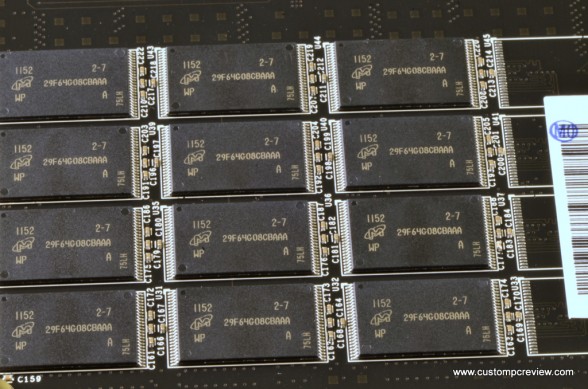 On each PCB, OCZ has crammed 32x 8GB 25nm Micron Asynchronous NAND modules for a total capacity of 256GB. Since this drive is SandForce based, 16GB is dedicated to overprovisioning which is why only 240GB is advertised.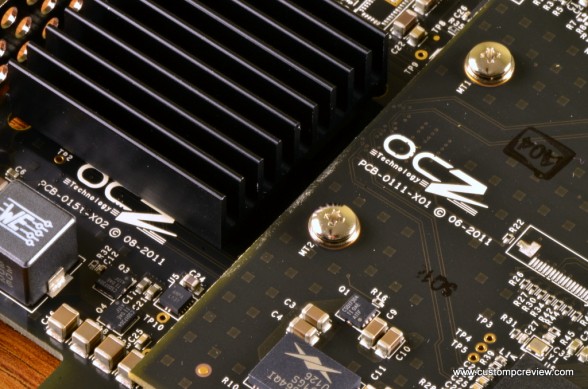 Here's a quick closeup of the front of the board. There isn't much going on here, but you can see that the boards are attached by screws. Unfortunately, for fear of breaking the SSD, I didn't take the two layers apart, but the bottom layer should be near identical to the RevoDrive 3.
[section label=3. ATTO Disk Bench / Crystal Disk Mark]
Sandy Bridge Test Bench
CPU: Intel Core i5 2500K
Motherboard: Asrock Z68 Fatal1ty Professional Gen 3
Graphics: Intel HD3000 Graphics
Memory: Gskill Sniper 1866MHz DDR3 1.5v
Storage: Patriot Pyro SE 120gb
Power Supply: Corsair HX650
Case: HSPC High Speed Tech Station
Special thanks to HSPC for providing us with the High Speed Tech Station (Large) for our test bench.
OCZ RevoDrive 3 X2 240GB Performance
ATTO Disk Benchmark v2.46
ATTO Disk Benchmark is one of the industry's most popular benchmarks for testing SSD read/write speeds. This benchmarks allows read and write testing using predefined block sizes and gives us a good idea of read/write speeds with different sized files.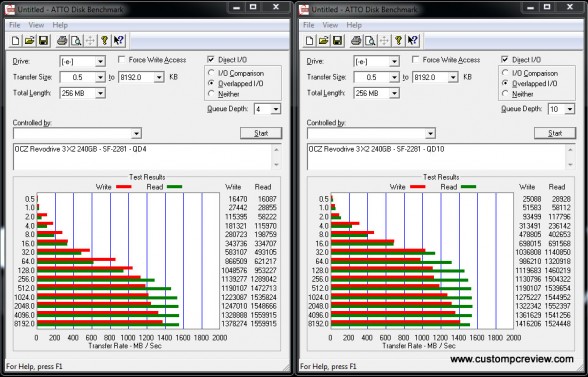 Remember how we thought 1GB/s reads and nearly 900MB/s writes on the RevoDrive 3 were the fastest ever? Well, I'm going to go eat my words right now. Clearly the RevoDrive 3 X2 is the fastest. Mmhmm… 1.55GB/s reads and 1.38GB/s writes at a queue depth of 4. With OCZ's recommended testing parameters of a queue depth of 10, the drive is able to achieve 1.52GB/s reads and 1.42GB/s writes.
Since the drive itself is advertised at 1.5GB/s reads and 1.225GB/s writes, it's clear that the drive outperforms its advertised specifications. Fantastic.
Crystal Disk Mark 3.0.1 x64
Crystal Disk Mark is another popular benchmark which allows us to measure both sequential read/write speeds as well as random read/write speeds. With this benchmark, tests will be run using both random fill (incompressible data which simulates music, video, pictures, etc.) and 0 fill (compressible data).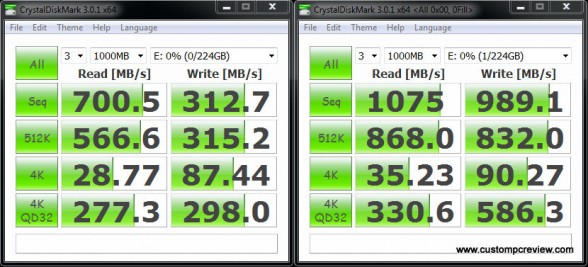 As usual, the next item on our list of benchmarks is Crystal Disk Mark, and despite Crystal Disk Mark lacking queueing, it's still able to put out very serious numbers when compared to SATA based SSD solutions out there. Whereas the RevoDrive 3 PCIe performed very similarly to other asynchronous NAND based SATA SSDs out there, the RevoDrive 3 X2 is clearly able to beat SATA based SSDs, even putting out 700MB/s sequential reads with incompressible data and no queuing. This is very impressive as the RevoDrive 3 x2 is both SandForce and Asynchronous NAND based, which typically suffers when it comes to writing and reading imcompressible data.
[section label=4. AS SSD / PC Mark 7]
OCZ RevoDrive 3 X2 240GB Performance
AS SSD Benchmark
AS SSD is a very commonly used benchmark used to measure SSD performance in a number of categories. Here, tests are run using incompressible data, which most simulate real world usage. It also outputs a final score at the conclusion of the test based off the read and write performance of the drive.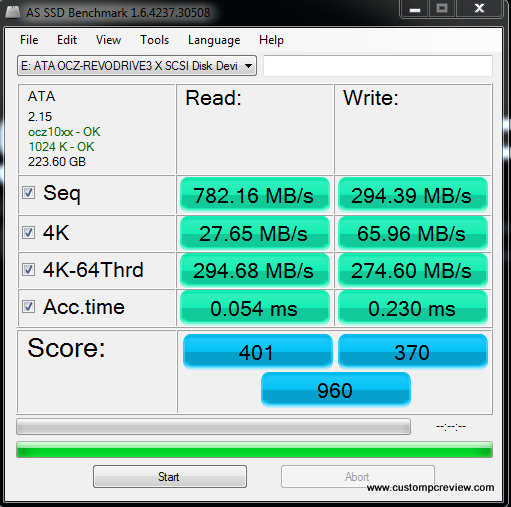 Next up, we'll take a quick look at AS SSD, and as usual these scores are quite similar to Crystal Disk Mark's random data benchmark. This means incompressible data and of course remember AS SSD doesn't queue either. For an Asynchronous NAND plus SandForce combination, you could sort of think of this benchmark as something like a worst case scenario.
PC Mark 7
The PC Mark 7 storage test tests the SSD under many different real world tests such as gaming, video editing, etc. This is most representative of the SSD's performance under real world situations.
| | |
| --- | --- |
| SSD | PC Mark 7 |
| OCZ RevoDrive 3 X2 PCIe 240GB | 5326 |
| SanDisk Extreme 240GB | 5273 |
| Samsung 830 128GB | 5234 |
| Crucial m4 128GB | 5214 |
| OCZ Vertex 3 120GB | 5078 |
| Patriot Pyro SE 120GB | 5042 |
| OCZ RevoDrive 3 PCIe 120GB | 4954 |
| Kingston V+200 120GB | 4711 |
| OCZ Agility 3 120GB | 4701 |
| Corsair Force 3 180GB | 4615 |
| Seagate Momentus XT 750GB | 3247 |
| WD Scorpio Black 250GB | 1727 |
Finally taking a look at the PC Mark 7 scores on the RevoDrive 3 X2, we notice that it's a completely different story when compared to the RevoDrive 3. The addition of the extra SF-2281 controllers and the 240GB capacity pushed the drive to the top of our chart, scoring 5326 points. This means you'll likely see this drive perform faster than any other drive we've tested thus far in both typical use situations and of course in specialized high I/O, high queue depth situations, which is what this drive was actually designed for.
[section label=5. Conclusion]
OCZ RevoDrive 3 X2 240GB Conclusions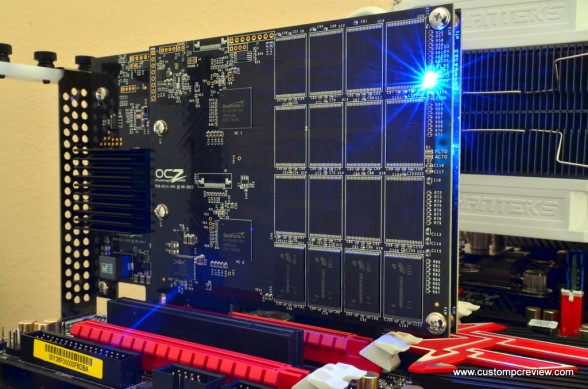 With the OCZ RevoDrive 3 X2, there isn't much to say. The drive is fast. No… wait, it's REALLY fast. I'm talking about sequential transfers being triple the maximum transfer speed of any SATA 3 6Gb/s drive out there. True story. You know, when I previously reviewed the RevoDrive 3 and said it was the fastest drive I've ever tested? Well, yeah that's no longer true. The RevoDrive 3 X2 blows that away by a whole 500MB/s. Awesome.
As far as who I'd recommend this drive to, well that hasn't changed since the OCZ RevoDrive 3 review. This drive thrives on large data transfers, large queue depths, and large concurrent I/O operations – so, for those enterprise users who manage large databases, professionals who create and manage large amounts of high quality audio/video, 3D graphic designers, etc. this drive is exactly what's needed to really take your work to a whole new level. Until the day we see SATA 4 or maybe SATA 5, PCIe based SSDs are going to be as fast as they get.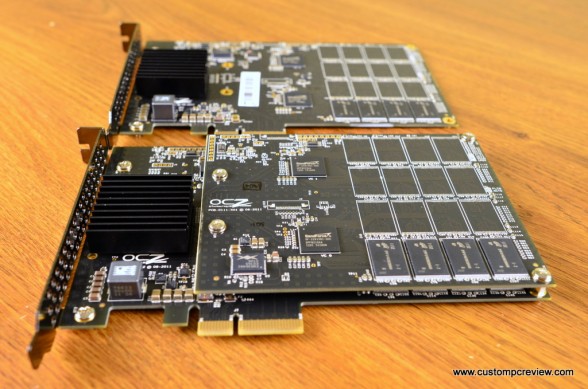 The last main factor here then is price and the RevoDrive 3 X2 can currently be found at Amazon for $654.99. Is this expensive? Heck yeah! Comparing this with most SATA based 240GB SSDs out there, it's tons more expensive. Even the notoriously expensive Intel 520 240GB SSD can be found for *only* $335.99, so the RevoDrive 3 X2 is definitely priced for its target market. However, for those professionals who need the performance, I think it's a small price to pay. Comparative RAID solutions that can match this level of performance would require additional RAID cards and multiple SSDs, which is  far more complicated than simply purchasing a RevoDrive 3 X2.
With that being said, I was a tad bit disappointed with OCZ's choice to include only a 3 year warranty. It's pretty clear this product wasn't designed for the general consumer – it was designed for the enthusiast/professional. Being an enthusiast myself, I need to know or at least have the assurance that the drive I'm getting is going to be a top notch product. It's $654.99! How about a little less packaging and 2 more years on the warranty?
Bottom Line
Want me to summarize the drive in a single word? Epic.
The OCZ RevoDrive 3 X2 is now officially the fastest SSD we've tested to date. Yeah, it's got the pricetag to match, but at 3x the speed and 2x the cost of SATA based SSDs out there, it's well worth it.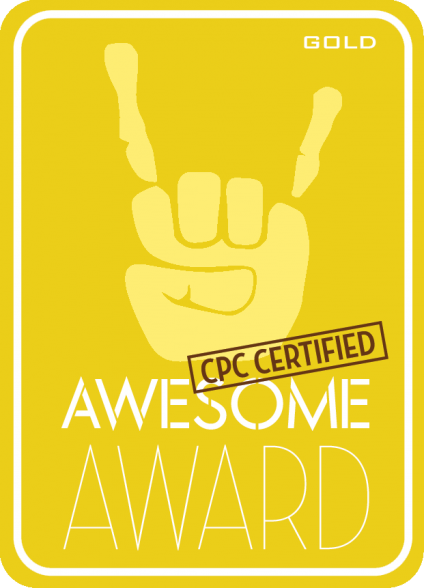 Special thanks to OCZ Technology for making this review possible.
The OCZ RevoDrive 3 X2 is currently available at Amazon.