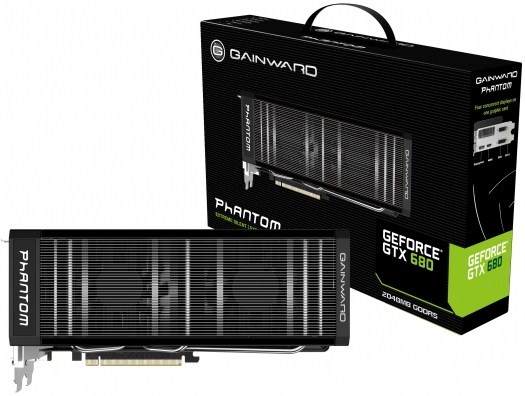 Gainward, a global graphics card manufacturer, recently unveiled their latest creation – the Phantom GTX 680 4GB. As the name suggests, the Phantom GTX680 4GB will feature 4GB of onboard memory, making Gainward one of the first manufacturers to release a GTX 680 with this much onboard memory. As expected then, the card will be able to simultaneously support up to four monitors.
Also attached to this card in addition to the massive amount of memory is the massive Phantom II cooling solution. The Phantom II cooler features two 80mm silent PWM "GR8" fans, five 6mm "Grand-Prix" heatpipes, and sports a more advanced design in comparison to the previous generation Phantom cooler. According to Gainward, the cooler will be 11.5dB quieter and 6°C cooler when compared to the stock GTX 680 cooler.
The card will be clocked at the standard 1006MHz base and 1058MHz "boosted". Memory will be clocked at 3004MHz with an effective memory clock of 6008MHz. The graphics card will also include Gainward's Expertool Utility II for additional overclocking, and fan speed control for either performance mode or silence mode.
For more details, visit the Phantom GTX 680 4GB product page and Phantom II product page.
Press Release
Gainward GeForce GTX 680 Phantom 4GB – Dark Chilled Demon
As the leading brand in enthusiastic graphics market, Gainward, introduces its Phantom series with 4GB on board memory for GeForce GTX 680 – Gainward GeForce GTX 680 Phantom 4GB. With great success of the Gainward GeForce GTX 680 Phantom and the Gainward GeForce GTX 580 Phantom 3GB, the Gainward GeForce GTX 680 Phantom 4GB brings the market the unlimited gaming gear. The most powerful GPU along with massive amount of on-board memory, powered by Gainward's superior design and the Phantom II cooler, the Gainward GeForce GTX 680 Phantom 4GB is a "Dark Chilled Demon".
It is the first 4GB board base on NVIDIA Kepler architecture that you can buy from the shelves. The massive memory gives it far beyond the limitation of the memory when running the latest game titles. With the Phantom II cooler, it is almost the most silent air-cooled board in the market you can find.
New Phantom II Cooler Design
The new Phantom II comes with brand new fins design (patent pending) that introduces
1) better thermal performance
2) lower acoustic level
3) more solid structure than previous generation previous generation
With this new design, Gainward GTX 680 Phantom 4GB delivers Extreme cool and silent acoustics under 3D heavy loading. It really is an extreme gaming gear for enthusiast gamers.
Gainward superior hardware design
Beside the cooler performance, Gainward GeForce GTX 680 Phantom 4GB is also powered by 6-phase with DrMOS PWM design for the GTX 680 cores. It brings a lot more benefits for the over-clocking capability. Gainward GeForce GTX 680 Phantom 4GB comes with 1058MHz boost clock and 3004MHz (or DDR6008MHz) memory clock, can be over-clocked easily.
Thanks to 4GB on board memory, Gainward GeForce GTX 680 Phantom 4GB can reduce data transfers by keeping larger data sets in local memory to maximize performance. Especially for those games with multi-monitor configuration even for 3D VISION Surround system, the 4GB on board memory will provide unlimited energy for you to enjoy the lifelike gaming environment.
Gainward Expertool II utility
Gainward's new Expertool utility is a right tool for GTX 680's dynamic clocking to tap into this powerful board. Users can utilize this new tool to enjoy the experience of the performance enhanced and quiet gameplay.
QuattroPorts
The QuattroPorts supports up to four displays in the same time on a single GTX 680. Gainward GeForce GTX 680 Phantom 4GB also comes with a HDMI to DVI adapter for the users to enjoy NV Surround with three DVI monitors.
Gainward GeForce GTX 680 Phantom 4GB
Specifications
Product Name – GAINWARD GeForce GTX 680 Phantom 4GB
Chipset – NVIDIA® GeForce GTX 680
Stream Processors – 1,536 cores
Base Clock – 1,006 MHz
Boost Clock – 1,058 MHz
Memory Clock – 3,004 MHz (DDR6,008)
Memory Type – GDDR5
Memory Size – 4,096 MB
Memory Bus Width – 256 bits
Output Ports – Dual DVI, HDMI, DisplayPort
Bus Interface – PCI-Express 3.0
Technologies
Microsoft DirectX 11, Shader Model 5.0 support
Microsoft DirectCompute and OpenCL Support
NVIDIA GPU Boost
NVIDIA Adaptive Vertical Sync
NVIDIA CUDA Technology
NVIDIA PhysX Technology
NVIDIA 3D Vision Surround Ready
NVIDIA PureVideo HD technology
NVIDIA SLI Technology
OpenGL 4.2 support
PCI Express 3.0
Two Dual-link DVI connectors
One DisplayPort connector
One HDMI connector (v1.4a)
Accessorles
Manual
Driver CD including Gainward award winning Expertool tuning Utility
DVI to VGA adaptor
HDMI to DVI adapter
Power cable