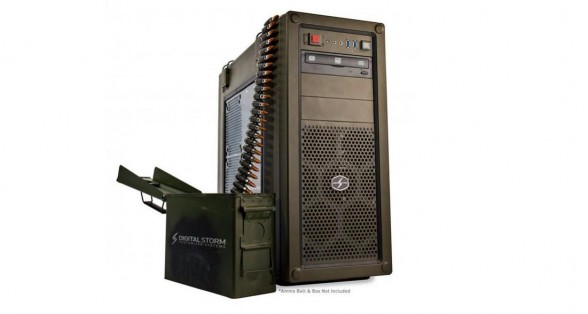 Digital Storm, a boutique PC builder renowned for their powerful pre-built systems, recently announced a new budget line of gaming PCs known as the Marauder.
With the goal of increasing resolutions and framerates for gamers with wallets shallower than a frying pan, the Marauder is actually very reasonably priced especially compared to some of its brothers such as the Aventium, HailStorm, and Syndicate.  With prices ranging from $799 (Level1: Good) to $1299 (Level4: Ultimate), the Marauder will give gamers on a budget a taste of what it feels like to own a Digital Storm PC.
Following it's tradition of making their PCs easier to choose for not-so-technical consumers, Digital Storm has divided the Marauder line into four levels. The baseline level1 Marauder will only set you back a measly $799 and comes equipped with the AMD Quad Core FX-4100 CPU, 8GB of DDR3 RAM at 1600MHz, an AMD HD7750 graphics card, a 600W PSU, and stock cooling. The level 4 Marauder on the other hand will dig a little deeper into your pocket, but also comes with a lot more power as well. Sitting at $1299, the Level4 Marauder features the Intel i5-2500K CPU, an AMD HD7870 2GB graphics card, and an ASUS P8Z77-V LX Motherboard.
To Corsair's delight, all Marauder levels will come enclosed in one of their new C70 cases as well. Unfortunately, that ammo box pictured won't be included. The Marauder is now available for pre-purchase at Digital Storm.