[section label=1. Introduction]
M.2 Has Landed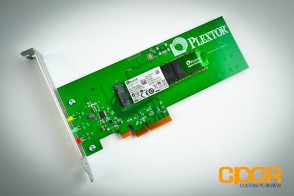 When we take a look at the history of HDD storage technology, it hasn't really been all that interesting for a very long time. Sure HDD capacities have increased by leaps and bounds and costs have decreased a fair amount as well, but performance hasn't really improved the way that CPUs, GPUs, or memory have.
SSDs on the other hand are still considered relatively new technology, but they have far exceeded the performance limitations of current SATA 1.5Gb/s, SATA 3Gb/s, and SATA 6Gb/s interfaces. With SATA 6Gb/s currently being the biggest bottleneck when it comes to storage technology, it's easy to see why something had to be done to keep SSD innovation rolling. Since it's impossible to introduce a SATA bus as often as needed to keep up with the pace of innovation in SSD technology, SATA-IO decided that instead of continually being bottlenecked by the SATA bus, we should instead use the existing PCIe bus which both is highly scalable and a widely accepted standard already used by many devices.
Because of this, a number of SSD manufacturers have begun producing PCIe SSD designs for their next generation of SSDs and one such manufacturer is of course, Plextor.
Plextor M6e Specifications
| | | | |
| --- | --- | --- | --- |
| Manufacturer | Plextor | Plextor | Plextor |
| Model | M6e | M6e | M6e |
| Model Number | PX-AG128M6e | PX-AG256M6e | PX-AG512M6e |
| Form Factor | M.2 2280 | M.2 2280 | M.2 2280 |
| Capacity | 128 GB | 256 GB | 512 GB |
| Controller | Marvell 88SS9183 | Marvell 88SS9183 | Marvell 88SS9183 |
| NAND | 19nm Toshiba Toggle Mode MLC | 19nm Toshiba Toggle Mode MLC | 19nm Toshiba Toggle Mode MLC |
| Sequential Reads | 770 MB/s | 770 MB/s | 770 MB/s |
| Sequential Writes | 335 MB/s | 580 MB/s | 625 MB/s |
| 4K Random Read | 96,000 IOPS | 105,000 IOPS | 105,000 IOPS |
| 4K Random Write | 83,000 IOPS | 100,000 IOPS | 100,000 IOPS |
| Interface | PCIe 2.0 x2 | PCIe 2.0 x2 | PCIe 2.0 x2 |
| Warranty | 5 Years | 5 Years | 5 Years |
Today we'll be reviewing (or rather, previewing) the Plextor M6e 256GB SSD, which is Plextor's latest M.2 form factor SSD that should hopefully be hitting the market soon. It'll come in the M.2 form factor, which is a new form factor designed to replace the mSATA form factor. Given that M.2 is based off the latest SATA Express standard, it can be wired for either SATA or PCIe, but the M6e is wired for PCIe so we'll be able to see performance surpassing the 6Gb/s. Plextor also includes a PCIe 2.0 x4 to M.2 adapter with the drive, so the M6e will work with any PC with an open PCIe 2.0 or PCIe 3.0 x4, x8, or x16 slot.
The Plextor M6e uses Marvell's latest 88SS9183 SSD controller paired with Toshiba's latest 19nm Toggle Mode NAND and will come in capacities of 128GB, 256GB, and 512GB. Given that Marvell controllers don't come with ready to roll firmware like SandForce, the Plextor M6e's firmware is custom built in house by Plextor. This gives Plextor the ability to produce a unique SSD and gives them the capability of better responding to any firmware related issues that crop up.
Warranty on the Plextor M6e is a sweet, sweet 5 years and looking at Plextor's warranty page, it doesn't look like there's any sort of  write per day limitation. Plextor has been known to produce very reliable SSDs and their warranty policy reflects this.
Without further ado, let's go take a closer look at the Plextor M6e 256GB.
[section label=2. A Closer Look]
A Closer Look at the Plextor M6e 256GB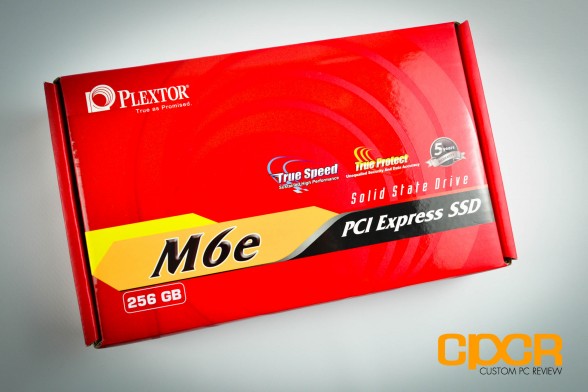 Here's a look at the Plextor M6e PCIe SSD. It's a fairly basic box that kinda feels like a throwback from the '90's.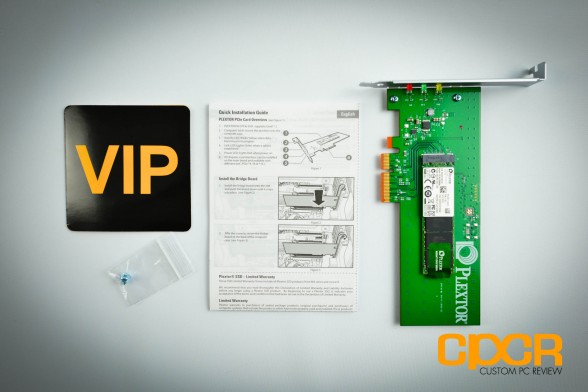 Included in the packaging we get some documentation, a PCIe x4 to M.2 adapter with mounting screws, and the Plextor M6e M.2 PCIe SSD.
The adapter itself is pretty basic. Other than some power conversion circuits, there really isn't anything that prevents you from using your own adapter or plugging it into a PCIe M.2 slot on your laptop. It's quite ridiculous however, that Plextor doesn't allow you to remove the M6e from the adapter as that would void the warranty. This greatly reduces the versatility of the M6e as it can't be used as an upgrade for a laptop or a mini-PC with a M.2 slot.
The Plextor M6e M.2 PCIe SSD is based on the M.2 2280 form factor, which means it'll be 22mm wide and 80mm in length. The edge connector is 20mm wide and has 2 notches which signifies that it's a B and M key edge connector design. While this is the most compatible edge connector design as it will fit slots of both key types, if you've got a M.2 slot with SATA wiring, it may fit but it will not work.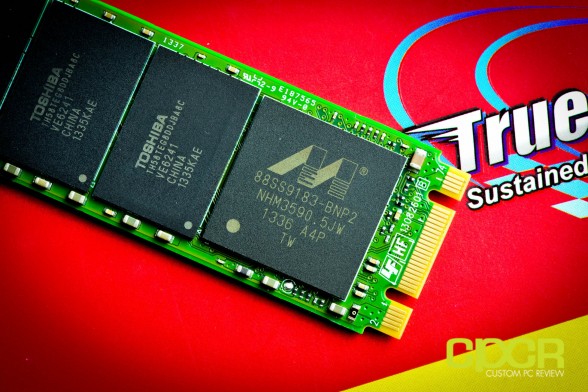 Taking a closer look at the controller here, the Plextor M6e M.2 PCIe SSD is powered by a Marvell 88SS9183-BNP2 controller. The controller is one of Marvell's latest native PCIe 2.0 x2 SSD controllers with a theoretical maximum of up to 1GB/s.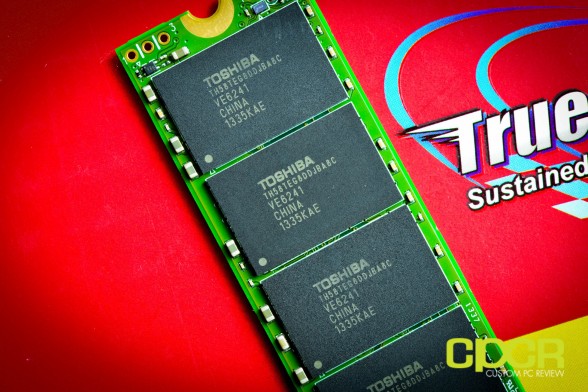 The Plextor M6e 256GB uses eight packages of Toshiba TH58TEG8DDJBA8C 19nm Toggle Mode MLC NAND. This is Toshiba's latest and greatest cMLC NAND that we've seen on various other SATA based SSDs currently on the market.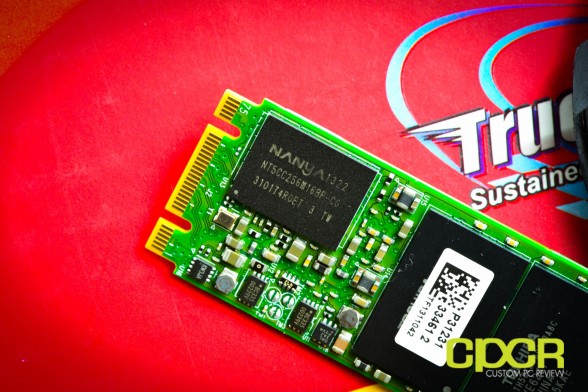 For the DRAM buffer, we get a Nanya 256MB DDR3-1333MHz chip (Model #NT5CC256M16BP-CG). This gives the Plextor M6e 256GB about 1MB DRAM buffer per GB of capacity.
[section label=4. Test Setup]
Haswell Test Bench
As of October 5, 2013, we've upgraded our storage testing system to a Z87/Haswell testing platform. All SSDs used for comparison here have been updated to the latest firmware as of October 2013. Performance tests from storage reviews prior to that date should not be compared to our latest reviews.
Special thanks to CyberPowerPC, Kingston, OCZ Technology and HSPC for sponsoring our test bench!
Crystal Disk Info
Plextor M6e 256GB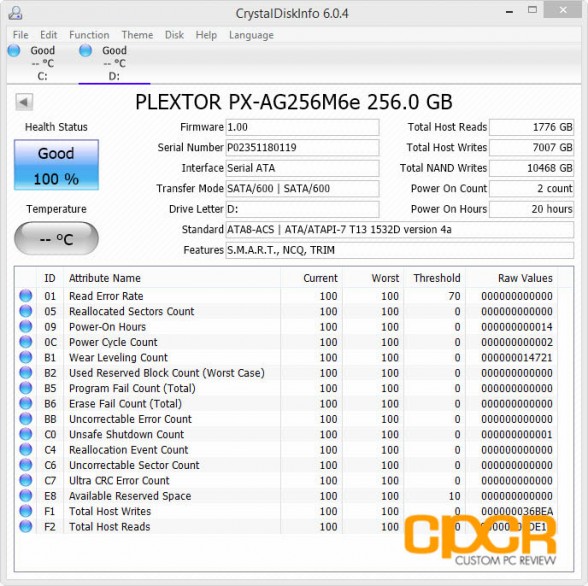 Our review today will be on the Plextor M6e 256GB PCIe M.2 SSD using firmware v1.00. Plextor has also included a number of features with the M6e such as S.M.A.R.T. monitoring, NCQ (Native Command Queuing), TRIM and ASPM (Active State Power Management).
There's basic AES 256-bit encryption available on the drive however, it does not have TCG Opal or IEEE 1667 support (Microsoft eDrive).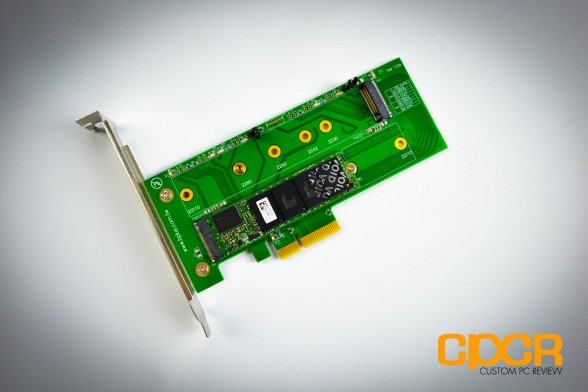 One thing I'd like to point out is that the Plextor M6e is somewhat special as a SSD. What's special about the Plextor M6e is that the controller is designed with its own BIOS built in, which is AHCI compliant. This allows the Plextor M6e to interface with the native AHCI drivers in Windows. Whereas previous PCIe SSDs required special, proprietary drivers to boot or use the SSD, the Plextor M6e will be recognized by the Windows installer much like a standard SATA based SSD.
In order test this, we not only used the PCIe x4 to M.2 adapter provided by Plextor, but also used the Bplus M2P4S PCIe x4 to M.2 adapter to boot off the Plextor M6e without any issues.
[section label=5. ATTO Disk Benchmark / AS SSD / Crystal Disk Mark]
Plextor M6e 256GB Performance
ATTO Disk Benchmark v2.46
ATTO Disk Benchmark is one of the industry's oldest and most popular benchmarks for testing disk read/write speeds. This benchmarks allows read and write testing using predefined block sizes and gives us a good idea of read/write speeds with different sized files. Most SSD manufacturers these days prefer using this benchmark when advertising SSDs as it tests using compressible data, which tends to yield best performance.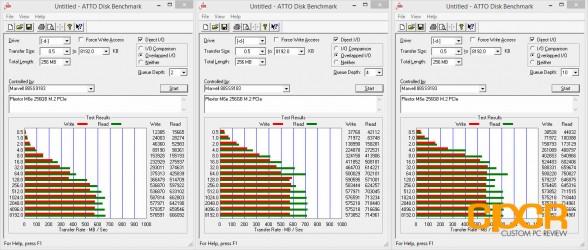 Performance Analysis
The Plextor M6e 256GB is rated at up to 770MB/s sequential reads and 580MB/s sequential writes. In ATTO Disk Benchmark, we were able to achieve a maximum of 750MB/s reads and 590MB/s writes.
AS SSD Benchmark
AS SSD is a very commonly used benchmark used to measure SSD performance in a number of categories. Here, tests are run using incompressible data at QD1. It also outputs a final score at the conclusion of the test based off the read and write performance of the drive.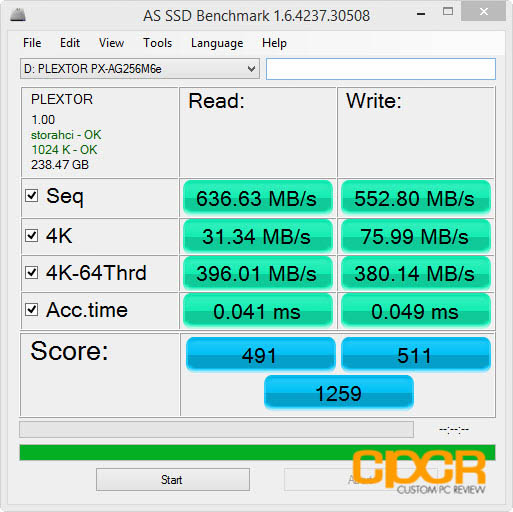 Performance Analysis
At lower queue depths, the the Plextor M6e 256GB is just slightly faster than an enthusiast class SATA drive, but at 636 MB/s sequential reads, it's clearly faster than what the SATA 6Gb/s interface can offer.
Crystal Disk Mark 3.0.1 x64
Crystal Disk Mark is another popular benchmark which allows us to measure both sequential read/write speeds as well as random read/write speeds. With this benchmark, tests can be run using both random fill (incompressible data) and 0 fill (compressible data). Realistically in typical computer usage scenarios, data being transferred will consist of a mixture of both incompressible and compressible data.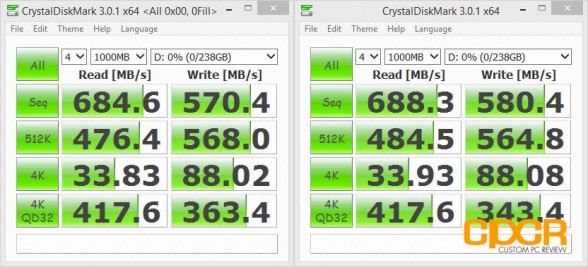 Performance Analysis
Again, in Crystal Disk Mark for the most part it looks like your standard SATA SSD with the exception of ultra fast sequential and large block reads and writes that break the SATA 6Gb/s barrier.
[section label=6. PC Mark 7 / PC Mark 8]
Plextor M6e 256GB Performance
PC Mark 7
The PC Mark 7 storage test evaluates the SSD under many different real world environments such as gaming, multimedia editing, etc. This closely represents the SSD's performance under real world situations.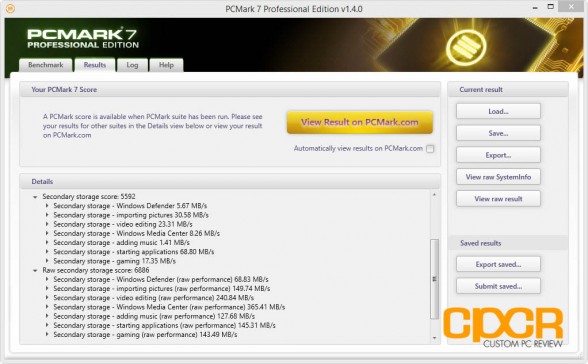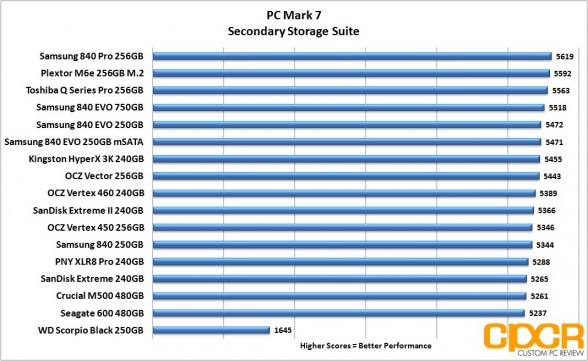 PC Mark 8
The PC Mark 8 storage test is similar to storage tests found in PC Mark 7. The PC Mark 8 storage test evaluates SSDs under many real world applications such as gaming, video editing, photo editing, etc. and is well regarded among the SSD industry.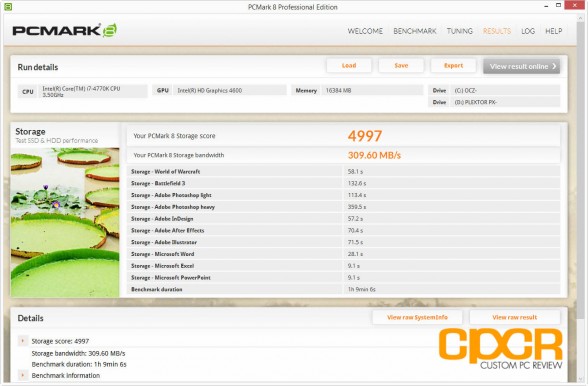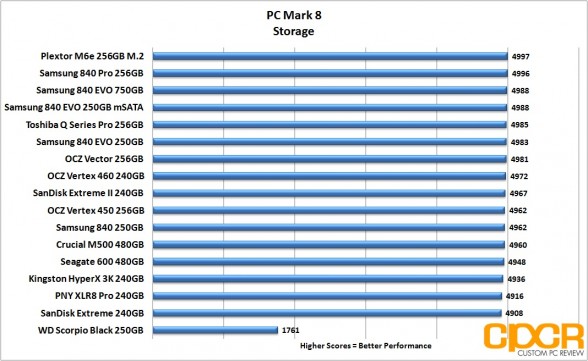 Performance Analysis
In PC Mark 7/PC Mark 8, the Plextor M6e 256GB is among the fastest SSDs we've tested to date although given that it barely edges out every SSD in PC Mark 8 and gets slightly edged out by the Samsung 840 Pro in PC Mark 7, it may not necessarily be a whole ton faster than enthusiast class SATA based SSDs in typical consumer use scenarios like those tested in PC Mark.
[section label=7. FIO – FOB]
Plextor M6e 256GB Performance
FIO (Flexible I/O Tester)
FIO, which stands for Flexible I/O Tester, is basically what its name says – a flexible I/O tester / I/O workload generator. Whereas all the benchmarking tools we've used previously are fantastic, easy to use benchmarking tools that provide a good snapshot of SSD performance, they do lack a lot of versatility, especially for more complex and in-depth operations such as custom queue depths, block sizes, test run times, etc. While the testing that follows may not pertain to typical consumer usage, they do help give us a much more in-depth look at each individual product's strengths and weaknesses when they're pushed to the limits.
FIO – FOB (Fresh Out of the Box) Testing
When SSDs are brand new and Fresh Out of the Box, they're generally able to perform at or outperform their advertised speeds, but unlike traditional hard drives, performance on SSDs begin to degrade over time as they become more and more used. This is because while SSDs are new, all bits on the SSD are empty, so they can instantly be programmed with data. However, once data gets programmed in, even if it's deleted in the filesystem the actual data will still stay programmed on the NAND itself unless some sort of garbage collection routine comes in to wipe the data. Unfortunately, in order to write new data onto "dirty" NAND, the NAND needs to go first through an erase cycle to erase the old data before a program cycle can happen to program new data, which as you may imagine takes more time than just a simple program cycle. As this only happens when writing new data onto the SSD, you'll generally see less performance degradation on reads and more performance degradation on writes.
For our FOB testing, we run a secure erase on the SSD then run each test sans any preconditioning. This will provide us with the highest level of performance the SSD is capable of and is likely never to be seen ever again once the SSD goes into a used state.
Our testing will include 4K read testing, 4K write testing, and 4K 70/30 read/write mix testing at queue depths of 1,2,4,8,16,32,64,128,256. The reason we've also included 4K 70/30 read/write mix testing is simply because most real world workloads will always fall somewhere between 0% write and 100% write rather than one or the other. Since client usage is much more read heavy, we'll be using the 70/30 read/write mix.
For general client usage, performance will fall somewhere between queue depths of 1-4 whereas servers and other enterprise applications will easily see queue depths of 32 or greater.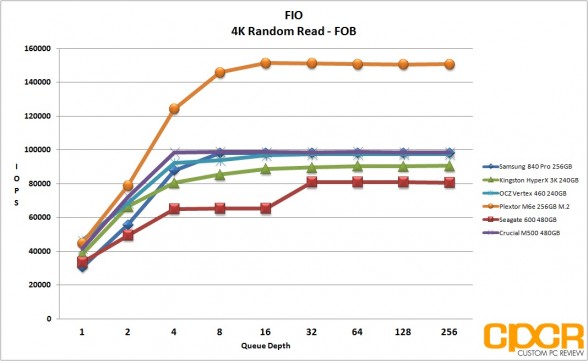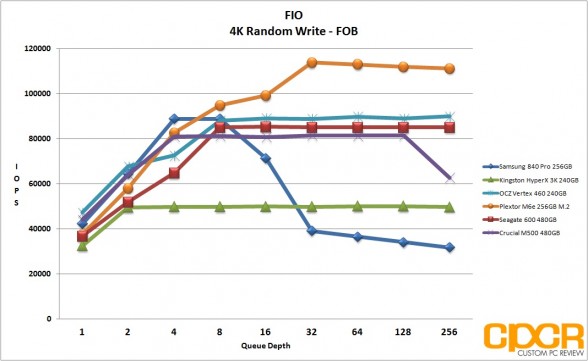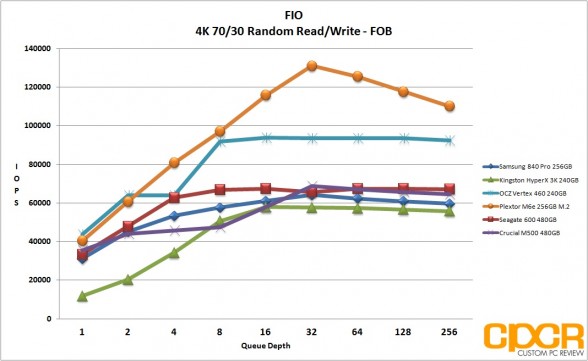 Performance Analysis
When the Plextor M6e 256GB is fresh out of the box, it's definitely one of the fastest SSDs we've tested to date, delivering insanely fast 150,000 4K read IOPS and 115,000 4K write IOPS.
[section label=8. FIO – Steady State]
Plextor M6e 256GB Performance
FIO – Steady State Testing
After prolonged use of an SSD, it will reach "steady state" where performance levels off to a minimum level. The FOB state is the "best case scenario" for SSD performance while "steady state" is going to be your worst.  Here, we ran the exact same set of benchmarks we just completed in the FOB state; except this time around, we'll be preconditioning the drive by filling 100% of the drive's LBAs with two sequential passes of 128k data followed by hammering the drive for six hours with 4K random data prior to actual testing.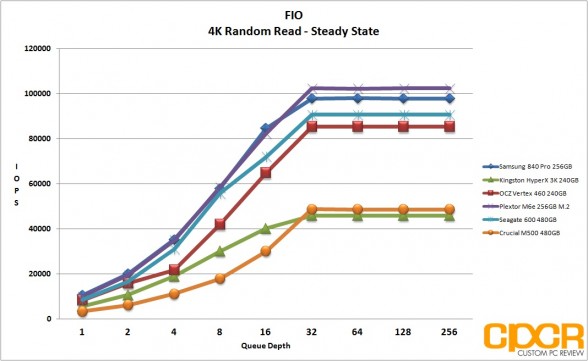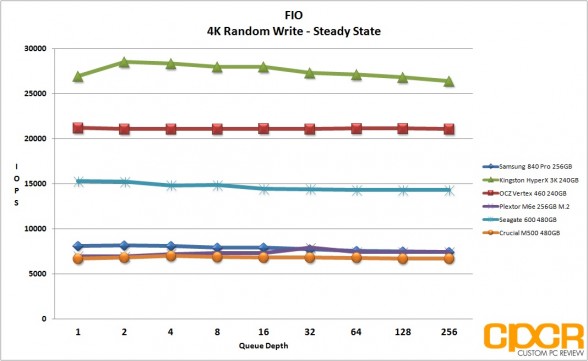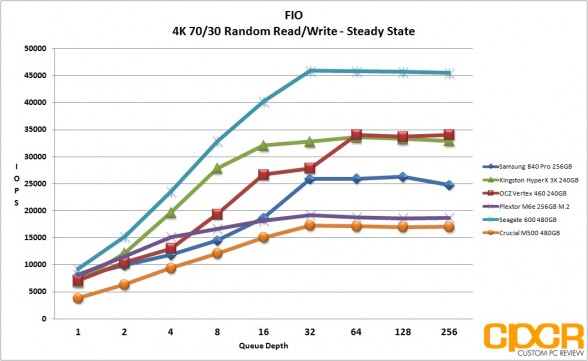 Performance Analysis
In steady state, the Plextor M6e performed extremely well in read intensive scenarios, easily breaking the 100,000 IOPS barrier at QD32 making it faster than any SATA SSD we've tested to date. However, steady state write performance was another story as the Plextor M6e fell to the bottom of the pack – typical of Marvell powered consumer oriented SSDs.
[section label="9. FIO – 4K Random Write Consistency"]
Plextor M6e 256GB Performance
FIO 4K Random Write Consistency Testing
Another one of the benefits of testing with FIO is the flexibility of running consistency tests, which is one of the most important metrics when considering SSDs going forward. Looking at the results of our benchmarks such as ATTO Disk Benchmark and Crystal Disk Benchmark, we can see that practically every top tier SSD is capable of saturating SATA 6Gb/s in the FOB state. However, what really differentiates these SSDs is their ability to hold a certain level of performance even after extended periods of use.
For our consistency testing, we used a fairly standard method, which includes both filling up 75% of capacity (consumer use) as well as 100% capacity(enterprise use) twice with sequential 128k data followed by the actual test itself, which is simply running 4K random writes at a queue depth of 32. By recording the IOPS every second for 2,000 seconds, we're able to get a good look at what kind of performance can be expected when the drive is relatively new, when it's heading towards steady state, and when it's actually in steady state.
[tabgroup]
Performance Analysis
4K write performance consistency is actually quite good although it's definitely lacking in absolute performance, especially at 100% fill. Once we reduce the Plextor M6e to 75% fill however, performance jumps up quite a bit so it's definitely recommended to leave a good amount of free space on the M6e for best long term performance. There's definitely room for improvement here which is something I hope Plextor will address.
[section label="10. FIO – 4K Random Write Latency"]
Plextor M6e 256GB Performance
FIO 4K Random Write Latency Testing
Another metric that's becoming increasingly important in SSDs is its ability to keep latency low despite being subjected to a heavy workload. Even if a SSD were capable of ultra high and ultra consistent IOPS performance, if latency were high, users would still feel that the drive is slow. Ideally, SATA SSDs should always be capable of latencies under 50ms, even during heavy workloads.
For latency testing, we'll be using the exact same testing parameters as IOPS consistency testing, except instead of recording IOPS every second, we'll be recording latency.
[tabgroup]
Performance Analysis
The Plextor M6e performed very well here keeping its latencies low and consistent, never exceeding 30ms in our testing. Again keeping the drive at 75% filled or less is ideal as the M6e never exceeded 10ms at 75% fill.
[section label="11. FIO – 128K Random Write"]
Plextor M6e 256GB Performance
FIO 128K Random Write Consistency Testing
In addition to testing 4K random write consistency, we'll also begin to test for 128K random write consistency to see how well a SSD is able to hold itself to a level of performance when getting hammered with larger file transfers.
For 128K random write consistency testing, we won't be preconditioning the drive with two sequential passes of 128K data like in our 4K random write consistency testing since 128K data can easily fill up the drive well within our 2,000 second run.
[tabgroup]
Performance Analysis
As the Plextor M6e is constantly hammered and filled to capacity, performance dips from a very strong ~550MB/s down to about 85MB/s at its lowest point. Again, the Plextor M6e is clearly designed for read heavy use.
[section label=12. Conclusion]
Plextor M6e 256GB Conclusions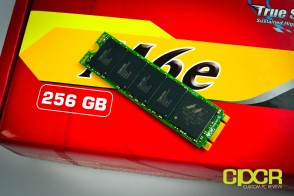 Alright, so after testing our first M.2 form factor SSD, we've definitely come away with some mixed impressions.
In comparison to the SATA drives we've tested today, the Plextor M6e performs very well and easily goes head to head with our SATA based favorite, the Samsung 840 Pro. However, given that the Plextor M6e isn't bound by the limitations of the SATA interface, we were a bit underwhelmed by the fact that it's not leaps and bounds faster than some of the fastest SATA based SSDs on the market. Additionally with the M6e being marketed towards consumer use, we would've also liked to see better low queue depth performance although in it's current state, it's definitely already competitive against top tier SATA based SSDs.
Steady state write performance could also use a bit of work and I think it would really help if Plextor over-provisioned the M6e out of the box. I think adding an additional 7% over-provisioning along with some improved garbage collection routines would really help boost performance there. In the meantime, I'd recommend those picking up a M6e to leave a good 25% capacity unfilled to keep the Plextor M6e at tip top performance.
There's currently no pricing information on the Plextor M6e since this is still a pre-production product; however, Plextor is hopeful to get units out by the end of February.  I think as long as Plextor keeps the M6e somewhere around $1/GB or less, it could be very competitive against SATA based offerings, especially with Plextor's very lengthy 5-year warranty. Given the fact that the NAND is the most expensive component in SSDs and the Toshiba Toggle Mode NAND used in the M6e is fairly common in a lot of today's SSDs, I'm hopeful that Plextor will be pricing the M6e competitively.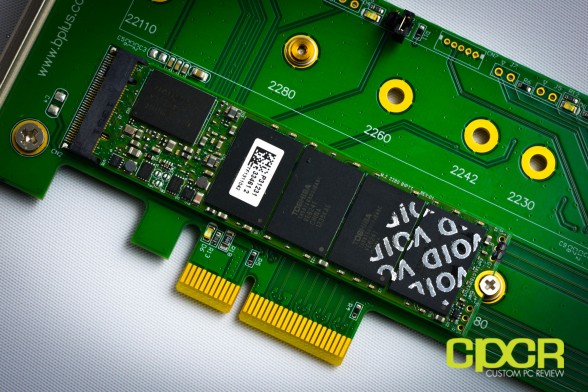 One thing I'd really like to see from Plextor is the option of removing the M6e SSD from the PCIe adapter without voiding the warranty. This gives M6e owners better flexibility as notebooks and desktops should be getting PCIe M.2 support down the line. Additionally, we've seen single PCB M.2 RAID adapter designs from guys like Avant and it'd be pretty cool to be able to throw a couple M6e SSDs into an adapter for even better performance.
Overall, I think Plextor has done a great job on the M6e being the first to bring a consumer PCIe based M.2 SSD to retail. It's certainly not the fastest PCIe SSD out there, but it's the only one and if it's priced right, it could be something to consider for those who work primarily with read intensive applications. It's a good start for Plextor and we're very excited to see what the company has in store for us in the future.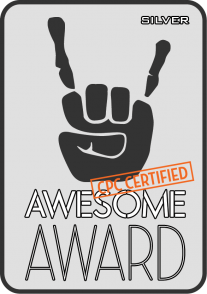 Sample provided by: Plextor

Availability: Available Soon