CyberPowerPC Zeus Mini-I 780 Review
Big Performance, Not-so-Big Package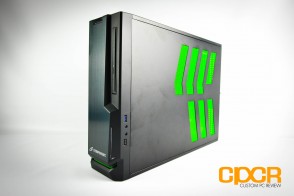 It's really no secret that I love building my own PCs and it's quite rare that you'd see me buy a pre-fab desktop. For me, there's simply no value add in ordering a custom PC built with off the shelf parts I can easily put together myself. However, there are some system builders who've found ways to provide value add for enthusiasts such as myself by developing stuff like exclusive components or enhanced warranties that are far superior in comparison to the ones offered by PC component manufacturers.
Today we'll be reviewing the CyberPowerPC Zeus Mini-I 780, which is a brand new system from CyberPowerPC that was unveiled for the first time at CES earlier this year. Unlike most CyberPowerPC systems that simply use off the shelf parts, CyberPowerPC decided to up the ante with the Zeus Mini by not only making the system extremely small, but they've also developed their own exclusive chassis specifically for the system as well. Unlike many mITX chassis on the market that limit the length of the graphics card, size of the cooler, or the type of power supply that may be used, CyberPowerPC's Zeus Mini chassis is special in the fact that it supports everything from the longest single GPU graphics cards to full sized ATX power supplies and pretty much everything inbetween.
CyberPowerPC Zeus Mini-I 780 Specifications
| | |
| --- | --- |
| Desktop | CyberPowerPC Zeus Mini-I 780 |
| Case | CyberPowerPC Zeus Mini mITX Gaming Chassis |
| CPU | Intel Core i7-4770K |
| Motherboard | Gigabyte Z87N-WiFi |
| Memory | 16GB (2x8GB) DDR3-1866 G.SKILL Ripjaws X |
| Graphics | EVGA Superclocked GeForce GTX 780 3GB |
| Storage | 1x120GB Samsung 840 EVO SSD + 1x2TB Toshiba DT01ACA200 7200RPM HDD |
| Optical Drive | LG Slimline 8X DVD±R/RW/4X + DL Super-Multi Drive |
| Operating System | Microsoft Windows 8.1 (64-bit Edition) |
| PSU | Corsair CS650M |
| CPU Cooler | Cooler Master Seidon 120M |
| Warranty | 1 Years Labor, 1 Year Parts |
| Price as Configured | $1,859 |
| Configure System | Click Here |
CyberPowerPC will offer the Zeus Mini in a number of different configurations ranging from the base AMD Kaveri only systems all the way up to beastly Intel Haswell/Nvidia GeForce GTX Titan systems – all in a chassis that measures in at a mere 13″x4.4″x17.4″. This is extremely impressive considering the number of people who run massive, 30+ pound full tower desktops in order to fit these types of components into their systems.
For our review today, we specifically received the CyberPowerPC Zeus Mini-I 780 which includes the Intel Core i7-4770K, 16GB of DDR3 1866MHz memory, and the EVGA GeForce GTX 780 Superclocked.
Sounds like a winner? Yeah, probably. Let's take a closer look.
A Closer Look at the CyberPowerPC Zeus Mini-I 780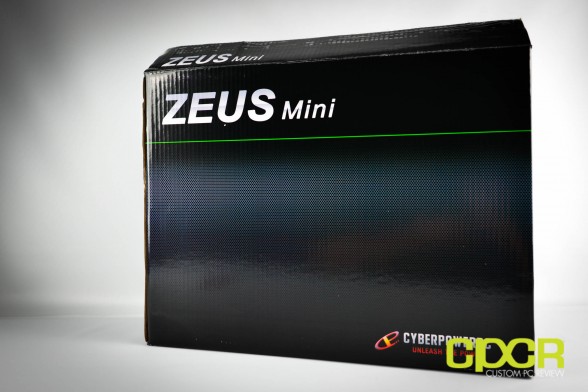 Here's a look at the packaging for the CyberPowerPC Zeus Mini-I 780. This is the first time we've seen a CyberPowerPC branded box for any of their systems we've reviewed to date.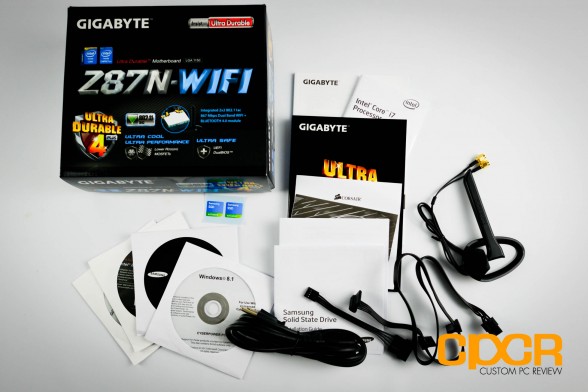 Included in the motherboard box, we get a number of accessories including documentation, extra power cables, a WiFi antenna, loads of documentation, and restore/driver disks.
Included is also the Zeus Mini-I 780 as well. The chassis is incredibly small, measuring in at only 13″ tall, 4.4″ wide and 17.4″ deep. The right side of the chassis includes two USB ports (1x USB 3.0, 1x USB 2.0) and a headphone/microphone port. There are also green vents on the side to help with airflow. CyberPowerPC also includes a stand to help the Zeus Mini from tipping over although it really isn't all that necessary.
Here's a look at the front and rear of the Zeus Mini-I 780. The front is fairly plain with only a power button up top and a dvd slot off to the right side.
Moving over to the rear, it appears that the GPU and the motherboard are stacked on top of each other which is interesting. We'll discuss that once we open the system up in a bit. Otherwise, in terms of I/O, we've got pretty much everything including a standard 3-pin power port, PS/2 keyboard/mouse port, 2x USB 2.0 ports, 4x USB 3.0 ports, dual gigabit LAN ports, WiFi antenna ports, 2x HDMI/DVI onboard video ports, audio jacks, and 2x DVI/HDMI/DisplayPort off the GTX 780.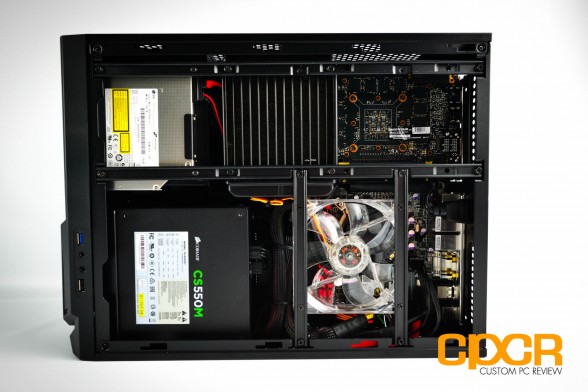 Removing the sidepanel, we can see all of the incredible engineering that has gone into making the Zeus Mini-I 780 a reality. Not only is CyberPowerPC able to cram extremely high powered components into the chassis, they've done it using mostly off the shelf parts which are very easy to replace/upgrade. Awesome.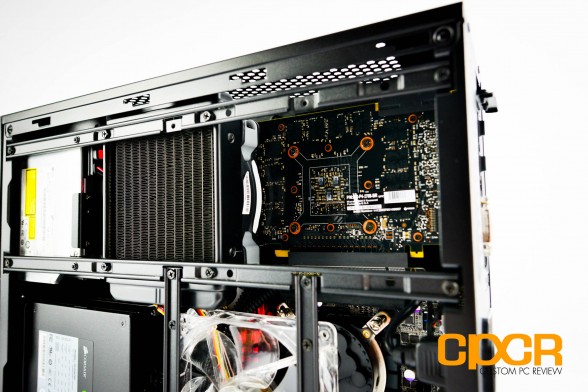 The most interesting design of the Zeus Mini-I 780 is of course fitting the extremely high powered EVGA GeForce GTX 780 Superclocked into the tiny chassis. In order to do so, CyberPowerPC is using a 90º PCIe x16 adapter which allows the GPU to appear "stacked" on top of the motherboard. This also gives CyberPowerPC some clearance to install the Seidon 120 CPU cooler, although this means there's only about 2cm of clearance between the CPU cooler's fan and the GPU which isn't a whole lot of breathing room.
Right below the cooler, CyberPowerPC has also included a green LED lit fan which helps produce a beautiful green glow when the system is on. It also gives the CPU, memory, and motherboard some incidental airflow to cool things down.
To the left, CyberPowerPC has also included the CS550M PSU, which is a standard full sized ATX power supply. There's an extension cord that connects the back of the chassis and the power supply.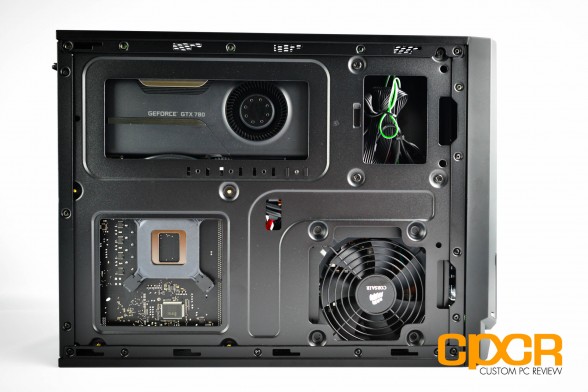 Moving over to the other side of the chassis, we can see a couple cutouts on the motherboard tray designed to allow the PSU and the GPU to breathe. The GPU uses the more reference blower style fan design which ejects heat out of the rear of the system rather than into the case. Although it's slightly louder when pushed to the max, it keeps heat out of the case better than a number of custom cooler designs that pull air into the chassis.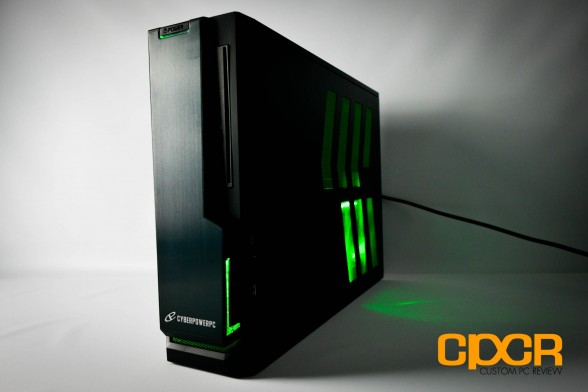 Finally to add a bit of extra bling bling awesomeness, CyberPowerPC has also included some onboard lighting to the Zeus Mini. Since our system is Intel/Nvidia, green LED lighting is included, but CyberPowerPC also offers red LED lighting for those who opt for an AMD system. I'm not quite sure if you could get red LED lighting with an Intel/Nvidia system or green LED lighting with an AMD system, but I'm sure CyberPowerPC wouldn't mind if you gave them a call.
Huge props to CyberPowerPC for their innovative design with the Zeus Mini! Let's move on.
Testing Setup
IB (Ivy Bridge) Reference System
For reference, we'll be using a well equipped Ivy Bridge based reference system for comparison. Our Ivy Bridge reference system doesn't necessarily represent the fastest PC on the market, but it's very well spec'd as a fantastic mid-range gaming PC capable of playing a majority of the latest games on the market at medium to high settings. The specifications for our Ivy Bridge reference system are as follows.
Special thanks to Gigabyte, Kingston, MSI and HSPC for sponsoring our reference system!
CyberPowerPC Zeus Mini-I 780 Initial Boot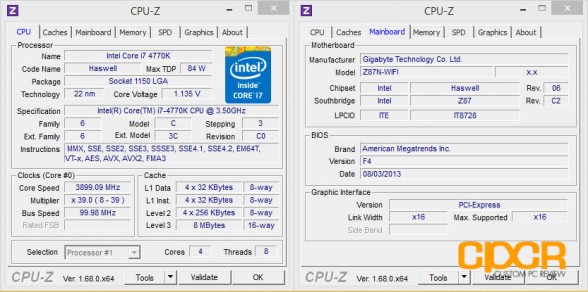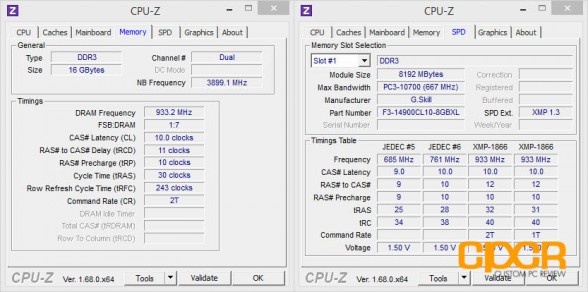 Here's a look at CPU-Z. We've got an Intel Core i7-4770K although CyberPowerPC didn't do any overclocking out of the box. While I'm a huge proponent of overclocking, I think it's a good idea not to do so with something like the Zeus Mini given the fact that there's simply too many high powered components with too little space/cooling. CyberPowerPC does have the option of overclocking the system from the factory though, which is interesting. If you do that though, I'd highly recommend picking up the $29 Intel Performance Tuning Protection Plan in the event the CPU's life is shortened due to excessive heat.
For the motherboard, CyberPowerPC is using the Gigabyte Z87N-WiFi, which is a very well equipped mITX motherboard. It has all the bells and whistles you could expect from a mITX motherboard including USB 3.0, SATA 6Gb/s, PCIe 3.0 support, Bluetooth 4.0, WiFi B/G/N, and then some extras such as dual gigabit LAN support. Paired with that is also two sticks of 8GB G.SKILL Ripjaws X DDR3-1866 memory for a total of 16GB of memory.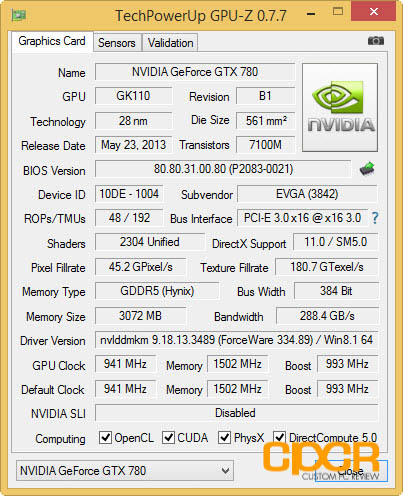 In addition to the Intel Core i7-4770K, CyberPowerPC also included the EVGA GeForce GTX 780 Superclocked which is overclocked out of the box to 941MHz core and 993MHz boost.
CyberPowerPC Zeus Mini-I 780 Performance
SuperPi 32M
SuperPi is a single threaded benchmarking tool which for our purposes simply calculates pi for us and records the time to calculate 32 million digits after the decimal point.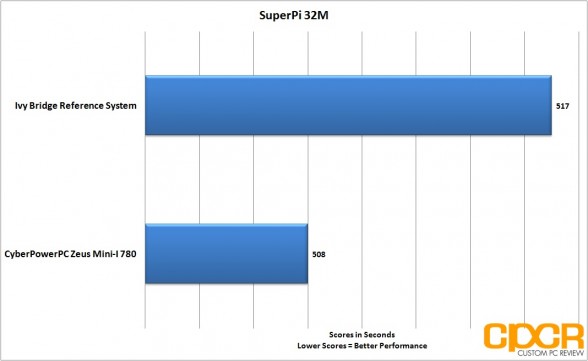 WPrime 32M
WPrime is a multi-threaded benchmarking tool which for our purposes simply calculates pi for us and records the time to calculate 32 million digits after the decimal point.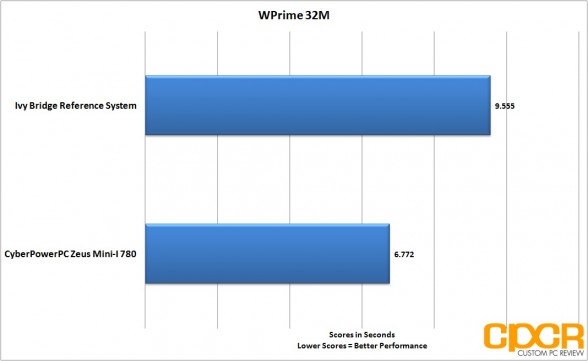 x264 HD Video Benchmark v5.0.1
x264 HD video benchmark tests how fast the system can encode a 1080p video into a high quality x264 video file. The most recent 5.0.1 release includes a more advanced benchmark script to better stress test newer multi-core processors.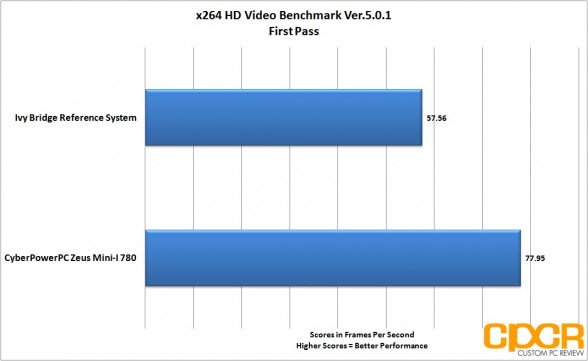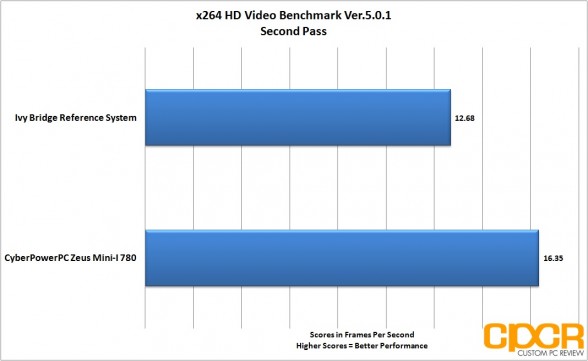 Cinebench v11.5
Cinebench is a real world benchmark that tests system performance using the Cinema 4D animation software. For our benchmarking, we'll be testing multithreaded performance only.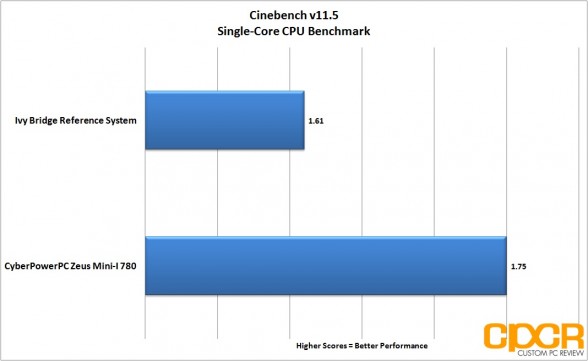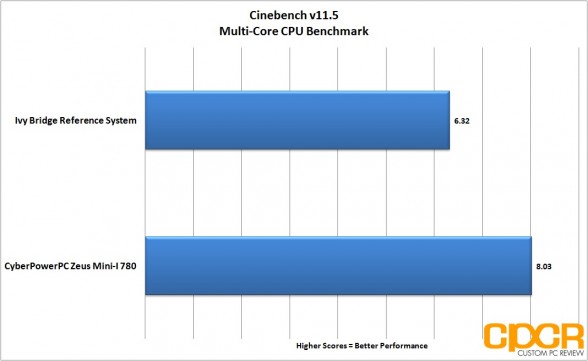 Performance Analysis
I think most of us are pretty familiar with the fantastic performance from the Intel Core i7-4770K. In our testing, the Haswell based Intel Core i7-4770K was able to beat out our Ivy Bridge based Intel Core i5-3570K reference system without issue in both single and multi-threaded applications. It's quite apparent that the hyper-threading feature on the Intel Core i7-4770K gives it a much bigger performance boost on mutli-threaded applications rather than single threaded applications.
CyberPowerPC Zeus Mini-I 780 Performance
Graphics Performance
3D Mark
3D Mark is Futuremark's latest benchmark utility used widely by gamers, enthusiasts, and overclockers to benchmark system performance and stability under consistent graphics loads.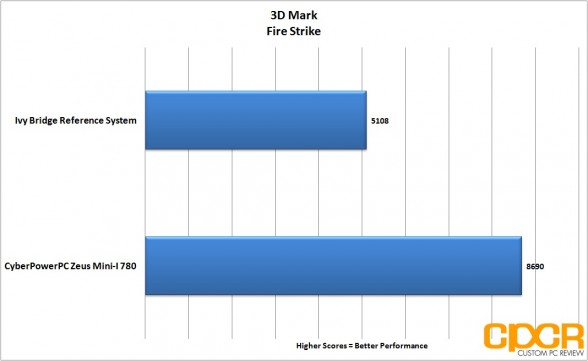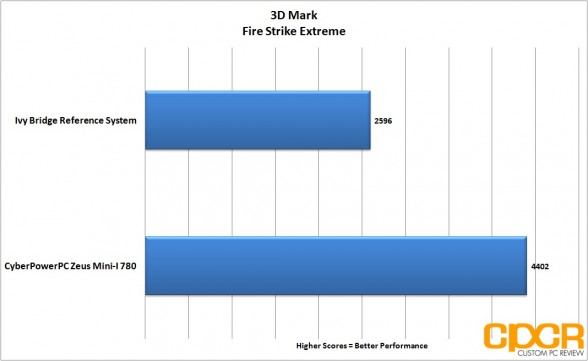 Game Benchmarks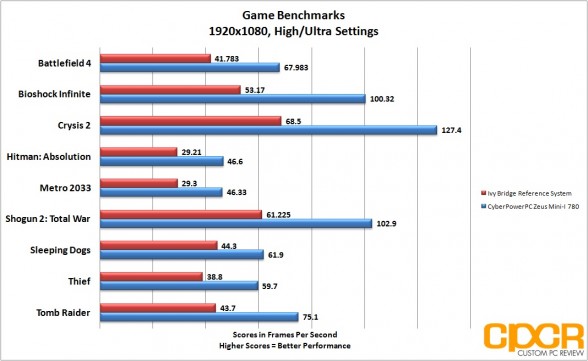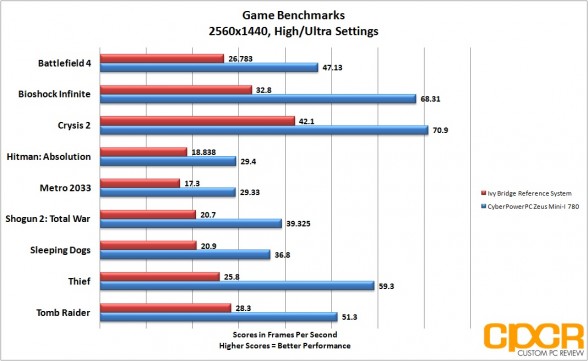 Performance Analysis
With one of Intel's best CPUs paired with one of Nvidia's best GPUs, the Zeus Mini-I 780 had no issues handling all of our games tested today at both 1080p and 1440p even with all settings, anti-aliasing, tessellation, HBAO, etc. turned on. Nothing less than expected from the EVGA GeForce GTX 780 Superclocked. It's simply a beast designed for high resolution gaming.
CyberPowerPC Zeus Mini-I 780 Performance
System Performance
PC Mark 8
From the creators as 3D Mark, PC Mark 8 is a full system benchmark designed to test real world system performance. PC Mark 8 is the latest in the PC Mark series, now replacing PC Mark 7.
Home Test
The PCMark 8 Home benchmark includes workloads that reflect common tasks for a typical home user. These workloads have low computational requirements making PCMark 8 Home suitable for testing the performance of low-cost tablets, notebooks and desktops. Home includes workloads for web browsing, writing, gaming, photo editing, and video chat. The results are combined to give a PCMark 8 Home score for your system.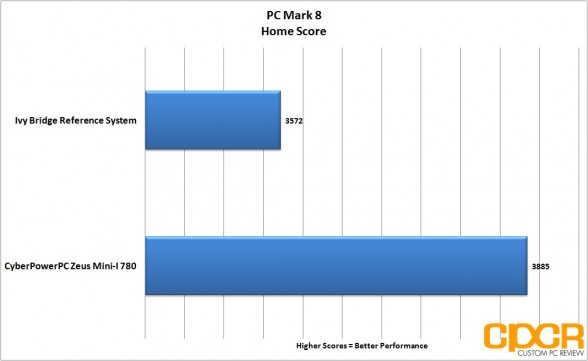 Creative Test
The PCMark 8 Creative benchmark includes workloads typical of advanced home computer users. With more demanding requirements than Home benchmark, this benchmark is suitable for mid-range computer systems. PCMark 8 Creative includes web browsing, photo editing, video editing, group video chat, media transcoding, and gaming workloads. The results are combined to give your PCMark 8 Creative score.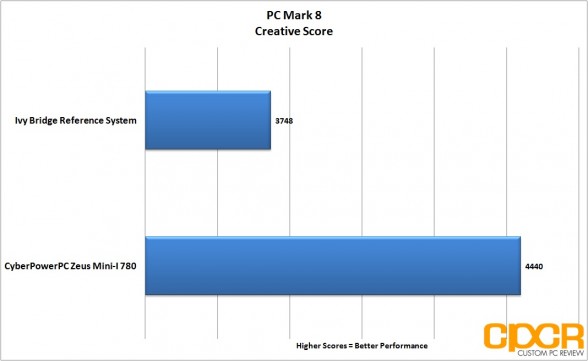 Work Test
The PCMark 8 Work benchmark test includes a set of workloads that reflect common tasks for an office environment, such as writing documents and browsing websites. These workloads have low computational requirements and are suitable for measuring the performance of typical office PC systems that lack media capabilities. The results from each workload are combined to give an overall PCMark 8 Work score for your system.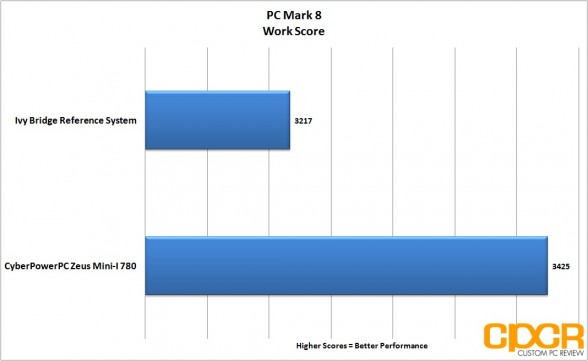 Performance Analysis
The combination of the Intel Core i7-4770K along with the GTX 780 is simply a fantastic combination and it's no surprise that it was able to defeat the our Ivy Bridge reference system by significant margins in every test.
CyberPowerPC Zeus Mini-I 780 Performance
Disk Performance
Samsung 840 120GB SSD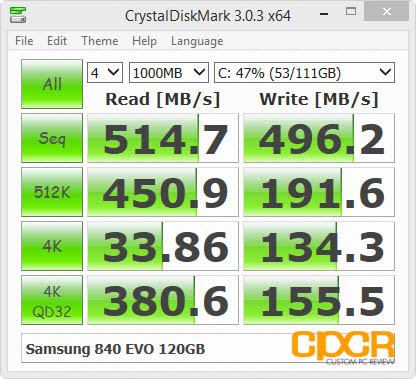 2TB Toshiba DT01ACA200 7200RPM HDD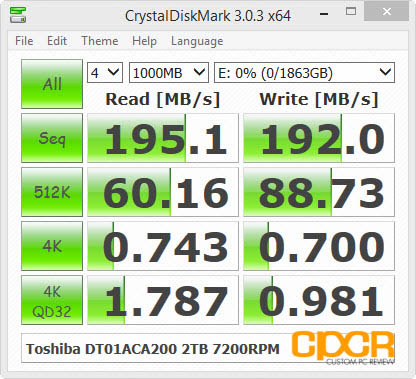 Performance Analysis
For storage, CyberPowerPC went with both a Samsung 840 EVO 120GB for boot and applications and a 2TB 7200RPM hard drive for storage. The Samsung 840 EVO definitely offers fantastic cost to performance although personally I'd opt for the 250GB version given how big games and applications can be these days.
Additionally, it's a bit difficult to reach the drive cages in the system as it requires removal of the slimline DVD drive, so unless you want to have to deal with that to reach the drives, you'll be a lot better off getting a higher capacity drive in the first place.
USB 3.0 Performance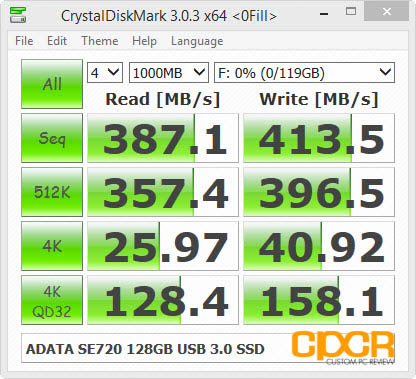 For USB 3.0 testing, I used the ADATA DashDrive Elite SE720 128GB USB 3.0 SSD, which is easily capable of saturating the USB 3.0 bus. We can see here that the drive was able to reach about 387.1 MB/s reads and 413.5 MB/s writes, which is incredibly fast for a drive on the USB 3.0 bus.
CyberPowerPC Zeus Mini-I 780 Power Consumption
Here we'll be testing the maximum power consumption of each of the test systems shown below. Idle power consumption is taken after the system is left idle for a minimum of 5 minutes. For load power consumption numbers, both Prime95 and Furmark are run simultaneously for a minimum of 5 minutes before the final results are taken.
All power consumption readings are taken using a Extech 380801 Power Analyzer connected via a Tripp-Lite LCR2400 Line Conditioner.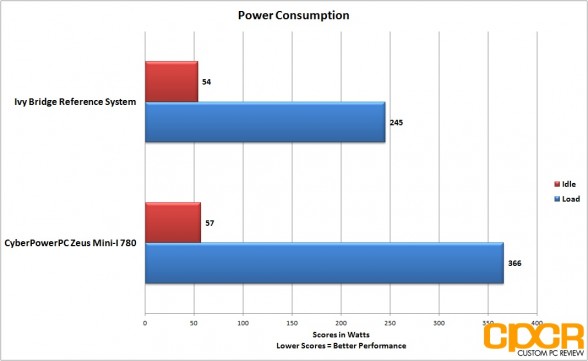 Performance Analysis
With both Intel and Nvidia focusing their efforts on efficiency and power reduction, it's no surprise that although we've got very high powered components onboard, it still draws only a mere 57w at idle and 366w at load. This is only ~121w above our reference system, but we're looking at double the gaming performance.
CyberPowerPC Zeus Mini-I 780 Temperature and Noise
Prime 95 + Furmark Testing
This test is primarily to figure out the maximum temperature the system can reach by using an artificially generated load that most users would not be able to achieve in normal testing. Temperatures are taken after a minimum of 30 minutes of running both Prime 95 and Furmark simultaneously.
Ambient Temperature – 24.4°C (Taken via Extech EA10 dual probe thermometer)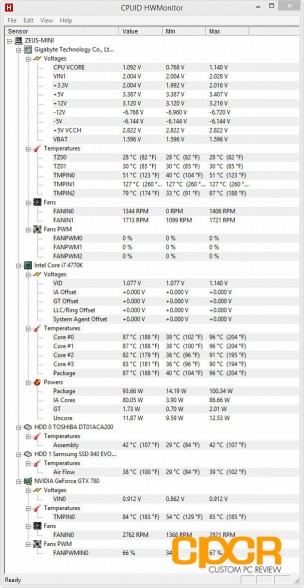 AIDA64
Recently, we've also used AIDA64's included stress testing utility, which is nice as it's able to stress the system in a different way compared to Prime95 or Furmark. The utility also allows us to find out when the system is throttling due to too much heat.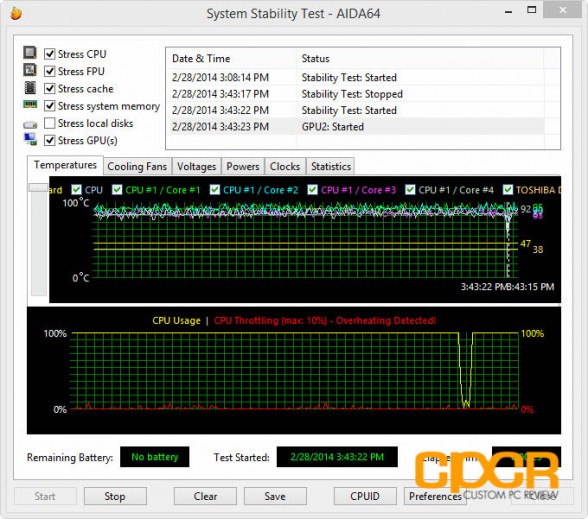 Performance Analysis
CyberPowerPC did a pretty good job with the Zeus Mini, but the laws of physics still apply here. With the Intel Core i7-4770K and the GTX 780 at full load, the CPU ran extremely warm, hitting a maximum of 96ºC. In our AIDA64 stability testing, the results were similar and the utility did show that a very marginal amount of throttling occurred. While this is fine since our synthetic workloads generate a lot more heat than typical computer use and even heavy gaming, I'd personally like to see no throttling no matter what type of load is used.
As for noise, the Zeus Mini-I 780 is fairly quiet throughout the entire system with none of the fans exceeding 1,500RPMs with the exception of the blower fan on the GTX 780 which will make itself heard when gaming for extended periods of time. I think for the Zeus Mini, CyberPowerPC really needs to focus a bit less on silence and throw on a more powerful fan at least for the CPU cooler to prevent overheating.
CyberPowerPC Zeus Mini-I 780 Conclusions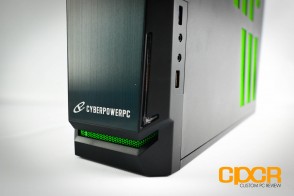 With testing out of the way, I'd have to say I'm quite pleased with the CyberPowerPC Zeus Mini-I 780. Performance was very good in every type of application thrown at it and gaming performance was solid even at the higher 2560×1440 resolution. Gamers looking for a portable-ish gaming desktop that can play all of the latest games at the highest settings at higher resolutions will not be disappointed.
As far as issues go, I was overall quite happy with the Zeus Mini-I 780 although I did experience some overheating issues when pushing extremely demanding, artificial loads on the CPU and GPU simultaneously. While this probably won't be a problem for users who configure the system using lower end hardware or those who don't simultaneously push both the CPU and the GPU to the absolute limits for extended periods of time, I think CyberPowerPC could potentially avoid any overheating issues by using either an air cooler so that the GPU's heat isn't being radiated onto the radiator or by possibly using higher RPM fans with better static pressure. CyberPowerPC also offers the Seidon 240M cooler as an option as well, which increases the radiator size to 240mm. This should also help better cool the CPU as well, but I'd definitely recommend against overclocking the system even with a cooler like that.
Build quality on the CyberPowerPC Zeus Mini-I 780 is about the best I've seen from the company. Cable management was done very well and the entire chassis feels solid. I definitely wish the steel used on the case was slightly thicker for better durability, but thicker steel does cost more and mITX systems generally sit on a table rather than the floor, so there's less chance of damage there.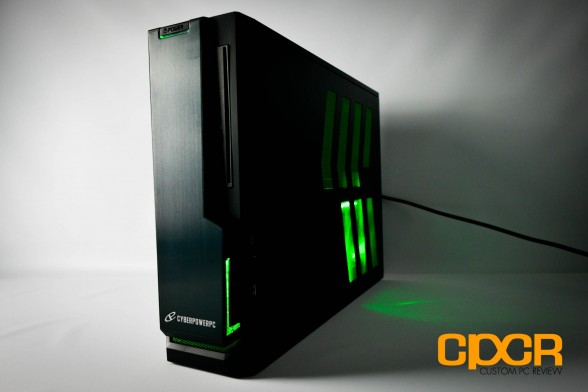 The CyberPowerPC Zeus Mini-I 780 configuration as reviewed will run you about $1,859 via the CyberPowerPC website, which honestly isn't bad at all for a very high end system like this. Given that the EVGA GeForce GTX 780 Superclocked and the Intel Core i7-4770K alone will run you around $865 online, getting a Zeus Mini from CyberPowerPC isn't really a huge premium especially considering the Zeus Mini chassis is an exclusive CyberPowerPC design. Of course, pricing is variable depending on how the system is configured and CyberPowerPC tends to run promotions from time to time so actual pricing may even be slightly lower.
With the Zeus Mini-I 780, CyberPowerPC has really managed to cram a ton of power into a very small package and I think it's probably one of the only pre-built desktops they've made to date. While I'm still a huge proponent of building my own systems whenever possible, it's understandable that researching parts that'd fit perfectly into mITX cases can be very difficult and actually cramming parts like a GTX 780 into a mITX chassis can be a huge headache as well. With the Zeus Mini, CyberPowerPC does all that for you and they don't charge an arm and a leg to do it either. If you've been considering putting together a mITX system for a while, definitely take a good look at the CyberPowerPC Zeus Mini.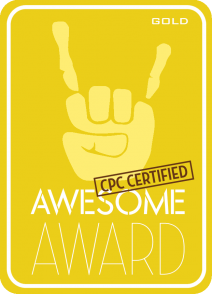 Sample provided by: CyberPowerPC
Available at: CyberPowerPC