[section label=1. Introduction]
M500, Evolved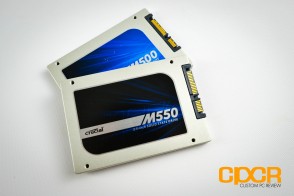 When Crucial first launched the M500 last year, it was a pretty big deal. It was the first time Crucial (Micron) had begun shipping their latest high density 128Gb 20nm synchronous MLC NAND, and with that included the ability to not only ship higher capacity SSDs, but also the possibility of more competitive pricing.
While Crucial was ultimately able to deliver both higher capacity drives and competitive pricing with the M500, by using higher density NAND on lower capacity drives, they weren't able to take full advantage of the high performance eight channel SSD controller, which meant slower write performance on lower capacity drives. 
Despite this however, the Crucial M500 is still one of the most feature filled, most inexpensive, and most reliable SSDs on the market today although admittedly, it's a difficult sell considering most of the latest SSDs, especially those in the more popular 128GB/256GB capacities, are rated for higher performance. 
In order to solve this problem, Crucial recently announced the release of the M550 SSD, which we'll be reviewing today.
Crucial M550 Specifications
| | | | |
| --- | --- | --- | --- |
| Manufacturer | Crucial | Crucial | Crucial |
| Model | M550 | M550 | M550 |
| Form Factor | 7mm, 2.5″ SATA | mSATA | M.2 |
| Capacity | 64GB, 128GB, 256GB, 512GB, 1TB | 64GB, 128GB, 256GB, 512GB | 64GB, 128GB, 256GB, 512GB |
| Controller | Marvell 88SS9189 | Marvell 88SS9189 | Marvell 88SS9189 |
| NAND | 20nm Micron Synchronous MLC | 20nm Micron Synchronous MLC | 20nm Micron Synchronous MLC |
| Sequential Reads | 550 MB/s | 550 MB/s | 550 MB/s |
| Sequential Writes | 500 MB/s | 500 MB/s | 500 MB/s |
| 4K Random Read | 95,000 IOPS | 95,000 IOPS | 95,000 IOPS |
| 4K Random Write | 85,000 IOPS | 85,000 IOPS | 85,000 IOPS |
| Interface | SATA 3 6GB/s | SATA 3 6GB/s | SATA 3 6GB/s |
| Warranty | 3 Years | 3 Years | 3 Years |
Today's review will be on the Crucial M550 (512GB) SSD which is more or less the successor to the Crucial M500 SSD (more or less because Crucial has no plans to discontinue the M500 anytime soon). The major difference with the Crucial M550 is that instead of using 128Gb NAND on all capacities, Crucial is reverting lower capacity drives (<256GB) to older 64Gb NAND to preserve write performance while the higher capacity drives continue using the newer 128Gb NAND. Additionally, the Crucial M550 will also be receiving the Marvell 9189 controller across the board, which includes some slight performance and power improvements over the Marvell 9187 used on the Crucial M500.
Like the Crucial M500, the Crucial M550 will retain Crucial's RAID-5 like technology, RAIN (Redundant Array of Independent NAND), to increase drive endurance although Crucial is changing the ratio of data to parity blocks from 15:1 to 127:1. This results in more usable LBAs although it does sacrifice some reliability as there are fewer parity blocks per drive. That said, Crucial believes that with the maturation of their 20nm NAND manufacturing process, the same level of reliability can be achieved using a fewer number of parity blocks.
Let's take a closer look at the Crucial M550 512GB SSD!
[section label=2. A Closer Look (Exterior)]
A Closer Look at the Crucial M550 512GB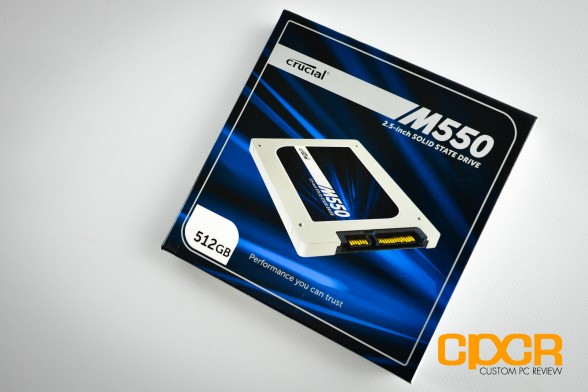 Here's a look at the packaging for the Crucial M550 512GB SATA SSD.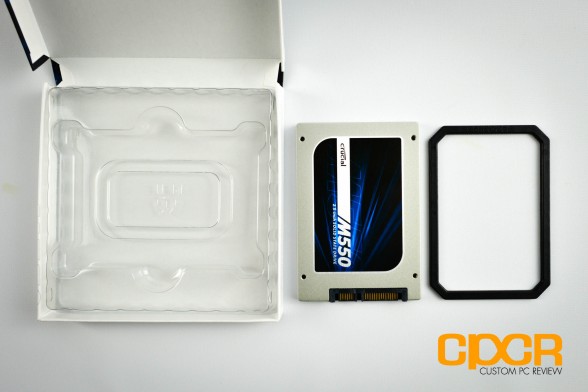 Included, we get the Crucial M550 512GB along with a 2mm riser. Interestingly enough, there's no documentation included in the packaging.
Taking a first look at the Crucial M550, it's quite apparent that Crucial recycled the metal enclosure of the Crucial M500… not that that's a bad thing.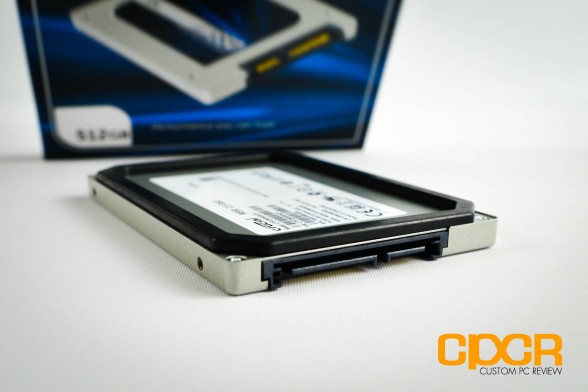 Since it's a SATA drive, we get SATA 6Gb/s along with SATA power. As the Crucial M550 is a 7mm thick drive, it can fit into most SATA based thin and light notebooks. For those with larger notebooks that only support 9mm drives, Crucial has also included a 2mm riser.
[section label=3. A Closer Look (Interior)]
A Closer Look at the Crucial M550 512GB
Like the Crucial M500, the Crucial M550 uses 8 screws to secure the drive – 4 for the casing and 4 for the PCB. As the high performance Marvell controller does tend to get warm, Crucial has also included some thermal pads to allow the casing to help dissipate heat from the controller and the DRAM cache.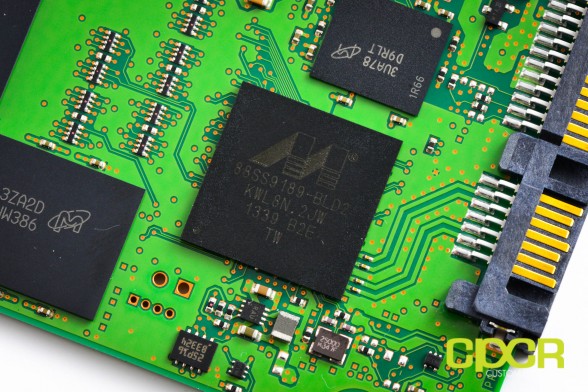 Here's a closer look at the Marvell 88SS9189-BLD2 controller on the Crucial M550. This is one of Marvell's latest eight channel SSD controllers which is more or less a slightly improved version of the Marvell 88SS9187 (Codename Monet) controller used on the Crucial M500. The new controller is one of the primary reasons for better performance and lower power consumption with the M550.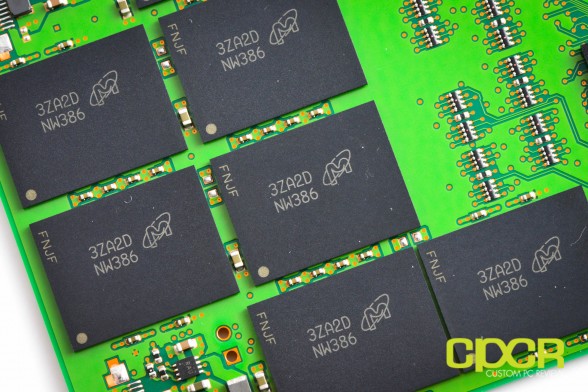 For the Crucial M550 512GB, Crucial has equipped the drive with 16 modules of 128Gb 20nm Synchronous MLC NAND (FBGA #NW386) for a total capacity of 512GB.
For the DRAM buffer, Crucial is using a single 4Gb module of Micron LPDDR2 (FBGA# D9RLT). This gives the drive an ideal 512MB DRAM buffer.
Additionally, as a carryover from the Crucial M500, the M550 also includes power loss protection capacitors which will allow the drive to flush data from its volatile DRAM cache into non-volatile NAND in the event of sudden power loss. This is an business/enterprise grade feature that's almost never found on consumer grade SSDs.  
[section label=4. Test Setup]
Haswell Test Bench
As of October 5, 2013, we've upgraded our storage testing system to a Z87/Haswell testing platform. All SSDs used for comparison here have been updated to the latest firmware as of October 2013. Performance tests from storage reviews prior to that date should not be compared to our latest reviews.
Special thanks to CyberPowerPC, Kingston, OCZ Technology and HSPC for sponsoring our test bench!
Crystal Disk Info
Crucial M550 512GB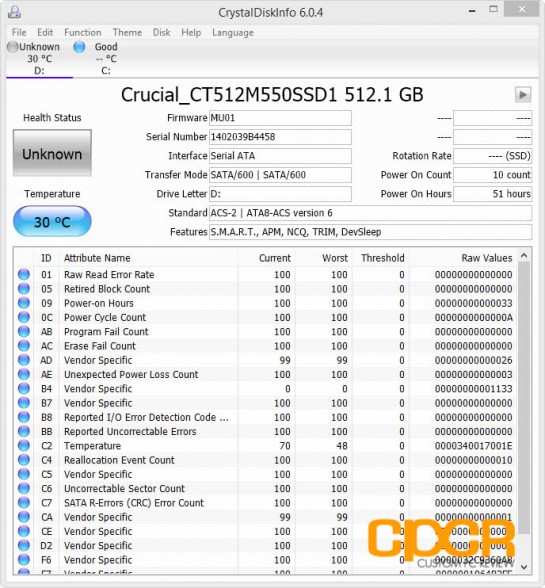 Today we'll be reviewing the Crucial M550 512GB SATA SSD with firmware MU01. As usual, Crucial has packed a ton of modern features into the M550 such as S.M.A.R.T. monitoring, NCQ (Native Command Queueing), TRIM, and APM (Advanced Power Management) which includes the new ultra low power DevSleep power state for platforms that support the feature.
Additionally, the Crucial M550 also includes support out of the box for either hardware based 256-bit AES encryption or TCG Opal 2.0/eDrive encryption.
[section label=5. ATTO Disk Benchmark / AS SSD / Crystal Disk Mark]
Crucial M550 512GB Performance
ATTO Disk Benchmark v2.46
ATTO Disk Benchmark is one of the industry's oldest and most popular benchmarks for testing disk read/write speeds. This benchmarks allows read and write testing using predefined block sizes and gives us a good idea of read/write speeds with different sized files. Most SSD manufacturers these days prefer using this benchmark when advertising SSDs as it tests using compressible data, which tends to yield best performance.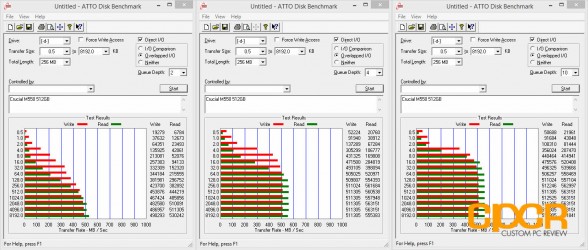 Performance Analysis
Starting off with ATTO Disk Benchmark, the Crucial M550 is plenty fast registering in with a maximum throughput of 563 MB/s sequential read and 511 MB/s sequential writes.
AS SSD Benchmark
AS SSD is a very commonly used benchmark used to measure SSD performance in a number of categories. Here, tests are run using incompressible data at QD1. It also outputs a final score at the conclusion of the test based off the read and write performance of the drive.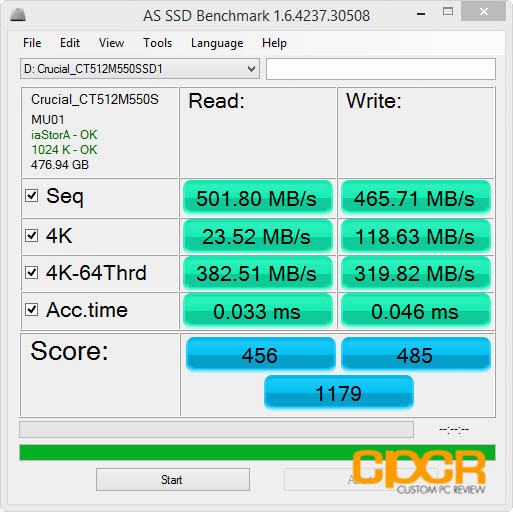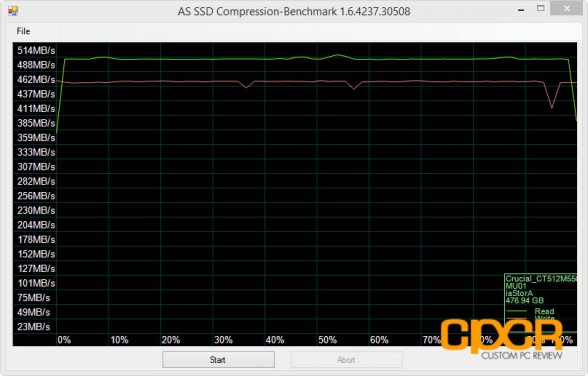 Performance Analysis
AS SSD shows an extremely fast drive as well with sequential reads up to 501MB/s and sequential writes up to 465MB/s. 4K random writes are very fast here as well registering in at 118MB/s although 4K random reads does need some improvement at 23MB/s.
Crystal Disk Mark 3.0.1 x64
Crystal Disk Mark is another popular benchmark which allows us to measure both sequential read/write speeds as well as random read/write speeds. With this benchmark, tests can be run using both random fill (incompressible data) and 0 fill (compressible data). Realistically in typical computer usage scenarios, data being transferred will consist of a mixture of both incompressible and compressible data.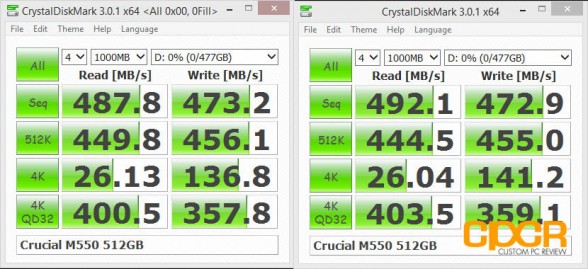 Performance Analysis
Again, Crystal Disk Mark at QD 4 confirms our findings in our previous tests. 4K reads could use a performance boost, but the rest of our numbers seem solid.
[section label=6. PC Mark 7 / PC Mark 8]
Crucial M550 512GB Performance
PC Mark 7
The PC Mark 7 storage test evaluates the SSD under many different real world environments such as gaming, multimedia editing, etc. This closely represents the SSD's performance under real world situations.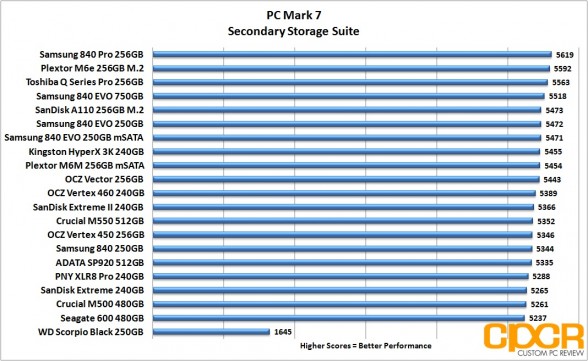 PC Mark 8
The PC Mark 8 storage test is similar to storage tests found in PC Mark 7. The PC Mark 8 storage test evaluates SSDs under many real world applications such as gaming, video editing, photo editing, etc. and is well regarded among the SSD industry.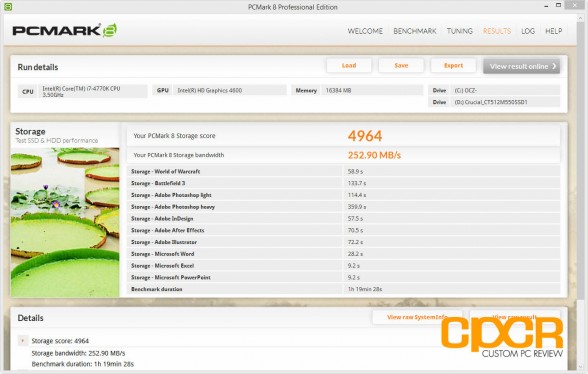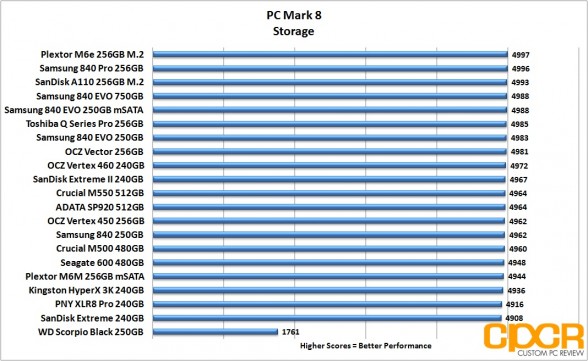 Performance Analysis
Looking at PC Mark 7/PC Mark 8, the Crucial M550 512GB falls somewhere in the middle of our performance charts, which is about where you'd expect it to be. It's definitely faster than the Crucial M500 although it's definitely not an enthusiast class SSD. This may be due to the lower 4K random read performance in comparison to enthusiast drives like the Samsung 840 Pro or the OCZ Vertex 460.
[section label=7. FIO – FOB]
Crucial M550 512GB Performance
FIO (Flexible I/O Tester)
FIO, which stands for Flexible I/O Tester, is basically what its name says – a flexible I/O tester / I/O workload generator. Whereas all the benchmarking tools we've used previously are fantastic, easy to use benchmarking tools that provide a good snapshot of SSD performance, they do lack a lot of versatility, especially for more complex and in-depth operations such as custom queue depths, block sizes, test run times, etc. While the testing that follows may not pertain to typical consumer usage, they do help give us a much more in-depth look at each individual product's strengths and weaknesses when they're pushed to the limits.
FIO – FOB (Fresh Out of the Box) Testing
When SSDs are brand new and Fresh Out of the Box, they're generally able to perform at or outperform their advertised speeds, but unlike traditional hard drives, performance on SSDs begin to degrade over time as they become more and more used. This is because while SSDs are new, all bits on the SSD are empty, so they can instantly be programmed with data. However, once data gets programmed in, even if it's deleted in the filesystem the actual data will still stay programmed on the NAND itself unless some sort of garbage collection routine comes in to wipe the data. Unfortunately, in order to write new data onto "dirty" NAND, the NAND needs to go first through an erase cycle to erase the old data before a program cycle can happen to program new data, which as you may imagine takes more time than just a simple program cycle. As this only happens when writing new data onto the SSD, you'll generally see less performance degradation on reads and more performance degradation on writes.
For our FOB testing, we run a secure erase on the SSD then run each test sans any preconditioning. This will provide us with the highest level of performance the SSD is capable of and is likely never to be seen ever again once the SSD goes into a used state.
Our testing will include 4K read testing, 4K write testing, and 4K 70/30 read/write mix testing at queue depths of 1,2,4,8,16,32,64,128,256. The reason we've also included 4K 70/30 read/write mix testing is simply because most real world workloads will always fall somewhere between 0% write and 100% write rather than one or the other. Since client usage is much more read heavy, we'll be using the 70/30 read/write mix.
For general client usage, performance will fall somewhere between queue depths of 1-4 whereas servers and other enterprise applications will easily see queue depths of 32 or greater.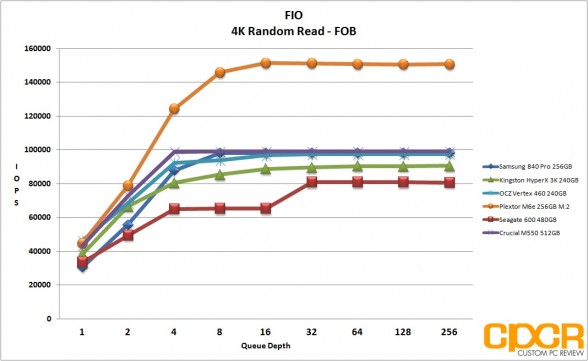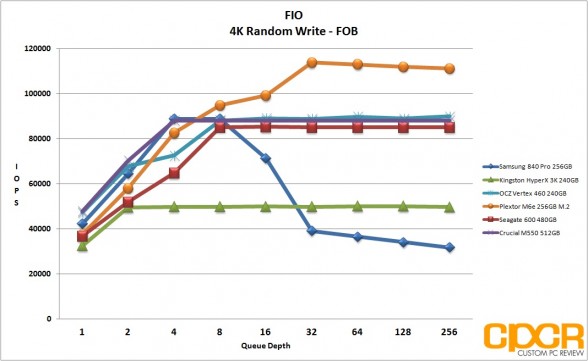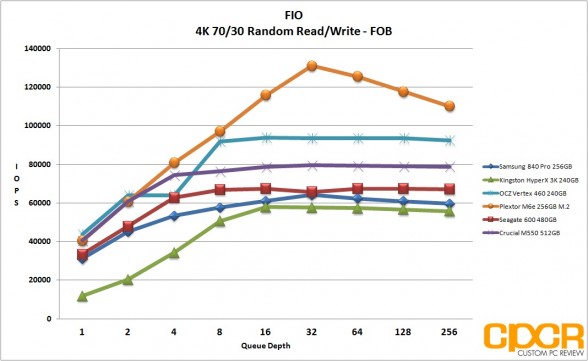 Performance Analysis
Fresh out of the box, the Crucial M550 is a very fast, capable of pulling 99,000 IOPS 4K random reads and 88,000 IOPS 4K random writes. 4K mixed workload performance is also very good coming in just shy of 80,000 IOPS at QD32.
[section label=8. FIO – Steady State]
Crucial M550 512GB Performance
FIO – Steady State Testing
After prolonged use of an SSD, it will reach "steady state" where performance levels off to a minimum level. The FOB state is the "best case scenario" for SSD performance while "steady state" is going to be your worst.  Here, we ran the exact same set of benchmarks we just completed in the FOB state; except this time around, we'll be preconditioning the drive by filling 100% of the drive's LBAs with two sequential passes of 128k data followed by hammering the drive for six hours with 4K random data prior to actual testing.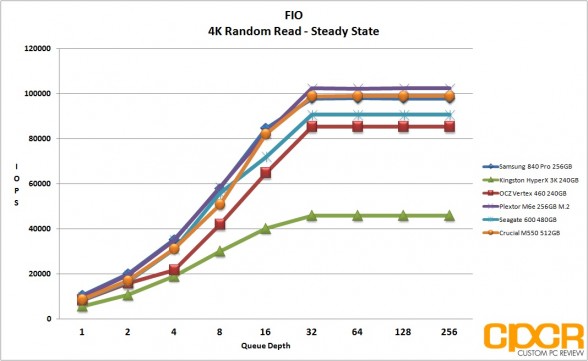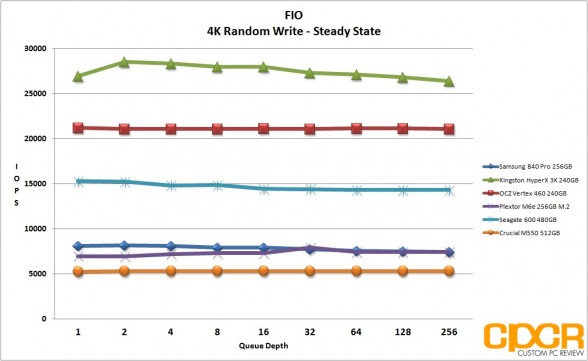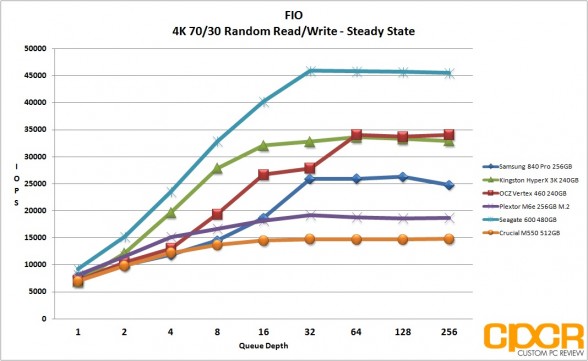 Performance Analysis
Steady state 4K random read performance is surprisingly good as well with the drive pulling in 98,000 IOPS without issue. Unfortunately, steady state write performance doesn't fare anywhere near as well dropping to 5,000 IOPS.
[section label="9. FIO – 4K Random Write Consistency"]
Crucial M550 512GB Performance
FIO 4K Random Write Consistency Testing
Another one of the benefits of testing with FIO is the flexibility of running consistency tests, which is one of the most important metrics when considering SSDs going forward. Looking at the results of our benchmarks such as ATTO Disk Benchmark and Crystal Disk Benchmark, we can see that practically every top tier SSD is capable of saturating SATA 6Gb/s in the FOB state. However, what really differentiates these SSDs is their ability to hold a certain level of performance even after extended periods of use.
For our consistency testing, we used a fairly standard method, which includes both filling up 75% of capacity (consumer use) as well as 100% capacity(enterprise use) twice with sequential 128k data followed by the actual test itself, which is simply running 4K random writes at a queue depth of 32. By recording the IOPS every second for 2,000 seconds, we're able to get a good look at what kind of performance can be expected when the drive is relatively new, when it's heading towards steady state, and when it's actually in steady state.
[tabgroup]
Performance Analysis
4K random write consistency with the drive at 100% fill is very good, although actual performance is a bit on the low side once the drive hits steady state. With the drive at 75% fill, performance improves greatly, but it becomes very inconsistent with the drive's performance hopping between 9,000 IOPS and 60,000 IOPS.
[section label="10. FIO – 4K Random Write Latency"]
Crucial M550 512GB Performance
FIO 4K Random Write Latency Testing
Another metric that's becoming increasingly important in SSDs is its ability to keep latency low despite being subjected to a heavy workload. Even if a SSD were capable of ultra high and ultra consistent IOPS performance, if latency were high, users would still feel that the drive is slow. Ideally, SATA SSDs should always be capable of latencies under 50ms, even during heavy workloads.
For latency testing, we'll be using the exact same testing parameters as IOPS consistency testing, except instead of recording IOPS every second, we'll be recording latency.
[tabgroup]
Performance Analysis
Although latency performance isn't the best we've seen, the Crucial M550 does keep itself under 50ms at all times which should keep user experience consistent.
[section label="11. FIO – 128K Random Write"]
Crucial M550 512GB Performance
FIO 128K Random Write Consistency Testing
In addition to testing 4K random write consistency, we'll also begin to test for 128K random write consistency to see how well a SSD is able to hold itself to a level of performance when getting hammered with larger file transfers.
For 128K random write consistency testing, we won't be preconditioning the drive with two sequential passes of 128K data like in our 4K random write consistency testing since 128K data can easily fill up the drive well within our 2,000 second run.
[tabgroup]
Performance Analysis
Looking at 128K random writes, once again performance at 100% fill is extremely consistent although quite slow, clocking in at a mere 16MB/s. At 75% fill, performance increases; however, performance becomes a lot more inconsistent jumping from lows of 16MB/s up to highs of 260MB/s.
[section label=12. Power Consumption]
Crucial M550 512GB Power Consumption
Previously, our power consumption analysis only tested for idle and maximum load power consumption, but we felt that this was a bad way to accurately measure power consumption. The reason for this is because SSDs tend to be bursty while in operation and will spike in power usage, but only for very short periods of time. As such, many of our SSDs appeared to have even higher power consumption than traditional hard drives, which is untrue.
In order to improve our reading of power consumption, our solution was to run a test closer to the real-world and record a trace on the power consumption during testing. Since PC Mark 7 has been recognized by the industry as a fantastic real-world benchmark, we'll be running our power consumption test while running the benchmark.
All tests below are measured by tapping our calibrated B&K Precision 5491B Bench Multimeter tapped directly into the 5v line running from the power supply to the drive. All testing here is conducted with "HIPM (Host Initiated Power Management)/DIPM (Device Initiated Power Management)" enabled and "AHCI Link Power Management – Adaptive" set to 0 milliseconds for maximum power efficiency.
[tabgroup]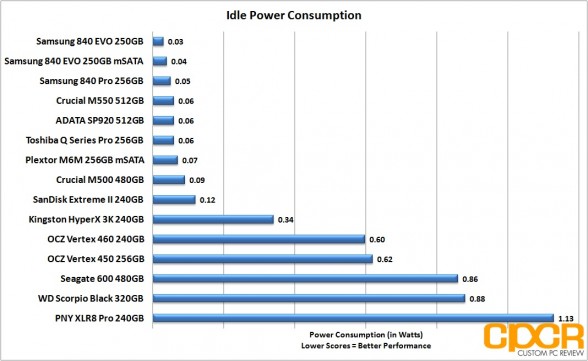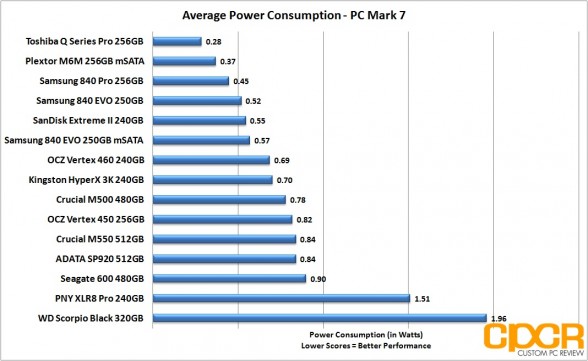 Performance Analysis
With the new Marvell 9189 controller, the Crucial M500 consumed a mere 0.06w at idle, an improvement of 0.02w from the Crucial M500. At load however, the Crucial M550 consumed slightly more power than its predecessor likely due to having a slightly faster controller and more aggressive garbage collection routines.
[section label=13. Conclusion]
Crucial M550 512GB Conclusions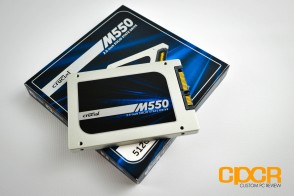 Crucial's SSD product lines have always been conservative in performance in favor of rock solid reliability, and without a doubt this was a very successful business model back when the Crucial M4 was introduced; largely because it was the least expensive, most reliable SSD at a time when SSD technology wasn't anywhere as mainstream as it is today. Unfortunately these days there are a number of very high performance, very competitive products that are have emerged and while the Crucial M4 strategy may have worked with the Crucial M500 if the industry had stagnated from the Crucial M4 days, performance needs to taken more seriously in the consumer market especially with the competition is making equally reliable drives with higher performance at only slightly higher prices.
That being said, it's nice to see that Crucial has improved performance on the Crucial M550 over the Crucial M500, but at the 512GB capacity, it's definitely not as drastic as the performance difference you'd probably find in the smaller capacities. It's still a welcome improvement nonetheless and gives Crucial a slight boost on the performance rankings. Unfortunately, its performance is still more mainstream than enthusiast, but that's always been where Crucial has positioned their drives anyhow.
| | | | | |
| --- | --- | --- | --- | --- |
| Manufacturer | Crucial | Crucial | Crucial | Crucial |
| Model | M550 | M550 | M550 | M550 |
| Capacity | 128 GB | 256 GB | 512 GB | 1 TB |
| MSRP | $99.99 | $168.99 | $332.28 | $529.34 |
| Price/GB | ~$0.78 | ~$0.66 | ~$0.65 | ~$0.53 |
| Check Price | Click Here | Click Here | Click Here | Click Here |
The Crucial M550 512GB can currently be found for around $332.28 online, which comes out to ~$0.65/GB, making it one of the best value SSDs on the market. No other SSD (other than the Crucial M500 and the Crucial M550 in ADATA clothes, ADATA Premier Pro SP920) can claim MLC NAND, power loss protection, TCG Opal 2.0/eDrive support, and Crucial's top notch track record on reliability for ~$0.65/GB. That said, it's quite interesting to see that Crucial is selling both the M500 and the M550 simultaneously with the exception that the Crucial M500 is now priced as low as ~$0.50/GB. Users who aren't seeking the fastest performance in the world or users who are very price conscious will find that the Crucial M500 is literally a steal these days.
Where I see the Crucial M550 and the M500 being most successful though probably isn't in the consumer space, but in larger datacenters and businesses. Crucial doesn't do nearly enough marketing for their consumer products and are easily eclipsed by companies such as Samsung with significantly larger marketing budgets. However, where I think where it'll probably do very well is the large, highly redundant datacenters looking for a quality, low cost solid state storage solution. Rather than paying $1.80/GB+ for a true enterprise class SSD with an enterprise class warranty, the Crucial M500 or M550 can fill that role at 1/4 of the cost or less and can easily be replaced as they fail down the line.
Overall, Crucial's M550 is a fantastic addition to their SSD product portfolio and if you're looking for a decent performing, inexpensive, rock solid reliable SSD, you'll definitely want to take a look at the Crucial M550.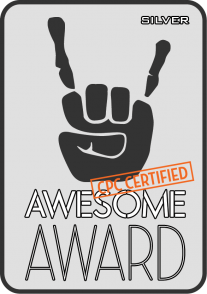 Sample provided by: Crucial

Availability: Amazon