Warning
: Undefined array key "width" in
/var/www/vhosts/custompcreview.com/public_html/wp-includes/media.php
on line
1381
Warning
: Undefined array key "width" in
/var/www/vhosts/custompcreview.com/public_html/wp-includes/media.php
on line
1386
Warning
: Undefined array key "height" in
/var/www/vhosts/custompcreview.com/public_html/wp-includes/media.php
on line
1386
Warning
: Undefined array key "width" in
/var/www/vhosts/custompcreview.com/public_html/wp-includes/media.php
on line
1381
Warning
: Undefined array key "width" in
/var/www/vhosts/custompcreview.com/public_html/wp-includes/media.php
on line
1386
Warning
: Undefined array key "height" in
/var/www/vhosts/custompcreview.com/public_html/wp-includes/media.php
on line
1386
Warning
: Undefined array key "width" in
/var/www/vhosts/custompcreview.com/public_html/wp-includes/media.php
on line
1381
Warning
: Undefined array key "width" in
/var/www/vhosts/custompcreview.com/public_html/wp-includes/media.php
on line
1386
Warning
: Undefined array key "height" in
/var/www/vhosts/custompcreview.com/public_html/wp-includes/media.php
on line
1386
Warning
: Undefined array key "width" in
/var/www/vhosts/custompcreview.com/public_html/wp-includes/media.php
on line
1381
Warning
: Undefined array key "width" in
/var/www/vhosts/custompcreview.com/public_html/wp-includes/media.php
on line
1386
Warning
: Undefined array key "height" in
/var/www/vhosts/custompcreview.com/public_html/wp-includes/media.php
on line
1386
Warning
: Undefined array key "width" in
/var/www/vhosts/custompcreview.com/public_html/wp-includes/media.php
on line
1381
Warning
: Undefined array key "width" in
/var/www/vhosts/custompcreview.com/public_html/wp-includes/media.php
on line
1386
Warning
: Undefined array key "height" in
/var/www/vhosts/custompcreview.com/public_html/wp-includes/media.php
on line
1386
Introduction
Here at Custom PC Review, we do a lot of testing. Whether it's a new graphics card, a new CPU cooler or a new SSD, we test it all. That being said, you've probably all built a computer before and you all know how painful it is to have to pull everything apart just to remove a component. We sure do and we wish there were an easier way…
Thankfully, our agony hasn't gone unnoticed and the guys at HSPC (High Speed PC) have presented us with a solution, the HSPC Top Deck Tech Station. While the HSPC Top Deck Tech Station comes in many sizes to fit many different sized motherboards, we received the large sized tech station for review which is compatible with mITX, mATX, ATX, and eATX motherboards.

Features
A good home for your hardware:
Based on ATX form factor motherboard specifications providing a full 13×13" of surface area for total accommodation of all motherboards including mITX, mATX, ATX, and extended ATX (server) motherboards. The motherboard is perfectly secure on the upper shelf with a high friction rubberized standoff system that supports the motherboard 1/4″ off the bench surface (accommodates CPU cooler back plates and increases air circulation). Nylon guide posts position the motherboard perfectly on the Tech Station. Add-in cards are securely locked in place with thumbscrews so the motherboard is safe yet available for hands-on work and is easily removed.
Hard Drive Storage/Cooling Rail System:
Slide the HDD's in/out on smooth non-conductive acrylic rails. Two standard 3.5″ hard drives can be easily inserted, protected and cooled by rails suspended under the top shelf. One end of the HDD Rails open to catch air from the 120mm cooling fan. The Large model can support an optional second set of HDD Rails to hold a total of four hard drives, and SSD Drive Rails are also available.
No loose Add-in cards!
The AGP/PCI support brace solves the problem of loose motherboard add-in cards, loose cards can damage circuitry. The brace offers universal support for all add-in cards – blocking no cables or connections, and has some lateral flexibility to make adding/removing cards easy. Nylon thumb screws twist into the top of the brace and are positioned at ATX form factor spec locations so seven add-in cards can be locked in place. The support brace can also be removed, flipped over and turned to support BTX form factor.
Bottom shelf, load it up:
The lower shelf is for stacking the drives and power supply. Includes a neoprene mat to make the entire shelf a non-slip and non-conductive work surface. There is plenty of real estate here to hold optical, extra hard disks and floppy drives.
Power the PC On/Off and monitor HDD activity:
Plugging directly onto the motherboard, The ATX Control Kit takes the place of the computer case power and reset switches, power and hard disk drive activity lights, and system warning speaker so that PC hardware can operate totally independent of a standard computer case.
Non-conductive materials:
The Tech Station is made of non-electrically conductive, scratch-resistant, high grade polymers. (The bench can hold over 150 lbs!) Metal screws and brackets are not exposed in sensitive areas, the motherboard rests on protective rubber standoffs, the lower shelf has a non-slip neoprene work mat, and the test bench sits on non-slip thermoplastic rubber feet. No worries of frying your hardware like with a metal bench.
Keep things cool:
A 120mm 12v fan positioned on the left side forcing air over heat sensitive components on the motherboard and the Hard Disk Drive(s) mounted under the top shelf. A finger guard is included but the fan can accommodate one on both sides.
Lots of room to work:
With the motherboard on the top shelf there are no height restrictions for CPU heatsinks and all the motherboard components can be changed very easily. The height between shelves is 7" offering enough room for all your optical drives, power supply, and even more hard drives if needed.
What's Included
Two tier work bench
PCIe/AGP/PCI/ISA card brace with thumb screws
HDD Rails for storage/cooling for two hard drives
Secure rubberized motherboard standoff system
120mm fan: HDD and motherboard cooling
Neoprene mat for non-slip lower bench surface.
Assembly & usage details
ATX Control Kit:
Mini on/off & reset switches
Power & HDD LED's
System speaker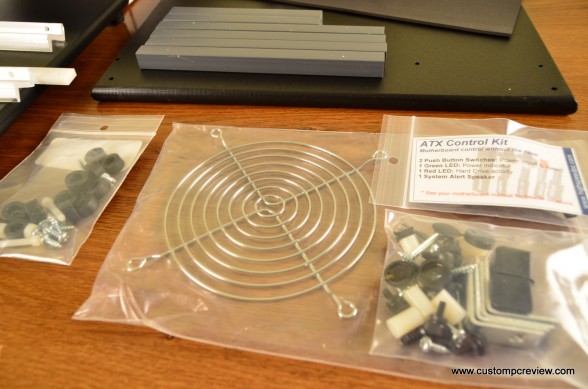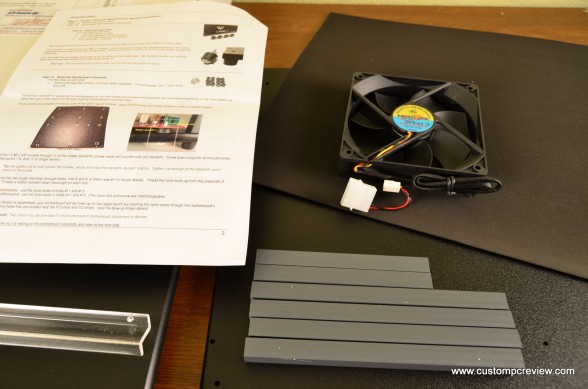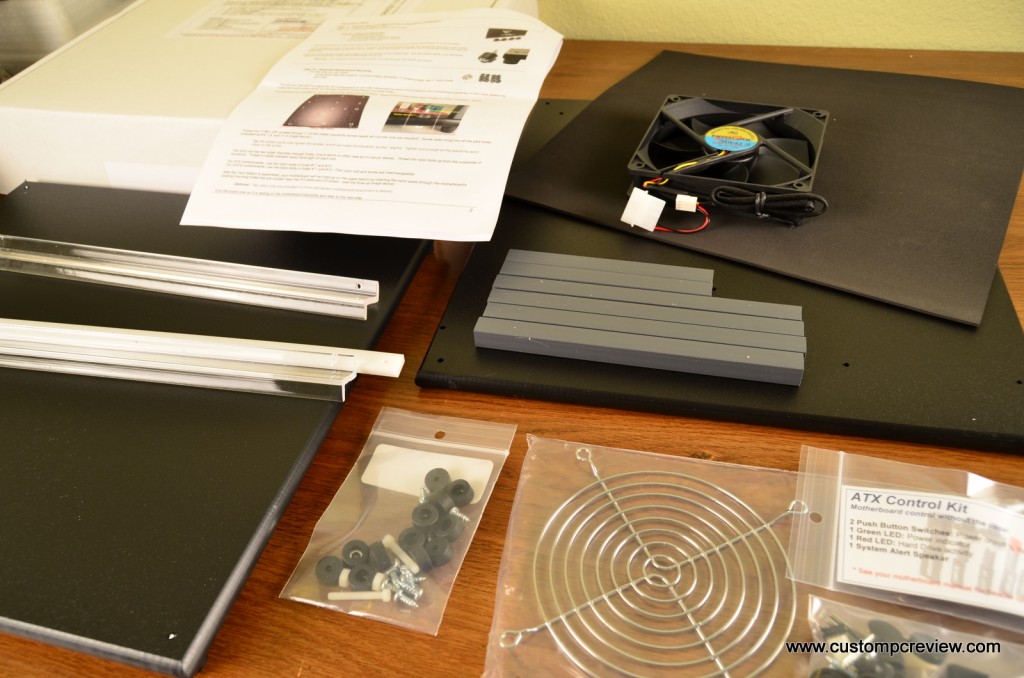 Assembly and Testing
The assembly of the HSPC Top Deck Tech Station was fairly straightforward given that you read the instructions carefully. The most difficult part of the assembly was finding the screws and parts that needed to be used to put the tech station together. While the entire setup can be done in under an hour, be sure to set aside a bit more time for sorting parts and making sure everything is installed properly. If you're more visually inclined, there are some great videos on Youtube that show you step by step on assembling the tech station.
Test Setup
CPU: Intel Core i5 2500K
Mobo: ASRock Z68 Professional Gen 3
Memory: Gskill Sniper 8GB DDR3 1866MHz
Storage: Patriot Pyro SE 120GB / Western Digital Caviar Blue 500GB
PSU: Corsair HX650
Optical Drive: OEM Optical Drive
CPU Cooler: Xigmatek Dark Knight
GPU: Galaxy GeForce GTX 560 GC 2GB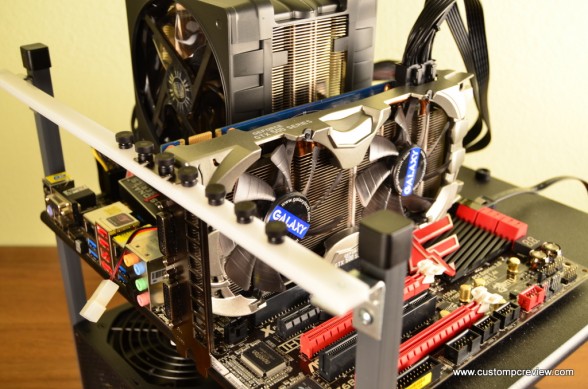 Overall view of the large tech station. Since the large tech station was designed with compatibility of up to eATX motherboards, there is some extra room at the bottom as well as the side when a standard ATX motherboard is installed.
Notice this support bar for the expansion slots. With the GPU installed, the support bar is nice and stiff, but without a GPU, the support bar along with the support beams at the ends becomes a bit weak and flimsy.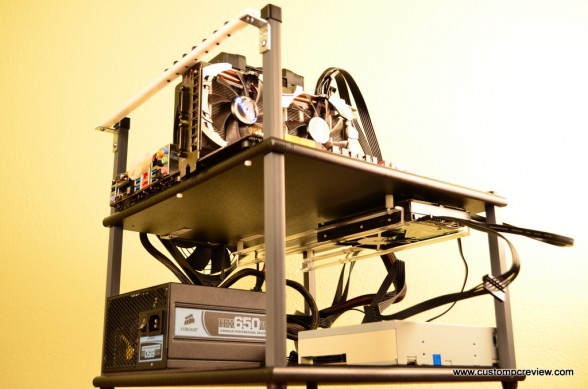 Definitely a very nice, professional looking tech station. On the underside of the tech station you also have a rail that allows mounting of up to two 3.5″ hard drives. Unfortunately, there is a bit of wiggle room on the rails which give it a little more room to move than I would've liked. It would be nice to have some sort of vibration dampening material on the rail to reduce noise and reduce vibrations. There's also plenty of space on the lower deck for whatever you want to put there.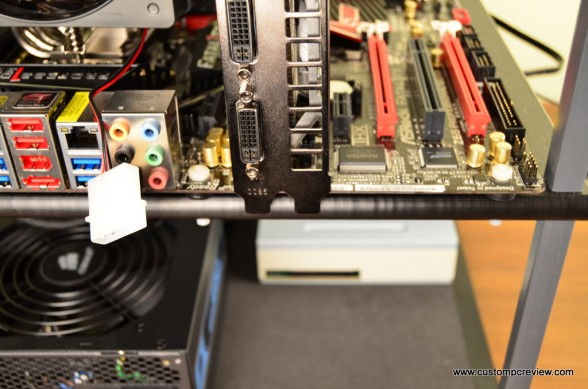 There are two plastic screws with nuts included to help secure the motherboard. They probably won't do much if you yank it too hard, but it's nice to have them there.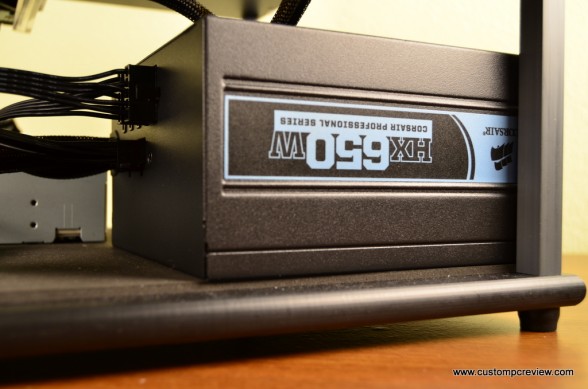 Rubber feet are included at the bottom to reduce vibrations going into the table. You also get a nice anti-slip mat which sits below all the components in the lower deck to prevent movement.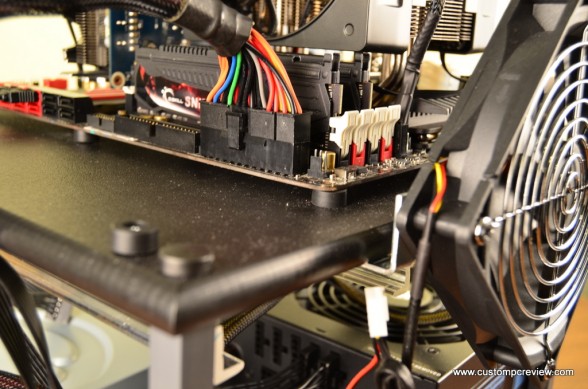 The motherboard isn't secured on the tech station (with the exception of the two plastic screws shown earlier). The rest of the motherboard sits on rubber standoffs. Also included for additional cooling is a 120mm fan with a fan grille included to prevent fingers from colliding with fan blades. Unfortunately this isn't the quietest fan out there, but it does its job.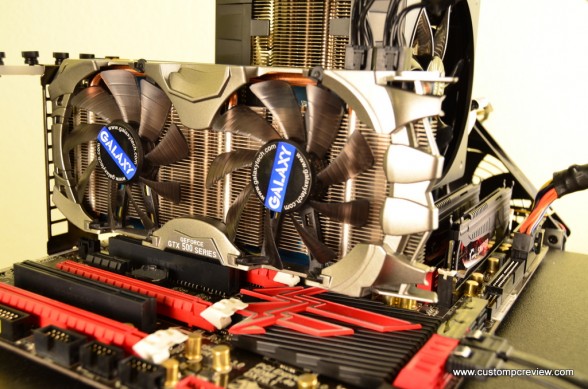 Test setup mounted on the tech station. Pretty much everything on the tech station is tool-less making component swapping a completely pain free experience!
Conclusion
What we liked
The HSPC Top Deck Tech Station is a quick and easy solution for those who spend hours and hours benchmarking, testing, and swapping out hardware. The entire setup is very easy to assemble and all the parts to the unit are very high quality. For those into modding, most of the tech station is constructed using high quality wood-like parts (it's actually, non-conductive HDPE composite, but can be drilled into similar to wood, much easier than say steel or aluminum) and miscellaneous screws and brackets necessary for modification are available at home improvement stores such as the Home Depot in case you wanted to drop in another couple fans or something along the sides of the tech station.
One thing to note about this product is that HSPC has included additional screws and other small accessories which is always a nice touch and additional accessories and replacement parts are available for purchase on their website.
What we disliked
The HSPC Top Deck Tech Station is a very polished product, and the issues we encountered were minor at best.
For example, we found the support bar for the expansion slots to be a bit flimsy. HSPC could use a stronger plastic to provide better support for that area. We did a bit of testing with the Corsair H70 water cooler and the support bar seemed like the ideal location to place the radiator. Unfortunately without the support of the videocard, the support bar felt like it was going to snap under all the weight of the radiator and its two fans.
*Update 1/24/11* After speaking with the guys at HSPC, I was informed that the flexibility in the card support brace is actually a feature to allow cards to be more easily inserted and removed.
Additionally, we did find that the hard drive tray allowed the hard drives a bit more movement than we would've liked. It would be nice to see some sort of anti-vibration material added onto the drive rails to reduce hard drive vibration making the drives more secure.
Bottom Line
The HSPC Top Deck Tech Station is a niche product that does whats advertised and does it well. While most of you out there are going to want to opt for a traditional case, for those who do a lot of computer repair, testing, or benchmarking this is one of those products that will revolutionize the way you work.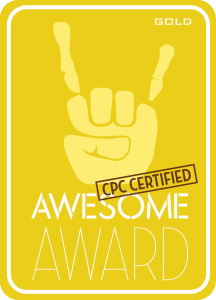 The HSPC Top Deck Tech Station is currently available for purchase at High Speed PC.
This product was provided by the manufacturer for review.
For those of you out there interested in purchasing one of these, HSPC has provided us with a discount / coupon code good for the purchase of a new Tech Station. Just enter "custompcreview" without quotes during checkout for 10% off!