Warning
: Undefined array key "width" in
/var/www/vhosts/custompcreview.com/public_html/wp-includes/media.php
on line
1381
Warning
: Undefined array key "width" in
/var/www/vhosts/custompcreview.com/public_html/wp-includes/media.php
on line
1386
Warning
: Undefined array key "height" in
/var/www/vhosts/custompcreview.com/public_html/wp-includes/media.php
on line
1386
Warning
: Undefined array key "width" in
/var/www/vhosts/custompcreview.com/public_html/wp-includes/media.php
on line
1381
Warning
: Undefined array key "width" in
/var/www/vhosts/custompcreview.com/public_html/wp-includes/media.php
on line
1386
Warning
: Undefined array key "height" in
/var/www/vhosts/custompcreview.com/public_html/wp-includes/media.php
on line
1386
4-Bay, High Performance NAS for Under $500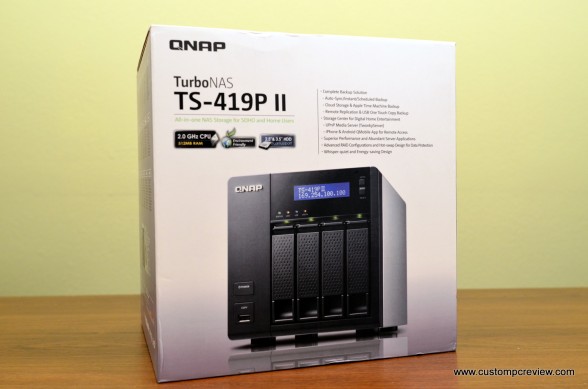 Paranoid of losing your precious data? Want to share large files across multiple computers? Windows shared folders not working out for you? Then a NAS unit is probably what you need. These days, NAS units are the epitome of share-ability and security, and have many other appealing characteristics such as low power consumption, easy to use software, and silent operation. Although they are often costly and look as appealing as a nail stuck on your desk, you'll be glad you invested in one when your desktop hard drive decides to kick the bucket along with 3 years of your data.
That however, is not to say that NAS units can't be both elegant and capable. In fact, some of them are. A prime example is the QNAP TS-419P II 4-Bay NAS. Engineered by the storage and server experts at QNAP, this tower 4 bay NAS unit is designed for both home and small office use. Under the hood it features a powerful 2GHz Marvell ARM CPU, 512MB of RAM, and a front LCD display for basic information. Not only does it look good on its spec sheet, its professional yet strangely tranquil appearance scores massive points in style as well.
As expected, this is only the beginning. There's still much to be learned about the TS-419P II, so I invite you to find out more in the rest of our review!
Specifications
CPU
Marvell 2.0 GHz
DRAM
512 MB DDRIII RAM
Flash Memory
16 MB
HDD
4 x 3.5″ SATA II or 4 x 2.5″ SATA II HDD / SSD (not included)
HDD Tray: 4 x hot-swappable
Capacity
Maximum raw capacity: 12 TB
LAN Port
2 x Gigabit RJ-45 Ethernet
LED Indicators
STATUS, LAN, USB, eSATA, HDD 1, HDD 2, HDD 3, HDD 4
USB
4 x USB 2.0 port (Front: 1; Back: 3)
Supports USB printer, disk, pen drive, USB hub, and USB UPS, etc
eSATA
2 x eSATA port (Back)
Buttons
Power button, USB one-touch-backup / copy button, Password and Network settings reset button, Enter button, Select button
LCD Panel
Mono-LCD display with backlight and buttons for configuration
Alarm
Buzzer for system warning
Form Factor
Tower
Power Consumption
With 4x 500 GB HDD installed:Sleep mode: 13 W
In operation: 26 W
Power Supply
96 W, input: 100 – 240 V
Temperature
32 ~ 104° F (0.0 ~ 40° C)
Humidity
0.0 ~ 95% R.H.
Noise Level
Standby: 35.6 dB
In operation: 36.7 dB
Security
K-lock security slot for theft prevention
Fan
1 x quiet cooling fan – 3.5″ (9.0 cm), 12 V DC
Dimensions (HxWxD)
6.97 x 7.09 x 9.25″ (17.7 x 18 x 23.5 cm)
Weight
Net: 6.61 lb (3.0 kg)
Gross: 10.14 lb (4.6 kg)
A Closer Look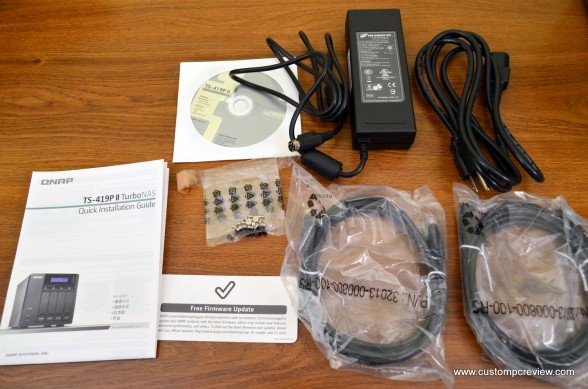 Included in the package is some documentation, mounting screws, the software suite installation CD, the power brick , and two network cables. Although the power brick is quite large, the TS-419P II actually sips power: With 4 drives installed, it only draws 26W during operation, and 13W in sleep mode.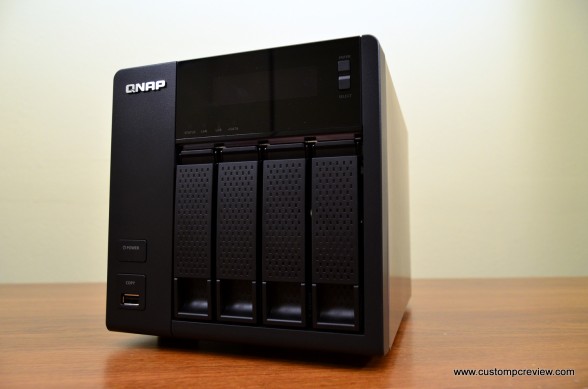 Taking a look at the TS-419P II, its appearance is quite simple yet infinitely functional. Although the front is made of plastic, the rest of the chassis is made of a metal, which should be quite durable. The easy to access drive bays have meshed covers for increased ventilation. The power switch is large and easy to spot, and the front USB 2.0 port for one touch backups is a nice for backing up portable USB drives.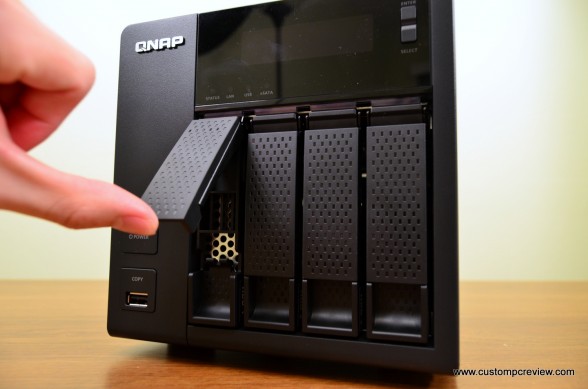 The hot swappable drive trays require no screws to access – simply lift the hinge at the front and pull them out. Although easy to remove, you won't need to worry about your drive falling out. The hinge is locked when in the closed position. Additionally, the tray covers feel durable and should serve well in protecting your precious drives.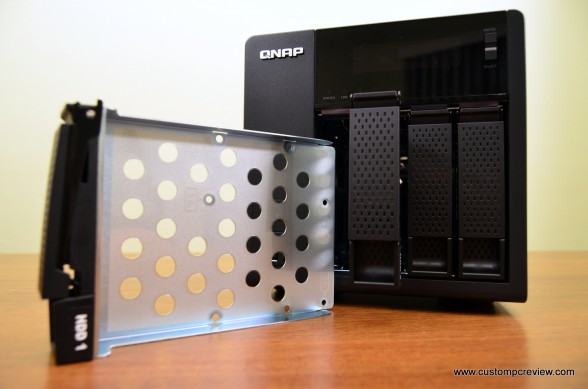 Pulling out the drive trays, the trays themselves are metal and feel quite durable as well. The drive trays are also numbered for easy distinction.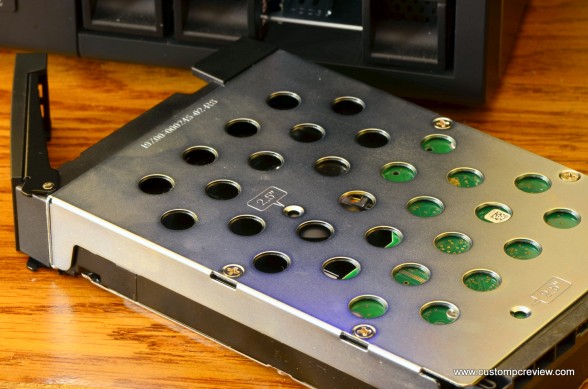 2.5″ and 3.5″ drives are easily mounted using the included screws. Unfortunately, there's no vibration dampening so 3-4 drives spinning at 7200rpm can become quite loud. Fortunately, the drives will go into idle if power saving functions are enabled.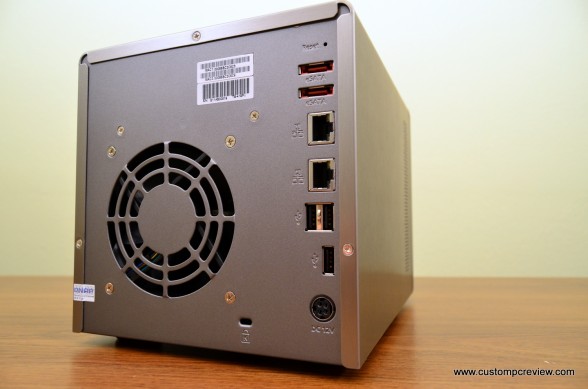 At the back of the unit, the TS-419P II comes with 2x eSATA ports, 2x Gigabit Ethernet ports, and 3x USB 2.0 ports. It's quite unfortunate that QNAP didn't include USB 3.0 ports here – especially since this NAS unit was designed to transfer large amounts of data. However, the device does include dual ethernet ports, which provides functionality for failover, load balancing, etc. Also at the back of the unit is a silent 90mm fan for hard drive cooling, a proprietary power jack, as well as a Kensington lock.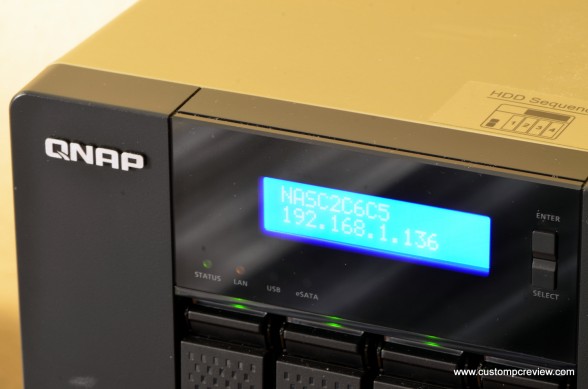 Once up and running, the integrated front LCD will display some information such as the device's name and IP address. This will only turn on during boot and if either the enter of select buttons are pressed. This is extremely useful especially if you've got a network with a ton of computers.
Additionally, you also get hot swap functionality, so dead drives can be removed and new drives can be installed without any down time. Yet another valuable feature for the businesses users out there.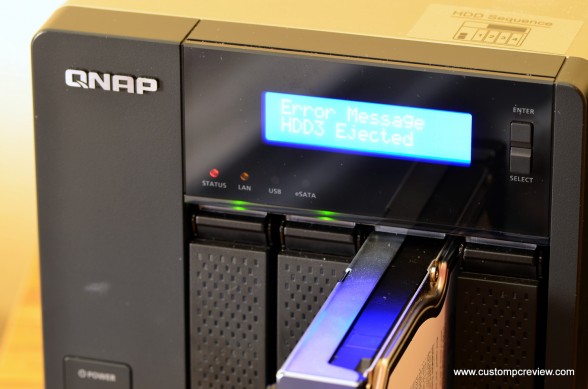 Additionally, the front LCD will also notify you of drive failures and other issues that pop up. For example, here I've simulated a drive failure by removing the drive 3. Oh, no! HDD3 Ejected! What do I do?!
Software
Truth be told the QNAP TS-419P II has tons and tons of functionality. If I were to go through the entire list, this review would probably be 40 pages long. No joke.
For a full list of software features, you can check out the software specifications page on the TS-419P II's product page. However, for the purposes of the review, we'll only go over some of the major functions in the software to give you a good idea of what the interface is like.
Taking a look at the  QNAP TS-419P II's software, we immediately notice that the software itself is extremely full featured and is aimed at those who have some sort of technical ability. As you can see above, the software is categorized into many different sections with the user interface a reminder of most routers these days.
The first section we're taking a look at is the System Administration section. This is where you'll need to go to get the NAS unit set up. As you can see above the date, the time, server name, etc. can be setup here. Moving through some of the other menus, you'll have the option of setting your network settings, which allow you to select what the two LAN ports do. They can be setup to different functions such as failover, load balancing or even be put on different networks.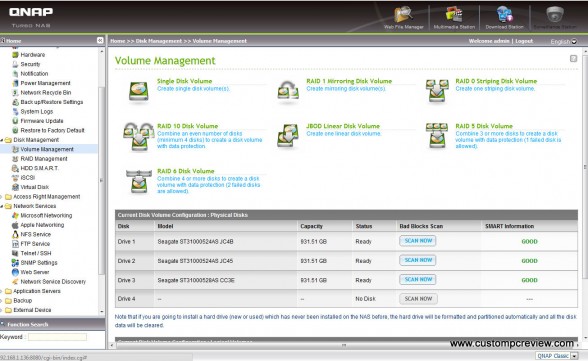 On first install, the software does prompt you to choose what type of volume you want, but after that, you may reorganize the drives however you want.  As you can see above, the software makes it possible for you to easily create different RAID arrays with the disks installed in your NAS, giving your the option of choosing security and/or performance. It also allows you to manage/create partitions, format the drives, and create labels. Additionally, there's also plenty of other disk management features such as S.M.A.R.T. monitoring and drive testing. More for business users than home users, the unit also includes features such as iSCSI and virtual disk.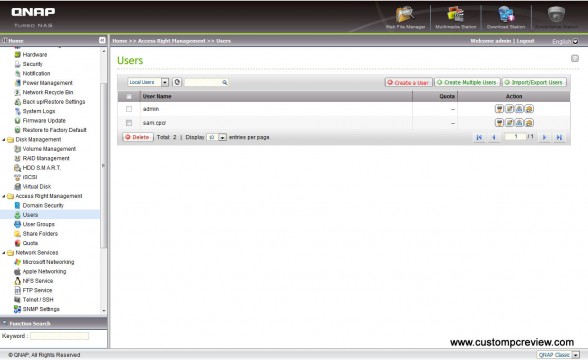 The NAS unit also includes tons of access management functions. As you can see here, the first thing you'll want to do is setup a couple accounts to access the NAS unit. This might be useful at home so every member of the family has somewhere to store their data.
Business users on the other hand will appreciate the flexibility the user management system brings. Active Directory and LDAP is supported for those businesses who want the flexibility of such a system, but don't have the budget or necessity to purchase and manage a full fledged server.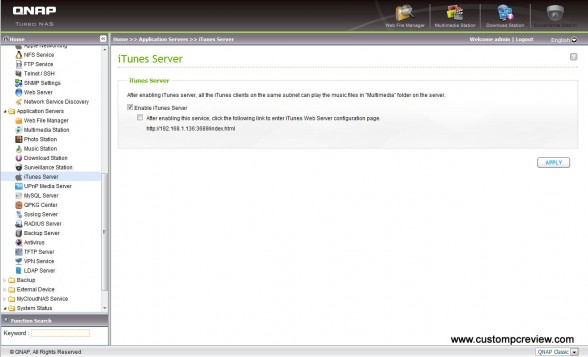 Here you can see that there's tons of services to activate which include from the most basic – an FTP server all the way up to a fully functional web server with database support. While home users would appreciate having iTunes, photo, and backup services running on the NAS unit, businesses users would appreciate the VPN, MySQL, and surveillance services. There's just something for everyone and a little more.
As shown above, starting most services can be easily done through checking a box and hitting apply. For those interested in additional functionality for the unit, the TS-419P II also supports QPKG software packages, which can add additional functionality.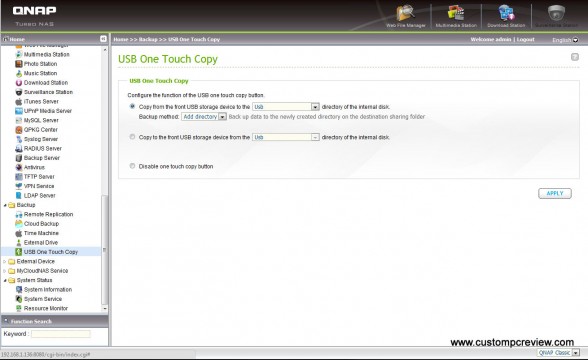 There's plenty of backup options to go around here as well as full Time Machine support for those using Apple based systems.
One of my favorites is the USB One Touch Copy feature allows the user to directly copy and backup files from an external media/storage device into the NAS without having to access the web interface. For those who practically live off their USB drives, connecting the drive to the NAS unit and hitting the one touch button is just about as easy as it gets.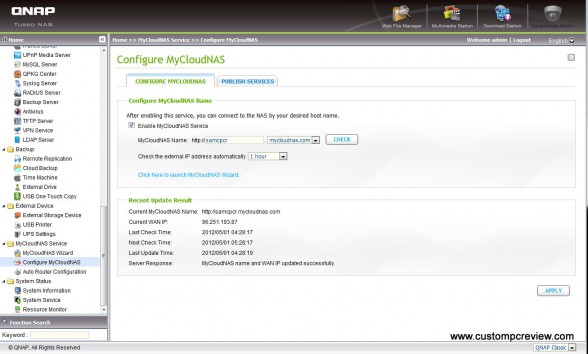 One of the coolest features about this NAS unit is the ability for you to use it as a cloud based storage device. Whereas companies would rather have you pay monthly to backup your files, a NAS unit, a couple hard drives, and an internet connection is all you need to have your very own. QNAP has conveniently setup the TS-419P II to easily work with the MyCloudNAS service which makes connecting to your NAS unit quite easy. Home users with a dynamic DNS will be able to connect to the NAS unit with a easy to remember something.mycloudnas.com domain name.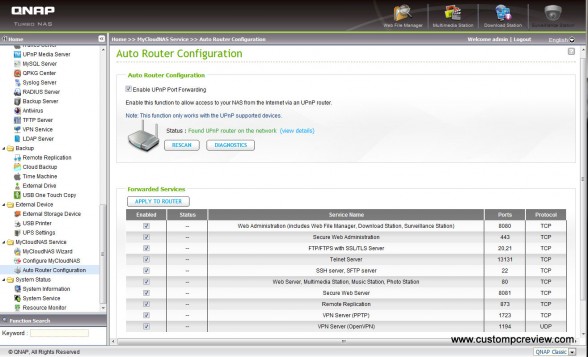 For those with UPnP enabled, the auto router configuration makes setting up cloud service with your NAS easy, even if you're behind a router.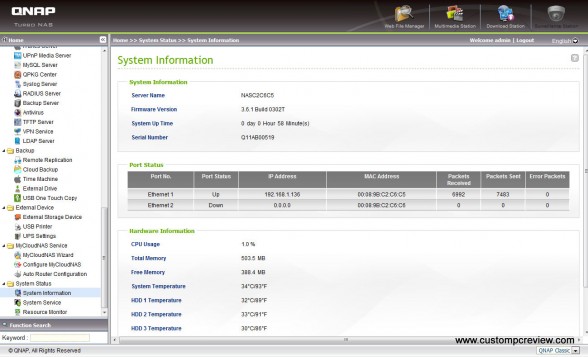 Finally for those enthusiasts who desire more information about their systems, the System Information tab offers all the details about both the NAS unit as well as the disks.
Overall, the software is extremely robust, full featured, and is fairly easy to use; however, it's pretty obviously geared towards those who have some sort of technical ability. For the average home user, seeing this many options will definitely be a daunting task. Also, I think it's worth it to note that the user interface isn't as polished as Synology's DSM 4.0 interface we've seen off the DiskStation DS212 reviewed previously.
Test Setup
CPU: Intel Core i7 2600K
Motherboard: MSI Z68A-GD65 (G3)
Graphics: MSI Radeon HD6970
Memory: Corsair Vengeance 16GB DDR3 1600MHz
Storage: Corsair Force 180GB SSD
Sound: Creative Sound Blaster Recon3D PCIe
Power Supply: Cooler Master Silent Pro Gold 800W
Case: Cooler Master HAF X
Router: Linksys E3000
Firmware: DD-WRT v24-sp2 (04/13/11) big
Benchmarks
For benchmarking, we'll be running ATTO Disk Benchmark in JBOD, RAID 0, RAID 1, and RAID 5. Unfortunately, I didn't have four drives available for testing RAID 10, but more than likely RAID 0 performance will be similar to RAID 10 performance.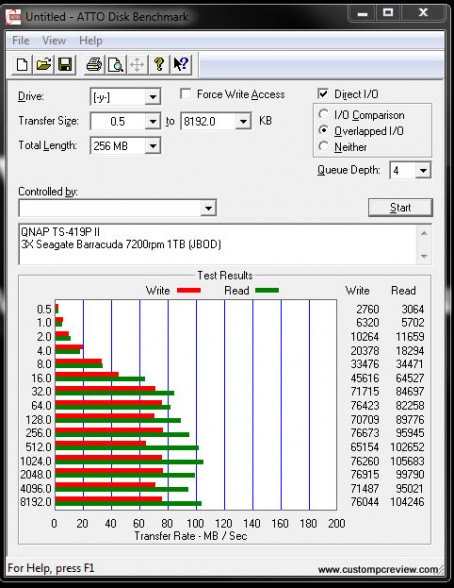 Kicking off benchmarking, I ran ATTO Disk Benchmark with 3x 1TB 7200pm Seagate Barracudas. As expected, transfer rates here were fantastic with sequential reads and writes topping out at around 105MB/s and 76MB/s.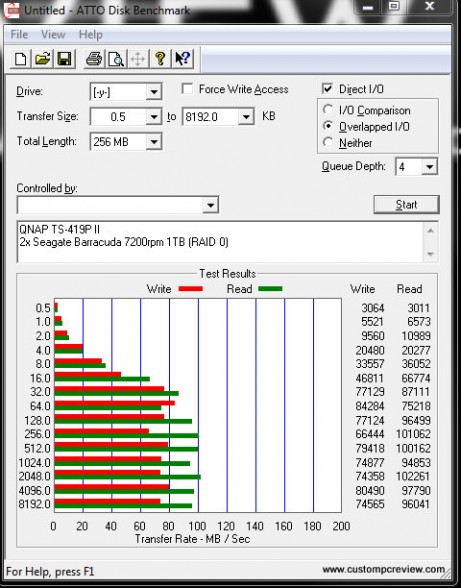 With RAID 0, transfer rates were similar to JBOD as transfer rates top out at around 102MB/s reads and 84MB/s writes.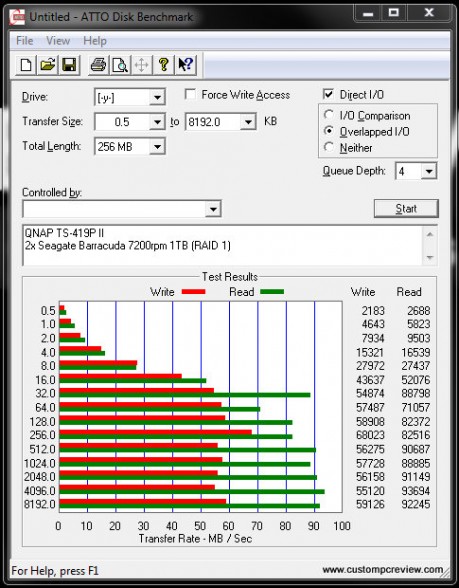 RAID 1 perfomrance is a tad bit slower than JBOD or RAID 0 perfomrance, but it's not too bad either. Sequential reads and writes here top out at around 93MB/s and 68MB/s respectively.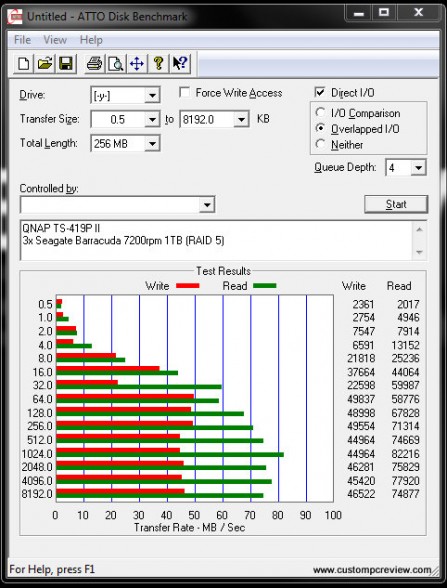 Finally, moving onto RAID 5 here, it seems like sequential read and write performance experiences a significant drop with maximum sequential reads at around 82MB/s and maximum sequential writes at around 49MB/s. Performance here is quite a disappointing as the TS-419P II should have ample resources to run a RAID 5 array without any performance drops. Fortunately, performance here is still adequate for most tasks such as HD video streaming, audio streaming, etc.
Conclusion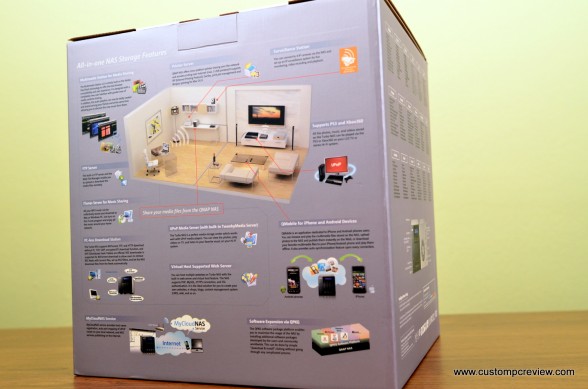 Personally, I've been using the TS-419P II as a home NAS for some time and it has done a fantastic job as a backup unit first and a multimedia server second. The beauty of this device is simply the fact that it has 4 drive bays, which allows for greater expandability and redundancy options when compared to smaller 2 bay NAS units that are more primarily aimed at home users. It's always nice to know that when your drives start getting full, dropping in another drive is an option. Setup was quite easy for more technical users, but for those who aren't so technical, help files are available on each page, which is nice. Of course, you'll have to be willing to take the time to read them.
To be honest, I didn't use the NAS unit in a business environment; however, I did spend a lot of time navigating through the different features offered with the TS-419P II and it definitely has all the software most users will need in a business server. In fact, I'd say unless there's some sort of x86 only applications that are needed, the TS-419P II can easily host most small business servers out there giving businesses the flexibility to easily share files, run their own websites, or even an active domain. While making several simultaneous file transfers with a number of different PCs, running a couple multimedia servers, the FTP server, a web server, and a MySQL server, the NAS unit still had plenty of CPU and memory resources available which is a clear indicator that it'll be able to handle large server loads without issue. Yeah, it'd be a stretch to think this NAS unit would be able to effortlessly support a 100 user business, but I'd say small businesses with 5 to 30 simultaneous users should find this NAS unit a perfect fit. Of course, those just interested in using the file server capabilities of this NAS unit will find it a perfect fit for any type of business.
Hardware wise, the TS-419P II packs a serious punch. Armed with a 2.0GHz Marvell ARM CPU along with 512MB of onboard DDR2 memory, the system itself is quite snappy with tasks performed on the NAS unit requiring little to no delays. While a 1.6GHz CPU and 256MB of memory would be adequate for most home environments out there, business environments with many simultaneous users would see a noticeable speed increase with the faster processor and additional memory – especially those businesses who need to run heavy web applications and databases on the NAS unit.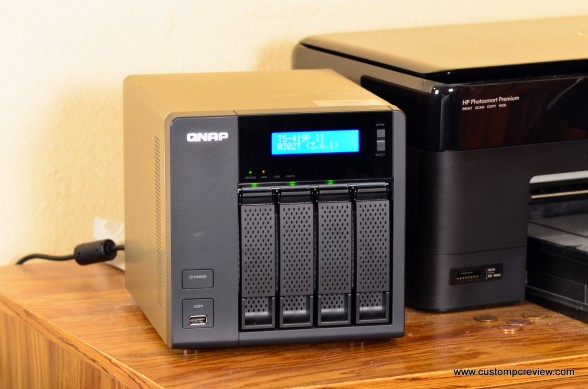 As for problems with this unit, I didn't find anything too problematic. It's worth a mention that RAID 5 performance wasn't as good as RAID 0, RAID 1 or JBOD, but as you saw from the benchmarks it's not a huge issue as it still performs quite well. However, seeing that it did perform significantly slower than other forms of RAID, I was still a bit disappointed. I was also disappointed that QNAP didn't include USB 3.0 with their unit as well. Given that USB 3.0 drives are quite prevalent these days it seems like an oversight to not include the newer interface. I found the front USB port and one touch backup feature extremely useful, but having to copy 30GB off a memory stick through USB 2.0 does take longer than I'd like – especially since I've been using USB 3.0 off my main PC for so long now. Additionally, while this may not be an issue for most users purchasing this unit, the setup and administration is a bit more complicated than what I've seen with the previously reviewed Synology DiskStation DS212, and the user interface isn't as polished either.
Taking a look at the price, the QNAP TS-419P II is currently $499.99 on Amazon, definitely putting it up there in price. While the product is marketed towards both home and small business users, this device is clearly better suited for small business users who need the versatility of the faster processor as well as the additional memory. For those who don't need the extra processing capacity, QNAP also offers the TS-412 for $396.99, which is similar to the TS-419P II except it uses a slower 1.2GHz Marvell ARM processor, includes only 256MB of memory and doesn't have a front LCD display. However, if all you need is a NAS unit to serve some files from time to time, there's no need to overspend on a high end processor and 512MB of memory.
Bottom Line
While the QNAP TS-419P II may be a bit overkill for home users looking to store a couple family photos from last year's vacation, technical users looking for a NAS to power their home or small business server would find the QNAP TS-419P II a perfect fit for their needs.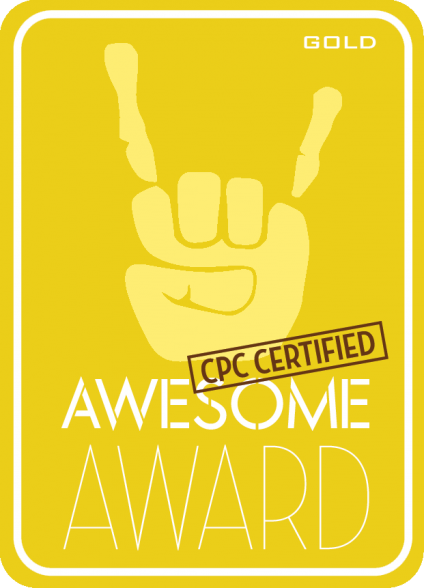 Special thanks to QNAP for making this review possible.
The QNAP TS-419P II is currently available on Amazon.