[section label=1. Introduction]
Ultra Rugged Portable Storage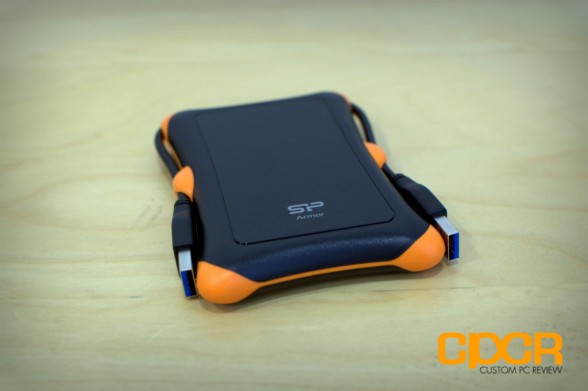 Though cloud storage's getting a lot of buzz, there's really no simpler or faster way to transfer data from point A to B than a portable, external drive. For digital artists, video editors, and enthusiasts alike, portable hard drives and flash drives have become the most convenient way to backup or transfer data at a low cost.
While portable storage has allowed us to easily backup or transfer our data, the increase in storage capacities also means we're now travelling with a lot more of our previous data than ever before. Despite this, we've seen far too many folks with their life and soul on a single fragile portable drive. While many of us are the most careful people on the planet with all that data, all it takes is one bump on the table or an accidental slip of the fingers for our data to tragically disappear.
Just think. How many times have you accidentally dropped your laptop bag?
Well, apparently Silicon Power seems to know that portable hard drives go through a lot of wear and tear, which is why they recently sent us their Silicon Power Armor A30 USB 3.0 2TB portable hard drive for review. The Armor A30 rugged portable hard drive is part of Silicon Power's Armor Series which is oriented towards travelers and enthusiasts who demand a drive that can survive in tough conditions. In marketing the drive, Silicon Power goes so far as to claim that the drive meets U.S. military MIL-STD 810G drop test standards.
Intrigued? Let's take a closer look!
Transcend StoreJet 25M3 Specifications
| | |
| --- | --- |
| Manufacturer | Silicon Power |
| Model | Armor A30 |
| Capacity | 500GB, 1TB, 2TB |
| Interface | USB 2.0, USB 3.0 |
| Dimensions | 87.5 x 134 x 18.6 mm |
| Weight | 181g |
| Warranty | 3 Years |
[section label=2. A Closer Look]
A Closer Look at the Silicon Power Armor A30 2TB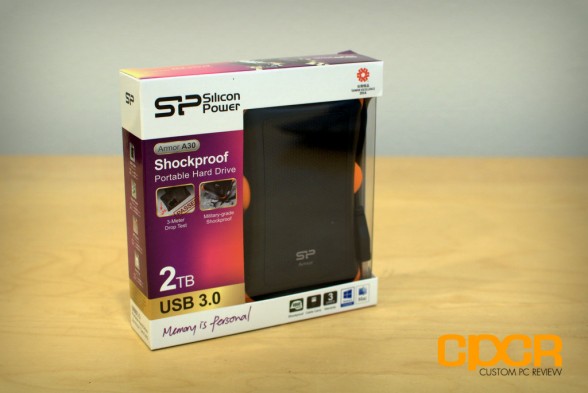 Here's a look at the packaging for the Silicon Power Armor A30. For our review today, we have the 2TB edition of the drive, but it's also available in 1TB and 500GB versions as well. Silicon Power offers two colors: black & white.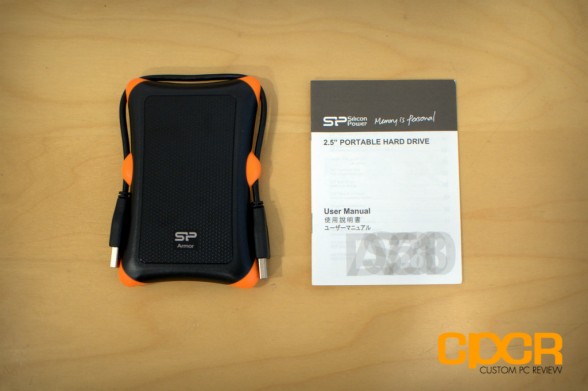 There's nothing fancy in the box besides a documentation booklet and the Armor A30 itself.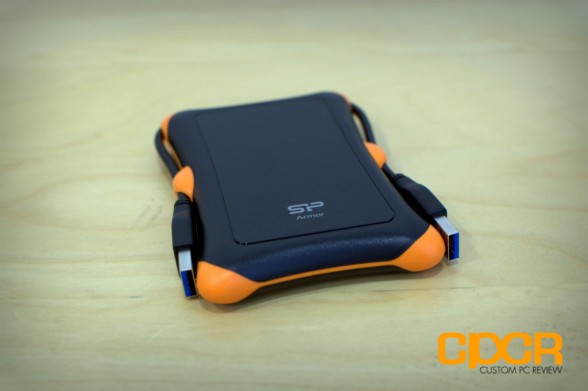 Here's a first look at the Armor A30. The drive is made of both durable plastic and a rubber coating to protect it from damage. Along the side of the unit, there are four rubber grooves to hold the USB 3.0 cable. Interestingly enough, the USB 3.0 cable has Standard-A to Standard-A USB 3.0 connectors.
Here's a look at the back of the unit. The USB 3.0 port is slightly hidden behind the cable. Here we have a full size USB 3.0 port for the Standard-A 3.0 connector. Interesting. Wonder why Silicon Power didn't just use the more typical Micro-B connector on the drive.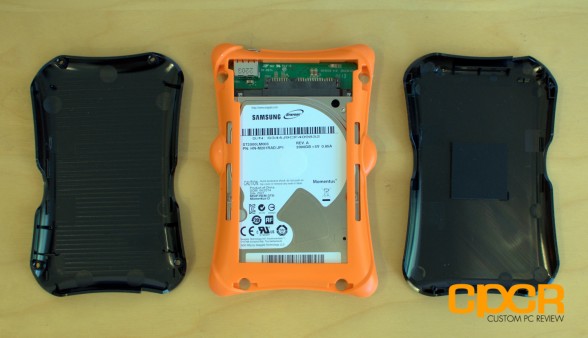 Here's a look at the inside of the Silicon Power Armor A30.
This unit has a soft rubber housing enclosing all four corners of the drive as well as the PCB. Internally, Silicon Power is using a Samsung Spinpoint M9T hard drive which is actually manufactured by Seagate. On the corner, we see the Seagate Momentus logo and product number. For folks who may want to remove the shell and try to install it into their laptops, the drive is 9.5 mm thin. It is spec'd at 5,400 RPM and has a 32 MB cache. Given these specs, I wouldn't be surprised if Silicon Power sources these drives from a variety of manufacturers depending on whoever could offer the cheapest drives.
Up top we also get a SATA to USB 3.0 adapter. Silicon Power is using the ASmedia ASM1053 bridge chip for this purpose. Removing this will probably voids your warranty, but it should make drive upgrades easy in the event the internal drive fails and it's out of warranty.
Plugging in the Armor A30, we can see a blue indicator light. During our testing, we discovered that the A30's indicator lights will turn red if it detects a USB 2.0 port or if the cable is not plugged all the way into the port – a nice touch especially for USB 3.0 ports that aren't color coded blue.
[section label=3. Performance]
Ivy Bridge Test Bench
Special thanks to Gigabyte, Kingston, and HSPC for sponsoring our test bench!
Silicon Power Armor A30 2TB Portable Hard Drive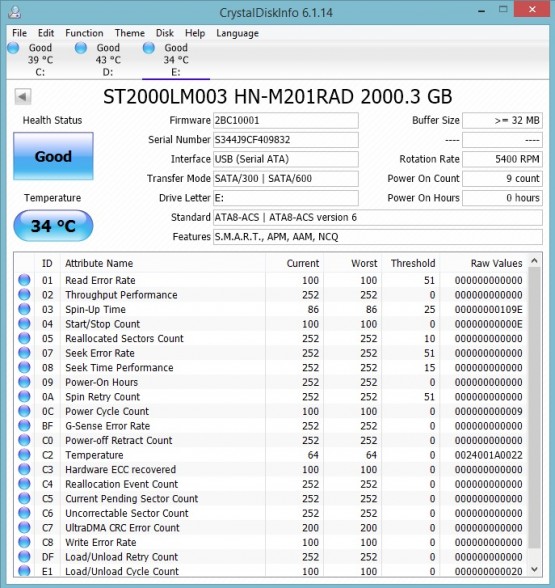 Our Silicon Power Armor A30 portable hard drive came equipped with the Seagate Momentus 2TB 2.5″ hard drive (Model #ST2000LM003). By default, the Silicon Power Armor A30 comes formatted with the FAT32 file system. Prior to running the benchmarks, we reformatted our drive to the NTFS filesystem at the 4096 byte allocation size.
Silicon Power Armor A30 2TB Performance
USB 3.0 Performance
ATTO Disk Benchmark v2.46
ATTO Disk Benchmark is one of the industry's oldest and most popular benchmarks for testing disk read/write speeds. This benchmark allows read and write testing using predefined block sizes and gives us a good idea of read/write speeds with different sized files.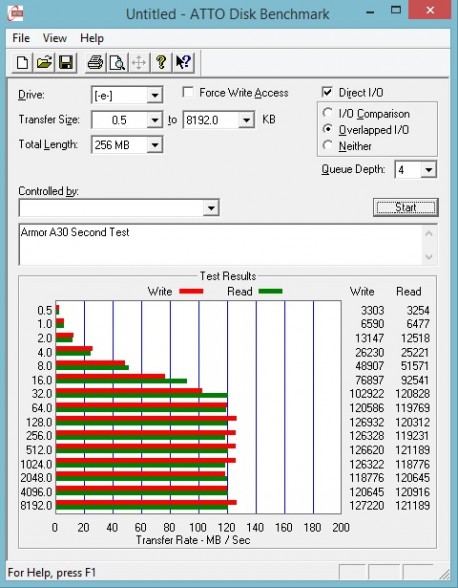 Crystal Disk Mark 3.0.3 x64
Crystal Disk Mark is another popular benchmark which allows us to measure both sequential read/write speeds as well as 4K and 512K read/write speeds.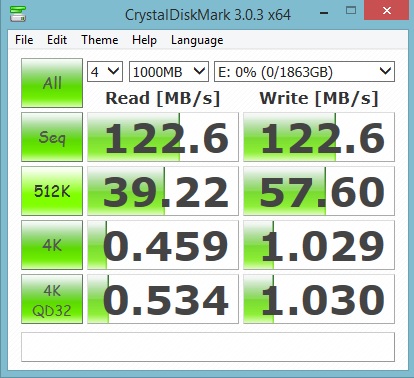 Performance Analysis
Taking a look at performance here, we can see that the drive tops out at around 122 MB/s in sequential writes and 122 MB/s in sequential reads, which is generally about the top performance found on a 5,400RPM notebook hard drive. USB 3.0 is rated at up to 5Gbps, which is roughly around 400 MB/s after accounting for some encoding overhead, so it's more than capable of handing the maximum performance of the hard drive.
USB 2.0 Performance
We were playing with the device and noticed that if the USB 3.0 cable is plugged into the drive only partially (90% of the way before the cable 'clicks'), the drive will show a red light indicator and Windows will still detect the drive. It was odd so we did another performance test in this state. The drive appears to perform at USB 2.0 speed if the cable is not seated properly. We just wanted to highlight this in case someone else bashed the drive for poor performance when it was simply user error. We do find it odd that this happens however, and it could probably be avoided had Silicon Power used a different connector.
ATTO Disk Benchmark v2.46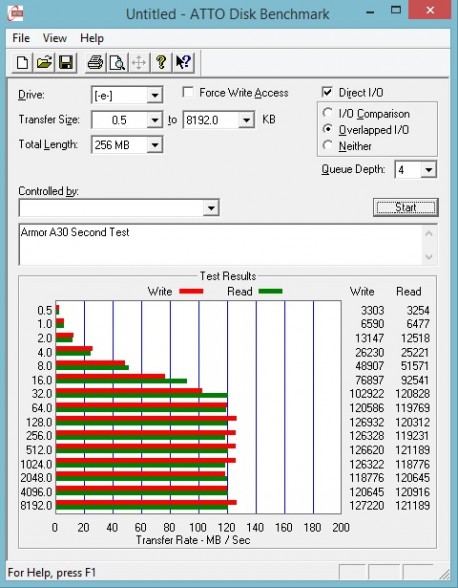 Crystal Disk Mark 3.0.3 x64
Crystal Disk Mark is another popular benchmark which allows us to measure both sequential read/write speeds as well as 4K and 512K read/write speeds.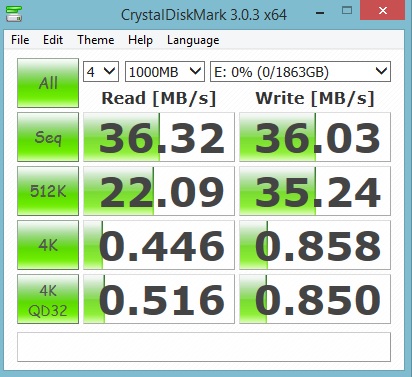 Performance Analysis
Not much to say here. USB 2.0 really limits the performance of the drive. No surprises.
Drop Testing
Silicon Power claims that the Armor A30 is capable of passing the MIL-STD-810G (transit drop test) requirements so we had to see for ourselves. We dropped the Armor A30 from four different heights three times.
| Height | Pass/Fail |
| --- | --- |
| 2 Feet | Pass |
| 3 Feet | Pass |
| 4 Feet | Pass |
| 5 Feet | Pass |
Since the Silicon Power Armor A30 is designed to be dropped, in our testing dropping the Silicon Power Armor A30 wasn't an issue. On our hardwood floor, the drive simply bounced off the floor and the drive continued working.
[section label=4. Conclusion]
Silicon Power Armor A30 2TB Conclusions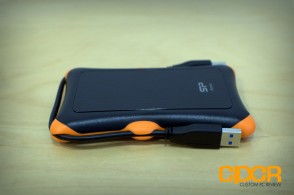 Design on the Silicon Power Armor A30 is fairly solid. In our drop tests, the Armor A30's enclosure proved to be fully capable of protecting the spinning drive inside despite multiple drops from multiple heights according to the MIL-STD 810G standard. Appearance wise, we liked the discrete, black plastic finish and the hexagonal textures. The orange rubber feet not only add contrast to the overall look, but was also helpful in protecting the drive from fall damage as the corners of any enclosure are generally the weakest. Though doing so would probably void the warranty, we were glad to see that the drive could be replaced with relative ease.
The biggest design flaw we see with the Silicon Power Armor A30 is really their choice in going with the strange full size USB 3.0 port on the device itself. Because of this, a less common USB 3.0 standard-A to standard-A cable is needed, which could be annoying if the supplied cable is lost or damaged. With tons of USB 3.0 devices with micro-B ports and tons of micro-B to standard-A cables already in existence, Silicon Power really should've went with the norm and put a micro-B port on the Armor A30.
Performance on the drive is decent as expected. The Silicon Power Armor A30's combination of the Seagate Seagate Momentus 5,400RPM drive and the ASmedia ASM1053 bridge worked well with the drive maxing out at 122 MB/s for both sequential read and write in our testing. This is basically the maximum performance offered by a 2.5″ 5,400RPM drive and should be enough performance for most use cases. Those who need additional performance as well as durability can always opt for an external SSD such as the ADATA DashDrive Elite SE720, albeit at a significantly higher cost.
The Silicon Power Armor A30 can be generally found online for ~$54.99 for the 500GB capacity (~$0.11/GB), ~$67.88 for the 1TB capacity (~$0.07/GB), and ~$114.99 for the 2TB capacity (~$0.06/GB). At ~$0.06/GB, the Silicon Power Armor A30 easily stands out as a great value for consumers who might not even be looking for a ruggedized portable hard drive given the fact that most external drives even without the shockproofing will cost about the same price. Those looking for a new portable hard drive should definitely consider the Silicon Power Armor A30.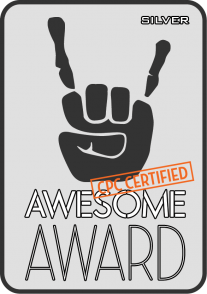 Sample provided by: Silicon Power
Available at: Amazon