Warning
: Undefined array key "width" in
/var/www/vhosts/custompcreview.com/public_html/wp-includes/media.php
on line
1381
Warning
: Undefined array key "width" in
/var/www/vhosts/custompcreview.com/public_html/wp-includes/media.php
on line
1386
Warning
: Undefined array key "height" in
/var/www/vhosts/custompcreview.com/public_html/wp-includes/media.php
on line
1386
Warning
: Undefined array key "width" in
/var/www/vhosts/custompcreview.com/public_html/wp-includes/media.php
on line
1381
Warning
: Undefined array key "width" in
/var/www/vhosts/custompcreview.com/public_html/wp-includes/media.php
on line
1386
Warning
: Undefined array key "height" in
/var/www/vhosts/custompcreview.com/public_html/wp-includes/media.php
on line
1386
Warning
: Undefined array key "width" in
/var/www/vhosts/custompcreview.com/public_html/wp-includes/media.php
on line
1381
Warning
: Undefined array key "width" in
/var/www/vhosts/custompcreview.com/public_html/wp-includes/media.php
on line
1386
Warning
: Undefined array key "height" in
/var/www/vhosts/custompcreview.com/public_html/wp-includes/media.php
on line
1386
Warning
: Undefined array key "width" in
/var/www/vhosts/custompcreview.com/public_html/wp-includes/media.php
on line
1381
Warning
: Undefined array key "width" in
/var/www/vhosts/custompcreview.com/public_html/wp-includes/media.php
on line
1386
Warning
: Undefined array key "height" in
/var/www/vhosts/custompcreview.com/public_html/wp-includes/media.php
on line
1386
Warning
: Undefined array key "width" in
/var/www/vhosts/custompcreview.com/public_html/wp-includes/media.php
on line
1381
Warning
: Undefined array key "width" in
/var/www/vhosts/custompcreview.com/public_html/wp-includes/media.php
on line
1386
Warning
: Undefined array key "height" in
/var/www/vhosts/custompcreview.com/public_html/wp-includes/media.php
on line
1386
Warning
: Undefined array key "width" in
/var/www/vhosts/custompcreview.com/public_html/wp-includes/media.php
on line
1381
Warning
: Undefined array key "width" in
/var/www/vhosts/custompcreview.com/public_html/wp-includes/media.php
on line
1386
Warning
: Undefined array key "height" in
/var/www/vhosts/custompcreview.com/public_html/wp-includes/media.php
on line
1386
Warning
: Undefined array key "width" in
/var/www/vhosts/custompcreview.com/public_html/wp-includes/media.php
on line
1381
Warning
: Undefined array key "width" in
/var/www/vhosts/custompcreview.com/public_html/wp-includes/media.php
on line
1386
Warning
: Undefined array key "height" in
/var/www/vhosts/custompcreview.com/public_html/wp-includes/media.php
on line
1386
Warning
: Undefined array key "width" in
/var/www/vhosts/custompcreview.com/public_html/wp-includes/media.php
on line
1381
Warning
: Undefined array key "width" in
/var/www/vhosts/custompcreview.com/public_html/wp-includes/media.php
on line
1386
Warning
: Undefined array key "height" in
/var/www/vhosts/custompcreview.com/public_html/wp-includes/media.php
on line
1386
Introduction
I like big cases. The bigger the better, but let's be honest here. If you're running a mATX board with the stock CPU cooler, a single hard drive, and no GPU, it may be a bit overkill to purchase a Cosmos II. At some point you just have to take a look at what you're actually going to put in a case.
That being said, I like big cases so when Silverstone asked if I wanted to take a look at the new Precision Series PS07, a mATX case, I said "Why not?". All joking aside of course, Silverstone is pretty famous when it comes to the PC case market for both their high quality and innovative design philosophy. After all, they're the ones behind some of the most unique and innovative case designs such as the RV03, the FT03 as well as many others.
So, does the PS07 live up to the SilverStone name? Well, let's find out!
Specifications
Model No.

SST-PS07B (Black)
—
—
—

Material

High-strength plastic front panel & aluminum accent, steel body

Motherboard

Micro-ATX, DTX, Mini-ITX

Multimedia

—

Drive Bay

External
5.25″ x 2
3.5″ x 1 (transfer bracket for hard drive installation)
Internal
3.5″ x 5 , 2.5" x1

Cooling System

Front
2 x 120mm fan,950rpm, 18dBA
Rear
1 x 120mm fan slot
Side
—
Top
—
Bottom
—
Internal
—

Expansion Slot

4

Front I/O Port

USB3.0 x 2 (backward compatible with USB2.0)Audio x 1MIC x 1

Power Supply

Standard PS2(ATX) Optional, max length180mm*

Operating system support

—

Expansion Card

Compatible up to 13.5 inches in length

Limitation of CPU cooler

165mm

Limitation of PSU

Unlimited

Net Weight

5.2 kg

Dimension

210mm(W)x374mm(H)x400mm(D)

Extra

—
Features
Dual 120mm silent fan
Removable motherboard tray and top panel
Quick access filters to prevent dust buildup
Convenient wire and cable routing pathways
Adjustable holder for large CPU coolers and extra-long card support rack
Motherboard back plate opening for quick CPU cooler assembly
Independent airflow channel for power supply
Accommodate up to six 3.5 inch hard drives
Unboxing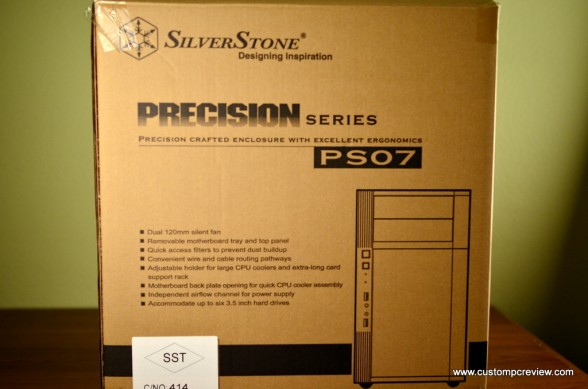 A very plain brown box with a picture of the case and a couple major features up front.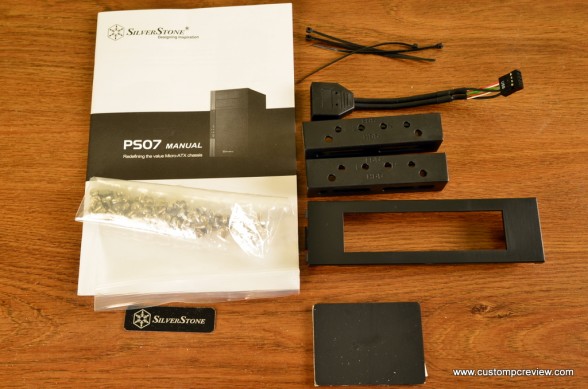 Included inside, we get a couple accessories and the manual. By the way, this is one of the most detailed case manuals I've seen for a case. Feel free to read the manual and skip to the end of this review instead.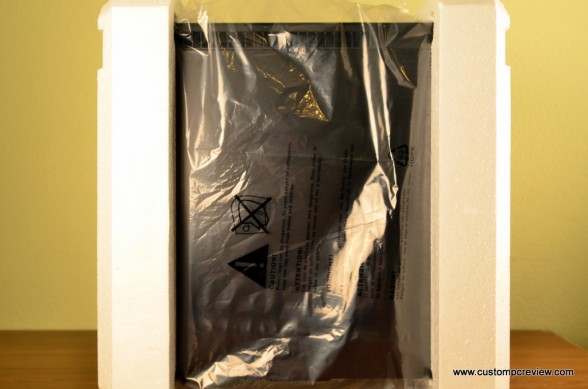 The case came well packaged. The case itself isn't terribly heavy at all.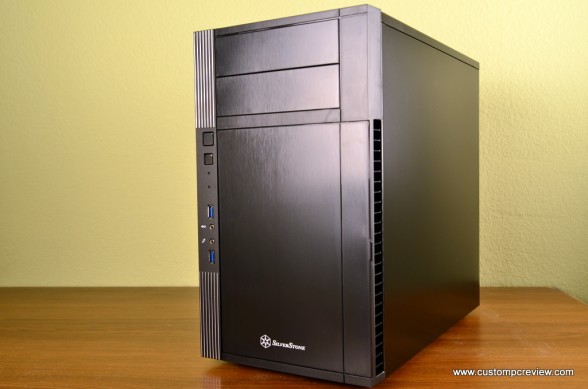 Ooooh! First look at the case and wow is it gorgeous!
A Closer Look
Front Panel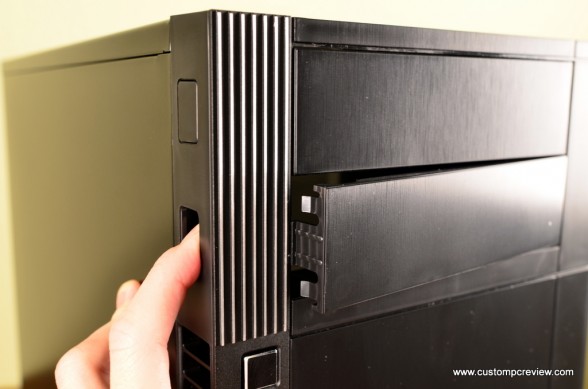 Up front you get two 5.25″ bays. The bays are released by a push to release mechanism. Very cool.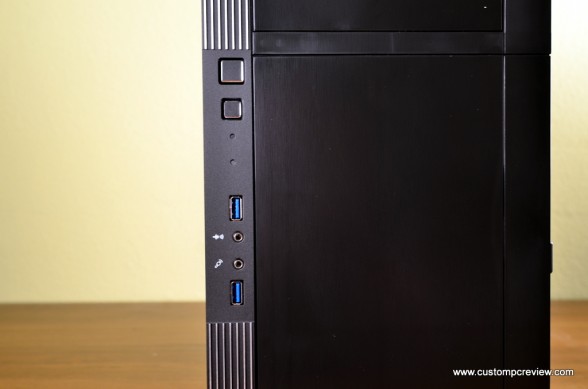 Front panel includes the usual assortment of goodies. Power, reset, indicator LEDs, 2 USB 3.0 ports, and a microphone and headphone jack.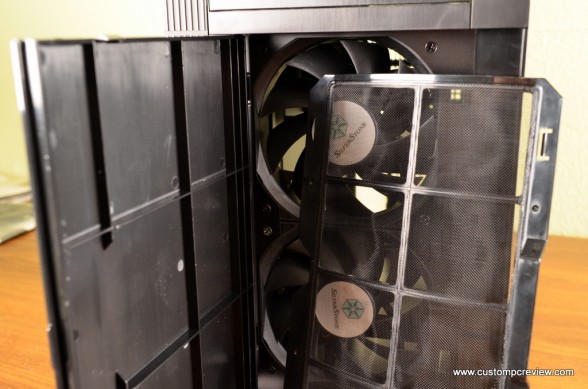 Opening the front cover we get a dust filter and 2x120mm Silverstone fans. This is probably one of the highest quality air filters I've seen in a case. All cases should come with this, standard.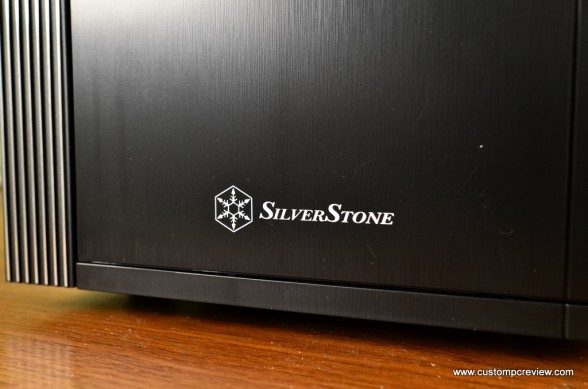 Sweet looking SilverStone logo at the bottom of the case. Very classy.
Top and Bottom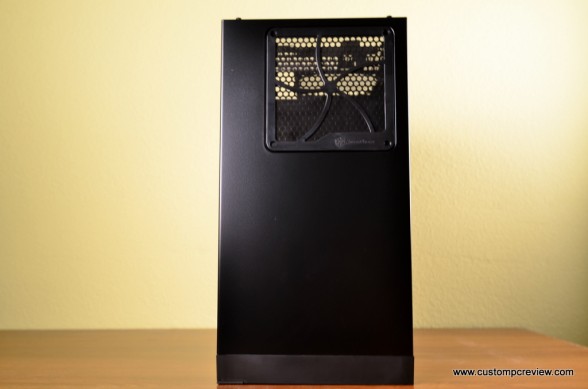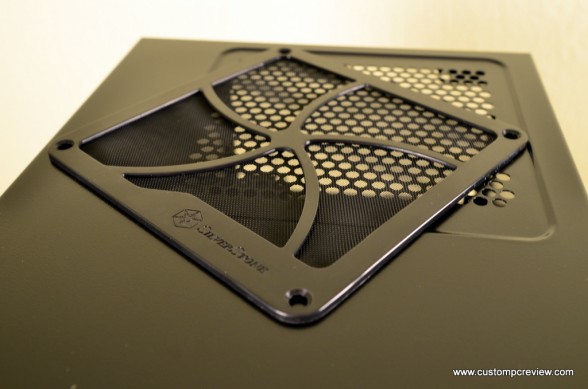 A magnetic 120mm fan filter at top  which filters all the air going into the power supply. Again, easy to remove and easy to clean. Just the way I like it.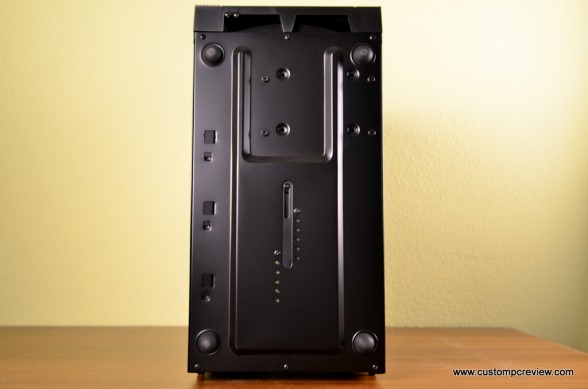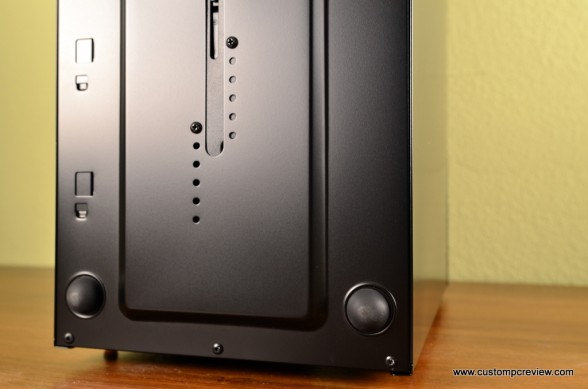 At the bottom you get four rubber feet which are great for dampening vibrations.
The Rear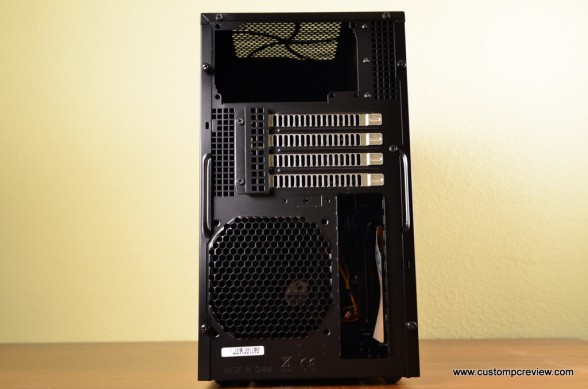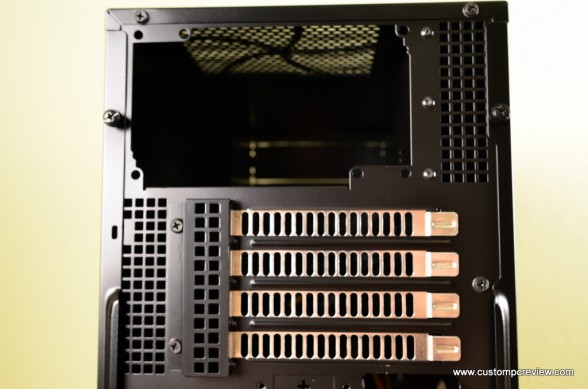 Interesting… the power supply is mounted up top and it seems like the motherboard is mounted upside down. You also get 4 expansion slots.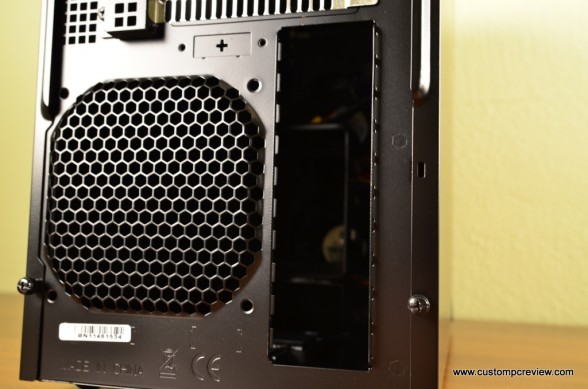 Since the power supply is mounted up top, the I/O shield is mounted at the bottom. There is also a rear 120mm fan mount available, but why SilverStone decided to not include a rear fan here is disappointing.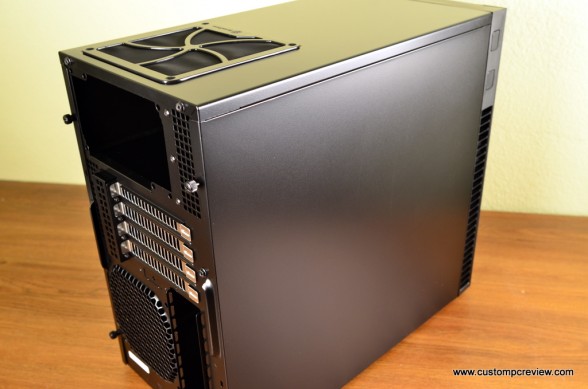 Here's a look at the side panel. There's nothing going on on both sides. It would be nice to see some sort of window or fan or maybe an option for one as  an accessory.
A Look Inside
Removing the sidepanels, we get a good look inside the case. It's actually very spacious for a mATX case. There's also a shroud around the power supply area that runs through to the 5.25″ bays.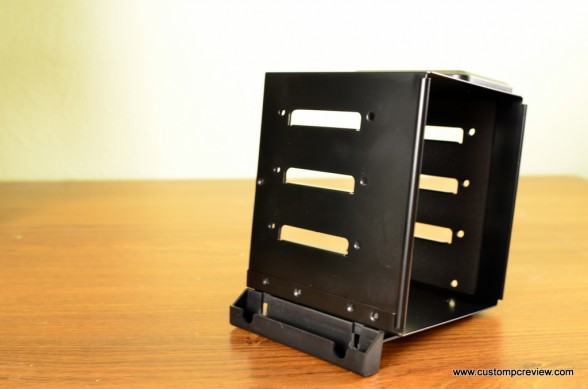 The hard drive tray is removable. Inside, you can install up to four 3.5″ drives. Unfortunately, there's no 2.5″ drive support here and you'll need a screwdriver for every drive you install.
Quick look at the one of the fans. The cabling isn't sleeved and the fans have 3 pin connectors. Then again, there's no window to see the ugly, unsleeved cabling anyway.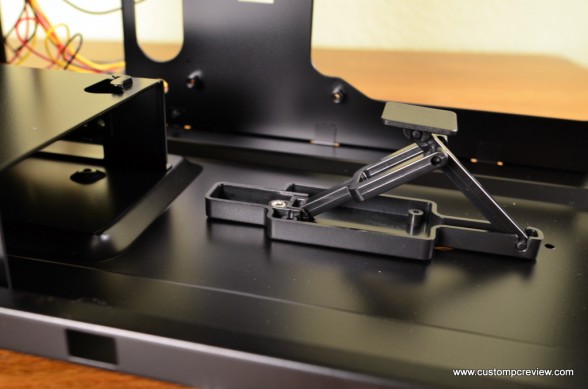 Check out the bottom! How cute! A little CPU cooler support. This should be handy for those planning on moving the computer a lot with a huge CPU cooler inside.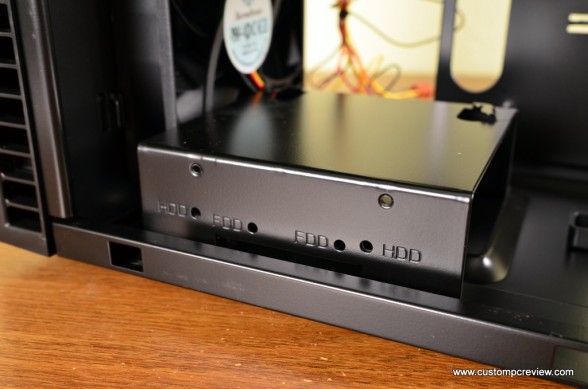 Drive mount at the bottom. A 2.5″ drive can be installed inside as well.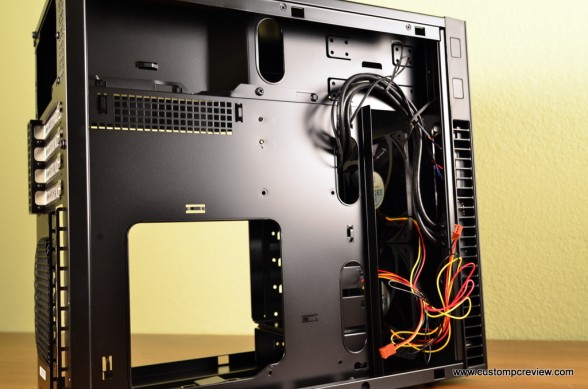 Moving it around the back and we notice a huge cutout for CPU coolers as well as a tangle of cables for the front panel connectors. The case is also very wide on this side which means cable management should be very good.
Oh look! A USB 3.0 header. For those without USB 3.0 headers on their motherboards, a USB 3.0 to USB 2.0 adapter is included.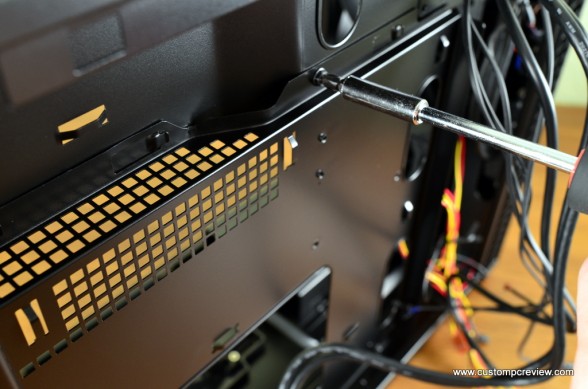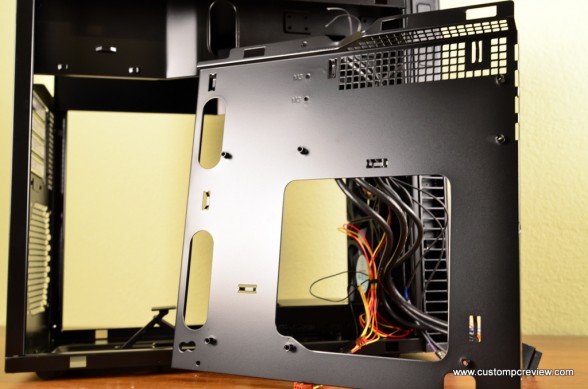 Oh… WHAT?! A removable motherboard tray? Win!
Installation and Testing
Test Setup
CPU: Intel Core i5 2500K
Mobo: Asrock Z68 Pro3-M
Memory: Corsair Vengeance DDR3 1600MHz 8GB
Storage: 180GB Corsair Force 3
PSU: Corsair CX430
Optical Drive: OEM Optical Drive
CPU Cooler: Xigmatek Dark Knight
For Reference Only:
Storage: Western Digital Caviar Blue 500GB
GPU: AMD Radeon 6970 (Reference Design)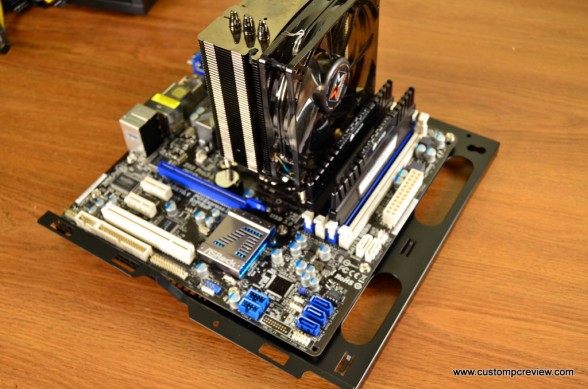 Installation of the motherboard on top of the removable motherboard tray.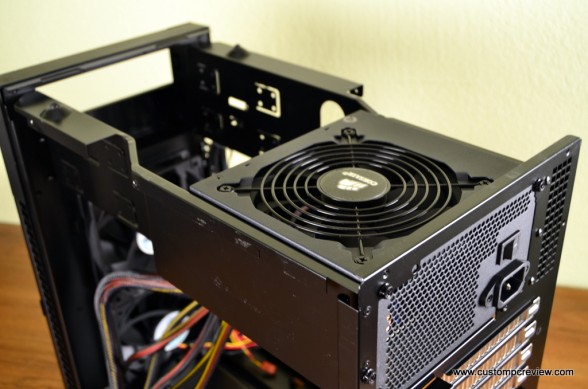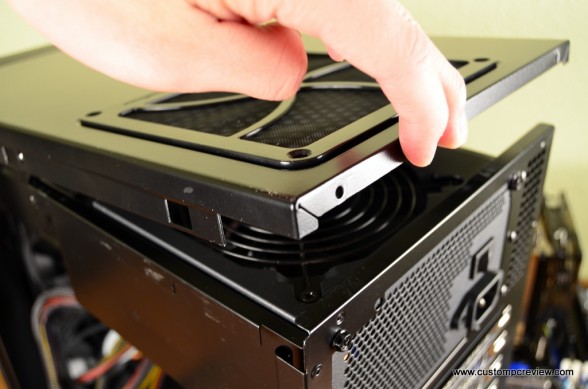 Installation of the power supply requires the removal of the top cover. Removal of the top cover requires removal of 6 screws which for some reason are of different sizes. Make sure to have a screwdriver nearby!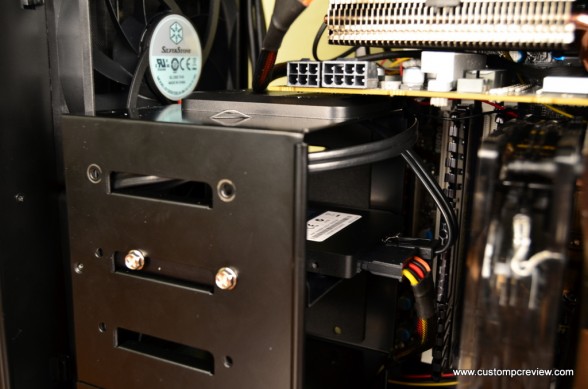 Unfortunately, installation of all 3.5″ drives requires tools! Here, we have an SSD installed using a 3.5″ adapter for demonstration purposes only.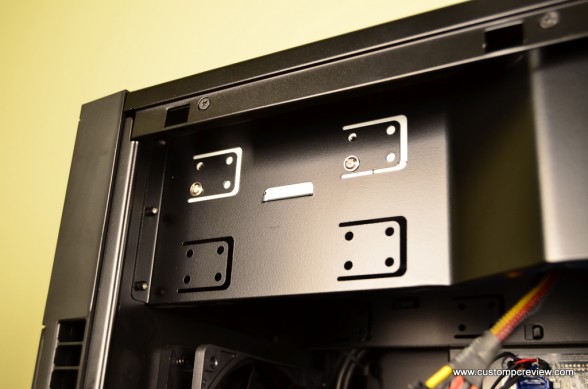 No tool-less 5.25″ drive installation?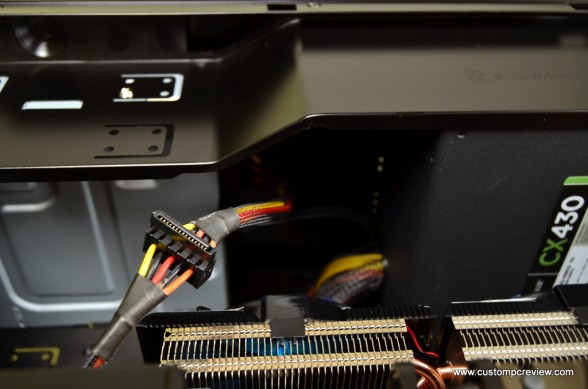 A lot of space between the optical drive and the power supply. Larger power supplies should fit just fine.
Motherboard tray dropped in. Looks good. The Xigmatek Dark Knight fits just fine, but I wouldn't go much larger than that. The maximum supported height as stated by the manual is 165mm.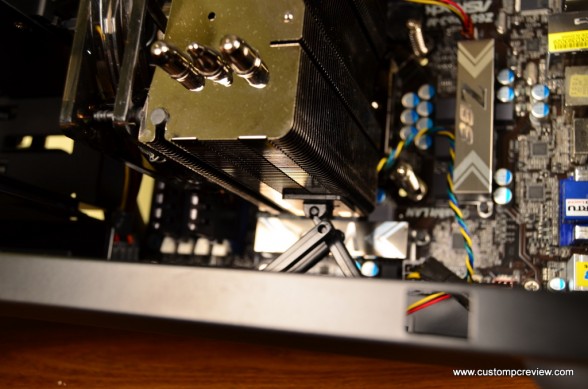 Check out the CPU cooler support system. Great for those who transport their systems a lot and prefer using large CPU coolers.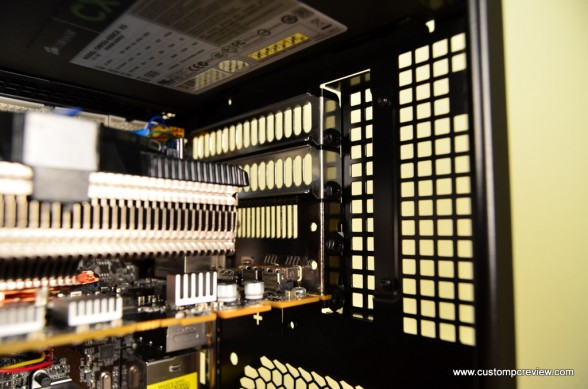 More tools required. Why oh why were thumbscrews not included?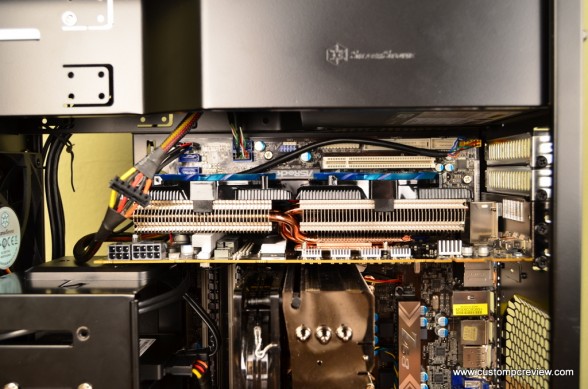 For demonstration purposes only, here's a Radeon 6970 installed and as you can see, there's plenty of space available. Above the HDD cage there's also a piece of plastic for long GPU support. Nice. Also, notice that there's a bit of room between the 6970 and the GPU support system. That's because this GPU has the backplate removed. However, SilverStone has included a rubber gasket (not installed) which can be installed between the GPU support and the GPU to support GPUs without backplates.
Here's a look with the 3.5″ hard drive installed, a 2.5″ SSD installed, but the GPU removed. Let's take a closer look…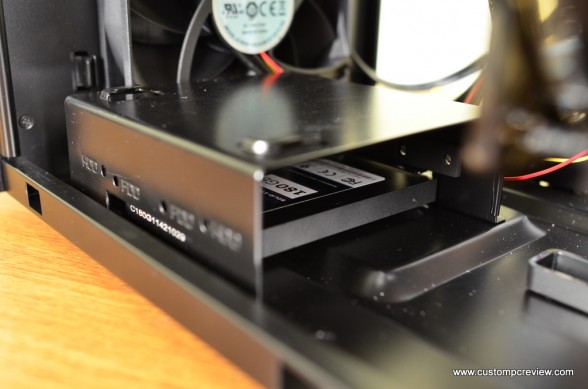 Installation of the 2.5″ SSD requires access to the bottom of the case. Just screw in the four screws and you're in business. Unfortunately there is only one 2.5″ drive bay.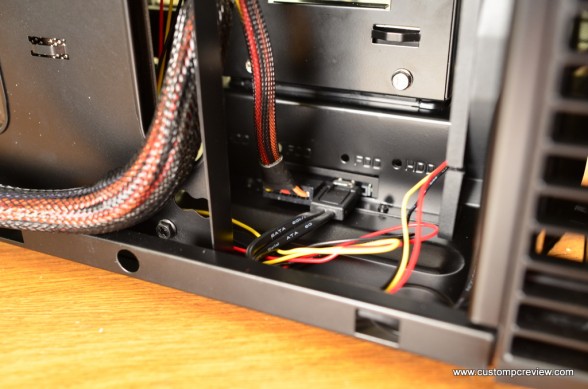 The cables for the 2.5″ drive bay are routed through the side instead of the back. Very good design on SilverStone's part.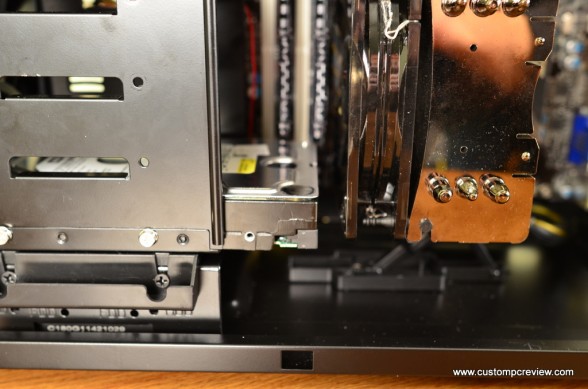 Unfortunately, this may get a bit ugly if you have a large CPU cooler. As you can see, with the hard drive protruding from the drive bay, you'll probably have to mount the fan on the other side to allow for cabling. Considering the Dark Knight isn't the largest cooler out there, this could be a problem for those planning on getting even larger tower coolers with push/pull fan configurations. I am very confused as to why SilverStone didn't orient the 3.5″ drives the same way they did the 2.5″ drive. There's plenty of space when the drives are oriented in that direction (2.5″ drive's direction) and it would additionally serve to reduce cable clutter.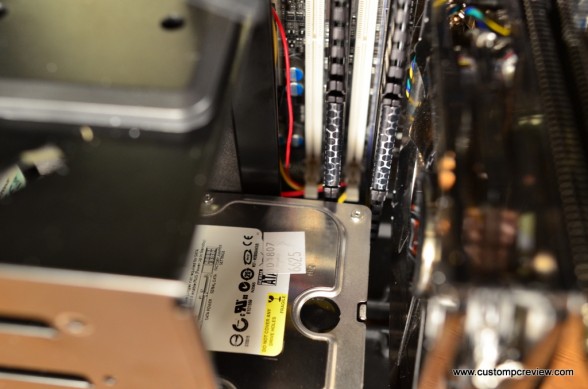 Again, we face another issue here, directly related to 3.5″ drives. As you can tell, the Corsair Vengeance memory modules are a bit too tall in the center to allow the hard drive to be installed in the center of the drive cage. According to the users manual, there is 54mm between the hard drives and the motherboard, so make sure you purchase memory with low profiles!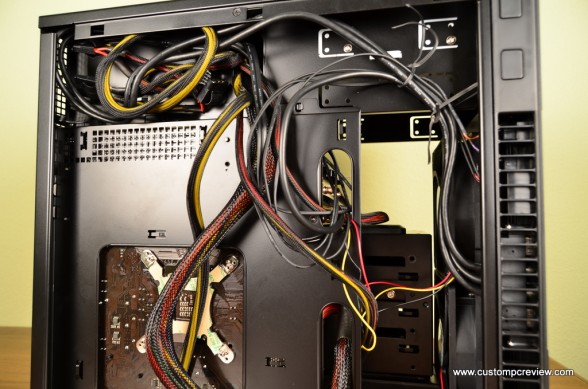 Plenty of space for clean wiring. A tad bit more 0.5in of space back here. Obviously you'll want to do a better job than I've done here, but it's so wide that the case closes just fine. Also, check out the large space in the top left corner of the case. Great for storing all unused power cables so feel free to buy non modular!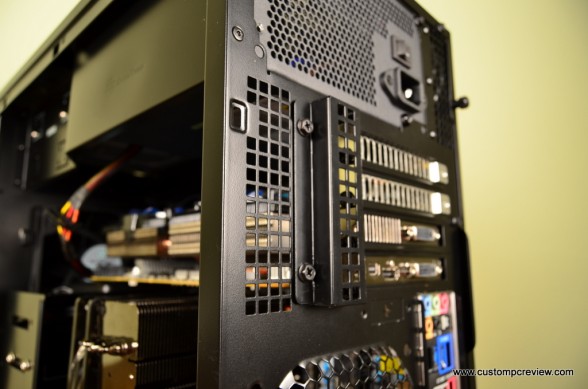 Shot of the rear with everything installed. Don't know why there's a cover with 2 screws that need to be removed prior to accessing the expansion slot covers. These aren't tool-less either. What a bummer.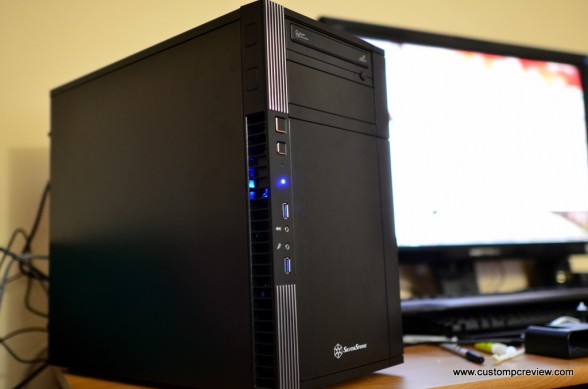 PC fully installed. Case looks classy and the blue LEDs are nice and bright.
Conclusion
What we liked:
When it comes to cases, SilverStone is one company you can typically count on, and the PS07 is no exception. Starting with the looks, the SilverStone Precision Series PS07 already looks good, real good. The styling is very classy and the case is very light as well. You also get some high quality air filters with this case – something typically not seen in budget cases.
The cooling is more than adequate for this case despite missing a rear 120mm fan. SilverStone does give you the option of installing a rear 120mm fan if you so desire as well for that additional cooling performance, but in my testing it wasn't necessary. As far as acoustics go, the fans are reasonably quiet. Of course, if you want complete silence you may want to opt for a couple high end Noctua fans or a fan controller.
Installation was a breeze as well partly thanks to the removable motherboard tray which allows all components to be installed and tested prior to being installed into the case. There's also a large cutout on the back of the motherboard tray to make CPU cooler installation even easier than it already is. Excellent.
Cable management is one of the best I've seen on a budget mATX case. The large gap of space between the motherboard tray and the side panel cover allows even the thickest power cables to be routed in the back with room to spare.
Space is very well managed in this case. Extra long GPUs (up to 13.5 inches) can be installed into this case and SilverStone has even managed to design a long GPU support system by using the HDD rack. Very clever. In addition, SilverStone has also put in a CPU cooler support system for those using extra heavy tower CPU coolers which does come handy for those who frequently travel with their computers.
What we didn't like:
While there's plenty going for this case, there's a couple things I would've liked to see.
It'd be nice to have a some screw-less mounting systems. There's no reason why a couple thumbscrews couldn't be added for expansion slots, tool-less hard drive trays could be included for quick and easy hard drive installation, maybe a tool-less system for removing the top cover, etc. It really does suck to have to use the screwdriver this much.
I'd also like to see the hard drive cage rotated. As you saw from the pictures above, the hard drives have the potential to conflict with CPU coolers and taller memory modules. There's plenty of space in the back so there's no reason why this can't be accomplished with a little bit of engineering magic.
*Update 2/6/12* After speaking with SilverStone, they informed us that the drive cage was purposefully oriented in the way it was in order to improve airflow. By rotating the cage as I suggested, cooling performance would be noticeably impacted. 
Bottom line:
All in all the SilverStone Precision Series PS07 is a top end mATX case with plenty of features where it counts. (Dust filters, long GPU support, cable management, etc.) As long as you don't mind pulling out the screwdriver, this is one case to put on your shopping list.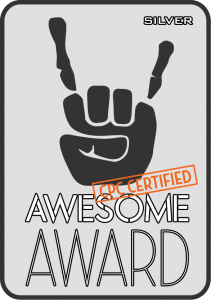 The SilverStone Precision Series PS07 is currently available on Amazon.
The product sample used in this review was provided by the manufacturer.