Warning
: Undefined array key "width" in
/var/www/vhosts/custompcreview.com/public_html/wp-includes/media.php
on line
1381
Warning
: Undefined array key "width" in
/var/www/vhosts/custompcreview.com/public_html/wp-includes/media.php
on line
1386
Warning
: Undefined array key "height" in
/var/www/vhosts/custompcreview.com/public_html/wp-includes/media.php
on line
1386
Warning
: Undefined array key "width" in
/var/www/vhosts/custompcreview.com/public_html/wp-includes/media.php
on line
1381
Warning
: Undefined array key "width" in
/var/www/vhosts/custompcreview.com/public_html/wp-includes/media.php
on line
1386
Warning
: Undefined array key "height" in
/var/www/vhosts/custompcreview.com/public_html/wp-includes/media.php
on line
1386
[section label=1. Introduction]
A DiskStation for Your Home
We all spend tons of money and tons of time shooting the perfect pictures, making those perfect videos, and writing the perfect term papers, but most of us don't have a backup plan just in case that hard drive starts clicking. Most hard drives on the market today have a typical lifespan of 3-5 years and with drive capacities hitting sky-high limits these days it's fairly easy to lose years and years of your hard work in a single drive failure.
Luckily, there are solutions out there, and one of the more popular solutions these days are NAS units, or Network Attached Storage units. Most NAS units are basically lower powered computers that serve as dedicated servers for your documents, music, movies, photos, etc. These devices typically connect to your home business or network, and with a little setup, they pretty much can work as a hard drive that's constantly on and constantly available to every computer on the network. Pretty cool, huh?
Today, we'll be reviewing such a device – the Synology DiskStation DS212. The DS212 is a two- bay NAS unit primarily designed for homes or small business work group users. Below I've included some of the more important hardware specifications on the unit.
Synology DiskStation DS212 Specifications
| | |
| --- | --- |
| CPU | Marvell Kirkwood mv6282 1.6Ghz ARM Processor (Marvell ARMADA 300) |
| Memory | 16-bit@DDR3, 256MB of RAM |
| Internal HDD/SSD | 3.5″ or 2.5″ SATA(II) X2 (Hard drive not included) |
| Max Internal Capacity | 8TB (2X 4TB HDD) (Capacity may vary by RAID types) (See All Supported HDD) |
| External HDD Interface | USB 3.0 Port X 2, USB 2.0 Port X 1, SD Card Port X 1 |
| Size (HxWxD) | 165 X 108 X 233.2 mm |
| Weight | 1.25Kg |
| LAN | Gigabit X1 |
| System Fan | 92x92mm x1 |
| Noise Level | 19.0 dB(A) |
| Power Consumption | 18,2W (Access) ; 6,8W (HDD Hibernation) |
| Warranty |  2 Years |
As mentioned earlier, the DS212 is a two bay NAS. This means that you'll have access to no RAID (JBOD), RAID 0 and RAID 1 setups. You'll also notice that the DS212 comes with a 1.6GHz ARM CPU along with 256MB of DDR3. As expected, this processor will power the Synology DSM 4.0 software pre-loaded into the DS212 itself.  Additionally, the system also has the maximum internal capacity of 8TB, which can be made possible by connecting 2x4TB hard drives,with possible support for larger hard drives most likely through future firmware upgrades.
Honestly though, the specification and features page on this device stretch for pages. Think I'm kidding? Check it out for yourself. That's because NAS units these days are jam-packed with features as they are pretty much low powered computers and they'll be able to handle many of the tasks full featured x86 servers can handle.
Intrigued? Let's move on.
[section label=2. A Closer Look]
A Closer Look at the DiskStation DS212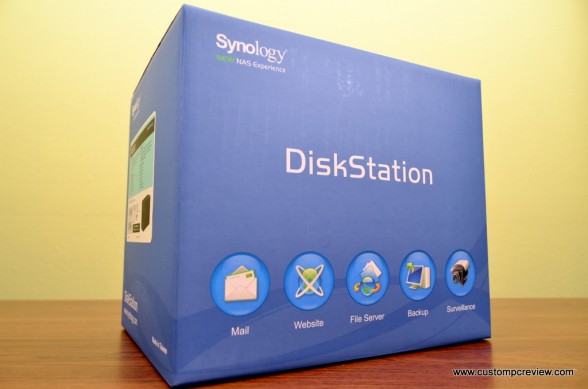 The box is quite brightly colored with many of the NAS unit's functionality such as mail, website, file server, backup, surveillance, etc. included.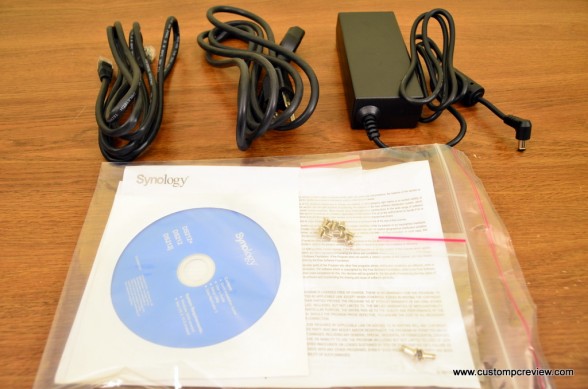 Since I like to begin with accessories, we'll start with what's included in the package. Up top we get all the cabling such as the ethernet and power cable. Below that we get some screws for hard drive installation, a software CD, and some documentation.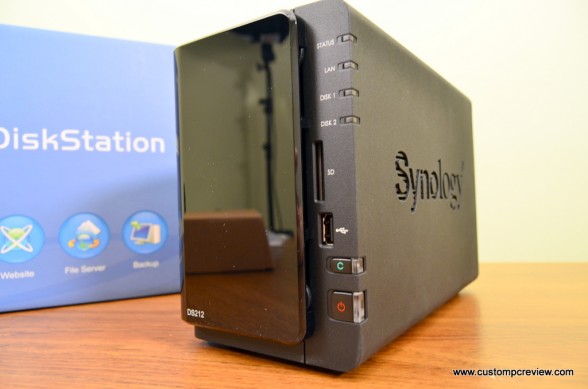 Overall, the design of the Synology DiskStation DS212 is very sleek, with a very modern look. One thing to note is that the entire unit is made of plastic; however, the plastic is definitely of very high quality and I'd expect this thing to easily take some abuse if necessary. (It's beyond me why you'd abuse such a beautiful thing though)
Up front we get a nice looking glossy front cover that as you can already see attracts a ton of dust and fingerprints, which isn't something I particularly like. Otherwise, up front you also get your power and reset buttons along with a couple of status indicator lights as well. As for connectivity, the DS212 comes with an SD card slot and a USB 2.0 port, which is definitely a nice touch.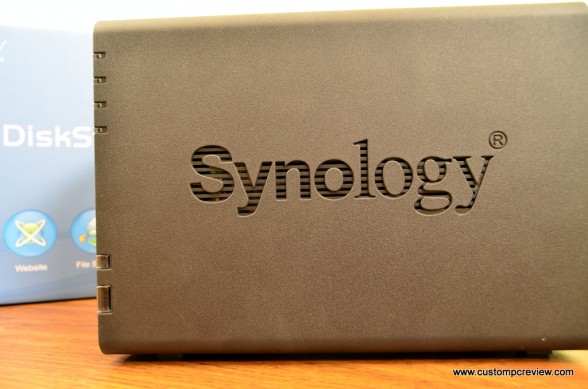 Around both sides of the unit, we get the Synology logo stamped on the plastic casing. Looks like they've carved out small holes through the lettering as well, which provide a bit of ventilation for the unit. Probably not a lot, but every bit helps, right?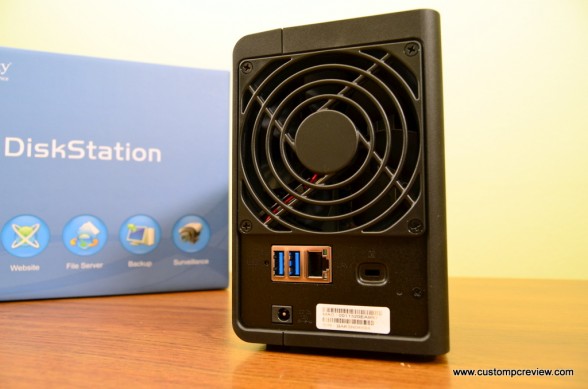 Moving around to the back we get two USB 3.0 ports which is definitely good for "future proofing" if that can even be achieved and we also get a single gigabit ethernet port as well. Back here we also get the power port, a 92mm fan for cooling as well as some information about the unit itself, such as the serial number and MAC address.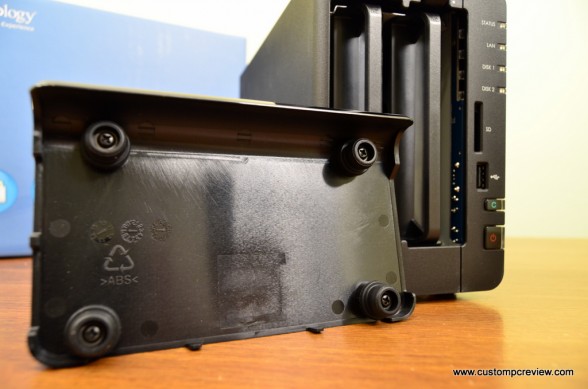 Moving back up front, we can see that the glossy front cover pops off quite easily to expose the hard drives inside. The front cover does include some rubber spacers to reduce vibration while the drives are spinning inside. For the most part, that's not really a concern since the device will go to sleep when it's not in use.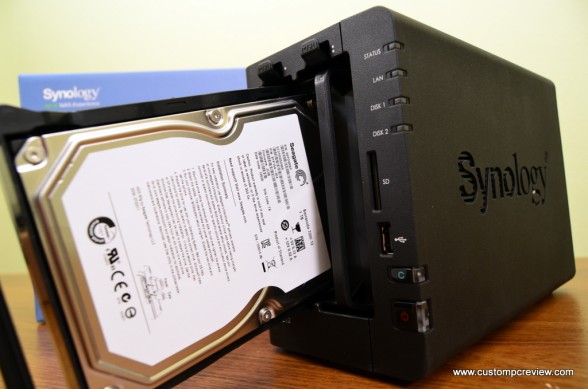 As you can see here, drives are installed onto a caddy which is then installed into the unit itself. Both 3.5″ and 2.5″ drives are acceptable, so SSDs can be installed here as well. In the picture above, a Seagate Barracuda 1TB 7200RPM desktop class hard drive is installed; however, personally I recommend using enterprise class drives such as the Western Digital RE4 or Seagate Constellation ES as they're typically designed for use in RAID arrays and are more durable for that purpose than desktop class drives.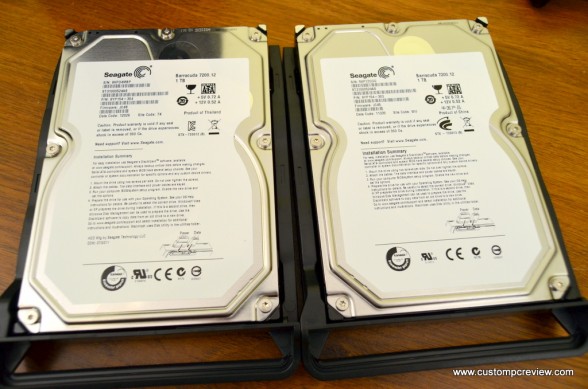 For those interested in RAID 0 or RAID 1 arrays, two identical drives are recommended for the best compatibility. In NAS units, I typically recommend RAID 1, also known as mirroring. Basically data put on the RAID 1 array is copied to both drives, which means you'll have at least one copy of your data just in case one of the drives fail.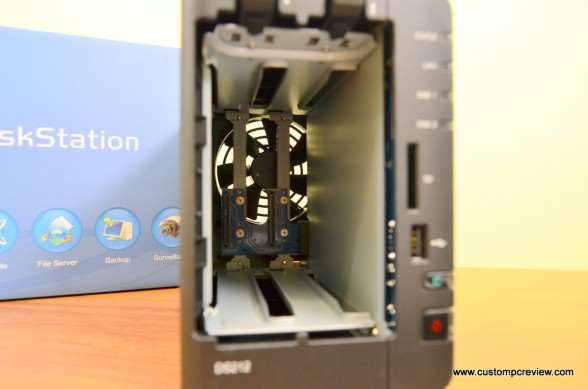 Finally, one last look inside the unit before we check out the software. Nothing really special to see here other than the SATA connectors for the drives. This means you'll need SATA drives, but I don't know very many people rocking PATA drives these days so I'm not sure if that's even necessary.
[section label=3. DSM 4.0]
(DSM 4.0) DiskStation Manager 4.0
When it comes to NAS systems, software is probably the most important feature – possibly more important than performance. After all, what good is a NAS unit that's impossible to manage, right? Like I said earlier, at the root of most NAS systems on the market, what you're getting is basically a computer, and know it or not, what you're actually doing when performing any sort of maintenance or even setting the thing up is acting as a server administrator.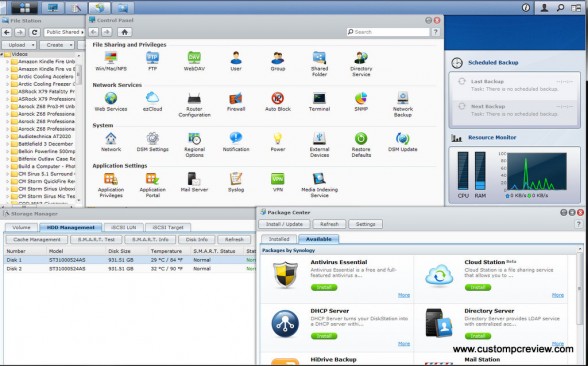 With the Synology DiskStation DS 212 you get Synology's newest "operating system", DSM4.0 (DiskStation Manager 4.0). This new "operating system" for the DS212 (and pretty much every DiskStation out there) is fast, and very easy to use. As you can see from the screenshots above, everything is done through a GUI that comes up once you punch in the IP address of the NAS unit, similarly to a router, but way easier to use. (And a lot prettier to boot!) Wouldn't be nice if your router setup page looked like this?
While on the most basic level, most people think NAS units are just little external hard drives that can connect to their network, it's actually so much more than that. Since the NAS unit is pretty much a server, you can use it in many different ways – many of which you can see from the screenshot above. For example, you can use this device as a Cloud Station which will help sync documents between say your laptop or desktop, which helps rid yourself of the need for something like Dropbox. All you really need is a stable power supply to your DS212, and a stable, fast internet connection and you're good to go. Of course, that just scratches the surface. Ever wanted to host your own webserver? Maybe a test server for new WordPress plugins? How about an FTP server? Yup. The DS212 has got you covered. It even has support for all the Mac lovers out there with full support for Time Machine, which allows you to store all your backups seamlessly to the Disk Station.
Got an iPhone? Check this out…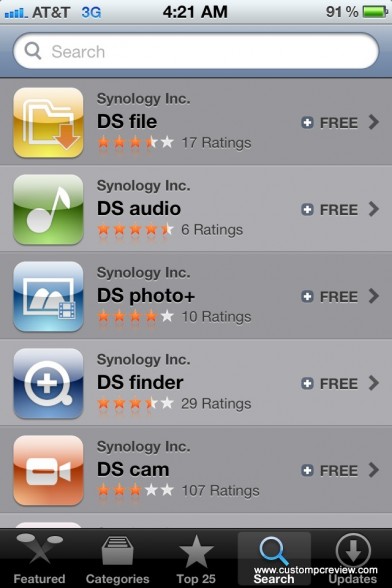 Yup. You get a full list of awesome iOS apps that work seamlessly with your Disk Station. They're not bad either, and serve each of their purposes quite well. Video streaming also works through the apps as well, so you can watch videos from your DiskStation while on the go. Awesome.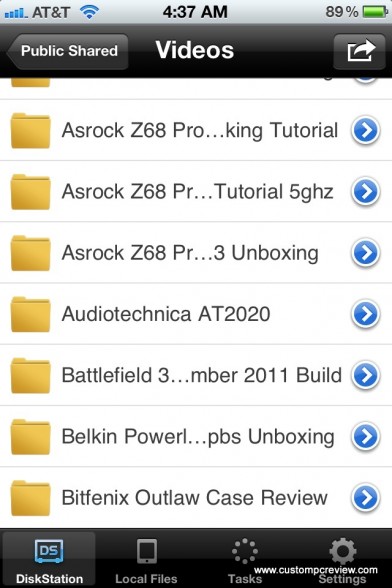 Here's an example of one of the iOS apps available – the DS File app on the iPhone 4S. As you can see, I can access all of my backed up files through the iPhone, and download them to the iPhone as well direct through the app. The app also has the ability to upload files such as pictures direct to the DiskStation as well, so any pictures, video, etc. can be directly dropped right onto the DiskStation.
[section label=4. Performance]
Sandy Bridge Test Setup
CPU: Intel Core i7 2600K
Motherboard: MSI Z68A-GD65 (G3)
Graphics: MSI Radeon HD6970
Memory: Corsair Vengeance 16GB DDR3 1600MHz
Storage: Corsair Force 180GB SSD
Sound: Creative Sound Blaster Recon3D PCIe
Power Supply: Cooler Master Silent Pro Gold 800W
Case: Cooler Master HAF X
Router: Linksys E3000
Firmware: DD-WRT v24-sp2 (04/13/11) big
DiskStation DS212 Performance
Originally for performance, we were going to use the Intel NAS Perfomrance Toolkit, which is one of the industry's most widely used benchmarks for testing NAS units, but it did require the system running the tests to have 2GB memory or less, or the results would be skewed due to data being cached in the memory. When we ran that utility, we got numbers upwards of 150MB/s writes, which we found odd, so instead we just ran our trusty ATTO Disk Benchmark. If you're familiar with the site, it's what we use for SSD benchmarking, but it's also quite effective for hard drives and, more recently, NAS units as well.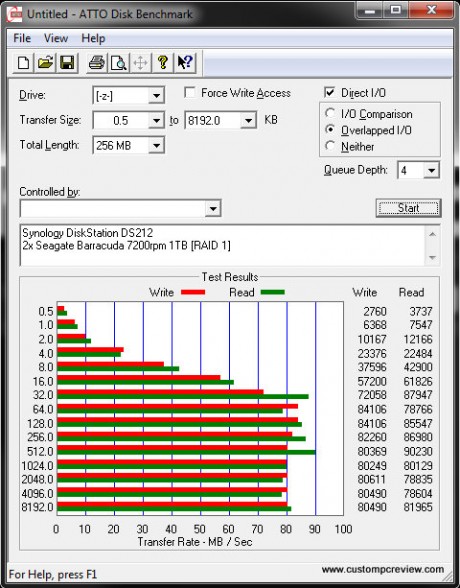 For starters we ran the ATTO Disk Benchmark in RAID 1 mode to see how fast the DiskStation could dish out data with one of the drives acting as a redundant drive. As you can see above, after a quick burst up to 85MB/s reads and 84MB/s writes, the DS212 settles at around 81MB/s reads and 80MB/s writes, which is definitely quite fast. If you recall from our review of the Ineo hard drive dock we recently did, the single 500GB Western Digital Caviar Blue was only able to crank out 75-76MB/s reads and writes over a USB 3.0 connection, so considering we are using faster Seagate Barracuda drives here, it appears that the bottleneck is on the hard drives itself.
On the next test, we ran the ATTO Disk Benchmark once again, but with the drives configured to use RAID 0. Taking a look at these numbers, it's actually quite strange that RAID 0, which typically performs much faster than RAID 1, was actually slower than RAID 1 mode. Performance here does look a bit puzzling with maximum read and write speeds ranging from 60MB/s all the way up to 78MB/s. Looks like Synology may be having issues with their RAID 0 implementation. That being said, RAID 0 isn't recommended for this device. A single drive failure will lead to full and complete data loss, which in my opinion completely defeats the purpose of having a NAS unit such as the DS212.
[section label=5. Conclusion]
DiskStation DS212 Conclusions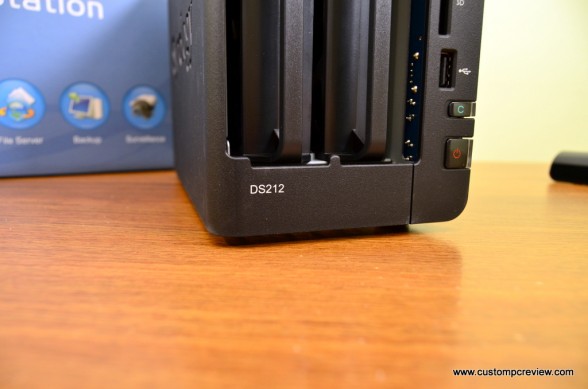 Truth be told, the last couple NAS units I've used were from 2-3 years ago and the Synology DiskStation DS212 absolutely blows them away. It's not that those units were bad – they had decent transfer speeds and all, but I think for most home users out there looking for a NAS unit, those just seemed a bit unpolished, slow, clunky and difficult to use. I think it's the simplicity and ease of use that makes or breaks a NAS unit these days and I think here's where Synology really has it down.
The DSM 4.0 software was simple to use – definitely simple enough that even those not so technical could easily master without too much difficulty. As you saw from the screenshots (or using the demo provided on Synology's website), doing any administrative work on the software is easy thanks to the GUI. Additionally, everything is easily accessible and getting everything setup takes probably 5-10 minutes tops. Of course, for more advanced users, the DSM 4.0 software does include some more advanced features such as web server functionality, FTP server functionality, cloud server functionality, mail server functionality, and a whole lot more if you don't mind spending a bit more time tinkering.
Hardware wise, the Synology DiskStation DS212 is more than adequate for home use. I think the DiskStation DS 212 is perfect for anyone looking for something to effectively store data with some basic redundancy built in. While the system itself only contains a 1.6GHz ARM CPU and 256MB of memory, I found that the system never missed a beat even with a couple PCs transferring and downloading large video files from the NAS unit. For the most part, large amounts of memory are for running the applications on the drive itself, but I doubt most people go out to buy a DS212 to run a full-fledged webserver. But hey, you do have the option.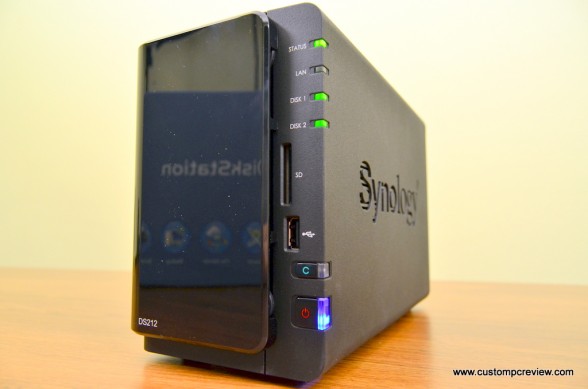 I'm a hardware reviewer and I like seeing top of the line specs (you could say it's in my blood), so originally, I actually requested to review the DiskStation DS212+, which included 512MB of memory instead of 256MB and a 2.0GHz CPU instead of a 1.6GHz CPU. However, Synology suggested that I take a look at the DS212 which they said was far more competitive for home use, and I must say they were absolutely right. The DiskStation 212 is a full $100 cheaper than the DiskStation 212+ and the difference, at least for a home use scenario, isn't all that much – especially for those who just use the NAS unit mostly as a storage unit with some form of data redundancy. Obviously if you're going to run 10 different servers on your NAS unit, you may want to think about going with the DS212+, but if all you need is something to serve your pictures, the DS212 will do the job just fine.
As far as connectivity goes, the system has ethernet, USB 3.0, and even SD card functionality, which I think is a pretty good combination. If you've currently got USB 3.0 external drives and want to back them up to the DS212, the USB 3.0 functionality works great while photographers can rely on the SD card slot to quickly backup their precious photos onto the unit as well. Unfortunately, I would've liked to see a CF slot here as well. It seems like this NAS unit is aimed at media creation professionals, and most professional photographers and videographers who find data redundancy critical use professional grade DSLRs such as the Canon 5D Mark II, which only supports the use of Compact Flash. Don't get me wrong, having an SD card slot is already fantastic, but it would be even nicer with a CF card slot as well.
As mentioned earlier, the Synology DiskStation DS212 can be found for $299.99 on Amazon. Another SKU, the DS212 2100, which includes dual 1TB hard drives, can be found on Amazon as well for $599.99 as well. Considering 1TB drives these days run for around $120 or more each, it's not too bad a deal either.
Bottom Line
Overall, I was very impressed with the DiskStation 212. Yeah, it's not going to have as powerful hardware as some other NAS units out there, but what it lacks in hardware is made up for with easy to use software and excellent implementation. For home users looking for something to store precious photos, videos, and documents, I'd say the Synology DiskStation DS212 is one of my top picks.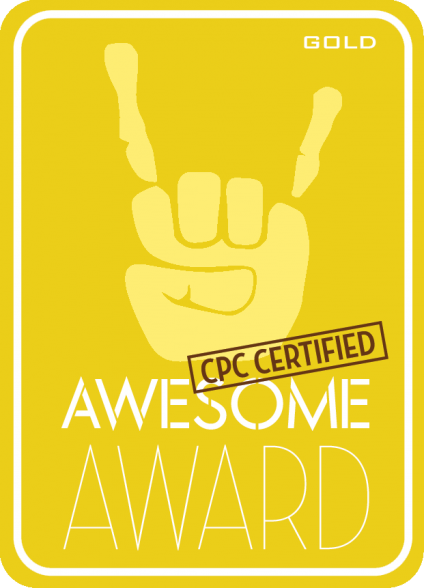 Special thanks to Synology for making this review possible.
The Synology DiskStation DS212 is currently available on Amazon.