[section label="Introduction"]
The New M.2 NVMe Price/Performance Champ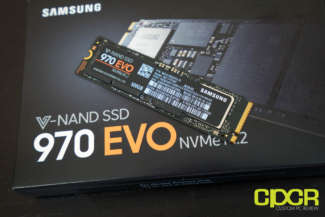 Nearly two years ago, Samsung launched their Samsung 960 PRO and 960 EVO to major fanfare. These two juggernaut introductions in addition to their enterprise cousins further established Samsung's position as the undisputed leader in M.2 form-factor NVMe SSDs. At the time, the industry had been facing a massive shortage of NAND which slowed down product introductions across the board, but as NAND supply has finally begun stabilizing, companies are now finally introducing some new products to once again reignite demand.
Recently, Samsung launched the Samsung 970 EVO and the Samsung 970 PRO which will replace the aging Samsung 960 EVO and 960 PRO. Similar to previous generations, the EVO will be based on TLC NAND while the PRO will be based on MLC NAND however, with this generation of drives, Samsung is focusing their attention on the EVO drives, which they've likely realized will be the most popular for this generation. Taking a quick look at the specifications, we can see why.
Samsung 970 Series Specifications
Manufacturer
Samsung
Model
970 EVO
970 PRO
Capacity
250GB
500GB
1TB
2TB
512GB
1TB
Controller
Samsung Phoenix
NAND
Samsung 64-layer 256Gb TLC 3D V-NAND
Samsung 64-layer 512Gb TLC 3D V-NAND
Samsung 64-layer 256Gb MLC 3D V-NAND
Sequential Reads
3400 MB/s
3500 MB/s
Sequential Writes
1500 MB/s
2300 MB/s
2500 MB/s
2,300 MB/s
2,700 MB/s
4K Random Read (QD32)
200,000
370,000
500,000
370,000
500,000
4K Random Write (QD32)
350,000
450,000
480,000
500,000
Interface
PCIe Gen 3 x4, NVMe 1.3
Form Factor
M.2 2280
Encryption
AES 256-bit, TCGG/Opal v2.0, IEEE1667
Warranty
5 Years Limited
Endurance
150TB
300TB
600TB
1,200TB
600TB
1,200TB
Looking at the specifications, we can see that the Samsung 970 EVO is getting the largest variation of capacities ranging from 250GB to 2TB. It's also getting a massive performance bump as well and at least in rated performance, there's very little difference when compared to the 970 PRO. As far as the internal components, the 970 EVO is powered by Samsung's 2nd generation 3D TLC V-NAND along with the new Samsung Phoenix controller which we'll get into in a bit.
In order to reach these levels of performance, Samsung has kept and also improved the Intelligent TurboWrite feature we first saw introduced with the Samsung 960 EVO two years back. For those who need a refresher, Intelligent TurboWrite is Samsung's way of enhancing TLC NAND write performance by dynamically re-purposing up to a certain amount of NAND onboard to faster SLC mode for caching purposes only. For example, the 2TB Samsung 970 EVO is capable of re-purposing up to 78GB.
Samsung 970 EVO Intelligent TurboWrite
| Capacity | 250GB | 500GB | 1TB | 2TB |
| --- | --- | --- | --- | --- |
| Default Size | 4 GB | 4 GB | 6 GB | 6 GB |
| Dynamic Size | 9 GB | 18 GB | 36 GB | 72 GB |
| Total Size | 13 TB | 22 GB | 42 GB | 78 GB |
| TurboWrite Performance | 1,500 MB/s | 2,300 MB/s | 2,500 MB/s | 2,500 MB/s |
| Native TLC Performance | 300 MB/s | 600 MB/s | 1,200 MB/s | 1,250 MB/s |
While there are no differences in terms of the size of the TuboWrite cache from the 960 EVO, Samsung has managed to squeeze out additional performance on the 970 EVO likely due to the faster controller or a more efficient algorithm.
Warranty on the Samsung 970 EVO is rated at up to 5 years with endurance now ranging from 150TB to 1,200TB. This puts the endurance rating of the Samsung 970 EVO 2TB as the same as the 970 PRO 1TB. For the majority of consumer workloads, this should outlast the useful life of the drive.
[section label="A Closer Look"]
A Closer Look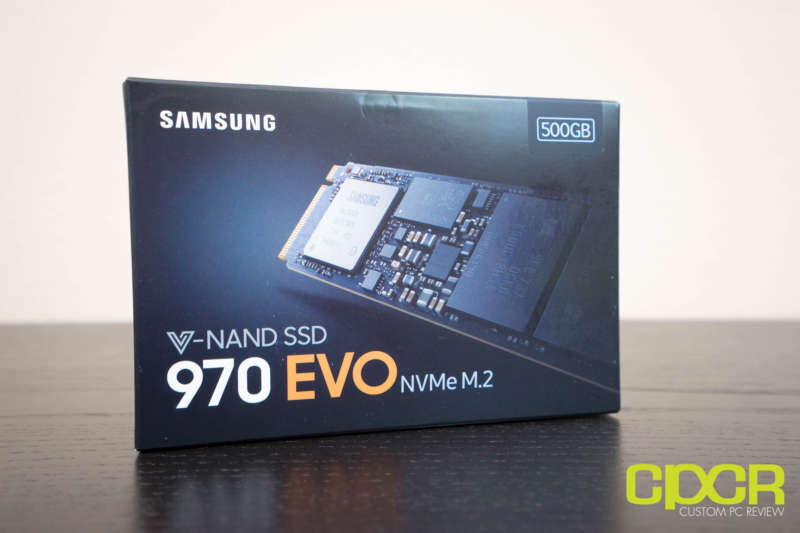 For our review today we have the Samsung 970 EVO 500GB M.2 NVMe SSD.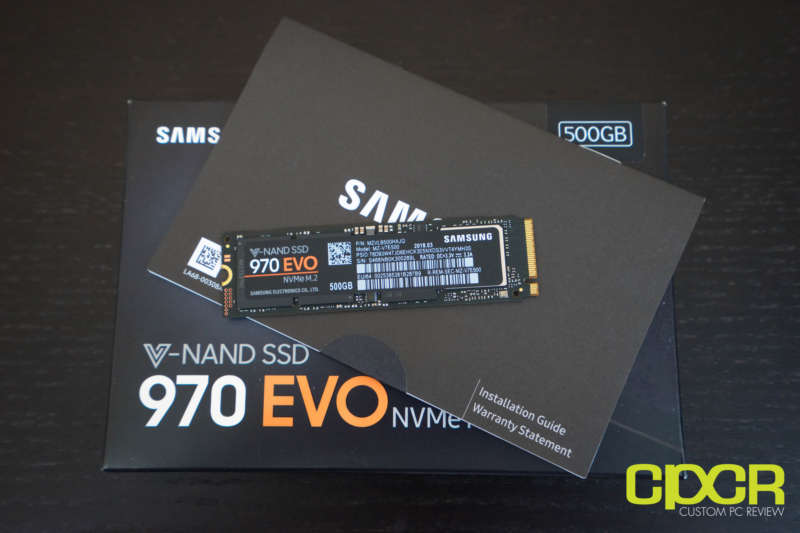 Included in the packaging is the Samsung 970 EVO 500GB along with some documentation.
Here's a look at the Samsung 970 EVO 500GB. The drives includes two NAND packages, a DRAM package, and the new Phoenix controller.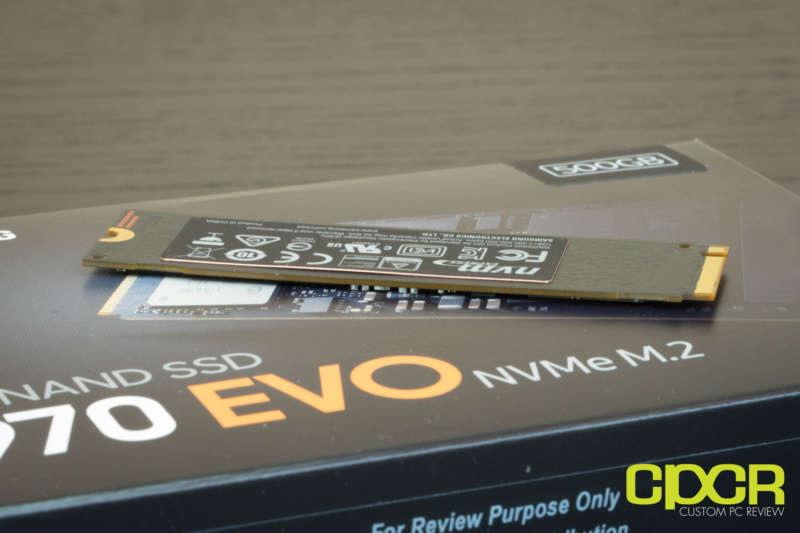 The Samsung 970 EVO also includes the heat dissipating drive label which we first saw introduced with the Samsung 960 series SSDs. The drive label helps distribute heat evenly across the drive and ultimately dissipate it.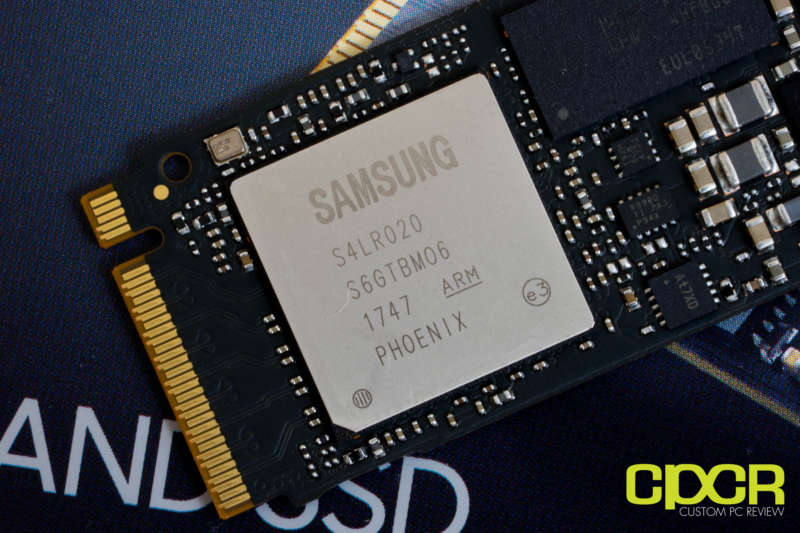 The new controller on the Samsung 970 EVO is the Samsung Phoenix controller which is a 5-core ARM controller. While little detail has been provided as to what each of the cores do, it's safe to say that this is a very powerful controller as it's not only employed here, but in many of Samsung's top end enterprise SSDs as well. For improved heat dissipation, the controller package is now coated with nickel.
NAND onboard is Samsung's 256Gb Samsung 64-layer TLC 3D V-NAND. Samsung is able to cram 8 dies per package here making a total of 512GiB.
[section label="Testing Setup, Drive Info, Software"]
Testing Setup
Special thanks to CyberPowerPC, Kingston, OCZ Technology and HSPC for sponsoring our test bench!
Samsung Magician Utility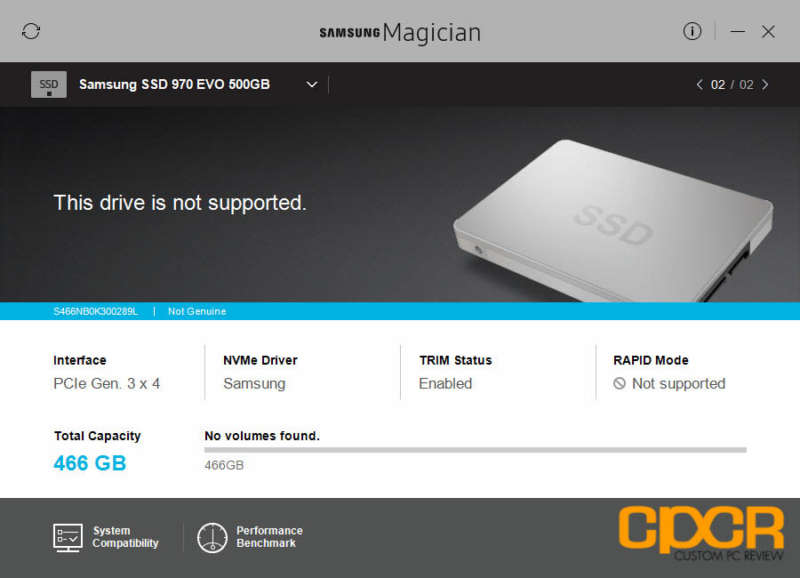 Here's a look at Samsung Magician. Since the utility hasn't been updated for the 970 series quite yet, only a few details about the drive are available. Along with the Samsung 970 EVO, Samsung will also be shipping a NVMe driver which will allow the drive to achieve its maximum performance.
[section label="ATTO Disk Benchmark"]
Performance
ATTO Disk Benchmark v2.46
ATTO Disk Benchmark is one of the industry's oldest and most popular benchmarks for testing disk read/write speeds. This benchmarks allows read and write testing using predefined block sizes and gives us a good idea of read/write speeds with different sized files. Most SSD manufacturers prefer using this benchmark when advertising SSDs as it tests using compressible data, which tends to yield best performance.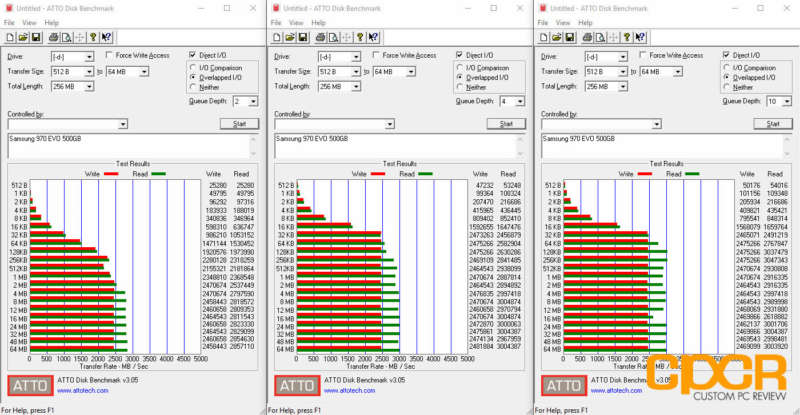 Performance Analysis
Here's a look at ATTO Disk Benchmark. Here, the drive is easily able to achieve ~3GB/s sequential reads and ~2.4GB/s sequential writes. Performance here is stellar despite the fact we're looking at a drive with TLC NAND.
[section label="Crystal Disk Mark"]
Crystal Disk Mark 3.0.1 x64
Crystal Disk Mark is another popular benchmark which allows us to measure both sequential read/write speeds as well as random read/write speeds. With this benchmark, tests can be run using both random fill (incompressible data) and 0 fill (compressible data). Realistically in typical computer usage scenarios, data being transferred will consist of a mixture of both incompressible and compressible data.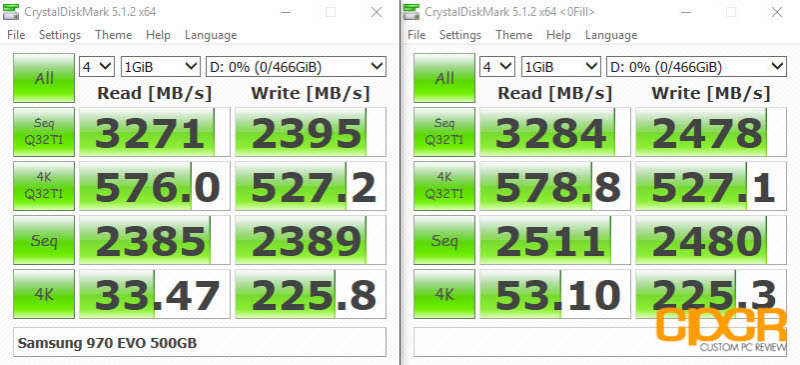 Performance Analysis
Again, excellent performance in Crystal Disk Mark and no difference in performance was noted between uncompressed and compressed data. The drive was able to achieve a maximum read performance of ~3.2GB/s and maximum write performance of ~2.4GB/s.
[section label="PC Mark 7″]
PC Mark 7 Storage Benchmark
The PC Mark 7 storage benchmark is a trace based benchmark that evaluates the SSD under many different real world environments such as gaming, multimedia editing, etc. PC Mark 7 uses a relatively light workload, which represents a typical mainstream client storage sub-system workload.
As of June 2015, we've also changed our comparison charts to use the PC Mark 7 Raw Secondary Storage Score. The raw score more effectively highlights performance differences between drives as it discounts idle time between tests.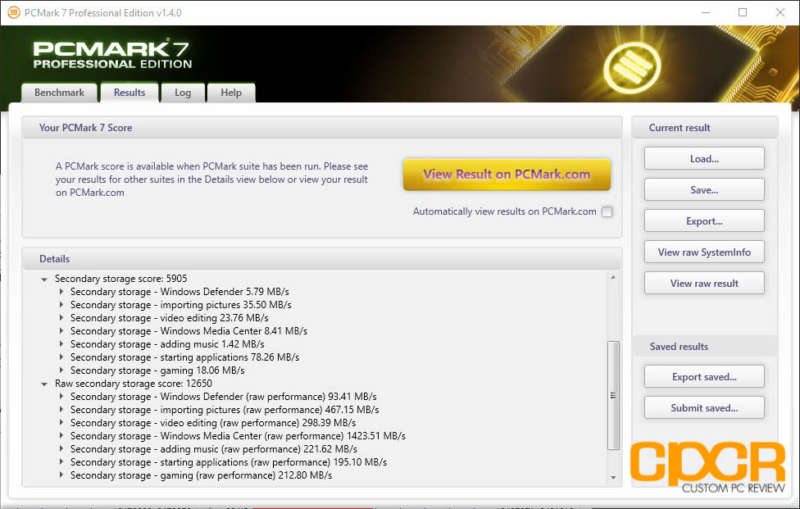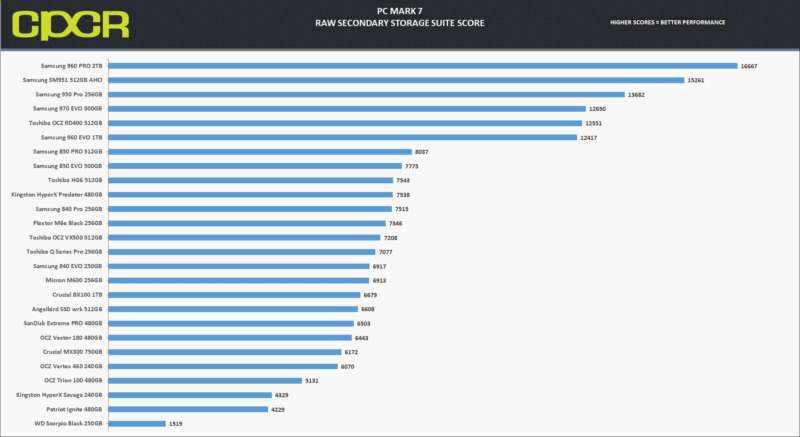 Performance Analysis
In PC Mark 7, the Samsung 970 EVO 500GB came in with a raw score of 12,650, which is just behind the MLC NAND based Samsung 950 PRO and Samsung 960 PRO.
[section label="PC Mark 8″]
PC Mark 8 Expanded Storage Benchmark
With the introduction of PC Mark 8 2.0.228, Futuremark added the option for an Expanded Storage Benchmark which is literally designed to bring any storage system its absolute limits. The new PC Mark 8 Expanded Storage Benchmark takes around 24 hours to run and for our purposes, we'll be using the consistency test which measures performance consistency, degradation tendency, and recovery speed of a storage system.
Consistency Test
Full details on the consistency test can be found in the PC Mark 8 Technical Guide here. For the more simplified version, the test is basically a near 24 hour, five phase benchmark – three of which we'll be reporting on in our results below.
Phase 1 is a precondition phase designed to "dirty" the drive with random data. The entire drive is filled twice to the capacity of the drive.
Phase 2 is a degrade phase where the drive is hammered with tons of random data followed by a performance test run. This is done 8 times.
Phase 3 is the steady state phase where the drive is once again hammered with tons of random data followed by a performance test run. This is done 5 times.
Phase 4 is the recovery phase where the drive is given 5 minutes to rest followed by a performance test run. This is done 5 times.
Phase 5 is the clean up phase where the drive is simply secure erased.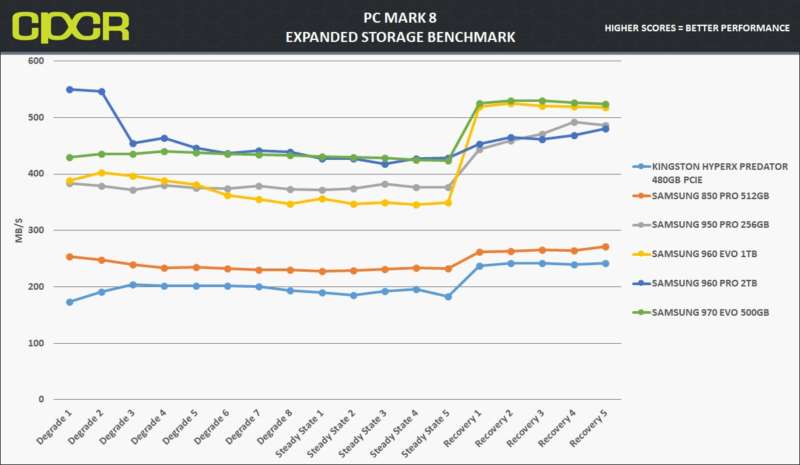 Performance Analysis
In PC Mark 8's Expanded Storage Benchmark, the Samsung 970 EVO was very surprising as it was able to perform similar to the MLC NAND based Samsung 960 PRO in heavy workloads while at the same time, perform extremely well in light workloads thanks to its dynamic SLC caching system.
[section label="FIO – Fresh Out of the Box"]
FIO (Flexible I/O Tester)
FIO, which stands for Flexible I/O Tester, is basically what its name says – a flexible I/O tester / I/O workload generator. Whereas all the benchmarking tools we've used previously are fantastic, easy to use benchmarking tools that provide a good snapshot of SSD performance, they do lack a lot of versatility, especially for more complex and in-depth operations such as custom queue depths, block sizes, test run times, etc. While the testing that follows may not pertain to typical consumer usage, they do help give us a much more in-depth look at each individual product's strengths and weaknesses when they're pushed to the limits.
FIO – FOB (Fresh Out of the Box) Testing
When SSDs are brand new and Fresh Out of the Box, they're generally able to perform at or outperform their advertised speeds, but unlike traditional hard drives, performance on SSDs begin to degrade over time as they become more and more used. This is because while SSDs are new, all bits on the SSD are empty, so they can instantly be programmed with data. However, once data gets programmed in, even if it's deleted in the filesystem the actual data will still stay programmed on the NAND itself unless some sort of garbage collection routine comes in to wipe the data. Unfortunately, in order to write new data onto "dirty" NAND, the NAND first needs to go through an erase cycle to erase the old data before a program cycle can happen to program new data, which as you may imagine takes more time than just a simple program cycle. As this only happens when writing new data onto the SSD, you'll generally see less performance degradation on reads and more performance degradation on writes.
For our FOB testing, we run a secure erase on the SSD then run each test sans any preconditioning. This will provide us with the highest level of performance the SSD is capable of and is likely never to be seen ever again once the SSD goes into a used state.
Our testing will include 4K read testing, 4K write testing, and 4K 70/30 read/write mix testing at queue depths of 1,2,4,8,16,32,64,128,256. The reason we've also included 4K 70/30 read/write mix testing is simply because most real world workloads will always fall somewhere between 0% write and 100% write rather than one or the other. Since client usage is much more read heavy, we'll be using the 70/30 read/write mix.
For general client usage, performance will fall somewhere between queue depths of 1-4 whereas servers and other enterprise applications will easily see queue depths of 32 or greater.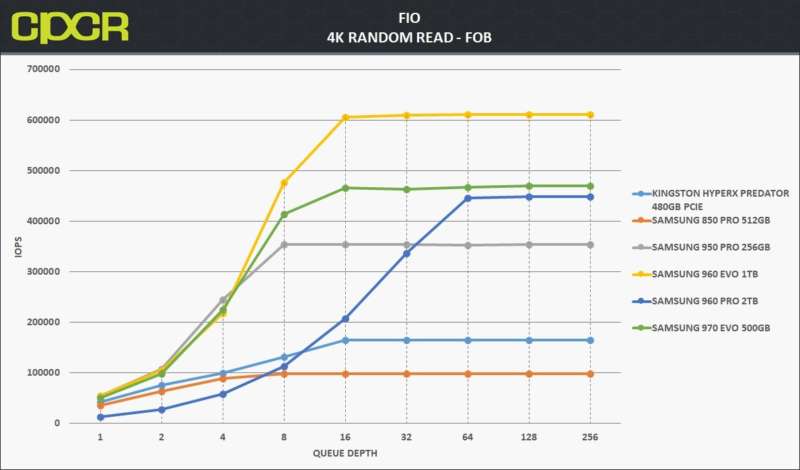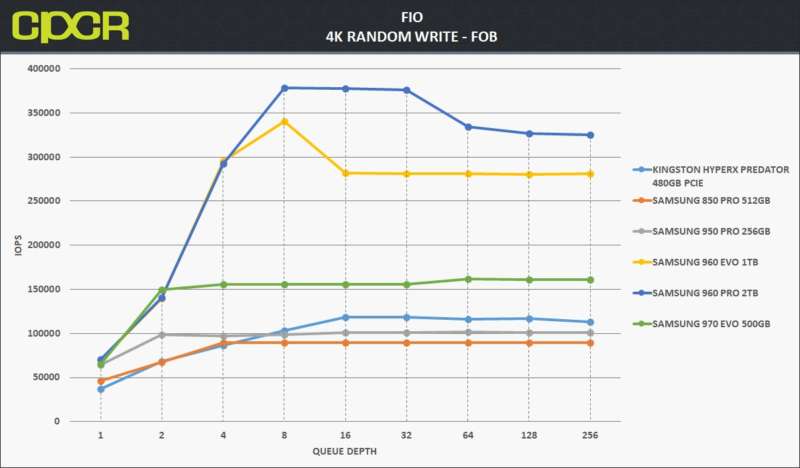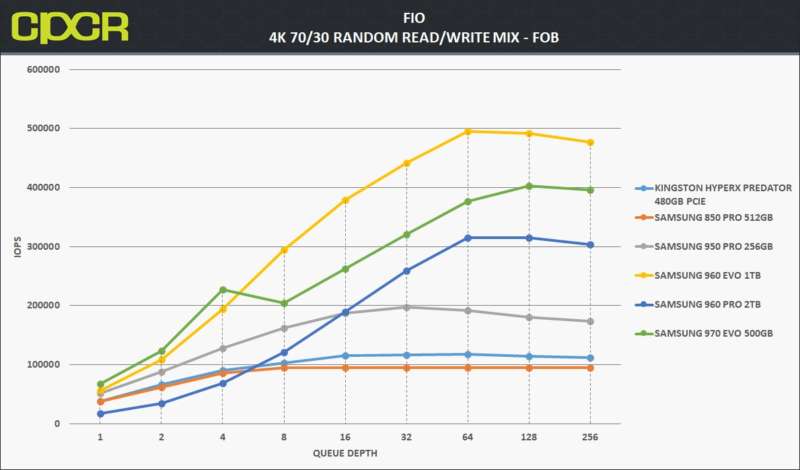 Performance Analysis
Fresh out of the box performance was extremely good as expected. In the mixed workload testing, we can see that Samsung has done some optimization on the 970 EVO for workloads under QD4.
[section label="FIO – Steady State"]
FIO – Steady State Testing
After prolonged use of an SSD, it will reach "steady state" where performance levels off to a minimum level. The FOB state is the "best case scenario" for SSD performance while "steady state" is going to be your worst.  Here, we ran the exact same set of benchmarks we just completed in the FOB state; except this time around, we'll be preconditioning the drive by filling 100% of the drive's LBAs with two sequential passes of 128k data followed by hammering the drive for six hours with 4K random data prior to actual testing.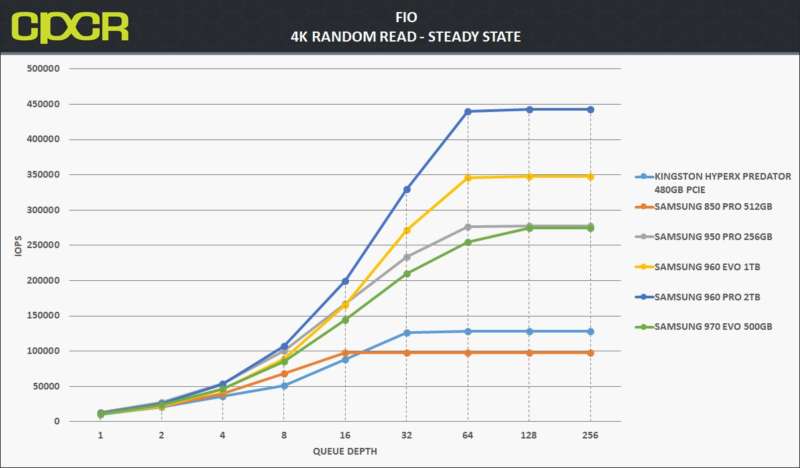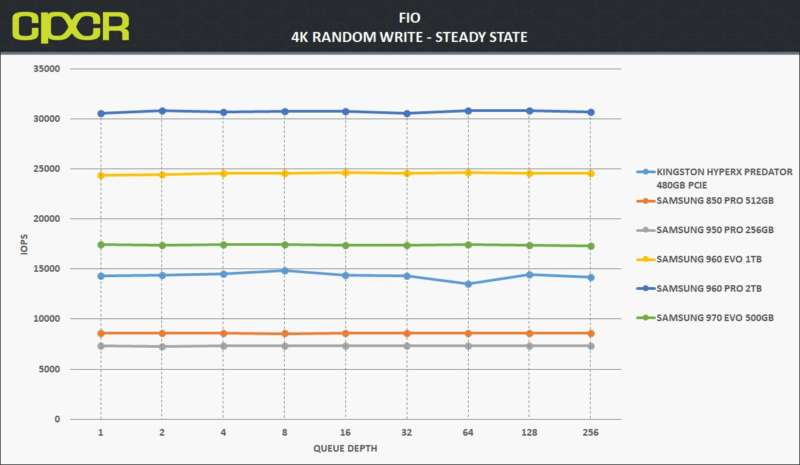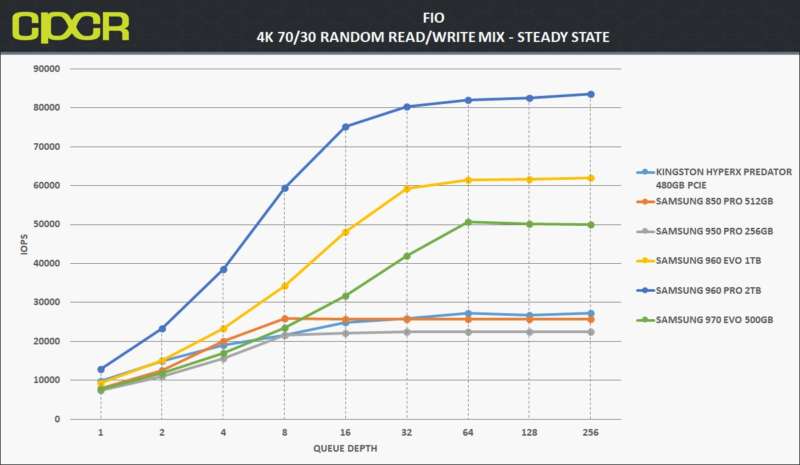 Performance Analysis
Similar to what we saw from the previous generation Samsung 960 EVO, the Samsung 970 EVO's steady state performance was extremely good although in our testing it was slightly slower than the larger capacity previous generation drives.
[section label="4K Random Write Consistency"]
FIO 4K Random Write Consistency Testing
Another one of the benefits of testing with FIO is the flexibility of running consistency tests, which is one of the most important metrics when considering SSDs going forward. Looking at the results of our benchmarks such as ATTO Disk Benchmark and Crystal Disk Benchmark, we can see that practically every top tier SSD is capable of saturating SATA 6Gb/s in the FOB state. However, what really differentiates these SSDs is their ability to hold a certain level of performance even after extended periods of use.
For our consistency testing, we used a fairly standard method, which includes both filling up 75% of capacity as well as 100% capacity twice with sequential 128k data followed by the actual test itself, which is simply running 4K random writes at a queue depth of 32. By recording the IOPS every second for 2,000 seconds, we're able to get a good look at what kind of performance can be expected when the drive is relatively new, when it's heading towards steady state, and when it's actually in steady state.
Performance Analysis
Similar to the Samsung 960 EVO, the Samsung 970 EVO maintains strong performance consistency throughout.
[section label="4K Random Write Latency"]
FIO 4K Random Write Latency Testing
Another metric that's becoming increasingly important in SSDs is its ability to keep latency low despite being subjected to a heavy workload. Even if a SSD were capable of ultra high and ultra consistent IOPS performance, if latency were high, users would still feel that the drive is slow. Ideally, SATA SSDs should always be capable of latencies under 50ms, even during heavy workloads.
For latency testing, we'll be using the exact same testing parameters as IOPS consistency testing, except instead of recording IOPS every second, we'll be recording latency.
Performance Analysis
Latency is very consistent as well with maximum latency under 2ms even during the heaviest write loads.
[section label="Conclusion"]
Conclusions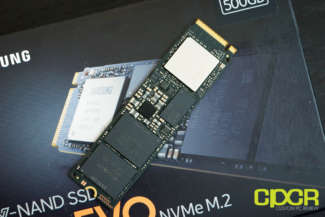 When Samsung launched 3D TLC NAND several years back, it was clear that it would become the ultimate mass market NAND product for the consumer market. While TLC NAND had quite a bit of challenges in the 2D planar NAND space in terms of performance and endurance, 3D TLC NAND is free of many of these issues which has resulted in the success of the Samsung's EVO lineup of SSDs. With the Samsung 970 EVO, Samsung further solidifies 3D TLC NAND's importance by bringing even more performance and endurance at the same pricepoint.
Speaking of performance, the Samsung 970 EVO is easily one of the fastest SSDs we've tested to date. In our testing, we were able to achieve the rated 3.2GB/s sequential reads and 2.6GB/s sequential writes in lighter workloads more representative of those found in typical consumer applications. While in extremely heavy use circumstances, the Samsung 970 PRO will likely be a better fit, the Samsung 970 EVO will be the recommended drive for most consumer use cases.
The Samsung 970 EVO is priced at $119.99 ($0.48/GB) for the 250GB capacity, $229.99 ($0.46/GB) for the 500GB capacity, $449.99 ($0.45/GB) for the 1TB capacity and $849.99 ($0.42/GB) for the 2TB capacity. These prices are still around the same ballpark as what the Samsung 960 EVO introduced for several years ago and still significantly higher than the mid ~$0.30/GB price-point found on similar capacity SATA drives. Hopefully as the NAND market continues to stabilize throughout the year, we'll see prices drop to the high ~$0.30/GB range, but if it doesn't, these are still very competitive pricepoints for a top of the line drive. As far as availability, Samsung is rolling out both the Samsung 970 EVO and 970 PRO on May 7th so it's not quite here yet, but it's not that far away either.
Ultimately, the Samsung 970 EVO represents yet another iteration of excellent Samsung SSDs and will likely be the most successful M.2 NVMe consumer SSD for the company. Those looking to upgrade to the latest and greatest in storage technology, but are also looking to maximize bang for the buck will find the Samsung 970 EVO the perfect drive to fit the bill. Highly recommended!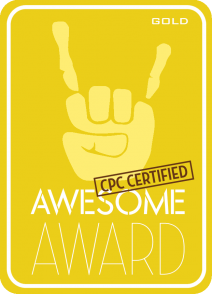 Sample provided by: Samsung
Availability: May 7, 2018