Warning
: Undefined array key "width" in
/var/www/vhosts/custompcreview.com/public_html/wp-includes/media.php
on line
1381
Warning
: Undefined array key "width" in
/var/www/vhosts/custompcreview.com/public_html/wp-includes/media.php
on line
1386
Warning
: Undefined array key "height" in
/var/www/vhosts/custompcreview.com/public_html/wp-includes/media.php
on line
1386
Warning
: Undefined array key "width" in
/var/www/vhosts/custompcreview.com/public_html/wp-includes/media.php
on line
1381
Warning
: Undefined array key "width" in
/var/www/vhosts/custompcreview.com/public_html/wp-includes/media.php
on line
1386
Warning
: Undefined array key "height" in
/var/www/vhosts/custompcreview.com/public_html/wp-includes/media.php
on line
1386
Double the SandForce, Double the Fun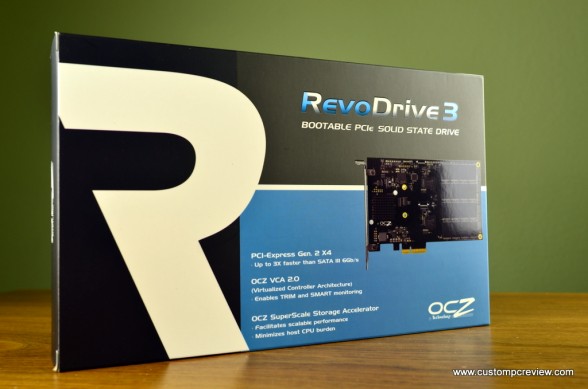 Ever owned something like a BMW before? It's fast, it gets the job done and it's moderately expensive. It's more premium than say a Toyota, but let's face it. The performance is worth it. While most people would be satisfied with the BMW, there are also those of us who are eyeing the top end Ferrari, the Lamborghini or the Bugatti.
So, why are we talking about cars here? Well, its because that's the only thing I could think of at this moment to categorize different storage technologies these days. Imagine the traditional hard drive as something like a minivan. It's fairly affordable, it's huge, and does the job just fine. The SATA SSD? Imagine that as the luxury sports sedan. It's a premium product, which means it'll be a bit more pricey, but it's a whole lot faster than say the minivan. Then, we've also got the PCIe SSD, which you can think of as your supercar. These are the top of the line drives that completely dominate the competition. They're ridiculously fast, but they command a whole lot more dough to own as well. Additionally, having a drive that fast is only really worth it if you can benefit from having it. Yeah, it's cool to have that Ferrari, but it doesn't move much faster than that BMW when you're stuck in traffic.
Anyway, enough of that terrible analogy. Today we'll be taking a look at one of those "supercars" – the OCZ RevoDrive 3 120GB PCIe SSD. As a PCIe drive, the RevoDrive 3 doesn't have the 6Gb/s limitations of SATA 3 and therefore, will theoretically be able to crank out much faster performance. In order to take advantage of the much faster interface, what OCZ has done is double up on the number of SandForce SF-2281 controllers, and aggregate them through a couple of their proprietary technologies such as OCZ Superscale Storage Accelerator and VCA 2.0 (Virtualized Controller Architecture 2.0) technology.
VCA 2.0 (Virtualized Controller Architecture 2.0)
http://youtu.be/wX4kXEGs7T0
So you can do as I've done and go through OCZ's PDF on VCA 2.0, watch the video above, or I can give you a brief version of the full thing. Basically what VCA 2.0 does is allow the SF-2281 controllers to work together sort of like say a RAID 0 setup, except it isn't RAID 0. It's actually a proprietary system developed by OCZ specifically for drives such as the RevoDrive 3. For those more technical, the VCA 2.0 also supports TRIM and uses the SCSI command set, which as you may expect, also provides for both higher reliability and performance.
Specifications
Available in 120GB, 240GB and 480GB capacities
PCI-Express Gen. 2 x4 interface
MLC NAND flash
Full height form factor
OCZ SuperScale Storage Controller
Bootable as a direct-attach device
128-bit & 256-bit AES-compliant data encryption
SMART monitoring
167.64 (L) x 98.42 (W) x 15.25mm (H)
Weight: 114g
Operating Temp: 0°C ~ 70°C
Ambient Temp: 0°C ~ 55°C
Storage Temp: -45°C ~ 85°C
Power Consumption: 7.5W idle, 8.3W active
MTBF: 1,000,000 hours
Current OS Supported: Windows 7 32/64
120GB Max Performance
Read: Up to 975 MB/s
Write: Up to 875 MB/s
Max Random Write 4KB (Aligned): 120,000 IOPS
Did that double take yet? Yup. You're probably stunned with the performance of the drive. I was too. 975MB/s reads and 875MB/s writes. Wow. How about I just leave it at "Wow"?  Let's move on.
A Closer Look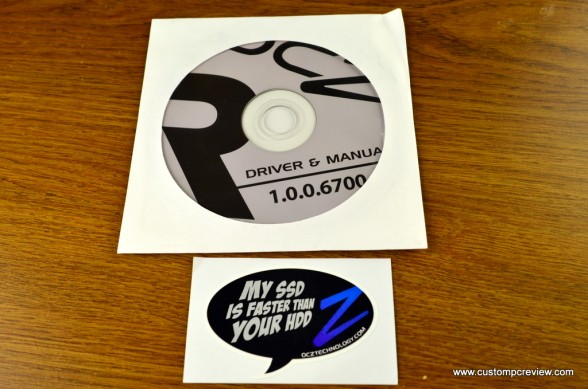 Included in the box is simply just a driver disk and the traditional my SSD is faster than your HDD sticker. Whereas normally I wouldn't bother with the included driver CDs, you might need it if you're planning to install your operating system onto the drive itself since it won't be detected like a SATA drive. Oh yeah, did I mention that you can install your OS to this SSD? Pretty cool, huh?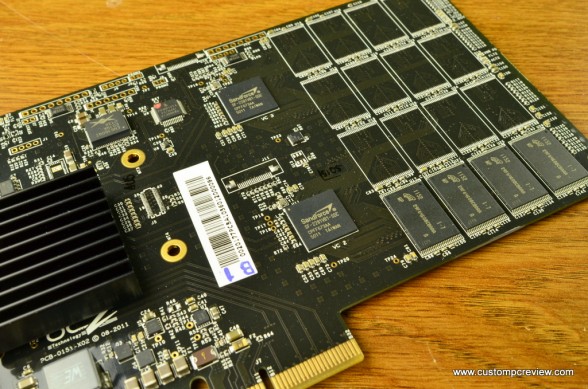 So taking a quick look at the PCB here, we've got the 120GB edition which is why everything looks so plain at the moment. For those springing for larger capacities there will be more NAND flash modules attached. Also, it's always nice that OCZ opts for the black PCB design. Looks much better than funky blue or green. Then again, with what you're paying for this, I'd expect nothing less.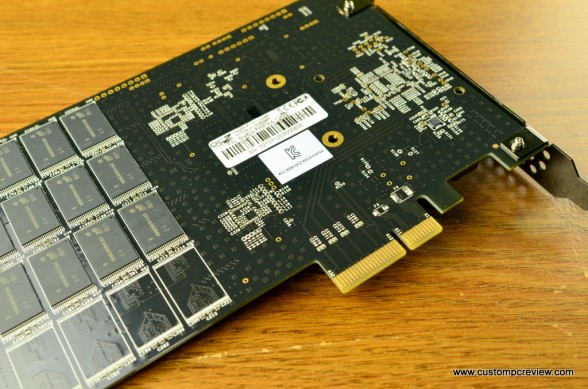 The back of the SSD is quite plain with just some more NAND modules attached. We also get the serial number sticker, model, etc. which is cool. Also, notice that the SSD will require a PCIe 4x slot, so make sure you've got one available. Remember, PCIe x4 cards will fit into PCIe x8 and x16 slots, so feel free to drop this into an empty x16 slot if that's all you've got.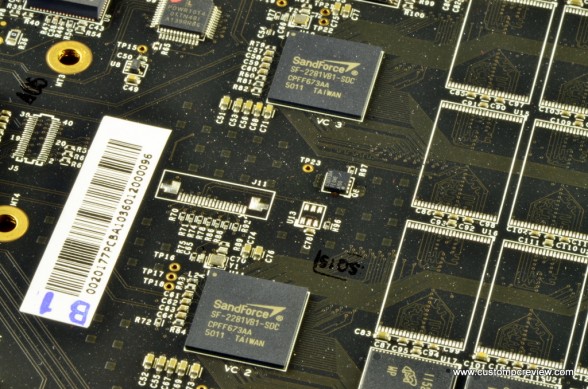 Oh yeah, here's the main event… We've got dual SandForce SF-2281 controllers on this beauty. You might ask, how does this work? Well, the RevoDrive 3's doesn't actually have a RAID controller in RAID 0 powering the dual SandForce controllers. Instead, OCZ has developed their own method of combining the two controllers through their proprietary OCZ Superscale Storage Accelerator and VCA 2.0 (Virtualized Controller Architecture 2.0) technology. More above, but you've probably read it by now.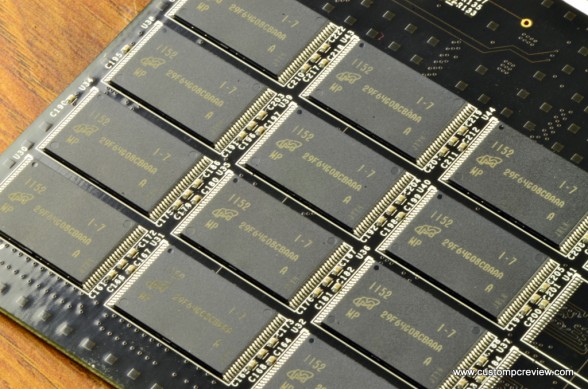 Taking a look at the NAND chips itself, what we have here are 16x 8GB 25nm asynchronous Micron 25nm NAND flash modules. Since there are two SandForce SF-2281 controllers on board, each controller will be responsible for 64GB each. Of course, since that's 128GB and this drive is only advertised for 120GB, 8GB will be dedicated for SandForce provisioning.
Test Bench
CPU: Intel Core i5 2500K
Motherboard: Asrock Z68 Fatal1ty Professional Gen 3
Graphics: Intel HD3000 Graphics
Memory: Gskill Sniper 1866MHz DDR3 1.5v
Storage: Patriot Pyro SE 120gb
Power Supply: Corsair HX650
Case: HSPC High Speed Tech Station
Special thanks to HSPC for providing us with the High Speed Tech Station (Large) for our test bench.
Performance
ATTO Disk Benchmark
ATTO Disk Benchmark is one of the industry's most popular benchmarks for testing SSD read/write speeds. This benchmarks allows read and write testing using predefined block sizes and gives us a good idea of read/write speeds with different sized files.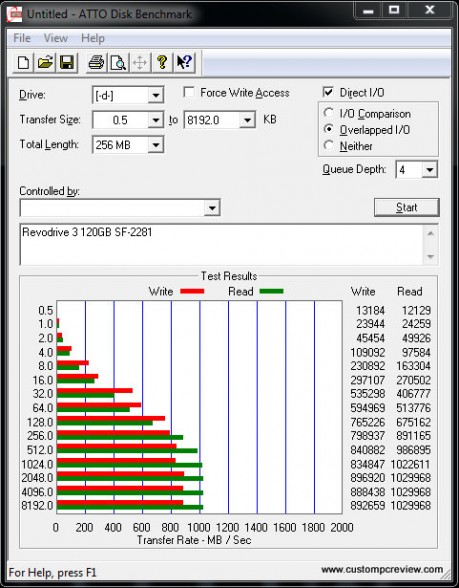 Had to run this one like 10 times to be sure, but I'd like to say I'm stunned by the raw amount of performance we're looking at here.  Yes, that's over 1GB/s reads and nearly 900MB/s writes. I'm speechless people. Let's move on.
Crystal Disk Mark 3.0.1 x64
Crystal Disk Mark is another popular benchmark which allows us to measure both sequential read/write speeds as well as random read/write speeds. With this benchmark, tests will be run using both random fill (incompressible data which simulates music, video, pictures, etc.) and 0 fill (compressible data).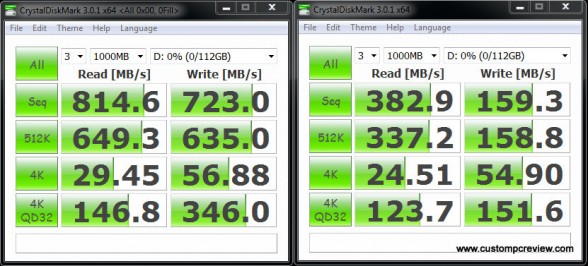 Next up crystal disk mark and it looks like the numbers are much more down to earth. The 0 fill numbers are still quite insane with the drive pushing out 841.6MB/s sequential reads and 723.0MB/s sequential writes, but once we switch over to random fill (incompressible data) the sequential reads and writes are only 382.9MB/s and 159.3MB/s. These results are a definite reflection of the asynchronous NAND used here and the lack of queuing in Crystal Disk Mark as well.
AS SSD Benchmark
AS SSD is a very commonly used benchmark used to measure SSD performance in a number of categories. Here, tests are run using incompressible data, which most simulate real world usage. It also outputs a final score at the conclusion of the test based off the read and write performance of the drive.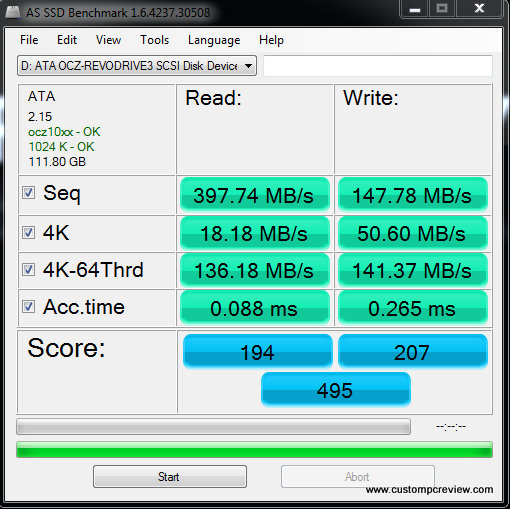 Next up, we'll take a quick look at AS SSD, and according to these scores the drive actually looks fairly like any other asynchronous NAND based SSD. Again, that's because AS SSD uses incompressible data and doesn't use queuing either. How unfortunate.
PC Mark 7
The PC Mark 7 storage test tests the SSD under many different real world tests such as gaming, video editing, etc. This is most representative of the SSD's performance under real world situations.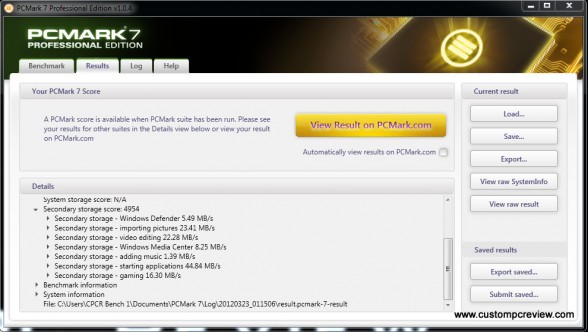 | | |
| --- | --- |
| SSD | PC Mark 7 |
| SanDisk Extreme 240GB | 5273 |
| Crucial m4 128GB | 5214 |
| OCZ Vertex 3 120GB | 5078 |
| Patriot Pyro SE 120GB | 5042 |
| OCZ RevoDrive 3 PCIe 120GB | 4954 |
| Kingston V+200 120GB | 4711 |
| OCZ Agility 3 120GB | 4701 |
| Corsair Force 3 180GB | 4615 |
| Seagate Momentus XT 750GB | 3247 |
| WD Scorpio Black 250GB | 1727 |
Finally we take a look at the PC Mark 7 scores for the RevoDrive 3, and it's pretty much in the middle of the pack here scoring around the 5,000 point mark. Much faster than any asynchronous NAND SSD here, but ultimately not beating out any of the synchronous NAND based SSDs. Again, this is because the RevoDrive 3 is designed to handle large numbers of I/O requests at high queue depths and large file sizes whereas what's tested in PC Mark 7 isn't representative of that. What is tested in PC Mark 7 is more of what a home user would do instead of say a professional photographer, videographer, 3d modeler, or database admin.
Conclusion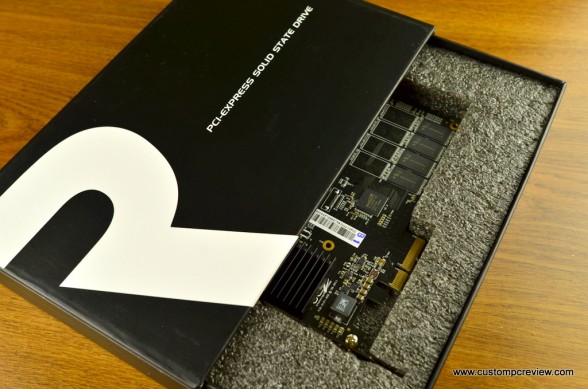 As you've seen from the benchmarks earlier, this is THE fastest drive I've ever tested. Just look at ATTO Disk Benchmark and Crystal Disk Mark. Whereas ATTO confirms near 1GB/s reads at a queue depth of 4, Crystal Disk Mark is still able to confirm around 800MB/s reads despite lacking queuing. Impressive!
With the exception of OCZ's own RevoDrive X2, it's pretty much established that this drive is the fastest SSD out there, and taking a look at the price on this drive, it's pretty obvious that it's not meant for those just looking to give their current SSD a little boost. So, what's this thing actually for? Well, I'd say prosumers and professionals come to mind. Take photo editing for example. The new 36 megapixel Nikon D800 takes 75MB RAW files. Professionals these days take anywhere from 1,000 to 3,000 photos within a couple hours of an event and of course will  need to edit and process all of those photos. Now imagine previewing all those large images or even mass exporting these images. That's where the RevoDrive 3 shines. Massive amounts of I/O operations, massive file sizes, and high queue depths. Other applications such as video editing, 3D graphics design, people who regularly run virtual machines, etc. can easily benefit from the high I/O operations here as well, so professionals who know why they need high performance SSDs can and will be able to take advantage of the benefits of such a drive.
Ok, so I told you before this thing is going to be costly, and yeah I admit it is. On Amazon you can expect to find the RevoDrive 3 120GB running for about $392.50, which is going to be out of the budget for a lot of consumers. Compared to 120GB asynchronous NAND based SATA SSDs out there that are currently running for around $150 or less these days, having to pay more than double for the same amount of drive capacity is going to be difficult to justify. However, I can definitely see scenarios where professionals may want to purchase something like this. Again I'm going to refer back to photo or video editing. Even saving a couple seconds on loading or exporting each photo or video can easily amount to a huge amount of time – time to be spent editing, shooting, or even dealing with clients. Time is money and products that save time like the RevoDrive 3 are going to worth the money.
Bottom Line
The OCZ RevoDrive 3 is the fastest SSD we've tested to date, so if you're prepared to pay the premium, it'll give you all the performance you've been looking for. Intel has the Core i7 3960X… Cooler Master has the Cosmos II… and OCZ well, has the RevoDrive 3.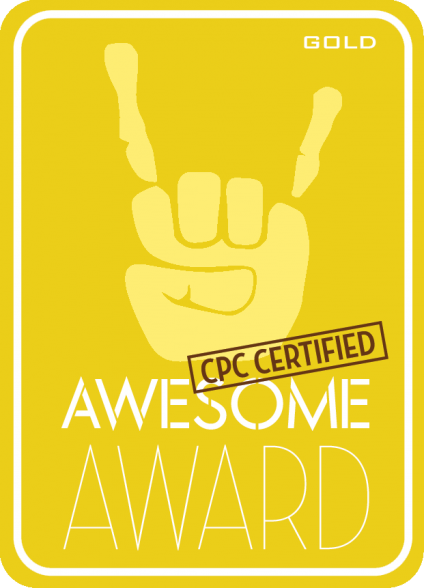 Special thanks to OCZ Technology for making this review possible.
The OCZ RevoDrive 3 120GB PCIe SSD is currently available on Amazon.