Warning
: Undefined array key "width" in
/var/www/vhosts/custompcreview.com/public_html/wp-includes/media.php
on line
1381
Warning
: Undefined array key "width" in
/var/www/vhosts/custompcreview.com/public_html/wp-includes/media.php
on line
1386
Warning
: Undefined array key "height" in
/var/www/vhosts/custompcreview.com/public_html/wp-includes/media.php
on line
1386
Warning
: Undefined array key "width" in
/var/www/vhosts/custompcreview.com/public_html/wp-includes/media.php
on line
1381
Warning
: Undefined array key "width" in
/var/www/vhosts/custompcreview.com/public_html/wp-includes/media.php
on line
1386
Warning
: Undefined array key "height" in
/var/www/vhosts/custompcreview.com/public_html/wp-includes/media.php
on line
1386
[section label=1. Introduction]
100% Samsung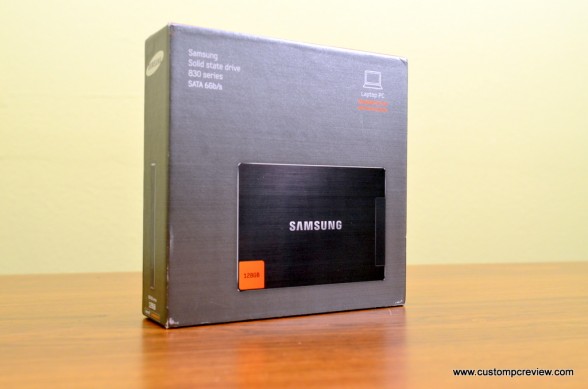 When you look at the SSD market a couple of months ago, it was actually quite hard to find a Samsung SSD. For some reason or another, it just seemed like Samsung wasn't too interested in building SSDs for the consumer market. Sure, they are huge in the OEM space, building tons and tons of these things for the likes of Apple, but none of those were really available direct to consumers. They did release the Samsung 470 SATA 2 3Gb/s drive to the public, but that drive didn't really gain much traction and didn't receive a proper marketing push by Samsung either.
So, fast forward to Q4 2011 and Samsung is full on into the consumer space with their new top of the line Samsung 830 SSD with full support for SATA 3 6Gb/s. But this time around, it seems like Samsung is serious. Today we'll be specifically be reviewing the Samsung 830 128GB SSD. In addition to 128GB, Samsung will also be offering the drive in 64GB, 256GB, and 512GB flavors as well.
Now, the first thing you'll notice about the drive is that it is 128GB, so you'd probably be thinking something like Indilinx or Marvell controller, right? Well, not exactly. What makes this SSD special is that the entire thing is built from the ground up by Samsung. Nothing is outsourced, which means Samsung has full control of everything that goes into their product from the controller to the NAND to the firmware. That's a very enviable position to be in. Lucky companies will either have their own controller (OCZ Technology), their own customized firmware (Intel), or their own NAND (Crucial), but a single company owning all parts in an SSD? That's what puts Samsung in such an awesome spot.
Samsung 830 128GB Specifications
Solid State Drive with Notebook Upgrade Kit SATA – SATA III (6Gb/s)
2.5" 7mm (Ultraslim) Form Factor
830 Series
128GB Capacity
Up to 520MB/s Sequential Read Speed
Up to 320MB/s Sequential Write Speed
From the specifications, there isn't all that much that stands out to me. The SSD is only 7mm thick though, which will allow it to fit into extremely thin notebooks. Otherwise, especially compared to the advertised specifications on other SandForce based drives, the Samsung 830 might even seem slow. Of course, we'll have to let the benchmarks tell the full story. Let's continue.
[section label=2. A Closer Look]
A Closer Look at the Samsung 830 128GB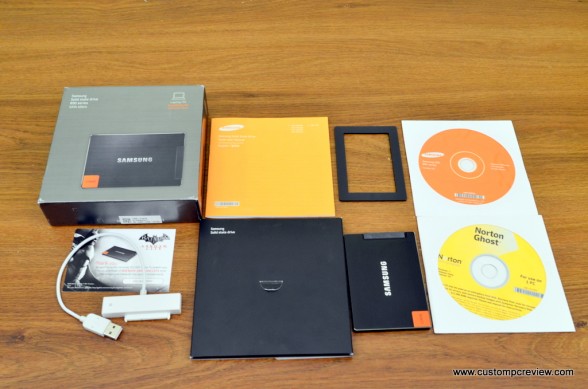 Starting with the accessories, we get a USB to SATA adapter, a certificate for Batman: Arkham City, a copy of Norton Ghost, a driver and software CD, as well as some documentation. Do note that this is the notebook upgrade kit. For those who purchase the desktop upgrade kit, you'll get a 3.5″ mounting bracket and a MOLEX to SATA power adapter instead of the USB to SATA cable. Additionally, the SSD can come as a bare drive only as well which will only include some documentation and the software CD.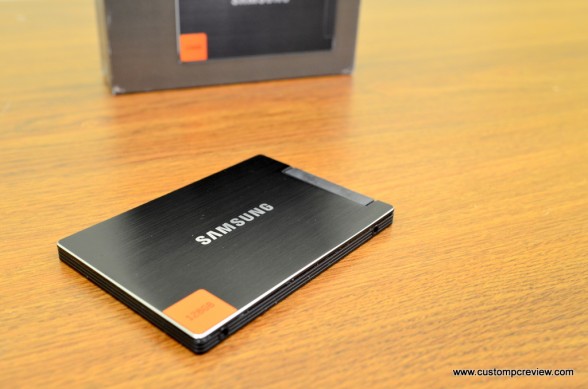 Taking a look at the SSD here, the Samsung 830 is definitely a slick-looking drive. The entire drive is finished in brushed aluminum with the Samsung logo prominently displayed right up front. At the bottom left corner of the drive, Samsung has also labeled the capacity of the drive as well. In this case, 128GB.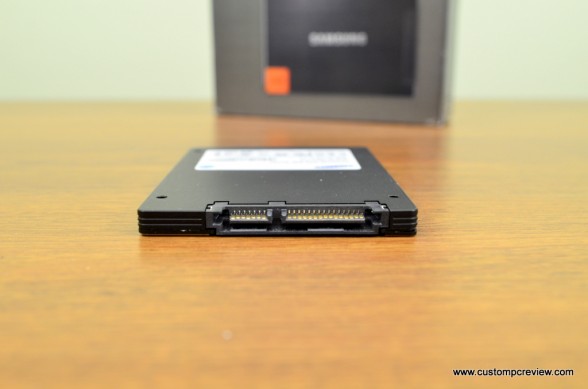 Here we've got the SATA and SATA power connector in its usual spot up front. Remember, this drive is a SATA 3 6Gb/s drive, so make sure to connect it to a SATA 3 6Gb/s header on your PC for the best possible performance.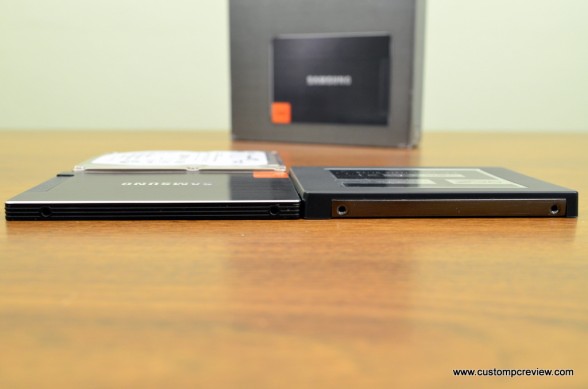 What's very different about the Samsung 830 is that it's only 7mm thick, which allows it to be used in very thin laptops and ultrabooks. Here we've got a side by side comparison of the Samsung 830 next to the OCZ Vertex 3 as well as a standard 2.5″ mechanical hard drive as well.
Samsung may have purposefully designed the drive this way because of their PM830, the OEM edition of the 830, will probably be sold to manufacturers of ultrabooks and such.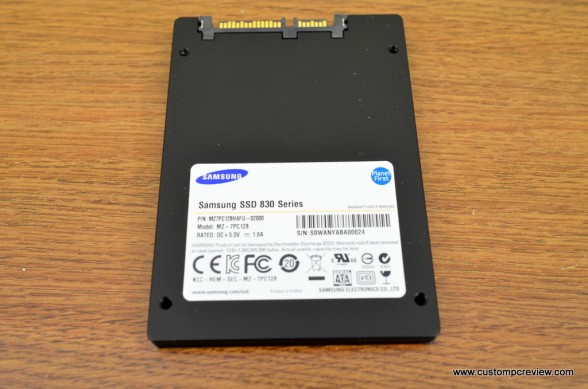 The back of the drive is quite plain with just a sticker providing information on different model numbers, part numbers, and all that good stuff.  Notice there are no screws on the drive. I'm assuming that's because Samsung really doesn't want you to open it up.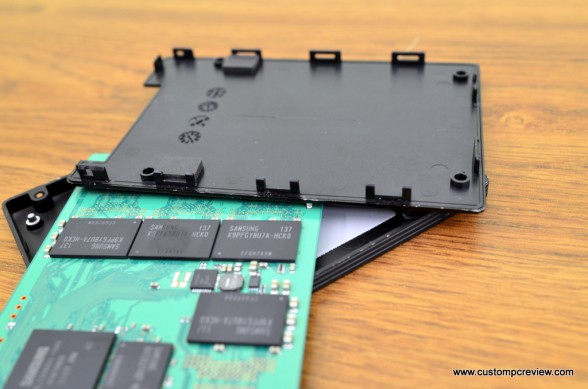 As you can see here, the drive is held together by tabs that must be broken prior to opening up the case. Wish I knew that before some of the tabs broke. Now you know. Don't open the case! Luckily, even with only half the tabs the casing still closes up, just not as securely. Oh well. Sacrifices need to be made, right?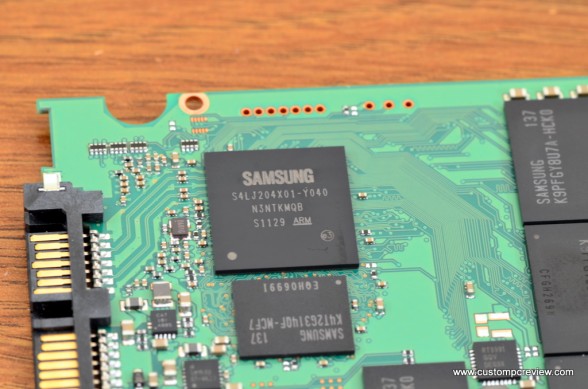 Remember when I was talking about how Samsung has their own SSD controller? Well, here it is. The S4LJ204X01 3 core ARM chip that powers it all. Unfortunately, not much is known about this chip since Samsung isn't providing much information about it other than the fact that it's a 3 core chip and we can see that it says "ARM" right on the chip itself.
Below that we've also got a huge single 256MB Samsung DDR2 DRAM cache module. 256MB is the exact same size cache used on the Crucial m4 128GB we reviewed previously.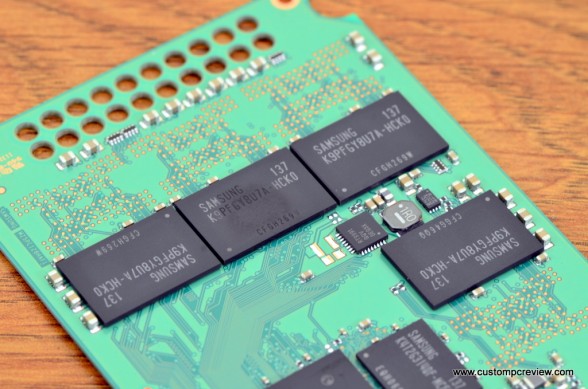 Whereas companies like OCZ would use something like 16 chips to achieve 120GB, Samsung is doing it with only 4. Since it's 128GB, and there's only 4 chips, each chip should have a capacity of 32GB. Additionally, what you see here are Samsung's 2xnm toggle NAND, which means we should expect to see very good performance out of this drive.
[section label=3. ATTO Disk Bench / Crystal Disk Mark]
Sandy Bridge Test Bench
CPU: Intel Core i5 2500K
Motherboard: Asrock Z68 Fatal1ty Professional Gen 3
Graphics: Intel HD3000 Graphics
Memory: Gskill Sniper 1866MHz DDR3 1.5v
Storage: Patriot Pyro SE 120gb
Power Supply: Corsair HX650
Case: HSPC High Speed Tech Station
Special thanks to HSPC for providing us with the High Speed Tech Station (Large) for our test bench.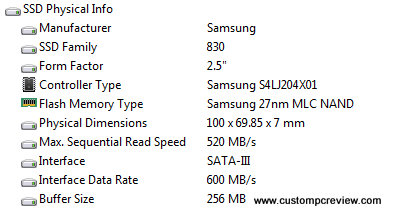 Samsung 830 128GB Performance
ATTO Disk Benchmark
ATTO Disk Benchmark is one of the industry's most popular benchmarks for testing SSD read/write speeds. This benchmarks allows read and write testing using predefined block sizes and gives us a good idea of read/write speeds with different sized files.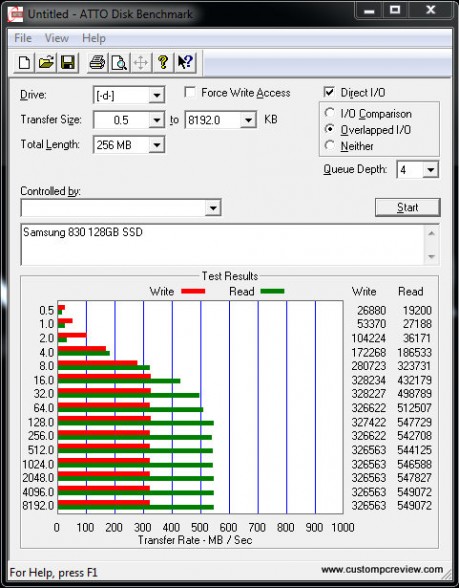 Kicking off our benchmarking, we first do a couple quick runs of ATTO Disk Benchmark to get a good idea of what we're dealing with. Overall, the numbers put out by the Samsung 830 are pretty good, pushing around 326MB/s writes and 549MB/s reads. Considering the drive is advertised at 320MB/s writes and 520MB/s reads, it looks like the drive is actually outperforming the advertised specs in both read and write performance. Lookin' good so far Samsung!
Crystal Disk Mark 3.0.1 x64
Crystal Disk Mark is another popular benchmark which allows us to measure both sequential read/write speeds as well as random read/write speeds. With this benchmark, tests will be run using both random fill (incompressible data which simulates music, video, pictures, etc.) and 0 fill (compressible data).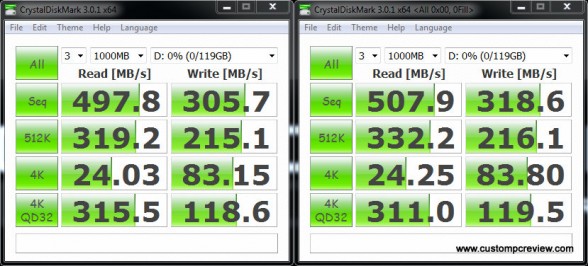 Next up is our usual Crystal Disk Mark and as you can immediately see, the drive doesn't benefit from using a compressible data set, so it's a clear reminder that Samsung isn't using SandForce. Otherwise taking a look at the benchmark on the left, which was run using a random, or incompressible data set, the 830 pushes a very impressive 497.8MB/s sequential read and 305.7MB/s sequential write. Additionally it also does a decent job with 4K QD32 transfers as well, clocking in at 315.5MB/s reads and 118.6MB/s writes, giving most SandForce drives a run for the money in read performance here as well.
[section label=4. AS SSD / PC Mark 7]
Samsung 830 Performance
AS SSD Benchmark
AS SSD is a very commonly used benchmark used to measure SSD performance in a number of categories. Here, tests are run using incompressible data, which most simulate real world usage. It also outputs a final score at the conclusion of the test based off the read and write performance of the drive.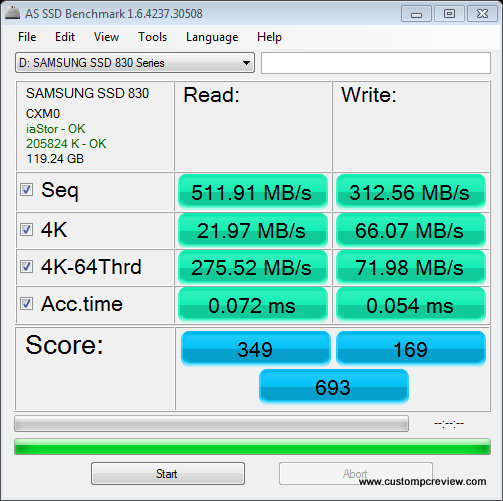 Again, AS SSD confirms Crystal Disk Mark's numbers. As expected from an SSD, response times here are quite low as well.
PC Mark 7
The PC Mark 7 storage test tests the SSD under many different real world tests such as gaming, video editing, etc. This is most representative of the SSD's performance under real world situations.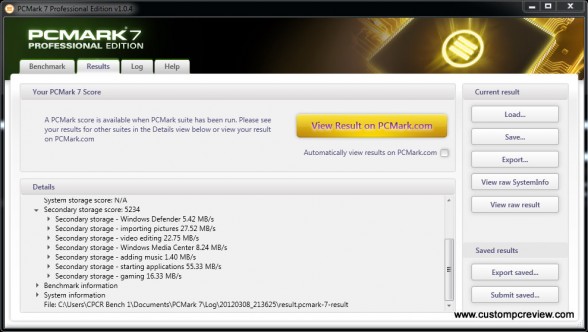 | | |
| --- | --- |
| SSD | PC Mark 7 |
| SanDisk Extreme 240GB | 5273 |
| Samsung 830 128GB | 5234 |
| Crucial m4 128GB | 5214 |
| OCZ Vertex 3 120GB | 5078 |
| Patriot Pyro SE 120GB | 5042 |
| OCZ RevoDrive 3 PCIe 120GB | 4954 |
| Kingston V+200 120GB | 4711 |
| OCZ Agility 3 120GB | 4701 |
| Corsair Force 3 180GB | 4615 |
| Seagate Momentus XT 750GB | 3247 |
| WD Scorpio Black 250GB | 1727 |
Taking a quick look at our PC Mark 7 scores here, it looks like the Samsung 830 128GB has just nabbed the top spot at the 120GB/128GB tier, no doubt to superior sequential write speeds when compared to SandForce and Marvell based drives out there.
[section label=5. Software]
Samsung SSD Magician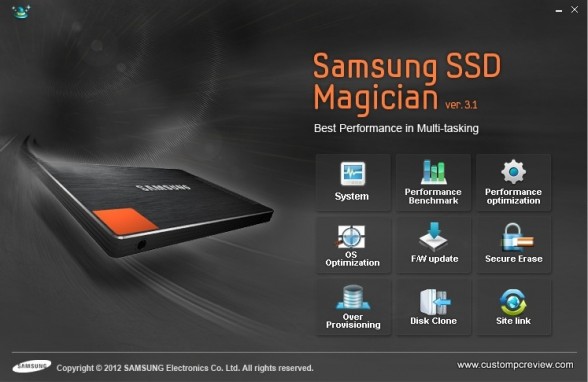 Included with the SSD is both Norton Ghost, which is used for drive cloning, and Samsung's SSD Magician software, which is quite possibly the most full featured SSD software suite I've seen to date. As you can see in the screenshot above, it has tons of features, so in the next couple images I'm going to walk you through some of the ones I thought were particularly awesome.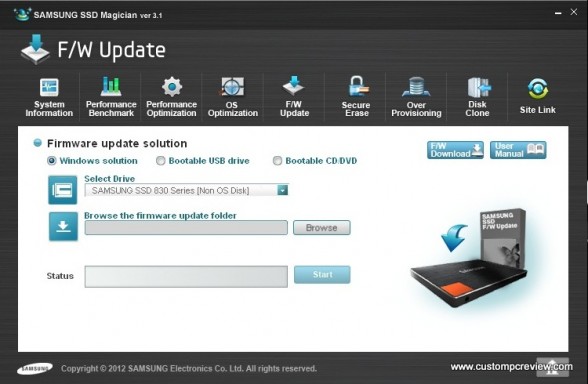 Check out how easy it is to update the firmware on the drive. Literally just browse over to the update directory and the utility takes care of the rest.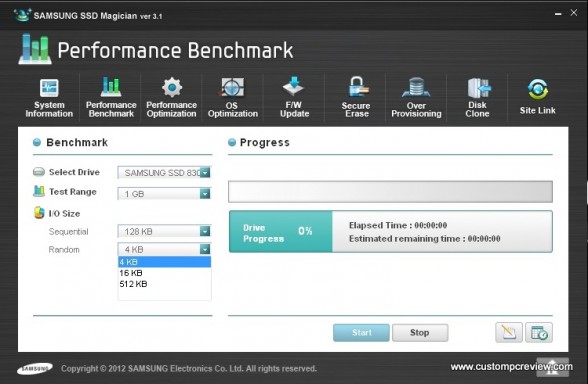 Included is also a benchmark for those who need yet another benchmark to test the performance of the SSD. We'll stick to what we normally run, but this one will do the trick in a pinch.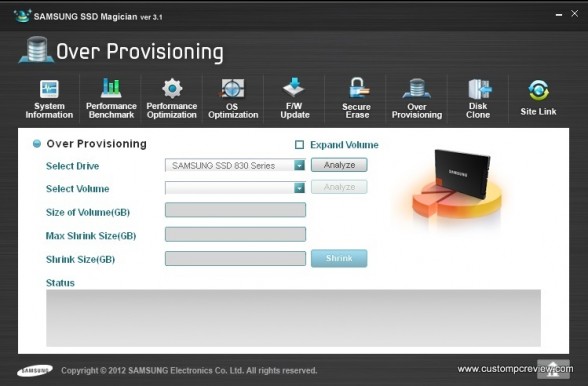 Probably the most interesting feature about the Samsung SSD Magician is the fact that it allows you to adjust the over provisioning on the drive. The process is pretty easy and the utility will even give you a recommendation on what it should be set at.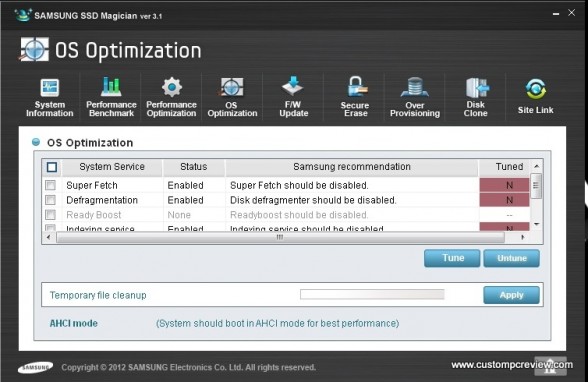 Have no idea how to optimize your OS for the SSD? That's okay. Just hit the tune button and you're good to go. Doesn't get much easier than this. Additionally, the software also has a feature to optimize the SSD as well through the "Performance Optimization" tab. While it isn't pictured, it's also a one click process.
In addition to the features shown above, the software also has secure disk wipe functionality, system information, as well as Norton Ghost integration for cloning your drive. Considering most drive manufacturers don't even have their own software, it seems like Samsung has really gone above and beyond here.
[section label=6. Conclusion]
Samsung 830 Conclusions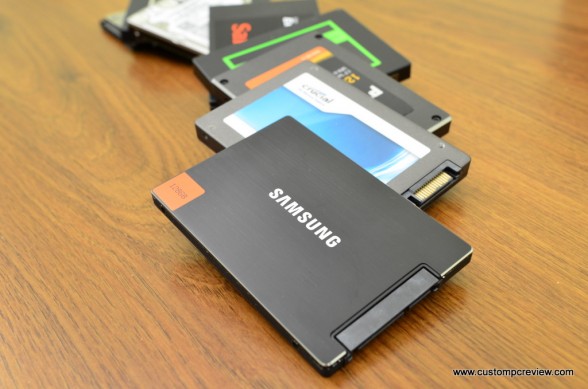 Starting with the performance, we can see that the Samsung 830 is fast. As seen in PC Mark 7, the 830 actually takes the top spot in performance when compared to other 128GB/120GB SSDs out on the market. Definitely impressive to say the least. Looking at sequential reads, the 830 does a great job hanging in with all the SandForce based drives on the market, pushing out about 550MB/s writes, which exceeds the rated specifications. As far as writes are concerned, the 830 beats most 128GB/120GB SandForce based drives hands down when it comes to incompressible write performance, but ultimately wasn't able to beat them out when it came to compressible write performance. However, considering real world usage will be a mixture of both incompressible and incompressible data, the Samsung 830 will still have an edge, which is why it scored so high in the PC Mark 7 benchmark.
Appearance wise, I don't think SSDs come prettier than the Samsung 830. The black brushed aluminum finish with the contrasting white Samsung logo really pops. We all know when it comes to computer hardware, black is always a safe bet, and black brushed aluminum? Even better. Additionally as we saw earlier, Samsung has really outdone everyone when it comes to the software suite. It has pretty much everything you'd think you need and a whole lot more in a ridiculously easy to use package. Way to go!
Finally, taking a look at pricing, the Samsung 830 128GB comes in at around $171.32 for the bare drive, $179.99 for the laptop kit reviewed today, and $187.65 for the desktop kit  on Amazon. Additionally, the Samsung 830 also comes with a 3 year warranty as well. Looking at the SSD market today, I'd say the biggest competitor to the Samsung 830 is the Crucial m4 128GB SSD which is currently retailing for only $152.65 making it nearly $20 cheaper than the Samsung 830. However, be aware that $10-$20 differences will fluctuate as retailers and manufacturers adjust prices, so if the 830 can be found at the same price or a couple bucks more than the Crucial m4, it would be a very worthwhile, higher performing alternative.
Bottom Line
There's a reason why companies like Apple and Dell choose Samsung SSDs for their own products. The Samsung 830 128GB is a beautiful, high performing SSD backed by Samsung's excellent track record for reliability. The software is the most feature packed software suite I've ever seen, and the entire 830 is produced "in house", so Samsung willl probably be hand picking the best NAND modules and tweaking the firmware for both increased performance and reliability. Highly recommended.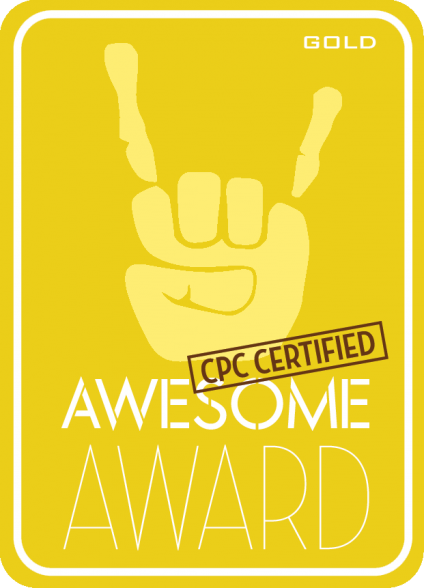 Special thanks to Samsung for making this review possible.
The Samsung 830 128GB bare drive, laptop kit, and desktop kit is currently available at Amazon.