Warning
: Undefined array key "width" in
/var/www/vhosts/custompcreview.com/public_html/wp-includes/media.php
on line
1381
Warning
: Undefined array key "width" in
/var/www/vhosts/custompcreview.com/public_html/wp-includes/media.php
on line
1386
Warning
: Undefined array key "height" in
/var/www/vhosts/custompcreview.com/public_html/wp-includes/media.php
on line
1386
Warning
: Undefined array key "width" in
/var/www/vhosts/custompcreview.com/public_html/wp-includes/media.php
on line
1381
Warning
: Undefined array key "width" in
/var/www/vhosts/custompcreview.com/public_html/wp-includes/media.php
on line
1386
Warning
: Undefined array key "height" in
/var/www/vhosts/custompcreview.com/public_html/wp-includes/media.php
on line
1386
[section label=1. Introduction]
The fastest we've…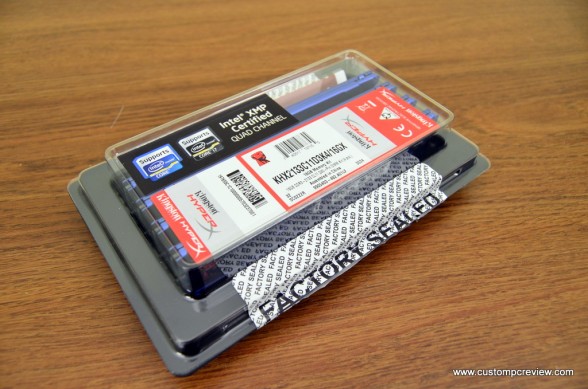 Ever been shopping for memory lately? Today, you simply can't cross the memory market without hearing the name "Kingston" floating around. Ever since the debut of their first products all the way back in 1987, Kingston has expanded into becoming one of the largest memory products specialists in the world.
Today we'll be reviewing the Kingston Genesis 16GB (4x4GB) DDR3 2133MHz CL11 quad channel memory kit designed for the X79 Intel Sandy Bridge-E platform. As Kingston's enthusiast grade memory line, the Hyper X Genesis memory offers an array of speed and capacities to cover a wide range of needs. Today's Genesis 16GB kit is rated at 2133MHz and 1.65V by default, and looks very cool with a frosty blue metallic shine on the low profile heat spreader.
Sounds good on paper, but what kind of performance can we expect? Let's find out!
Specifications
| | |
| --- | --- |
| System | Desktop |
| Memory Type | DDR3 |
| MB Chipset Tested | Intel X79 |
| CAS Latency | 11-12-11-30-2T |
| Capacity | 16GB (4x4GB) |
| Speed | DDR3-2133 |
| Voltage | 1.65 Volts |
| Height | 30mm |
| Registered/Unbuffered | Unbuffered |
| Error Checking | Non-ECC |
| Type | 240-pin DIMM |
| Warranty | Lifetime |
[section label=2. A Closer Look]
A Closer Look at the Kingston HyperX Genesis DDR3 2133MHz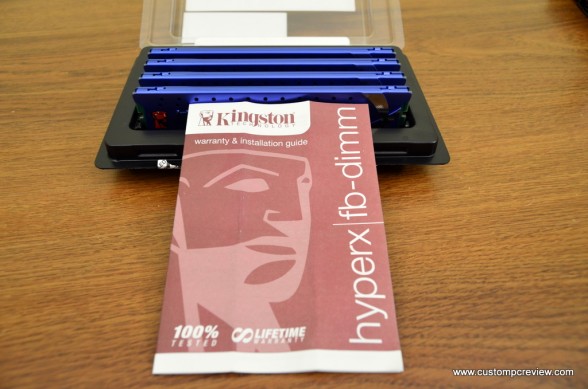 Weird. Included in the package, we get documentation for HyperX FB-DIMM memory. Oh well, that doesn't matter. Installation is the same either way. You do also get a lifetime warranty with the HyperX Genesis. It's always nice to see companies have faith in their own products.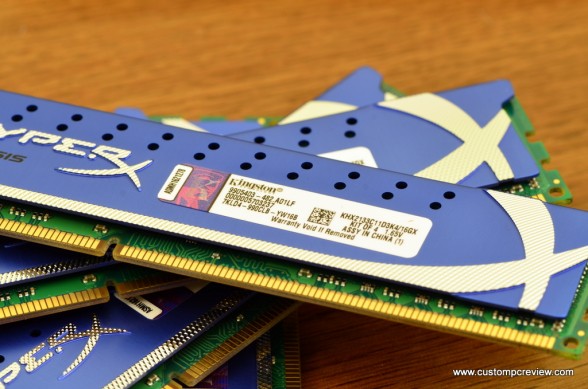 Looking at the memory sticks themselves, we can see that the heat spreaders are low profile, which means they'll work with pretty much every CPU cooler on the market (unless the CPU cooler is flawed in design). Additionally, the heatspreaders look great as well, sporting the blue and silver. Unfortunately, the PCB itself is going to be green and while I would've preferred a black PCB, the memory is covered by the heatspreaders, so the green shouldn't be too visible once installed.
[section label=3. Performance]
Testing Setup
Since this memory is obviously designed for the X79 platform, we're going to be testing this memory on a X79 test bench. While it's possible to use this memory on the Z68/P67 platform, be aware that you might not be able to fully take advantage of the capabilities of this memory on those platforms. We'll chew on that topic later…
X79 Testbench
CPU: Intel Core i7 3960X
CPU Cooler: Phanteks PH-TC14PE_BL
Motherboard: Asrock X79 Fatal1ty Professional
Graphics: MSI Radeon HD6970 (Reference) + ARCTIC Accelero Xtreme 7970
Memory: Kingston HyperX Genesis DDR3 2133MHz
Storage: OCZ Vertex 3 120GB
Power Supply: Corsair HX650
Case: HSPC High Speed Tech Station
Special thanks to Intel, ASRock, Phanteks, ARCTIC, OCZ Technology, and HSPC for sponsoring our test bench.
Setting our memory settings to XMP Profile 1, here a CPU-Z screenshot of the frequency and timings. We can see that with XMP Profile 1, the memory is perfectly stable at the rated settings of 2133MHz at 11-12-11-30-2T.
Kingston HyperX Genesis DDR3 2133MHz Perfomrance
Stock CPU Clocks (3.3GHz, 3.9GHz Turbo)
Kicking off our benchmarking, we've got a couple of stock benchmarks for you to take a look at. Since we'll be running benchmarks on the memory with the CPU and/or the memory overclocked later, this will serve as a reference point.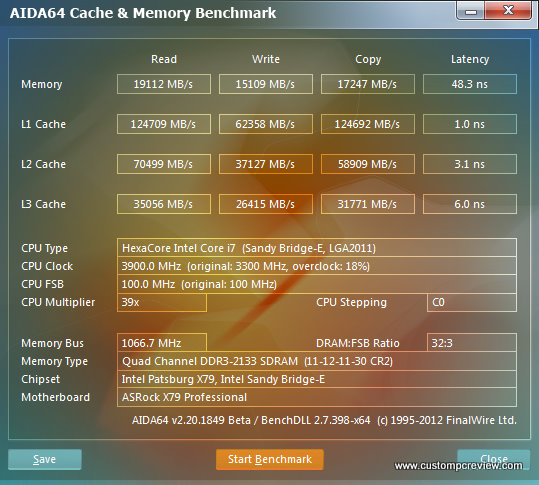 As you can see in the AIDA64 memory benchmark above, the memory is, as expected, perfectly stable at Kingston's recommended XMP settings of 2133MHz 11-12-11-30-2N.
Unfortunately, since this is our first memory review with the X79 platform, we don't have comparisons here, but this will serve as a starting point for future reviews. That being said, this memory is quite fast, posting up read speeds of 19112 MB/s and write speeds of 15109 MB/s.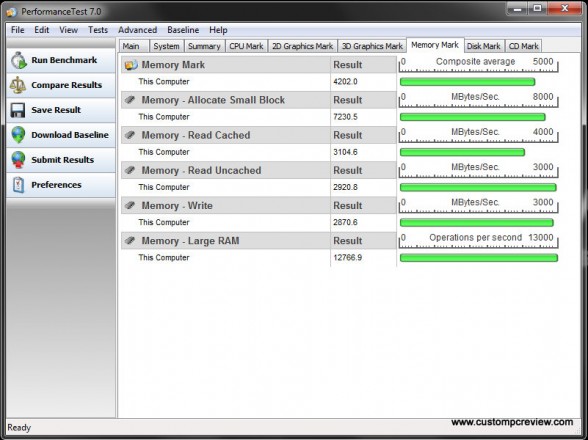 Above we have a screen of PassMark Perfomrance Test 7.0. Here we've just got a bunch of numbers so it currently doesn't mean much, but we'll run these again once the CPU as well as the memory is overclocked so you have an idea of what kind of performance may be achieved by overclocking the CPU, the memory, or both.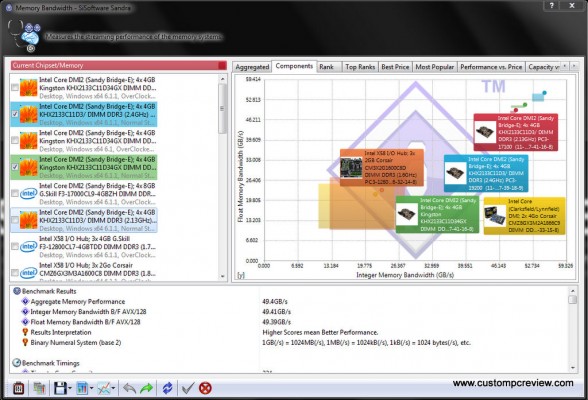 For the last of our tests at stock settings, we also tested the HyperX memory with the SiSoft Sandra Memory Benchmark, and as you can see above, the memory is able to put out nearly 50GB/s of bandwidth here. Definitely an impressive feat. Additionally, taking a look at the chart above, it's pretty close to the top right hand corner, meaning it's fast as well.
Overclocked CPU (4.8GHz)
Next up, we've overclocked the CPU as well to see if additional performance may be gained with the memory still running at stock speeds (2133MHz).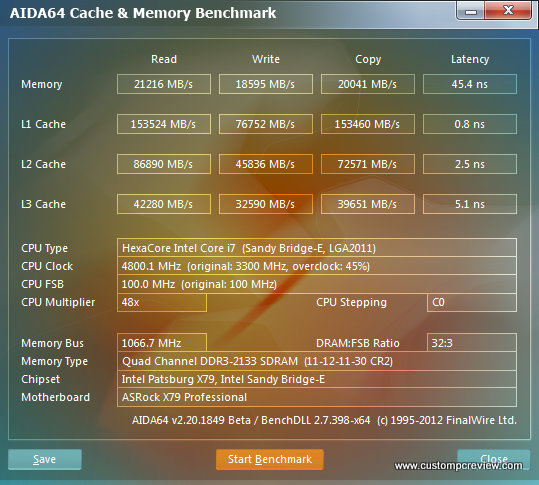 As you can see above, the speed increase is quite staggering. Read speeds are up ~2000MB/s, writes are up ~3000MB/s, and copy speeds are up ~3000MB/s as well. Latency has also improved a tad bit. These scores are definitely greater than the margin of error, and we can certainly say that overclocking the processor will allow for improved memory performance.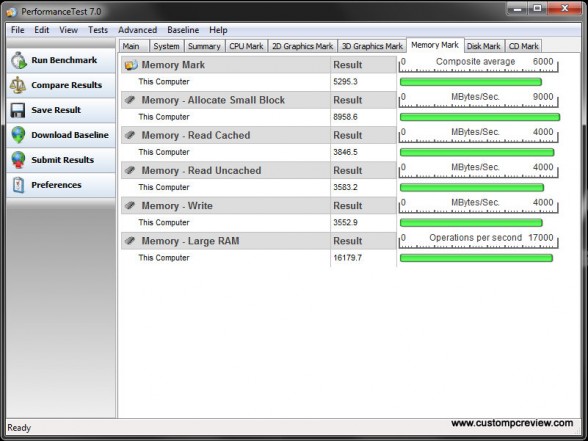 In Performance Test 7.0, we can see that the AIDA 64 benchmark wasn't a fluke. By overclocking the processor, we're able to achieve quite the substantial increase in memory performance, attaining over 1,000 memory marks above stock.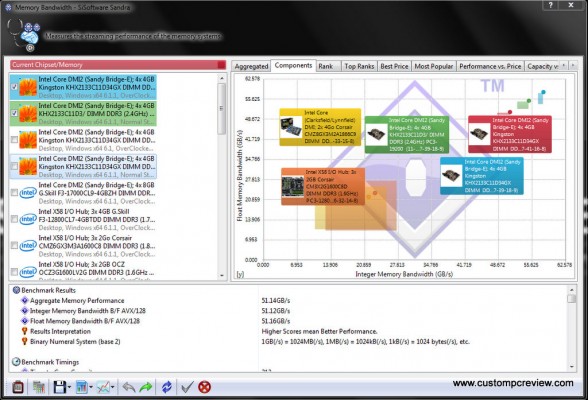 Again, we ran the SiSoft Sandra benchmark to see how much more bandwidth is offered by overclocking the processor. As you can see here, we're able to break the 50GB/s barrier with the aggregate memory performance coming in at 51.14GB/s.
[section label=4. Overclocking]
Kingston HyperX Genesis DDR3 2133MHz 
Overclocking
As usual, we're going to push the memory a bit and as you can see from the CPU-Z screenshot below, we were stably push the memory up to 2400MHz and tighten the timings a tad to 11-12-11-28-1T. The most impressive aspect about the overclocking performance (other than the fact that I was able to increase the frequency and tighten the timings) was that I did it at 1.65v, the stock voltage.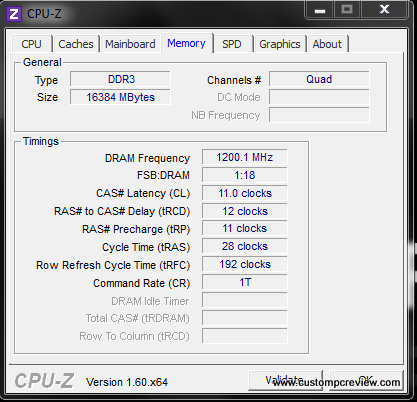 Stock CPU Clocks (3.3GHz, 3.9GHz Turbo)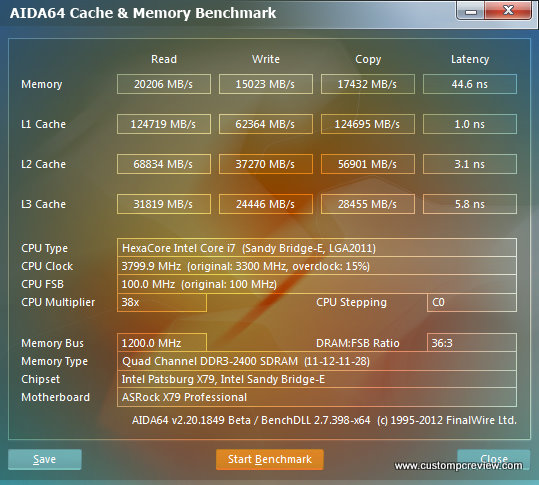 With the increased memory speed, I reverted the CPU to its stock settings to see what kind of performance benefits may be achieved by only overclocking the memory. As you can see up here, increasing memory frequency without overclocking doesn't really do much as the performance benefit is actually quite marginal.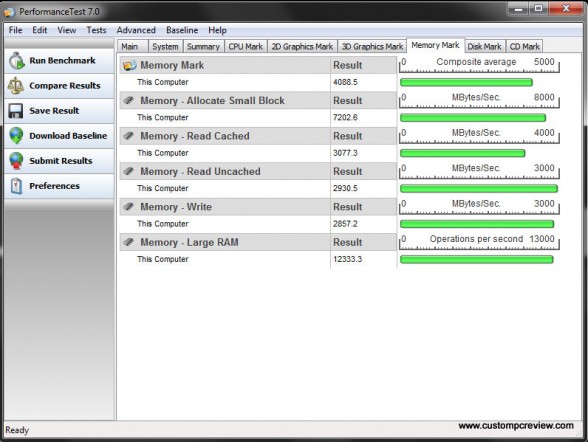 Taking a look at Performance Test 7.0, the results are quite unexpected. The performance actually dropped 1000 points, but is definitely within the margin of error. Again, we can see that having very fast memory coupled with a slow processor will not yield any performance benefits.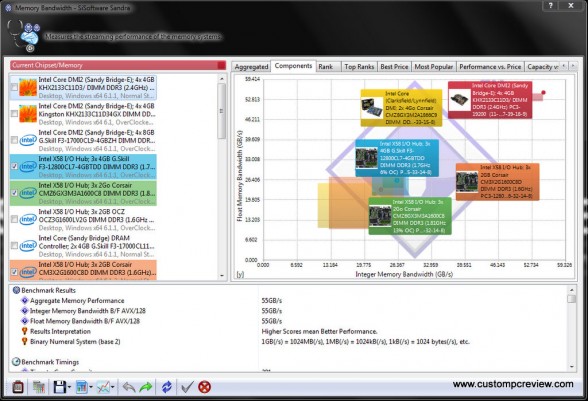 Above we get another screenshot of the SiSoft Sandra, and taking a look at the memory bandwidth benchmark, it looks like having faster memory is able to increase the amount of bandwidth outputted, pushing the total bandwidth up to a staggering 55GB/s, higher than anything else on the chart above.
Overclocked CPU (4.8GHz)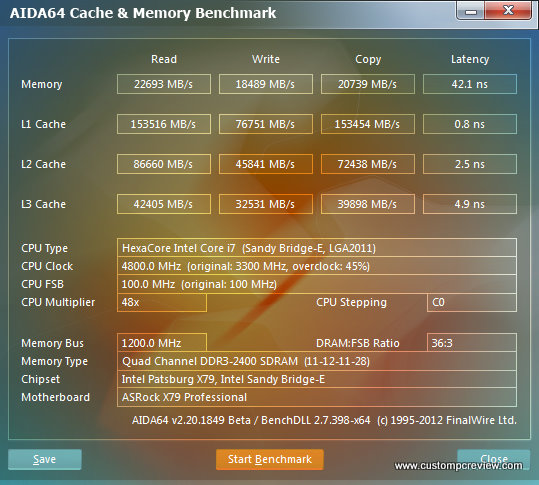 With everything else out of the way, we bumped up the CPU clock again to a full 4.8GHz to test the overclocked memory with the CPU overclocked as well. As you can see here, the results were generally good, outperforming everything prior. It's pretty obvious that with a faster processor, we're finally able to take advantage of the memory clocked at 2400MHz.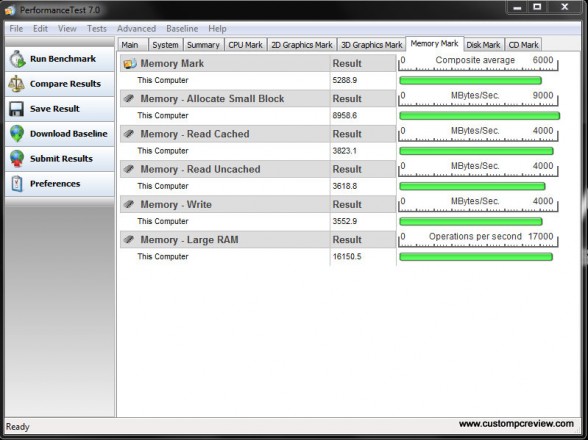 Again, Performance Test 7 confirms what we saw previously with AIDA 64. With both the CPU and memory overclocked, we were able to score a total of 5288.9 memory marks, which is quite similar to what we saw with just the CPU overclocked. Again it seems like with Performance Test 7 that the memory mark isn't capable of taking advantage of the memory at 2400MHz.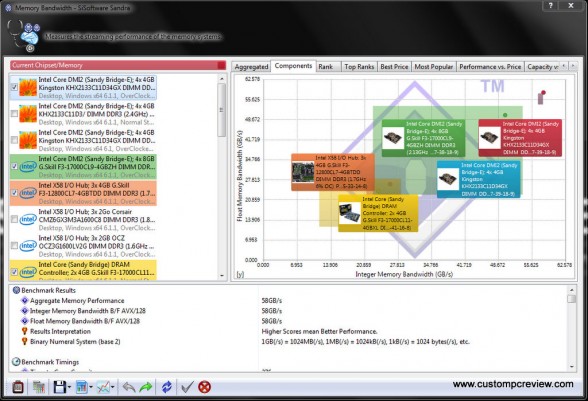 Finishing off our testing for the day, we ran SiSoft Sandra and again we see another bump in performance in total memory bandwidth as the processor becomes overclocked along with the memory. With the additional overclock from the CPU, the 2400MHz memory is able to deliver an astounding 58GB/s of total memory bandwidth, scoring above pretty much everything else on the chart here.
[section label=5. Conclusion]
Kingston HyperX Genesis DDR3 2133MHz 
Conclusions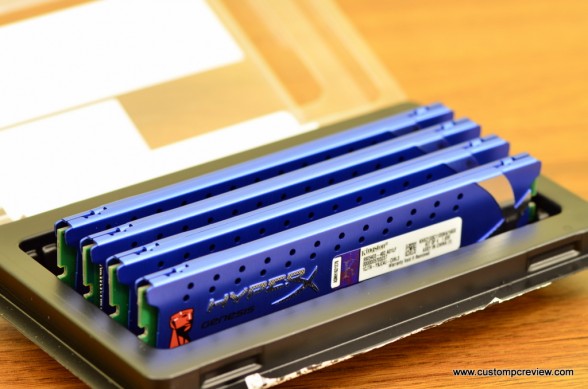 Ok, so you can pretty much guess what we think of this memory at this point. If you can't, well we absolutely love it.
First off, it's low profile memory, which is awesome because there's less of a chance of having large coolers bump into the heat spreaders. Large heatsinks on enthusiast memory don't offer much better thermal performance benefits, but costs more material to make and simply just interferes with larger CPU coolers that end up being used almost exclusively by the exact target market the enthusiast memory was intended for –enthusiasts. If you're going to offer memory with huge heatsinks, please offer some low profile alternatives as well.
Secondly, this stuff is very stable at manufacturer settings and has tons of headroom for overclocking. Yes, overclocking is jointly dependent on many different pieces of hardware such as your power supply, CPU, motherboard. However, the memory itself is obviously going to be the biggest factor in overclocking performance, and we saw results with this memory that are spectacular. If you haven't gone through the results from the previous pages, we were able to both up the frequency from 2133MHz to 2400MHz, and tighten the timings from 11-12-11-30-2T to 11-12-11-28-1T without even touching the voltage. Very rarely do we see memory with this kind of overclocking headroom and when we do it's always welcome.
Taking a look at pricing, the 16GB HyperX Genesis DDR3 2133MHz kit is currently going for about $170.93 on Amazon, definitely making it one of the more expensive memory kits we've seen to date. However, taking the overclocking headroom into consideration, I don't think it's a bad deal. Looking at 16GB DDR3 2400MHz modules on Newegg, we see that the lowest priced kit is in excess of $200, which is a lot higher than the $170.93 you can get the 16GB HyperX Genesis 2133MHz for. Currently X79 boards only allow overclocking beyond 2400MHz through the BCLK, so there really isn't a point in getting DDR3 2400MHz if these DDR3 2133MHz sticks can be overclocked to achieve similar performance.
On that note, if you've got a Z68/P67 platform, a lot of boards out there aren't going to allow you to take advantage of DDR3 2133MHz or DDR3 2400MHz, so make sure to check with your motherboard's specifications prior to purchasing this memory.
Bottom Line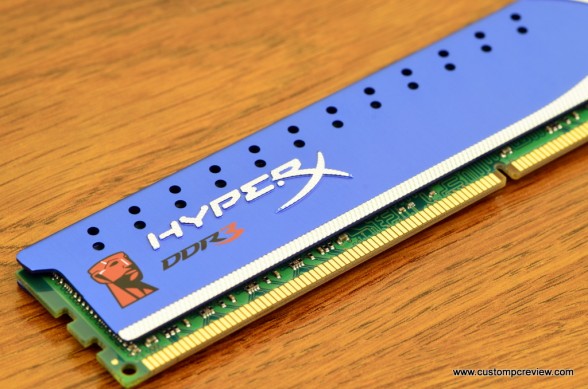 For those of you who actually need 2133Mhz memory and already have this in your shopping cart, rest assured that it will fulfil that need. But with that said, this type of memory isn't just for your average day office build. As you saw in the benchmarks earlier,  it takes quite a fast system to fully take advantage of such fast memory, but if you're looking for some crazy fast memory (and you know why), then this stuff is it. For those with Sandy Bridge processors, many Z68/P67 boards only support an overclocking maximum of 2200MHz, so make sure that if you're planning on purchasing this memory for its 2400MHz overclocking capability that you also own an X79 system as well. 
The 16GB Kingston HyperX DDR3 2133MHz memory is stupid fast, and isn't going to let you down. There's a reason why Kingston is one of the largest memory manufacturers in the world; they know what they're doing, and the HyperX Genesis DDR3 2133MHz memory is a prime example of their engineering ability.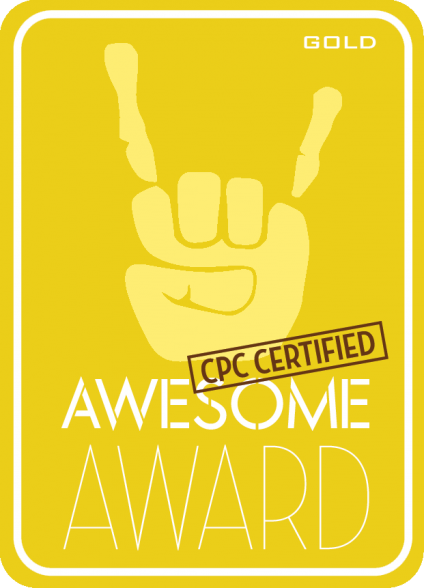 Special thanks to Kingston Technology for making this review possible.
The Kingston HyperX Genesis DDR3 2133MHz 16GB Memory Kit is currently available at Amazon.