Warning
: Undefined array key "width" in
/var/www/vhosts/custompcreview.com/public_html/wp-includes/media.php
on line
1381
Warning
: Undefined array key "width" in
/var/www/vhosts/custompcreview.com/public_html/wp-includes/media.php
on line
1386
Warning
: Undefined array key "height" in
/var/www/vhosts/custompcreview.com/public_html/wp-includes/media.php
on line
1386
Warning
: Undefined array key "width" in
/var/www/vhosts/custompcreview.com/public_html/wp-includes/media.php
on line
1381
Warning
: Undefined array key "width" in
/var/www/vhosts/custompcreview.com/public_html/wp-includes/media.php
on line
1386
Warning
: Undefined array key "height" in
/var/www/vhosts/custompcreview.com/public_html/wp-includes/media.php
on line
1386
Warning
: Undefined array key "width" in
/var/www/vhosts/custompcreview.com/public_html/wp-includes/media.php
on line
1381
Warning
: Undefined array key "width" in
/var/www/vhosts/custompcreview.com/public_html/wp-includes/media.php
on line
1386
Warning
: Undefined array key "height" in
/var/www/vhosts/custompcreview.com/public_html/wp-includes/media.php
on line
1386
Warning
: Undefined array key "width" in
/var/www/vhosts/custompcreview.com/public_html/wp-includes/media.php
on line
1381
Warning
: Undefined array key "width" in
/var/www/vhosts/custompcreview.com/public_html/wp-includes/media.php
on line
1386
Warning
: Undefined array key "height" in
/var/www/vhosts/custompcreview.com/public_html/wp-includes/media.php
on line
1386
[section label=1. Introduction]
Dolby Enhanced 7.1 Gaming Headset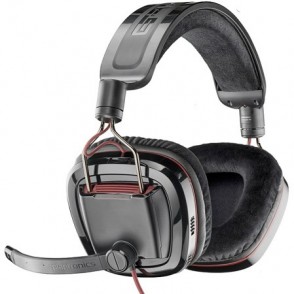 Ever been knifed in the back because you never heard your enemy sneak up behind you? If you answer yes, then I will shamefully admit that I feel your pain. This problem has been troubling gamers for ages. Sure, there are many quality surround sound headsets out there as well as the option of installing a home theater speaker system, but what if you don't have the deep pockets or don't want to wake your house up during your frag sessions? Well, Plantronics may have the answer for you.
For gamers the Plantronics name may sound a bit foreign, but rest assured they've been churning out quality audio equipment for over 50 years with a prime example of their work being the older GameCom 777, which was an affordable and high quality headset embraced by many around the world.
Today we'll be reviewing the Plantronics Gamecom 780 Gaming Headset. As the newest member of the GameCom line, the GameCom 780 is looking to carry on the Plantronics tradition of bringing quality sound to budget minded gamers. The new headset features 40mm drivers, closed ear eacups, a noise cancelling microphone, on ear volume controls and most uniquely impressive, "Virtual 7.1 Surround Sound using Dolby's Pro-Logic 11x and Dolby 3D Technology". What's interesting here is that Plantronics choice to include proprietary Dolby technologies for their virtual surround sound solution. For those familiar with the gaming headset industry, the name that typically pops up is Creative with their THX backed TruStudio Pro surround sound technology, so having a new player – especially one with a name like Dolby is interesting to say the least.
GameCom 780 Specifications
Dolby technology delivers 7.1 surround sound
40-millimeter speakers provide immersive stereo sound with deep bass
Noise-canceling microphone lets you communicate clearly
Easy-to-reach on-ear volume and mic controls
Swiveling ear pods lie flat for easy storage
One-year limited warranty; Windows compatible
Taking a look at the specifications here, the only thing that really jumps out at me is the 40mm drivers. Typically, 40mm drivers have a weaker bass response than 50mm drivers. Now that being said, audio quality does depend on both the quality of the driver as well as the size. High quality 40mm drivers are perfectly capable of producing excellent sound quality sound and booming bass equal or better to lower quality 50mm drivers.
So all that being said, what sort of song will the Gamecom 780 sing? Hop over to the next page to find out!
[section label=2. A Closer Look]
A Closer Look at the GameCom 780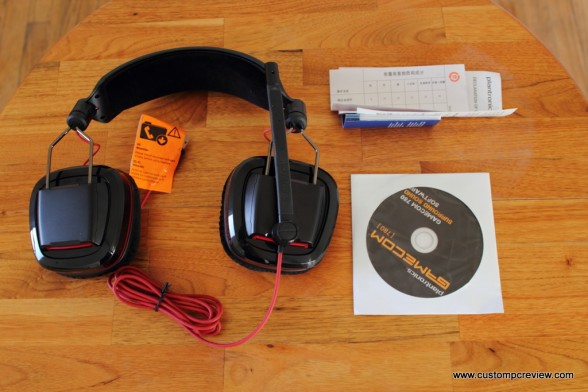 As expected of a headset, the accessories package is relatively simple. You get the warranty and safety documentation, the Dolby driver software CD, and the headset itself.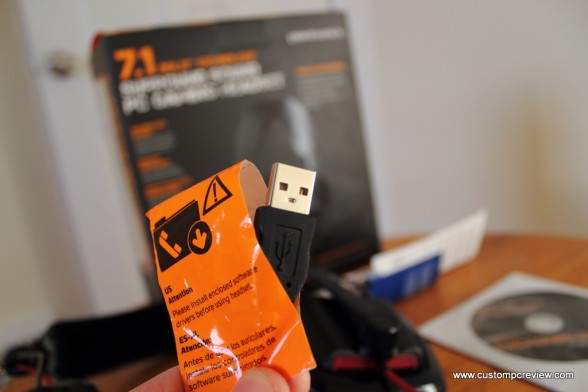 The headset uses a USB connection, which means that it will use a digital signal as opposed to analogue. Additionally, that also means that a soundcard will be integrated with the headset as well.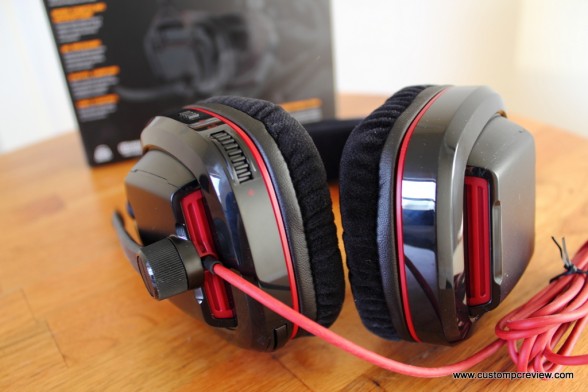 The volume controls are integrated on the left ear cup. When the volume is being adjusted, the headset intuitively produces beeping sounds so the listener has an idea of the current volume level.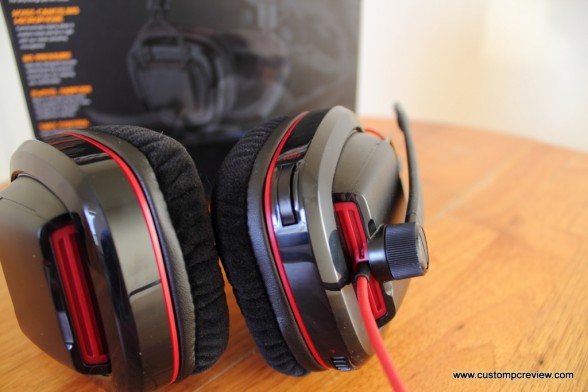 The Dolby switch can be found on the other side of the left ear cup . This tiny yet important little switch must be turned on to enable the virtual 7.1 surround sound.  Once enabled, the switch will glow blue to indicate that it's on.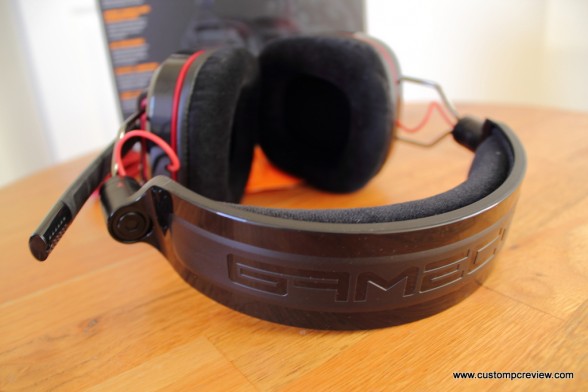 The cloth padding on the headrest and earcups are thick and comfortable. This headset should have no problems sitting on your head for hours on end.
Despite its mostly plastic construction, the headset feels very solid. Many areas of the headset have a glossy finish and may attract a lot of dusts and fingerprints, but the plastic is thick and durable.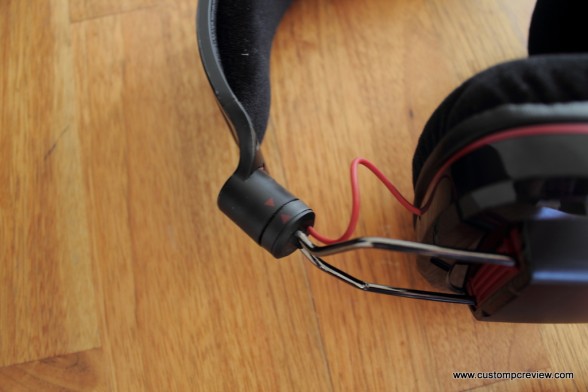 The rotatable hinges has little red triangles painted on them to show if they are in position or not. These are not very helpful as most people will probably just twist the earcups until they can no longer twist, but it's still a nice touch anyway.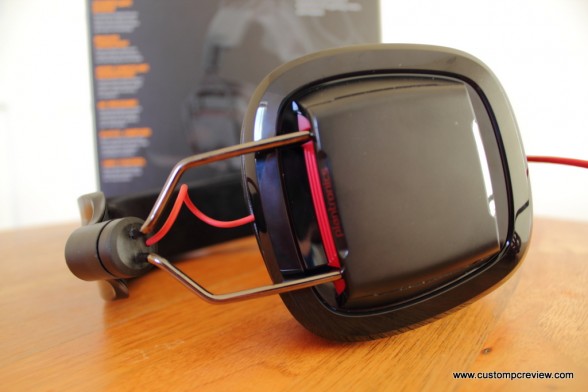 The bars connecting the earcups to the headband is of metal construction and feels extremely tough. This is actually a great engineering decision on Plantronics part as these metal bars are highly durable, but weigh a lot less than having something like a steel headband. The headset should handle normal use and occasional gamer rage without problem.
Aesthetically speaking, you do get an exposed wire, so it may not look as clean as headsets with hidden wires. Of course, beauty is in the eye of the beholder.
[section label=3. Performance]
GameCom 780 Performance
Test 1: The Movie Test
Yeah, I could watch a movie with tons of dialog and an extremely compelling storyline, but honestly, that doesn't really push a pair of virtual surround sound headsets to the limit. That said, I sat down, put on my headphones and got to work – by watching Mission Impossible 3 to really test the bass, clarity, and of course, the virtual surround sound performance of the headset. Truth to be told, it's terrific. The headset clearly translated every explosion, rustling of fabric, and dialogue into my ears clearly and vibrantly. Despite being a tad bit worried about the bass response due to Plantronics decision to include 40mm drivers instead of 50mm drivers, the headset was able to output clean bass very well. I was also pleasantly surprised with Dolby's implementation of virtual surround. It was able to pickup the movie's 5.1 audio track and convert that into the headphone's 2.0 track while still maintaining an acceptable level of accurate positional audio.
Test 2: The Music Test
Music sounded quite good on the 780 as well. I ended up listening to quite a variety of genres of music ranging from Canon Rock by Jerry C to The Beatles, and even some Skrillex for good measure. As expected, bass response here again was good, only bottoming out at very low end when playing bass heavy genres like hip hop with the bass turned up way too high. Otherwise, the bass is excellent and the audio clarity is top notch for a gaming headset. Highs and mids were great as well, but at the very high end the highs do get a tad bit distorted, but you'd really have to be listening carefully to notice.
One thing I was a bit worried about with simulated surround sound technologies is that sometimes poorly implemented technologies will make perfectly good sounding music sound bad by adding echos and extra sounds that don't actually exist. However, this was not an issue and it seems like Dolby has done a fine job with their Dolby 3D Technology. It's still recommended that you turn this feature off when listening to music though since the technology will work differently with every song.
Test 3: The Gaming Test
Running around with guns blazing in Battlefield 3, this headset prformed phenomenally. The Virtual 7.1 surround sound worked very well and it accurately relayed my enemies position to me through sounds such as gunfires, footsteps, and dialogue. I also really enjoyed the clarity of the sound as well. The aforementioned sounds were clear and crisp and I felt like I was actually on the battlefield. Given that this headset is actually aimed at gamers, this is a very, very good thing.
Editor's Blurb: Microphone Test
Well, since I'm on the other side of the Skype calls with Tom, I think I'm probably the most qualified to talk about microphone quality here and I'm going to have to say that the microphone quality on the GameCom 780 is one of the best I've heard from a gaming headset. While the microphone doesn't match up to high end standalone microphones such as the Blue Microphone Snowball or the AudioTechnica AT2020, the headset microphone does fare very well when compared to other gaming headset microphones on the market. Sound quality here was crisp and clear, with clarity far exceeding the SteelSeries Siberia V2 microphone, which we compared with directly. This is probably due to Plantronics expertise in Bluetooth headsets and other audio gear designed for communications in mind. If you're on a budget looking for a gaming headset to do gaming commentaries with, the Plantronics GameCom 780 should be on the very top of your list.
[section label=4. Conclusion]
GameCom 780 Conclusions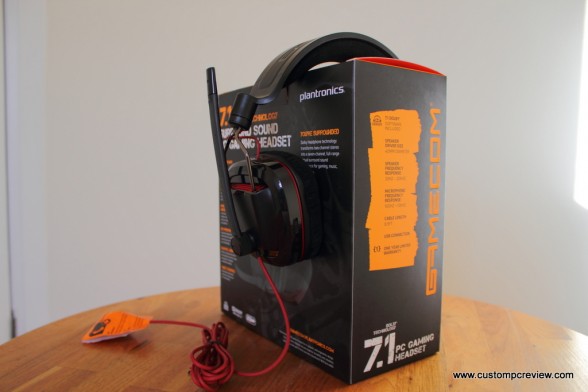 When I first put on the Plantronics Gamecom 780 Gaming Headset, I wasn't expecting too much. After all, Plantronics isn't a name you'd readily recognize as a company that makes gaming peripherals, and while most companies have transitioned their high end headsets to use 50mm drivers, Plantronics decided to use 40mm drivers instead. However, soon after putting the 780's on, it threw full-forced audio bliss in my face, and put my ignorance to shame. Thanks to technologies such as Dolby Headphones technology and Dolby Pro-logic 11x, this headset sounds absolutely phenomenal, rivaling headsets far exceeding its price-range. Additionally, its featherweight profile and cushioned earcups ensure comfort during even the longest marathon gaming sessions.
Construction and build quality is excellent as well. Built with high quality plastic, solid hinges, and durable cords, the 780 looks and feels like it can withstand some serious punishment. Incorporating a black and red colour scheme, this headset also looks, for the lack of a better word, "badass" sitting on your head as well.
Throughout the month or so of testing however, I did find a couple minor flaws with the GameCom 780 – mainly the button positioning and noise cancellation. Since the volume controls, the Dolby switch, and the mic switch are all located on the left earcup, they can easily be pressed when the headset is being adjusted or moved. I found this to be quite an annoyance, especially when putting it on and realizing that the volume had been turned on to full blast. Additionally, the cloth earpads does not keep noise out very well at all. While gaming, I could distinctly hear my Hyper 212+ with the stock fan rev up. While this is perfectly fine for those who enjoy gaming in an isolated environment, those who regularly attend LAN parties will probably have blown out ear drums by the end of the night from having to turn the volume way up. That being said, you are making a tradeoff between comfort and noise isolation as headsets with leatherette earpads tend to get hot and uncomfortable after extended gameplay. Of the headsets on the market, the only headset I can think of that doesn't have this tradeoff is some of the SteelSeries 7H models that include cloth earpads with their special SNDBlock material such as the SteelSeries 7H Fnatic Edition. Hopefully this is kind of sound isolating cloth material is something Plantronics will look into integrating for a future headset.
Taking a look at the pricing on the GameCom 780, it can currently be found at Amazon for $79.99.  Taking a look at some competitors such as the Corsair Vengeance 1500 ($88.74), Razer Megalodon 7.1 ($119.99) and the SteelSeries Siberia V2 USB ($89.77), the GameCom 780 is actually priced very competitively. While you do end up getting 40mm drivers here, overall I didn't find that to be a problem at all.
Bottom Line
The Plantronics Gamecom 780 is an excellent all around headset and a worthy update to the ever so popular GameCom 777. If you're a gamer or game commentator looking for a high end gaming headset on a budget, you'd be crazy not to give these a try.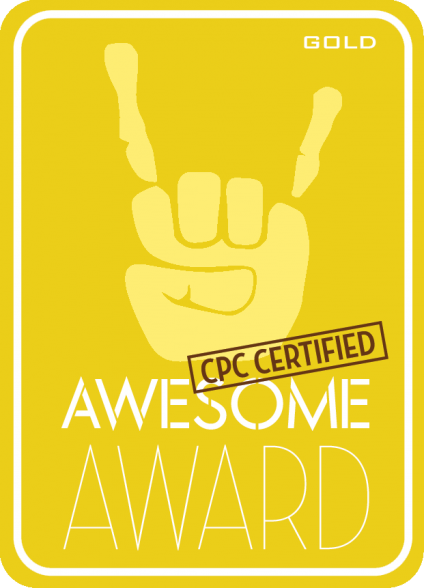 Special thanks to Plantronics for making this review possible.
The Plantronics GameCom 780 is currently available on Amazon.