[section label=1. Introduction]
Premium Asymmetrical Coolers

Noctua prides itself on creating products of the utmost quality. Love or hate their signature brown and beige color scheme, it has easily become synonymous with quality, innovation and most of all: silence.  Naturally, when you have such high success, it becomes easier to remain complacent and just coast off your already great designs. But, that isn't what Noctua has done. Instead, they're constantly iterating and improving upon its existing designs in order to push even higher performance, compatibility, and the overall user experience.
Today we're taking a look at a pair of coolers which perfectly display that mentality. The Noctua NH-D15S and NH-C14S are both asymmetrical designs that improve on an existing design in order to increase compatibility with a larger variety of systems and configurations.
The NH-D15S is a modified version of the dual-tower NH-D15 cooler. It features only a single fan in the package and an offset, asymmetrical design to improve compatibility with certain motherboard and RAM configurations. If you've ever used memory with a tall heat-spreader with a cooler like the NH-D15, then you'll know exactly what the NH-D15S is for.  The NH-C14S is based on the NH-C14, which is a top-flow CPU cooler. The new design again forgoes the second fan but features an improved fin stack and newer NF-A14 140mm PWM fan. These changes allow the cooler to match the performance to its predecessor while also improving memory compatibility.
Noctua NH-D15S and NH-C14S Specifications
Model
NH-D15S
NH-C14S
Materials
Copper (base and heat-pipes), aluminium (cooling fins), soldered joints & nickel plating
Dimensions
6.3″ (H) x 5.9″ (W) x 5.3″ (D) (without fan)

6.5″ (H) x 5.9″ (W) x 5.3″ (D) (with fan)

4.5″ (H) x 5.5″ (W) x 6.4″ (D) (without fan)

4.5″/5.6″ (H) x 5.5″ (W) x 6.4″(D) (with fan)

Weight
2.16 lbs. (without fan)

2.53 lbs. (with fan)

1.8 lbs. (without fan)

2.2 lbs. (with fan)

Fan Size
140mm (NF-A15 PWM)
140mm (NF-A14 PWM)
Fan Bearing
SSO2 (self-stabilising oil-pressure bearing)
Fan Speed
1500 RPM

1200 RPM (with low-noise adapter)

Noise Level
24.6 dB

19.2 dB (with low-noise adapter)

Airflow
82.5 CFM

67.9 CFM (with low-noise adapter)

Connector
4-Pin PWM
Compatibility
Intel LGA2011-0 & LGA2011-3 (Square ILM), LGA1156, LGA1155, LGA1151, LGA1150 & AMD AM2, AM2+, AM3, AM3+, FM1, FM2, FM2+ (backplate required)
Warranty
6 Years
[section label=2. A Closer Look at the NH-D15S]
A Closer Look at the Noctua NH-D15S
Packaging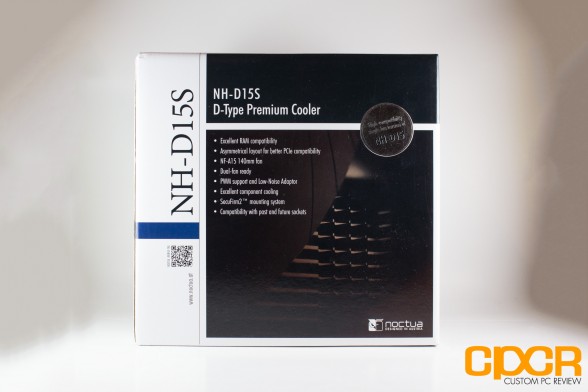 The box suggests that the NH-D15S is what Noctua calls a "D-Type" cooler. This is how Noctua refer to 'dual-tower' style coolers such as the NH-D15 and previous generation NH-D14.  In fact, Noctual stiches a lot of detail within its products names. For example, while the 'D' in D15S stands for "D-Type" aka "dual-tower". The numbers following it represent the fan size, in this case while the fan is technically considered 140mm the NF-A15 is actually 150mm wide. Finally, the trailing letter "S" signifies that this model has been designed with spacing in mind for increased memory and GPU clearance.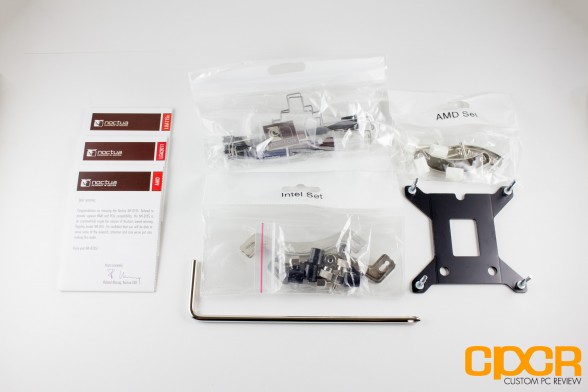 Taking a look at the included accessories, we have Noctua's signature SecuFirm mounting kit, which includes everything you need to install on any modern Intel or AMD platform.  A tube of Noctua's NT-H1 thermal paste, the included low-noise adapter,  an extra set of fan clips for installing a second fan, a wonderful little screwdriver — which has actually been a staple of my toolkit for some time now — and finally, a premium metal case badge.
NF-A15 PWM Fan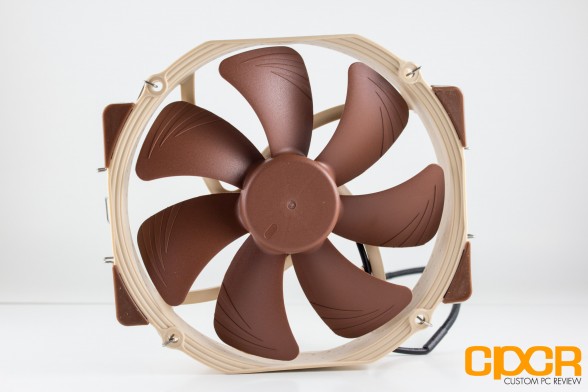 As I've mentioned before, the fan included with the NH-D15S is the 140mm NF-A15 PWM fan. This fan is actually 150mm wide, and features a round frame and 120mm mounting holes. This means that the NH-D15S (and by relation, the NH-D15) can be used with both compatible 140mm fans and most standard 120mm fans. The fan is made up of  7 rather large blades, which feature what Noctua calls "Flow Acceleration Channels" that are designed to speed up the airflow at the outer blade regions in order to "reduce suction side flow separation" and provide better efficiency and lower noise.
Moving on, the NF-A15 features Noctua's signature brown and beige color scheme, which I've noticed most Noctua users either hate or tolerate, but don't exactly love. I myself have no real issues with the color palette but do wish Noctua would include more options for those of us that want a fully themed or RGB accented build.
Heatsink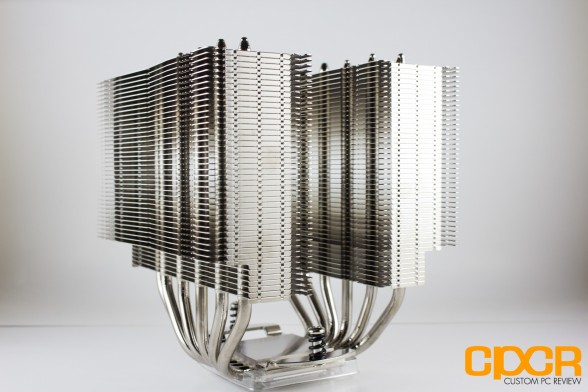 Taking a look at the heatsink itself, we see an identical design to that of the renowned NH-D15. Like the NH-D15, the heatsink features two large aluminum fin stacks, which are densely packed and cut off at the bottom for improved memory compatibility.
Taking a look at the tower from the side, we can finally see what separates it from the NH-D15. The 6x 6mm nickel-plated copper heat pipes are actually spaced slightly offset of center, thus allows for improved clearance for GPUs by not blocking the top PCIe slot on most motherboards.
The heatpipes terminates at the top. We also get a look at the Noctua logo, which is *sigh*.. upside down in this image (never drink and take product photos, folks). Moving on to the bottom, we get a look at the nickel-plated copper base, which features a smooth mirror finish.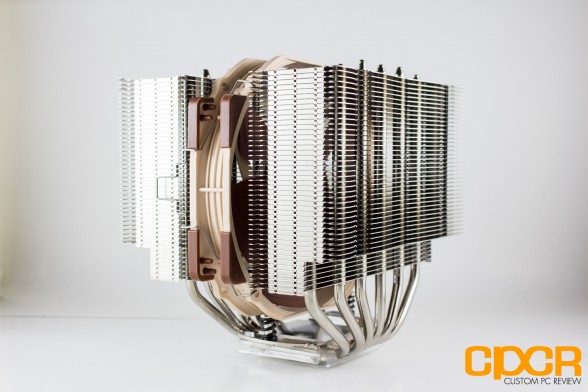 Finally, we have a look at the cooler fully assembled with the fan installed.
[section label=3. A Closer Look at the NH-C14S]
A Closer Look at the Noctua NH-C14S
Packaging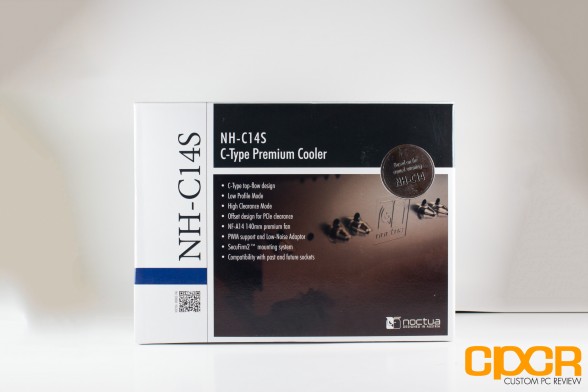 As I mentioned before, the name holds a lot of meaning to the product. Taking a look at the front of the box, we see that the NH-C14S is a C-Type cooler, which means it is a top-flow design. The name also suggest that the fan size is 140mm and that the cooler is designed with improved clearance for hardware such as memory modules and GPUs.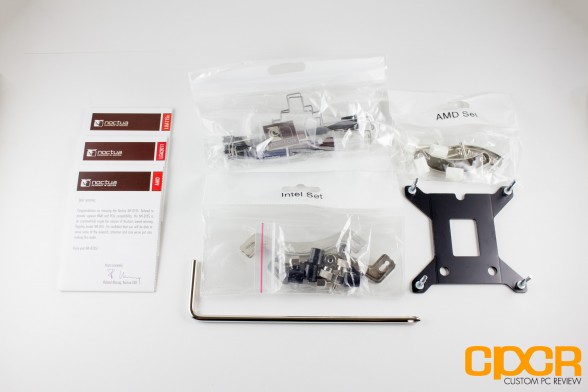 Again, we'll find the same accessories and mounting kit as with the NH-D15S. In fact, we didn't even bother taking another picture as that would have been redundant. (Funny, how I can remember to be efficient in my workflow, but not to put the cooler the right side up when taking a picture of it!)
NF-A14 PWM Fan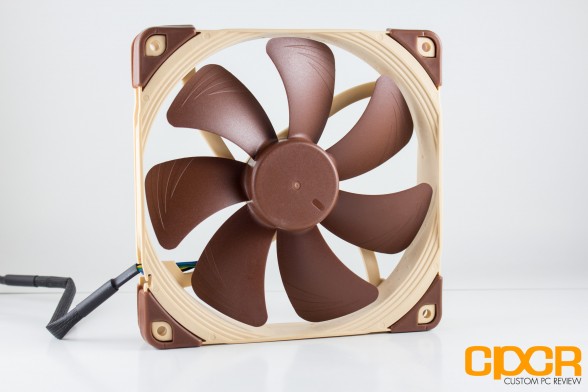 The included fan with the NH-C14S is very similar to the NF-A15, it features the same 7 blade fan design with Noctua's  "Flow Acceleration Channels", the only real difference here being that this is a square-frame design that is truly 140mm. This means that you could replace the fan with just about any 140mm fan on the market if you really dislike the brown and beige color scheme.
Heatsink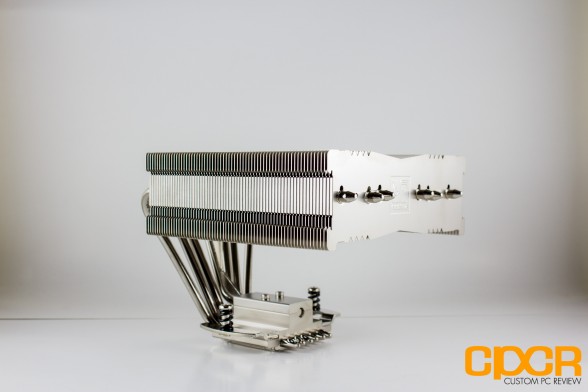 Taking a look at the heatsink itself, we see that the fin stack is identical to that of the NH-D15S, featuring the same right-angled curvature that Noctua has been using on its cooler since the introduction of the NH-U14S.
From the side profile, we can see that like the NH-D15S, the NH-C14S features an offset design which allows for improved GPU clearance. We also get a look at the 7x 6mm nickel-plated copper heat pipes which protrude from one side of the heatsink and at the cooler's base.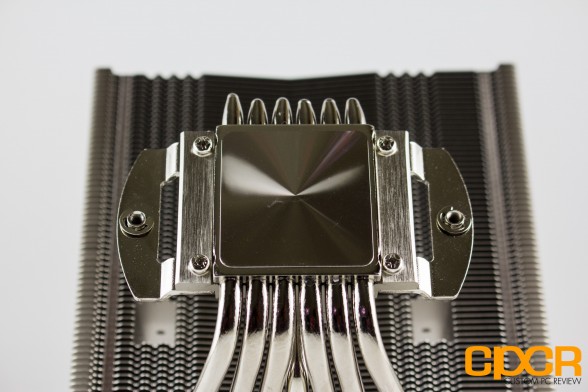 The Nickle-Copper base on the NH-C14S does not feature a mirror finish on the block. Instead, we see some very uniform and fine milling marks.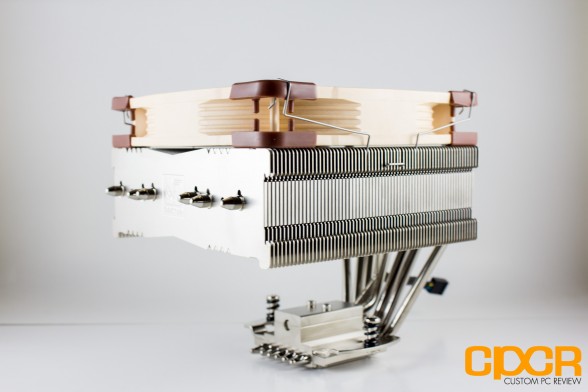 Finally, we have a look at the cooler fully assembled with the fan installed in both of the optional positions.
[section label=4. Installation]
Installing the Noctua NH-D15S and NH-C14S
One of the best things about the two coolers is that they're extremely easy to install. For the review, we'll detail the installation process, which is much of the same for both coolers. You'll first want to start off by identifying which CPU socket you have, in the case of our test bench, it is the Intel LGA 2011-3. After that, it is as simple as following the installation guide for your platform.
Also, pay no mind to the lack of CPU in the socket. We used this motherboard strictly for illustration purposes.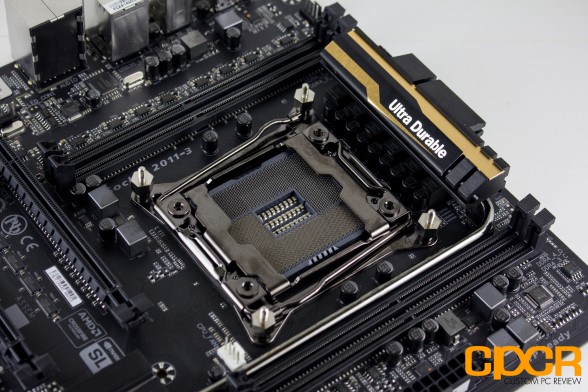 All of the different parts for the mounting kit are identified in the instruction guide with detailed illustrations and unique names, which make the process even easier as it eliminates the possibility of confusing components. In total, there are about 6 steps to the whole installation process on our platform, but there will be others as you have to install the included backplate for Intel's mainstream 115x sockets. The first step is securing the NM-IBT2 bolts into the threaded sockets on our motherboard, these bolts will provide posts for the mounting bars to attach to. Once we have them securely fastened, we then place the two NM-IMB2 Mounting Bars on top of the posts in the desired mounting position, making sure the holes on the bars are aligned properly with the posts.
Once the posts are on we'll secure them with the four NM-ITS1 Thumbscrews, you may want to use a screwdriver to ensure they are properly fastened, but be sure not to use excessive force as you can strip the threaded sockets on your motherboard.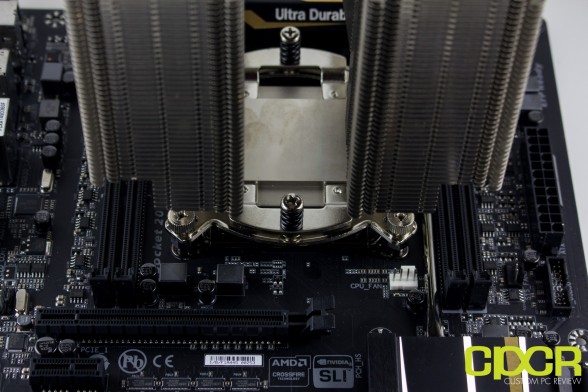 Once we have that sorted out, we then apply the thermal paste using your favorite technique. (I personally enjoy drawing a stick figure named Bob.)
We'll then place the heatsink itself without the fans installed on top of the threaded posts on the NM-IMB2 mounting bars, and then carefully tighten the spring-loaded screws onto the posts. You'll want to tighten the screws until they stop, but not force it to go any further as applying too much pressure to your CPU can result in serious damage. This is the same process for both coolers, but with the NH-C14S you'll have to slot the screwdriver into the special cut outs on the heatsink in order to get at the screws.
Once the heatsink is secure, you'll simply attach the fan using the included retention clips and then plug the 4-Pin PWM cable into the CPU Fan header on your motherboard.
[section label=5. Performance]
Noctua NH-D15S and NH-C14S Performance
Testing Setup
Haswell-E X99 Test Bench
Special thanks to Phanteks, DEEPCOOL, Asrock, and Crucial for supplying vital components for this test bench.
Testing Methodology
To test our CPU coolers, we run AIDA64's System Stability Test to create a consistent load on the CPU. We'll use the same software to monitor temperatures and record the highest temperature on any core after a period of 1 hour. We do this with our CPU at stock and while overclocked to 4.2GHz.
Cooling Performance
All CPU temperatures measured are the highest of any individual core. While CPU temperatures are captured in software using AIDA64, Ambient temperatures are measured using external temperature probes placed at the cooler's air intake.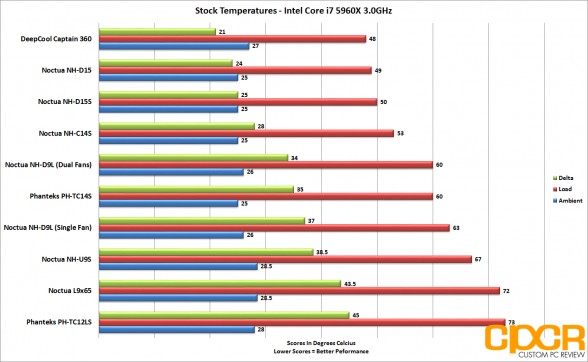 At stock, we can see that both the NH-D15S and NH-C14S wind up somewhere towards the top of the pack. With the former performing a few degrees cooler. What's also worth nothing is that the NJ-D15S performs very similar to the NH-D15, which features dual fans.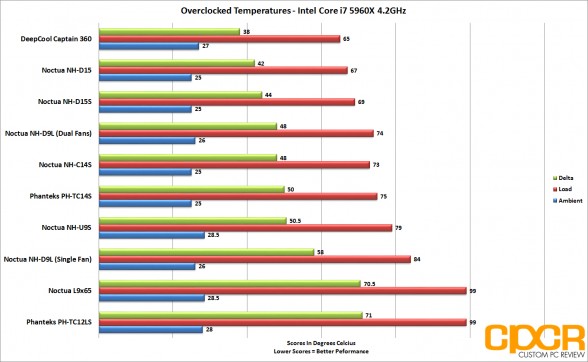 Overclocked results show a greater disparity between both coolers, with the NH-D15S performing about 4 degrees cooler than the NH-C14S. Again, both coolers seem to compete near the top of the pack, with our highest performing DeepCool Captain 360 AIO beating them both by 6 and 10 degrees, respectively.
[section label=6. Conclusion]
Conclusions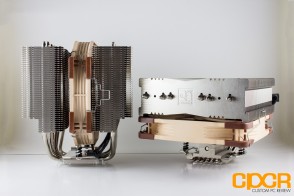 Let's wrap things up… After taking a look at these two additions to Noctua's fairly hefty lineup of air coolers, I have to say I am impressed. While you shouldn't expect to get the absolute best possible cooling performance out of these units (for that, you'll definitely want to look at liquid cooling), they do perform very well for their price range and targeted markets.
It is worth noting that, while we weren't able to properly test noise levels; both the Noctua NH-D15S and NH-C14S operated at whisper quiet acoustics, to my ears they are barely audible in most environments. Of course, your experience may vary.
The Noctua NH-D15S is a fantastic high-compatibility variant of the NH-D15, which gives many users who normally wouldn't be able to fit such a cooler in their systems due to memory or GPU clearance a cheaper, more practical option. While it doesn't offer the exact same cooling performance as the NH-D15 due to the lack of the second fan, it does get very close. At a price point of $79, it is a great high-end air cooling solution that should rival most 240mm all-in-one liquid coolers.
The NH-C14S ups the high-compatibility mantra with a lower profile option. It features two different fan mounting positions to allow for either high-profile memory compatibility or lower profile chassis support. That said, the relatively lackluster price-to-performance ratio compared to the likes of the Phanteks PH-TC14S or even some of Noctua's other offerings (including the NH-D15S) make it a rather niched option. At the very same $79 price point as the NH-D15S, the NH-C14S provides greater chassis support at the expense of significant cooling performance.
Rounding things up, both of these coolers continue Noctua's longstanding tradition of making great, high-quality air coolers. While they may not be for everyone, they do fit well in their targeted markets. I can easily recommend both of these coolers to anyone looking for a flexible and powerful premium air cooling solution.
For all those reasons, I'm going to award both the Noctua NH-D15S and NH-C14S our CPCR Certified Silver award.