While most of the internet is abuzz with today's release of the first reviews for the benchmark-busting GeForce GTX 1080, NVIDIA has finally revealed the specifications for the flagship GPU's younger sibling, the more affordable GeForce GTX 1070.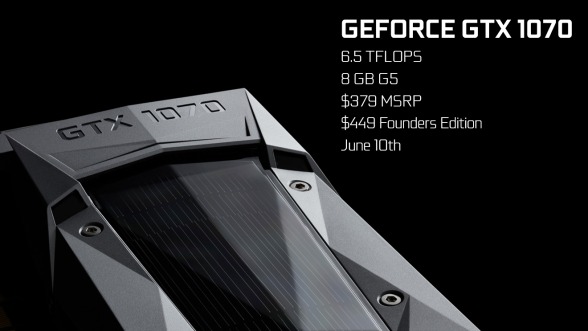 GeForce GTX 1070 Specifications Revealed
The GTX 1070 is based on the exact same GP104 "Pascal" GPU core, albeit with a few slight adjustments:
16 nm "GP104" silicon, 7.2 billion transistors, "GP104-200-A1" ASIC
1,920 CUDA cores, 15 out of 20 streaming multiprocessors enabled on the GP104 silicon
120 TMUs, 64 ROPs
256-bit GDDR5 memory, 8 GB standard memory amount
Max GPU Boost frequency 1600 MHz
6.75 TFLOP/s single-precision floating point performance
150W TDP, single 8-pin PCIe power connector
3x DisplayPort 1.4, 1x HDMI 2.0b
2-way SLI with SLI HB bridge support
As we knew before, the GTX 1070 replaces the GTX 1080's newer, more powerful Micron GDDR5X memory for standard GDDR5, although the amount has stayed the same at 8GB. What we know now, is that the GTX 1070 also features a reduced GPU Boost clock of 1,600MHz compared to the GTX 1080's 1,733MHz. We also have a reduction in CUDA Cores, 1.920 versus 2,560, which is a 25% reduction. We also have a roughly 17% reduction in power draw, as the GTX 1070 features a TDP of 150W compared to the GTX 1080's 180W.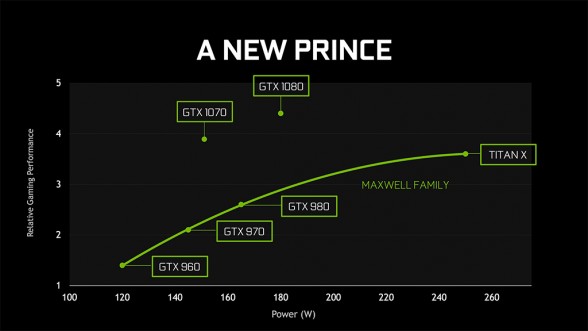 GTX 1070 Performance Projection
What's interesting is that NVIDIA still claims that the GeForce GTX 1070 is faster than both the Titan X and GTX 980 Ti. Since we know from the series of benchmarks released today that the GTX 1080 is roughly 30% faster than those cards, that along with these specifications should give us a decent idea of what to expect from the GTX 1070. We're likely looking at something roughly 5-10% faster than the GTX 980 Ti, while drawing about 100 watts less of power.
The GeForce GTX 1070 hits store shelves on June 10th, pricing will be $449 for the NVIDIA Founder's Edition and $379 for non-reference models from NVIDIA's partners.