Warning
: Undefined array key "width" in
/var/www/vhosts/custompcreview.com/public_html/wp-includes/media.php
on line
1381
Warning
: Undefined array key "width" in
/var/www/vhosts/custompcreview.com/public_html/wp-includes/media.php
on line
1386
Warning
: Undefined array key "height" in
/var/www/vhosts/custompcreview.com/public_html/wp-includes/media.php
on line
1386
Warning
: Undefined array key "width" in
/var/www/vhosts/custompcreview.com/public_html/wp-includes/media.php
on line
1381
Warning
: Undefined array key "width" in
/var/www/vhosts/custompcreview.com/public_html/wp-includes/media.php
on line
1386
Warning
: Undefined array key "height" in
/var/www/vhosts/custompcreview.com/public_html/wp-includes/media.php
on line
1386
[section label=1. Introduction]
HyperX Performance Without the HyperX Pricetag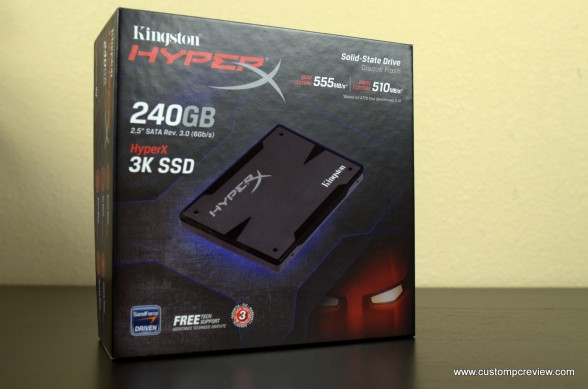 When you take a look at today's SSD market, there's no shortage of high performance SSDs. Practically every company has their own line of products, it's hard to find one that's both fast and won't break the bank. One factor contributing to higher SSD prices in enthusiast class SSDs is the use of faster toggle mode or synchronous NAND flash memory. This type of memory tends to perform much better than asynchronous NAND when it comes to working with incompressible data. The other factor of course is higher durability 5,000 P/E cycle  NAND.
Today, we'll be reviewing the Kingston HyperX 3K 240GB SSD. The new HyperX 3K line of SSDs aims to reduce the cost of entry into the world of enthusiast level SSDs, but still aims to provide the same level of performance expected of a HyperX branded product. While it still uses fast synchronous NAND, Kingston chose to include less durable NAND, rated up to 3,000 P/E cycles as opposed to the 5,000 P/E cycle NAND found in the original HyperX line of SSDs. While this may be a concern for enterprise, commercial, or business environments, this should not be a problem for most consumers who don't spend all day consuming write cycles. With the SandForce SF-2281 controller's excellent wear leveling, garbage collection, and over provisioning, it'll take many, many years for most consumers to run through 3,000 P/E cycles.
Specifications
Capacities: 90GB, 120GB, 240GB, 480GB
Sequential reads: SATA Rev. 3.0
90GB/120GB/240GB – 555MB/s
480GB – 540MB/s
Sequential writes: SATA Rev. 3.0
90GB/120GB/240GB – 510MB/s
480GB – 450MB/s
Form factor: 2.5″
Dimensions: 69.85 x 100 x 9.5mm
Operating Temperature: 0°C ~ 70°C
Storage Temperature: -40°C ~ 85°C
Vibration Operating: 2.17G
Vibration Non-Operating: 20G
MTBF: 1,000,000 Hrs
[section label=2. A Closer Look]
A Closer Look at the HyperX 3K 240GB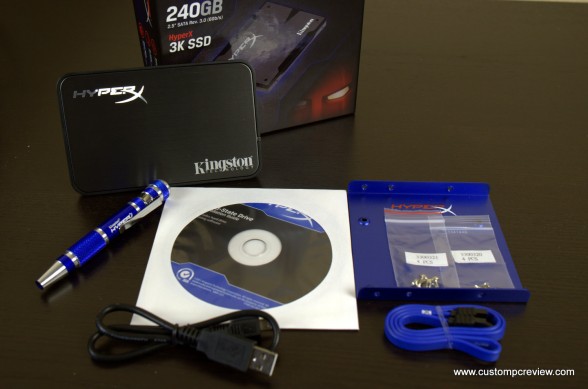 The nice thing about Kingston's SSD offerings is that they always include tons of accessories. Packed with the HyperX 3K upgrade kit, we get a driver disk with disk cloning software, an external 2.5″ drive enclosure with USB cable, a 2.5″ to 3.5″ HDD adapter with mounting screws, a SATA cable, and a screwdriver (which looks like a pen).
For those who don't need all the accessories and can just live with the 2.5″ to 3.5″ HDD adapter, mounting screws, and a SATA cable, the regular HyperX SSD SKU is available for $10 less.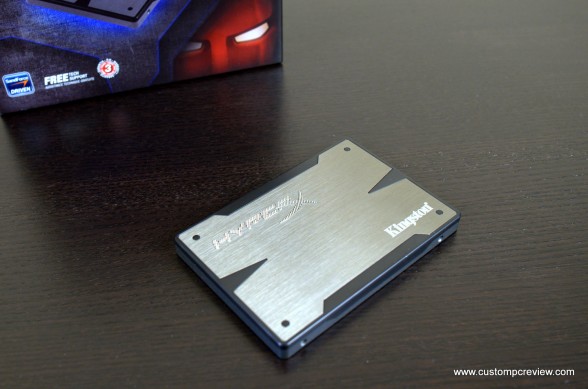 Again typical of Kingston HyperX line of products, the design on the HyperX 3K SSD is very good. The grey and black color scheme looks killer and the materials used is definitely of high quality. One thing you'll immediately notice when picking up the SSD is that it weighs much more than comparable SSDs from other companies. This of course speaks for the amount of material used as well as the quality.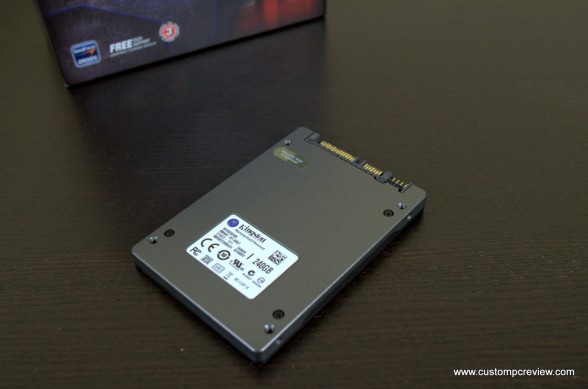 The bottom of the SSD is quite standard with four screw holes for the mounting screws.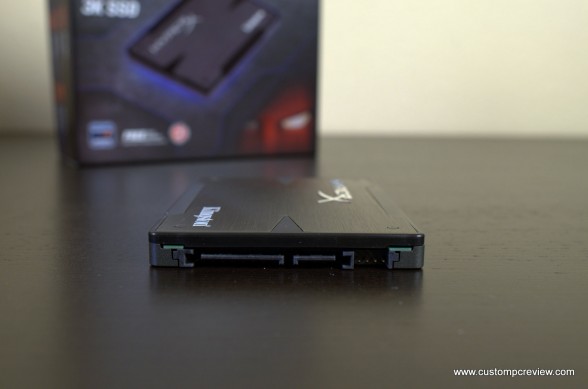 The connectors are very standard as well. SATA 3 6Gb/s and SATA power connectors in its usual spot.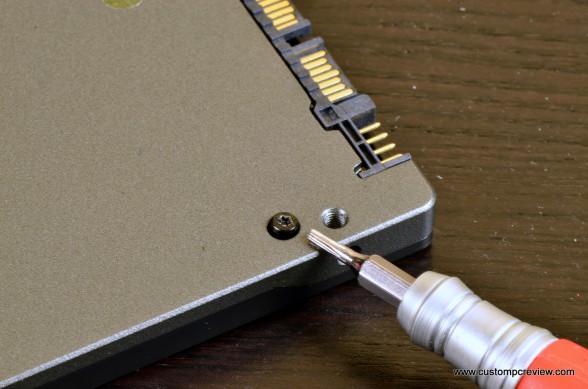 As with many other Kingston SSDs, Kingston definitely doesn't want you opening the thing up. The HyperX 3K  is locked with security hex screws along with a warranty void sticker that must be destroyed to open up the SSD.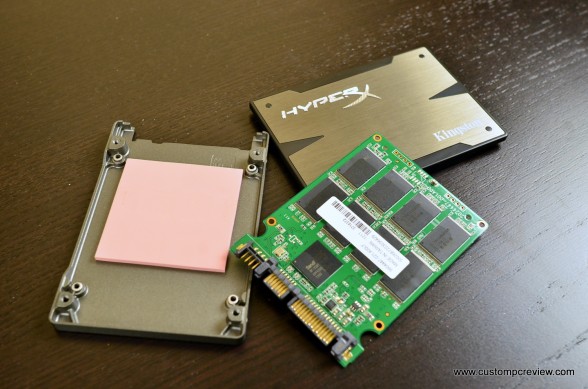 Once open, we notice that the inside of the casing actually has thermal pads which allow the casing of the SSD to act as a heatsink for the NAND chips. I'm not sure how important this is as it's not seen from many other manufacturers, but less heat on computer parts is always a good thing in my book.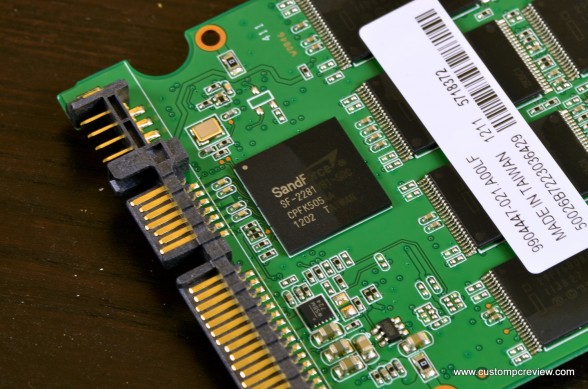 The HyperX 3K, like the older HyperX, is powered by the SandForce SF-2281 controller.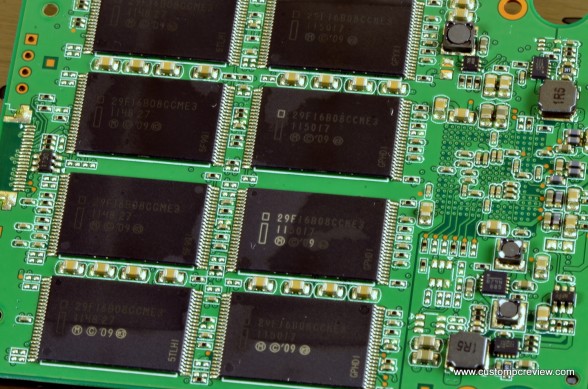 Included on the PCB is 8x 32GB Intel branded 25nm synchronous NAND modules. This creates a total of 256GB of memory, but 16GB is dedicated to over-provisioning which is why the drive is advertised at 240GB.
[section label=3. ATTO Disk Bench / Crystal Disk Mark]
Sandy Bridge Test Bench
CPU: Intel Core i5 2500K
Motherboard: Asrock Z68 Fatal1ty Professional Gen 3
Graphics: Intel HD3000 Graphics
Memory: Gskill Sniper 1866MHz DDR3 1.5v
Storage: Patriot Pyro SE 120gb
Power Supply: Corsair HX650
Case: HSPC High Speed Tech Station
Special thanks to HSPC for providing us with the High Speed Tech Station (Large) for our test bench.
HyperX 3K 240GB Performance
ATTO Disk Benchmark
ATTO Disk Benchmark is one of the industry's most popular benchmarks for testing SSD read/write speeds. This benchmarks allows read and write testing using predefined block sizes and gives us a good idea of read/write speeds with different sized files.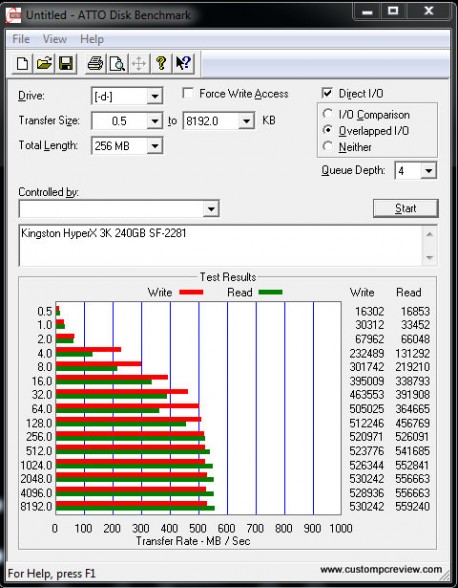 As usual, we started our benchmarking using ATTO Disk Benchmark and you can almost immediately tell this is a SandForce based SSD. Due to the test consisting primarily of compressible data, the HyperX 3K is able to grab numbers like 559MB/s sequential reads and 530MB/s sequential writes. Since the drive is advertised at 555MB/s reads and 510MB/s writes, we're off to a great start!
Crystal Disk Mark 3.0.1 x64
Crystal Disk Mark is another popular benchmark which allows us to measure both sequential read/write speeds as well as random read/write speeds. With this benchmark, tests will be run using both random fill (incompressible data which simulates music, video, pictures, etc.) and 0 fill (compressible data).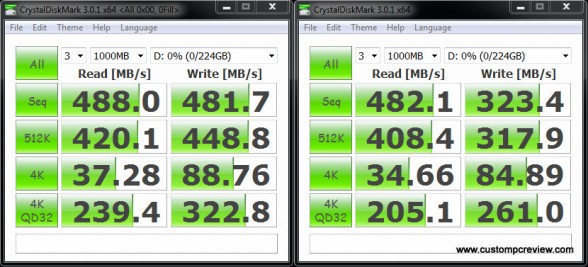 Moving onto Crystal Disk Mark, it seems like the HyperX 3K is going to be among the faster SandForce based SSDs on the market. The image to the left displays a benchmarking run with compressible data and the image to the right displays a benchmarking run with incompressible data. Since we've got synchronous NAND here, the performance drop from testing incompressible data isn't that bad with the drive capable of doing 482MB/s sequential reads and 323.4MB/s sequential writes. We're also seeing some great 4K and 4K QD32 numbers (small file transfers) so you can expect the drive to be quite snappy for day-to-day use.
[section label=4. AS SSD / PC Mark 7]
HyperX 3K 240GB Performance
AS SSD Benchmark
AS SSD is a very commonly used benchmark used to measure SSD performance in a number of categories. Here, tests are run using incompressible data, which most simulate real world usage. It also outputs a final score at the conclusion of the test based off the read and write performance of the drive.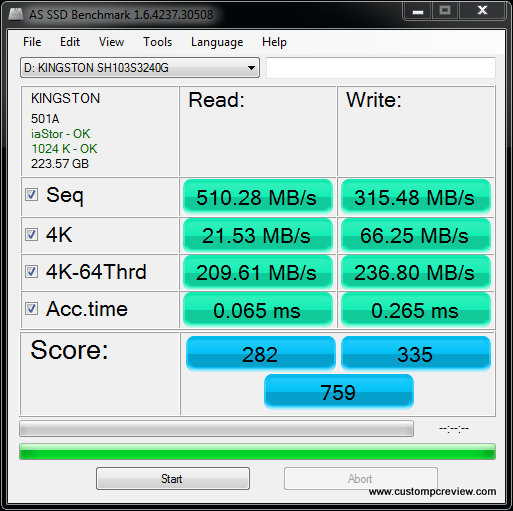 Next up we've got AS SSD, which looks very similar to the random (incompressible) data test for Crystal Disk Mark. Perfomrance here is quite good for a SandForce based drive, but is beat by Marvell and Samsung based drives. That said, most of what you do day-to-day is a combination of both incompressible and compressible data so I wouldn't be too worried.
PC Mark 7
The PC Mark 7 storage test tests the SSD under many different real world tests such as gaming, video editing, etc. This is most representative of the SSD's performance under real world situations.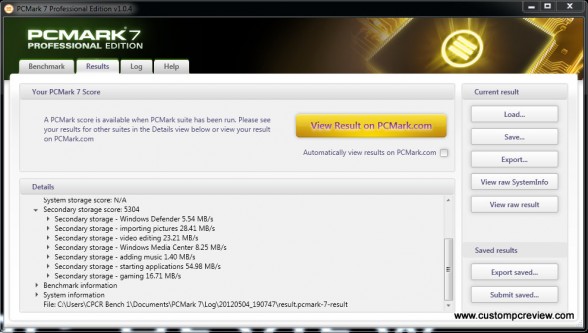 | | |
| --- | --- |
| SSD | PC Mark 7 Score |
| OCZ RevoDrive 3 X2 PCIe 240GB | 5326 |
| Kingston HyperX 3K 240GB | 5304 |
| SanDisk Extreme 240GB | 5273 |
| Samsung 830 128GB | 5234 |
| Crucial m4 128GB | 5214 |
| OCZ Vertex 3 120GB | 5078 |
| Patriot Pyro SE 120GB | 5042 |
| OCZ RevoDrive 3 PCIe 120GB | 4954 |
| Kingston V+200 120GB | 4711 |
| OCZ Agility 3 120GB | 4701 |
| Corsair Force 3 180GB | 4615 |
| Seagate Momentus XT 750GB | 3247 |
| WD Scorpio Black 250GB | 1727 |
Last but not least, we've got PC Mark 7 and we can see that the HyperX 3K is a performance beast scoring 5304 in PC Mark 7. One thing to note is that a comparison between 120/128GB SSDs is a bit unfair as 240/256GB SSDs tend to have higher performance, but the Kingston HyperX 3K is able to take its spot as the second fastest drive we've tested coming in right behind the insanely fast (and expensive) PCIe based RevoDrive 3 X2 240GB. What's most interesting is that the HyperX 3K is able to beat the toggle NAND based SanDisk Extreme 240GB.
[section label=5. Conclusion]
HyperX 3K 240GB Conclusions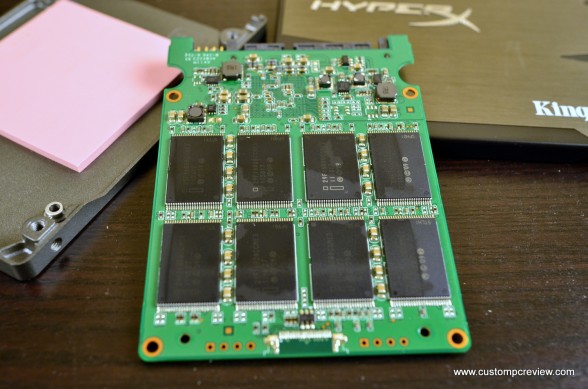 Kicking off the conclusion with performance, the HyperX 3K is among the top performing drives we've tested so far. Whereas most companies would opt to use slower asynchronous NAND in all their budget SSDs, both Kingston's HyperX and HyperX 3K models use IMFT 25nm synchronous NAND which provides better performance especially when it comes to working with incompressible data. As mentioned previously, the only difference between the HyperX and HyperX 3K is that the 3K model uses 3K P/E cycle NAND, which is perfectly fine for consumer applications. Unless you're writing and erasing 24/7, you should be able to get years and years of use out of both the HyperX 3K as well as the original HyperX. Also remember that these ratings are extremely conservative so you'll probably get far more than 3,000 P/E cycles off the SSD.
Like most other HyperX products, Kingston has done a fine job with the HyperX 3K's aesthetics as well. Similar to the original blue/grey themed HyperX, the HyperX 3K with the grey/black theme looks fantastic. Kingston's choice to use a brushed aluminum finish on their SSD really enhances the overall look of the SSD which can only be matched by SSDs such as the Samsung 830. Materials used on the casing also feel like they're much higher quality than SSDs from most other manufacturers especially if weight is any indicator of quality (It's pretty heavy!).
For me, the only thing I can really knock Kingston for is the fact that they're only including a 3 year warranty with the HyperX 3K. While it seems like a 5 year warranty is generally an exception rather than the rule, I'd definitely like to see larger SSD manufacturers such as Kingston, Crucial, and Corsair start the trend towards 5 year warranties to promote better industry wide product reliability. That said, looking at current pricing for the HyperX 3K, I can't really complain.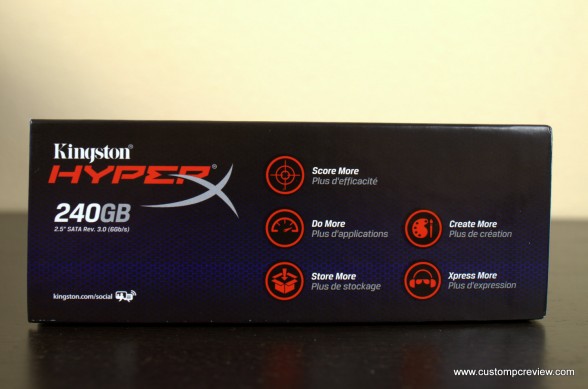 Speaking of pricing, the HyperX 3K 240GB SSD is currently going for $259.99 (Amazon) for just the desktop upgrade kit with the SSD, a 3.5″ bracket, and some mounting screws. For a mere $10 more, you get the full HyperX 240GB upgrade kit shown today which additionally includes the external 2.5″ adapter, Acronis cloning software, and the HyperX screwdriver. Taking into consideration that the HyperX 3K SSD is among the fastest SATA based SSDs we've tested so far, it's priced very competitively – especially with the upgrade kit coming in at only $10 more. The Acronis cloning software is very easy to use and the external 2.5″ drive adapter will allow you to connect your HyperX 3K SSD to your PC as a USB device to facilitate the transfer.
Bottom Line
Similar to the Kingston V+200, the Kingston HyperX 3K SSD is among the fastest SandForce/synchronous NAND based SSDs we've had the pleasure of reviewing. With all the included accessories, great styling, and a GB/Dollar ratio of nearly $1/GB, the HyperX 3K SSD is highly recommended.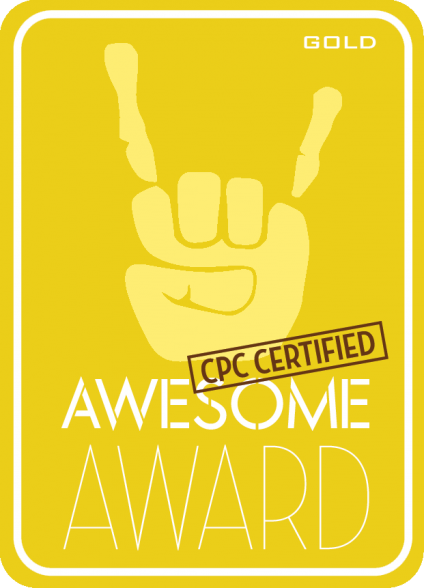 Special thanks to Kingston Technology for making this review possible.
The Kingston HyperX 3K 240GB SSD is currently available at Amazon.