Got a Window? Use it!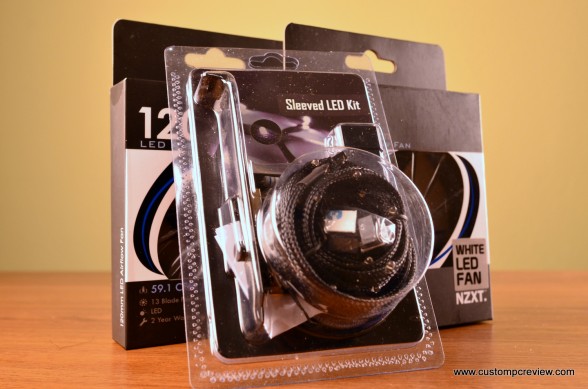 Chances are, you have a bookcase or some cabinets at home with large windows up front. Most of us do, and chances are, inside those bookcases or cabinets, we have lighting. Why? Well, we've gotta show off how awesome our book collections are or how beautiful our china is.
We spend tons of money on high end windowed cases, matching colors and all that cool stuff each year, but honestly, how many of us go that extra mile to light everything up? From what I've seen from many of my own builds as well as those from others, I'd have to say not many, but it shouldn't be that way. There are many inexpensive options out there for illuminating your PC and today we'll be taking a look at a couple of these options from our friends over at NZXT.
The products we've selected today have a couple of goals in mind:
Everything needs to be simple to install.
We want to achieve maximum effect with minimum cost
NZXT FZ LED 120mm Fan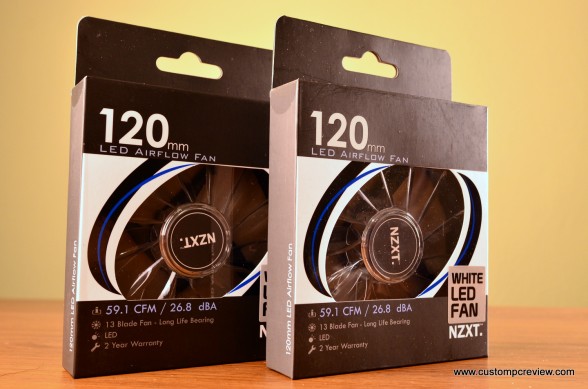 The first product we'll be taking a look at is the newly introduced NZXT FZ LED 120mm Fan. This is actually one of NZXT's newest products to hit the market and comes in both 120mm and 140mm flavors. Aside from the difference in sizes, the fans also come with different LED colors such as white, blue, green, orange, and red.
Today we'll be taking a look at the 120mm version. The fan has a rotational speed of 1200RPM, a noise level of 26.8dBA, and an air flow rate of 59.1CFMs. While we won't be focusing on fan performance today, the fan definitely looks great on paper – offering a very good noise to air flow ratio, especially for an LED lit fan. Additionally, NZXT also emphasized that this fan has a "Long Life Bearing". Upon further inspection, the fan actually comes with rifle bearing fans, which are significantly more durable than cheap sleeve bearing fans that are all too common on the market today.
Specifications
| | |
| --- | --- |
| MODEL | FZ-120mm LED Airflow Fan |
| LED | White, Blue, Green, Orange, and Red |
| VOLTAGE | 12V DC |
| CURRENT | 0.21A (rate), 0.30A (safety) |
| DIMENSIONS | 120 x 120 x 25 mm |
| INPUT POWER | 2.52W (rate), 3.60W (safety) |
| SPEED | 1200+/-200 RPM |
| AIR FLOW | 59.1 CFM |
| AIR PRESSURE | 0.71 mmH₂O |
| NOISE | 26.8 dBA |
| BEARING | Long Life Bearing |
| LIFE | 40,000 Hours |
NZXT Sleeved LED Kit
The second product we'll be taking a look at is the 2m NZXT Sleeved LED Kit. Sleeved LED kits are nice because they create very little heat, use very little power, yet are able to achieve stunning effects. Coming in at only $17.48 on Amazon, it's quite possibly one of the easiest and most inexpensive upgrades you can add to your case to give it the extra wow factor it deserves.
Easy Management: Designed to take up minimal space and fit in narrow areas in any case, the Sleeved LED Kit provides numerous LEDs on one cable to simplify installation.
5 Kit Colors: Set the mood or mix and match with red, green, white, blue, or orange kits.
Sleeved LED Kit comes in 2 lengths; 1m and 2m.
3-Step Light Sensitivity: Allows user to turn LEDs on high, medium, and low settings or turn off.
A Closer Look
NZXT FZ LED Fans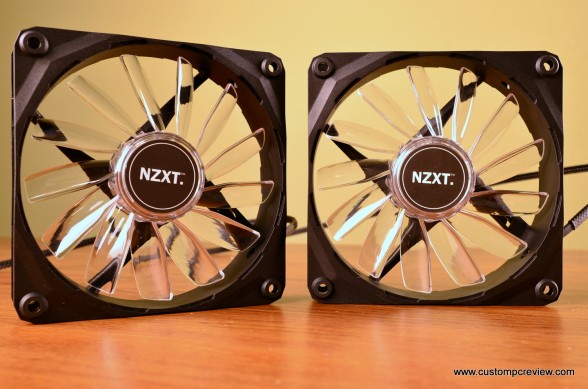 Once unboxed, we can see that the NZXT FZ fans have clear blades and a black outer casing. The LEDs are embedded in the casing itself, which helps light everything up. As mentioned earlier, they also use rifle bearings, which tend to have longer lifespans than sleeve bearing fans.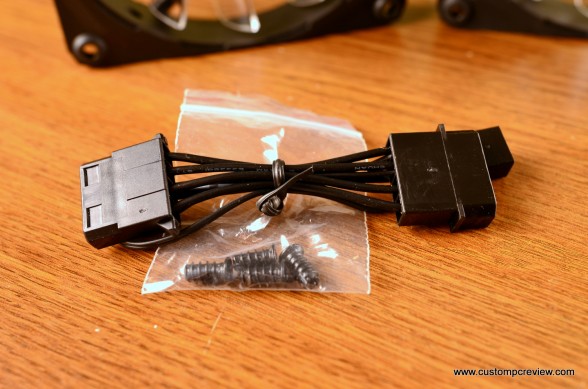 Included with the fan is also a molex to 4 pin connector as well as some screws for installation.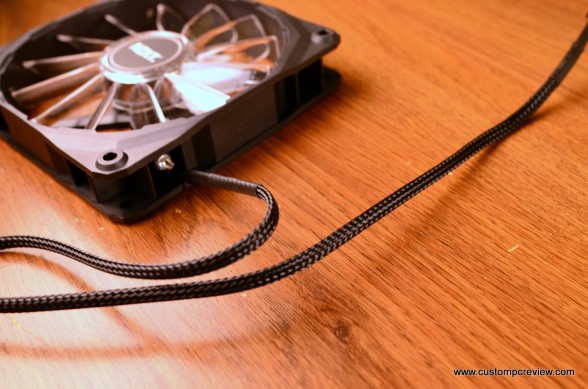 The NZXT FZ LED fans also comes with a braided cord, which means greater durability, less restrictive air flow, and better aesthetics as well.
NZXT Sleeved LED Kit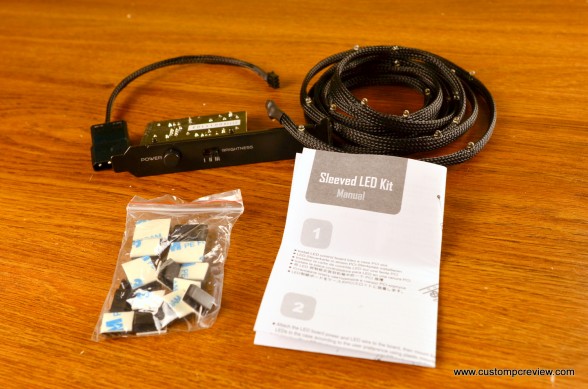 Included with the package for the NZXT Sleeved LED Kit, we receive some documentation, clips for the sleeved LED strip, the controller, along with a molex power adapter.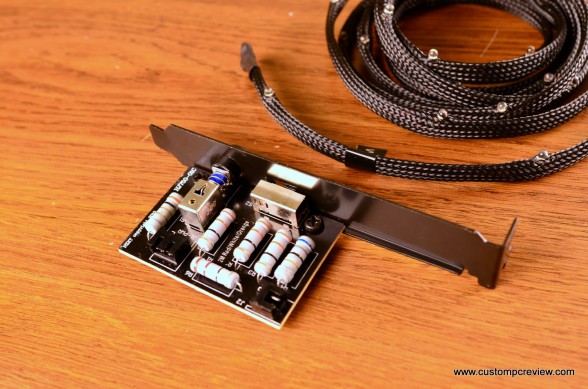 Here's a look at the back of the control unit. It requires a single empty expansion bay and comes with two connectors – one for the sleeved LED cable and another for the molex adapter. As you can see, the sleeving on the LED cable is very high quality and should be quite durable.
Installation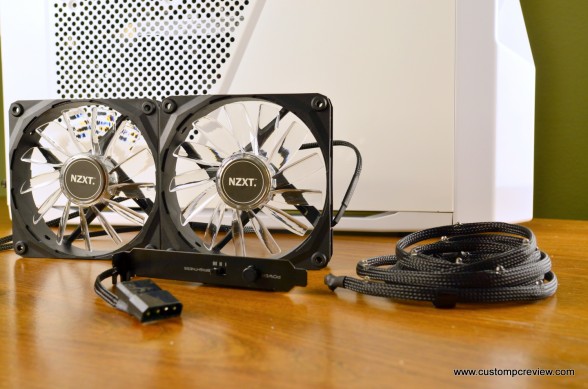 We'll be installing 2x 120mm NZXT FZ LED Fans and the NZXT Sleeved LED Kit into the Phantom 410 to brighten it up. That's not to say that the Phantom isn't already pretty, we just wanted to give it a bit of illumination to help it stand out from the rest. For those unfamiliar with the Phantom 410, the case comes with a large side panel window – perfect for showing off some pretty lights. For our full review of the NZXT Phantom 410, please click here.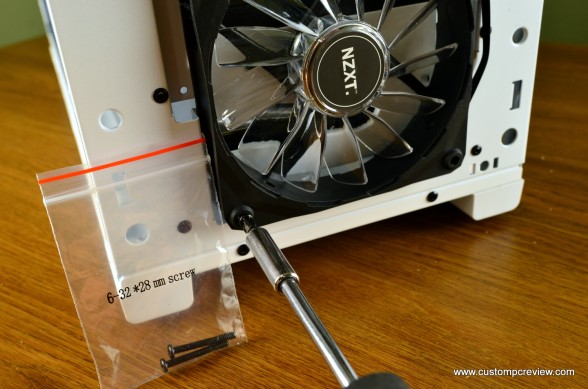 Our first FZ LED 120mm fan is going to replace the stock front 120mm fan on our NZXT Phantom 410. Simply remove the front cover and swap out the fan. It's attached by 4x screws as shown above.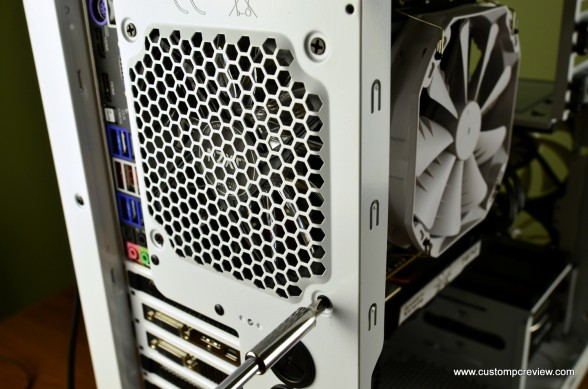 Next, we'll be replacing the stock rear 120mm fan with our second 120mm FZ LED fan. Same procedure as before.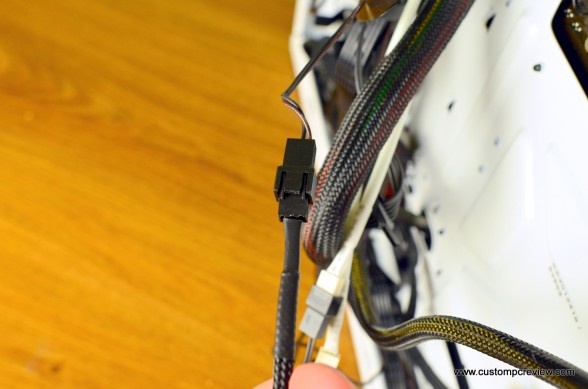 After installation of the fans, be sure to connect the 3 pin connector from the fan to the 3 pin connector from the fan controller.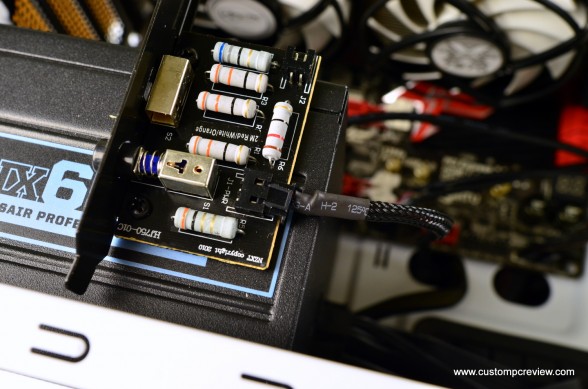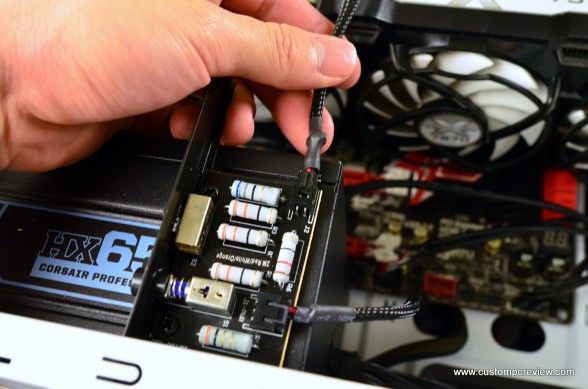 Next, we'll be installing the sleeved LED kit. Simply connect the molex adapter cable and the sleeved LED cable to the controller. You'll also want to connect the molex adapter to a molex connector from your power supply.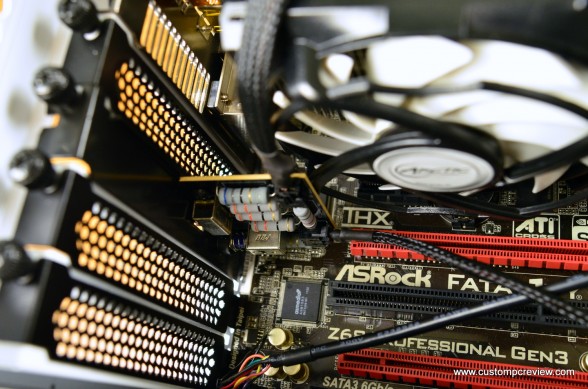 Once everything is connected, an empty expansion slot is used to install the controller board.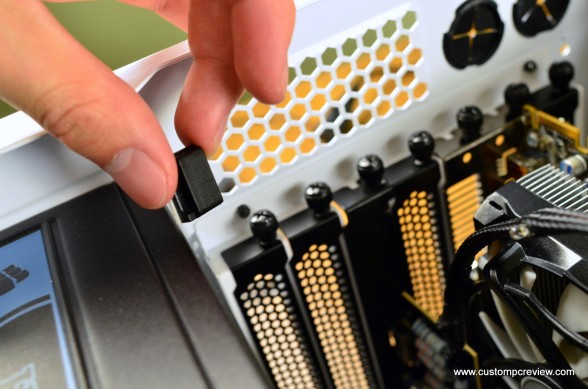 With the controller securely installed into the expansion slot, stick all the adhesive clips onto the case. I typically just stick the adhesive pieces to the corners of the case first, then I'll add more as needed.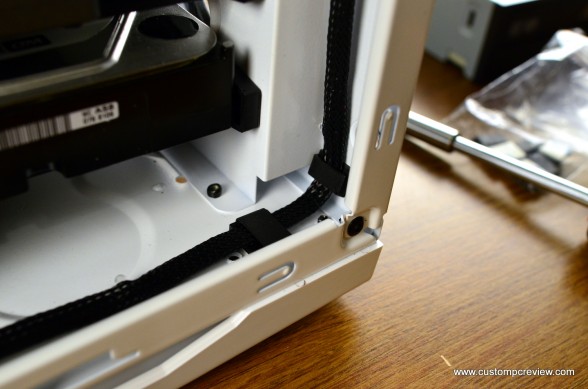 Once all the clips are securely stuck to the case, clip the sleeved LED cable to the clips around the case.
Lighting It Up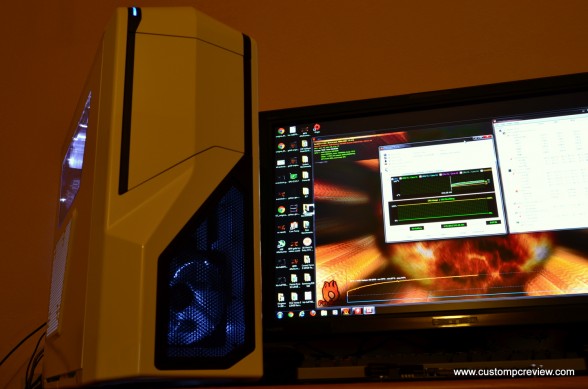 With everything connected, we now have the final product. The entire interior of the case is brightly lit and everything inside is very visible.
Overall, the entire installation is quite simple and takes only roughly 15-20 minutes. However, the impact is very noticeable. As depicted in the pictures, the lighting looks absolutely fantastic and it helps light up all the beautiful hardware inside very well. The fans are quiet too, so there is no need to worry about the tradeoff between great aesthetics and noise.
Pricing for the entire set isn't too bad either. On Amazon, each NZXT FZ LED 120mm Fan can be found for $14.99 and the NZXT Sleeved LED Kit (2m) can be found for $17.48. With two FZ LED 120mm fans and the Sleeved LED Kit, the entire set comes out to right under $50. For those who are on a budget, you may even consider just going with only the Sleeved LED Kit as the Sleeved LED Kit creates much more light than the fans due to its longer strip of LEDs.
The NZXT Phantom 410 used in this article is currently available at Amazon.
Special thanks to NZXT for making this case lighting overview possible.