[section label="Introduction"]
Gaming & Media Switch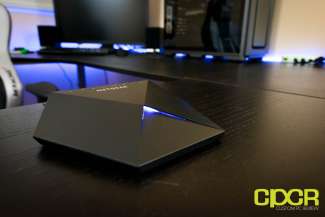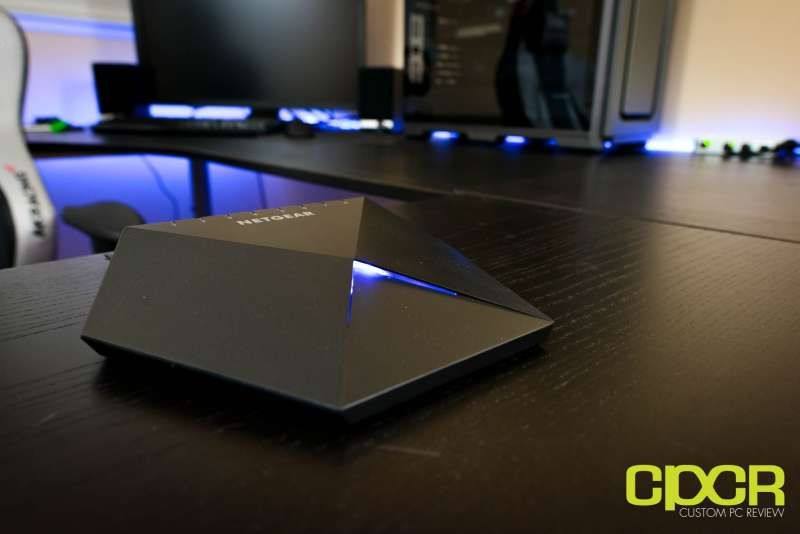 Netgear's Nighthawk series of routers have always been advertised as Netgear's flagship consumer router products, designed primarily for those looking for networking equipment well suited for gaming and media streaming.
In Netgear's Nighthawk routers, Netgear has done quite a bit to cater to this market with an aggressive design backed by some of the latest and greatest technologies including radios based on the latest wireless standards, tons of antennas, built-in QoS functionality, and more.
Capitalizing on the Netgear Nighthawk routers' success, Netgear recently introduced their first Nighthawk switch, the Netgear Nighthawk S8000, built with a similar design philosophy as the rest of the Nighthawk lineup.
Specifications
Manufacturer
Netgear
Model
Nighthawk S8000
Ports
8x 10/100/1000
Max Speed/Latency
1000Mbps: <3.2µs
100Mbps: <9.6µs
10Mbps: <76.9µs
Max MAC Entries
8K
Buffer size
192 KB
Max Bandwidth
16 Gbps
IGMP Snooping
Yes
Multicast
Yes
VLAN support
No
Link Aggregation
Yes, 2 LAGs with 4 members each
Port Based Rate Limiting
Yes
Quality Of Service
Yes
Priority Queuing
Weighted Round Robin
Energy Efficient Ethernet (EEE)
Yes
Power Consumption
0.8W (Min), 3.8W (Max)
Warranty
3 Years
Looking at the specifications for the Netgear Nighthawk S8000, it's a pretty high end switch for a home user. Equipped with no less than eight Gigabit Ethernet ports, it supports QoS functionality, rate limiting, link aggregation, and latencies down to the microsecond. Curiously it doesn't support VLAN, which is likely to be a let down for those in the market for a true managed switch.
Let's take a closer look.
[section label="A Closer Look"]
A Closer Look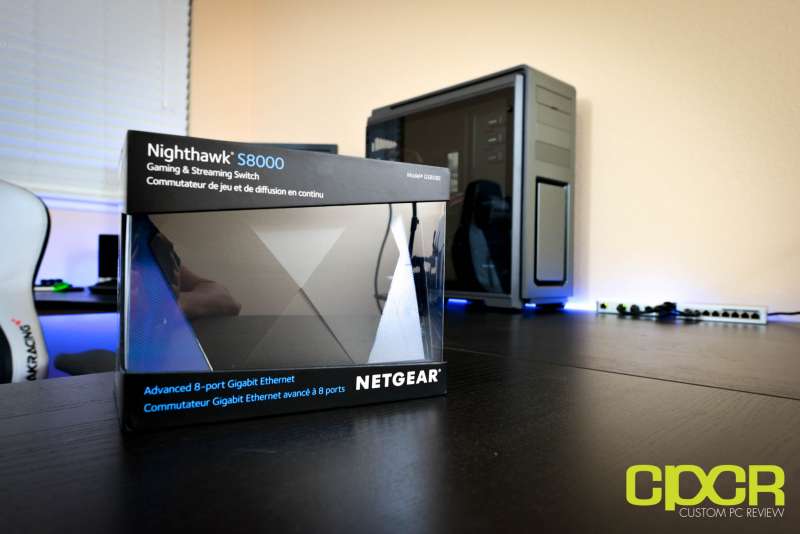 Here's a look at the packaging for the Netgear Nighthawk S8000 switch.
Included in the packaging is some documentation, a power adapter, and the Nighthawk S8000 switch.
Here's a closer look at the Nighthawk S8000. Constructed entirely of metal, the Nighthawk S8000 features a design inspired by Netgear's Nighthawk lineup of routers. At the rear, the switch features eight Gigabit Ethernet ports, a LED on/off button, and a DC in power port.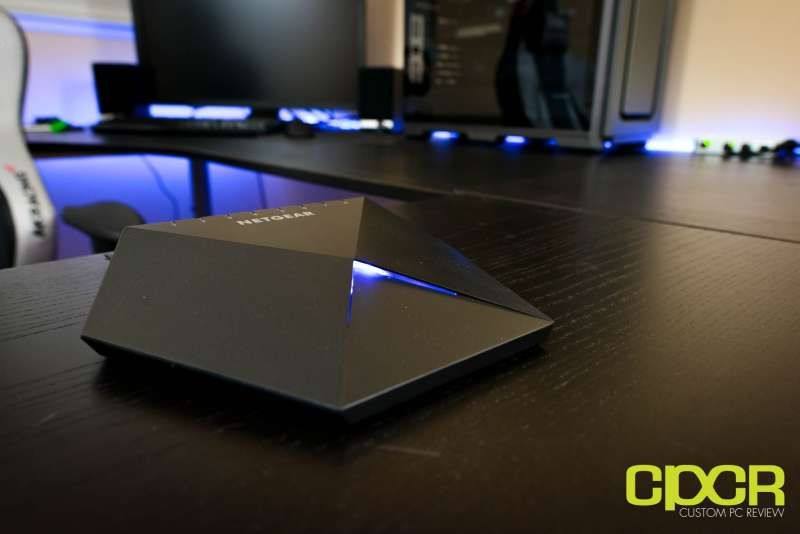 Here's a look at the Netgear Nighthawk S8000 switch when in operation. It's a fast and mean looking switch although a bit big because of this unique design.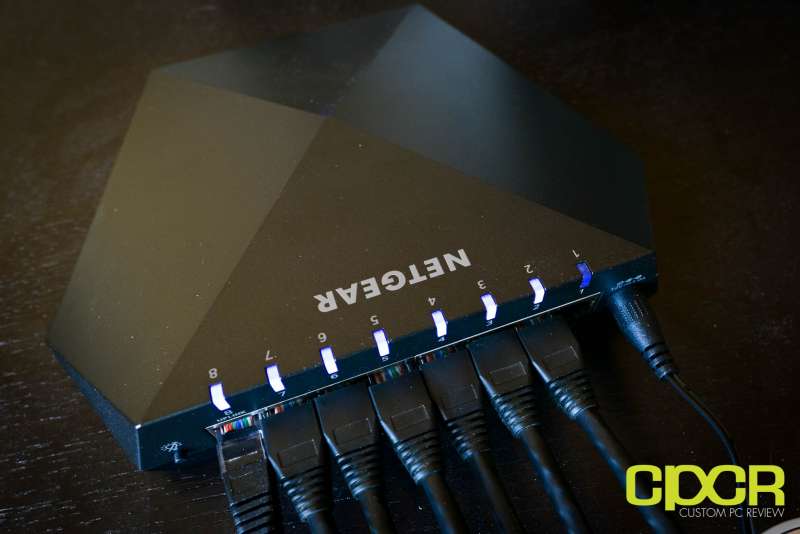 Here's a look at the Netgear Nighthawk S8000 with several devices plugged in. We can see that LEDs above the port light up indicating a device is on the port.
[section label="Software"]
Software
The Netgear Nighthawk S8000 a smart switch, so it allows the user the ability to configure numerous settings as well as monitor the ports onboard. It's definitely not a very feature rich smart switch like you'd find with a fully managed business switch, but it's more geared towards ease of use.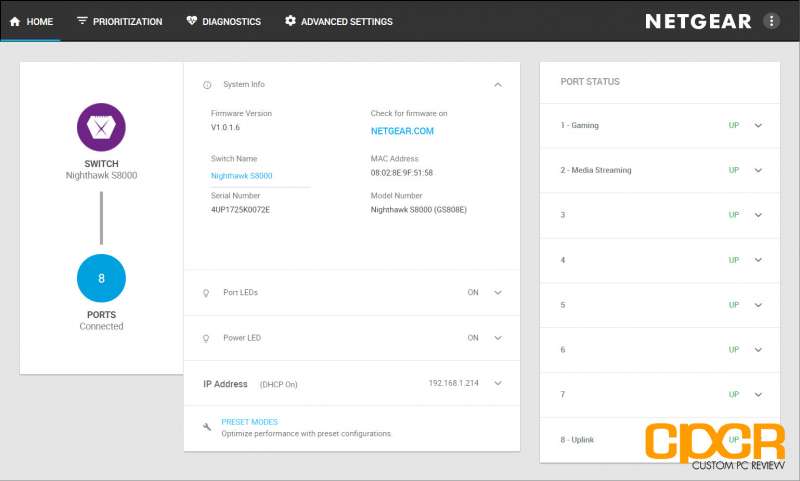 At the home page is a quick status report of the switch which includes status indicators on the ports that are connected, some various information about the profiles on the ports, some quick information on the switch as well as the switch's IP configuration.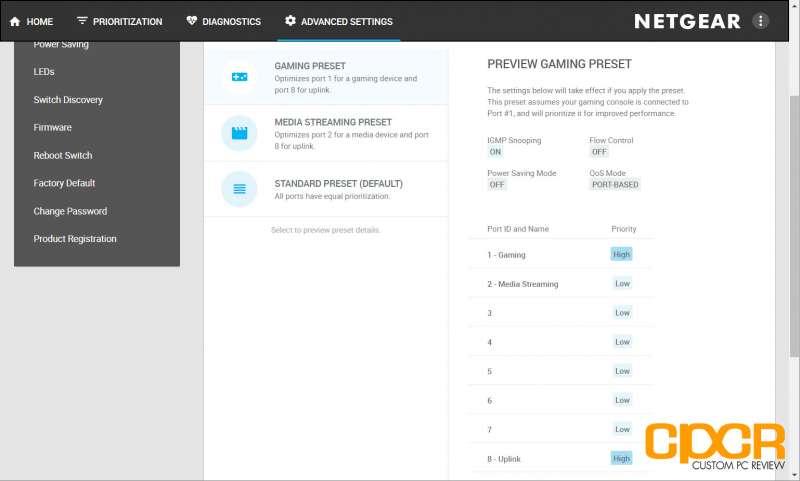 One of the main features of the Nightahwk S8000 is the ability to set profiles on each port. This allows users to give priority to certain devices such as gaming systems or media streaming devices while rate limiting other devices such as your roommate's Bittorent machine.
The Nighthawk S8000 includes QoS functionality that can either use a port-based method or 802.1P/DSCP for those with networks that support it. This makes it easy to limit certain ports to certain amounts of bandwidth very easily to ensure that your game of Battlefield 1 isn't interrupted by your roommates deciding to stream some 4K video.
Here we can see that Netgear has made the process of QoS set-up quite easy. Simply choose the port and the priority level or choose a port and the maximum bandwidth allocated and voila. Done.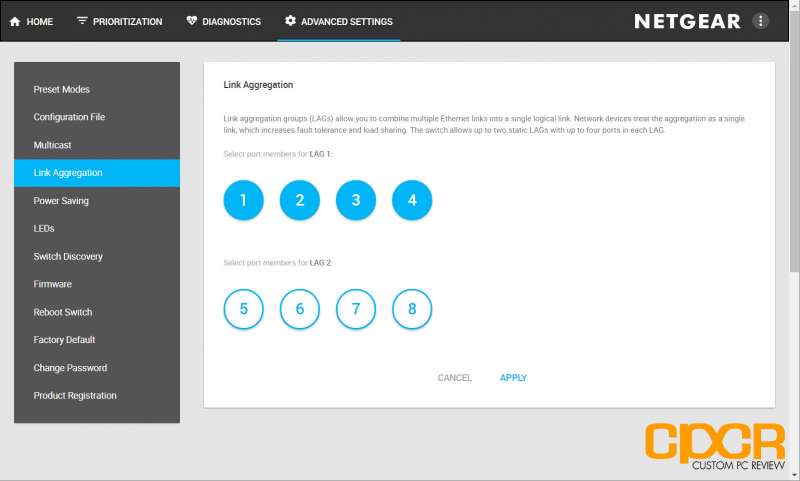 For those with devices that support link aggregation such as some of the higher end Netgear ReadyNAS devices, the Nighthawk S8000 is capable of aggregating up to four ports for better performance or better redundancy.
Other features include 802.3az Energy Efficient Ethernet which helps conserve energy. Netgear has also built in various switch discovery protocols such as uPnP or Bonjour to easily detect the switch.
For those running cables in walls and such, Netgear also built in a cable break detection capability that allows you to determine if the cable is working and if not, approximately where the cable break is located.
[section label="Performance"]
Performance
Throughput
Throughput testing was conducted using a test system equipped with three Intel Pro 1000 Dual Ethernet adapters. Testing was conducted using iPerf 3 simultaneously running on six separate VMs. While the Netgear Nighthawk S8000 is equipped with eight Gigabit Ethernet ports, our test system is limited on ports so we decided to simply test using six ports. In a real world home environment, it's unlikely all eight ports would be saturated to its maximum capabilities.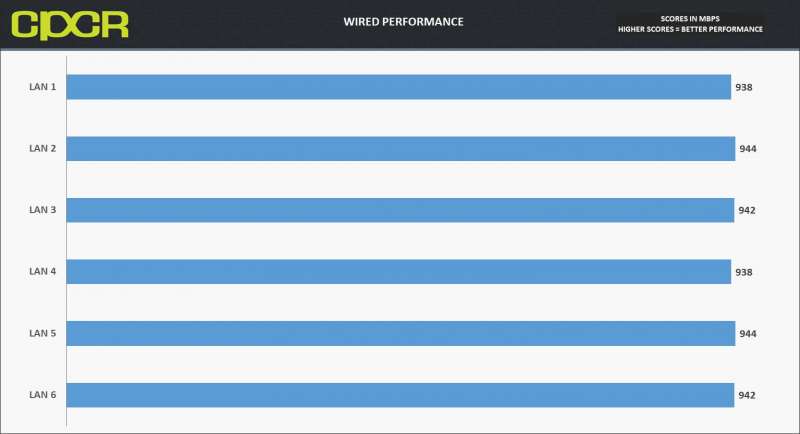 Here we can see that the Netgear Nighthawk S8000 had no issues delivering Gigabit performance to each port simultaneously.
Latency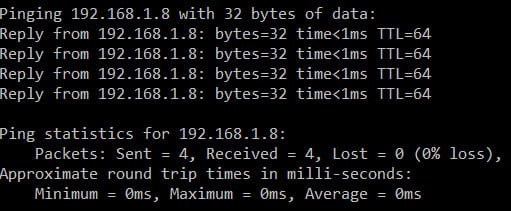 Latency was conducted using a simple ping operation between two devices. In testing, the Nighthawk S8000 was able to deliver consistent sub-1ms response times.
[section label="Conclusion"]
Conclusions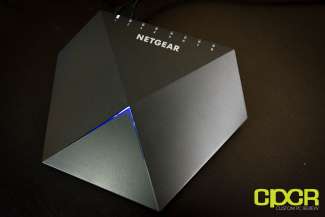 The Netgear Nighthawk S8000 is an excellent, feature-rich switch that's easy to setup, looks great and performs well. In testing, the Nighthawk S8000 was easily able to sustain not only full Gigabit bandwidth for any connected devices, but also low latencies as well.
Pricing of the Netgear Nighthawk S8000 is currently $99.99, which is a pretty expensive switch for home use. While the Netgear Nighthawk S8000 supports more features than your average switch with features such as link aggregation, quality of service and rate limiting, I'm not really sold that it's actually worth the extra cost. Almost all of the latency when playing games is introduced after data leaves the router and the literal microseconds (1,000 microseconds = 1 millisecond) of latency reduction Netgear claims is simply too insignificant to provide most gamers with a competitive advantage even if they decide to play in a LAN environment.
This leaves quality of service and link aggregation as the main differentiating factors for the Nighthawk S8000, but with plenty of smart switches that can provide this functionality at a lower cost, there's no reason to go with the Nighthawk S8000. That said, the Nighthawk S8000 being designed for an average home user does make it quite easy to set these features up, so if you'd rather pay extra for ease, the Nighthawk S8000 may be worth a look.
Sample provided by: Netgear
Available at: Amazon