[section label=1. Introduction]
High Performance in a Bite Sized Package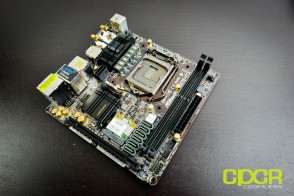 With Intel's focus shifting towards power efficiency rather than maximum performance at all costs, it's becoming increasingly unnecessary for gamers and enthusiasts to purchase bulky and cumbersome giant cases with giant motherboards with tons of cooling capacity. This is why over the past couple generations of Intel CPUs, a number of motherboard manufacturers have begun embracing the mITX formfactor, which has traditionally been reserved for low power systems.
With that said, today we'll be reviewing out the ASRock Z87E-ITX motherboard, which as you may expect is a mITX formfactor motherboard based off Intel's Z87 chipset. This is one of ASRock's latest motherboards and despite the fact that it's based off a 17cmx17cm size, the motherboard is very full featured sporting a full PCIe x16 slot for your high powered graphics, six phase DrMOS digital power delivery system, a whopping six SATA 6Gb/s ports, Intel Gigabit LAN, 802.11 AC WiFi, mSATA support, and more!
Let's flip the page and take a closer look.
ASRock Z87E-ITX Specifications
Manufacturer
ASRock

Model
Z87E-ITX
FormFactor
Mini-ITX
Socket
LGA-1150
Chipset
Intel Z87
Memory
2x DDR3 DIMM Slots (Up to 32GB)
Dual Channel, Up to DDR3 2933+ (OC)
Video
Intel HD GraphicsDiscrete Graphics
Audio
Realtek ALC 1150 7.1 Channel Audio
TI NE5532 Headphone Amplifier (Up to 600 ohm)
LAN
Intel 1217V Gigabit LAN
Wireless LAN
AzureWave AW-CE123H
Dual Band (2.4/5 GHz) 802.11 a/b/g/n/acBluetooth 4.0
Slots
1 x PCI Express 3.0 x16 slot
1 x half mini-PCI Express slot: For WiFi + BT module
1 x mSATA/full mini-PCI Express slot
Storage
6 x SATA3 6.0 Gb/s connectors (SATA3_5 connector is shared with the eSATA port; SATA3_4 connector is shared with the mSATA/mini-PCI Express slot)
1 x eSATA connector
1 x mSATA 6.0 Gb/s connector
Onboard Connectors
1 x Chassis Intrusion header
1 x TPM header
1 x CPU Fan connector (4-pin)
1 x Chassis Fan connector (4-pin)
1 x 24 pin ATX power connector
1 x 8 pin 12V power connector
1 x Front panel audio connector
2 x USB 2.0 headers
1 x USB 3.0 header
Rear Panel I/O
1 x PS/2 Mouse/Keyboard Port
1 x DVI-I Port
1 x HDMI Port
1 x DisplayPort
1 x Optical SPDIF Out Port
1 x eSATA Connector
2 x USB 2.0 Ports
4 x USB 3.0 Ports
1 x RJ-45 LAN Port with LED
1 x Clear CMOS Switch


HD Audio Jacks: Rear Speaker / Central / Bass / Line in / Front Speaker / Microphone

Warranty
3 Years
Check Pricing
Amazon | Newegg
[section label=2. A Closer Look]
A Closer Look at the ASRock Z87E-ITX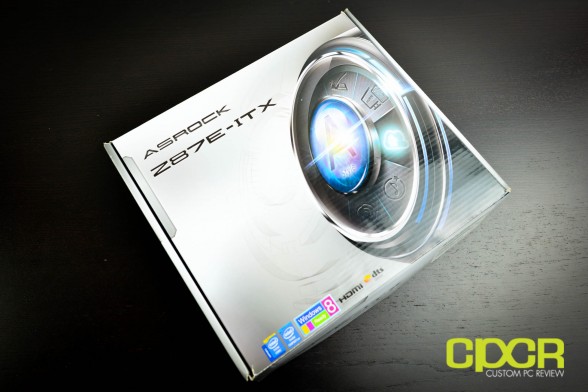 Here's a look at the packaging for the ASRock Z87E-ITX.
Accessories include the documentation, the driver disk, I/O shield, four black SATA cables, DVI to VGA adapter and a wifi antenna.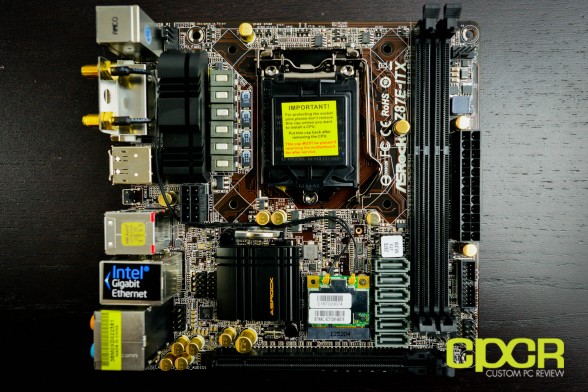 Here's a look at the ASRock Z87E-ITX motherboard. The Z87E-ITX is a mini-ITX formfactor board, which means it'll come in at a mere 17cmx17cm package. Despite the fact that we're dealing with such a small motherboard, it still carries Intel's Z87 chipset, so it'll come with support for Intel's latest Haswell processors, overclocking (unlocked multipliers, unlocked voltage, unlocked BCLK strap), native SATA 6Gb/s, native USB 3.0, native PCIe 3.0, and multi-GPU configurations – although physically there's only a single PCIe x16 slot on the board, so that won't really apply.
Overall the layout of the board is designed quite well. The MOSFET heatsink off the left is fairly low profile and the PCIe slot is situated as far away as possible from the CPU socket as possible, so most larger coolers shouldn't have any fitment issues given that low profile memory is used. The only major inconvenience on the board is that the USB 2.0 and front panel audio connectors off to the left, which is pretty tight, so it's recommended to connect those prior to installing the graphics card. USB 2.0 shouldn't be much of an issue for those using newer cases though since ASRock does include a USB 3.0 front panel connector in its ideal location on the right side of the board, right below the 24-pin connector. Also, it's important to note that there's only two 4-pin fan connectors on the board, one on the top left of the board and one on the top right.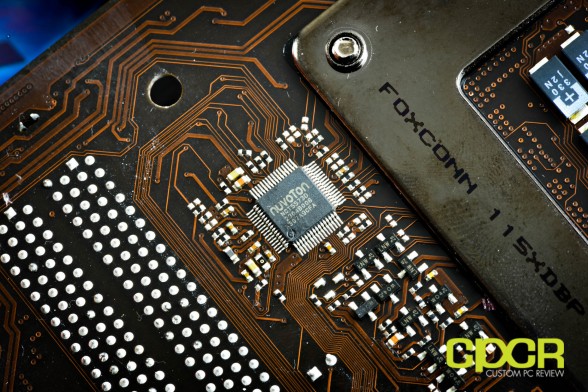 For fan control, sensors, and some other low bandwidth devices, ASRock has also included the Nuvoton NCT5573D Super I/O IC.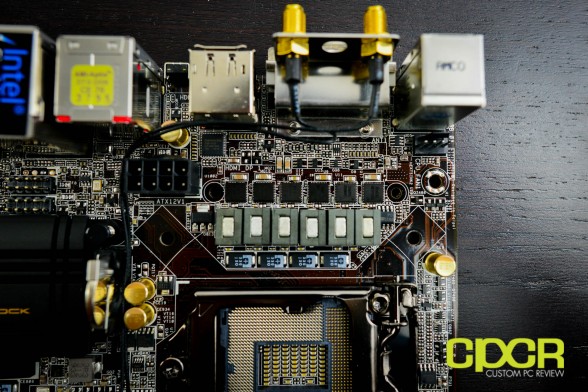 For power delivery on the Z87E-ITX, ASRock is incorporating a 6 phase digital power delivery system powered by a single ISL6379 IC. ASRock is also using their new DrMOS MOSFETS which incorporate the Driver IC, Top MOSFET and Bottom MOSFET into a single unit. According to ASRock, this "…provides more stable and smooth voltage, decreases power loss, boosts the system's response speed and also lowers the motherboard's temperature." Power to the motherboard is provided by both a 24-pin and a 8-pin power connector.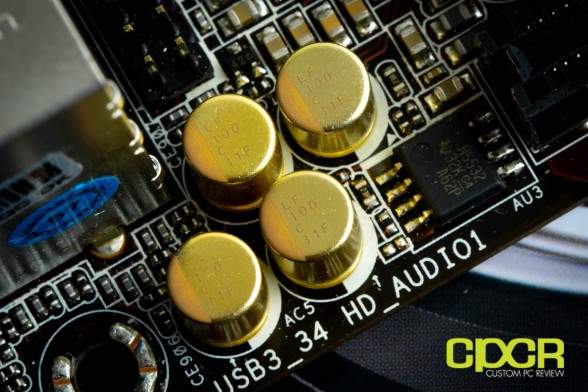 For its onboard capacitors, ASRock is using solid Nichicon LF series capacitors, which are rated at 2000 hours at 105ºF.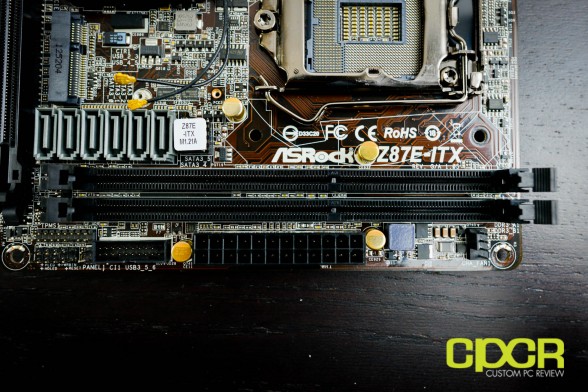 Since the mini-ITX formfactor is pretty limited in terms of space, the Z87E-ITX only has 2 DIMM slots for memory, which theoretically means a maximum of 16GB of dual channel DDR3 memory.
Storage options include 6x SATA 6Gb/s ports along with a full sized SATA 6Gb/s mSATA port mounted in the back of the unit.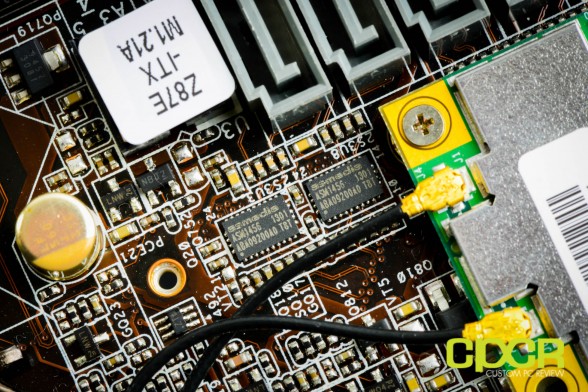 Since the Intel Z87 chipset only supports up to 6x SATA 6Gb/s ports, ASRock also included two ASMedia ASM1456 SATA 6Gb/s switches. This allows switching between the eSATA 6Gb/s port, and the mSATA 6Gb/s slot with SATA 6Gb/s ports 4 and 5 on the board.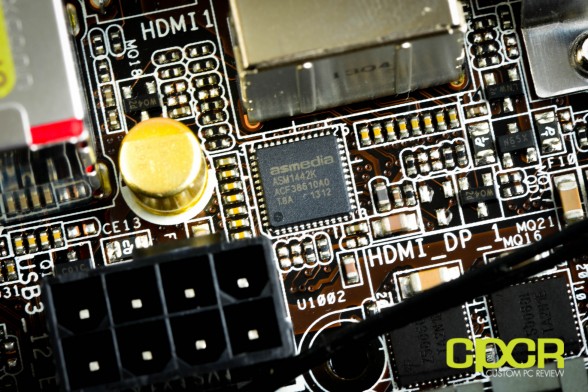 For HDMI and DVI out, ASRock also included the ASMedia ASM1442K IC.
For audio, ASRock has decided to go with the Realtek ALC1150, which supports up to 7.1 channel audio. For those with audiophile grade headphones, ASRock has also included the NE5532 amplifier, which can drive headphones up to 600Ω.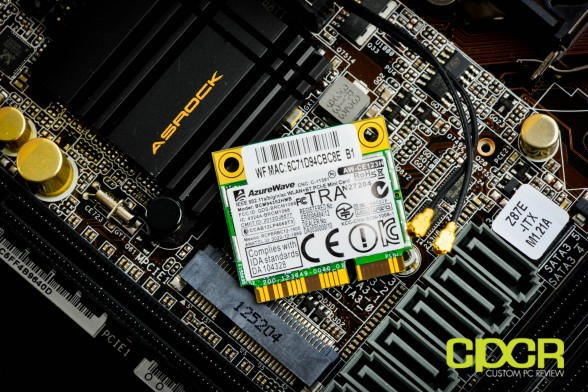 ASRock has also included onboard dual band (2.4/5GHz) 802.11 a/b/g/n/ac WiFi and Bluetooth 4.0 via a AzureWave AW-CE123H.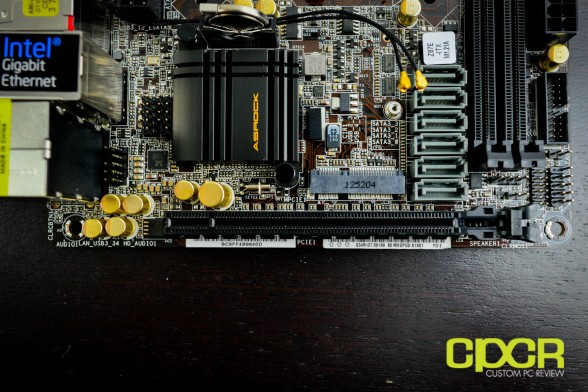 Since we're on the smaller mITX formfactor, we get a major tradeoff in the fact that there's only a single PCIe slot. It is however a PCIe x16 slot, so it'll work with even the most powerful modern graphics cards on the market.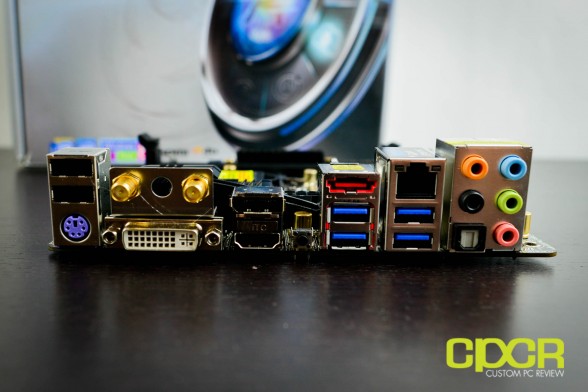 Here's a look at the rear I/O panel on the Z87E-ITX. We get a PS2 keyboard port, two USB 2.0 ports, two antenna ports, DisplayPort, HDMI, a Clear CMOS button, eSATA 6Gb/s, four USB 3.0 ports, gigabit ethernet powered by an Intel 1217v chipset, and 7.1 channel audio connectors including a TOSLINK digital out.
[section label=3. BIOS]
ASRock Z87E-ITX UEFI BIOS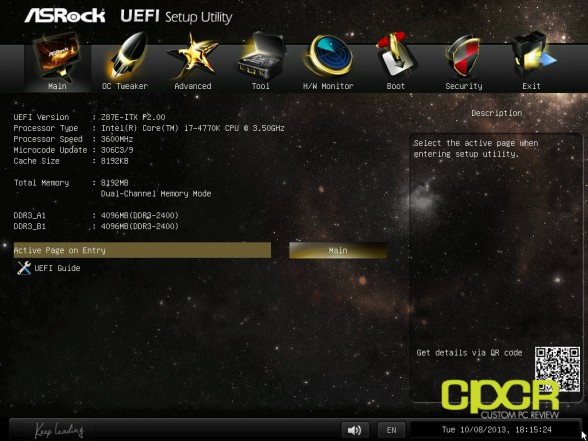 Upon first boot, we're greeted with ASRock's UEFI BIOS for the Z87E-ITX. The BIOS is fairly decent looking, sporting a futuristic, cartoonish type of theme. The entire interface is very responsive and menu items are descriptive as well, which is far different from UEFI interfaces seen only a couple generations ago. Gone are the days of broken English and 1 word descriptions that leave you just as confused as the option itself.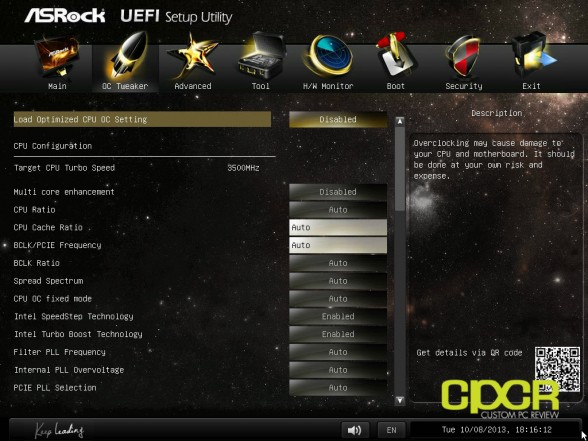 As with many of the higher end motherboards on the market, the Z87E-ITX's overclocking menu is filled with stuff despite the fact that most of the options available are probably best left to auto. ASRock does have preset overclocking options that allows loading of preset overclocked settings (4.0GHz, 4.2GHz, 4.4GHz, etc.), which has been available for multiple generations of ASRock boards now although it seems like the latest iteration is among the best work they've done. If you're not too fond of tweaking manually, simply set the overclock to a 4.2GHz or a 4.4GHz and everything will be done automagically.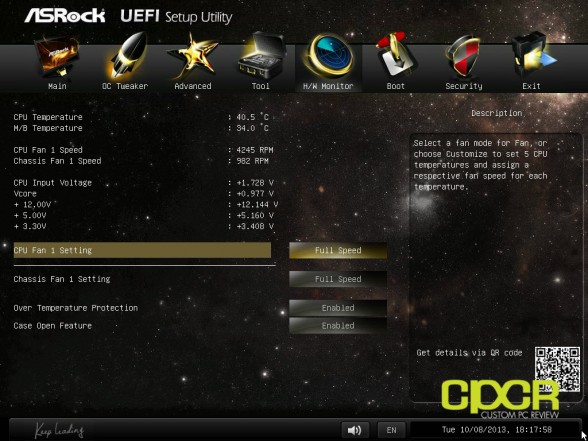 Fan controls on the ASRock Z87E-ITX are quite good, similar to what we find on a number of other ASRock motherboards out there. There's tons of granularity in the fan speed options as they can be set to full speed, a preset profile, or you can simply customize it for yourself. ASRock also includes a fan adjustment utility in the A Tuning software, which will allow you to refine your fan adjustment options. Unfortunately, there aren't a whole lot of fan headers onboard, which is a bummer.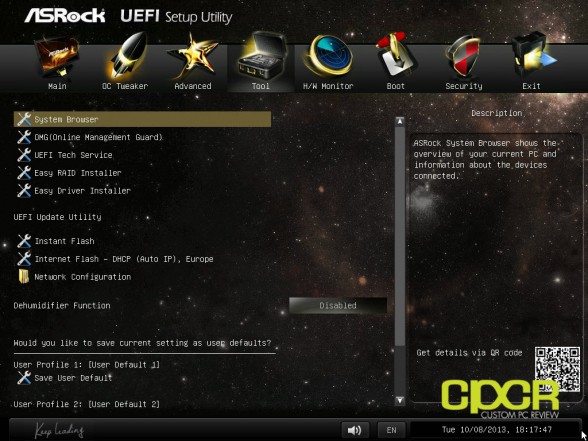 Most of the other BIOS options are pretty standard to the Z87 platform, so we're not going to spend too much time there, but one thing I think is pretty important to note is that ASRock's UEFI interface does have the option for downloading a BIOS via the internet and updating all without needing to install the OS. Other than that, let's move on and check out some of ASRock's new software.
[section label=4. Software]
ASRock Z87E-ITX Software
ASRock A-Tuning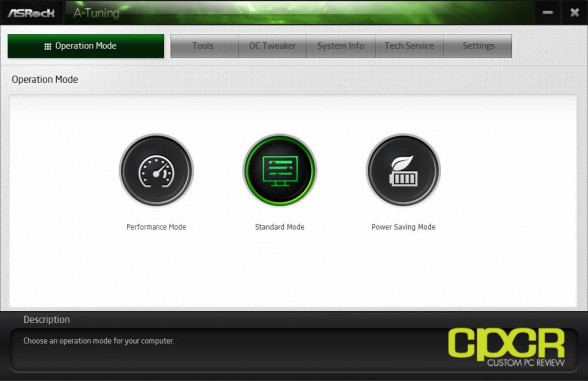 Over the past couple generations, ASRock's software utility has definitely seen some decent improvements in the interface and the usability. A-Tuning definitely has that polish and lightweight feel that was missing from previous iterations of the software although I can't say it's the best software I've seen out there.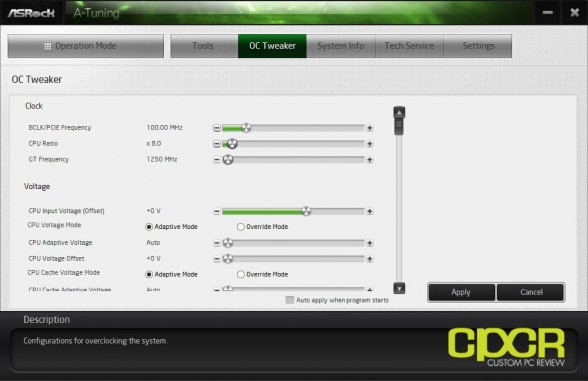 As expected, pretty much every overclocking option available in the UEFI is available on the A-Tuning software. Overclocking options can be adjusted on the fly, which is great for experimenting with overclocks prior to committing within the BIOS.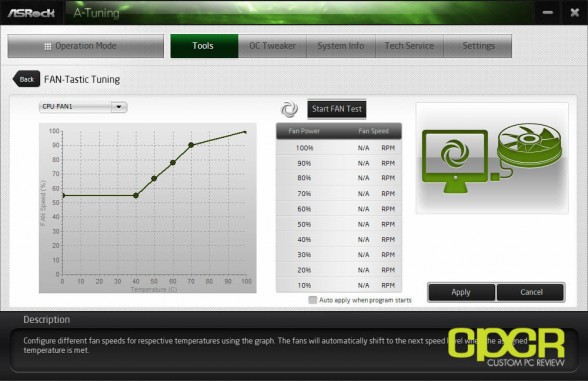 Like what we saw in the UEFI, ASRock allows for some pretty fine adjustment of the fans depending on temperature and load. You can also test the fans as well prior to putting it in action.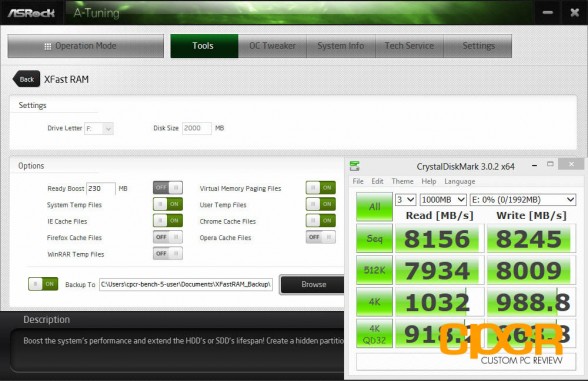 Another interesting feature for those with larger memory configurations is the ability to easily setup a RAM drive. As you can see above, the performance on RAM drives are quite staggering and those with SSDs may find it beneficial to offload cache files to RAM rather than have them constantly writing to the SSD.
ASRock XFast USB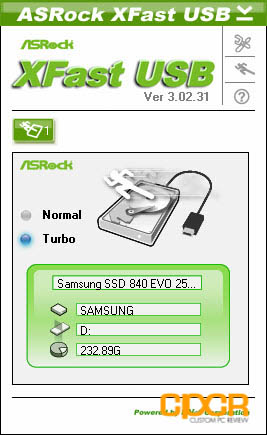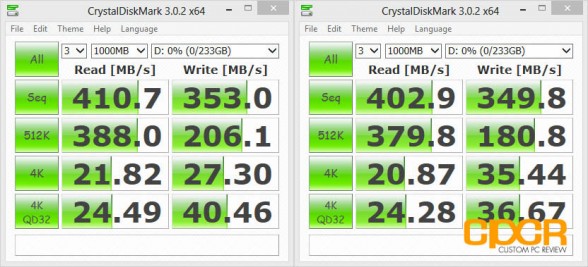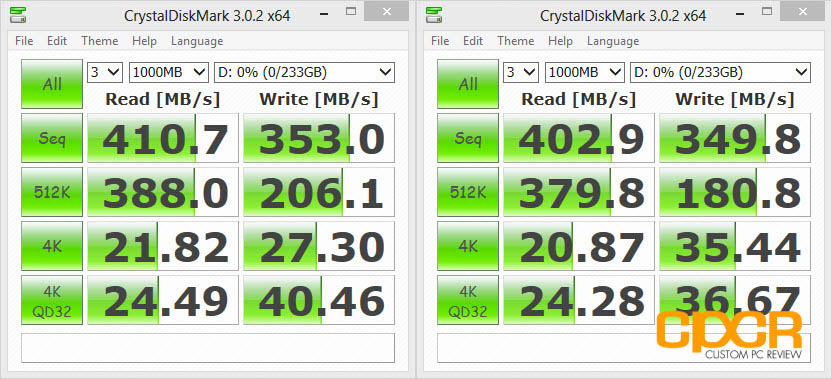 As we've seen in multiple generations of ASRock motherboards, ASRock has also included the XFast USB software, which bypasses the standard USB protocol in favor of the BOT (Bulk Only Transfers) protocol. We've got some benchmarks above with the SSD in turbo and normal mode, but it doesn't make much of a difference here since Windows 8 includes native UASP support, which as you can see above performs quite well. Those running Windows 7 or those running non-UASP compliant USB 3.0 devices will probably find XFastUSB much more useful.
ASRock XFast LAN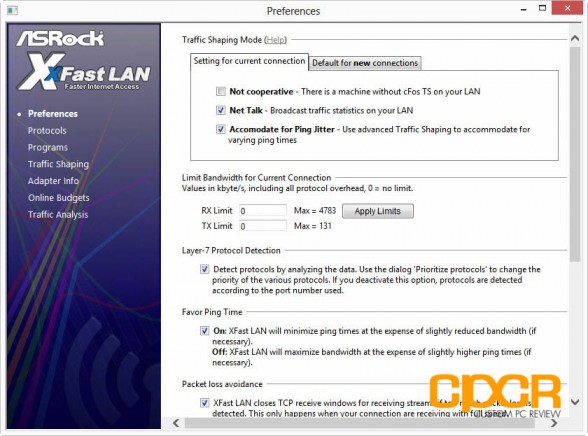 As usual, XFast LAN is also included with the Z87E-ITX should you choose to install it. Basically, it's a traffic shaping application that monitors incoming and outgoing internet traffic, and prioritizes certain traffic such as VoIP, gaming, video streaming, etc. to avoid high latencies when simultaenously doing things like downloading large files. XFast LAN is pretty much just a rebranded version of cFosSpeed.
Home Cloud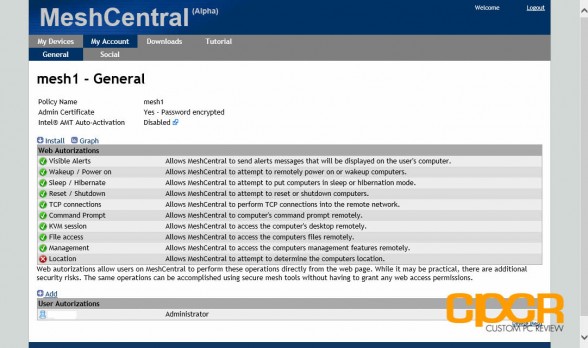 One new feature ASRock is touting is home cloud, which to be honest isn't really a feature specifically developed by ASRock, but rather just a general feature of Intel LAN and the Z87 chipset that allows you to wake up your system in order to remote desktop into it. As the Z87E-ITX includes an Intel 1217V network chip, it features remote wakeup features, which will allow you to turn your computer on remotely. Then you can simply connect via something like Splashtop or LogMeIn and remote control your computer. If you still have no idea what I'm talking about, the ASRock video below explains it perfectly.
[section label=5. Performance]
ASRock Z87E-ITX Performance
Haswell Testing Setup
Special thanks to CyberPowerPC, Kingston, OCZ Technology and HSPC for sponsoring our test bench!
CPU Performance
Cinebench R15
"CINEBENCH is a real-world cross platform test suite that evaluates your computer's performance capabilities. CINEBENCH is based on MAXON's award-winning animation software CINEMA 4D, which is used extensively by studios and production houses worldwide for 3D content creation. MAXON software has been used in blockbuster movies such as Iron Man 3, Oblivion, Life of Pi or Prometheus and many more."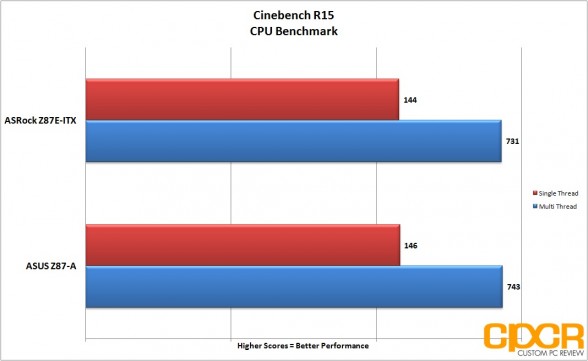 Memory Performance
AIDA 64
"AIDA64 Extreme Edition is a streamlined Windows diagnostic and benchmarking software for home users and enthusiasts."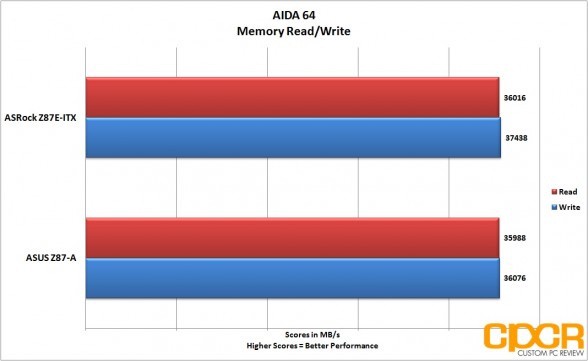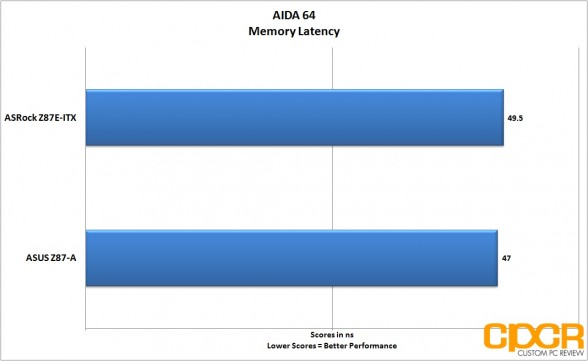 Graphics Performance
3D Mark
3D Mark is Futuremark's latest benchmark utility used widely by gamers, enthusiasts, and overclockers to benchmark system performance and stability under consistent graphics loads.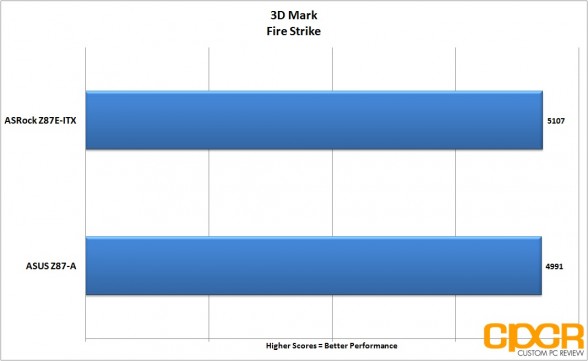 Storage Performance
For storage performance testing, we'll be using a fresh Samsung 840 EVO 250GB SSD. This will allow us to fully saturate the SATA 6Gb/s ports on the motherboards. For USB 3.0 testing, we'll additionally be using the Thermaltake BlacX 5G USB 3.0 dock. This is extremely important to our testing as it's one of the only USB 3.0 docks on the market that current supports the UASP protocol.
SATA Performance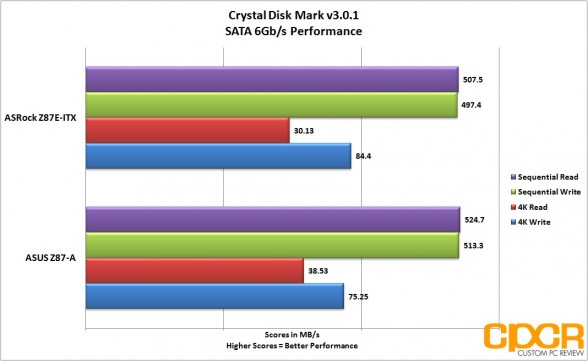 USB 3.0 Performance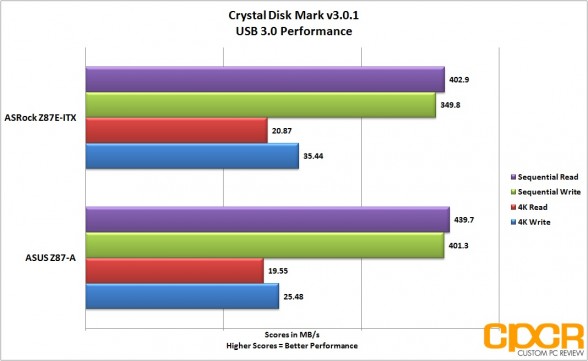 Performance Analysis
Since motherboard performance is mostly dependent on other components and with some manufacturers purposefully tweaking the BIOS from the factory to get a couple extra MHz out of the CPU to run just slightly faster than competitors, our main goal with motherboard performance testing is to ensure that the motherboard doesn't have any blaring issues. Looking at our figures above, it seems like everything checks out nicely with the ASRock Z87E-ITX's performance generally falling within 3%± of the ASUS Z87-A.
[section label=6. Overclocking]
ASRock Z87E-ITX Overclocking
Since the Z87E-ITX is based off of Intel's Z87 chipset, the motherboard fully supports overclocking of any K series Haswell processor.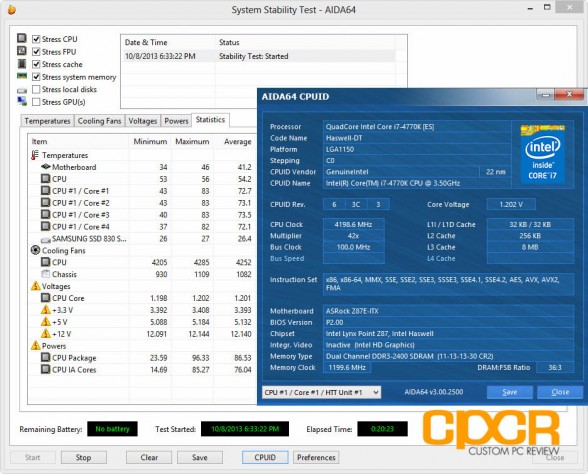 Overclocking the Z87E-ITX / i7-4770K isn't too bad and is pretty similar to overclocking Sandy Bridge (P67/Z68) and Ivy Bridge (Z77). That said, with Haswell and digital power delivery systems, there are a ton more options than ever before.
Above you can see that we were fairly easily able to hit 4.2GHz. This can be done either manually by adjusting the multiplier, Vcore, cache ratio and cache voltage, or automatically via a preset available in the overclocking menu in BIOS. We're still diving into overclocking on the Z87 platform ourselves, but one thing I noticed about the ASRock Z87E-ITX is that voltage and cache ratio needs to be set manually if you decide to simply increase the CPU multiplier. It can be set for auto, but even at 4.2GHz my stress testing detecting instability. This was not an issue with the ASUS Z87-A which automatically adjusted other settings very well once a new multiplier was set. That said, ASRock does provide you with preset overclocking profiles, which are pretty good and we had no trouble running at 4.2GHz off the profile. From what I've seen in previous ASRock boards, this will most likely be fixed within the next couple BIOS updates, but I feel like it's always nicer to have things work right out of the box.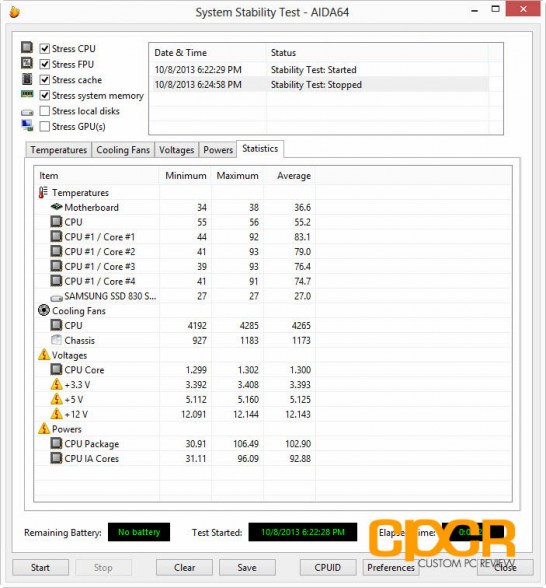 From 4.2GHz, we also pushed the CPU to 4.4GHz as well without any issues. That said, our cooler, an OEM CoolIt 120mm AIO water cooler was unable to keep up during our stress test as the temperatures spiked well above 90°C, which caused our CPU to throttle.
[section label=7. Power Consumption]
ASRock Z87E-ITX Power Consumption
Here we'll be testing the maximum power consumption of each of the motherboards below. Idle power consumption is taken after the system is left idle for a minimum of 5 minutes. Load power consumption numbers are taken during a run of 3D Mark, which will yield an accurate picture of how much power is drawn in a real world scenario.
In order to ensure that our power consumption measurements are as comparable as possible, all motherboards use out of the box settings in BIOS with the multiplier locked at 36x and any power saving features such as C-states are turned on. The graphics card is also removed and the system is running off integrated graphics only to eliminate a discrete graphics card's impact on power consumption.
All power consumption readings are taken using a Extech 380801 Power Analyzer connected via a Tripp-Lite LCR2400 Line Conditioner.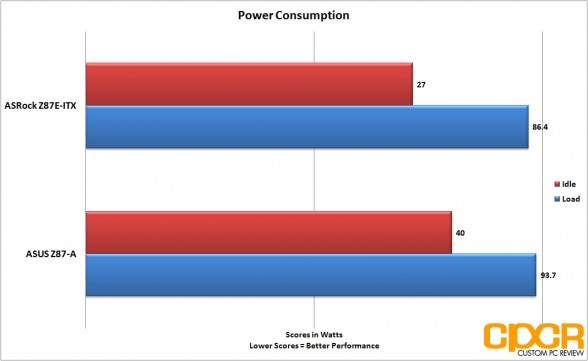 Performance Analysis
The Z87E-ITX does quite well with power consumption, drawing only a mere 27w at idle. This is exceptionally low for desktop PC part and is nearly comparable to what's traditionally only been seen in notebooks. Strangely, idle power consumption was also significantly lower than what we saw with the ASUS Z87-A, although the issue may most likely be attributed to a setting in BIOS or a firmware update for the Z87-A.
[section label=8. Conclusion]
ASRock Z87E-ITX Conclusions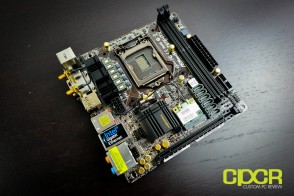 In the past, I haven't had much opportunity to play with the mITX formfactor, but with the Z87E-ITX, I can definitely see the appeal. With most computer users out there purchasing computers with a single graphics card or less and a single SSD/HDD, there really isn't a whole lot of reason to go out and purchase a motherboard with three PCIe x16 slots, two PCIe 1x slots, and ten SATA 6Gb/s ports. It's simply a waste of space and money.
Despite the bite sized formfactor, ASRock has undoubtedly done a great job incorporating a ton of features. With the exception of only having a single PCIe slot (which happens to be a limitation of the formfactor rather than ASRock's design) and only two fan headers, there really isn't much missing from the picture. You're still getting the Z87 chipset, you're still getting the capability to overclock, you're getting PCIe graphics and you're still getting the ability to drop in a ton of SATA drives. Unless you're looking to build a workstation that requires a ton of memory, or a multi-monitor gamer looking for a multi-GPU setup for the best possible graphics experience, or you simply like paying for big, clumsy cases, there's no reason not to consider the Z87E-ITX.
As for pricing, the ASRock Z87E-ITX can currently be found at the usual retailers for around $165 (Amazon, Newegg), which is actually quite pricey for a mITX motherboard. Alternatives such as the MSI Z87I ($139) or the Gigabyte GA-Z87N-WIFI ($125) can be found for much cheaper, but don't come as well equipped or as well designed either. Those looking to put together a simple living room, office or home theater PC will do fine with the lower cost offerings, but those looking to take advantage of the most the Z87 platform can offer will find that the Z87E-ITX will give you oh so much more.
Overall, I think ASRock has done a fantastic job with the Z87E-ITX. Sure there are a few limitations such as the lack of more than two fan headers and the software can use a bit more refinement, but overall it's a solid product.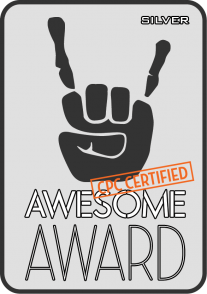 Sample provided by: ASRock