[section label=1. Introduction]
The Vector's Baby Brother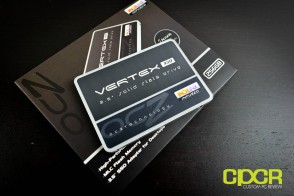 OCZ's Vertex line of SSDs has had a pretty long and pretty interesting history. Starting all the way back in 2008, the earliest Vertex carried the original Indilinx Barefoot controller, which was quite successful due to the great performance of the Barefoot controller at the time. Shortly after, OCZ introduced the Vertex 2 followed by the Vertex 3, which featured multiple iterations of the powerful SandForce controllers that has shaped the standard in SSD performance today.
After OCZ's acquisition of Indilinx back in 2011, they put their new acquisition to good use, taking the company's experience and applying it via custom firmware designs to Marvell controller hardware coming out with the Indilinx Everest 2 powered Vertex 4. Several months later, we saw the release of the OCZ Vector carrying the Indilinx Barefoot 3 controller, which shaped up to become the first controller produced completely in house from the Indilinx acquisition – sans Marvell or SandForce hardware underneath.
OCZ Vector Specifications
| | | | |
| --- | --- | --- | --- |
| Manufacturer | OCZ Technology | OCZ Technology | OCZ Technology |
| Model | Vertex 450 | Vertex 450 | Vertex 450 |
| Capacity | 128 GB | 256 GB | 512 GB |
| Controller | Indilinx Barefoot 3 M10 | Indilinx Barefoot 3 M10 | Indilinx Barefoot 3 M10 |
| NAND | 20nm IMFT Synchronous MLC | 20nm IMFT Synchronous MLC | 20nm IMFT Synchronous MLC |
| Sequential Reads | 525 MB/s | 540 MB/s | 540 MB/s |
| Sequential Writes | 290 MB/s | 525 MB/s | 530 MB/s |
| Interface | SATA 3 6GB/s | SATA 3 6GB/s | SATA 3 6GB/s |
| Warranty | 3 Years | 3 Years | 3 Years |
This of course leads us OCZ's latest offering, the OCZ Vertex 450, which we'll be reviewing today. The OCZ Vertex 450 is the newest SSD in OCZ's lineup and for the most part is an update of sorts to the already successful Vertex 4. On the controller side, OCZ has moved away from their short lived time with the Marvell hardware based Indilinx Everest 2 controller in favor of the completely in house designed Indilinx Barefoot 3 controller. For those who follow along with SSD technology, the Indilinx Barefoot 3 controller is the same exact controller used in flagship OCZ Vector SSD, which was released early last year. Along with the updated controller, the latest Vertex is also getting MLC NAND produced on IMFT's latest 20nm process versus the older 25nm IMFT MLC NAND found on the older Vertex 4 and the Vector.
[section label=2. A Closer Look (Exterior)]
A Closer Look at the OCZ Vertex 450 256GB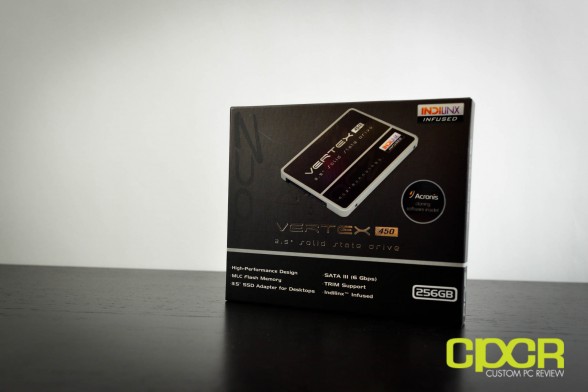 Here's a look at the packaging for the OCZ Vertex 450 256GB. The packaging is similar to the packaging for most OCZ SSDs out on the market.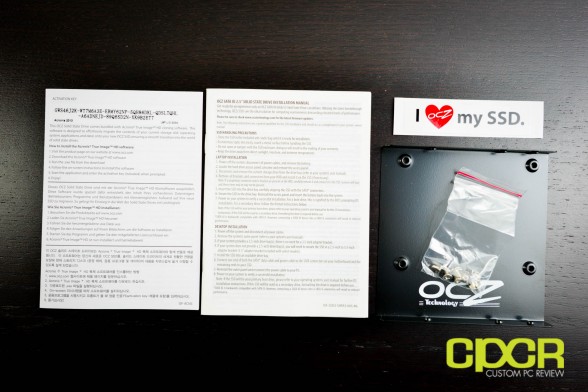 Opening the package, we get a 2.5″ to 3.5″ adapter, mounting screws, an I heart my SSD sticker, some documentation and a code for Acronis True Image cloning software.
The design of the Vertex 450 is pretty much identical to the Vector with a different color scheme and a different name. The outer shell of the unit is constructed of metal, which helps increase durability and acts as a heatsink for the components inside.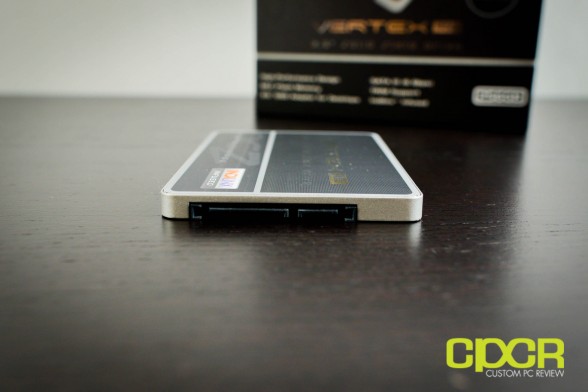 Here's a look at the SATA 6Gb/s connector along with the SATA power connector as well. The Vertex 450 is 7mm thick, allowing it to fit into many thin and light notebooks on the market. Unfortunately it doesn't come with a 2mm riser, so you may have to find one aftermarket to fit into a notebook with a standard 9mm notebook HDD slot.
[section label=3. A Closer Look (Interior)]
A Closer Look at the OCZ Vertex 450 256GB
Opening up the Vertex 450 isn't too difficult as it simply requires removal of four Phillips screws on each corner of the bottom cover. Taking a look at the PCB, we notice that it's filled to the brim, which allows OCZ to fill up the channels on the controller for better performance. Unfortunately, this will most likely come at the cost of power consumption.
Like the Vector, the Vertex 450 employs the use of the OCZ owned Indilinx Barefoot 3 controller. The Barefoot 3 in the Vertex 450 however, is the M10 version as indicated by the M10 in the controller's model number. The specific model number for the Barefoot 3 controller here is IDX500M10-BC.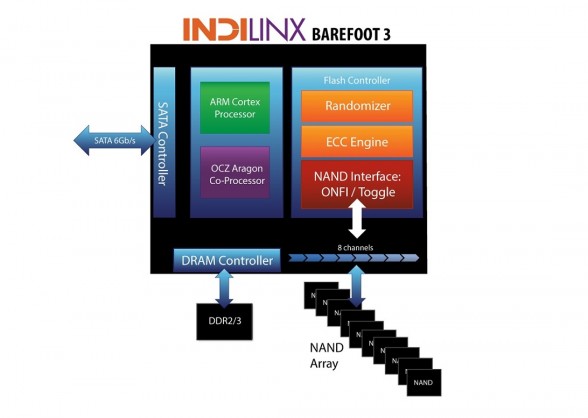 Here's a look at the block diagram for the Indilinx Barefoot 3 controller. The Barefoot 3 M10 is in most ways identical to the M00 model found in the Vector; however, the M10 model is clocked slightly lower and features a slightly optimized clock generator. It also has support for newer IMFT 20nm MLC NAND, which theoretically should improve energy efficiency.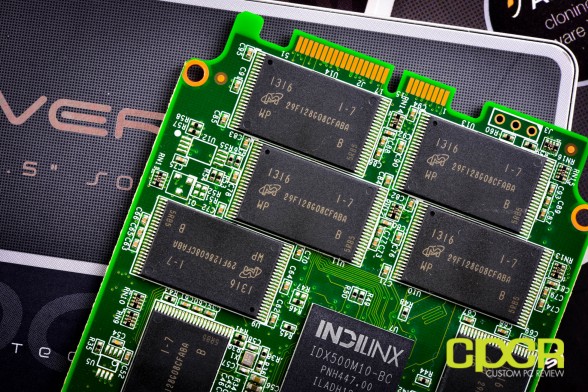 The NAND of choice for the Vertex 450 is 20nm IMFT Synchronous MLC NAND part number 29F128G08CFABA. In total, there are 16 NAND ICs onboard.
Last but not least, there's also two Micron IVM72 D9PFJ 256MB DRAM ICs onboard as well, which provides the SSD a total of 512MB DRAM cache.
[section label=4. Test Setup]
Haswell Test Bench
Special thanks to CyberPowerPC, Kingston, OCZ Technology and HSPC for sponsoring our test bench!
Crystal Disk Info
OCZ Vertex 450 256GB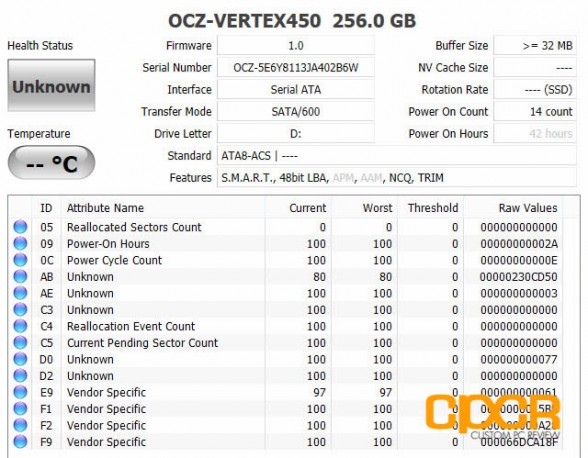 [section label=5. ATTO Disk Benchmark / Crystal Disk Mark]
OCZ Vertex 450 256GB Performance
ATTO Disk Benchmark v2.46
ATTO Disk Benchmark is one of the industry's oldest and most popular benchmarks for testing disk read/write speeds. This benchmarks allows read and write testing using predefined block sizes and gives us a good idea of read/write speeds with different sized files. Most SSD manufacturers these days prefer using this benchmark when advertising SSDs as it tests using compressible data, which tends to yield better performance.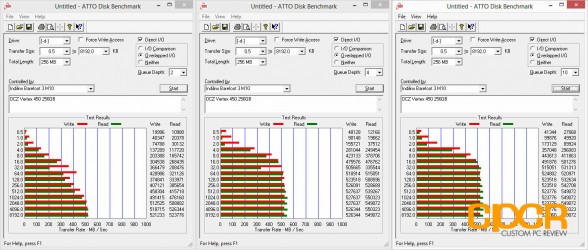 Performance Analysis
Taking an initial look here, we can see that the performance on the OCZ Vertex 450 256GB is quite good, capable of putting up very fast read/write performance at well over 500MB/s. The sequential read performance topped out at a whopping 550MB/s, which is among the highest we've seen for any SATA based SSD on the market and the sequential write performance of 528MB/s is among the highest as well although 2MB/s short of the advertised 530MB/s.
Crystal Disk Mark 3.0.1 x64
Crystal Disk Mark is another popular benchmark which allows us to measure both sequential read/write speeds as well as random read/write speeds. With this benchmark, tests can be run using both random fill (incompressible data) and 0 fill (compressible data). Realistically in typical computer usage scenarios, data being transferred will consist of a mixture of both incompressible and compressible data.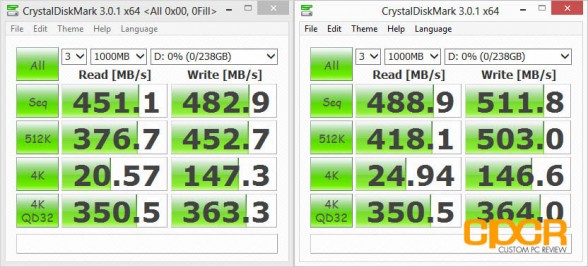 Performance Analysis
Here's a look at Crystal Disk Mark. For the most part, the numbers here reflect what we saw in ATTO Disk Benchmark as the Indilinx Barefoot 3 doesn't lose or gain performance when dealing with random or sequential data data. 4K and 512K numbers here are reflective of what we saw with the Vector although it's not quite as fast as what we've seen with the Samsung 840 Pro or the recently unveiled Samsung 840 EVO.
[section label=6. PC Mark 7 / PC Mark 8]
OCZ Vertex 450 Performance
PC Mark 7
The PC Mark 7 storage test tests the SSD under many different real world tests such as gaming, video editing, etc. This is most representative of the SSD's performance under real world situations.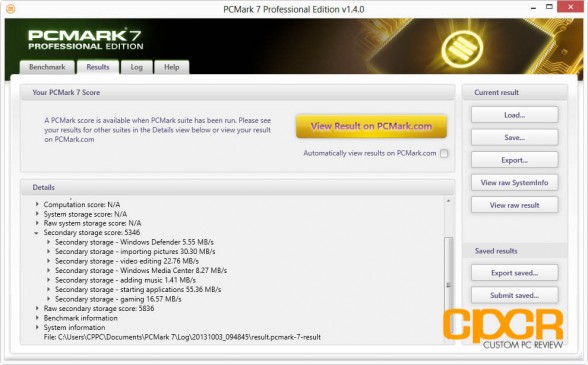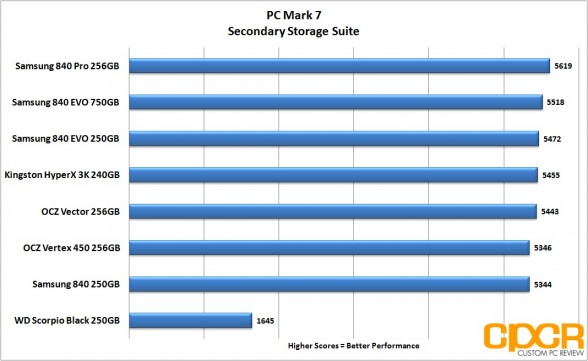 PC Mark 8
The PC Mark 8 storage test is extremely similar to storage test found in PC Mark 7. The PC Mark 8 storage test tests SSDs under many real world applications such as gaming, video editing, photo editing, etc.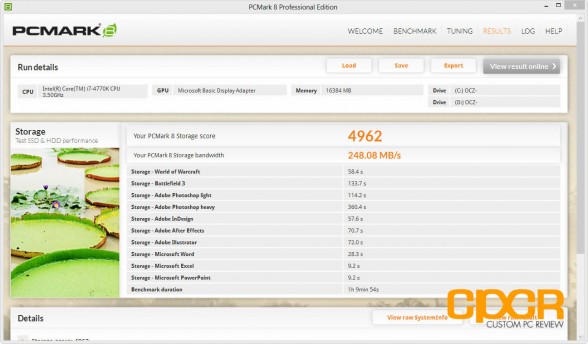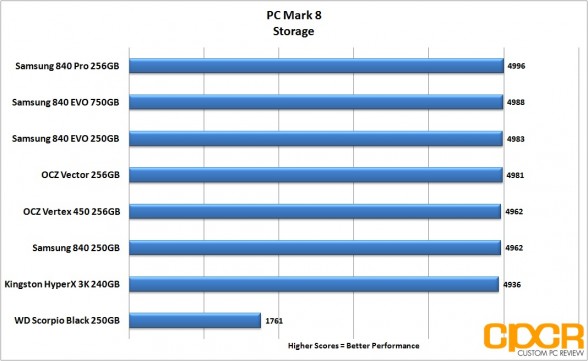 Performance Analysis
Taking a look at our results here, for the most part the Vertex 450 does pretty well here, scoring well within the middle of our pack of high end SSDs. As expected, it's slightly slower than the Vector, which uses the Barefoot 3 M00 controller.
[section label="7. FIO – FOB"]
OCZ Vertex 450 Performance
FIO (Flexible I/O Tester)
FIO, which stands for Flexible I/O Tester, is basically what its name says – a flexible I/O tester / I/O workload generator. Whereas all the benchmarking tools we've used previously are fantastic, easy to use benchmarking tools that provide a good snapshot of SSD performance, they do lack a lot of versatility, especially for more complex and in-depth operations such as custom queue depths, block sizes, test run times, etc. While the testing that follows may not pertain to typical client usage, they do help give us a much more in-depth look at each individual's strengths and weaknesses when they're pushed to the limits.
FIO – FOB (Fresh Out of the Box) Testing
For our FOB, or fresh out of the box, testing, we simply run a secure erase on the SSD then run each test sans any preconditioning. This will generally provide us with the highest level of performance the SSD is capable of and is likely never to be seen once the SSD goes into a used state.
Our testing today will include 4K read testing, 4K write testing, and 4K 70/30 read/write mix testing at queue depths of 1,2,4,8,16,32,64,128,256. The reason we've also included 4K 70/30 read/write mix testing is simply because most real world workloads will always fall somewhere between 0% write and 100% write rather than one or the other. Since client usage is much more read heavy, we'll be using the 70/30 read/write mix.
For general client usage, performance will fall somewhere between queue depths of 1-4 whereas servers and other enterprise applications will easily see queue depths of 32 or greater.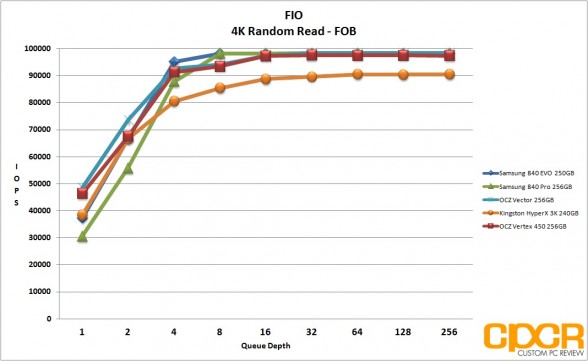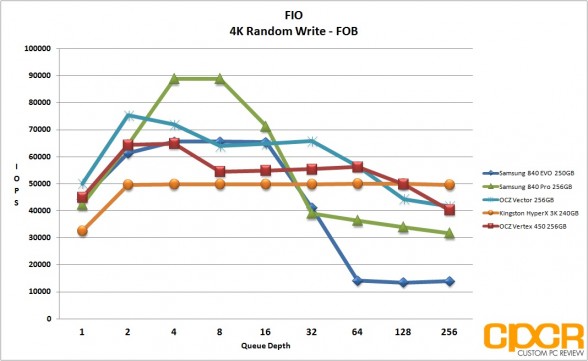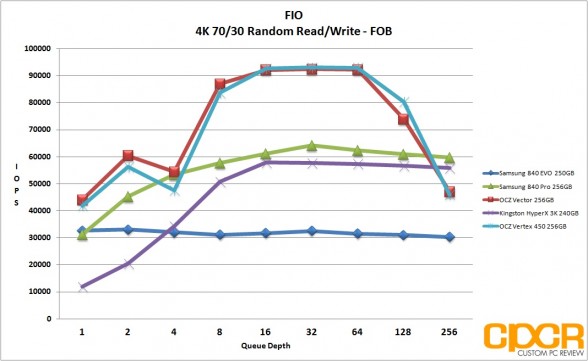 Performance Analysis
From what we can see here, the Vertex 450 definitely is a fast SSD that can go toe to toe even with its bigger brother, the OCZ Vector. Since they've got pretty much the same controller and relatively similar NAND (only a die shrink), this was expected.
[section label="8. FIO – Steady State"]
FIO – Steady State Testing
Whereas the FOB state is the "best case scenario" for SSD performance, steady state is going to be your worst. Here we'll be running the exact same benchmarks we've just run in the FOB state, except this time around we'll first be preconditioning the drive by filling 100% of the drive's LBAs with two sequential passes of 128k data followed by a full 6 hours of hammering the drive with two passes of random 4K data prior to benchmarking.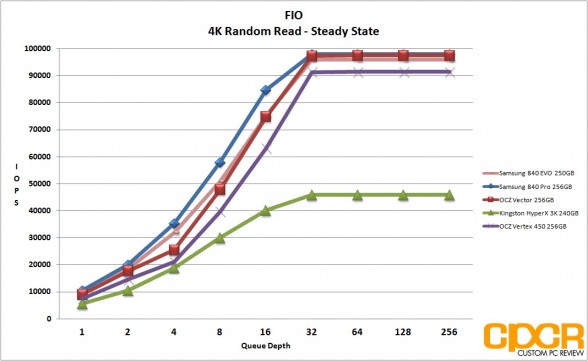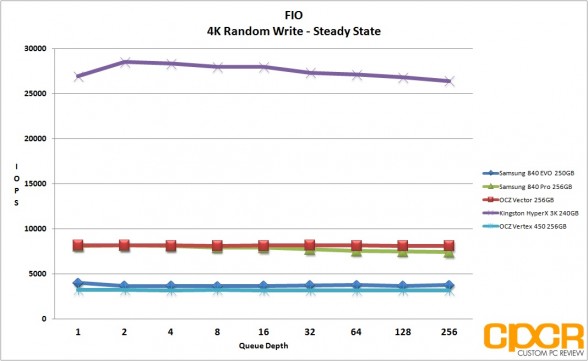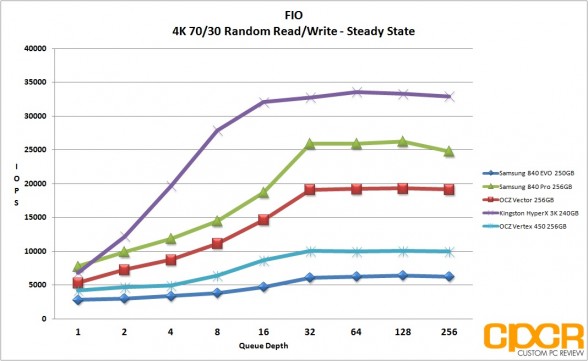 Performance Analysis
Performance here look decent as the OCZ Vertex 450 still does quite a good job with 4K reads, pretty much matching the performance of all the top tier SSDs on the market. Moving onto 4K writes however, we've got a completely different story as the Vertex 450 gets slaughtered by its big brother, the Vector, along with the Samsung 840 Pro and the SandForce based Kingston HyperX.
[section label="9. FIO – Consistency"]
FIO Consistency Testing
Another one of the benefits of testing with FIO is that we also get the flexibility of running consistency testing, which is definitely going to be one of the more important metrics when considering SSDs going forward. With practically every SSD capable of rocking SATA 6Gb/s saturating reads and writes, it's now more important than ever for an SSD to be able to perform well even when used for an extended period of time.
For our consistency testing, we'll be using a fairly standard method, which includes filling all LBAs twice over with sequential 128k data followed by the actual test itself, which is simply running 4K random writes at a queue depth of 32. By recording the IOPS every second for 2,000 seconds, we're able to get a good look at what kind of performance can be expected when the drive is new, when it's heading towards steady state, and when it's actually in steady state.
[tabgroup]
Performance Analysis
Overall performance for the Vertex 450 is pretty much as expected. It's able to hold a very fast burst followed by a free fall in performance within the first minute.  The only drive to do well here is the SandForce based Kingston HyperX 3K, which is largely due to SandForce's decision to overprovision pretty much any drive powered by a SandForce controller.
[section label=10. Power Consumption]
OCZ Vertex 450 Power Consumption
For power consumption testing, we run three tests which consists of idle power consumption, maximum read power consumption, and maximum write power consumption. Real world power consumption will generally fall between the idle and maximum power consumption figures.
All tests below are measured by tapping directly into the 5v line running from the power supply to the drive. All testing here is conducted with "HIPM/DIPM" enabled and "AHCI Link Power Management – Adaptive" set to 0 milliseconds for maximum power efficiency.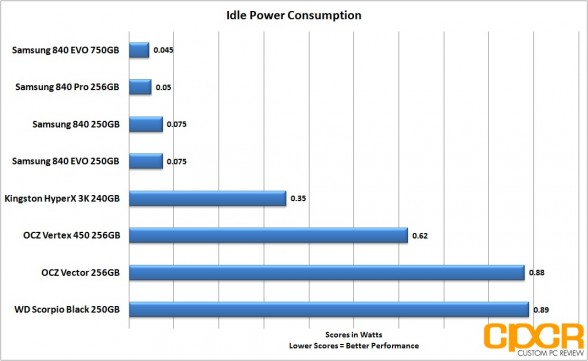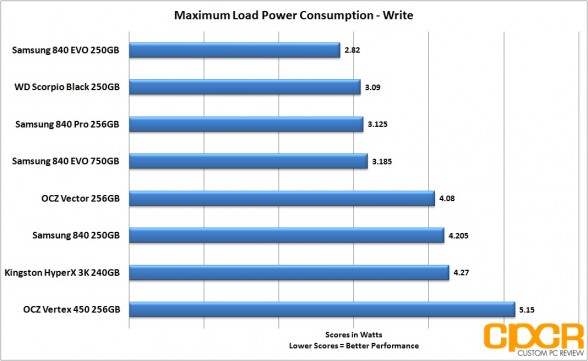 Performance Analysis
With the tweaks made to the Indilinx Barefoot 3 controller and the die shrink on the NAND, it seems like the Vertex 450 is about 30% more power efficient than the Vector at idle. While power consumption has gone down significantly, it's still significantly more power hungry than the Kingston HyperX 3K and Samsung's ridiculously power efficient drives.
At maximum load, it seems like the Vertex 450 took a step back here as it's the most power hungry drive on our list today. Luckily, for most client usage, SSDs generally sit idle since most read/write operations complete very fast.
[section label=11. Conclusions]
OCZ Vertex 450 256GB Conclusions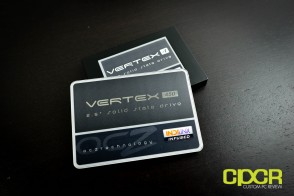 Alright, so with all of our testing out of the way, let's spend a moment to talk about the Vertex 450's performance. Since its introduction up until the end of last year, the Vertex series SSDs were OCZ's fastest line of SATA based consumer oriented SSDs. Then came the Vector, which blew that away, but rather than kill the Vertex brand OCZ has worked so hard to build, OCZ opted to keep the Vertex line still positioning it near the higher end of the SSD spectrum.
Carrying both top of the line IMFT 20nm NAND and the same although slightly modified Barefoot 3 controller, the Vertex 450 is still one very fast SSD, capable of pushing out a respectable 540 MB/s reads and 525 MB/s writes and 85,000/90,000 IOPS respectively. Given the performance figures we're seeing, there's simply no indication that the Vertex 450 is aimed at the budget market, but rather at the high end as an alternative for users who aren't necessarily as concerned about having the absolute best performance and a longer 5 year warranty offered with the OCZ Vector.
Power consumption on the Vertex 450 is definitely better when compared to the super power hungry Vector, but it still isn't as impressive as I'd like it to be. Samsung and SandForce's soultions seem to be doing much better even when using larger 25nm NAND, so the problem is definitely either firmware or the controller itself, both of which are something OCZ has the ability to improve. That said, it's definitely nice to see that OCZ has put some work in this department and if a 30% idle power savings is all I get, then I'll be happy to take it.
| | | | |
| --- | --- | --- | --- |
| Manufacturer | OCZ Technology | OCZ Technology | OCZ Technology |
| Model | Vertex 450 | Vertex 450 | Vertex 450 |
| Capacity | 128 GB | 256 GB | 512 GB |
| Street Price | $105.99 | $229.99 | $499.99 |
| Price/GB | $1.05 | $0.90 | $1.03 |
| Check Price | Click Here | Click Here | Click Here |
Pricing on the OCZ Vertex 450 256GB is currently $229.99, which puts the drive at around $0.90/GB. Unfortunately with competitors such as the Kingston HyperX 3K 240GB going for $0.75/GB, the Samsung 840 Pro 256GB going for $0.88/GB, and the Samsung 840 EVO 250GB going for $0.72/GB, it's quite difficult to see the Vertex 450 being very competitive on the pricing standpoint, especially when the alternatives perform as well if not better.
Overall, I feel like the OCZ Vertex 450 256GB is a rock solid offering that lives up to the Vertex name, but it's also a product born into an extremely, extremely competitive market. If OCZ could bring street pricing down to the $0.75 range, then it's certainly worth a look, but anything short of that I don't see why you wouldn't go with a Samsung or a SandForce powered alternative.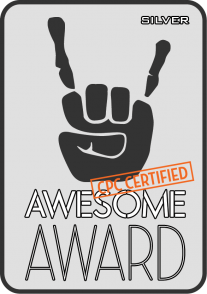 Sample provided by: OCZ Technology
Available at: Amazon