Warning
: Undefined array key "width" in
/var/www/vhosts/custompcreview.com/public_html/wp-includes/media.php
on line
1381
Warning
: Undefined array key "width" in
/var/www/vhosts/custompcreview.com/public_html/wp-includes/media.php
on line
1386
Warning
: Undefined array key "height" in
/var/www/vhosts/custompcreview.com/public_html/wp-includes/media.php
on line
1386
Warning
: Undefined array key "width" in
/var/www/vhosts/custompcreview.com/public_html/wp-includes/media.php
on line
1381
Warning
: Undefined array key "width" in
/var/www/vhosts/custompcreview.com/public_html/wp-includes/media.php
on line
1386
Warning
: Undefined array key "height" in
/var/www/vhosts/custompcreview.com/public_html/wp-includes/media.php
on line
1386
The Storm Trooper's Little Brother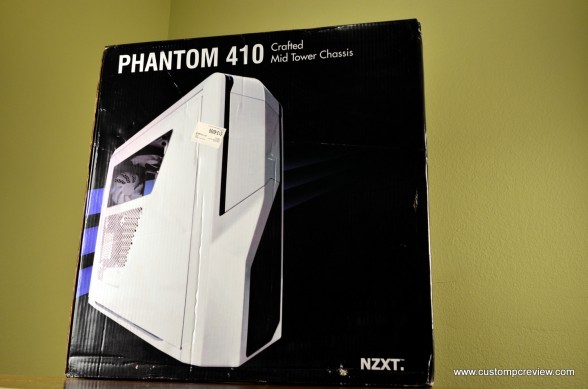 No doubt many of us have heard of NZXT's most popular case, the Phantom. It was one of the most popular cases when it was released back in 2010 and continues to be one of the most popular cases on the market today. What's so special about it? Well, for starters it had some very unique, futuristic looking styling that made it look like a "Storm Trooper" out of Star Wars. Aside from that, it was also a full tower case with plenty of airflow, plenty of space, and it was supremely easy to work with. Not to mention, it was and still is one of the most inexpensive full tower cases on the market, currently priced at only $129.
While the NZXT Phantom was extremely popular, it was still $129 and it was still a full tower case. While many of us like the unique styling of the case, many of us don't have the space or the necessity for a full tower case when all that's going in it is a budget/mid ranged gaming PC. Let's be realistic here – a single 1TB hard drive, a Radeon HD 6870 and a mATX motherboard isn't a very compelling reason to go with a full tower case.
Sound like you? Well, NZXT has now released the mid tower edition of the Phantom, the NZXT Phantom 410. From the exterior, the NZXT Phantom 410 looks quite similar to the original Phantom except it's smaller and is priced at right under $100. The case also includes a couple new updates compared to the original Phantom's design such as a side panel window to show off your gear as well as USB 3.0 ports. Does it live up to the Phantom name? I sure hope so!
Specifications
MODEL
Phantom 410
CASE TYPE
Mid Tower Steel
FRONT PANEL MATERIAL
Plastic
DIMENSIONS (W x H x D)
215 x 516 X 532 mm
VGA Clearance Maximum

305mm (w/o fan), 280mm (installed), 230mm (full pivot)
COOLING SYSTEM
FRONT, 2x120mm or 1 X 140mm (1x120mm included)
REAR, 1 X 120mm (included)
SIDE, 1 x 120mm or 1 x 140mm
TOP, 2 X 120/140mm (1 x 140mm included)
DRIVE BAYS
3 EXTERNAL 5.25″ DRIVE BAYS
6 INTERNAL 3.5″ Slots
Screwless Rail Design
MATERIAL(S)
Steel
EXPANSION SLOTS
7
WEIGHT
9 kg
MOTHERBOARD SUPPORT
ATX, MICRO-ATX, MINI-ITX
A Closer Look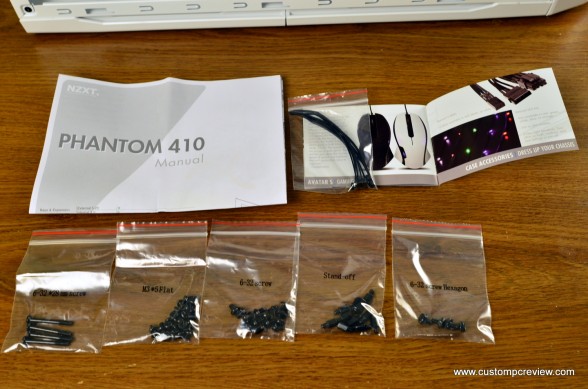 Included in the box, we receive some documentation, all the hardware necessary in labeled packages, and some cable ties. Of course, we also get the case as you'll see below…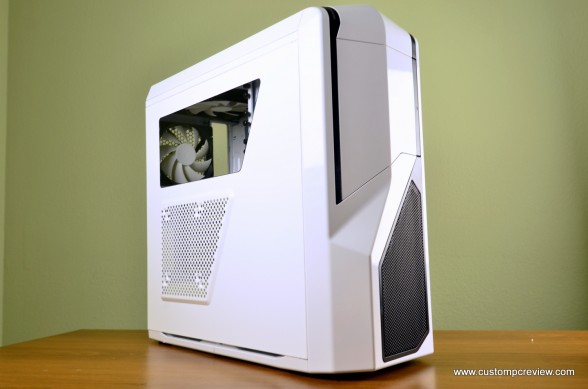 Taking a first look at the Phantom 410, the case is extremely similar to its bigger brother, the original Phantom. The case's painted plastic and painted steel match very well – something that's typically difficult to do considering they're significantly different materials.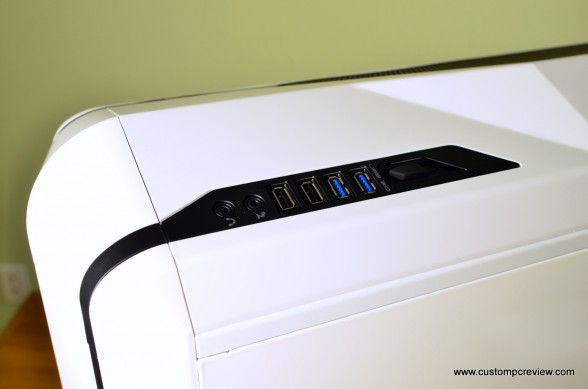 Starting at the top right of the case, we get a fan controller with three settings, 2x USB 3.0, 2x USB 2.0, and a headphone and microphone jack.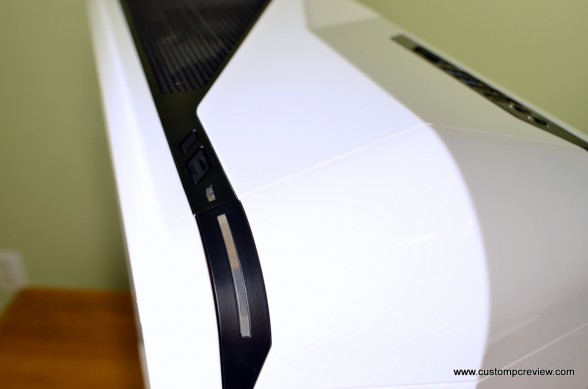 Here we get buttons for both power and reset buttons along with a large, blue power LED.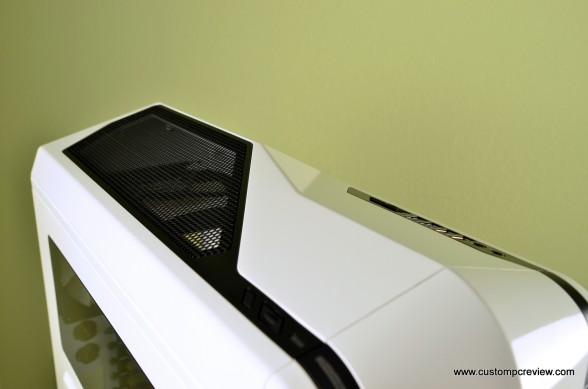 At the rear of the top, we get a meshed area, with a 140mm exhaust fan pre-installed underneath. Unfortunately there is no fan filter here.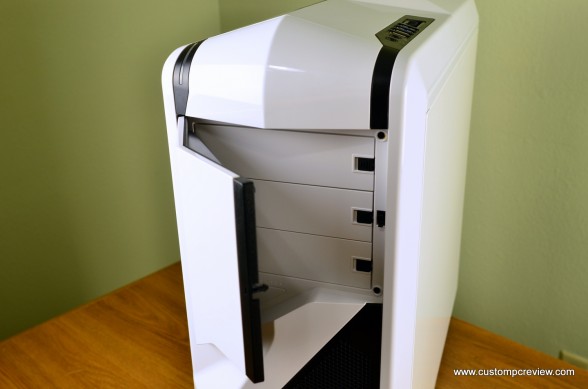 Similar to the original Phantom, the Phantom 410 includes a cover that must be opened prior to accessing the 5.25″ bays. For those who constantly need access to their 5.25″ bays, this may be a minor annoyance. For those who don't like front covers in general, this will be a major annoyance.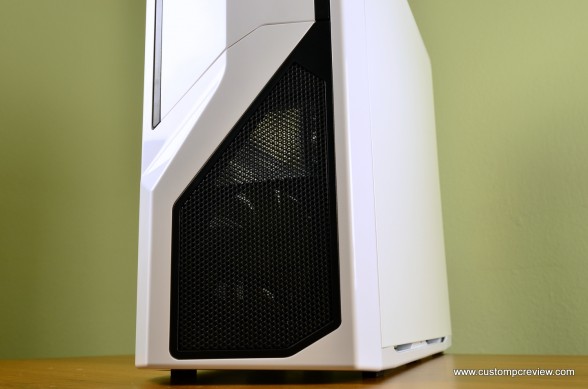 Moving around to the front, the bottom area is meshed as well with a 120mm fan pre-installed underneath. Unfortunately, there are no fan filters here as well.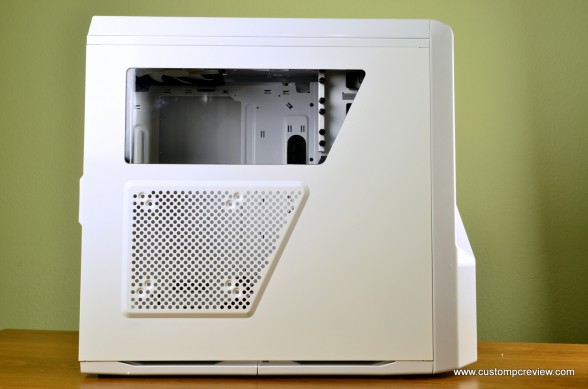 As you can see above, there's a large side panel window on the top third of the case while there's a large meshed area below with mounting points for a 120mm or 140mm fan for graphics card cooling. Again, no fan filters.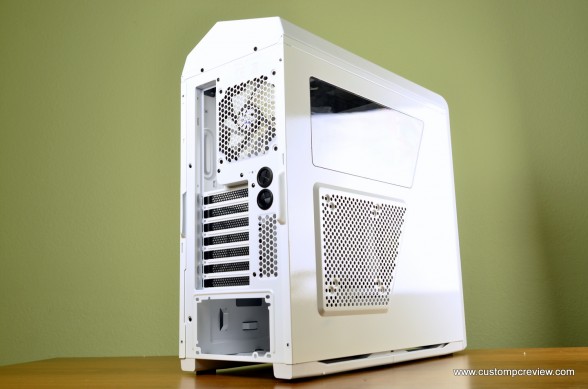 At the rear panel we get the I/O punchout, 120mm fan mount with a 120mm fan installed, 7x expansion slots, water cooling holes, and the PSU cutout as well.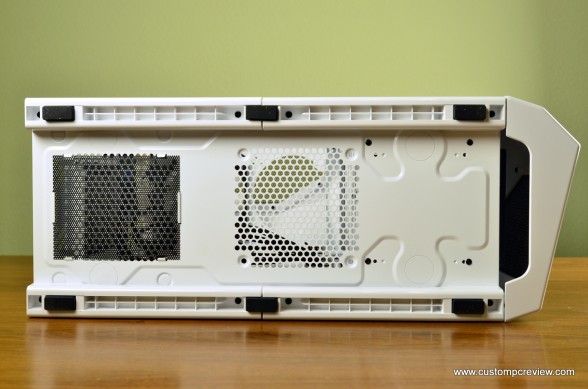 At the bottom of the case, we get a mesh area for the PSU fan, which is filtered (with a very cheap filter), and in front of that we also get a mesh area with mounting points for a 120mm fan. There are also 6x rubber feet on the bottom of the case as well, which help lift the case off the table, reduce the chance of damage to the table/case, and help reduce vibration noise.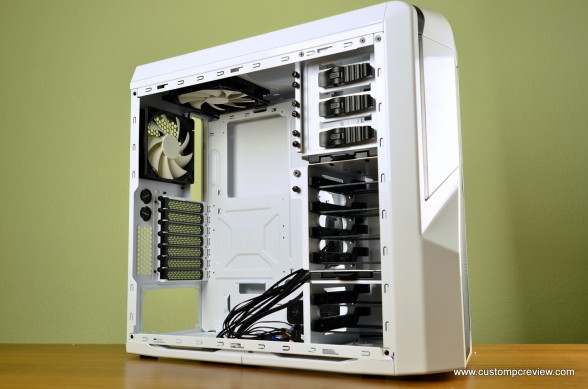 Here's a look at the inside of the case with the sidepanel removed. The interior of the case is also painted white, which is nice considering there's a window.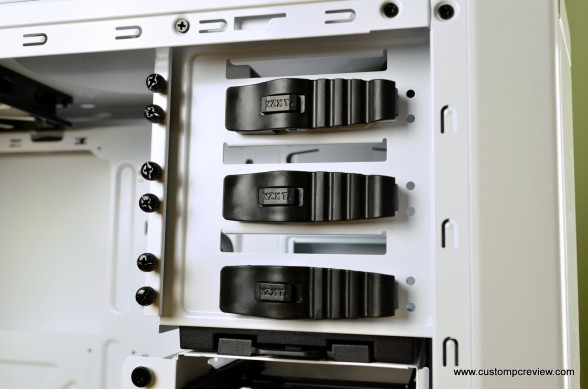 Taking a closer look at the 5.25″ bays, we get three of them, all tool-less in design.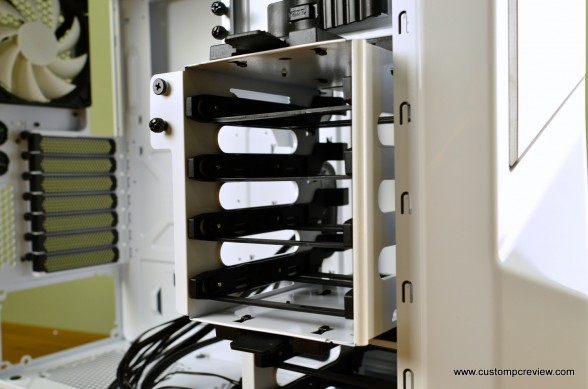 Below that, we also get a removable hard drive cage with 4x tool-less trays that support both 3.5″ or 2.5″ drives.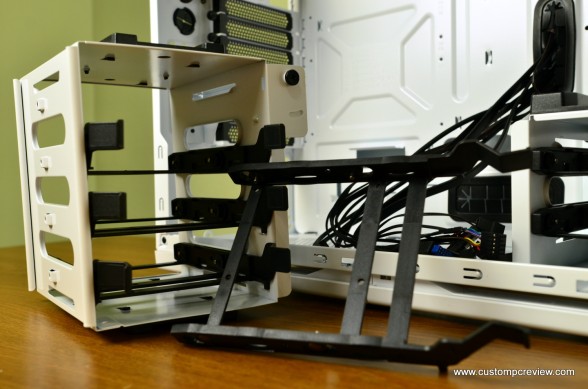 Here's a closer look at the hard drive cage. These drive trays are made of flimsy plastic, but once a drive's installed, the drive trays become more rigid.
A Closer Look (Cont…)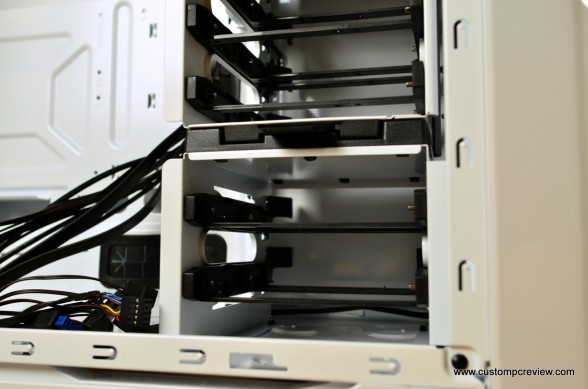 Below the removable drive cage, we also get two more drive trays in a more… permanent drive cage.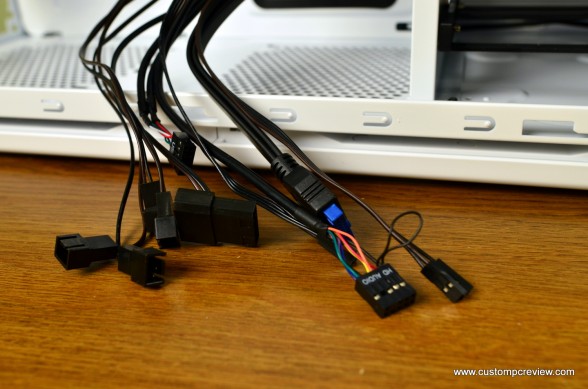 Here we have all the front panel connectors. As you can see, the fan controller can support up to four additional fans.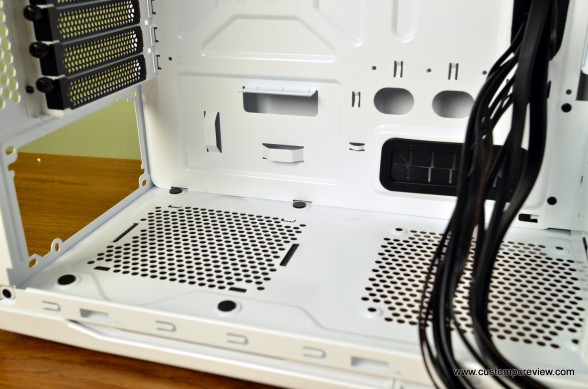 Here's a closer look at the interior of the case around the PSU mount. Another 120mm fan can be installed in front of the PSU as well.
Taking a look at the top interior of the case, we get a single 120mm fan at the rear, a 140mm blue LED lit fan up top as well as another 120mm/140mm fan mount.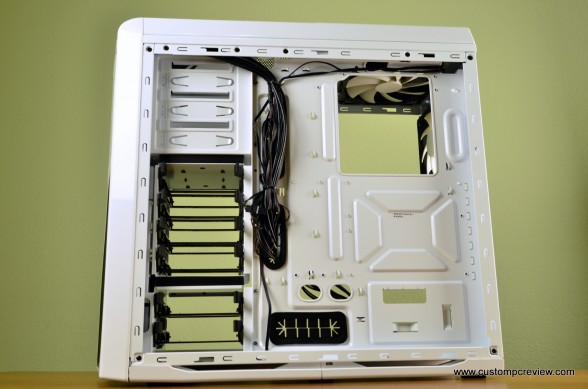 Plenty of cable routing holes for cable management here with some of the larger holes having rubber grommets as well, which is a very nice touch. There's also a giant hole in the back for you to easily install CPU cooler backplates without removing the motherboard.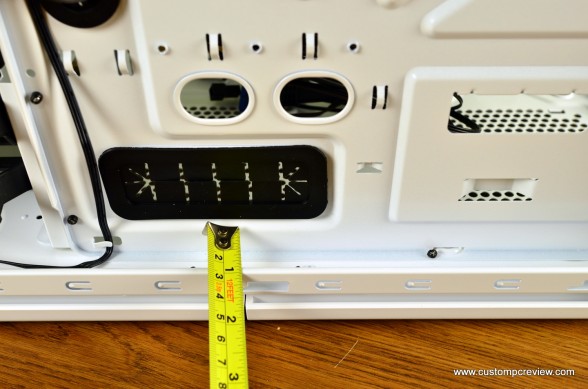 There's around an inch of space back here for your cables, so that should be plenty even for the thickest 24 pin cables.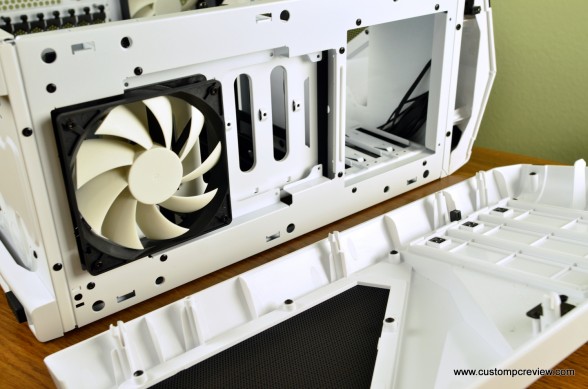 Ripping off the front cover, we can see that there's a single 120mm fan installed near the bottom front of the case. Another 120mm can be installed here as well, or the 120mm fan installed here can be removed to make room for a 140mm fan.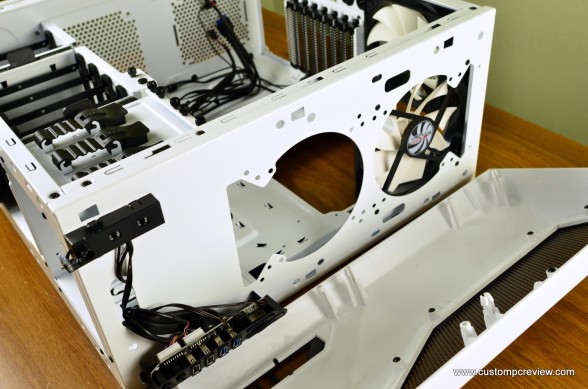 Once the top cover is removed, you can see that there are mounting points for 2x 120 or 140mm fans. Currently there's a 140mm blue LED lit fan pre-installed. Also, notice the large amount of space between the chassis and the top cover.  There should be sufficient room to place a 240mm water cooling radiator here as well, for those planning on picking up a Corsair H100.
Test System
CPU: Intel Core i5 2500K & Phanteks PH-TC14CS Cooler
Motherboard: Asrock Z68 Fatal1ty Professional Gen 3
Graphics: MSI Radeon HD6970 + ARCTIC Accelero Xtreme 7970
Memory: 16GB Kingston HyperX Genesis DDR3 2133MHz
Boot Drive: Kingston V+200 120GB SSD
Storage Drive: Western Digital 1TB Caviar Blue
Power Supply: Corsair HX650
DVD Drive – ASUS OEM DVD Drive
Installation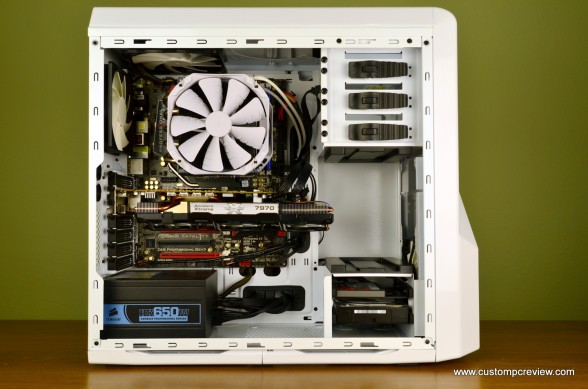 Overall, installation on the NZXT Phantom 410 was a breeze. With the exception of the PSU, SSD, and motherboard, installation of everything else was completely tool-less.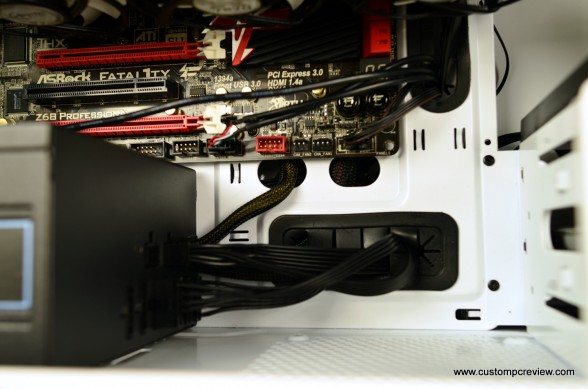 While I'm no cable management ninja, this case has plenty of room for your cables. There is very little cabling here to obstruct the airflow of an extra 120mm fan installed underneath.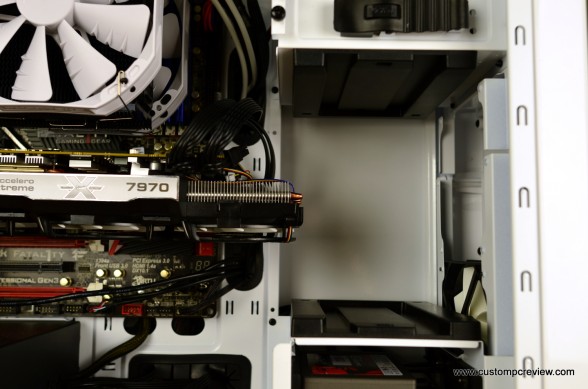 Installation of our 12.5″ HD6970 with the ARCTIC Accelero Xtreme GPU cooler required the removal of the HDD rack.
Here we've got the new Phanteks PH-TC14CS CPU cooler installed, and you can see we have plenty of room for much taller CPU coolers. However, it should be noted that the monolithic Phanteks PH-TC14PE will not fit. (Yes, I tried and I failed.)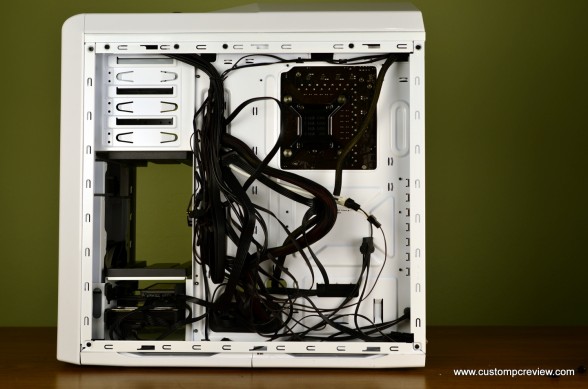 Moving around the back, we've got a complete mess. Then again, it doesn't really matter since it won't be seen, but NZXT has included cable ties for you if you'd like to make them a bit neater.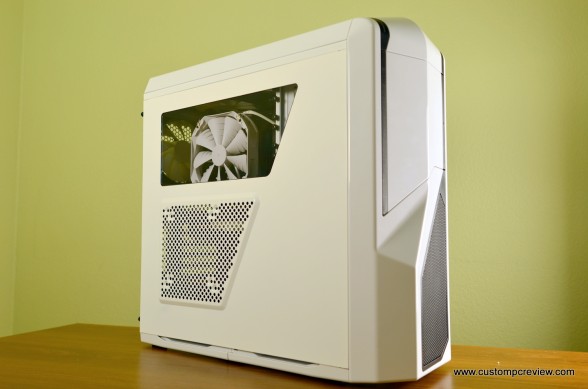 System fully assembled.
Performance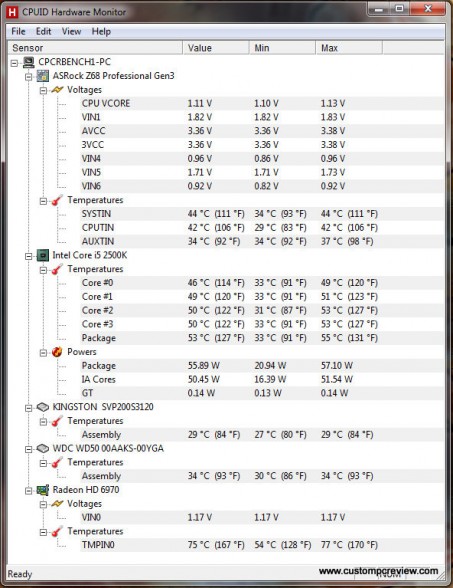 With our test PC, we ran 30 minutes of AIDA 64 Stress Test and Furmark with ambient right around 21c. Overall, temperatures were good as there was plenty of air moving around.  Of course, everything was running at stock clocks and the test bench was sporting some aftermarket CPU and GPU coolers, so it's no surprise there.
Conclusion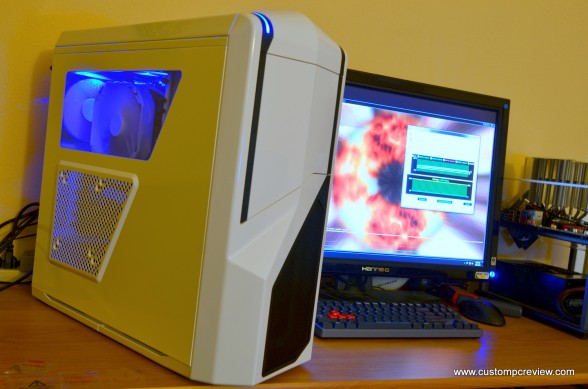 Starting with the aesthetics, the Phantom 410 like the NZXT Phantom, will probably be a love-hate thing for most people. For some, you'll probably hate it. The plastic cover up front along with the futuristic styling may seem like something more fit for a teenager. I get that. However, for those looking for a case that has that cool futuristic look  without going too overboard, I think this case is the perfect combination. Included in the case is also a blue LED lit fan as well as a large blue LED status indicator up front. It's definitely nice and does give the case a classy look, but be warned the blue LEDs cannot be shut off.
For installation, NZXT has really made it easy on us with the Phantom 410. Everything that can possibly be tool-free, is tool-free. All screw types are individually packaged and labeled so you don't have to go digging through a giant bag of screws to find one. It really does help as most times all we really need from these bags are the motherboard standoffs and the motherboard screws. Additionally, also included are extra thumbscrews in case you misplace a couple. Overall, it's pretty obvious NZXT has spent a great deal of time making the Phantom 410 a very easy case to work with and for those familiar with PC building, a build into the NZXT Phantom 410 should take no longer than 30-60 minutes.
Performance-wise, I found no issues with the case. The included 2x120mm fans and the 140mm fan up top do a great job of moving the air, with the test system's i5 2500K at stock clocks sitting at a very chilly 50°c under full load. That said, I do tend to prefer cases with positive air flow instead of negative air flow such as the case with the Phantom 410. Typically I see better temperatures, but more importantly dust is less of an issue. Speaking of dust, one thing about this case is that aside from the cheap PSU fan filter, it doesn't have any at all. Course, as long as you're willing to regularly take your PC out and dust it off, it shouldn't be much of an issue. For a premium case like the Phantom 410 however, I do expect some fan filters and it is quite disappointing that NZXT hasn't implemented any. (Aside from the PSU fan filter)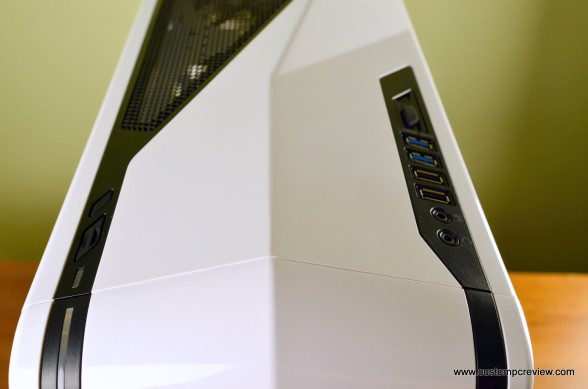 In terms of durability, the case shouldn't have many issues (as many owners of original NZXT Phantom would tell you), but be warned that the top and the front panel of the case is made of plastic. Obviously, it won't be as durable as some of the SilverStone Temjin series cases out there, but as long as proper care is given, I don't think this case should have any problems.
Finally, taking a look at the price of the case, it's currently priced at around $99.99 on Amazon, which is very much in line with other premium mid-tower cases on the market. Some of its competitors include the Cooler Master HAF 922 ($89.00), Antec Nine Hundred ($89.99), and the Corsair Carbide Series 400R ($99.99).
Bottom Line
Overall, the NZXT Phantom 410 is a great looking case with plenty of features, plenty of cooling, and plenty of good looks. As the little brother of the wildly popular NZXT Phantom, I approve.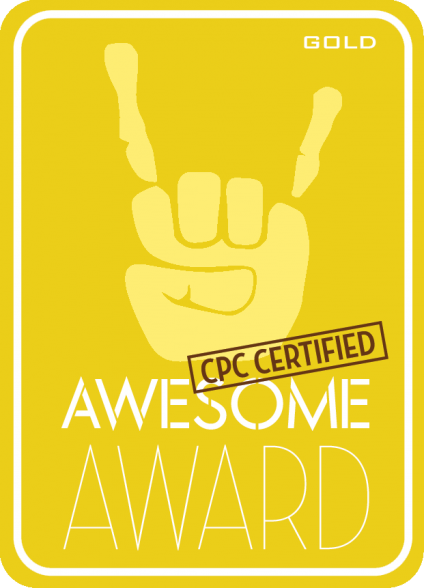 Special thanks to NZXT for making this review possible.
The NZXT Phantom 410 is currently available on Amazon.