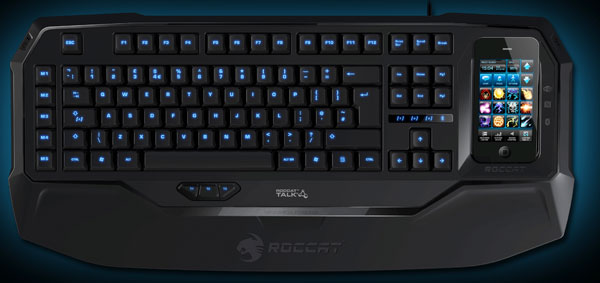 From time to time we spot some pretty interesting gaming peripherals and today we've got something from gaming peripheral maker, ROCCAT, who's gearing up for the release of their Phobos Gaming Keyboard in Q 4 2012. As a direct competitor to Razer's Star Wars The Old Republic Keyboard, which as you may or may not recall came with a fancy touchscreen and was exorbitantly expensive, the ROCCAT Phobos will compensate for its the lack of a touchscreen with an iPhone dock. This way, you get to use your iPhone's touchscreen to interface with the ROCCAT Phobos and since there's no touchscreen here, this dramatically reduces the cost of the keyboard in comparison to its competitors – after all, you no longer have to pay for the touchscreen. Pretty neat, huh?
The Phobos will also launch with ROCCAT's Power-Grid iOS app, which turns your iPhone or iPod touch* into a secondary display to keep you informed on data such as your gaming stats, system status, and Twitter feeds. It can even route calls to your headset so you won't miss them in heat of battle.
The app is currently going through the beta testing process, and is open to anyone who'd like to register. Do you think it'll be a game changer? Leave a comment below!
Source: ROCCAT
*Available with future update