Warning
: Undefined array key "width" in
/var/www/vhosts/custompcreview.com/public_html/wp-includes/media.php
on line
1381
Warning
: Undefined array key "width" in
/var/www/vhosts/custompcreview.com/public_html/wp-includes/media.php
on line
1386
Warning
: Undefined array key "height" in
/var/www/vhosts/custompcreview.com/public_html/wp-includes/media.php
on line
1386
Warning
: Undefined array key "width" in
/var/www/vhosts/custompcreview.com/public_html/wp-includes/media.php
on line
1381
Warning
: Undefined array key "width" in
/var/www/vhosts/custompcreview.com/public_html/wp-includes/media.php
on line
1386
Warning
: Undefined array key "height" in
/var/www/vhosts/custompcreview.com/public_html/wp-includes/media.php
on line
1386
Warning
: Undefined array key "width" in
/var/www/vhosts/custompcreview.com/public_html/wp-includes/media.php
on line
1381
Warning
: Undefined array key "width" in
/var/www/vhosts/custompcreview.com/public_html/wp-includes/media.php
on line
1386
Warning
: Undefined array key "height" in
/var/www/vhosts/custompcreview.com/public_html/wp-includes/media.php
on line
1386
Warning
: Undefined array key "width" in
/var/www/vhosts/custompcreview.com/public_html/wp-includes/media.php
on line
1381
Warning
: Undefined array key "width" in
/var/www/vhosts/custompcreview.com/public_html/wp-includes/media.php
on line
1386
Warning
: Undefined array key "height" in
/var/www/vhosts/custompcreview.com/public_html/wp-includes/media.php
on line
1386
Warning
: Undefined array key "width" in
/var/www/vhosts/custompcreview.com/public_html/wp-includes/media.php
on line
1381
Warning
: Undefined array key "width" in
/var/www/vhosts/custompcreview.com/public_html/wp-includes/media.php
on line
1386
Warning
: Undefined array key "height" in
/var/www/vhosts/custompcreview.com/public_html/wp-includes/media.php
on line
1386
Warning
: Undefined array key "width" in
/var/www/vhosts/custompcreview.com/public_html/wp-includes/media.php
on line
1381
Warning
: Undefined array key "width" in
/var/www/vhosts/custompcreview.com/public_html/wp-includes/media.php
on line
1386
Warning
: Undefined array key "height" in
/var/www/vhosts/custompcreview.com/public_html/wp-includes/media.php
on line
1386
Warning
: Undefined array key "width" in
/var/www/vhosts/custompcreview.com/public_html/wp-includes/media.php
on line
1381
Warning
: Undefined array key "width" in
/var/www/vhosts/custompcreview.com/public_html/wp-includes/media.php
on line
1386
Warning
: Undefined array key "height" in
/var/www/vhosts/custompcreview.com/public_html/wp-includes/media.php
on line
1386
Warning
: Undefined array key "width" in
/var/www/vhosts/custompcreview.com/public_html/wp-includes/media.php
on line
1381
Warning
: Undefined array key "width" in
/var/www/vhosts/custompcreview.com/public_html/wp-includes/media.php
on line
1386
Warning
: Undefined array key "height" in
/var/www/vhosts/custompcreview.com/public_html/wp-includes/media.php
on line
1386
Warning
: Undefined array key "width" in
/var/www/vhosts/custompcreview.com/public_html/wp-includes/media.php
on line
1381
Warning
: Undefined array key "width" in
/var/www/vhosts/custompcreview.com/public_html/wp-includes/media.php
on line
1386
Warning
: Undefined array key "height" in
/var/www/vhosts/custompcreview.com/public_html/wp-includes/media.php
on line
1386
Warning
: Undefined array key "width" in
/var/www/vhosts/custompcreview.com/public_html/wp-includes/media.php
on line
1381
Warning
: Undefined array key "width" in
/var/www/vhosts/custompcreview.com/public_html/wp-includes/media.php
on line
1386
Warning
: Undefined array key "height" in
/var/www/vhosts/custompcreview.com/public_html/wp-includes/media.php
on line
1386
Warning
: Undefined array key "width" in
/var/www/vhosts/custompcreview.com/public_html/wp-includes/media.php
on line
1381
Warning
: Undefined array key "width" in
/var/www/vhosts/custompcreview.com/public_html/wp-includes/media.php
on line
1386
Warning
: Undefined array key "height" in
/var/www/vhosts/custompcreview.com/public_html/wp-includes/media.php
on line
1386
Warning
: Undefined array key "width" in
/var/www/vhosts/custompcreview.com/public_html/wp-includes/media.php
on line
1381
Warning
: Undefined array key "width" in
/var/www/vhosts/custompcreview.com/public_html/wp-includes/media.php
on line
1386
Warning
: Undefined array key "height" in
/var/www/vhosts/custompcreview.com/public_html/wp-includes/media.php
on line
1386
Warning
: Undefined array key "width" in
/var/www/vhosts/custompcreview.com/public_html/wp-includes/media.php
on line
1381
Warning
: Undefined array key "width" in
/var/www/vhosts/custompcreview.com/public_html/wp-includes/media.php
on line
1386
Warning
: Undefined array key "height" in
/var/www/vhosts/custompcreview.com/public_html/wp-includes/media.php
on line
1386
Introduction
Don't be fooled by its name, the QuickFire Rapid will not suddenly boost your typing speed to the firing rate of a fully automatic machine gun. Perhaps what CoolerMaster was trying to say when they named this keyboard the "QuickFire Rapid" is that it can handle even the fastest finger movements without a hitch. But the name of the keyboard doesn't matter, we are here to see if it performs.

The CM Storm QuickFire Rapid is the only keyboard in the CM Storm family. Geared towards serious gamers who demand nothing but performance, this plank features a minimalistic design much like other mechanical keyboards we've reviewed in the past such as the SteelSeries 6GV2 but oddly enough, this one is missing the right side numpad. Intrigued?
In my opinion, mechanical switches are a must for true gaming keyboards. They're typically more durable, each keypress feels more balanced, and mechanical keyboards typically offer some sort of N key rollover or anti-ghosting feature that ensures every keypress is registered. As you probably already know, the most common mechanical keyswitches are produced by Cherry and they most commonly produce four different variations of their switches each with different actuation forces, sound profiles, tactile feels, etc. Unlike most companies that only offer one type of switch, CoolerMaster offers three depending on your region. (Cherry MX Black, Cherry MX Blue and Cherry MX Brown) Additionally, they also produce a Cherry MX Red edition of the keyboard which features a physically different appearance; however, is available only in specific markets as well.
For the purposes of this review, our review sample came with Cherry MX Blues, which is actually in our favor because we find them to be among best balance between typing and gaming.

Video Unboxing
A Closer Look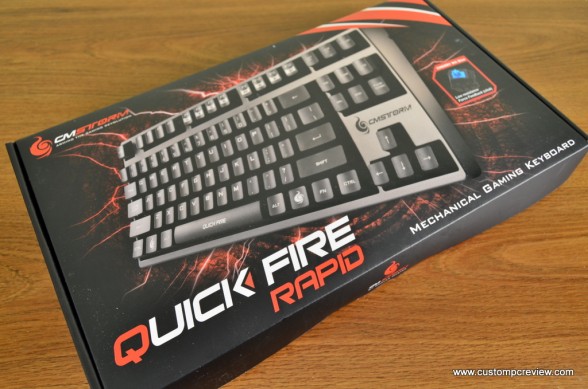 A shot at the front of the box. While not apparent from the pictures, the box is actually very small and feels very solid.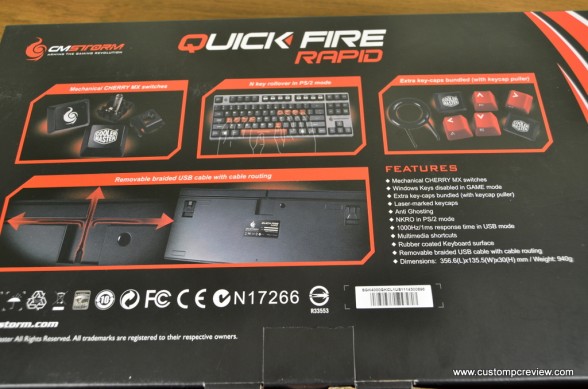 The back of the box showcasing all the features. Take a look if you'd like, but we'll talk more about them later in the review.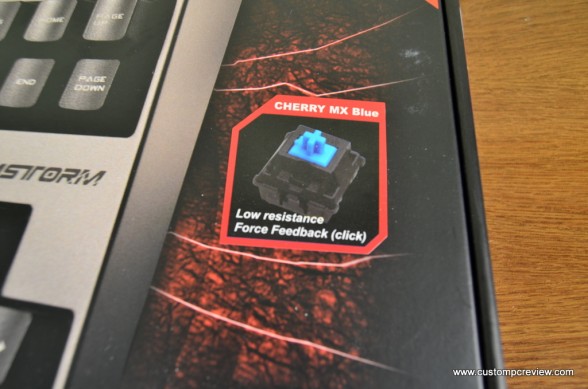 Cherry MX Blues? Yes siree!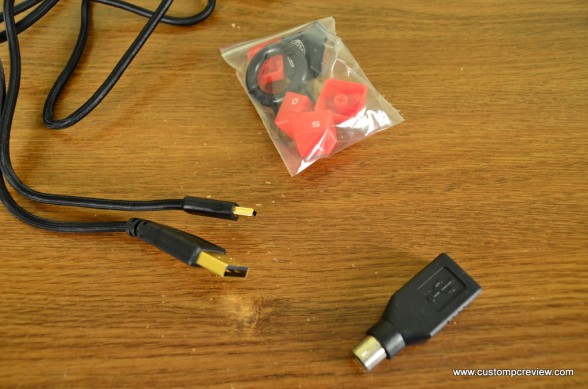 Some accessories. The USB to mini-USB connector and the USB to PS/2 adapter (to enable N Key rollover).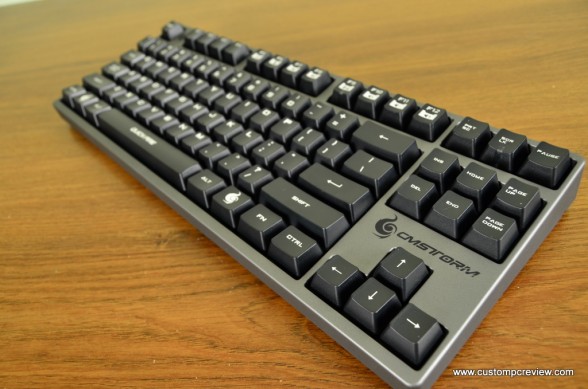 The Silver chassis looks great with the black keys.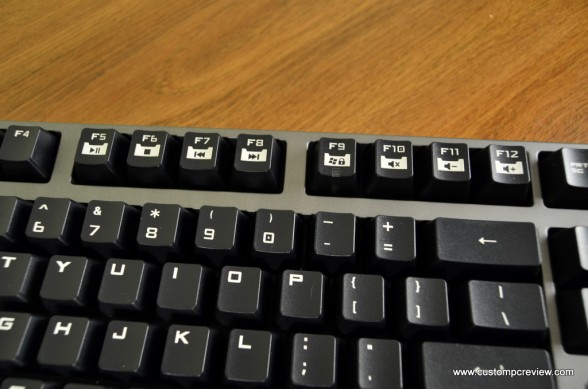 We get a Windows key lock. Yay! But, no dedicated media keys. Sad panda. Since this keyboard isn't back-lit, these keys are pretty much useless for me. Then again, having media keys is better than no media keys at all, right?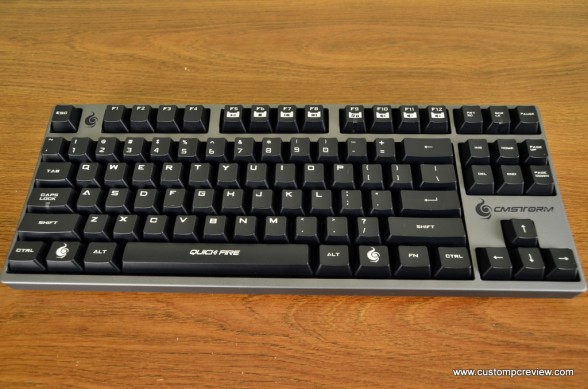 I don't know how the guys at Cooler Master play games, but I usually have my trigger set to the left mouse click, not the space bar. A lot of logos scattered everywhere. A bit too much branding? Perhaps…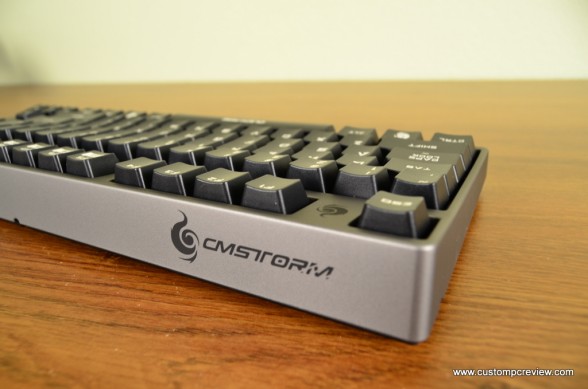 The keyboard's got a bit of height to it. Another CM STORM logo dropped here as well. We get it, it's a CM Storm product.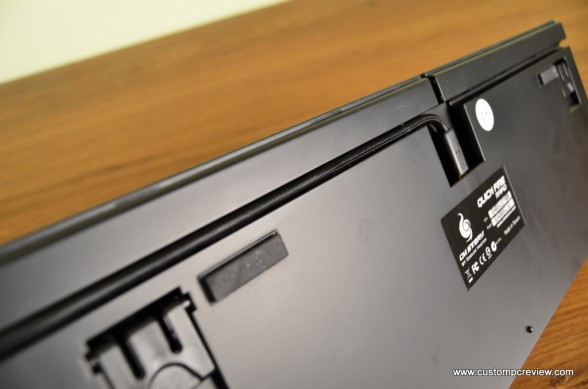 The cable channels. Cables can be routed to the left, center, and right.
A Closer Look Cont…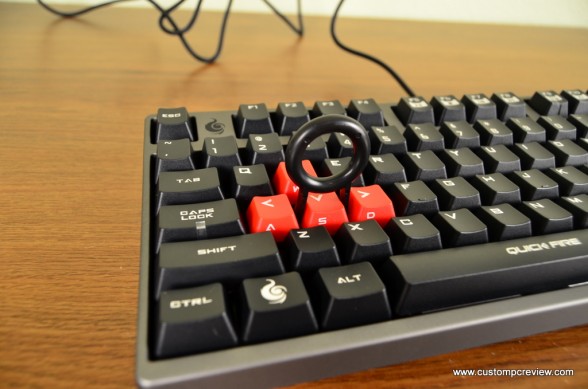 The red replacement keycaps installed with the key puller on top. I wish more companies included key pullers with their products… not mentioning any names here…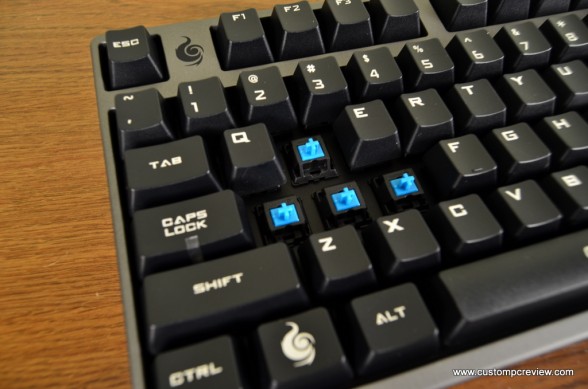 The Cherry MX Blue Switches under the keycaps.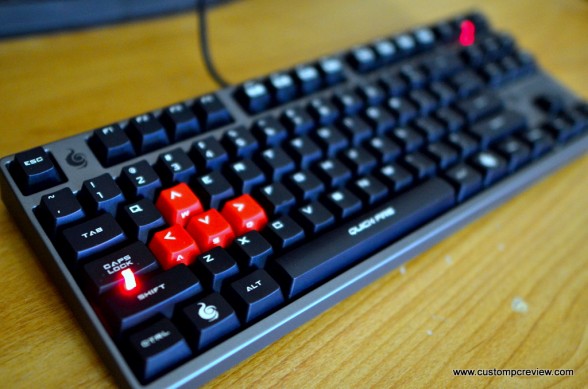 Since there's no number pad, there's no space for the caps lock and scroll lock LEDs. Instead, CoolerMaster placed the LEDs directly on the keys. They are brightly lit and easy to distinguish between on and off.
Specifications
| | |
| --- | --- |
| Model Number | SGK-4000-GKCL1 (Blue Switch)SGK-4000-GKCC1 (Black Switch)SGK-4000-GKCM1 (Brown Switch) |
| Key Switch | CHERRY Blue / Black / Brown |
| N Key Rollover | N key in PS/2 mode |
| Polling Rate | 1000 Hz /1 ms |
| Interface | USB / PS2 |
| Extra Keys | 6 pcs |
| Keycap Puller | Yes |
| USB Cable | Removable |
| Dimensions | 355(L)x135(W)x35(H) mm |
| | 14(L)x5(W)x1(H) inch |
| Weight | 940 g / 2.1 lbs |
Features
Although smaller than a keyboard with a full set of keys, the QuickFire Rapid is still quite heavy when compared to even some full size keyboards. Weighing in at 940 grams, the keyboard felt very solid and study, definitely something that'll last a long time. Additionally during testing, we found that the keyboard did not slide around the table which was originally one of our biggest concerns with a keyboard this size.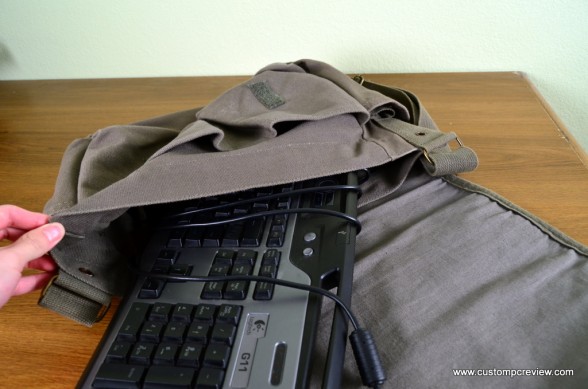 Here's me trying to stuff my old Logitech G11 into my favorite Jack Bauer man purse with futility.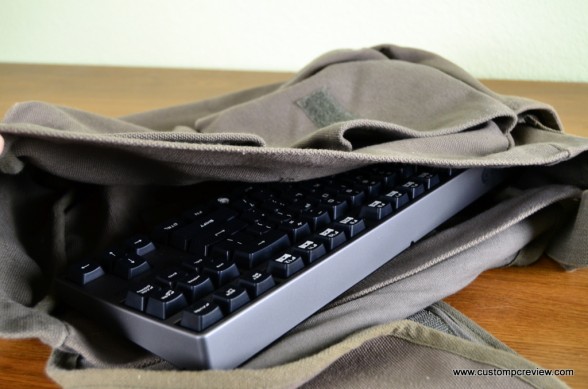 And.. here's the CM Storm Quick Fire Rapid easily fitting into my Jack Bauer man purse with space to spare. A mouse, a headset, power cables, iPhones, etc. can easily still fit in there.
The absence of the number pad can be considered as a pro and a con depending on the user's preferences. The smaller profile of the QuickFire Rapid is great for gamers who are constantly on the move or using the keyboard on a table / slide out keyboard tray with limited space. This keyboard's size also makes it possible to use this as a server keyboard, but you'll probably want to watch height clearances as this is a pretty tall keyboard.
Serious typists however, may feel inconvenienced by the inability to quickly enter a set of numbers with their right hand. In our opinion, we would have given this keyboard a lot more love if it came with a number pad, but that's solely due to the fact that we often must enter lots of numerical data for our reviews.
Like many other mechanical keyboards, the QuickFire Rapid does not have dedicated media control keys. Instead, some F keys in conjunction with the function key is used for media controls. For some odd reason, CoolerMaster has decided to bind F5 through F10 to media controls instead of the conventional F1 to F6. We found this to be a bit of an inconvenience during gaming, since we had to move our left hand just to adjust the volume if we wanted to keep our right hand on the mouse.
The entire chassis is coated in a rubbery material to improve grip. The material didn't feel like it was going to degrade after long periods of use, but don't take our word for it. It's just our impressions of the keyboard after a couple weeks worth of use. The matte finish on the chassis did not attract any   fingerprints as well which is another plus. Despite the keyboard's grippiness, it was surprisingly easy to clean too. A  piece of damp cloth does a decent job at keeping the keyboard dust free and for those hardcore enough, the keycaps can all be removed for an annual "deep cleaning"
The keycaps felt solid to the touch, and the beautiful laser engraved characters are large and easy to identify. The MX Blue switches were, as you would expect, loud and clicky. Like all mechanical switches, they are much more durable and last a whole lot longer than traditional mushy rubber dome switches. The windows logo on the windows keys have been replaced by the CM Storm logo – an image of a ball of fire. We would have liked to name them the rapidfire keys, but the space bar had already taken that title. =P
As you look deeper within the content of the box, you'll notice an extra set of red keycaps for the WASD keys, which are typically used to control movement in FPS games. You also get a replacement set of windows keycaps as well with the Cooler Master logo on it. While you do get 2 sets of Windows key keycaps, none of them actually has the Windows logo on it. Interesting… You also get a keypuller to help aid you in installing the replacement keys. As for the WASD keys, we are guessing these vibrant replacement caps are suppose to help a user find the right keys at a glance in the middle of an intense firefight. They are also labeled up, down, left, right which I guess could help noobs who have no idea that w means forward and a means left. Other than that, they have no physical advantages over the normal keycaps, unlike the grippy replacement keycaps on the Corsair K60.
The cable of this keyboard along with the cable connection design is fantastic. The braided USB to mini-USB cable can be directly detached from the back of the chassis which is quite possibly the easiest solution for those who frequently break keyboard cables and end up having to buy whole new keyboards. Additionally, the cable can be routed through the middle or from either side of the keyboard via the cable channels carved out at the back. This effectively prevents the section of the cable connecting to the USB head from being damaged by excess swiveling and may help aesthetics as well.
Peroformance
---
Test 1: 700 word Essay
Though they are a tad shy of the browns, the Cherry MX Blue switches are still awesome to type on.The keys were clicky and tactile, and the actuation force is just right. This feeling, however, ended when I had to enter a sequence of numbers. The missing number pad presented a serious inconvenience. I almost never type numbers using the actual number keys up top and it was painful to hunt and peck. Additionally, the keyboard doesn't come with a palm rest, so after 20 minutes of continuous typing, my wrists were a tad bit sore. I'd recommend purchasing an aftermarket wrist rest if you experience any soreness.
---
Test 2: Battlefield 3
As expected, no complaints here. The keyboard functioned as expected. With or without the PS/2 adapter attached, we experienced no ghosting.
---
Test 3: Starcraft 2
The Cherry MX Blue Switches were performed very well in this category, too. We never felt like we missed a beat and the clicky "music" of the keys  being pressed made us want to keep trying to raise our APM. A word of advice: if you live in a college dorm or something, don't play while your roommate is taking his beauty nap. If you're rocking 250+ APM, the sounds of the switches are quite literally, loud enough to wake everyone. While it's music to your ears, it could possibly be rage inducing to everyone else.
Conclusion:
What's Hot
As the lone soldier sent into the heated gaming keyboard war, the CM Storm QuickFire Rapid dug a solid position. The Cherry MX Blue switches felt great under our fingers, and the clicks were ever so satisfying. If you're one of those demi-gods of strategy games with a 500+ APM, you might even be able to sell the soundtrack of your keypresses on iTunes someday. The construction was also excellent and everything from the elegantly engraved keycaps to the rubber coated chassis felt high quality. Since it's missing a keypad, it's also compact as well making it an excellent choice for those who frequent lan parties, lan centers or just like to chill at their rich friend's mansion. Did I mention it has a semi-economic price tag to boast about too?
What's Not
We knew that a $80 mechanical gaming keyboard was going to arrive with compromises from the get go. The keyboard lacks dedicated media keys, back lighting and a palm rest. While we can forgive the missing media keys along with the missing backlighting, we would've liked to see a palm rest especially considering the elevated height of this keyboard.
What we miss more though, is the lack of the number pad. Despite its comfortable switches, the lack of a numpad drastically reduced our productivity when we used this keyboard as our main production keyboard.
Bottom Line
All that being said, we liked this keyboard overall. If you're on the market for a no BS keyboard that's made to game or a plank you can pack in the bag yet still have plenty of room for some Cocaine, then this keyboard might just be for you.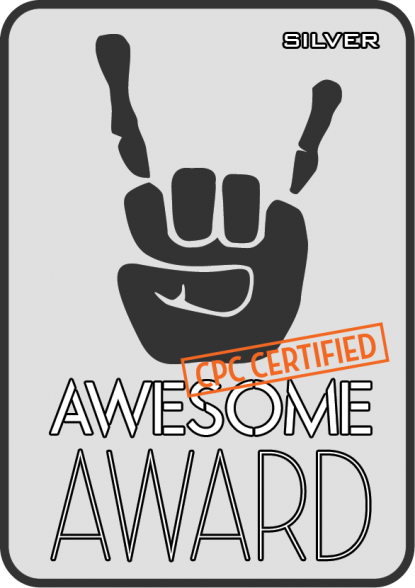 The Cooler Master CM Quick Fire Rapid is currently available on Amazon and Newegg.
We'd like to thank Cooler Master USA for making this review possible.
UPDATE: If you'd like to purchase the Quick Fire Rapid with Red Mechanical Switches (Which also comes with a better color scheme), visit the CM Store at http://bit.ly/yE2YiX