[section label=1. Introduction]
… Blast from the past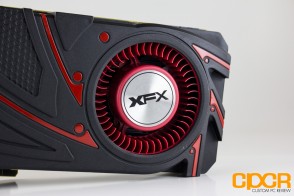 In 2013, the largest iPhone you could buy was  just 4 inches, the average price for a gallon of gas was $3.50, and VR gaming was a thing of the future. Kind of hard to believe how much has changed in just three years, huh? Well, one thing that fans and critics of AMD alike will no doubt also remember from that year was the release of AMD's flagship Radeon R9 290 series of GPUs, along with their now infamous reference cooler. AMD's reference cooler for many at the time was just too loud and was also unable to cool down their beastly graphics cards for long gaming sessions. It is likely because of this that when AMD launched the refreshed Radeon R9 390 series that cards utilizing the reference design cooler were nowhere to be found, with AMD's board partners offering only non-reference style coolers.
However, one of those board partners that seems to have missed the old swirly red design is XFX as today we'll be reviewing the XFX R9 390 4GB, which features the 'reference style' blower cooler design. XFX states that this particular design is aimed at "system integrators and small form factor machines" meaning it is aimed at a rather niche market. That being said, we were able to find the card for sale at online retailers for ~$319, which is about the same as the company's non-reference R9 390 DD (Double Dissipation) models.
GPU
R9 380
R9 380X
R9 390
R9 390X
Codename
Antigua (Tonga) Pro
Antigua (Tonga) XT
Grenada (Hawaii) Pro
Grenada (Hawaii) XT
Architecture
GCN 1.2
GCN 1.1
Fabrication
 28nm
Core  Clock (MHz)
970
970
1000
1050
Stream Processors
1792
2048
2560
2816
Texture Units
112
128
160
176
ROPs
32
32
64
64
Framebuffer
2GB/4GB
4GB
8GB
Memory Type
GDDR5
Memory Interface
256-bit
256-bit
512-bit
512-bit
Memory Clock
5.5 Gbps
5.7 Gbps
6.0 Gbps
5.0 Gbps
TDP
190W
190W
275W
275W
Launch Price
$199-$225
$229
$329
$429
The XFX Radeon R9 390 8GB is based on the Grenada Pro architecture. The 'Grenada Pro' GPU found in the R9 390, is essentially a refresh of the 'Hawaii Pro' GPU found in the previous generation R9 290 (which we also reviewed). I won't go as far as to call it and outright rebadge, as AMD has claimed to have made a number of improvements to the underlying components, which allows for improved performance and overclocking. Still, if you're a current Radeon R9 290 owner, there won't be enough here to warrant an upgrade. Fortunately, AMD is expected to release a new lineup of GPUs based on their all-new Polaris architecture later this year. That said, let's focus on the now.
The XFX Radeon R9 390 being a reference design card, does not feature a factory overclock as some such XFX's other products such as the Double Dissipation models. This means you get a GPU Clock speed of 1,000MHz and a Memory Clock of 6,00MHz (6.0 Gbps). This doesn't surprise me as the blower style cooler will likely not leave much thermal room for overclocking. Of course, we'll be putting this to the test in our review.
[section label=2. A Closer Look]
A Closer Look at the XFX R9 390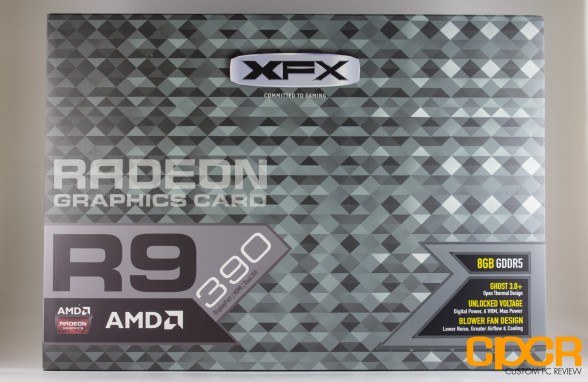 First, we take a look at the packaging for the XFX R9 390.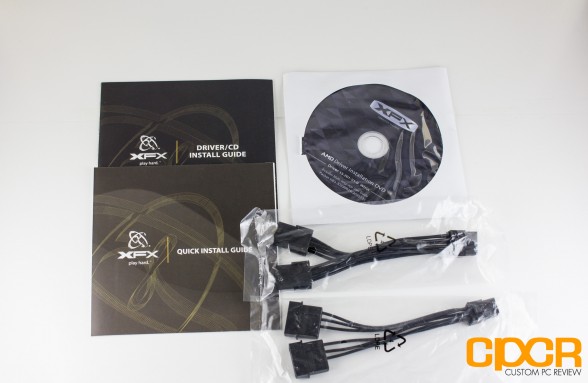 Included in the packaging, we get some basic documentation, as well as a driver installation disc, which we absolutely do not recommend using unless in a pinch. It is always better to download the latest driver' from AMD's website. Also included is a dual Molex to 6-pin power adapter as well as a dual 6-pin to 8-pin adapter. Again, it is usually not recommended to use these as it is always better to have a power supply with enough native PCIe power cables to power your GPU. After all, there's probably a reason your PSU doesn't include them to begin with, right?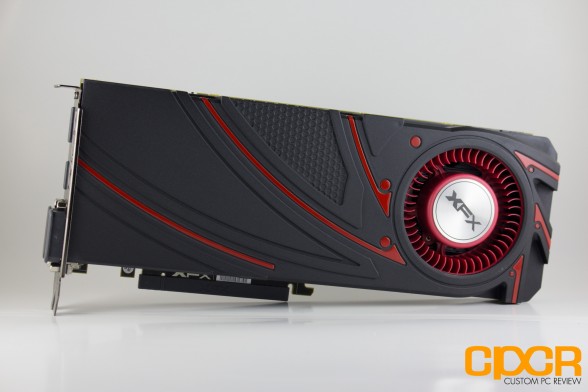 Taking a look at the card itself, we see a design which is virtually identical to the old reference R9 290/290Xs, with the exception of the very nice, silver XFX logo at the center of the fan. The heatsink and PCB assembly is also fairly long with the XFX R9 390 8GB measuring in at a length of 11.6″.
At the reverse side of the card, we'll find a completely naked PCB, something I'm not quite used to anymore. Given the card's targeted market, this isn't surprising, but I'd still love to see a backplate here, obviously.
The card is powered by both 6-pin and 8-pin PCIe  power connectors. Looking around back, we'll find several connectivity options, including a 2x dual-link DVI-I connectors, a single HDMI 1.4, and a single DisplayPort 1.2 connection.
Removing the cooling shroud, we'll get a look at the familiar construction which includes a full-length heat-spreader for the VRM and memory, which features a cutout for the large copper base that sits atop the GPU core itself, that is then attached to a rather large aluminum heatsink which is finned to allow for airflow from the single 80mm blower fan.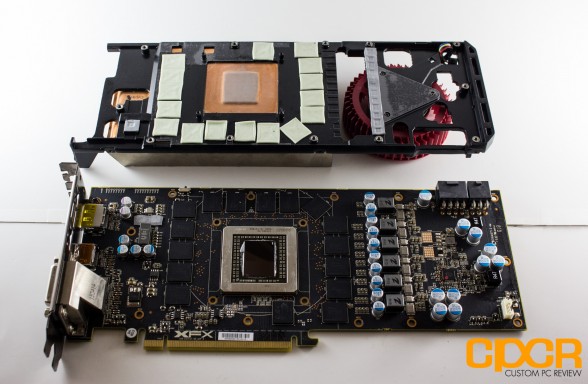 Removing the cooler also gives us a look at the rest of the card's components, which includes a 6-phase all-digital power design which is equipped with an International Rectifier IR3567B PWM controller and features a fully unlocked voltage.
Surrounding the AMD Grenada GPU, we'll find 8GB (16x 512MB) of GDDR5 which is supplied by SK Hynix.
[section label=3. Testing Setup and Methodology]
XFX R9 390 Performance
Testing Setup
Haswell-E X99 Test Bench
Special thanks to Phanteks, DEEPCOOL, Asrock, and Crucial for supplying vital components for this test bench.
Testing Methodology
To test our graphics cards, we use a variety software, tools, and benchmarks. First we'll validate the card using GPU-Z, and then test the card's overclocking capabilities using the vendor's software (if applicable.) Once we reach a satisfactory overclock, we'll then test the card's cooling performance and power draw using FurMark at both factory configurations, and while overclocked. After that, we put it through its paces using a variety of benchmarks starting with 3D Mark Fire Strike, and continuing into a number of popular gaming titles. Game performance is measured in both average FPS, as well as Frame Time, both of which are logged using the benchmark and recording tool FRAPS, and then analyzed using FRAFS. All games are then tested a minimum of 3 times with the average of those results being displayed in our scores.
All cards tested were using the latest available drivers at the time of testing, those include NVIDIA GeForce Game Ready 361.43, and AMD Radeon Crimson 16.1.
Frame Time Analysis
Frame Time Analysis is a recent addition to our graphics testing suite, it allows us to measure the overall gaming experience, and fill in the gaps that traditional FPS performance measuring leaves. Frame Time itself, is simply the amount of time it takes (in milliseconds) for the GPU to render a given frame. Higher or inconsistent Frame Time can result in a poor experience, which will be perceived as micro-stutter.
In order to measure micro-stutter, we'll be measuring both the 99th, and 99.9th percentile. These results are essentially the worst Frame Time a user can expect both 99%, and 99.9% of the time. While every user is different, it is unlikely that most would notice anything below 30 ms, so that is what we look to achieve. In addition, we'll want to look out for large gaps between the 99th, and 99.9th percentile as that can also result in a noticeable stutter, or spike in performance.
[section label=4. Overclocking]
XFX R9 390 Overclocking
Initial Boot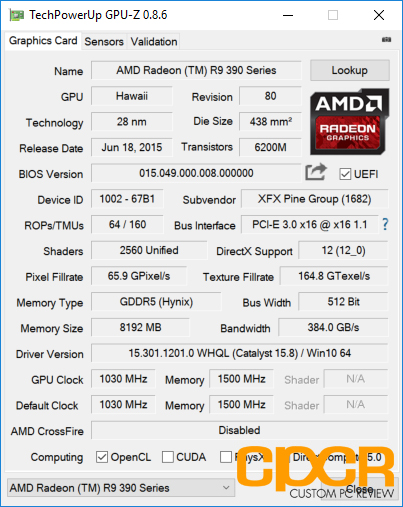 MSI Afterburner
For overclocking the XFX R9 390, we'll be using MSI Afterburner as XFX does not currently provide their own utility. MSI Afterburner is a tool which is used for monitoring, tweaking and overclocking graphics cards and works with all modern GPUs from both AMD and NVIDIA.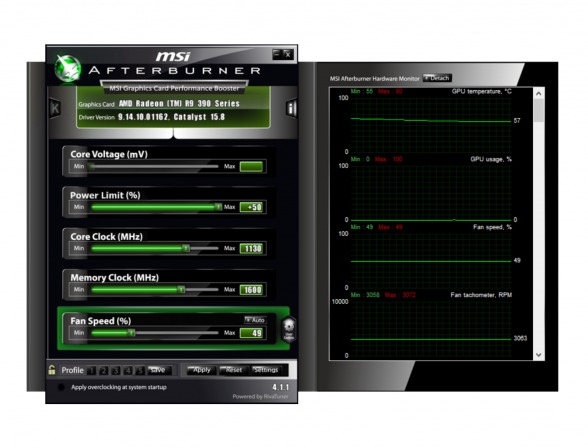 With some quick tweaking, we were able to increase the card's already impressive factory overclock significantly. We managed to increase the Core Clock to 1130MHz, which is a 13% increase. Along with that, we increased our Memory Clock from 1500MHz (6.0 Gbps) to 1600MHz (6.4 Gbps), a roughly 6.7% increase. These results are decent, especially considering the thermal limitations of our reference style cooler. Hopefully, we'll see similar results in actual performance gains from these overclocks. 
[section label=5. Power Consumption and Temperatures]
XFX R9 390 Performance
Power Consumption
For power consumption testing, we'll be measuring full system power while idle along with full system power with the graphics card running at full load using Furmark. All power consumption measurements will be measured at the outlet with a simple P3 kill-a-watt meter.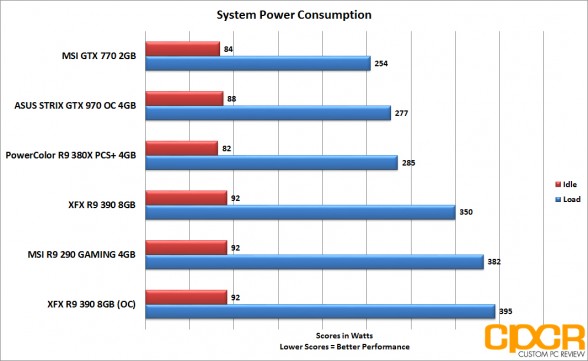 Taking a look at the chart above, we can see that the XFX R9 390 is clearly the most power hungry card tested, consuming over 100 watts more than the comparable ASUS STRIX GTX 970, which is also factory overclocked quite a bit. It is worth remembering that these numbers are full system wattage, not just the cards themselves.
Temperature Testing
For idle temperature, we'll be taking a reading when the graphics card is idle for 5 minutes after a cold boot. Load temperatures are taken after a full 30-minute burn using Furmark.
While some of you aren't huge fans of Furmark as it creates an ultra heavy, unrealistic load on the graphics card, we feel like it's a more useful tool as it differentiates between graphics cards that have extremely well-designed coolers and ones that simply have cooling solutions that simply pass the test, if you will. Most games these days generally don't create enough of a load/heat to even exceed temperatures where the fans would spin up on most custom coolers so it's difficult to adequately rank cooling solutions without using a tool like Furmark. During all tests, the GPU intake air temperature is approximately 25° Celsius.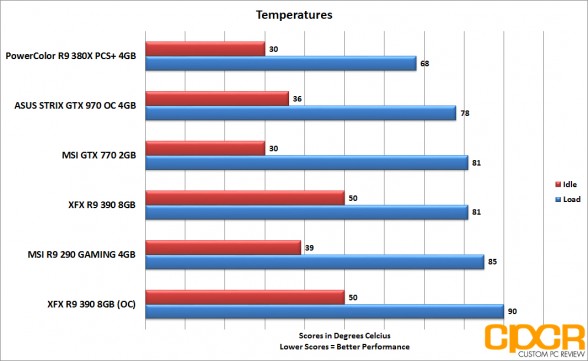 Looking at our temperature results, we see that the XFX R9 390 does seem to operate below its thermal limit (95C), even while overclocked. It is worth noting, however, that this is with our GPU fan spinning at 100%, which we found was usually necessary in order to keep the card from thermal throttling, even under regular gaming loads. This is unfortunate, as the fan sounds like a hair-dryer at these speeds, which is definitely loud enough to wake a sleeping roommate or, you know.. the neighbors. That being said, I never expected this to be a quiet cooling solution, so I can't complain too much here. 
[section label=6. 3D Mark]
XFX R9 390 Performance
3D Mark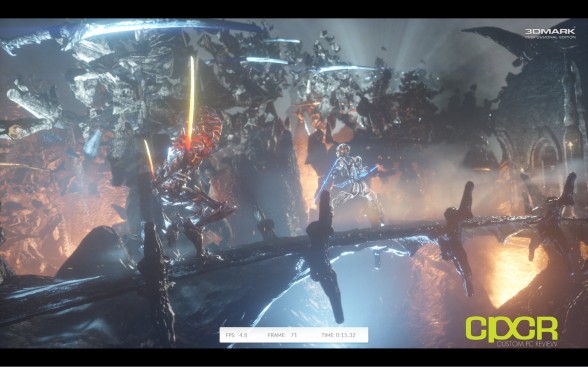 The new 3D Mark, now referred to as just 3D Mark, is Futuremark's latest update to the popular 3D Mark series of benchmarks. The updated 3D Mark now includes multiple benchmarks for cross-platform support as well as updated graphics to push the latest graphics cards to their limits.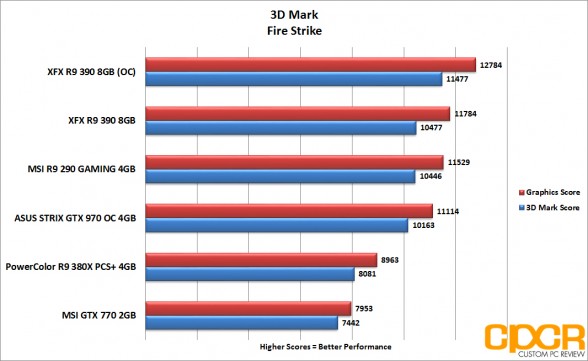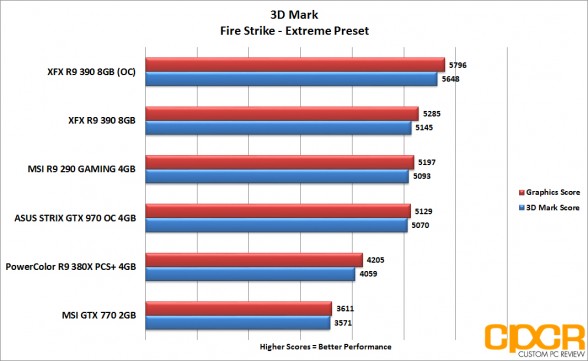 [section label=7. Crysis 3]
XFX R9 390 Performance
Crysis 3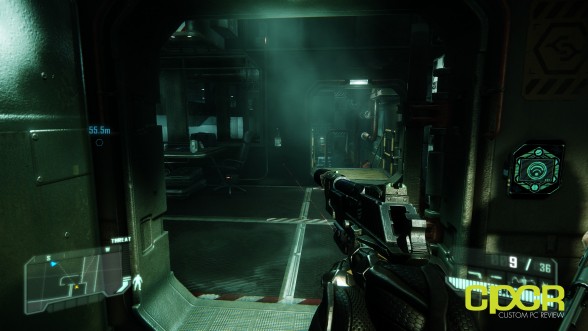 Crytek's third installment of the legendary series Crysis, like its predecessors, still serves as one of the best looking, and most graphically intensive games to date. Offering photo-realistic textures, advanced lighting, and massive environments, which mix together lush organic plant life and foliage, with large, damaged and demolished buildings.
We test the game in a 60 second run during the first indoor area, which features a few firefights, explosions, and some stealth play. It is not the most graphically intensive portion of the game, but it is one of the most easily repeatable for our purposes.
Average FPS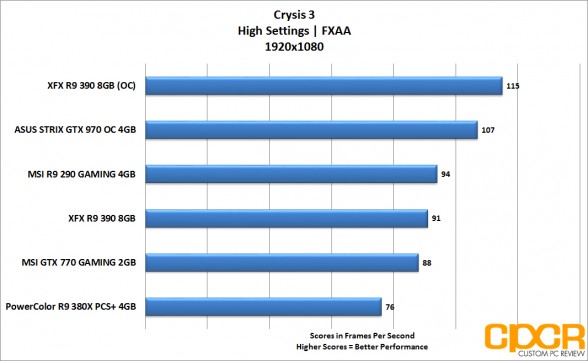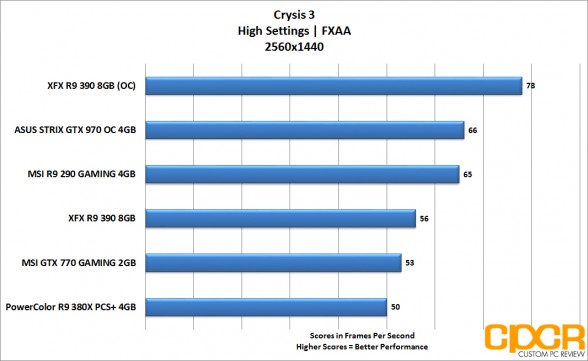 Frame Time Variance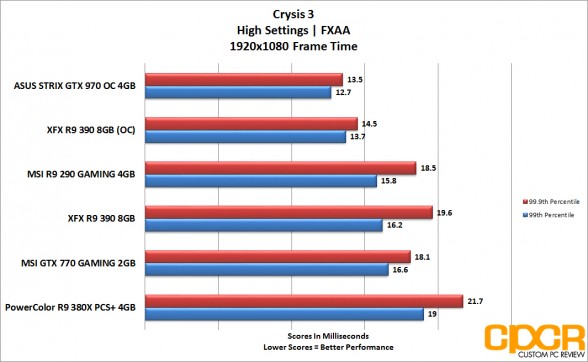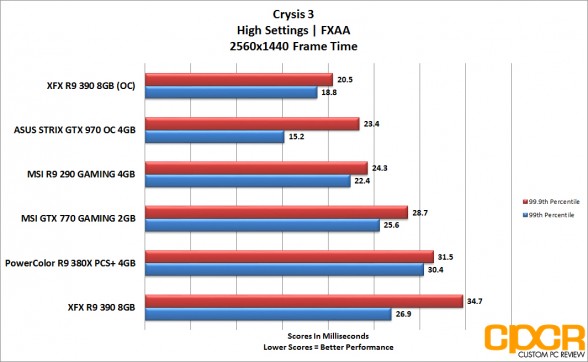 [section label=8. Tomb Raider]
XFX R9 390 Performance
Tomb Raider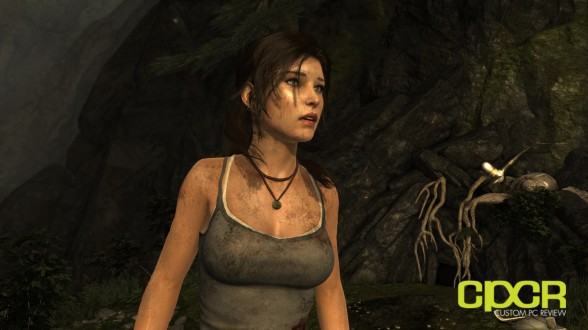 When Tomb Raider was first showed off at E3 2012, the game quickly became one of the most highly anticipated games of the year. It had been quite some time since the last Tomb Raider game and given the popularity of the franchise, nobody could really resist a reboot of franchise especially when you've got Square Enix and Crystal Dynamics at the helm.
Despite the game ultimately being a multi-platform game, Tomb Raider turned out to be a fantastic port featuring numerous DX11 features such as depth of field, ambient occlusion, tessellation, etc. Even AMD pitched in as well helping developers with their TressFX real-time hair physics engine giving Lara Croft more realistic hair than ever before.
Average FPS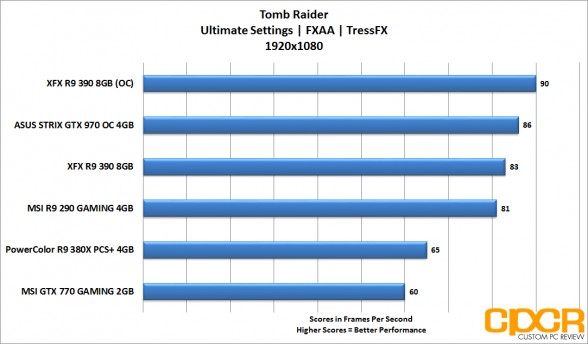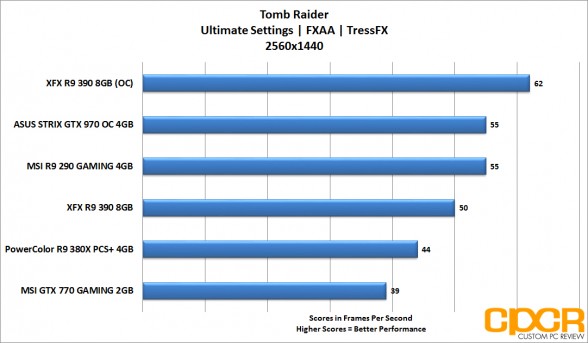 Frame Time Variance


[section label=9. Grand Theft Auto V]
XFX R9 390 Performance
Grand Theft Auto V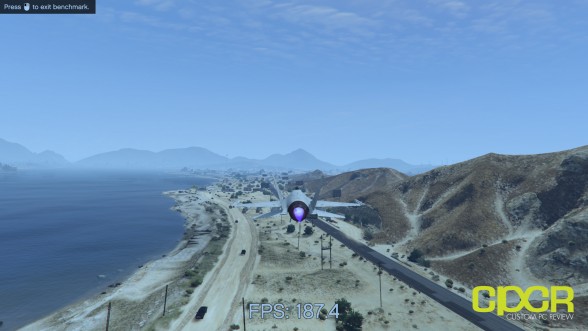 The hotly anticipated PC release of Rockstar Games' fifth installment of their Grand Theft Auto franchise, easily proves once again, that when it comes to open-world games, no one does it better. With lots of new features and graphical enhancements built specifically for the PC version, it's no wonder it took them so long to optimize it. With advanced features such as tessellation, ambient occlusion, realistic shadows, and lighting, mixed with the largest open-world map in franchise history, this is one beautiful, well-optimized PC title.
We test Grand Theft Auto 5 using the last scene in the game's built-in benchmarking tool. We test on 'Very High' settings
Average FPS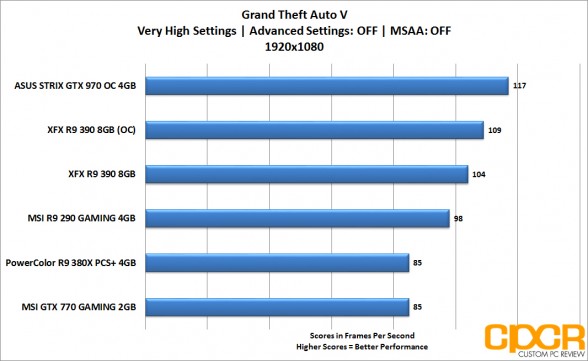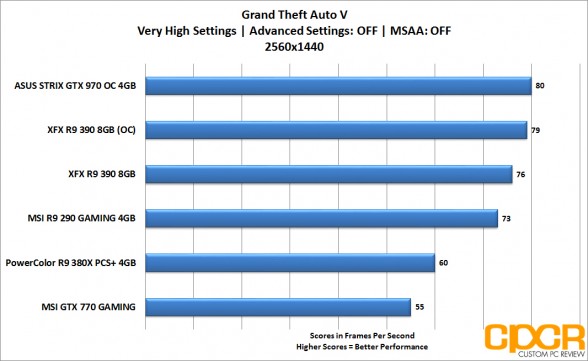 Frame Time Variance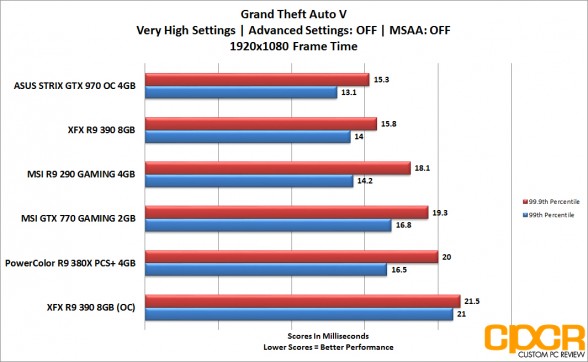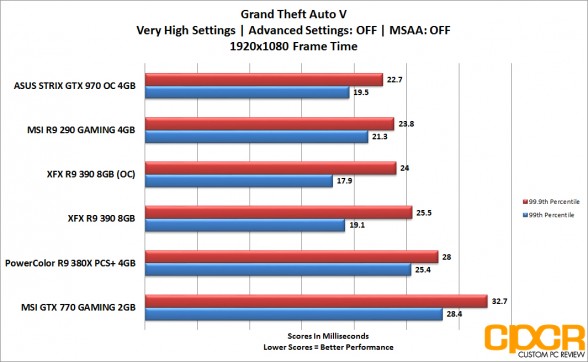 [section label=10. The Witcher 3: Wild Hunt]
XFX R9 390 Performance
The Witcher 3: Wild Hunt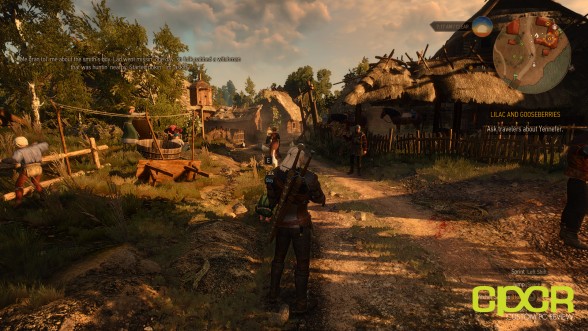 CD Projekt RED's The Witcher series has long been accredited with being some of the most beautiful, and graphically demanding PC titles and its latest installment, The Witcher 3: Wild Hunt, is no exception. With beautiful, large open-world environments, detailed charter designs, high-resolution textures, and advanced features such as God Rays, and Volumetric Fog, in addition to a slew post-processing effects, this is definitely one impressive looking game.
We test The Witcher 3 with a 60 second lap around the first village you come across in the campaign, this is one of the best places for testing as it exhibits some of the game's most graphically intense features such as God Rays, and Volumetric Fog, while offering very little variance, which is difficult to find in most open-world games. We test with NVIDIA HairWorks off as we find it puts an artificial gap between otherwise similarly performing AMD and NVIDIA GPUs.
Average FPS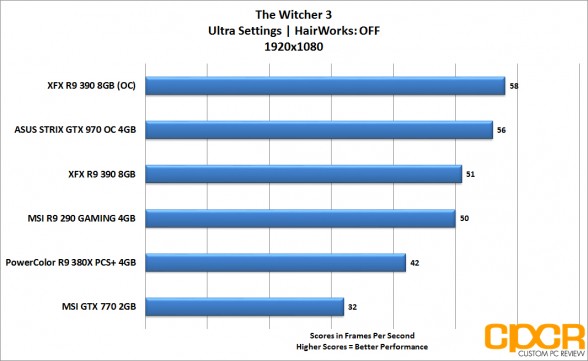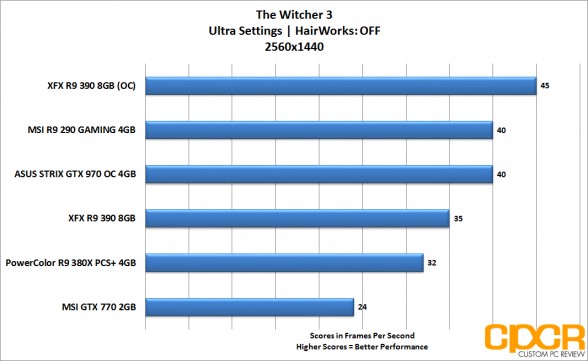 Frame Time Variance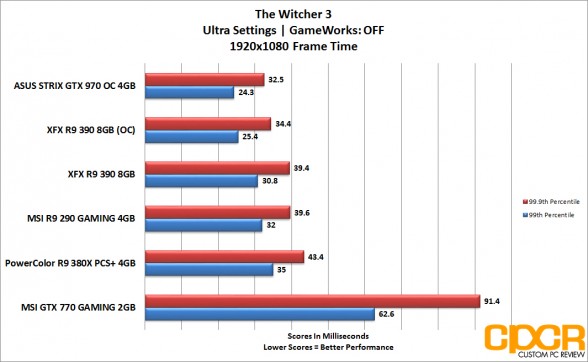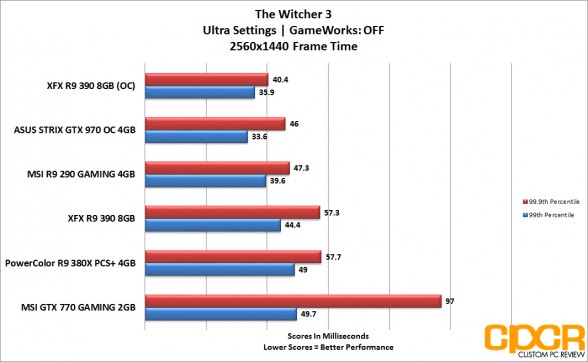 [section label=11. Project CARS]
XFX R9 390 Performance
Project CARS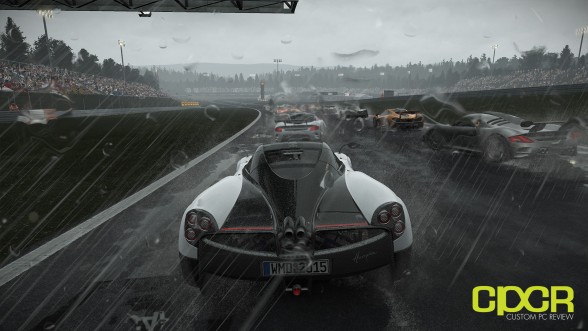 Next-gen racing simulator Project CARS was met with much anticipation when developer Slightly Mad Studios first announced the community assisted project. While it may not be the definitive choice for racing sim enthusiasts, it is easily one of the best-looking racing games available, featuring photorealistic vehicle models, real-world tracks, and realistic rain and weather effects. Despite some initial performance issues on AMD hardware, which have been mostly patched, it is still one of the best racing simulator available for testing graphics performance.
We test the game using the in-game replay system, the race lasts 2 minutes and 15 seconds, and takes place on the Nürburgring race track, with extreme weather effects enabled.
Average FPS


Frame Time Variance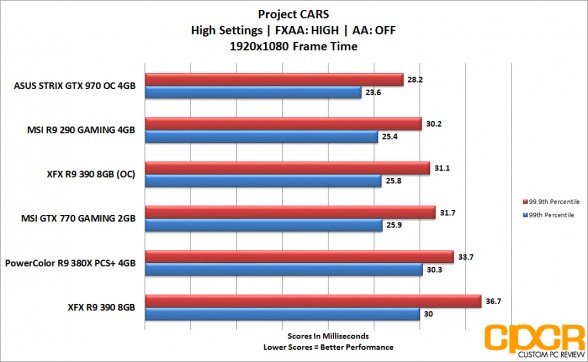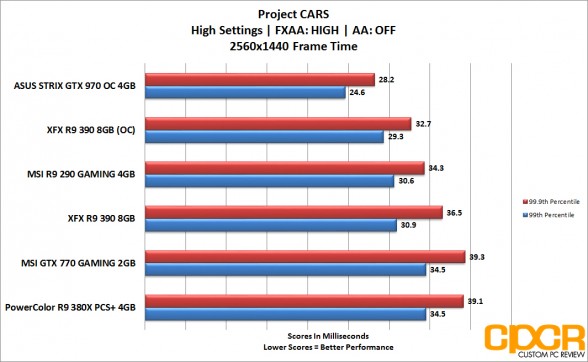 [section label=12. Conclusion]
XFX R9 390  Conclusions
Looking at our results, it's a fairly mixed bag. In our testing, the XFX R9 390 did generally outperform the ASUS STRIX GTX 970 once overclocked, but it strangely didn't perform quite as well as the older MSI R9 290 GAMING 4GB at stock speeds. Of course, the MSI card is factory overclocked and the R9 390 is designed to be a very a minor upgrade to the R9 290, so I suppose that is to be expected. Overclocking actually fared pretty well on the R9 390 although I'm certain it could have been better. I have no doubt that the VRM on this card could be pushed further as well. Unfortunately, the cooling just doesn't allow much additional overclocking headroom. Thankfully there are many aftermarket heatsinks and watercooling options available for reference R9 390 designs, so that's always an option for those looking to squeeze some additional performance out of the card.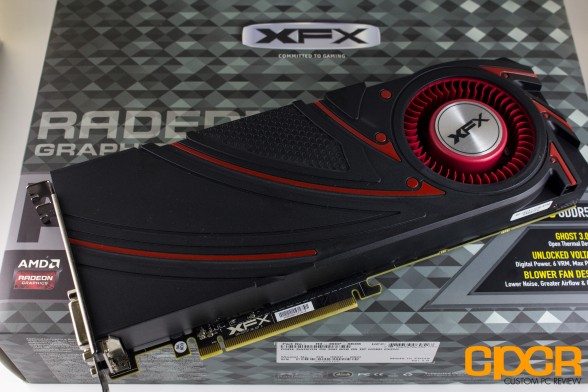 That said, performance isn't everything when it comes to hardware and alongside XFX's R9 390 is a great warranty from a company with some of the best customer service in the business. While I would generally recommend the Radeon R9 390 over the GeForce GTX 970, for most gamers it's difficult to recommend the XFX R9 390 over one of the company's fantastic (DD) Double Dissipation cards, which can be had for a similar price as this, but has a significantly better cooling solution.
Overall, if you absolutely need a GPU with rear-exhaust, you'd be better off with a graphics card with a custom rear-exhaust solution such as the ASUS GTX 970 TURBO, which will run cooler and quieter. It may cost a few frames depending on the game, but it's a far superior blower style cooling solution. However, unless you can find the XFX R9 390 on sale, most users will likely be better suited to a GPU with a custom cooling solution with multiple larger fans, such as the previously mentioned Double Dissipation cards, or one of the many options available from other AMD AIB partners.
Sample provided by: XFX
Available at: Amazon