Warning
: Undefined array key "width" in
/var/www/vhosts/custompcreview.com/public_html/wp-includes/media.php
on line
1381
Warning
: Undefined array key "width" in
/var/www/vhosts/custompcreview.com/public_html/wp-includes/media.php
on line
1386
Warning
: Undefined array key "height" in
/var/www/vhosts/custompcreview.com/public_html/wp-includes/media.php
on line
1386
Warning
: Undefined array key "width" in
/var/www/vhosts/custompcreview.com/public_html/wp-includes/media.php
on line
1381
Warning
: Undefined array key "width" in
/var/www/vhosts/custompcreview.com/public_html/wp-includes/media.php
on line
1386
Warning
: Undefined array key "height" in
/var/www/vhosts/custompcreview.com/public_html/wp-includes/media.php
on line
1386
Warning
: Undefined array key "width" in
/var/www/vhosts/custompcreview.com/public_html/wp-includes/media.php
on line
1381
Warning
: Undefined array key "width" in
/var/www/vhosts/custompcreview.com/public_html/wp-includes/media.php
on line
1386
Warning
: Undefined array key "height" in
/var/www/vhosts/custompcreview.com/public_html/wp-includes/media.php
on line
1386
[section label=1. Introduction]
Keep it iCooler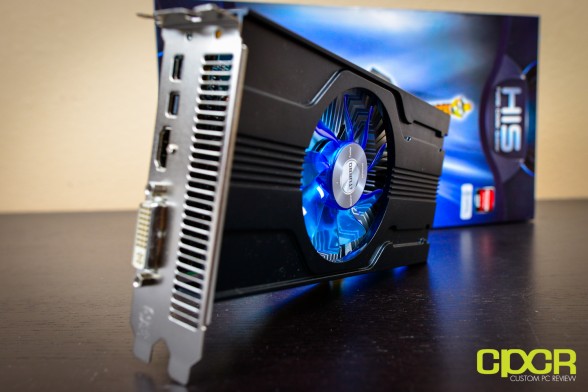 A couple months back, we reviewed HIS 7750 iCooler Edition graphics card, which we found to be an excellent graphics card offering high performance-to-price ratio, low power consumption, and had a much better cooling solution than the one found on the reference design.
Today we'll again be reviewing a HIS graphics card based off the AMD Radeon HD 7700 series and again it'll come with HIS's iCooler custom cooling solution. However, this time around, we'll be reviewing the more powerful HIS 7770 iCooler Edition graphics card, which as the name implies will be based off the AMD's Radeon HD 7770. Similar to the Radeon HD 7750, the Radeon HD 7770 relies on the same AMD Cape Verde GPU and is mainly intended to compete in the budget graphics arena. As with all the other Radeon HD 7000 series GPUs, the HD 7770 uses the 28 nm fabrication process, which reduces power consumption and heat output, while still maintaining extremely powerful graphics capabilities.
While the card itself is reference, HIS has included their custom iCooler solution with the 7770 iCooler we'll reviewing today. To be honest, I cringed when first saw the iCooler on the HIS 7770 as it seems more or less identical to AMD's reference design; however, if the HIS 7750 iCooler is any indication, the iCooler should do a fairly good job of keeping the 7770 iCooler cool as well.
HIS 7770 iCooler Specifications
| | |
| --- | --- |
| Chipset | Radeon HD 7770 PCIe Series |
| Manufacturing Process | 28nm |
| Stream Processors | 640 |
| Core Clock | 1000 MHz |
| Memory Clock | 1125 MHz (4.5Gbps) |
| Memory Size | 1GB |
| Memory Type | GDDR5 |
| Memory Interface | 128bit |
| Bus Interface | PCI Express 3.0 x16 |
| I/O | 2x Mini DisplayPort, HDMI, DVI |
| Warranty | 1 Year Limited |
| Purchase Link | Click Here |
[section label=2. A Closer Look]
A Closer Look at the HIS 7770 iCooler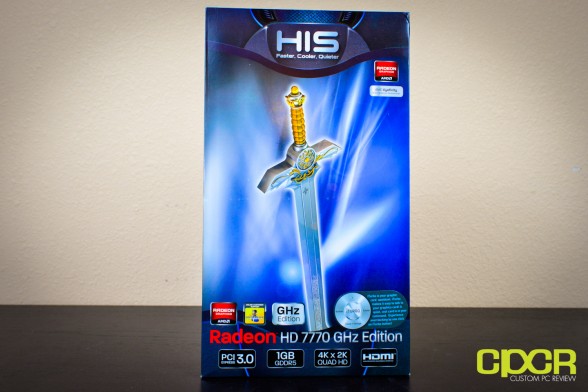 Here we get the typical HIS sword graphic packaging we all know and love. There's no mention that it's the iCooler edition here. The text at the bottom of the box lets us know that we've got the HD 7770 GHz Edition, but that's about it. Also just as a FYI, every HD 7770 sold should be a "GHz Edition" product, which simply means that the graphics card runs at 1GHz. A 1GHz core clock is actually the reference design.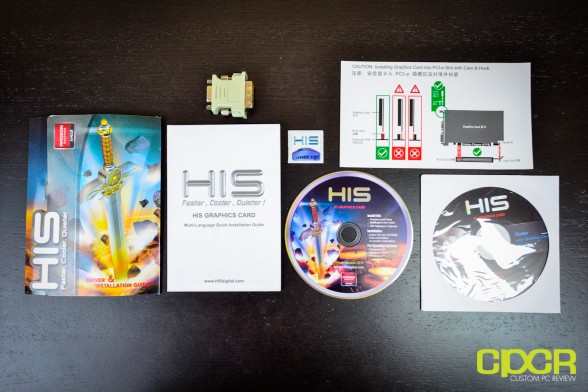 Accessories include a driver installation guide, a card installation guide, a VGA to DVI adapter, a HIS sticker, a utility disk, a simple guide on how to seat the graphics card, and the driver disk. As always, please do not use the driver on the disk and download the latest version from AMD instead.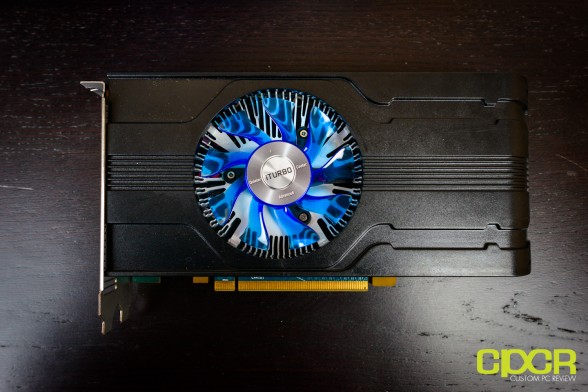 The iCooler cooling solution on the 7770 GHz edition is similar in appearance to the 6770 Dirt 3 edition. They both have the single 9 blade blue fan, and the black casing over the heatsink. As you can see in this shot, the heatsink is circular in shape. Instead of the HIS logo, the fan on the 7770 GHz edition now features the iTurbo symbol. For those unfamiliar, iTurbo is a software suite developed by HIS to optimize the fan speed for different load conditions.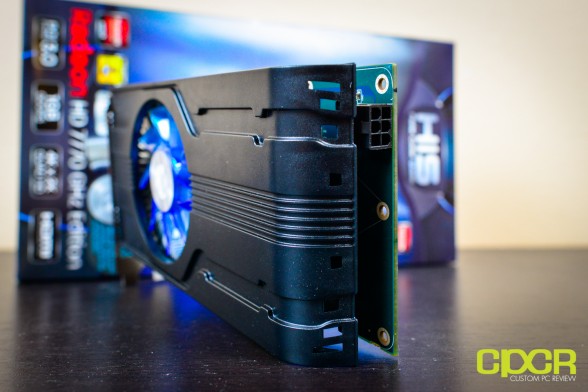 The fan draws air from inside the case and blows it out the back; which is partly why there's such a large gap between the heatsink casing and the PCB. The card requires a single 6 pin power PCI connector. The card is short enough to have the single 6-pin power connector mounted on the rear end. HIS recommends a 450W or greater power supply. To be honest, I don't think you'll need anywhere near 450w.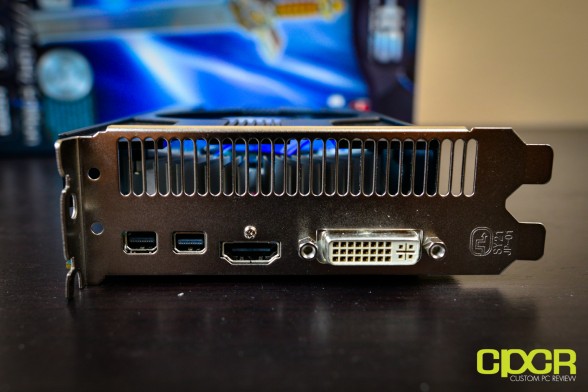 The back panel connector has two mini Display Ports, a HDMI port, and a DVI port. Thanks to AMD's Eyefinity technology, all 4 ports can be run simultaneously. Also note that the card is 2 slots tall.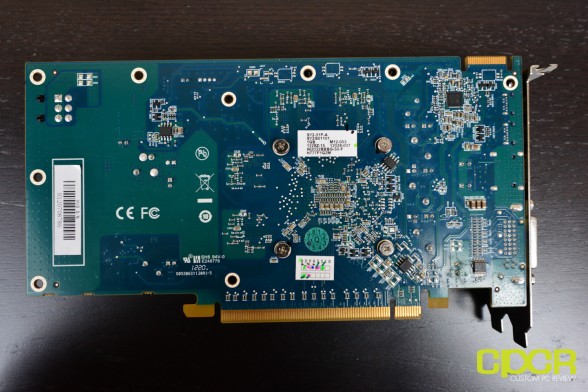 HIS has decided to use a green PCB for the 7770 GHz edition, which isn't the best looking but it's expected with budget graphics cards. Soldering here is excellent as always.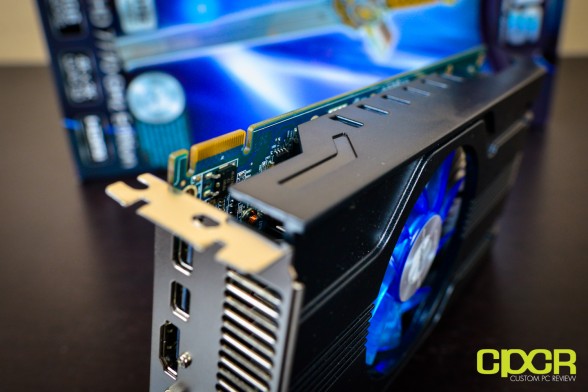 The card comes with a single SLI connector compatible with any 7770 card on the market as long as they run at the same speed. There are also ventilation on the top to increase airflow.
[section label=3. Testing Setup]
Testing Setup
Ivy Bridge Test Bench
Due to Ivy Bridge systems becoming much more mainstream these days, we've updated our older Sandy Bridge graphics testing system to our new Ivy Bridge test system with the specifications below. All graphics cards reviewed today have been retested on the new setup and scores from older graphics card reviews may no longer be used in direct comparison.
Special thanks to Gigabyte, Kingston, OCZ Technology and HSPC for sponsoring our test bench!
Initial Boot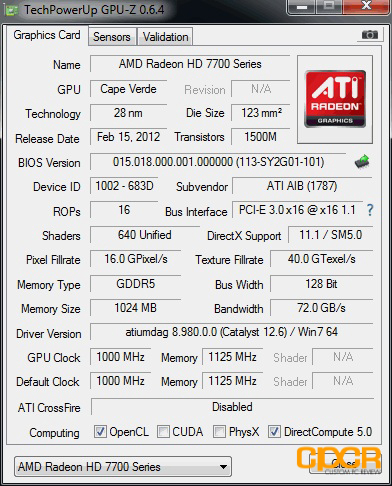 [section label=4. 3D Mark 11]
HIS 7770 iCooler Performance
3D Mark 11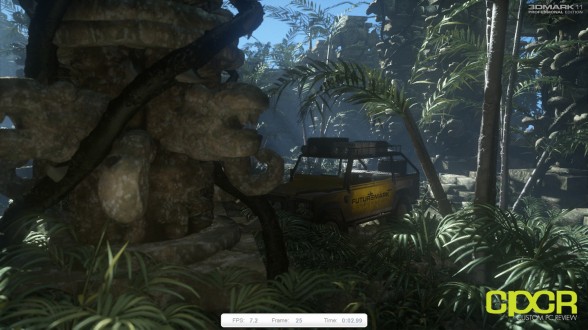 3D Mark 11 is an extremely popular benchmark designed by Futuremark for the sole purpose of stress testing a system's graphics performance. Trusted by hardware enthusiasts and gamers world wide, 3D Mark 11 uses the latest features of DX11 to stress test graphics performance with consistent loads which simulate in game performance.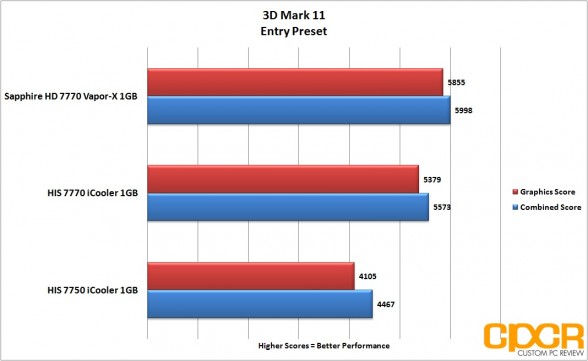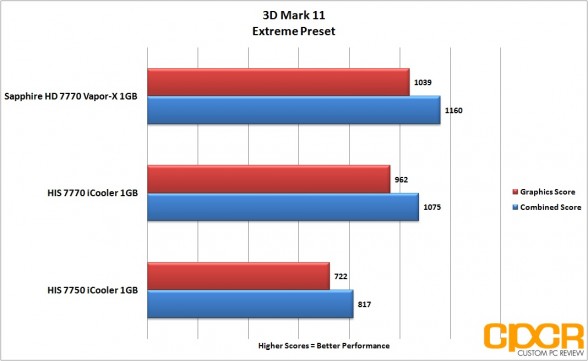 [section label=5. Unigine Heaven]
HIS 7770 iCooler Performance
Unigine Heaven v3.0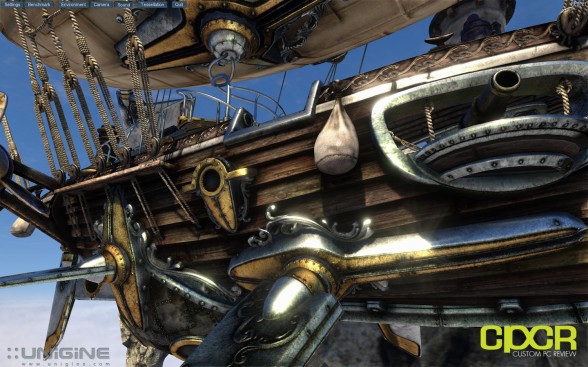 Unigine Heaven is another DX11 benchmark that stresses the graphical processing capabilities of the GPU using the advanced UNIGINE engine.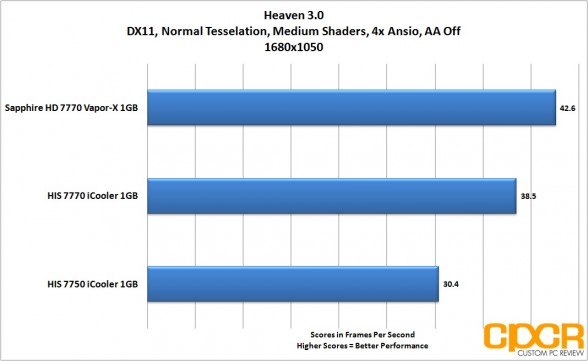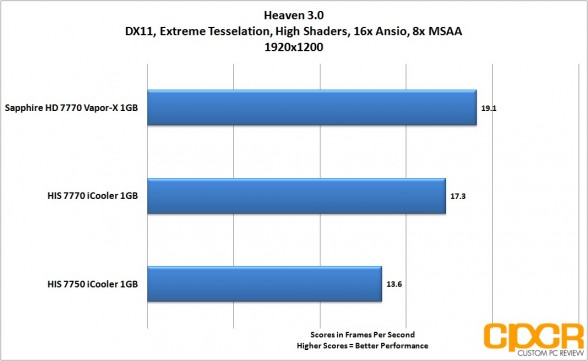 [section label=6. Lost Planet 2]
HIS 7770 iCooler Performance
Lost Planet 2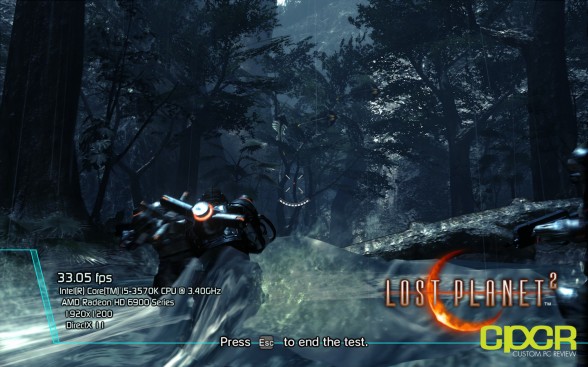 Despite being released by Capcom in 2010, this third person shooter is still a staple in many gaming benchmark suites. Featuring a vast world, detailed environments, and stunning effects, Lost Planet 2 can still be more than a handful for even many of today's gaming graphics cards.
For our benchmarking today, we'll be using the "Test A" preset in the Lost Planet 2 benchmarking utility.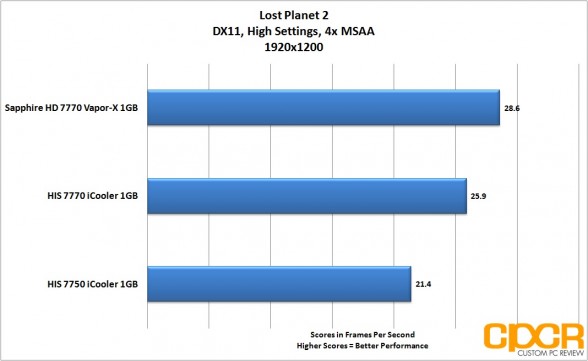 [section label=7. Shogun 2: Total War]
HIS 7770 iCooler Performance
Shogun 2: Total War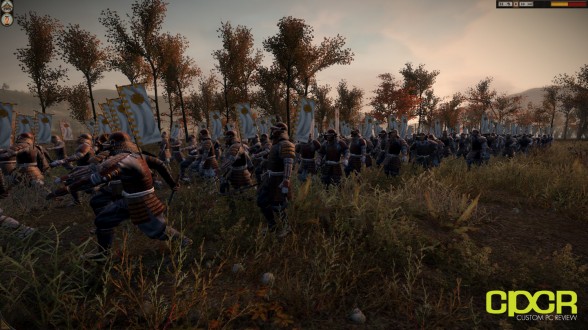 Shogun 2: Total War is the most recent installment of the long running Total War series. Capable of using DX11's features, it's the perfect benchmark to test for the gaming performance. For our testing today, we'll be using the Shogun 2: Total War benchmark utility.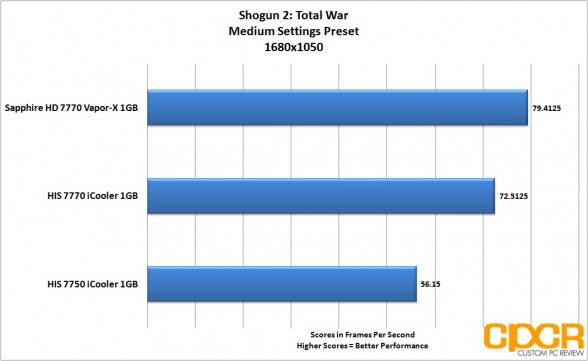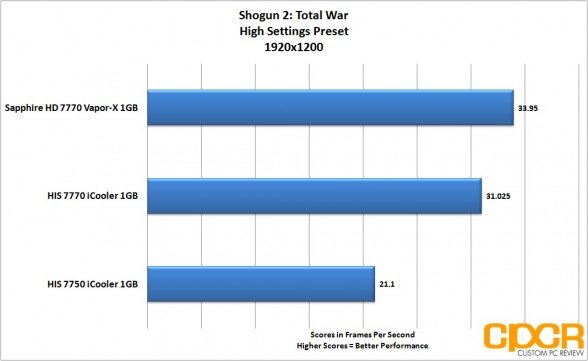 [section label=8. Crysis 2]
HIS 7770 iCooler Performance
Crysis 2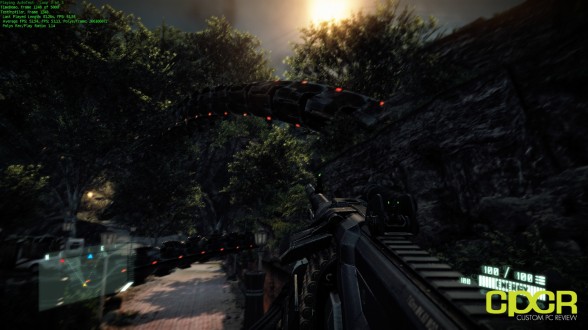 As the successor to Crysis, which was hailed as the most graphically intensive game of all time when it was released in late 2007, Crysis 2 is less graphically demanding than its predecessor, but still one of the most graphically challenging games of all time.  You simply can't take a step in Crysis 2 without stepping into some intense tessellation. Combined with rich lighting, insane physics, and oodles of post processing, Crysis 2 requires a ton of graphics muscle to run.
Today, we'll be benchmarking Crysis 2 in the map "Central Park" with the Crysis 2 Benchmark Tool.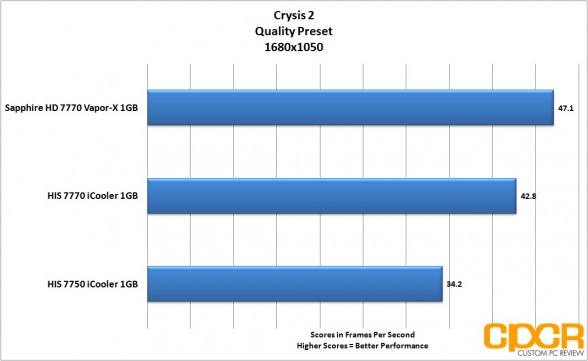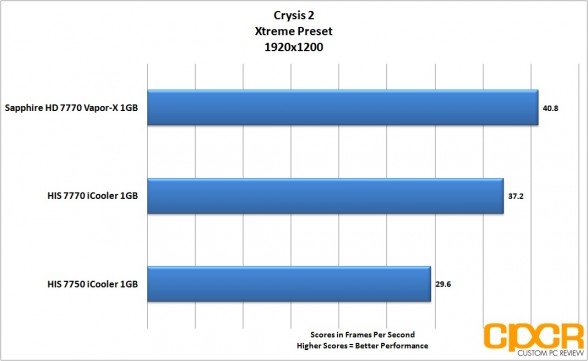 [section label=9. Metro 2033]
HIS 7770 iCooler Performance
Metro 2033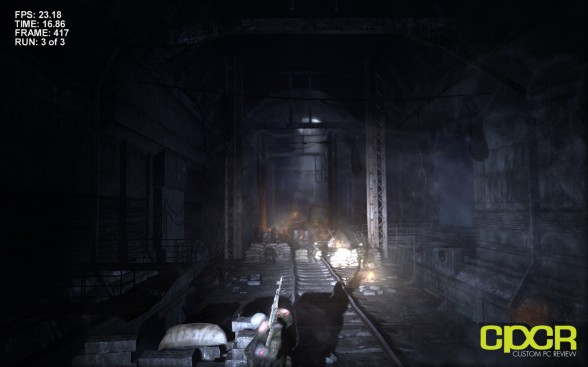 Similar to Crysis 2, Metro 2033 is extremely tessellation intensive and fills the ranks as one of the most graphically intense games of all time.
Today, we'll be benchmarking Metro 2033's Frontline map using the Metro 2033 Benchmark Utility.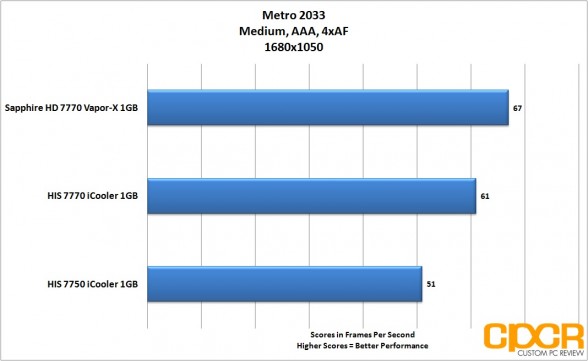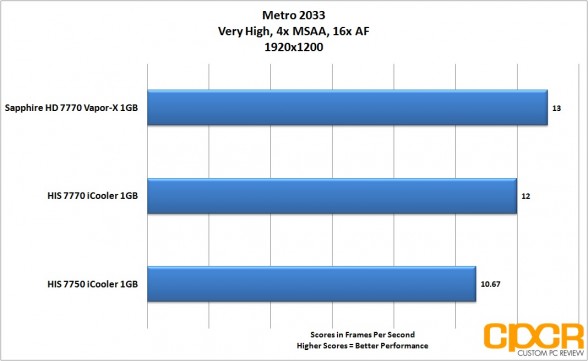 [section label=10. Diablo 3]
HIS 7770 iCooler Performance
Diablo 3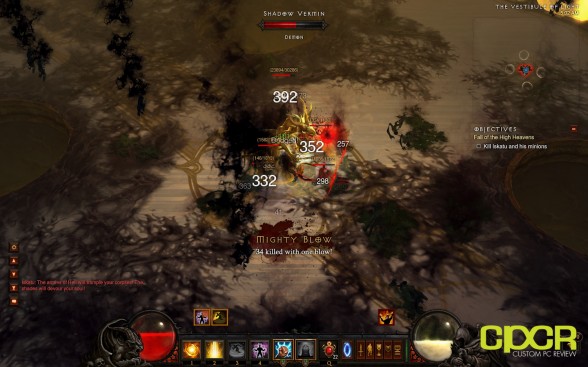 After being released over a decade after its predecessor, Diablo 2, Diablo 3 launched as the fastest selling PC game of all time selling 3.5 million copies within the first 24 hours of its release, instantly crushing Blizzard's servers at launch time. While Diablo 3 isn't the most graphically intense game out there, it's still an excellent benchmark due to its widespread popularity.
For our benchmarking today, we'll be using FRAPS to record a 60 second benchmark while in game. Our benchmark is run in Act 4 Part 1 where we'll be taking out the mini-Boss Istaku and his countless minions.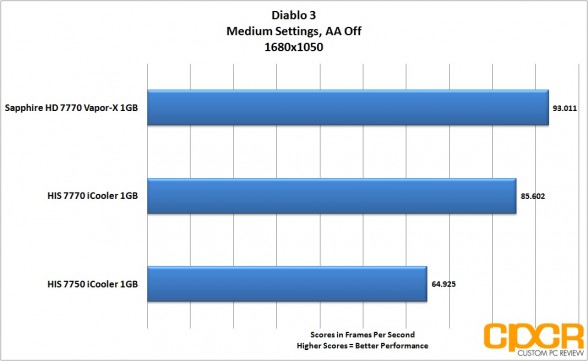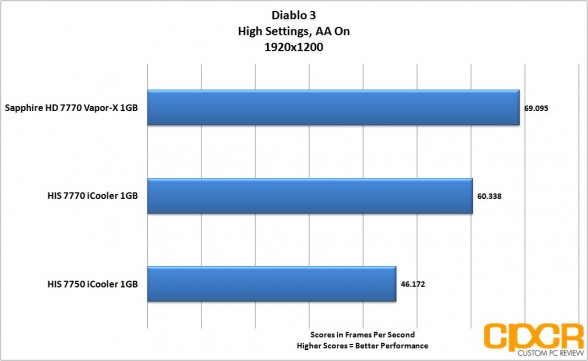 [section label=11. Battlefield 3]
HIS 7770 iCooler Performance
 Battlefield 3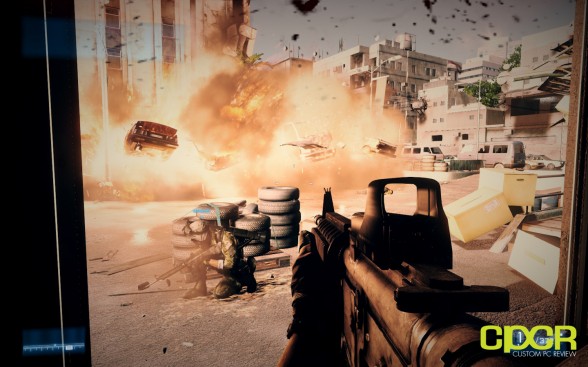 Possibly one of the most highly anticipated FPS games of 2012, Battlefield 3 is currently one of the most graphically intensive games developed on the incredibly well crafted Frostbite 2 engine. With its detailed models, amazing physics, excellent use of shaders, and stunning effects, it easily makes it into our list of the best looking games ever created.
Our benchmark will be run in the map Operation Firestorm during the first fight scene. We'll be using FRAPS to record a 60 second clip, which includes making this van up here explode.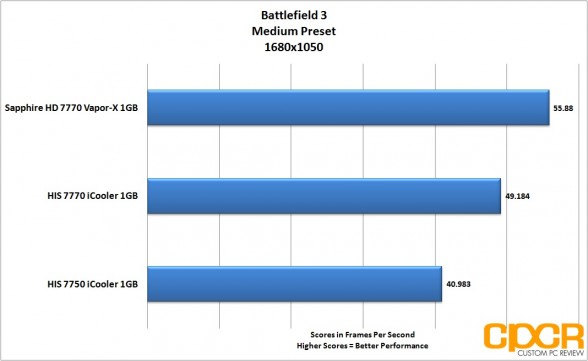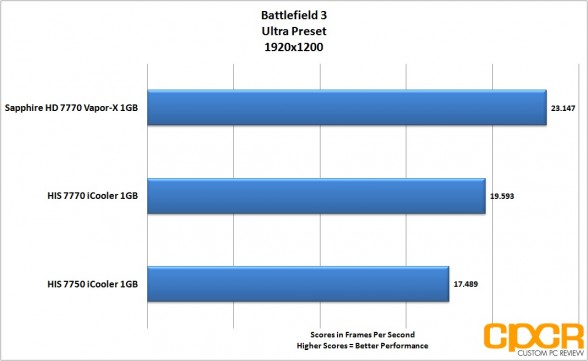 [section label=12. Power Consumption and Temperatures]
HIS 7770 iCooler Performance
Power Consumption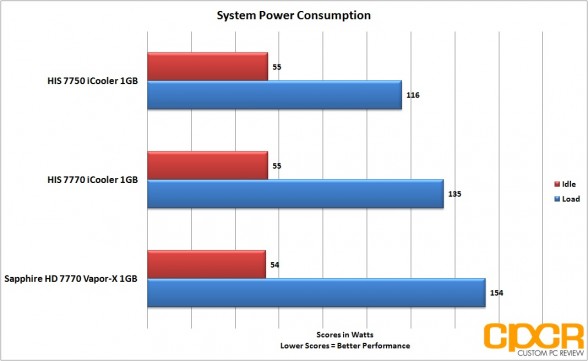 Here's a look at total power consumption for the cards tested today. The Ivy Bridge test bench running off the HD 4000 integrated graphics draws 40w at idle, so all 7700 series graphics cards tested today draw between 14w and 15w at idle, which is quite power efficient. This is about the same amount of electricity as a couple night lights, so it's not bad at all. At load, the 7770 iCooler draws about 135w, which like its idle power draw is quite power efficient. With the amount of graphics power it's capable of putting out, the electricity consumption is simply phenomenal.
Temperature Testing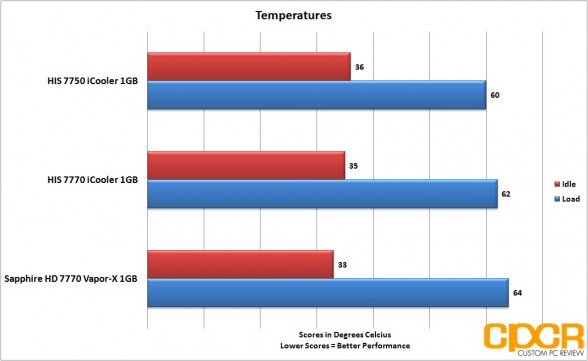 Looking at the temperatures here, both the HD 7770's had load temperatures in the low 60's, which isn't very significant. I was actually quite surprised though to see that the HIS 7770 iCooler actually ran cooler than the dual fan Sapphire HD 7770 Vapor-X. Now, do note that the Vapor-X is overclocked from the factory to 1,100MHz core and 1300MHz memory, but it does come with double the fans, which should translate into more powerful cooling. This could be attributed to the fact that the iCooler is crazy powerful, or the HD 7770 simply doesn't create that much heat. Considering the fact that the iCooler was near silent even under load, I'm going to assume it's a bit of both.
[section label=13. Overclocking]
HIS 7770 iCooler Overclocking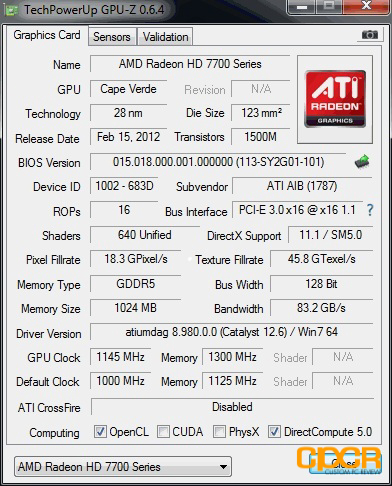 Overclocking results on the HIS 7770 iCooler were decent. It was fairly easy able to hit a maximum overclock of 1145MHz core and 1300MHz memory, which is quite a significant jump up from the stock 1000MHz core and 1125MHz memory.
3D Mark 11 Performance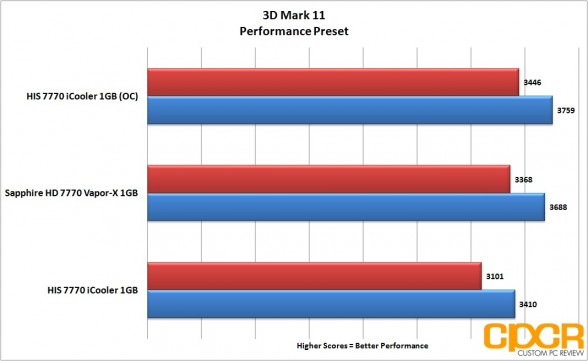 With the 1145MHz core overclock, the HIS 7770 iCooler is able to finally outpace the Sapphire HD 7770 Vapor-X, which comes factory overclocked to 1100MHz core and 1300MHz memory.
Power Consumption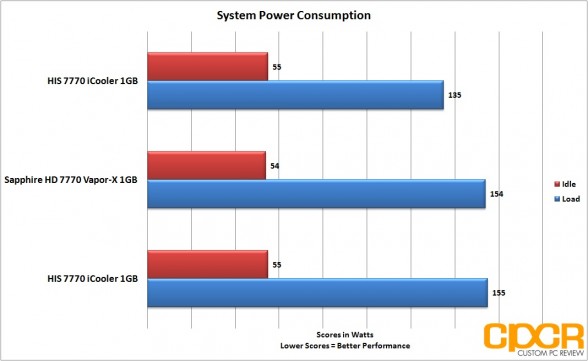 As expected, power consumption spiked after some overclocking as well going from a maximum of 135w to 155w, an increase of 20w.
Temperatures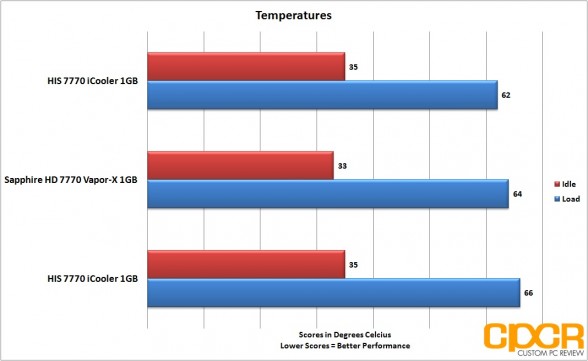 Temperatures stayed relatively the same despite the significantly higher clock speed rising only 4C during load. The fans were slightly louder; however, they were still fairly quiet. Considering I did my testing on an open air test bench, this card should be near silent in a case even while overclocked and under load.
[section label=14. Conclusion]
HIS 7770 iCooler Conclusions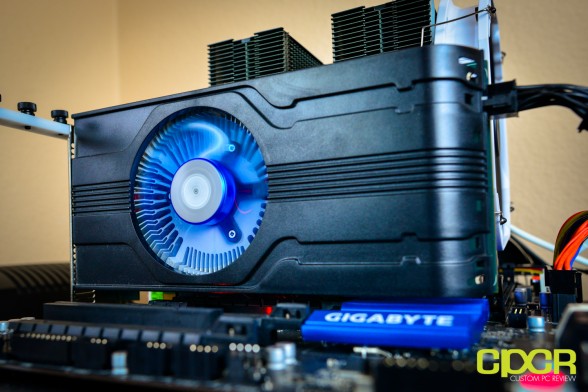 To be honest, I didn't really expect too much from the HIS 7770 iCooler out of the box. Appearance wise, it looked pretty reference – single fan, black heat shroud, green PCB, the usual. I wasn't too impressed here despite HIS going with the blue fan, but I must admit, people who run low to mid end graphics cards run them in cases that generally don't have sidepanel windows so outer appearance isn't a huge concern here. Those who do run cases with side panel windows'll probably opt for something a bit more flashy like the Sapphire HD 7770 Vapor-X. That said, I am hoping to see better designs especially with guys like XFX selling similar HD 7770's at the same price in a cooler looking package.
Once installed, I again didn't notice anything too special either. The card was running at reference 1,000MHz core and 1125MHz memory, so I already had a good idea of what type of performance to expect. The card generally does a good job at the 1680×1050 resolution running stuff at medium settings, so those who simply need a graphics card to run older titles, or need something at a budget and don't really care about running the latest titles at maximum settings will find that this card will fit the bill just fine.
Where I was most impressed was actually the performance of the cooler. When I reviewed the Sapphire HD 7770 Vapor-X a little while back, I had a feeling it had a way overpowered cooler for what it was actually cooling, and after reviewing the HIS 7770 iCooler, I'm going to have to agree. There really wan't much of a reason other than aesthetics to go with a dual cooler solution considering the 7770 iCooler with a single fan is capable of getting around the same temperatures as the dual fan Sapphire HD 7770 Vapor-X even when overclocked. Noise wasn't too bad either as the iCooler was extremely quiet and would be a great choice for those looking to drop this card into a HTPC or any other application where silence isn't essential, but would be preferred.
In terms of power consumption, AMD's ZeroCore Power technology is pretty effective. At idle, all of the 7000 series cards tested today sat right around the 54w to 55w range, which is only about 14w-15w. At load, the system power usage only hits about 155w even after nearly a 15% overclock, which is simply phenomenal.
Current pricing on the HIS 7770 iCooler 1GB is $129.99 on Amazon, which is the going price for reference style single fan HD 7770 graphics cards these days. I actually think it's not a bad buy now, especially with pricing on the Radeon HD 6850 currently higher than the Radeon HD 7770.
Bottom Line
Those who predominantly play older games or those who don't mind turning down the settings a bit on more recent, more graphically intensive games will find that the HIS 7770 iCooler is an excellent low noise, low heat, low power consumption card at the sub $150 price range.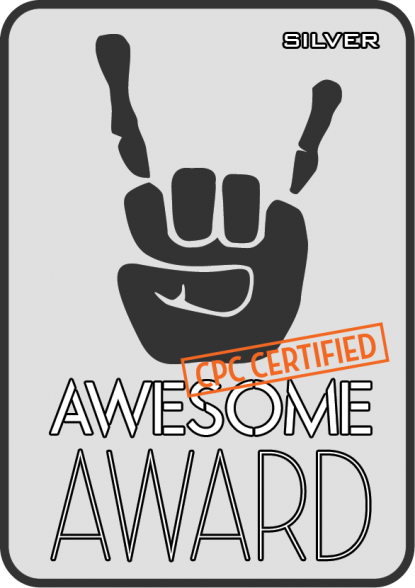 Special thanks to HIS for making this review possible!
The HIS 7770 iCooler 1GB is currently available on Amazon.