[section label=1. Introduction]
Sensei, Now without Wires!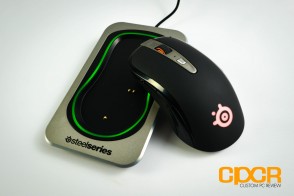 Back in 2011, SteelSeries unleashed the original Sensei gaming mouse which at the time was one of the most advanced gaming mice ever produced. Along with the now familiar Sensei gaming mouse design, SteelSeries also crammed some of the most advanced technology into the gaming mouse including an ARM processor, onboard memory, and a LCD display allowing full profile and setting adjustment without the need of additional software.
Since then, SteelSeries also unveiled the Sensei [RAW], which removed some of the fancy features of the original Sensei in favor of low pricing, and most recently also unveiled the SteelSeries Sensei Wireless, which utilizes the same Sensei design, but adds wireless for those who simply can't have the unsightly cord hanging around.
Given the fact that the original SteelSeries Sensei design has been one of our favorite gaming mouse designs since its introduction in 2011, we were quite excited when SteelSeries sent us one of their first review units of the Sensei Wireless gaming mouse for review.
Let's take a look at how it fared!
SteelSeries Sensei Wireless Specifications
| | |
| --- | --- |
| Manufacturer | SteelSeries |
| Model | Sensei Wireless |
| Sensor | Pixart ADNS-9800 |
| CPI Range | 50-8,200 (DCPI up to 16,400) |
| Switches | SteelSeries Switches (30 Million Clicks) |
| Backlighting | Yes |
| Polling Rate | 1000 Hz |
| Interface | USB 2.0 |
| USB Cable | 6.5ft Braided |
| Dimension | 41mm in x 69mm x 129mm |
| Weight | 120g (0.264 lbs) |
| Warranty | 1 Year |
| Additional Features | Wireless, Docking Station |
| Check Pricing | Click Here |
[section label=2. A Closer Look]
A Closer Look at the SteelSeries Sensei Wireless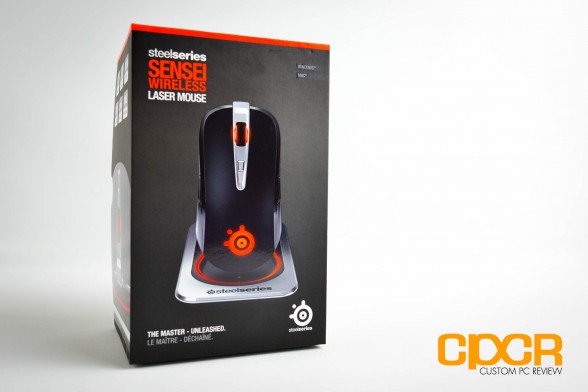 Here's a look at the packaging for the SteelSeries Sensei Wireless.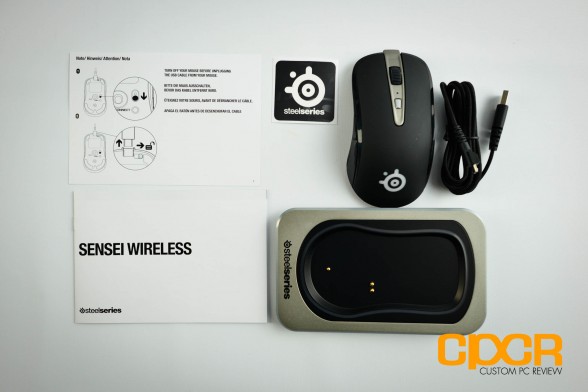 Included in the box we get some documentation, a SteelSeries sticker, a base station (charging dock/wireless transmitter), USB cable, and the SteelSeries Sensei Wireless.
Looking at the Sensei Wireless, it seems like SteelSeries has generally stuck to the same 8 button ambidextrous design as every other Sensei gaming mouse on the market, but they have made some slight modifications in the materials and design making the Sensei Wireless a bit more premium. Unlike the older Sensei mice which are covered in hard plastic, the Sensei Wireless uses a nice matte black soft touch material along with a bead blasted metal accent piece in the center to give it a premium look and feel.
Along with the Sensei Wireless, SteelSeries has also included a docking station, which serves as a charging dock as well as a wireless transmitter. Unlike most charging docks, the docking station for the Sensei Wireless is very high quality with solid plastic for the bottom and the edges of the unit covered in the same bead blasted metal material used on the accent piece for the Sensei Wireless.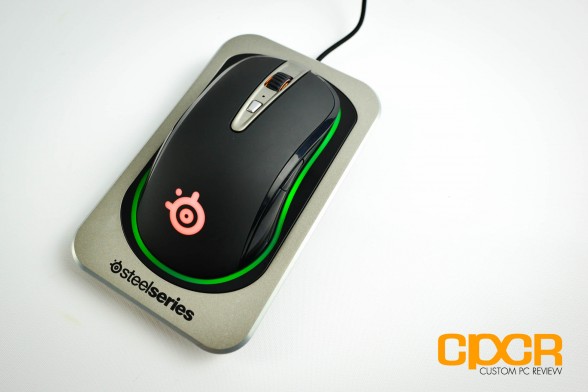 Once connected, both the Sensei Wireless and the docking station light up. The cool thing about the lights is that you can set the LEDs to display battery life so the docking station will begin to turn yellow and red as the Sensei Wireless runs out of juice. This will come in handy for those who enjoy playing for extended periods of time as it's a good indicator of when you should probably go ahead and connect the mouse directly via the USB cable.
[section label=3. SteelSeries Engine 3]
SteelSeries Engine 3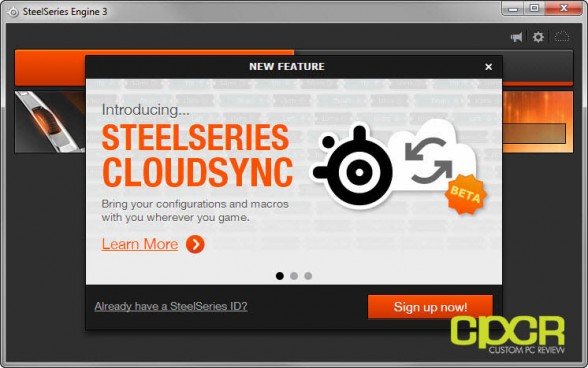 For the SteelSeries Sensei Wireless, SteelSeries has updated to SteelSeries Engine 3 which is a unified SteelSeries cloud software similar to Razer Synapse. This allows users to save their peripheral settings to the cloud and retrieve them on any computer with SteelSeries Engine 3 installed.
Firing up the software for the first time, the Sensei Wireless is immediately detected by the SteelSeries Engine 3 and shows up under the "My Gear" tab. SteelSeries also allows you to set specific profiles for specific apps which makes it easy to automatically switch to a "FPS" profile for example when playing FPS games or a "MOBA" profile when playing MOBA games.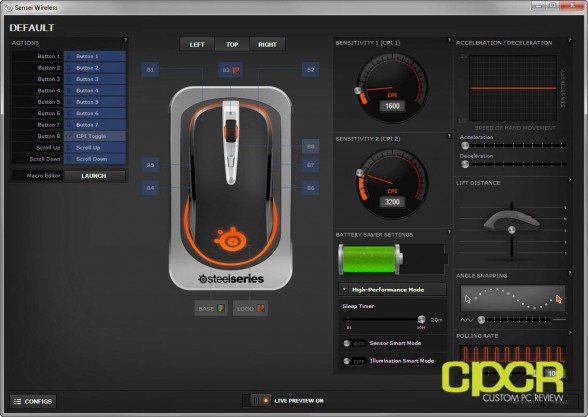 Clicking on the SteelSeries Sensei Wireless on the My Gear tab will get you into an advanced options screen where you can adjust all the settings for the mouse including macros, CPI, battery saving options, acceleration, and polling rate.
Lighting options on the Sensei Wireless includes battery life, breathe mode, or the usual solid colors.
[section label=4. Performance]
SteelSeries Sensei Wireless Performance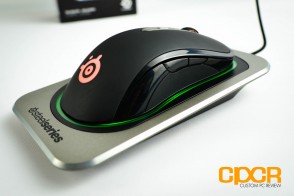 As the original SteelSeries Sensei is one of the mice I use quite often on my test benches, swapping in the Sensei Wireless felt quite familiar right out of the box. Despite the styling differences and the lack of a wire, pretty much the only difference you'd immediately notice is just the fact that the Sensei Wireless is slightly heavier than the Sensei Wired, although it didn't take me very long to adjust to the difference.
After spending some time playing Battlefield 4 (raw mouse input, acceleration off), the Sensei Wireless proved to be a decent performer. After the initial connection to the dock, the mouse didn't have any connectivity issues, no major sensor issues, and response time seemed decent although it did feel like it was slightly slower than the wired Razer DeathAdder I had connected simultaneously side by side. The sensor, a Pixart ADNS-9800 is the same sensor used in most of the more popular laser mice on the market today. It does have a small amount of positive acceleration which is inherent to the sensor (not caused by software or Windows) and how much acceleration you experience will depend on the CPI. The SteelSeries switches onboard were nice and quiet when actuated, but definitely not as springy and deliberate feeling as the Omrons on the DeathAdder.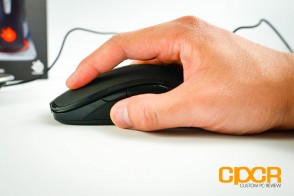 As far as comfort, the SteelSeries Sensei is fairly comfortable, but it's not the most comfortable in any grip. Being a full size, slightly heavier mouse (120g), it's not ideal for those who enjoy using fingertip or claw grip for long periods of time and being an ambidextrous mouse, it's not the most comfortable palm grip mouse either. However, it's still fairly comfortable to use for those who primarily use the palm grip and those who like transitioning to claw grip from time to time won't find any issues either. Of course, the ambidextrous design also means left handed users wont feel left out either.
Battery life isn't great for a wireless mouse, but it's decent considering the fact that there's quite a bit of illumination everywhere. Personally, I was easily able to get ~10-12 hours on high performance mode, but those who need additional battery life can switch to battery saver mode, which SteelSeries claims can raise battery life up to 20 hours. That said, SteelSeries should really make the battery removable. That way batteries can quickly be swapped in in the event you decide to play an 18 hour marathon or forget to charge the mouse after playing for 10 hours.
Prediction/Jitter Testing
The Pixart ADNS-9800 is a decent sensor with no jitter and very little (if any) prediction from 400-8200CPI. SteelSeries also features DCPI(Double Counts Per Inch) which uses computer algorithms to raise the CPI to 16,400. Unfortunately, once DCPI is engaged, there's a lot of jitter present and it's very difficult to make any precise movements.
[section label=5. Conclusion]
SteelSeries Sensei Wireless Conclusions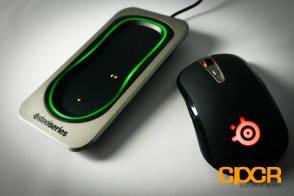 While it's a shame we don't see SteelSeries come up with brand new designs all that often, one thing they do seem to do extremely well is find ways to offer new variations of popular products they already have and the Sensei Wireless is without a doubt a fantastic addition to the lineup.
As one of SteelSeries most premium mice, build quality on the Sensei as well as the docking station is very, very good. Both units feel incredibly solid and with metal sprinkled into the mouse and docking station, the entire package looks downright gorgeous.
Sensor performance from the SteelSeries Sensei is decent although the Pixart ADNS-9800 does have some positive acceleration that's inherent to the sensor itself. While this shouldn't be much of a problem for casual gamers, those looking for a competition grade gaming mouse should be looking at something with an optical sensor instead. Mice with the Pixart PMW3310 (SteelSeries Rival), Pixart PMW3366 (Logitech G502), or the Avago ADNS-S3988 (Razer DeathAdder 2013) are excellent alternatives without inherent acceleration, prediction, or angle snapping. Unfortunately, very few mice with optical sensors also feature wireless technology.
Speaking of wireless technology, personally I still think those looking for serious gaming mouse should still go wired. While the SteelSeries Sensei Wireless probably has one of the best wireless implementations I've had the opportunity of testing, it still feels laggy when it comes to fast paced FPS gaming. While playing Battlefield 4 with both a Razer DeathAdder 2013 and the SteelSeries Sensei Wireless side by side, the SteelSeries Sensei Wireless felt slightly unresponsive, almost like the difference between playing a game at 40FPS and 80FPS. While 40FPS is a perfectly playable framerate, stepping up to 80FPS really makes you feel like things are happening in real time. The same is true between wireless and wired mice. Of course, you do have the option of wiring up the Sensei Wireless, but then it makes purchasing a wireless mouse moot. Unfortunately, unless someone is one day capable of making wireless signals travel faster than electricity through wire, I doubt wireless will ever truly be as good as wireless, but with wireless getting better and better with each generation of gaming mice, it may happen one day – it just hasn't happened today.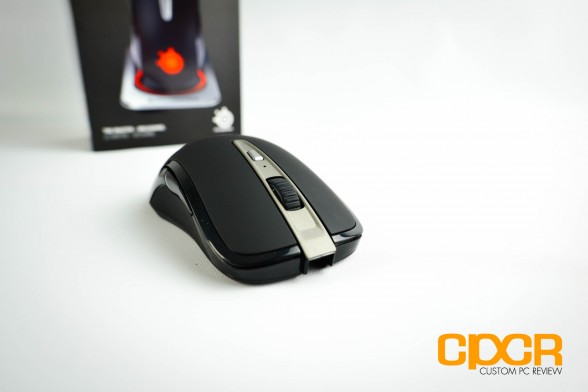 Currently, the SteelSeries Sensei Wireless can be found around various e-tailers for ~$159.99, which is quite expensive for a gaming mouse despite the fact that it's wireless. While I think SteelSeries should've priced the Sensei Wireless a bit more appropriately especially with premium competitors such as the Logitech G602 and Logitech G700s priced far below $100, the Sensei Wireless does come with the cool docking station, which probably is where most of the cost is.
Overall, the SteelSeries Sensei Wireless is a great mouse that looks cool, performs well, and is wireless. Casual gamers looking for the best wireless gaming mouse that money can buy will probably find the SteelSeries Sensei Wireless worth consideration; however, competitive gamers looking for real-time mouse to cursor translation should still stick with something optical and wired instead.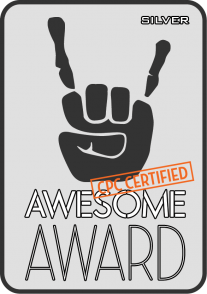 Sample provided by: SteelSeries
Available at: Amazon