Warning
: Undefined array key "width" in
/var/www/vhosts/custompcreview.com/public_html/wp-includes/media.php
on line
1381
Warning
: Undefined array key "width" in
/var/www/vhosts/custompcreview.com/public_html/wp-includes/media.php
on line
1386
Warning
: Undefined array key "height" in
/var/www/vhosts/custompcreview.com/public_html/wp-includes/media.php
on line
1386
Warning
: Undefined array key "width" in
/var/www/vhosts/custompcreview.com/public_html/wp-includes/media.php
on line
1381
Warning
: Undefined array key "width" in
/var/www/vhosts/custompcreview.com/public_html/wp-includes/media.php
on line
1386
Warning
: Undefined array key "height" in
/var/www/vhosts/custompcreview.com/public_html/wp-includes/media.php
on line
1386
"Big Daddy Cooler" has a Little Brother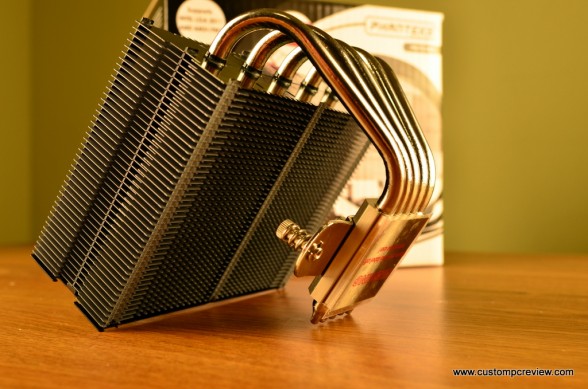 For those who aren't familiar with the name Phanteks, you should be. Prior to the middle of last year, Phanteks wasn't even a name in the CPU cooler industry – in fact, they didn't really even exist. However, as their first product, Phanteks introduced the PH-TC14PE, which is the best air cooler we've tested to date. Coming from a completely unknown company as the time, I was extremely impressed.
Ever since I reviewed what I now call the "big daddy cooler", the Phanteks PH-TC14PE, I've been looking forward to the release of Phanteks' next cooler, so it's no surprise that I was quite excited when Phanteks announced their new PH-TC14CS C-Type cooler. At first glance, the PH-TC14CS looks alot like the Noctuca NH-C14 we reviewed previously with its "C" shaped design, support for pretty much every modern CPU socket, and the ability to mount up to two 140/120mm fans.
However, that's where the similarities end. Carrying over some of the Phanteks proprietary technologies from the PH-TC14PE, Phanteks implemented its Physical Antioxidant Thermal Shield (P.A.T.S) and Cold Plasma Spraying Coating Technology (C.P.S.C.) into the PH-TC14CS, which if it works similarly to the PH-TC14PE, should make this one of the best C-Type coolers on the market. For those interested in the P.A.T.S. or C.P.S.C. technologies, please refer back to our review of the Phanteks PH-TC14PE.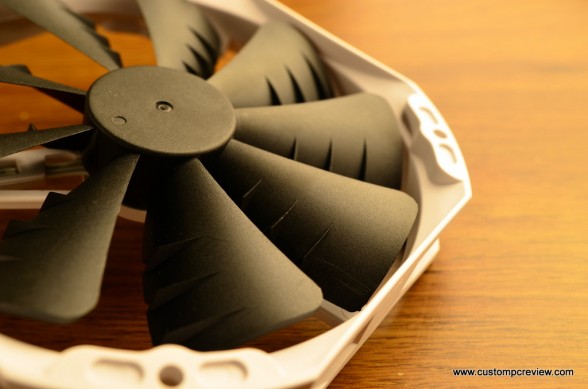 Specifications
Compatibility:Intel Socket: LGA 2011/1155/1156/1366/775
AMD Socket: FM1/AM3+/AM3/AM2+/AM2 (stock backplate required)
Fan Size: 140mm
Bearing Type: UFB (Updraft Floating Balance)RPM: 700 RPM – 1200 RPM +/- 10% w/ PWM
Air Flow:45.1CFM – 78.1 CFM w/ PWM
Noise Level: 13.4 – 19 dBA w/ PWM
Power Connector: 4 Pin
Color: White
Heatsink Material:Aluminum, Copper
Fan Dimensions: 140 x 140 x 25 mm
Weight: 750/900g (single/Dual)
A Closer Look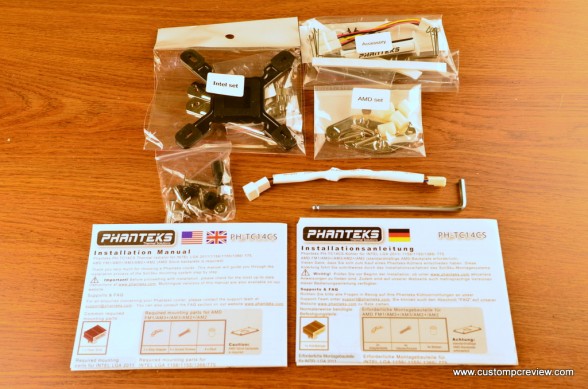 Included in the box we receive documentation in both English and German, mounting hardware in clearly labeled packages for Intel and AMD sockets, a 4 pin PWM to 3 pin fan adapter, and a hex wrench for installation.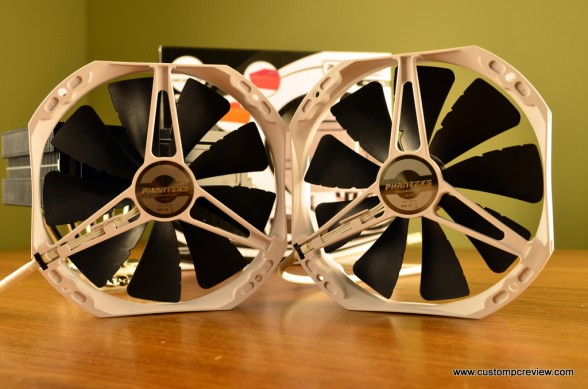 Included we also receive 2x 140mm Phanteks PH-F140TS fans. These fans have a maximum rotational speed of 1300RPM, however, if the PWM adapter is used, the fans spin at around 700RPM to 1200RPM. Additionally as you can see, we have the BK model, which means both the fans and the cooler is colored in black. For those who need other colors, the cooler can also come in red, white or blue.
Wonder if they'll ever make a "Patriot" edition of this cooler…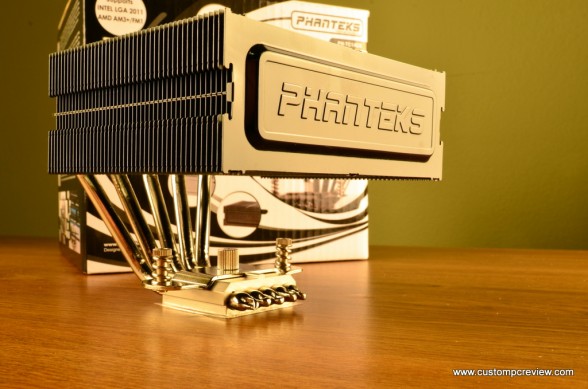 Pulling the cooler out of the box, we can take a look at the black colored C-Type cooler. The design is actually quite similar to other C type coolers we've seen in the past such as the Noctua NH-C14. It seems like this design is simply just one of the towers from the PH-TC14PE rotated 90 degrees.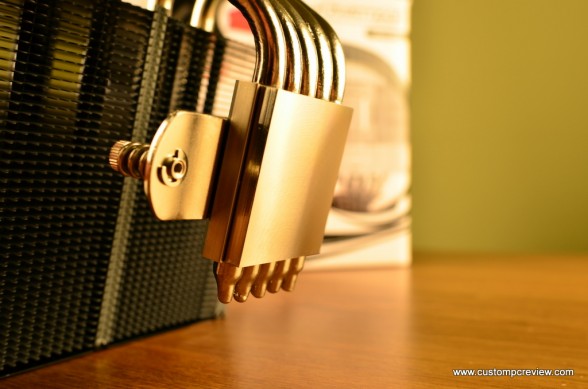 Taking a look at the base of the heatsink, it's very smooth and very well machined, similar to what we saw from Phanteks' previous PH-TC14PE. This is a very good indicator that the cooler is of very high quality.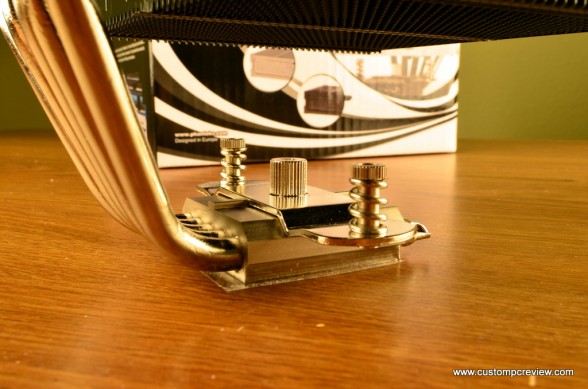 Looking at the mounting system, it seems like the PH-TC14CS uses a very similar mounting design as the PH-TC14PE. Therefore, installation on the cooler should be quite easy, especially for those using LGA 2011 sockets.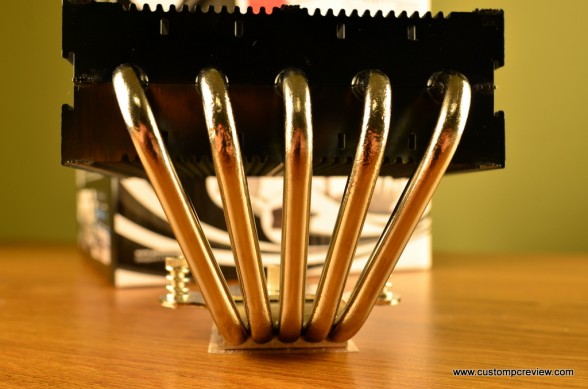 Finally, taking a look at the heatpipe array, the Phanteks PH-TC14CS includes 8x 8mm heatpipes to carry heat away from the CPU and into the heatsink's fin array.
Test Setup & Installation
CPU: Intel Core i5 2500K
Motherboard: Asrock Z68 Fatal1ty Professional Gen 3
Graphics: Intel HD3000 Graphics
Memory: Kingston HyperX Genesis DDR3 2133MHz
Storage: Patriot Pyro SE 120gb
Power Supply: Corsair HX650
Case: HSPC High Speed Tech Station
Special thanks to High Speed PC (HSPC) for providing us with the High Speed Tech Station (Large) for our test bench.
Special thanks to Kingston Technology for providing us with the Kingston HyperX Genesis DDR3 2133MHz for our test bench.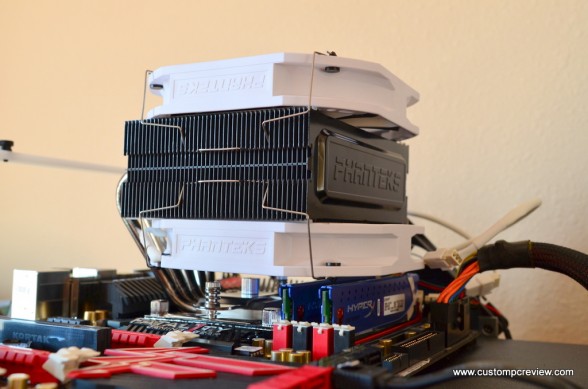 The installation process was identical to the installation for the Phanteks PH-TC14PE, which is very easy. For those interested, Phanteks has an installation video on the PH-TC14PE. Do note that if you're planning on installing the cooler with the motherboard inside the case, it will be very difficult. That's because unlike the Noctua NH-C14, which had holes cut out on the heatsink assembly right above the screws, the PH-TC14CS doesn't, which means you'll practically have to use the hex wrench blind to get this thing installed. That's why I'm going to recommend that you pull out the motherboard for installation.
As you can see above, if you'd like to use both fans on the cooler, you'll have to use low profile memory modules. There's actually very little clearance above those Kingston HyperX Genesis sticks we have here. Additionally, on the Asrock Z68 Fatal1ty Professional Gen 3, the fan will cover all four DIMM slots. Of course, this cooler was designed with versatility in mind, so it can be used with a single fan on top, on bottom or with no fans at all.
Performance
| | | | | |
| --- | --- | --- | --- | --- |
| CPU Cooler (Ambient 19°C) | Idle | Burn 3.4GHz Stock (1.104v) | Burn 4.7GHz OC (1.392v) | Burn 5GHz OC (1.520v) |
| Phanteks PH-TC14PE (3 Fans) | 24 | 38 | 57 | 72 |
| Xigmatek Prime SD1484 (2 Fans) | 25 | 40 | 62 | 78 |
| Corsair H70 | 27 | 42 | 67 | 83 |
| Noctua NH-C14 | 27 | 43 | 67 | 85 |
| Phanteks PH-TC14CS | 28 | 45 | 65 | 84 |
| Hyper 212 Plus | 26 | 44 | 68 | n/a |
| Xigmatek Dark Knight | 28 | 44 | 69 | n/a |
| Gelid GX-7 Rev 2 (GC Extreme) | 27 | 43 | 70 | n/a |
| Gelid GX-7 Rev 2 (GC-2) | 27 | 44 | 72 | n/a |
| Arctic Cooling Freezer i30 | 27 | 45 | 75 | n/a |
Taking a look at the benchmarks, the results are quite good. As the results indicate, the PH-TC14CS does a great job at 4.7GHz. This is actually quite strange as it ranks nearly at the bottom when running at stock clocks; however, it ranks near the top when overclocks (and temperatures) rise. In comparison to the very similar NH-C14, it seems like the  PH-TC14CS is a better performer at higher temperatures. Of course, the difference in temperature is only about 1°C – 2°C, but nevertheless I must say I'm impressed.
Conclusion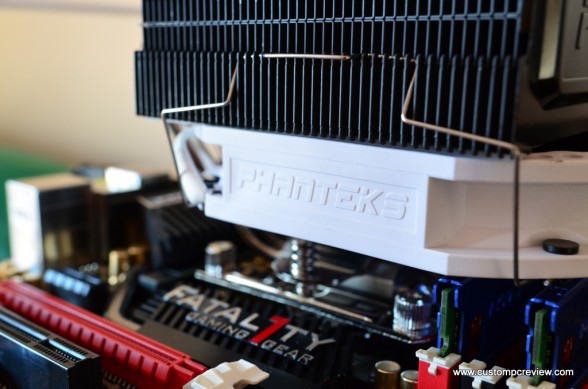 Starting with performance, I'm going to have to say that the PH-TC14CS is definitely a strange, but ultimately is among the top coolers we've tested to date. Why was it quite strange? Well, whereas most coolers start to falter as temperatures rise, the PH-TC14CS actually starts performing better, which is definitely quite interesting – something I'm going to attribute to P.A.T.S. and C.P.S.C. as that's the best explanation I can think of for this kind of performance. In comparison to other 140mm tower coolers such as the Xigmatek Prime SD1484, the PH-TC14CS does perform slightly worse, but it did compare very well to the Noctua NH-C14, which is also a C-Type cooler. Comparing the PH-TC14PE with the Noctua NH-C14, the PH-TC14PE ran 2°C hotter than the NH-C14 at stock clocks, but  at 4.7GHz, the PH-TC14PE was actually able to outperform the NH-C14 by 2°C.
The appearance of the cooler is nice too with the black/white color scheme and, as far as I know, Phanteks is the only cooler manufacturer who produces different colored coolers. This is especially cool if you've got a certain color scheme going on. One thing I didn't like about the appearance though was that the fans are bigger than the heatsink. This does make the cooler look a bit strange since the fans do stick out quite a bit. Sorta seems like the heatsink itself was designed for dual 120mm fans rather than 140mm fans. More importantly, especially with 140mm fans, it seems like if Phanteks extended the heatsink a bit more to the full size of the fans, cooling performance might further be improved as there's a lot of air moving through the area the heatsink doesn't cover.
Otherwise, the installation procedure is among the easiest I've worked with and all mounting hardware packaging is clearly labeled as well so you know exactly which piece of kit you need to open. Now, one of the issues I had with the older PH-TC14PE was the fact that it didn't include 4 pin PWM fans, which meant the fans would spin at full speed all the time. However, Phanteks is now bundling a fully functional 4 pin to 3 pin adapter, which does respond to PWM fan control, so the cooler is actually silent at idle. Additionally, they are offering 4pin to 3 pin adapters for everyone who previously purchased a PH-TC14PE, so it seems like Phanteks is taking feedback from the community seriously.
Finally, looking at price, the Phanteks PH-TC14CS can currently be found at Newegg for $74.99, which isn't too bad considering it does include two 140mm fans as well as a fully functional 4 pin PWM to 3 pin adapter. Its biggest competitor, the Noctua NH-C14 sits at $86.99, so the PH-TC14CS is quite a good value especially since it provides the same versatility in design yet performs better at higher overclocks. However, taking a look at the warranty, the Noctua NH-C14 has a 6 year warranty whereas the Phanteks PH-TC14CS has a 5 year warranty, so you do get an extra year of warranty with the NH-C14.
Bottom Line
Since Phanteks' release of their first cooler, the PH-TC14PE, I were very much looking forward to the release of their next product, and I'd have to say I'm impressed once again. Despite the fact that C-Type coolers are designed with versatility rather than maximum performance in mind, the PH-TC14CS still performs exceptionally well and ranks top 3 in our cooler rankings with the i5 2500K overclocked to 4.7GHz. For those who don't need the versatility of the C-Type cooler design, it's still better to go with a tower design cooler; however, for those who need the versatility of a C-Type cooler, you won't find anything better than the PH-TC14CS.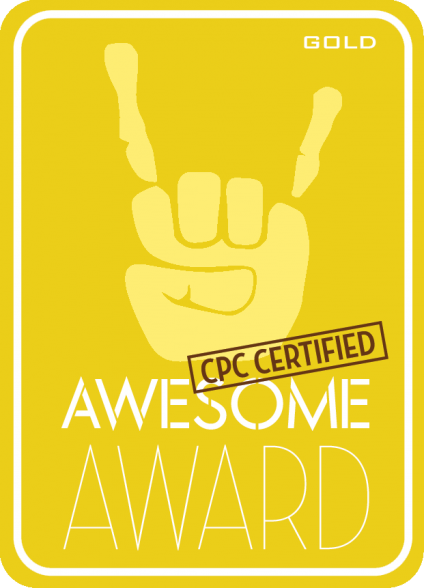 Special thanks to Phanteks for making this review possible.
The Phanteks PH-TC14CS is currently available on Newegg.