Warning
: Undefined array key "width" in
/var/www/vhosts/custompcreview.com/public_html/wp-includes/media.php
on line
1381
Warning
: Undefined array key "width" in
/var/www/vhosts/custompcreview.com/public_html/wp-includes/media.php
on line
1386
Warning
: Undefined array key "height" in
/var/www/vhosts/custompcreview.com/public_html/wp-includes/media.php
on line
1386
Warning
: Undefined array key "width" in
/var/www/vhosts/custompcreview.com/public_html/wp-includes/media.php
on line
1381
Warning
: Undefined array key "width" in
/var/www/vhosts/custompcreview.com/public_html/wp-includes/media.php
on line
1386
Warning
: Undefined array key "height" in
/var/www/vhosts/custompcreview.com/public_html/wp-includes/media.php
on line
1386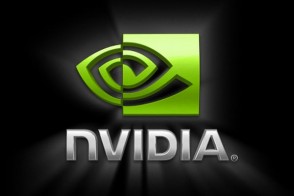 Recently, a member over at Chinese hardware forums ChipHell revealed some interesting data regarding Nvidia's upcoming next generation GM204 Maxwell GPU (GeForce GTX 880). The poster revealed that the production of A01 stepping GM204 silicon has been successful using TSMC's 28nm process and engineering samples are being put together in Bangalore. This will be followed by the production A02 stepping GM204 silicon which is expected to launch at the end of this year. This differs significantly from previous rumors that the GM204 will be using TSMC's 20nm process, which was recently rumored to be having issues, and also differs from previously rumored specs as it'll possibly be carrying 8GB of GDDR5 (256-bit memory interface) rather than 4GB. Performance of the GM204 A02 is expected to be ~110% of current generation GeForce GTX 780 Ti.
Additionally, the poster also commented on the GM204 B1 stepping as well which he claims to be the next, next generation GeForce GTX 970. He believes that the GM204 B1 stepping will be using the 20nm fabrication process that was supposed to be ready for the GTX 800 series; however, it won't actually be available until 2H2015.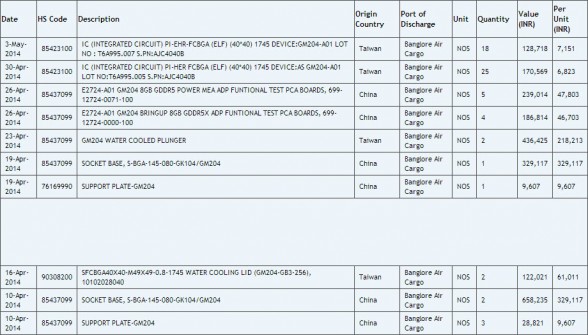 While the poster didn't have concrete evidence of his claims (press deck, internal presentation, etc.), he did present some import records, which seem to back up his statements. While most import records on GPUs tend to only show the codename (GK110, GK104, GM107, etc.), a search for GM204 on Indian import/export data website Zauba, reveals some surprisingly descriptive information on the GM204, mainly "E2724-A01 GM204 8GB GDDR5 POWER MEA ADP FUNTIONAL TEST PCA BOARDS, 699-12724-0071-100″
What's also interesting about the import records is a couple additional entries "GM204 WATER COOLED PLUNGER" and "…WATER COOLING LID (GM204-GB3-256)…" that suggest Nvidia may be experimenting with their own GPU water cooling solution.
As with all rumors take this information with a grain of salt. Updates to come as it becomes available!
Source: ChipHell, Videocardz, Zauba