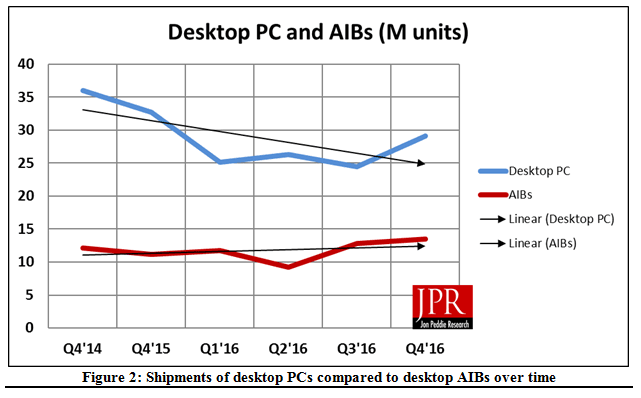 More consumers are opting to keep their current systems as newer generation CPUs and their platforms are no longer offering enough performance gains to justify a new purchase. Consumers looking for high-performance computing are instead turning to upgrading other components such as graphics or storage for a speed boost.
In graphics, a report by JPR has revealed that total AIB graphics shipments in 4Q2016 increased by 5.6% quarter-to-quarter and 21.1% year-to-year. In contrast, overall desktop PC shipments fell by 10.9% over the year.
Over the course of 2016, graphics has seen some major performance improvements as both Nvidia and AMD released their next generation 16nm and 14nm based graphics cards that were significantly faster than the previous generation, giving consumers very tempting reasons to upgrade.
"The graphics add-in board market has defied gravity for over a year now, showing gains while the overall PC market slips. The silly notion of integrated graphics "catching up" with discrete will hopefully be put to rest now," said Dr. Jon Peddie, president of Jon Peddie research, the industry's research and consulting firm for graphics and multimedia.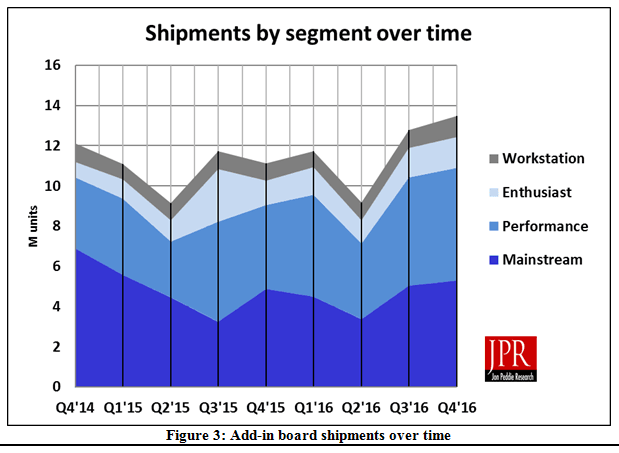 AIB shipments have increased in all segments of computing. Overall AIB attach rate increased by 36% since last quarter. Workstation AIB attach rate improved by 19.2% since last quarter as well.

Over the last year, AMD did very well, taking significant marketshare back from Nvidia, moving from a paltry 21.6% graphics marketshare to a 29.5% graphics marketshare. As Nvidia fired back with several new product offerings to close out the year, Nvidia clawed back 0.3% marketshare to close out the last quarter.
Source: JPR