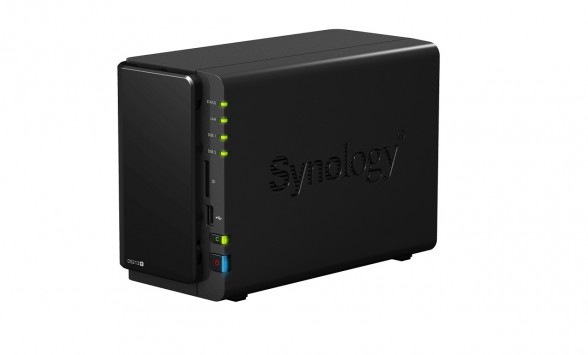 Press Release
Where Robust Performance and Energy Efficiency Come as One
Synology® Inc. today unveiled the new DiskStation DS213+, a high performance 2-bay NAS server designed as a secure, energy efficient, and full-featured storage solution for small and medium businesses.
"As the first 2013 model, the new DiskStation DS213+ shows that Synology has outdone itself once again. It delivers the fastest encrypted data transfer rate in the product sector, and yet it offers extreme power-savings at merely 2.64 watts of energy consumption during System Hibernation," said Chad Chiang, product manager at Synology Inc. To ensure secure and efficient file sharing, the DS213+ boasts AES 256-bit encrypted read and write speed at 49.6 MB/sec and 24.7 MB/sec respectively. The new System Hibernation mode reduces power consumption, and is designed to actively listen for network activities to quickly resume the system back to full operations. In comparison to system shutdown, System Hibernation brings a closer balance between smart energy management and system responsiveness. "The combination of first-class performance and breakthrough energy-saving solution will once again deliver an amazing experience to our users," added Chiang.
Powered by a dual-core 1.067 GHz processor, the DS213+ features an average read speed at 110.36 MB/sec and write speed at 84.31 MB/sec under RAID 1 configuration in a Windows® environment. Further expanding users' experience, the DS213+ includes a 64bit floating-point unit to greatly accelerate decoding and encoding process, where users will most welcome the vast performance improvement in multimedia related applications. In addition, DS213+ delivers an upgraded surveillance solution that streams 12 channels of high definition IP camera simultaneously to maximize all business security needs.
Synology DS213+ is equipped with an SD card slot for plug-n-save solution, one eSATA port for external backup option, two USB 3.0 ports for higher data transmission, and a hot-swappable hard drive feature to increase system reliability. With noise dampening design and a 92 mm system fan, the DS213+ improves its overall airflow and minimizes the noise level to 19.9 dB(A), making it much quieter compared to PC counterparts.
The DS213+ runs DiskStation Manager 4.0 (DSM 4.0), the operating system of every Synology NAS Server. DSM 4.0 provides rich features to boost user productivity and simplify their tasks, all on a sleek user interface optimized for multitasking. DS212+, the predecessor of DS213+, has been recognized by numerous worldwide media outlets, including receiving full score (5 out of 5 stars) from the Netherlands PCM.
For more information about the Synology DS 213+ please visit the product page here.