HIS Radeon HD7750 iCooler Review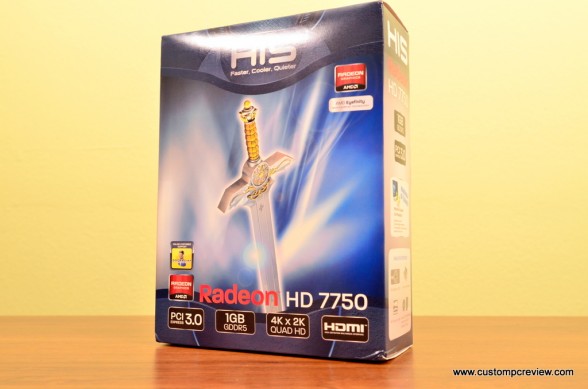 AMD stole the thunder when it lauched its 28nm GPU family, the Southern Islands, before Nvidia could launch its Keplers. Three months after the successful launch of the HD7970, AMD has finally decided that the time is right to release its mid-range cards equipped with the Cape Verde line of GPUs. As currently the least expensive cards in the Southern Islands family, the HD7750 and the HD7770 aims to replace the dated HD6700 series graphics cards.
Manufactured using AMD's latest 28nm fabrication process, the Cape Verde chips aim to reduce power consumption and increase performance. Like the more powerful Tahiti GPUs, Cape Verde uses the new Compute Units instead of the VLIW SIMD. Unlike VLIM, Compute Units can individually schedule instruction sets to its Vector Units, which greatly reduce empty computing cycles and enhance GPU compute capabilities.
The Cape Verde will also have the ZeroCore feature, which shuts the card down during idle, consuming only 15W of power making this one of the most power efficient graphics cards on the market.
The card we'll be taking a look at today is the HIS Radon HD7750 iCooler. According to previous rumors, the HD7750 offers about 65% of the performance of the HD7770, but it is also more power efficient with a power consumption rating of only 55W. Since this card features a ridiculously low power draw, it's no surprise that it requires no external power connectors. The card can be powered by the PCI-E slot alone so even small 400W power supplies will be more than sufficient to keep this card churning.
| | | |
| --- | --- | --- |
| | HD7750 | HD6750 |
| Fabrication | 28nm | 40nm |
| Transistor Count | 1.5 Billion | 1.04 Billion |
| Core Clock | 800MHz | 700MHz |
| Stream Processors | 512 | 720 |
| Texture Units | 40 | 56 |
| ROPs | 16 | 32 |
| Buffer Size | 1GB GDDR5 | 1GB GDDR5 |
| Memory Interface | 128-bit | 128-bit |
| Memory Bandwidth | 72GB/s | 73.66GB/s |
| Memory Frequency | 1.15GHz(4.6 GHz Effective) | 1.125GHz(4.5 GHz Effective) |
Here we have a quick comparison of the new Radeon HD7750 with the last generation Radeon HD6750. Specification sheet wise, the Radeon HD7750 may seem pale in comparison to the Radeon HD6750 however, the two cannot be directly compared; since the 7750 is using the brand new GCN (Graphics Core Next) architecture. What a pointless exercise, right? Let's move on!