SteelSeries Sensei Fnatic Gaming Mouse Review
Bow to the Sensei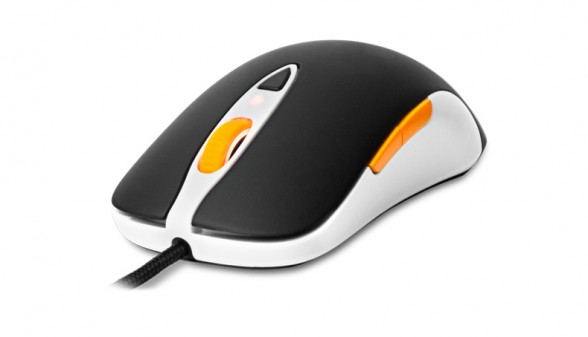 A couple of months back, we reviewed the SteelSeries 7H Fnatic Edition gaming headset and for the most part, we got a good taste of why Fnatic chose the 7H as their officially endorsed product – it was a great headset.
This is why today, we'll be reviewing another Fnatic endorsed product from our friends over at SteelSeries, the SteelSeries Sensei Fnatic gaming mouse. Whereas the SteelSeries 7H Fnatic Edition gaming headset had some Fnatic only features included with the Fnatic edition of the headset such as the amazing SND Block material used for the earcups, the SteelSeries Sensei also gets you a bit of that special functionality. While it might not be as game changing as the SND Block material added with the SteelSeries 7H Fnatic, there are a couple small tweaks that make the mouse even better than the original Sensei.
First, you get a stylish new paintjob based off the Fnatic team colors and while beauty is ultimately in the eye of the beholder, I gotta say it looks good. Second, the Fnatic edition of the Sensei did away with the chrome top layer of the mouse and replaced it with a matte plastic type of finish which enhances the grip of the mouse. Like I said, these are some pretty slight improvements to the design, but ultimately they're still improvements. However, because there aren't any improvements done to the core design of the mouse, this review should apply to the original SteelSeries Sensei as well for those of you who're interested in picking one up.
That said, other features included are the same standard features that come with the original SteelSeries Sensei, so you'll still get that bottom mounted LCD display which allows for full control to every function on the mouse without the need for any software, the 75MHz ARM processor powering the aforementioned LCD screen, ambidextrous design, DPI adjustment capability from 1CPI – 5700CPI (14,700DCPI, more on this later), and the Avago ADNS-9500 Sensor.
Specifications
| | |
| --- | --- |
| Sensor | Avago ADNS-9500 |
| DPI | 1CPI-5700CPI (14,700DCPI) |
| Polling Rate | 125Hz-1000Hz |
| Form Factor | Ambidextrous |
| Acceleration | 30G |
| Lift Distance | 1mm-5mm |
| Weight | 102g |