Warning
: Undefined array key "width" in
/var/www/vhosts/custompcreview.com/public_html/wp-includes/media.php
on line
1381
Warning
: Undefined array key "width" in
/var/www/vhosts/custompcreview.com/public_html/wp-includes/media.php
on line
1386
Warning
: Undefined array key "height" in
/var/www/vhosts/custompcreview.com/public_html/wp-includes/media.php
on line
1386
Warning
: Undefined array key "width" in
/var/www/vhosts/custompcreview.com/public_html/wp-includes/media.php
on line
1381
Warning
: Undefined array key "width" in
/var/www/vhosts/custompcreview.com/public_html/wp-includes/media.php
on line
1386
Warning
: Undefined array key "height" in
/var/www/vhosts/custompcreview.com/public_html/wp-includes/media.php
on line
1386
Warning
: Undefined array key "width" in
/var/www/vhosts/custompcreview.com/public_html/wp-includes/media.php
on line
1381
Warning
: Undefined array key "width" in
/var/www/vhosts/custompcreview.com/public_html/wp-includes/media.php
on line
1386
Warning
: Undefined array key "height" in
/var/www/vhosts/custompcreview.com/public_html/wp-includes/media.php
on line
1386
Warning
: Undefined array key "width" in
/var/www/vhosts/custompcreview.com/public_html/wp-includes/media.php
on line
1381
Warning
: Undefined array key "width" in
/var/www/vhosts/custompcreview.com/public_html/wp-includes/media.php
on line
1386
Warning
: Undefined array key "height" in
/var/www/vhosts/custompcreview.com/public_html/wp-includes/media.php
on line
1386
Warning
: Undefined array key "width" in
/var/www/vhosts/custompcreview.com/public_html/wp-includes/media.php
on line
1381
Warning
: Undefined array key "width" in
/var/www/vhosts/custompcreview.com/public_html/wp-includes/media.php
on line
1386
Warning
: Undefined array key "height" in
/var/www/vhosts/custompcreview.com/public_html/wp-includes/media.php
on line
1386
Warning
: Undefined array key "width" in
/var/www/vhosts/custompcreview.com/public_html/wp-includes/media.php
on line
1381
Warning
: Undefined array key "width" in
/var/www/vhosts/custompcreview.com/public_html/wp-includes/media.php
on line
1386
Warning
: Undefined array key "height" in
/var/www/vhosts/custompcreview.com/public_html/wp-includes/media.php
on line
1386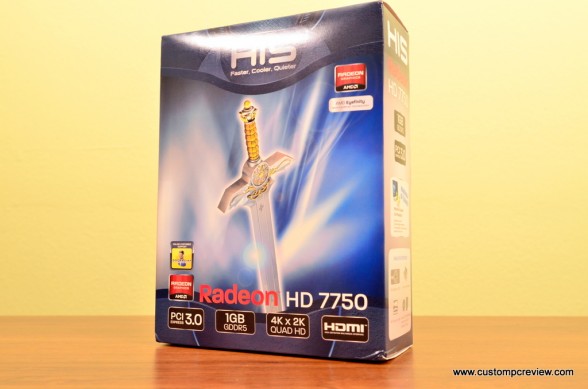 AMD stole the thunder when it lauched its 28nm GPU family, the Southern Islands, before Nvidia could launch its Keplers. Three months after the successful launch of the HD7970, AMD has finally decided that the time is right to release its mid-range cards equipped with the Cape Verde line of GPUs. As currently the least expensive cards in the Southern Islands family, the HD7750 and the HD7770 aims to replace the dated HD6700 series graphics cards.
Manufactured using AMD's latest 28nm fabrication process, the Cape Verde chips aim to reduce power consumption and increase performance. Like the more powerful Tahiti GPUs, Cape Verde uses the new Compute Units instead of the VLIW SIMD. Unlike VLIM, Compute Units can individually schedule instruction sets to its Vector Units, which greatly reduce empty computing cycles and enhance GPU compute capabilities.
The Cape Verde will also have the ZeroCore feature, which shuts the card down during idle, consuming only 15W of power making this one of the most power efficient graphics cards on the market.
The card we'll be taking a look at today is the HIS Radon HD7750 iCooler. According to previous rumors, the HD7750 offers about 65% of the performance of the HD7770, but it is also more power efficient with a power consumption rating of only 55W. Since this card features a ridiculously low power draw, it's no surprise that it requires no external power connectors. The card can be powered by the PCI-E slot alone so even small 400W power supplies will be more than sufficient to keep this card churning.
| | | |
| --- | --- | --- |
| | HD7750 | HD6750 |
| Fabrication | 28nm | 40nm |
| Transistor Count | 1.5 Billion | 1.04 Billion |
| Core Clock | 800MHz | 700MHz |
| Stream Processors | 512 | 720 |
| Texture Units | 40 | 56 |
| ROPs | 16 | 32 |
| Buffer Size | 1GB GDDR5 | 1GB GDDR5 |
| Memory Interface | 128-bit | 128-bit |
| Memory Bandwidth | 72GB/s | 73.66GB/s |
| Memory Frequency | 1.15GHz(4.6 GHz Effective) | 1.125GHz(4.5 GHz Effective) |
Here we have a quick comparison of the new Radeon HD7750 with the last generation Radeon HD6750. Specification sheet wise, the Radeon HD7750 may seem pale in comparison to the Radeon HD6750 however, the two cannot be directly compared; since the 7750 is using the brand new GCN (Graphics Core Next) architecture. What a pointless exercise, right? Let's move on!
Video Unboxing
Specifications
Model Name
HIS HD 7750 iCooler 1GB GDDR5 PCI-E DP/DVI/HDMI
Chipset
Radeon HD 7750 PCIe Series
ASIC
RadeonTM HD 7750 GPU
Manu. Process (Micron)
28nm
Memory Size (MB)
1024
Memory Type
GDDR5
Engine CLK (MHz)
800MHz
Memory CLK (Gbps)
4.5Gbps
Memory Interface (bit)
128bit
Power Supply Requirement
400 Watt or greater power 
Max. Resolution
4096×2160 per display (DisplayPort 1.2)
2560×1600 per display (Dual-link DVI)
2048×1536 per display (VGA)
Bus Interface
PCI Express 3.0 x16
Display Port
Yes
HDMI
Yes
DVI
Dual-link DVI-I
VGA
No
HD 7750 System Requirement
PCI Express® based PC is required with one X16 lane graphics slot available on the motherboard
400W (or greater) power supply recommended.
500W power supply (or greater) recommended for AMD CrossFire™ technology in dual mode
Certified power supplies are recommended. Refer to http://support.amd.com/us/certified/power-supplies/Pages/listing.aspx for a list of Certified products
Minimum 1GB of system memory
Installation software requires CD-ROM drive
DVD playback requires DVD drive
Blu-ray™ playback requires Blu-ray drive
A Closer Look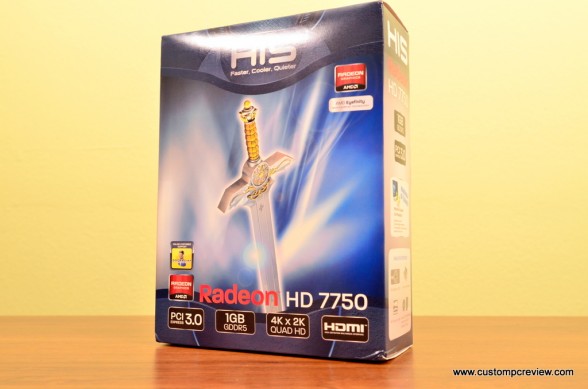 So, quickly looking at the front of the box we see a giant sword with Radeon HD7750 in front. Funny there's no mention of the iCooler considering when we did the IceQ review, the box had IceQ stamped all over it. Maybe HIS isn't as proud of this "iCooler" as it is IceQ.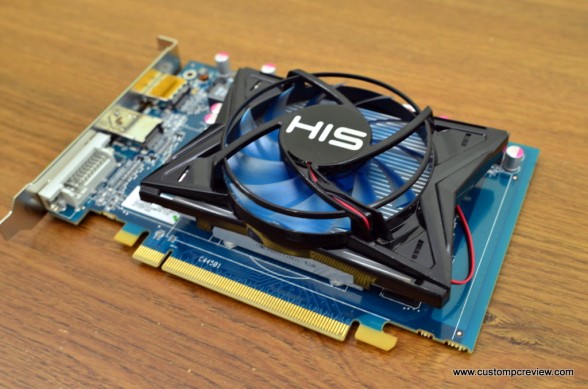 Well, this came as a surprise. I didn't think I could see a more dinky cooler than the IceQ one on the HD6570, but now I officially have. This is the HIS iCooler. Looks like the reference version of the card was designed as a single slot, but with the iCooler slapped on this card now hogs two expansion slots. Interesting…
Oh, and no power connectors. Whaaaat? Nice…
Along the bottom there we've got PCIe 3.0 (Yeah, I know… why, right?) along with a PCIe x16 connector, so make sure you've got an open PCIe x16 slot for this.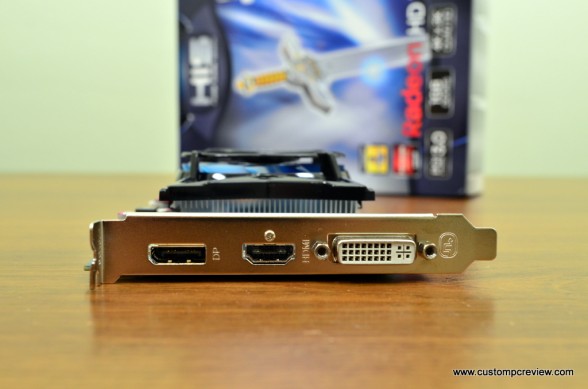 Nice, this card has DVI, Dual Link DVI and Display Port. That's about as future-proof as it'll get.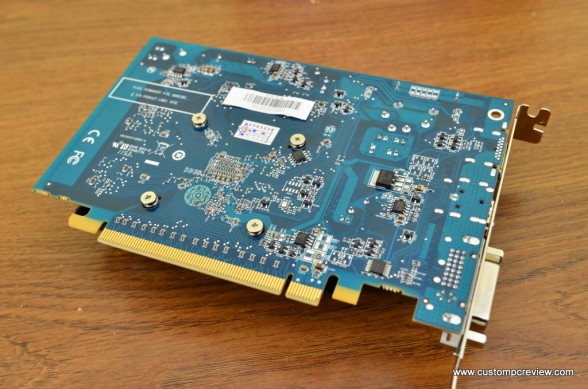 Not a huge fan of this PCB color, but it's a budget card so I won't complain. No Crossfire bridge, so sorry to those who wanted to get a budget Crossfire setup.
Test Bench
Intel Core i5 2500K (Overclocked to 4.7GHz)
Asrock Z68 Fatal1ty Professional Gen 3
Gskill Sniper 1866MHz DDR3 1.5v
Patriot Pyro SE 120gb
Corsair HX650
HSPC High Speed Tech Station
Special thanks to HSPC for providing us with the High Speed Tech Station (large) for our test bench.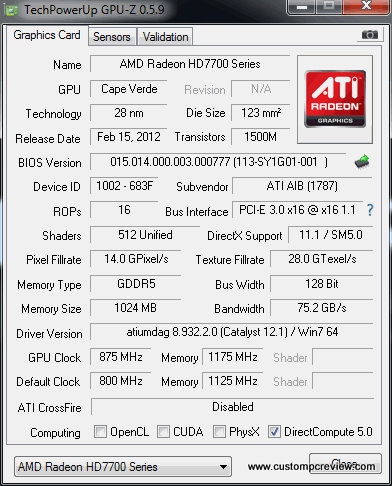 Performance
3D Mark 11
Developed and maintained by Futuremark Corporation, 3D Mark 11 is one of the world's most widely used graphics performance benchmarking software.
| | | | |
| --- | --- | --- | --- |
| | Galaxy GTX 560 GC 2GB | HIS 6570 Ice Q | HIS HD7750 |
| 3D Mark 11 Entry | 6931 | 2244 | 4554 |
| 3D Mark 11 Performance | 3985 | 1336 | 2708 |
| 3D Mark 11 Extreme | 1234 | 382 | 812 |
As usual, we began our benchmarking with 3D Mark 11. For reference, we left in scores from the Galaxy GTX 560 GC 2GB, a great mid range graphics card, along with the HIS 6570 Ice Q, a budget graphics card. As we can see, the HD7750 is about 50% faster than the lower end HD6570, but around 35% slower than the GTX 560.
Game Benchmarks
First, we ran our benchmark suite for mid / high end graphics. Each test is run at 1920×1200 with 4xAA wherever possible
| | | | |
| --- | --- | --- | --- |
| All games run at 1920×1200, High/Ultra Settings, 4xAA | Galaxy GTX 560 GC 2GB | HIS HD6570 Ice Q | HIS HD7750 |
| Lost Planet 2 | 38.4 | 8.7 | 22.9 |
| Resident Evil 5 | 95.7 | 25.5 | 57.7 |
| Unigine Heaven v2.5 | 26.6 | 6.8 | 17.9 |
| Stalker: COP (Day) | 44.2 | 13.1 | 28.1 |
| Call of Juarez DX10 | 66.1 | 17.5 | 39.9 |
| Just Cause 2 | 36.52 | 12.1 | 28.48 |
| Metro 2033 | 23.00 | 6.67 | 15 |
| Crysis 2 (Central Park) | n/a | 11 | 19.5 |
*All values in frames per second (FPS)
For the most part, I liked these results. The HD7750 was able to put out playable frame rates for more than a couple games here despite running at 1920×1200 with high/ultra settings at 4xAA. With AA off, I am confident a couple more games would become playable which makes it that much more impressive especially for a card that doesn't even require external power.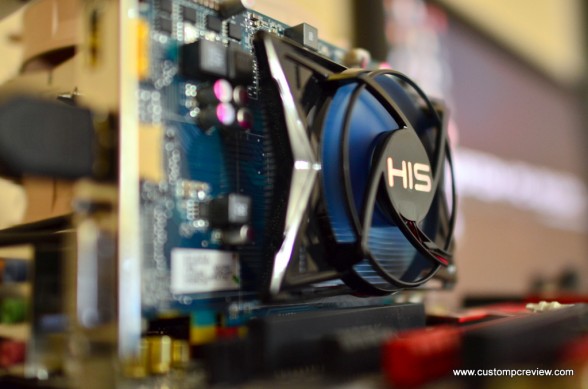 Performance (Cont…)
Game Benchmarks
We now move on to our budget graphics card bechmarking suite.
| | | |
| --- | --- | --- |
| All games run at 1280×1024, Medium Settings, AA off | HIS 6570 Ice Q | HIS HD7750 |
| Lost Planet 2 | 38.7 | 82.8 |
| Resident Evil 5 | 66 | 138.1 |
| Unigine Heaven v2.5 | 17.4 | 47 |
| Stalker: COP (Day) | 43.6 | 103 |
| Call of Juarez DX10 | 29.6 | 66.4 |
| Just Cause 2 | 33.7 | 66.54 |
| Metro 2033 | 32 | 61.33 |
| Crysis 2 (Central Park) | 21 | 31.1 |
*All values in frames per second (FPS)
With the settings lowered a couple notches, every game is playable. In fact, if you're playing on a 1280×1024 monitor, I'd even recommend turning the settings up a little. Oh and yes, I'm happy to announce that this will run Crysis 2.
Noise, Temperatures and Power Consumption
| | | | |
| --- | --- | --- | --- |
| Furmark | Galaxy GTX 560 GC 2GB | HIS 6570 Ice Q | HIS HD7750 |
| Max Temps (Stock 19°C Ambient) | 76°C | 39°C | 54°C |
| Total System Power Usage | 314w | 96w | 125w |
Despite its look, the dinky iCooler on the HIS HD7750 was able to keep the card running at a cool 54°C under full load, which isn't bad… at all. Oh and did I mention the fan is crazy silent? Yeah, like inaudible silent. In combination with the Noctua NH-C14 CPU Cooler (fans controlled) I actually had to check to see if the test bench was on. It was definitely one of those very weird feelings. On the power usage front, the card pretty much sips power. At full load, our entire test bench only ate up 125w, so almost any high quality power supply should be able to handle the HD7750 with plenty of headroom to spare.
| | |
| --- | --- |
| Total System Power Usage | Power Consumption |
| Idle (HIS HD7750) | 53w |
| Idle (No Graphics Card) | 47w |
Here, we wanted to see the performance of the ZeroCore technology so we decided to take some idle power measurements with the HIS HD7750 and without. Looks like the card idles at 6w, so this should be a great card for those of you who often worry about your power bills.
Overclocking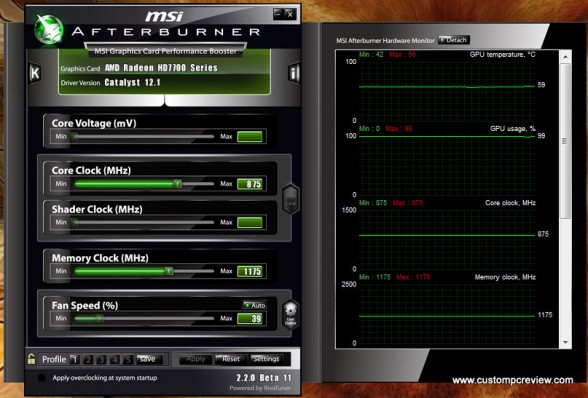 So, for the last part of this review I decided to fire up Afterburner to see far this card could push since the previously released HD7970 and the HD7950 were exceptionally good overclockers. With this card though, I didn't have a whole lot of luck. The voltage controls were all locked up so the only option was to push the core and memory. Unfortunately I was only able to push the core 75MHz and the memory 50MHz. Anything higher typically caused instant driver crashing or some other form of serious instability.
| | | |
| --- | --- | --- |
|  All games run at 1280×1024, Medium Settings, AA off | HIS HD7750 1280×1024 | HIS HD7750 (OC'ed 890MHz Core / 1175MHz Memory) |
| 3D Mark 11 Entry | 4554 | 4853 |
| 3D Mark 11 Performance | 2708 | 2915 |
| 3D Mark 11 Extreme | 812 | 875 |
| Unigine Heaven v2.5 | 47 fps | 50 fps |
| Just Cause 2 | 66.54 fps | 73.67 fps |
| Metro 2033 | 61.33 fps | 66 fps |
| Crysis 2 (Central Park) | 31.1 fps | 32.8 fps |
| Max Temps (Stock 19°C Ambient) | 54°C | 59°C |
| Total System Power Usage | 125w | 137w |
As you can see from the results above, the minor overclock didn't give us much of a performance gain, but anything is better than nothing, right?. In the Heaven benchmark I saw about a 6% performance gain while in Just Cause 2 I was able to see a 11% performance gain, so overall it wasn't too bad but not something to be proud about either.
While I can't say for sure, I am guessing this may be because the graphics card is simply running against the power restrictions imposed by the PCIe slot itself. Taking my values from the total system power usage with an overclocked graphics card running Furmark, I saw 137w while total system power usage while idle was 53w. This gives us a difference of 84w, so factoring in a little more CPU power consumption during load, it's pretty obvious that the HD7750 is probably running pretty close to the PCIe 75w power limit.
Conclusion
Truth be told, when I first saw this card I wasn't really expecting much. It's a $109.99 GPU, it had a pretty dinky cooler and the lack of a power connector made me seriously question the capabilities of this card. Well, turns out it's actually not bad. In fact, it's my honest opinion that the HIS Radeon HD7750, and the entire HD7000 series in general, is raising the bar in terms of efficiency.
Prior to the introduction of this card, there weren't a lot of cards out there that were able to output this level of performance without external power. After all, a PCIe x16 slot can only provide a maximum of 75w. Cards with low power consumption such as the HD6570 were decent products, but their performance in modern titles such as Crysis 2 or Metro 2033 at anything high than 1280×1024 resolution was abysmal. With the HIS HD7750, not only are you able to play those games you're able to play them at resolutions higher than 1280×1024, all without upgrading your current OEM system's power supply. Fantastic.
Heat output was consistently low during even the most intense Furmark stability runs. While I would've preferred to see the HIS IceQ solution both for improved aesthetics and improved cooling performance, a peak temperature of 59°C even with an overclock really doesn't necessitate it. Without the overclock, the card chilled at only 54°C under load, so the iCooler definitely isn't bad by any stretch. Additionally, the cooler was deadly silent and should be inaudible once it's installed into a case. If you're looking to build a new HTPC, this card should definitely be at the top of your list.
Last but not least, power consumption is fantastic – which was within my realm of expectation the moment I saw the lack of a power connector. At peak power draw the overclocked i5 2500K setup only sucked up 125W, considering most of our high end graphics cards can draw that much power when idle, it doesn't get much better than that.
The HD7750 is inexpensive, quiet, efficient, and has great performance to boot. So in my opinion there isn't a whole lot of criticism I can dish out at it. However, something I would like to see is unlocked voltage controls. It was quite depressing to see that we were only able to push a mere 90MHz overclock on this card, and the performance return we received was marginal at best. Then again, it's a budget level graphics solution, and isn't geared towards those with serious overclocking ambitions.
Additionally, this card has no CrossFire capability, so if you're looking to create some sort of budget CrossFire setup, you'll be out of luck.
Finally, while not a huge negative, this card does take two slots because of the cooler, so keep that in mind if you are looking to cram this into a mini-ITX setup.
Bottom Line
Without a doubt, I'm thoroughly impressed with AMD's new 7000 series of graphics cards so far, and the HIS HD 7750 iCooler is no exception. This low powered card was able to churn out some very impressive numbers and I think it's an excellent card going forward for anyone in the market for a new budget graphics card.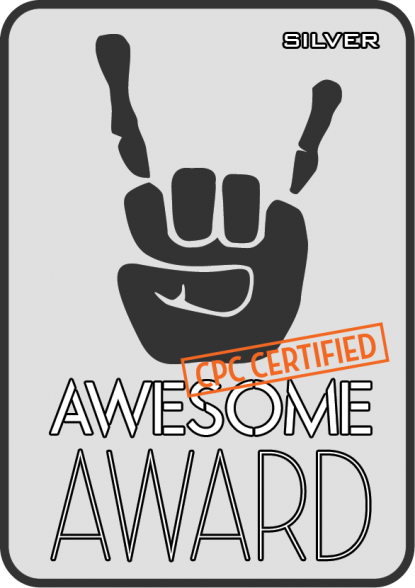 Special thanks to HIS for making this review possible.