[section label=1. Introduction]
Ultimate Ears for the Modern Age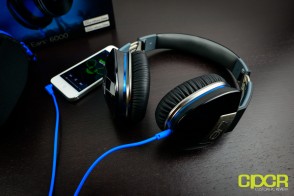 When Logitech originally purchased Ultimate Ears back in 2008, one of the main concerns for consumers is that Logitech, being primarily a consumer focused company, would gradually turn the more enthusiast/audiophile oriented Ultimate Ears product line into more of a general consumer oriented product line, thus killing the Ultimate Ears reputation as a producer of high quality, high end audio equipment.
While in many ways the Ultimate Ears brand has definitely expanded from its original highly specialized audio equipment niche into the more general consumer market, I feel like Logitech has nevertheless done a great job with the Ultimate Ears name, carrying on the vision of its founders at the high end yet continually sharing the experience with a much greater audience.
When it comes to unveiling new products, it seems like Logitech has been taking the unveil a whole ton of stuff at once approach lately and only a couple months back, Logitech unveiled a whole new line of Ultimate Ears products including in ear headphones, speakers, and headphones.
Today we'll be reviewing one of the most recently introduced headphones, the Logitech Ultimate Ears 6000. The UE 6000 is a very new category of products for Ultimate Ears as it's not only an over the ear headphone, but it also features noise cancellation – both of which are features never before seen in the Ultimate Ears lineup. The Ultimate Ears lineup has traditionally been in ear headphones and in ear monitors (IEMs), so I'm definitely excited that Logitech is unveiling these new series of products in their upscale brand.
Ready to hear how well these headphones did? (No pun intended) Flip the page to find out!
Logitech Ultimate Ears 6000 Features & Specifications
40mm custom made, laser tuned drivers

UE sound signature
Active noise cancellation
Memory foam ear cushions
Around the ear design
On-cord music/call controls and microphone
Music sharing splitter
Folding design
Zippered travel pouch included
[section label=2. A Closer Look]
A Closer Look at the Logitech Ultimate Ears 6000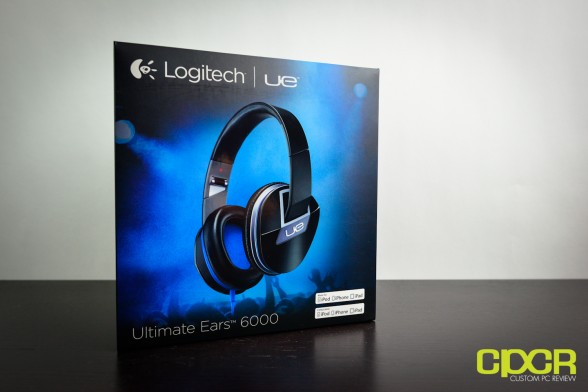 Here's a look at the packaging for the Logitech Ultimate Ears 6000.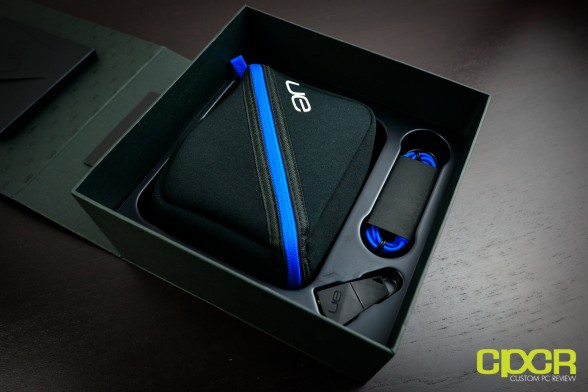 In the box, we get another box which houses the headphones and the accessories. Fancy.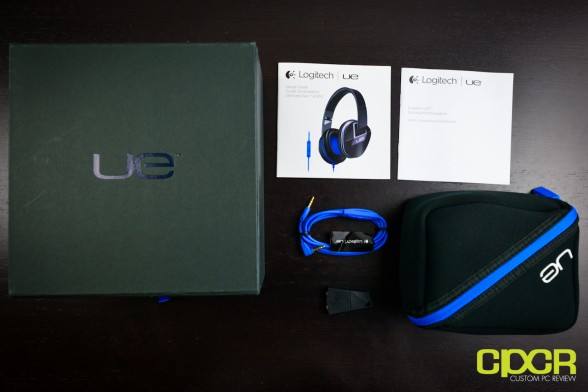 Accessories include some documentation, a soft carrying case, a 3.5mm to 3.5mm audio cable, and a two way 3.5mm audio splitter.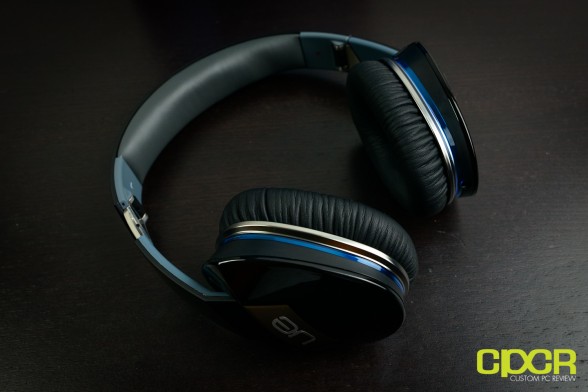 Here's a look at the headphones themselves. We have the black version here, but a white version is available as well. Let's take a closer look.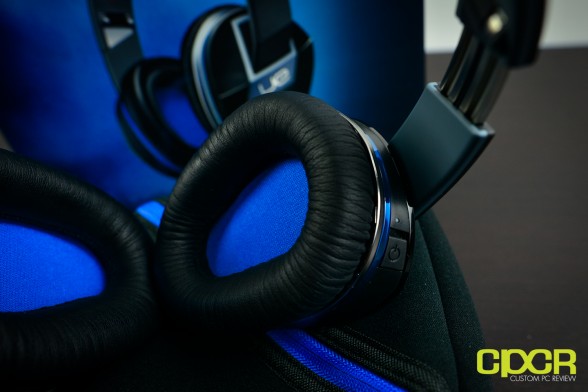 Here's a look at the ear cushions. Logitech is using memory foam along with very very soft pleather material here. We can also see the switch to turn on noise cancellation as well. It's located at top rear side of the right earcup.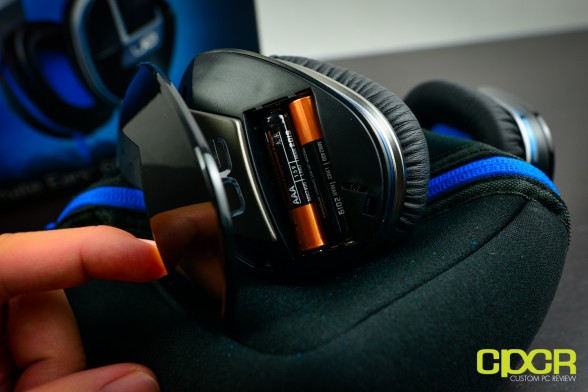 Speaking of noise cancellation, the Ultimate Ears 6000 requires two AAA batteries for noise cancellation to work. The batteries are located in a compartment on the left earcup. Luckily, batteries are included with the headphones.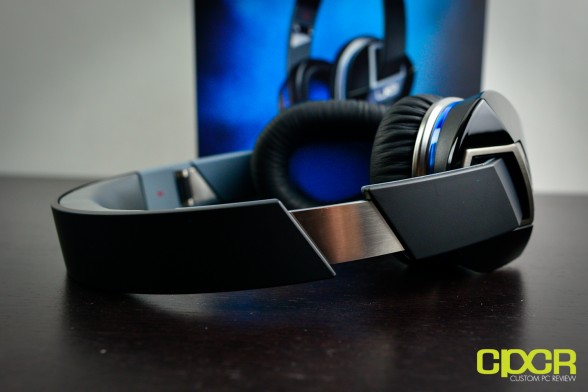 Here's a look at the headband for the UE 6000. Logitech is using a soft touch type of material for the headband itself and a metal core for durability.
The bottom portion of the headband that sits on your head also features memory foam as well. Logitech additionally designed the UE 6000 to be able to collapse for easier portability and storage.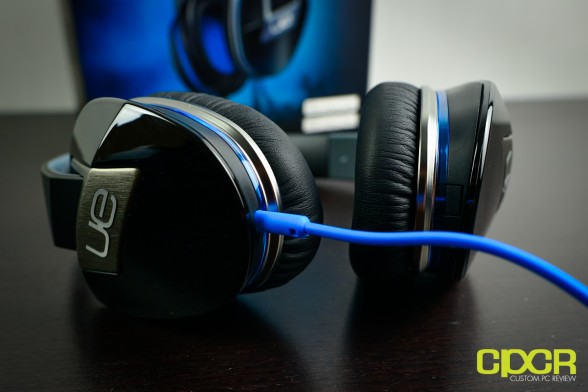 On the bottom of the right earcup, we get a 3.5mm jack, which connects to the included audio cable.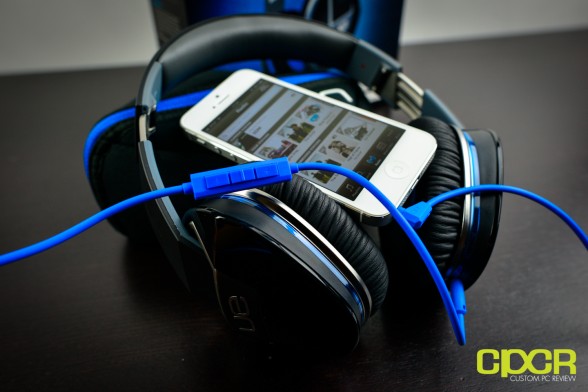 The audio cable features included volume up, volume down, and play/pause buttons along with an integrated microphone to be used for calling. I tested the on cord button functionality with the iPhone 5 and it works fine, so it should work with any iOS device. As for any other devices, your results may vary.
[section label=3. Performance]
Logitech Ultimate Ears 6000 Performance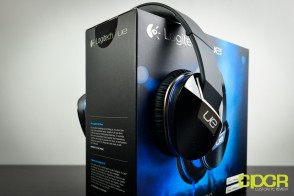 Alright, so for testing I spent the past couple months using the Ultimate Ears 6000 for listening to a whole range of music from many different genres (AC/DC, Adele, George Winston, Usher, Two Steps from Hell, Metallica, etc.). Since Logitech's Ultimate Ears line is advertised as more of a prosumer/audiophile class pair of headphones, I expected a flatter, more accurate audio response from the headphones, and for the most part, it was close. Logitech did favor the bass slightly, but during testing I never found it to detract from the overall audio experience. The added punch is definitely there, but it's well controlled, which makes all the difference.
As far as the sound stage, it's fairly wide, but given that it's a closed back set of headphones, it definitely isn't as wide as many of the open back headphones on the market. One thing I did notice though is that the headphones are able to produce a much wider soundstage with the noise cancellation feature off rather than with it on.
Speaking of noise cancellation, it's one of the biggest selling points about the Ultimate Ears 6000. While noise cancellation isn't as good at blocking external noise when compared to headphones like the Bose QuietComfort 3, it still does a decent job at it given that you're trying to cancel out a source of constant background noise such as the rumble of an engine or the hum of an A/C unit rather than suddenly occurring noises such as people talking.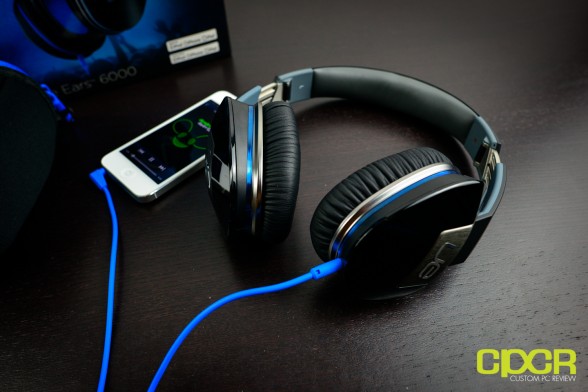 That said, one thing I noticed about the Ultimate Ears 6000 is that once the noise cancellation feature is enabled, Logitech also packages in some audio processing as well which boosts the volume along with the treble and the bass. The boosted treble and bass (v or smiley face type) type of audio profile is pretty common with a number of popular headphones such as the Beats by Dre because it enhances bass and brightens the treble substantially. While I personally prefer my audio with a flatter, more accurate type of response, it's definitely nice having the option of a more processed type of audio since there are many people who prefer this type of audio response.
One issue I discovered with the noise cancellation feature though is that once noise cancellation is enabled, the headphone introduces a slight hiss. This hissing noise isn't very noticeable when music is being played as you tune it out for the most part, but when doing any sort of critical listening, the hiss is definitely there and extremely annoying.
[section label=4. Conclusion]
Logitech Ultimate Ears 6000 Conclusions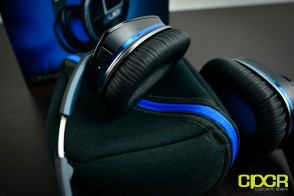 Over the past couple months, I've had the opportunity to use the Ultimate Ears 6000 literally everywhere from home to coffee shops to airports and overall, I'm quite impressed with the headphones. When first handling the Ultimate Ears 6000, the first thing I noticed about it was the build quality. It's very apparent Logitech went to great lengths to ensure the headphones had a very high quality fit and finish. The ratchets on the headphones are very smooth and the entire unit feels very sturdy.
In terms of design, I think Logitech has done quite a good job with the Ultimate Ears 6000. The blue and black color scheme gives the headphones a very modern feel and the glossy piano finish, while it attract fingerprints and dust quite easily, complements the modern with a bit of classy as well. Logitech has also included an in line microphone with the headphones as well, which gives it that edge in versatility that very few enthusiast grade headphones include.
Performance on the unit was also very good and I think most importantly the product fits very well within the enthusiast/audiophile category. The sound signature does favor bass, so those who prefer a perfectly flat response will probably find a good pair of Sennheisers, AKG's, or Audio Technica's a bit preferable, but this doesn't really detract too much from the highs or the mids. Overall, I found the headphones extremely well suited for music with clean highs, warm mids, and a tight bassline such as VCR by The xx for example. While the headphone does favor bass, I found that like the Ultimate Ears Triple Fi 10's, the Ultimate Ears 6000's bass is well controlled and doesn't end up sounding mushy like an overextended subwoofer on a cheap Honda Civic from the 90's.
As for the noise cancellation, I think it's nice to have just because it does help out a lot, especially for those who enjoy their music on a train/bus commute or during a flight, but Logitech does quite a bit of audio processing in the process, which causes a slight hissing sound, so for quiet at home enjoyment, I find it much better to simply keep the noise cancellation off. That said, I think Logitech does hit their target market with this pair of headphones, providing a very versatile solution for at home and on the go.
Comfort wise, I think Logitech has done quite a good job here. The entire headband, while sturdy, is quite flexible, which is great for those with larger heads. Because the headband is flexible and doesn't wear on your head very tight, it's also great for those who wear glasses such as myself. I also noticed that the distance between each individual ratchet on the headband isn't that far apart either, so a lot of fine adjustment can be made as well for that perfect fit. As for the headband and the earcups, Logitech is using what appears to be memory foam covered with a soft pleather. Fortunately, this means the headphones are quite comfortable, but unfortunately it will get hot over extended periods of use. It would've been nice to see a real leather or cloth option for better comfort, but at least pleather is easy to clean, right?
Pricing on the Logitech Ultimate Ears 6000 headphones is currently $189.94, which I think isn't too bad considering the level of quality and the level of versatility you're getting out of the headphones. As for the competition, it's very difficult to say since the Ultimate Ears 6000 has both great sound quality as well as noise cancellation. I think the biggest competitors might just be the recently introduced Sennheiser Momentum ($350) and the older Bose QuietComfort 3 ($350). I feel like the Sennheiser Momentum has better sound quality and the Bose QuietComfort 3 has better noise cancellation, but the Ultimate Ears 6000 is decent in both sound quality and noise cancellation at a significantly cheaper pricetag, which gives it quite the edge.
If you're looking for just a single pair of great sounding headphones for both at home and on the go, I think the Ultimate Ears 6000 is well worth the buy.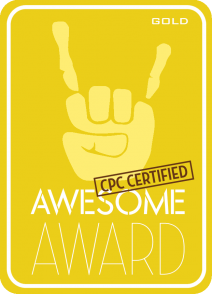 Sample provided by: Logitech
Available at: Amazon