Warning
: Undefined array key "width" in
/var/www/vhosts/custompcreview.com/public_html/wp-includes/media.php
on line
1381
Warning
: Undefined array key "width" in
/var/www/vhosts/custompcreview.com/public_html/wp-includes/media.php
on line
1386
Warning
: Undefined array key "height" in
/var/www/vhosts/custompcreview.com/public_html/wp-includes/media.php
on line
1386
Warning
: Undefined array key "width" in
/var/www/vhosts/custompcreview.com/public_html/wp-includes/media.php
on line
1381
Warning
: Undefined array key "width" in
/var/www/vhosts/custompcreview.com/public_html/wp-includes/media.php
on line
1386
Warning
: Undefined array key "height" in
/var/www/vhosts/custompcreview.com/public_html/wp-includes/media.php
on line
1386
Warning
: Undefined array key "width" in
/var/www/vhosts/custompcreview.com/public_html/wp-includes/media.php
on line
1381
Warning
: Undefined array key "width" in
/var/www/vhosts/custompcreview.com/public_html/wp-includes/media.php
on line
1386
Warning
: Undefined array key "height" in
/var/www/vhosts/custompcreview.com/public_html/wp-includes/media.php
on line
1386
Meet the New Vapor-X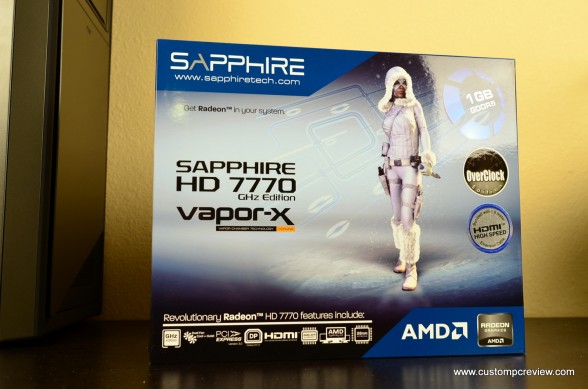 AMD undoubtedly earned its place again in the history of computer graphics when they introduced the first graphics card with a 28nm GPU, the HD7970, in December of last year. Engineered with AMD's ground breaking GCN (Graphics Core Next) Architecture, it brought features such as PCIe 3.0, advanced power management, Eyefinity 2.0, and most importantly, unparalleled performance.
Of course, as expected of cutting edge, high end computer hardware, you'll have to expect to pay a premium. A reference design 7970 these days will set you back $550, which isn't exactly chump change. So what about the people who don't need all the muscle or simply don't have the dough, but still want access to some of the features the new silicone brings? This is where the 7700 series comes in.
Code named Cape Verde XT, the 7700 series was designed for lower powered PCs but still retains the features of the GCN. Manufactured using the same 28nm manufacturing process used for the 7900 series, the 7700 series is designed to be a more budget friendly line of graphics cards yet still powerful enough to suit the needs of most casual gamers. For more information about the AMD HD 7700 series, check out our review of the HIS HD7750 iCooler graphics card.
| | | |
| --- | --- | --- |
| | HD7750 | HD7770 |
| Fabrication | 28nm | 28nm |
| Transistor Count | 1.5 Billion | 1.5Billion |
| Core Clock | 800MHz | 1000MHz |
| Stream Processors | 512 | 640 |
| Texture Units | 40 | 40 |
| ROPs | 16 | 16 |
| Buffer Size | 1GB GDDR5 | 1GB GDDR5 |
| Memory Interface | 128-bit | 128-bit |
| Memory Bandwidth | 72GB/s | 83.2GB/s |
| Memory Frequency | 1.15GHz(4.5 GHz Effective) | 1.15GHz(4.5 GHz Effective) |
Today we'll be taking a look at the Sapphire HD 7770 GHz Edition Vapor-X graphics card. Aside from being overclocked 10% higher than the reference design, this card also comes with the Vapor-X cooler. Ever since its introduction a couple years back, Sapphire has been hard at work refining the Vapor-X to perfection. The Vapor-X cooler we'll be looking at today is the newest iteration which should provide even better performance.
Specifications
| | |
| --- | --- |
| Model Name | Sapphire HD 7770 GHz Edition Vapor-X |
| Chipset | Radeon HD 7770 PCIe Series |
| ASIC | RadeonTM HD 7770 GPU |
| Manu. Process (Micron) | 28nm |
| Memory Size (MB) | 1024MB |
| Memory Type | GDDR5 |
| Engine CLK (MHz) | 1100MHz |
| Memory CLK (Gbps) | 4.5Gbps |
| Memory Interface (bit) | 128bit |
| Power Supply Requirement | 400 Watt or greater power  |
| | |
| Bus Interface | PCI Express 3.0 x16 |
| Display Port | 1xDisplay Port 1.2 |
| HDMI | 1xHDMI 1.4a |
| DVI | 1xDual Link DVI1xSingle Link DVI |
| VGA | No |
A Closer Look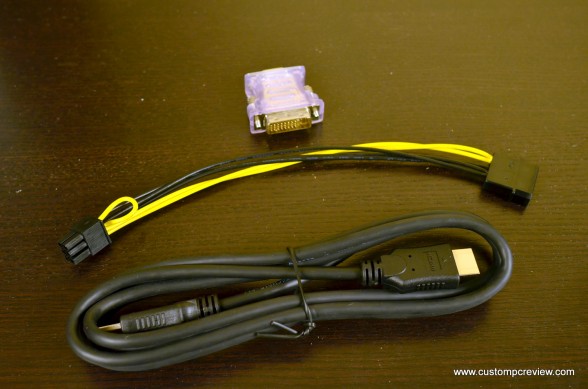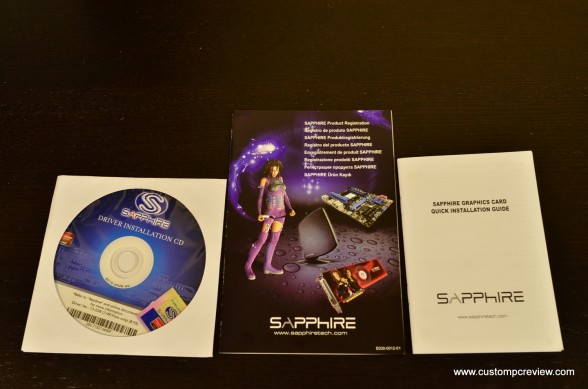 In terms of accessories, the card comes with a HDMI cable, a 6-pin to 4 pin adapter, a VGA to DVI adapter, a driver disk, and some documentation. As always, it's recommend that you download the latest drivers from the manufacture's website.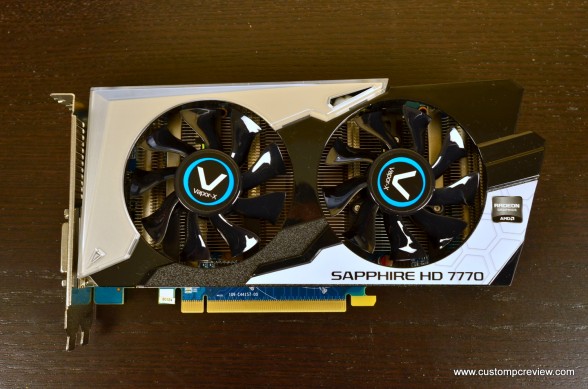 The updated version of the Vapor-X cooler fearures 2x 80mm fans and two 6mm heatpipes. The previous version had only one large fan in the center but had an extra heatpipe. The decision to eliminate one heatpipe could be due to the fact that the Cape Verde XT chips use much less power and outputs much less heat. The heatsink is enclosed in a great looking shroud as well with the white and black accents complementing each other very well.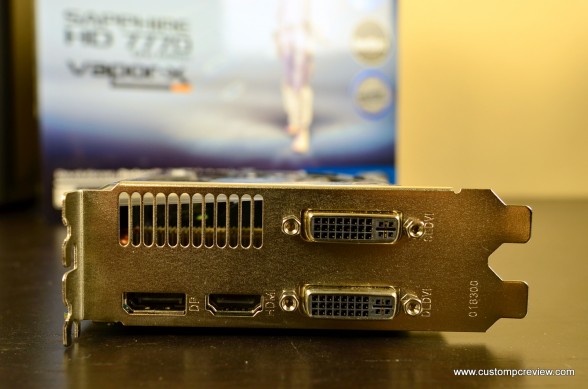 In terms of connectivity, the Sappphire HD7770 comes with 2x DVI (One single link and one dual link), 1x HDMI, and 1x Diaplay Port. The HD7770 can power up to 3 displays simultaneously through eyefinity.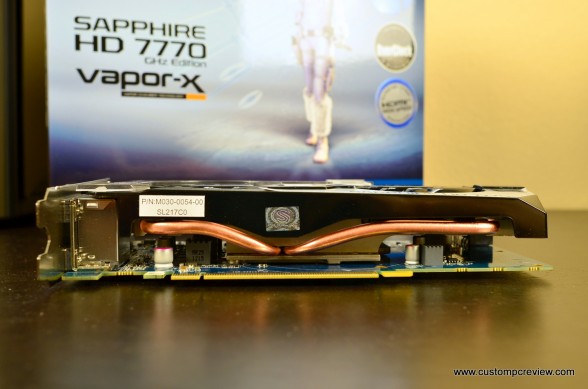 Here's a look at the dual 6mm heatpipes. As you can see, each heatpipe is designed to bring heat to the far ends of the card in order to maximize cooling potential.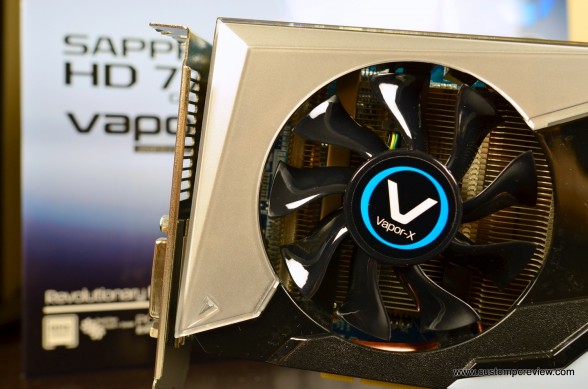 The fan has the cool blue Vapor-X logo slapped on. From the gaps between the blades we can see that the heatsink is placed directly under the fan. During operation, the fan will be blowing air directly onto the heatsink and not out the back, so make sure to have good airflow in your case to maximize its cooling potential.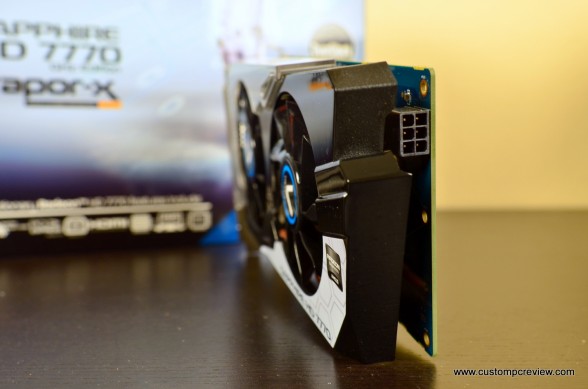 The Sapphire HD 7770 has x 6-pin power connector at the rear of the card. This makes sense considering the card only draws 80W under full load. The HD7770 still has the "ZeroCore Technology" feature  found on other 28nm Tahti cards which help save even more power during idle.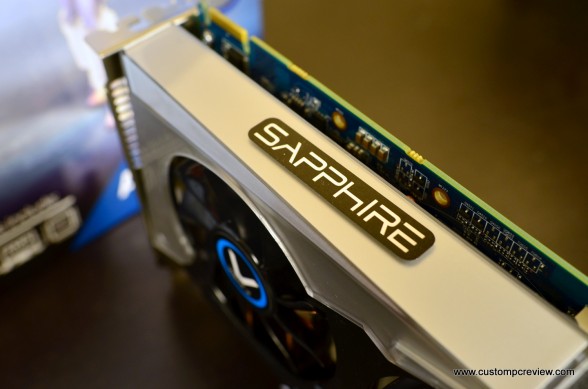 Up top we've got a great looking Sapphire logo in black and white which looks fantastic with the rest of the card.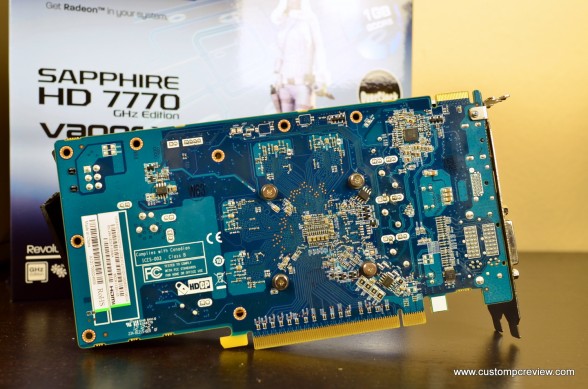 Unfortunately, Sapphire chose to go with the blue/green PCB to reduce cost. It would've been nice to see a black or white PCB since those would fit the black/white theme on the Vapor-X cooler a lot better. Otherwise, the PCB looks well organized and all the components are well soldered. The card comes with one crossfire finger, meaning that it can only be Crossfired with only one other card. This isn't much of an issue since it probably isn't the smartest idea to be buying three to four mid/low end cards to run CrossFire.
Test Bench
CPU: Intel Core i5 2500K (Overclocked to 4.7GHz) & Phanteks PH-TC14CS Cooler
Motherboard: Asrock Z68 Fatal1ty Professional Gen 3
Memory: 8GB GSkill Sniper 1866MHz DDR3
Boot Drive: Patriot Pyro SE 120GB SSD
Power Supply: Corsair HX650
DVD Drive – ASUS OEM DVD Drive
Special thanks to HSPC for providing us with the High Speed Tech Station (Large) for our test bench.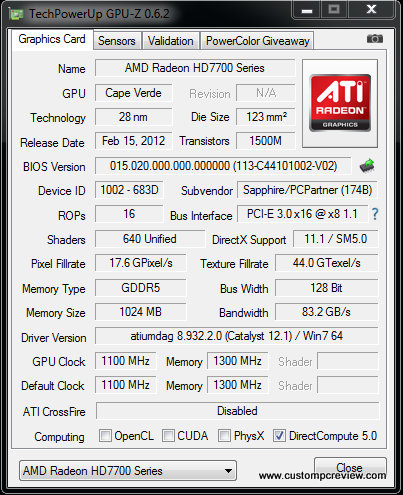 Performance
3D Mark 11
Developed and maintained by Futuremark Corporation, 3D Mark 11 is one of the world's most widely used graphics performance benchmarking software.
| | | | |
| --- | --- | --- | --- |
| | Galaxy GTX 560 GC 2GB | Sapphire HD7770 GHz Vapor-X | HIS HD7750 |
| 3D Mark 11 Entry | 6931 | 5954 | 4554 |
| 3D Mark 11 Performance | 3985 | 3695 | 2708 |
| 3D Mark 11 Extreme | 1234 | 1157 | 812 |
Game Benchmarks
Our benchmark suite for mid range graphics. Each test is run at 1920×1200 with 4xAA wherever possible.
| | | | |
| --- | --- | --- | --- |
| All games run at 1920×1200, High/Ultra Settings, 4xAA | Galaxy GTX 560 GC 2GB | Sapphire HD7770 GHz Vapor-X | HIS HD7750 |
| Lost Planet 2 | 38.4 | 28.8 | 22.9 |
| Resident Evil 5 | 95.7 | 82.4 | 57.7 |
| Unigine Heaven v2.5 | 26.6 | 25 | 17.9 |
| Just Cause 2 | 36.52 | 37.52 | 28.48 |
| Metro 2033 | 23.00 | 20 | 15 |
| Crysis 2 (Central Park) | n/a | 22.5 | 19.5 |
*All values in frames per second (FPS)
The HD7770 packs a serious punch for a budget/mid range card. Even at the highest settings, it produced playable frame rates in older games such as Lost Planet 2, Resident Evil 5, and Just Cause 2. It was even capable enough to squeeze 20FPS out of the tessellation intensive Metro 2033 and 22.5FPS in Crysis 2. Obviously, 20FPS isn't recommended for smooth gameplay, so for triple A titles like these, it'd be a good idea to turn the detail settings down a notch.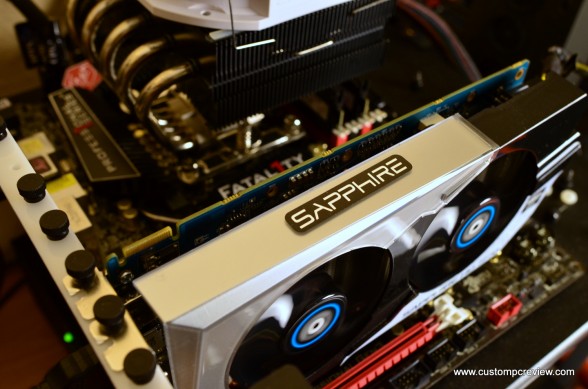 Noise, Temperatures and Power Consumption
| | | | |
| --- | --- | --- | --- |
| Noise/Temp. testing through Furmark | Galaxy GTX 560 GC 2GB | Sapphire HD7770 GHz Vapor-X | HIS HD7750 |
| Max Temps (Stock 19°C Ambient) | 76°C | 62°C | 54°C |
| Total System Power Usage | 314W | 155W | 125W |
The new iteration of the Vapor-X cooler did a great job keeping the card cool. While we didn't have a reference design HD 7770 on hand for comparison, a max temperature of 62°C is still fantastic. For reference, it ran a full 10°C cooler than the Galaxy GTX560 GC, which also used a custom cooling solution from Galaxy. Do remember though that 28nm graphics has a lot lower TDP which is likely the cause of the low load temperatures.
Additionally, because Sapphire decided to include a two fan solution on the cooler, it was dead silent despite the card being at full load, and similar to the HD7750, the HD7770 Vapor-X won't make your electricity bill shoot off the charts. Our entire overclocked i5 2500K test bench only drew 155W under full load! I'm definitely impressed by the low power draw of these new 28 nm chips.
| | |
| --- | --- |
| Total System Power Usage | Power Consumption |
| Idle (Sapphire HD7770) | 64W |
| Idle (No Graphics Card) | 47W |
The ZeroCore technology shuts down the GPU when the PC is not in use to dramatically reduce power use. This feature can be clearly seen working in the idle power test. At idle, our entire system used only 64W. That's only 18W more than the idle power draw of a test bench without a graphics card.
Overclocking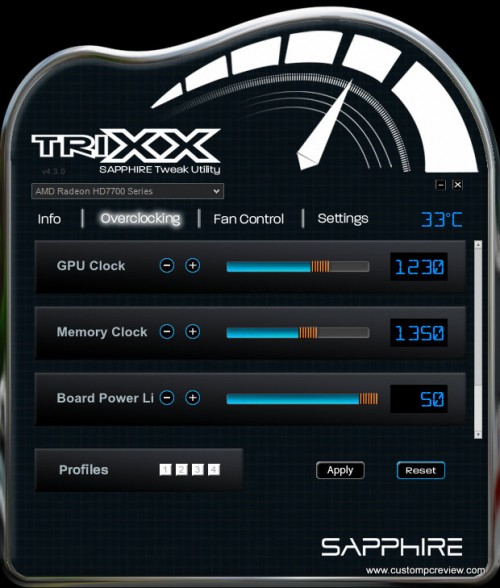 As seen from the specifications, the Sapphire HD 7770 Vapor-X is factory overclocked to 1100MHz core and 1300MHz memory. This is already a 100MHz core and 75MHz memory overclock from the reference HD 7770. Pushing our luck with the Sapphire Trixx utility, we were able to hit 1230MHz core and 1350MHz memory with the HD 7770 Vapor-X, which is an additional 125MHz core and 50MHz memory on top of the factory overclock.
What kind of performance increase did we see with the additional overclock? Well, in our Heaven 2.5 benchmark, we saw an increase of 2FPS from 25FPS to 27FPS. Additionally in Metro 2033, we saw an improvement of 1.33FPS from 20FPS to 21.33FPS. While this may not sound like much of a boost, remember the card is already factory overclocked making it already one of the fastest HD 7770's straight out the box. Any extra performance we get out of this card from additional overclocking is just icing on the cake.
Conclusion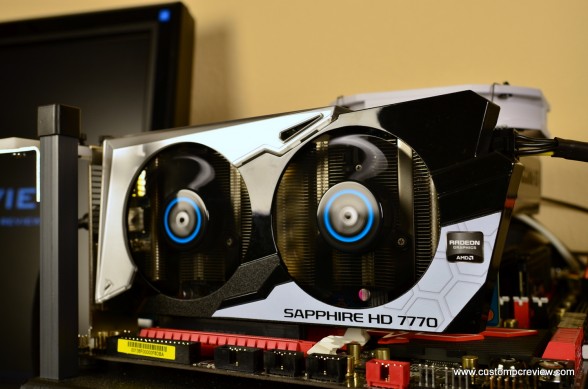 In the performance department, the Sapphire HD 7770 Vapor-X does a fantastic job, dishing out frame rates nearly comparable to the GTX 560 despite the GTX 560 drawing twice the power at load. As seen from our benchmarks, many older games or less graphically demanding games will run perfectly fine on high to ultra settings while newer, more graphically intensive games may require a settings drop to medium.
The Vapor-X cooling solution Sapphire has refined over the years proved to be exceptionally effective with the HD 7770. The dual fan design is extremely silent even with the graphics card at full load and what's really impressive is that the cooler is capable of staying silent even with the card overclocked at 1230MHz. This is great news for those interested in putting together a media center PC or can't stand fan noise.
Our overclocking tests ended quite successfully as well. With the Sapphire TriXX overclocking utility, we've managed to achieve a stable overclock of 1230MHz on the GPU core and 1350MHz on the memory. Knowing that many HD 7770 GPUs typically overclock somewhere around 1200MHz, this level of overclock is within our expectations. The nice thing about overclocking here is that the cooler is more than powerful enough to take the card to its overclocking limit, so heat shouldn't be an issue.
The HD 7770 Vapor-X is expected to be priced at $149.99, which to me seems a bit on the pricey side especially with the faster GTX 560 currently going for $184.88 minus any additional rebates going on. For an even more economical choice, AMD's own last generation midrange card, the Radeon HD 6870, still offers better performance than the HD7770 and is only $20 more minus any rebates. As long as you're not too interested in power efficiency, last generation mid range cards are still quite capable and inexpensive so it'll probably just be better to grab one of those instead especially if the HD 7770 Vapor-X is going to be selling at MSRP.
Bottom Line
Overall, the Sapphire HD 7770 GHz Vapor-X is an excellent entry to mid range graphics card that can deliver serious performance at a low power cost. If you're looking for some graphics muscles to power a HTPC, a silent office build, or a budget gaming rig, make sure this card gets more than just a passing glance.
That said, if you are willing to sacrifice a bit of power consumption and noise level for better performance, it might be better to look for a heavily discounted last generation HD 6850, HD 6870, or GTX 560.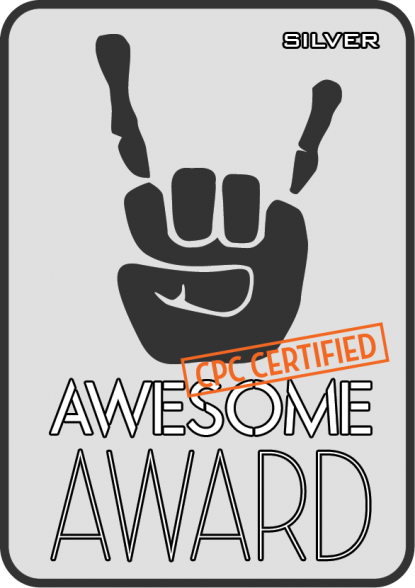 Special thanks to Sapphire for making this review possible.