[section label=1. Introduction]
Let it Flux… In Your Ears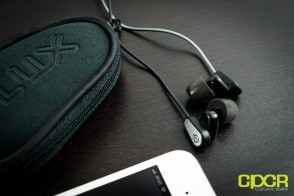 Let's face it. Gaming these days is a lot different when compared to gaming 10-15 years ago. What used to be an activity solely restricted to alone time at home in front of a PC, or in dark smelly LAN centers have transformed into a major industry with a number of major trends emerging as of late.
Earlier this year at CES 2013, one company that seems to be on top of these trends is SteelSeries and as a result of the shifting trends in the industry, SteelSeries unveiled a number of new gaming headsets – one of which is what we'll be reviewing today – the SteelSeries Flux In-Ear Pro gaming headset. Previously, we reviewed the SteelSeries Flux on ear gaming headset and one major focus that we noticed while reviewing the Flux was the attention paid towards making the headset not only compatible with the PC, but also many mobile devices as well. With the SteelSeries In-Ear Pro, SteelSeries has taken that same approach in designing a versatile product while offering an even more portable option for quality audio while both at home or on the go.
Another interesting focus for the Flux In-Ear Pro is quality audio for competitive gaming. As SteelSeries sponsors a number of professional gamers, they've noticed that with competitive gaming now transforming into massive spectacles with large cheering crowds, many pro gamers needed audio solutions that were capable of effectively blocking out outside noise while gaming. This of course leads to a competitive advantage for those who can actually hear what's going on in game and many pro gamers have turned to in-ear solutions, which generally provide better passive noise reduction than on the ear or over the ear solutions.
Whereas some companies focus on style and appearance over everything else, SteelSeries focus with the In-Ear Pro was to create the most comfortable and best sounding in-ear gaming headset. In order to make the headset sound good, SteelSeries crammed a pair of balanced armature drivers into the unit, which SteelSeries claims has a very flat frequency response so that audio can be heard the way it was meant to be heard. Additionally,in order to develop headphones with great comfort, SteelSeries based the design of the Flux In-Ear Pro on the design of hearing aids, which are basically headphones designed to be used 24/7.
Ready to find out what SteelSeries has done and we thought of the Flux In-Ear Pro? Let's take a closer look!
Specifications
| | | |
| --- | --- | --- |
| Manufacturer | SteelSeries | SteelSeries |
| Model | In-Ear Gaming Headset | In-Ear Pro Headset |
| Formfactor | In-Ear | In-Ear |
| Interface | 3.5mm | 3.5mm |
| Driver Diameter | 6mm | Unknown (Balanced Armature) |
| Frequency Response | 20 – 20000 Hz | 15 – 22000 Hz |
| Impedance | 19 Ω | 26 Ω |
| Microphone | Omnidirectional | Omnidirectional |
| Warranty | 1 Year | 1 Year |
| Check Pricing | Click Here | Click Here |
[section label=2. A Closer Look]
A Closer Look at the SteelSeries Flux In-Ear Pro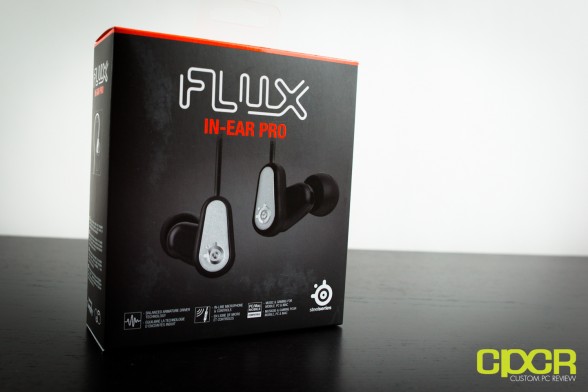 Here's a look at the packaging for the SteelSeries Flux In-Ear Pro.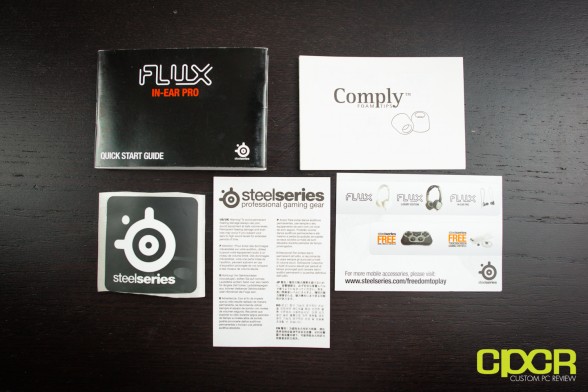 The Flux In-Ear Pro comes packaged with a slew of documentation. From the top left: Quick Start Guide, Comply foam tips info booklet, SteelSeries Sticker, SteelSeries Gaming Gear Guide, and a little product catalogue.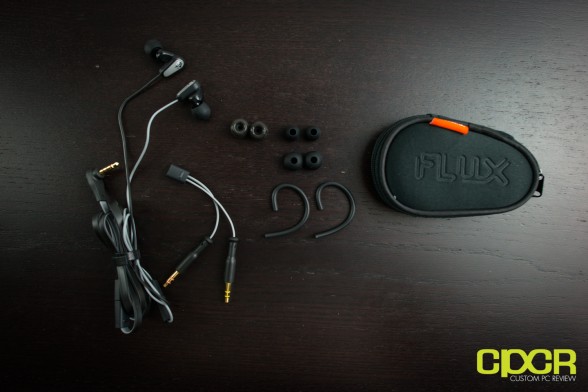 Big props to SteelSeries for including a ton of extra accessories! Aside from the in ear headset, we also get a 3.5mm headphone/mic to 3.5mm headphone and 3.5mm microphone Y adapter, a pair of Comply noise insulating foam tips, 3 sets of Silicone tips in different sizes, a pair of rubber cable guide for wrapping the cables over your ears, and a nice soft carrying case.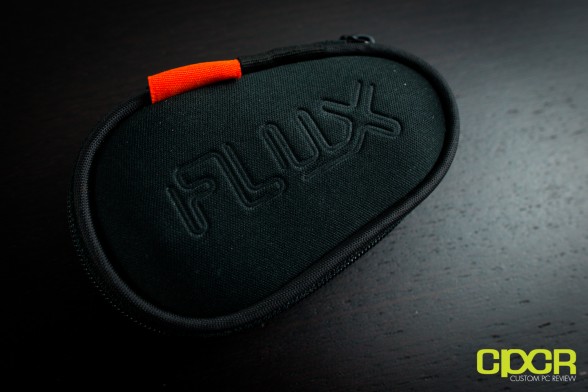 The carrying case seems to be made out of a nylon-cotton synthetic fabric. It's very soft and isn't water resistant so it's not much protection, but still it's a well made case.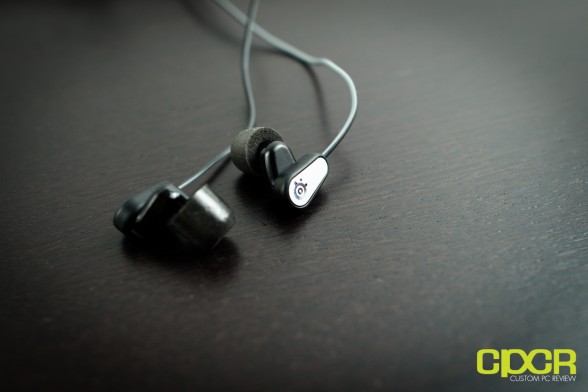 Aesthetics wise, the Flux-In Ear Pro is pretty minimalist. It's not fancy. It's not flashy. The silver plate on the outside of the earpiece provides a nice contrast to the otherwise pure black paint job. The construction looks well-polished and shows excellent craftsmanship. The earpiece is bent so that the entire piece can sit in your ear along with the tip. The cable is then wrapped around the top of your ear and then down to either behind your head or down your neck.
Here we can see the Comply foam earpieces attached. These deliver a higher level of passive noise insulation than their silicone counterparts and offer a better seal on your ear. That said, since these are foam, they are inherently more difficult to clean and require replacement every couple of months.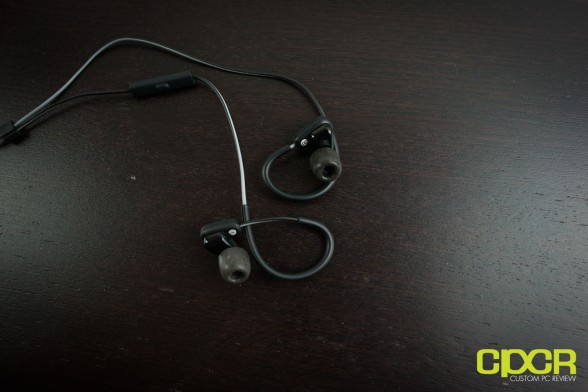 Included are some ear guides as well, which help guide the cable over your ear. It's not necessary though.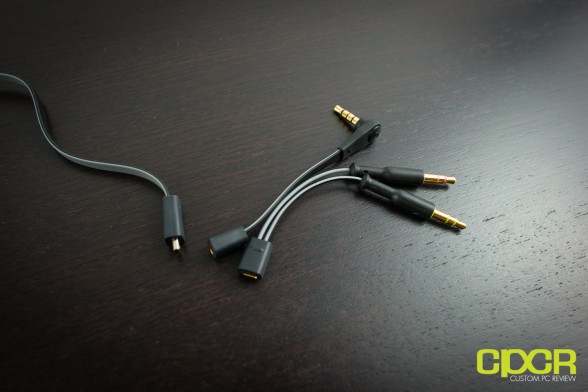 SteelSeries also includes adapters for both a combo 3.5mm headphone/microphone jack or the standard separate 3.5mm headphone and microphone jacks. Additionally the cables are flat and are designed to be tangle-free. This prevents tangling when the headset is sitting inside your bag or pocket.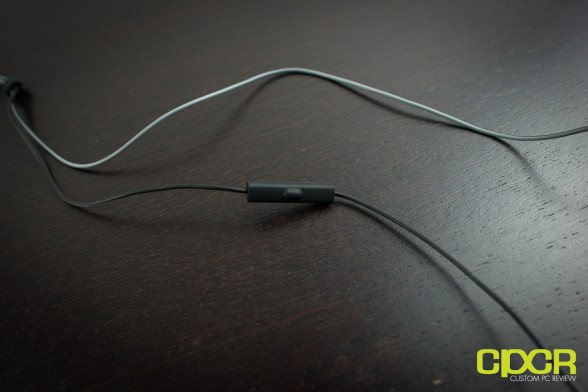 The tiny in-line control has only one button on it. There's no integrated volume control so you'll have to adjust volume settings directly from your device.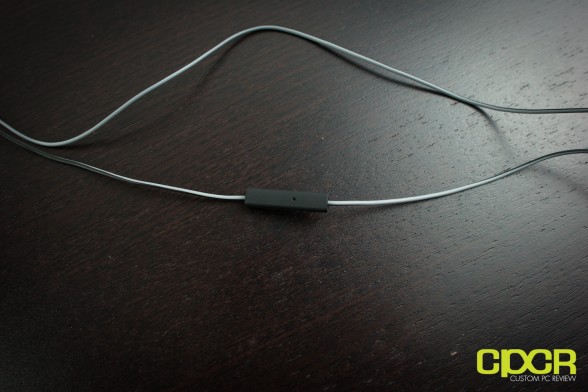 On the rear of the in-line microphone module, there's also an omni-directional microphone as well. 
[section label=3. Performance]
SteelSeries Flux In-Ear Pro Performance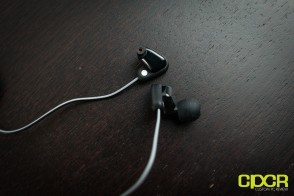 I kicked off game testing by running the Flux In-Ear Pro though a a couple hours of Battlefield 3 followed by a couple more hours of StarCraft 2 and overall was quite pleased with the experience.
In Battlefield 3, the Flux In-Ear Pro handled sharp sounds like gunfire and grenade pins with exceptional clarity while still giving adequate attention to bassy explosions. The multitude of sound effects didn't drown out each other and sounded very nicely balanced. That said, one thing I did notice was that the Flux In-Ear Pro's soundstage wasn't as good in comparison to many over the ear headsets such as the Siberia v2. The audio doesn't sound as three dimensional and the fact that the headset is a two channel headset is much more noticeable with the Flux In-Ear Pros.
Whereas it's more important for FPS gamers, a wide soundstage isn't necessarily high on the priorities list in StarCraft 2, and with its biggest flaw eliminated the Flux In-Ear Pro was quite fantastic here. Every sound effect, from ambient noise to the cry of a dying marine, was fed out with excruciating yet beautiful detail.
Following gaming, I spent a couple hours watching certain clips from my go to movies for headset testing in the action packed Mission Impossible 3 and WWII documentary-drama Valkyrie, both of which offer a good mix of of explosions, dialogue, and various sound effects to test the full capabilities of each headset. In movie testing, I found the Flux In-Ear Pro was superb in both tests. Its well tuned bass response helped explosions in MI3 sound powerful although not overpowering, while the responsiveness of the headset allowed seamless transitions to high pitched tire screeches without a hiccup. On the other hand in the dialogue rich Valkyrie, voices and ambient sounds meshed in perfect harmony as the headset helped create a vivid and immersive experience.
For music testing, I played a large variety of music from a large variety of genres to allow the Flux In-Ear Pro to show its strengths and weaknesses. As usual, I paid special attention to the very high and low end of the sound spectrum, and as expected, the Flux In-Ear Pro proved to be a solid performer. Classical pieces sounded exceptionally well as every note was clear and crisp, including sharp violin notes that make your ears ring. Rock music offered a good blend of instruments that produce mids, highs, and lows, which the Flux In-Ear Pro had no problem handling with incredible accuracy. The Flux In-Ear Pros also produced mid-range vocals quite well while still maintaining the clarity of percussion and guitar solos. Similar to the highs and mids, the Flux-in Ear Pro also sacrificed nothing for the lower end as it's exceptionally clean here although the more flat, balanced audio may be a turn off for bassheads looking for skull rattling bass.
Putting the Flux In-Ear Pro on was a bit more troublesome than most headsets out there as the they need to be inserted quite deep into your ear canal. For maximum comfort, you'd also want to wrap the cables around your ears as well. Despite the fact that the earbuds need to be inserted quite deep into the ear canal, once the earbuds are properly seated, it didn't feel intrusive at all and was exceptionally comfortable. The around the ear cable design not only helps to keep the ear buds from shifting but also kept the cables out of sight.
[section label=4. Conclusion]
SteelSeries Flux In-Ear Pro Conclusions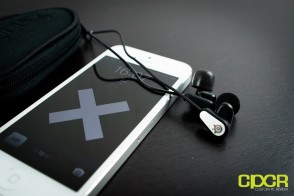 SteelSeries' Flux In-Ear Pro seemed promising and after spending several weeks with it, I can confidently say that it's a fantastic product. When SteelSeries first introduced the Flux In-Ear Pro, they really stressed the fact that comfort and sound quality were the most important factors when designing their latest flagship in-ear headset and I'd have to say that it really does show in the final product.
In testing, there was very little to complain about with the Flux In-Ear Pro's audio quality. The balanced armature drivers delivered excellent performance across the board in gaming, movies, and music with clean, crisp and balanced sounding audio. For those who favor heavy, heavy bass the Flux In-Ear Pro might not offer what you're looking for, but if you're looking for clean, accurate audio in a small package, I'd say this is it. The only thing I wish it could deliver is a bigger, more open soundstage typically found in over the ear headphones, but it's mostly an issue generally seen with in-ear headphones rather than an issue with the Flux In-Ear Pro alone.
Additionally, since these are in-ear headphones, noise isolation was above par in comparison to over or on the ear headphones, even with the regular set of silicone ear tips. Using the headset as headphones while traveling out and about, it blocked out traffic and engine noise nicely when walking on campus or sitting on a bus. For those unsatisfied with the noise isolation or comfort found with silicone ear tips, SteelSeries also included a pair of Comply Foam Tips. These eartips considerably reduced ambient noise down much further than the silicone ear tips on a busy street at noon. For those who regularly travel or play at large gaming tournaments, the noise isolation on the Flux In-Ear Pro is far superior in comparison to any other gaming headset we've tested on the market, coming in on par with the Plantronics GameCom Commander, a gaming headset modeled after headsets used by helicopter pilots. While the foam tips are definitely a welcome addition, they do come with some drawbacks which are generally associated with foam eartips. The foam has a sticky surface so it's very prone to attracting dust, earwax, and sweat which means you'll want to replace the eartips frequently if you use the headset often. Additionally, for me the large size of the foam eartips made my smaller ears feel like they were on fire after prolonged use although they do get softer as you break them in.
Comfort is as crucial to a product as its performance, and the Flux In-Ear Pro has that front covered quite well. The Flux In-Ear Pro can be worn in two ways – over the ear and under the ear. When worn correctly around the top of the ear, I found the Flux In-Ear Pro to be exceedingly comfortable. Although setting it up on my head was slightly more troublesome than conventional earphones, it's definitely worth the effort. The over-the ear cable system provided the ear buds with extra support, and kept the cables from swinging in my face when I wore it outdoors. It's definitely not the coolest thing to wear and walk around with, but it's definitely comfortable.
Pricing on the SteelSeries Flux In-Ear Pro is currently $129.99, which makes it one of the most expensive gaming headsets on the market today. That said, the Flux In-Ear Pro does match up in terms of audio quality and comfort to headphones at this pricerange and does it in a very small, almost unnoticeable package when installed on your ear. For those who value excellent all around sound quality, excellent passive noise isolation, and excellent portability, the Flux In-Ear Pro is a solid choice.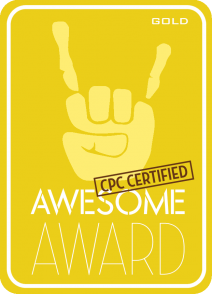 Sample provided by: SteelSeries
Available at: Amazon