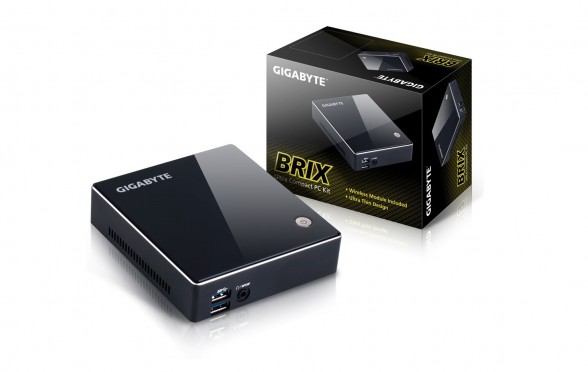 According to a recent press release from the folks over at Gigabyte, they've recently announced the latest update to the BRIX ultra compact PC, which for those who aren't familiar, is Gigabyte's custom designed ultra compact PC based off Intel's NUC (Next Unit of Computing) formfactor. Whereas our previous run-in with the BRIX at Computex Taipei included Ivy Bridge based mobile processors, the latest update now come included with Haswell based mobile processors along with a slightly refined chassis as well.

The updated BRIX ultra compact PCs are expected to be available with either the Haswell based Intel Celeron 2955U, Core i3-4010U, Core i5-4200U, or Core i7-4500U. All models will come standard with a full array of four USB 3.0 ports, HDMI, mini-DisplayPort, Wi-Fi b/g/n, Bluetooth 4.0, gigabit Ethernet, and front headphone/SPDIF out – all in a 29.9mm x 107.6mm x 114.4mm, VESA mountable aluminum chassis. Given the compact formfactor and excellent performance, the BRIX is very well suited for applications such as HTPC builds, home/office builds, and commercial applications such as digital signage.
Pricing and availability is currently unavailable at this time; however, a quick price check via Amazon reveals Ivy Bridge based BRIX units to available at around the ~$300 range depending on configuration. Those interested in learning more about the Gigabyte BRIX are encouraged to check out the product page here.